About two months ago, I was disappointed by the bank.
I had applied for a loan for one of my major projects.
And just when I thought everything was done and dusted, the devil struck.
I was completely heartbroken.
My heart was filled with sorrow and so much pain.
While I was still trying to get hold of myself, my wife stepped in.
She comforted me and prayed for me.
And then, God intervened.
I got a new loan from the Hospital where I work. And surprisingly, it was interest-free.
Never underestimate the power of your prayers over your husband.
Whatever issues are disturbing your husband, they can be solved with prayers.
If your husband is unhappy or struggling with lots of problems, God can restore joy in your home.
I have put together encouraging prayer for your husband.
---
Recommended for you
---
Motivational bible verses for your Husband
Psalm 34:4–5, 8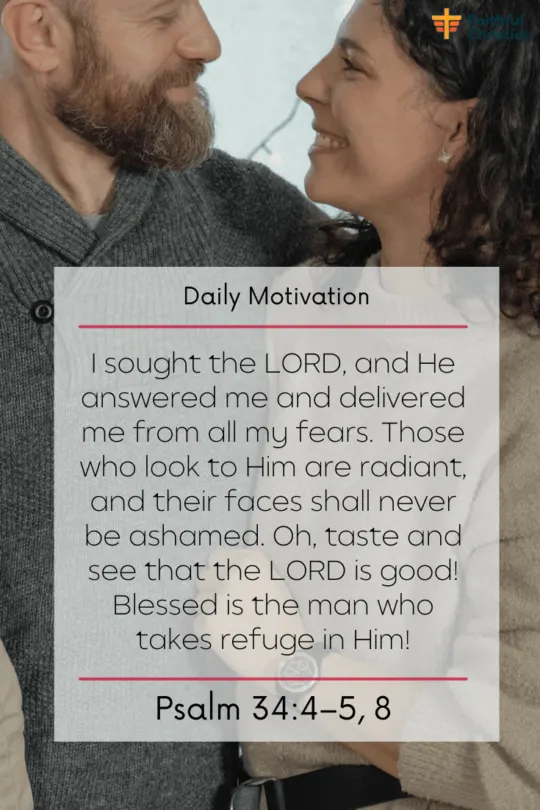 I sought the LORD, and He answered me and delivered me from all my fears. Those who look to Him are radiant, and their faces shall never be ashamed. Oh, taste and see that the LORD is good! Blessed is the man who takes refuge in Him!
Romans 8:28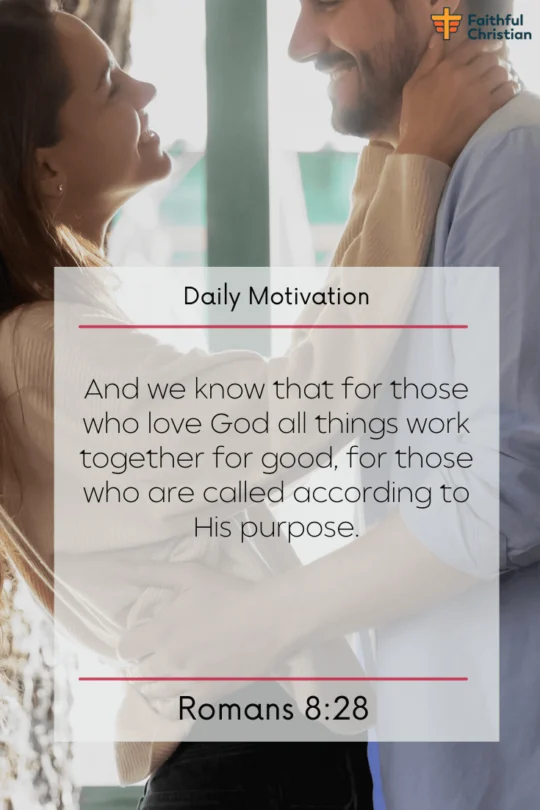 And we know that for those who love God all things work together for good, for those who are called according to His purpose.
Prayer for Encouragement for Husband
Lord, I Give you thanks (let us pray)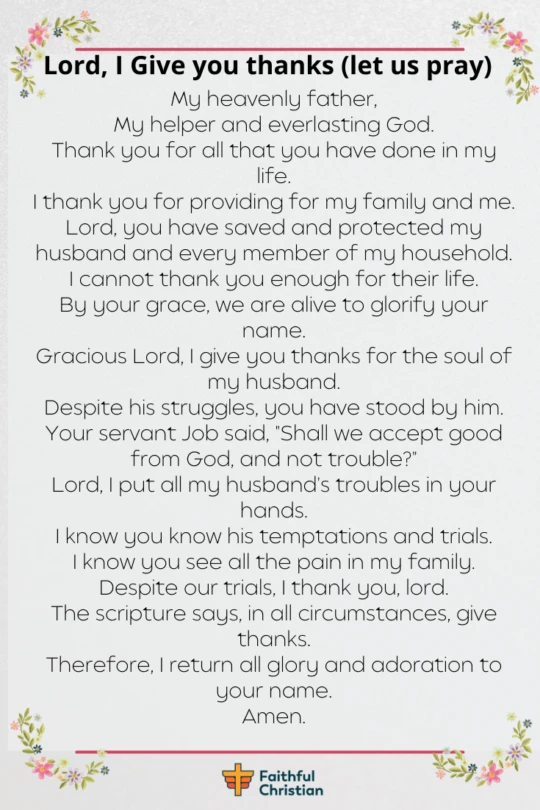 Beloved Father, source of our strength,
You light up our darkest paths, bring warmth to our coldest days. How thankful I am for Your hand in my life, guiding each step I take. You, our Provider, feed our bodies and souls, nourishing us from the inside out. Like in Psalm 23:1, You truly are our shepherd, and we shall not want.
Lord, the Protector of our lives, I praise You! You've guarded my husband and each one in our home, just as promised in 2 Thessalonians 3:3, "The Lord is faithful, and he will strengthen you and protect you."
Your grace, Lord, is the gift of another day, another breath. It's in these moments we have the honor to exalt Your name. This rings true to Lamentations 3:22-23, which states, "The steadfast love of the Lord never ceases; His mercies never come to an end; they are new every morning."
Almighty, with a heart full of awe, I thank You for my husband. You're the rock upon which he leans amidst the stormy seas of life. This reflects Job 2:10's profound truth, "Shall we accept good from God, and not trouble?"
In Your all-knowing hands, Father, I place my husband's worries. You're the One who understands his battles. Like in Psalm 34:18, we're reassured, "The Lord is close to the brokenhearted and saves those who are crushed in spirit."
The Almighty, aware of our pain, our trials, we remain steadfast. Through Your Word, we understand that hardships are part of life. As Romans 5:3-4 proclaims, "We rejoice in our sufferings, knowing that suffering produces endurance."
My heart overflows with gratitude to You, dear Lord. In all circumstances, we are instructed to give thanks, echoing the message of 1 Thessalonians 5:18. For You, our hope in joy and sorrow, deserve all glory.
So, Father, hear my prayer today. Accept my humble thanks, my deep faith, my love. For You are the everlasting God, our fortress, our deliverer. Each breath we take sings praises to Your Holy Name.
Amen.
The just shall live by faith (Let us pray)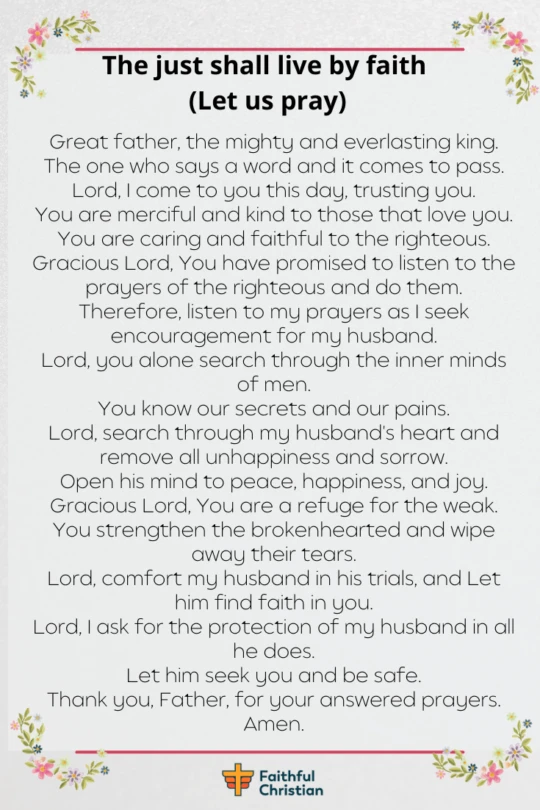 Dear Father, You are the eternal and almighty King. Like a master artist, You simply speak, and the universe dances to Your tune. Today, I come to You, my rock and refuge. I trust in Your promises, ones as enduring as the stars above.
Lord, Your mercy is a vast, unending ocean. It sweeps over those who love You, washing away their doubts. Your kindness, Father, shines brighter than the sun at its peak. It warms the hearts of the righteous, filling them with hope and courage.
Your promise, Lord, is a beacon in the dark. "Call to me and I will answer you" (Jeremiah 33:3), You tell us. My call today? Encouragement for my dear husband, whose strength echoes Yours.
Omniscient Father, You understand us better than we know ourselves. As David writes, "You have searched me, Lord, and you know me" (Psalm 139:1). You know our dreams, our fears, our secrets, our pains. Today, I ask you to search my husband's heart. Find any unhappiness, any sorrow, and replace it with peace, happiness, and joy.
In times of weakness, we find refuge in You. Like a gentle shepherd, You guide us, restore us, comfort us. "He heals the brokenhearted and binds up their wounds" (Psalm 147:3). Lord, be my husband's comfort, his strength. Let him feel Your loving embrace, finding faith anew in You.
The scriptures remind us of Your protection. "The name of the Lord is a fortified tower; the righteous run to it and are safe" (Proverbs 18:10). I pray for this safe haven for my husband. As he ventures forth, guide his steps and guard his heart, Lord. May he find safety and solace in Your presence.
Father, we are humbled by Your love. We are grateful for Your unfailing promise: "Before they call I will answer; while they are still speaking I will hear" (Isaiah 65:24). Thank You, Father, for the assurance that our prayers are not in vain.
In Your precious name, we pray, Amen.
---
Recommended for you
---
It is well with your husband (let us pray)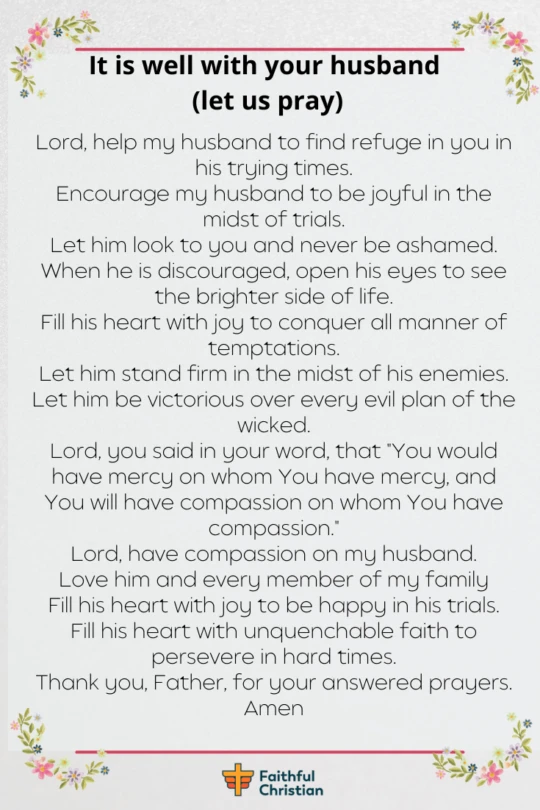 Oh Heavenly Father, our Refuge and Rock, my prayer today is for my beloved husband. Inspired by Psalm 46:1, I trust that you are indeed our ever-present help in trouble.
Lord, he needs you. In those challenging moments when he feels helpless, provide a safe harbor. Let him rest in the knowledge that you, our steadfast Protector, are always by his side.
Blessed Lord, infuse joy into his heart. Echoing James 1:2, let him find joy even when trials come his way. Transform adversity into opportunity and hardship into hope. Let him rejoice, Lord, knowing that these trials build perseverance.
God Almighty, the Unashamed One, let him constantly seek you. May he always focus on you, finding strength and resilience in your divine presence. Encourage him, Lord, so that he never feels the sting of shame but revels in your limitless mercy.
When desolation attempts to claim him, Father, open his eyes. Show him the light that overcomes darkness, the hope hiding amidst despair, just as 2 Corinthians 4:8-9 encourages us that we are never crushed or abandoned.
Pour into him, dear Lord, a joy so powerful that it shields him from temptation. May this joy become his spiritual armor, his solace amidst turmoil.
Almighty God, let him remain unyielding in the company of adversaries. As proclaimed in Psalm 18:39, arm him with strength for battle. Guide his way through the shadows and into your blessed light.
Protect him, Gracious God, from the snares of the wicked. As he walks through the battlefield of life, equip him with your divine armor, as reminded by Ephesians 6:11.
Lord, the Compassionate One, wrap him in your mercy and love. You have promised in Exodus 33:19 to show mercy and compassion to whom you choose. So, I implore you, Father, make him feel your divine love and boundless mercy.
Father, let your love fill our home, blessing every member of our family. We trust in the words of 1 John 4:16, believing in the love you have for us.
Strengthen his heart with joy, Lord. Make his faith unquenchable, echoing Romans 5:3-4, knowing that suffering produces perseverance, character, and hope.
Our Gracious Father, we are eternally grateful. Your answered prayers are a testament to your ceaseless love and guidance. As we echo 1 Thessalonians 5:16-18, we rejoice always, pray continually, and give thanks in all circumstances.
In Jesus's name, we pray,
Amen.
The Lord's compassion fails not (let us pray)
Dear Heavenly Father,
Inspired by Your Word, I raise my voice in prayer. In Lamentations 3:22, You remind us that we're not consumed due to Your mercies, as Your compassion never fails. For my husband, I seek this mercy.
Almighty God, shower him with blessings. Pour out the divine favor that we see promised in Psalm 84:11. A favor that doesn't just trickle but flows mightily, transforming every aspect of his life.
Let his every endeavor stir joy in his soul. Like Job, in Job 1:10, who was blessed in all he undertook, may my husband's actions bring happiness.
Lord, guide him. Lead him in the path of righteousness for Your name's sake, as expressed in Psalm 23:3. Be his defender in every battle he faces.
God, the Source of All Grace, let him never lack Your divine favor. Let it flow, unceasing, like a spring in the desert, ever-refreshing, ever-renewing.
Lord, every morning let him experience Your fresh anointing. In Lamentations 3:23, You promised new mercies every morning, and I claim this for him. May his life echo the renewing touch of Your power.
Endow him, Almighty, with the immeasurable grace to stand firm. In the face of trials, like Paul in 2 Corinthians 12:9, may he know Your grace is sufficient for him.
I offer this prayer in humble submission to Your will, trusting in Your love and grace. Amen.
Ye, I overcome the world (Let us pray)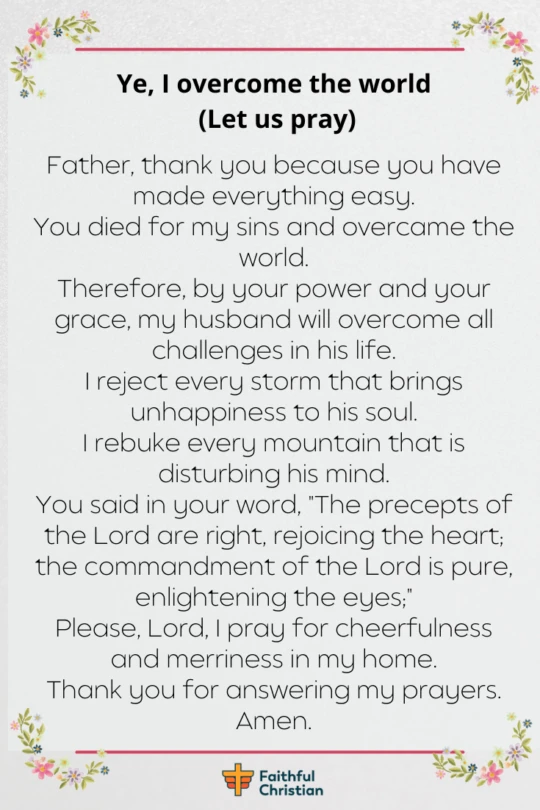 Oh, Heavenly Father, how incredible is your divine simplicity! Your guiding light illuminates our way, making every journey a joy. It's with heartfelt gratitude I stand before you, acknowledging your abundant love.
Through the sacrifice of your Son, Jesus Christ, you've showered us with mercy. He, who overcame the world, gives us courage, strength, and conviction. What a testament to your limitless power and ceaseless grace!
Today, Lord, I stand before you, an intercessor for my dear husband. Like David, who battled Goliath with faith in your power (1 Samuel 17:45), may my husband overcome life's many Goliaths. Father, you've armed him with courage. You've made him resilient. He can and will conquer.
Storms may arise, threatening to darken his joyful spirit. Yet, I remain undaunted. For you, oh Lord, command the wind and the waves (Mark 4:39). And in your name, they shall be still. No storm can rob my husband of his joy in your presence.
Mountains may rise high, trying to shake his peace of mind. But in faith, I stand firm, declaring, "These mountains will crumble!" For it is written, "If you have faith as small as a mustard seed, you can say to this mountain, 'Move,' and it will move." (Matthew 17:20).
Your divine words, oh Lord, are a beacon of light, rejoicing the heart and enlightening the mind. How wonderful it is to bask in their truth!
In this quiet moment of prayer, I humbly ask for a home filled with laughter and cheer. May our house echo the joy of Sarah (Genesis 21:6), who found merriment in your promise. Let each corner be filled with the warmth of your love.
Oh, Father, you're the God who listens, the God who cares. You're the almighty, the omnipotent, the ever-loving. As I lift these words to you, I know you hear me. In your mercy, I find solace.
Concluding this prayer, I thank you, Lord, for your unwavering attention. You've blessed us with hope, filling our hearts with your divine love. In your magnificent name, I say, Amen.
Frequently Asked Questions
How do I pray for a struggling husband?
As a concerned spouse, you might find your husband battling trials. In such instances, your prayer might resemble this: "Beloved Father, I intercede for my husband, besieged by life's struggles. Fortify him with Your strength. Guide him as he navigates his path. Grant him wisdom, echoing Proverbs 3:5-6, encouraging trust in Your divine plan. Through 1 Peter 5:7, remind him to relinquish anxieties, assured of Your nurturing care. In the name of Jesus, Amen."
How do I motivate my husband spiritually?
Spiritual motivation for your husband requires a multi-pronged approach. Initiate scripture-focused discussions. Through your spiritual journey, ignite his desire for godliness. Pray, earnestly, for his spiritual growth.
Drawing from Hebrews 10:24-25, inspire love and good works, encourage congregational fellowship and mutual edification. Your exemplary life, twinned with collective church participation, could stimulate his spiritual ascent.
What is the best prayer for a husband?
Praying for your husband's spiritual and personal development might follow this template: "Almighty God, I implore You to foster righteousness within my husband. Enable him to abhor wickedness and lead our family with integrity and spiritual wisdom. Guided by Proverbs 16:9 and Proverbs 4:23, I beseech You to direct his steps and safeguard his heart. Mold him to love me, reflecting the love Christ held for the church, as illustrated in Ephesians 5:25. Shield him from harm, endowing him with strength to conquer life's challenges. In Jesus' name, Amen."
How can I encourage my husband biblically?
Encouraging your husband biblically necessitates scripture-infused affirmations. Cite Ephesians 2:10 to remind him of his divine craftsmanship and purpose in Christ.
Invoke Isaiah 41:10 in moments of weakness, uplifting him with the promise of divine strength and support. By doing so, you're not only inspiring him but also guiding him towards God's word for encouragement.
What is a powerful prayer for my man?
You may present a powerful prayer for your husband as follows: "Everlasting Lord, I present my husband to You. Infuse him with Your strength and power, resonating Ephesians 6:10. Kindle in him an insatiable desire for You, aiding him in discovering his identity in You, as expounded in Colossians 3:1-3. Equip him with the fortitude to resist temptation, as promised in 1 Corinthians 10:13. Imbue him with the virtues outlined in Galatians 5:22-23: love, joy, peace, patience, kindness, goodness, faithfulness, gentleness, and self-control. In Jesus' name, Amen."
How do I pray for my husband with a hard heart?
A husband with a hardened heart demands divine intervention. An appropriate prayer might be: "Heavenly Father, I present my husband to you. His heart, hardened, cries out for your touch. In Ezekiel 36:26, You promised to replace hearts of stone with hearts of flesh. I humbly ask the same for him. Reawaken his receptiveness to Your word and love, aiding him in understanding Your truths anew. In Jesus' name, Amen."
How can I pray for my husband in difficult times?
Amid your husband's tribulations, your prayer could be as follows: "Heavenly Lord, in these taxing times, I pray for my husband. Shower him with the peace described in Philippians 4:7, transcending human comprehension. Comfort him in his distress, as assured in Psalm 34:18. In the midst of this tempest, guide him. Endow him with the strength and courage echoed in Joshua 1:9, reassuring him of Your unwavering presence. In Jesus' name, Amen."
What is a blessing prayer for my husband?
A prayer to seek divine blessings for your husband could be: "Divine Father, I request Your blessings for my husband. May he be graced with Your favor, as professed in Psalm 90:17. Bless his endeavors, his movements, in alignment with Deuteronomy 28:6. Echoing Psalm 1:3, may he flourish, bearing fruits in due season. Guard him, preserving his path, as per Psalm 91:11. In Jesus' name, Amen."
How can I pray for my husband's success and protection?
Praying for your husband's success and protection might take this form: "God, I beseech You to direct my husband's pursuits. I pray for his triumphs, aligning with Colossians 3:23, ensuring his efforts glorify You. Please safeguard him, serving as his refuge. Inspired by Psalm 91:1-4, may he find safety under Your protective wings. Shield him from harm and fortify him against adversities. In Jesus' name, Amen."
What are some midnight prayers I can say for my husband?
At the stroke of midnight, your prayers for your husband might be as follows: "Lord, I extend my gratitude for my husband. As he seeks rest tonight, I pray for Your vigilant watch, as mentioned in Psalm 4:8. Petition peace for his heart and mind. May Your angels guard him during his slumber, renewing him for the forthcoming day. I ask these in Jesus' name, Amen.
How can I offer intercessory prayers for my husband?
As an intercessor for your husband, your prayers could reflect the following: "Heavenly Father, I intercede on my husband's behalf. Enable him to perceive and embrace Your love deeply, as articulated in Ephesians 3:17-19. Guide him in truth, as per Psalm 43:3. Equip him with the strength to confront obstacles, resonating with Isaiah 40:31. Safeguard his mind, body, and spirit, reflecting Psalm 91:1-2. Immerse him in Your Holy Spirit, as encouraged in Ephesians 5:18. In Jesus' name, Amen."
What is an appreciation prayer I can say for my husband?
Expressing gratitude for your husband, your prayer might be: "God, I appreciate my husband, his love, kindness, support. I thank You for the man he is and for his loving heart. Enable him to realize his worth in Your and my eyes. Thank You for trusting him to me. May our joint growth in love and faith continue. In Jesus' name, Amen."
Author: Akatakpo Dunn
Dr. Akatakpo Dunn is a dedicated follower of Christ, an active member and speaker, and an ongoing learner of the Scriptures. Passionate about his faith and serving others, he is committed to sharing his spiritual journey and insights to inspire and uplift fellow believers. He has been active in the church for more than 23 years. Through The
Faithful Christian Blog
,
Dr. Dunn
combines his love for God, philanthropy, and Scripture, providing a valuable resource for those seeking to grow in their faith.
Follow me: on Youtube, Facebook, Twitter, Instagram, and Pinterest.
Content Disclosure:
At The Faithful Christian Blog, I create authentic and inspiring content. Although I am the main author, I occasionally use AI for minor language enhancements. This minimal AI usage ensures high-quality, trustworthy articles without compromising originality or sincerity, ultimately supporting our shared faith journey.
Warmly,
Dr. Akatakpo Dunn
Was this article helpful?