About two months ago, I was disappointed by the bank.
I had applied for a loan for one of my major projects.
And just when I thought everything was done and dusted, the devil struck.
I was completely heartbroken.
My heart was filled with sorrow and so much pain.
While I was still trying to get hold of myself, my wife stepped in.
She comforted me and prayed for me.
And then, God intervened.
I got a new loan from the Hospital where I work. And surprisingly, it was interest-free.
Never underestimate the power of your prayers over your husband.
Whatever issues are disturbing your husband, they can be solved with prayers.
If your husband is unhappy or struggling with lots of problems, God can restore joy in your home.
I have put together encouraging prayer for your husband.
---
Recommended for you
---
Motivational bible verses for your Husband
Psalm 34:4–5, 8
I sought the LORD, and He answered me and delivered me from all my fears. Those who look to Him are radiant, and their faces shall never be ashamed. Oh, taste and see that the LORD is good! Blessed is the man who takes refuge in Him!
Romans 8:28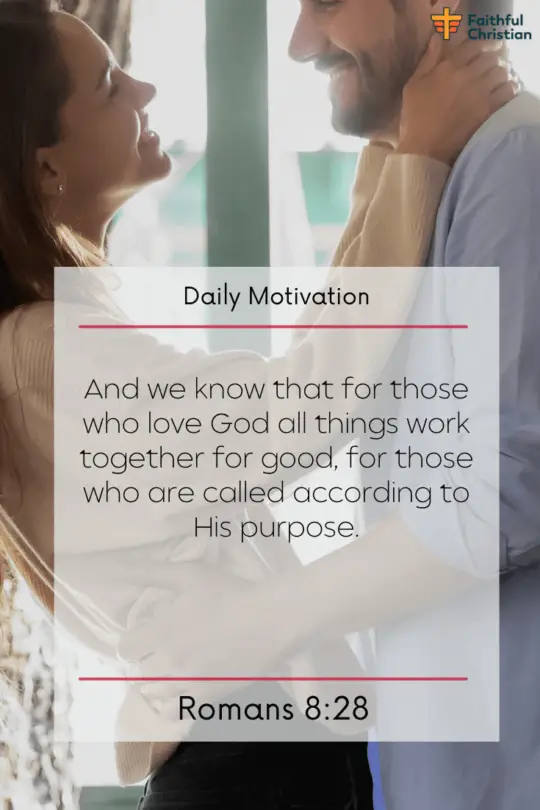 And we know that for those who love God all things work together for good, for those who are called according to His purpose.
Prayer for Encouragement for Husband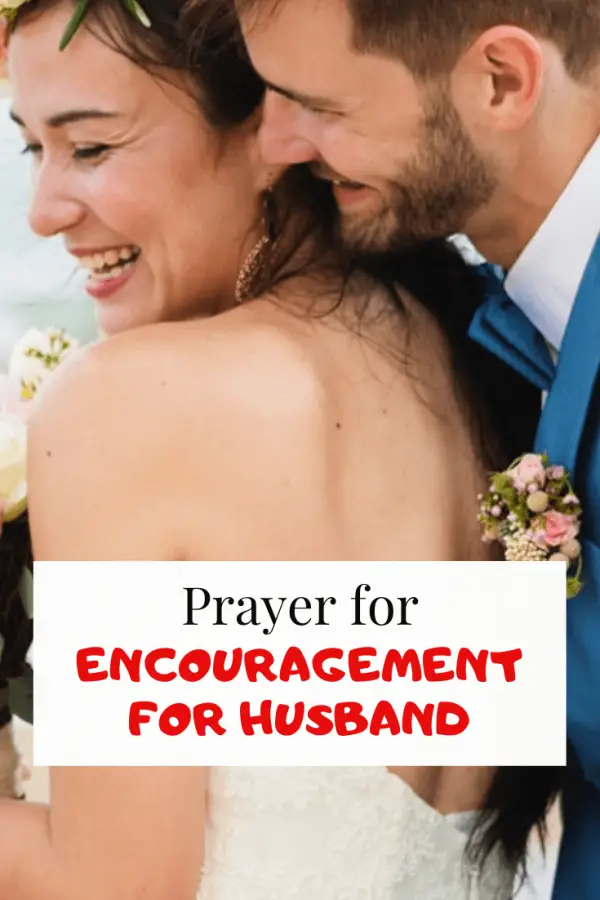 Lord, I Give you thanks (let us pray)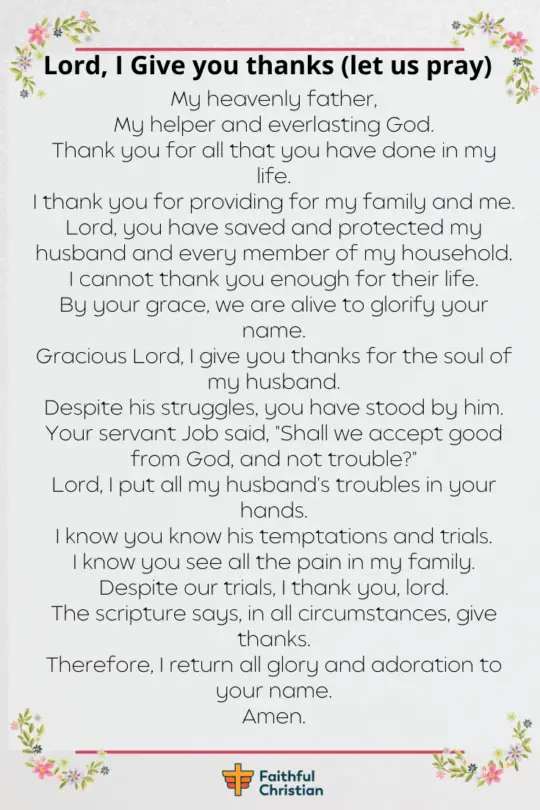 My heavenly father,
My helper and everlasting God.
Thank you for all that you have done in my life.
I thank you for providing for my family and me.
Lord, you have saved and protected my husband and every member of my household.
I cannot thank you enough for their life.
By your grace,  we are alive to glorify your name.
Gracious Lord, I give you thanks for the soul of my husband.
Despite his struggles, you have stood by him.
Your servant Job said, "Shall we accept good from God, and not trouble?"
Lord, I put all my husband's troubles in your hands.
I know you know his temptations and trials.
I know you see all the pain in my family.
Despite our trials, I thank you, lord.
The scripture says, in all circumstances, give thanks.
Therefore, I return all glory and adoration to your name.
Amen.
The just shall live by faith (Let us pray)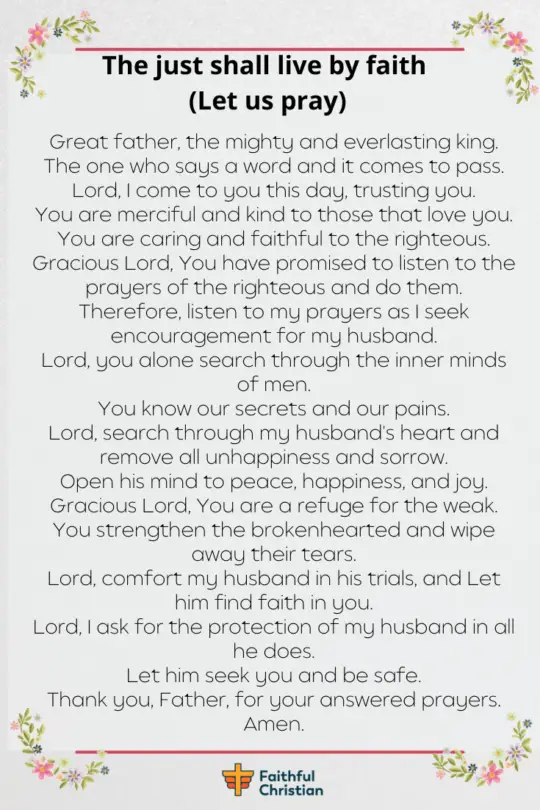 Great father, the mighty and everlasting king.
The one who says a word and it comes to pass.
Lord, I come to you this day, trusting you.
You are merciful and kind to those that love you.
You are caring and faithful to the righteous.
Gracious Lord, You have promised to listen to the prayers of the righteous and do them.
Therefore, listen to my prayers as I seek encouragement for my husband.
Lord, you alone search through the inner minds of men.
You know our secrets and our pains.
Lord, search through my husband's heart and remove all unhappiness and sorrow.
Open his mind to peace, happiness, and joy.
Gracious Lord, You are a refuge for the weak.
You strengthen the brokenhearted and wipe away their tears.
Lord, comfort my husband in his trials and Let him find faith in you.
The scripture says, "The name of the Lord is a strong tower; The righteous runs into it and is safe."
Lord, I ask for the protection of my husband in all he does.
Let him seek you and be safe.
Thank you, Father, for your answered prayers.
Amen.
---
Recommended for you
---
It is well with your husband (let us pray)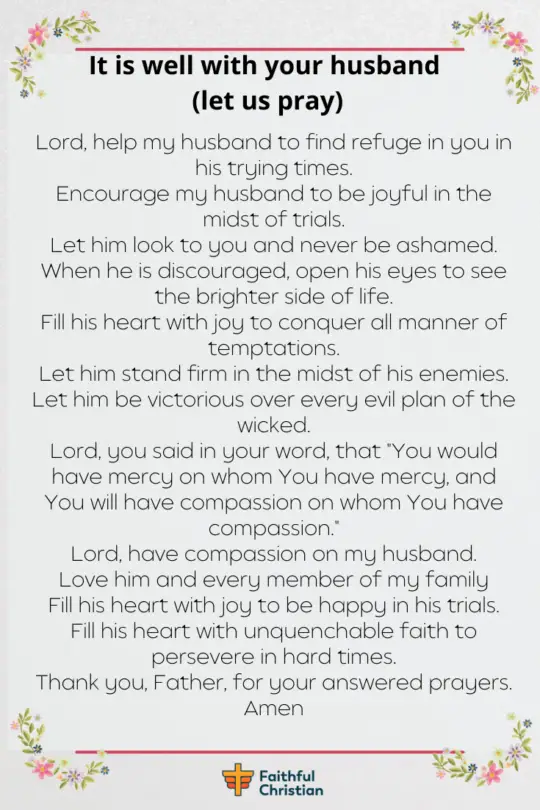 Lord, help my husband to find refuge in you in his trying times.
Encourage my husband to be joyful in the midst of trials.
Let him look to you and never be ashamed.
When he is discouraged, open his eyes to see the brighter side of life.
Fill his heart with joy to conquer all manner of temptations.
Let him stand firm in the midst of his enemies.
Let him be victorious over every evil plan of the wicked.
Lord, you said in your word, that "You would have mercy on whom You have mercy, and You will have compassion on whom You have compassion."
Lord, have compassion on my husband.
Love him and every member of my family
Fill his heart with joy to be happy in his trials.
Fill his heart with unquenchable faith to persevere in hard times.
Thank you, Father, for your answered prayers.
Amen
The Lord's compassion fails not (let us pray)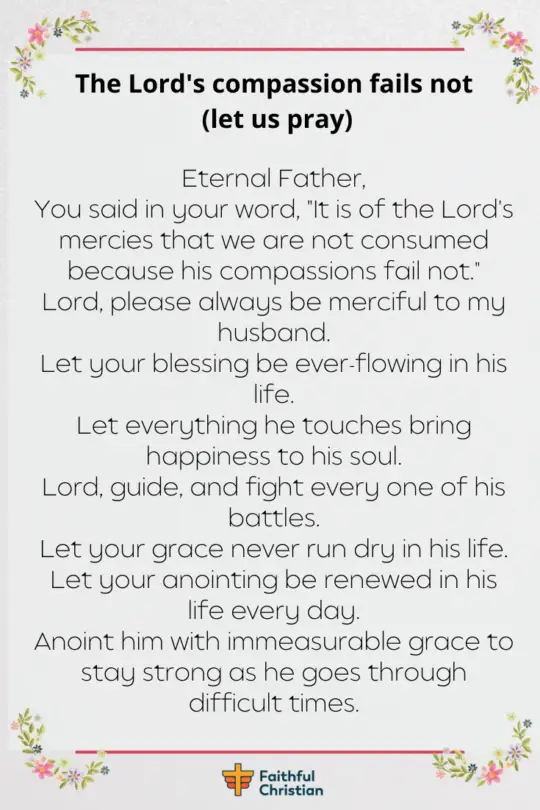 Eternal Father,
You said in your word, "It is of the Lord's mercies that we are not consumed because his compassions fail not."
Lord, please always be merciful to my husband.
Let your blessing be ever-flowing in his life.
Let everything he touches bring happiness to his soul.
Lord, guide, and fight every one of his battles.
Let your grace never run dry in his life.
Let your anointing be renewed in his life every day.
Anoint him with immeasurable grace to stay strong as he goes through difficult times.
Ye, I overcome the world (Let us pray)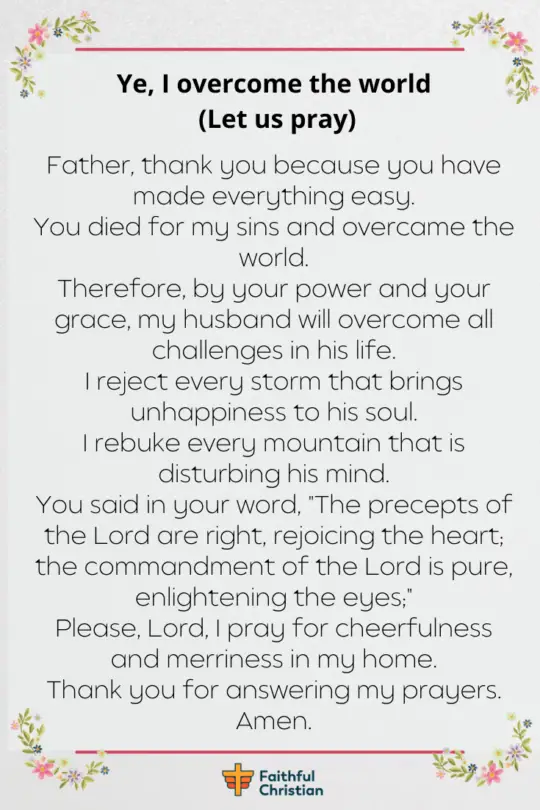 Father, thank you because you have made everything easy.
You died for my sins and overcame the world.
Therefore, by your power and your grace, my husband will overcome all challenges in his life.
I reject every storm that brings unhappiness to his soul.
I rebuke every mountain that is disturbing his mind.
You said in your word, "The precepts of the Lord are right, rejoicing the heart; the commandment of the Lord is pure, enlightening the eyes;"
Please, Lord, I pray for cheerfulness and merriness in my home.
Thank you for answering my prayers.
Amen.
Author: Akatakpo Dunn
Dunn is a firm believer and a teacher of God's word. Suffering for Jesus is an attribute of a faithful Christian, and I hope to win new souls to Christ with every chance that I get. Articles are well-researched and backed by the scriptures.
Follow me: on Youtube, Facebook, Twitter, Instagram, and Pinterest.