With millions of people dying every day from different kinds of Diseases.
We must thank God daily for our lives.
Just yesterday, we had a suspected case of Coronavirus in the hospital.
We all became scared About the potential spread in our facility.
There are no protective gadgets in my facility besides face masks and gloves.
But I had no other option but to intervene.
I quickly isolated him and called the necessary authorities to carry out the test.
I knew I would be exposed in one way or the other.
But I also believed in God's power to protect me from sicknesses and diseases.
Thankfully, the result came out negative.
God protects us daily from unseen infections.
And even when we fall ill, God miraculously heals our infirmities.
The scriptures say,
A thousand may fall at your side,
ten thousand at your right hand,
but it will not come near you.

Psalm 91:7
So, there is no reason to panic.
With nearly 2 million confirmed cases of coronavirus, God is able to protect you.
He is able to cover you with his shield and shelter your household.
The psalmist David said,
He will cover you with his feathers,
    and under his wings you will find refuge;
    his faithfulness will be your shield and rampart

Psalm 91:4
If you are battling any kind of sickness, there are many bible verses about protection from diseases that can invigorate you.
There is no cause for alarm.
Even in the midst of fatalities from Coronavirus, God has preserved and healed his people.
I have compiled bible verses about protection from sickness to inspire you today.
---
Recommended for you
---
Bible Verses about protection from sickness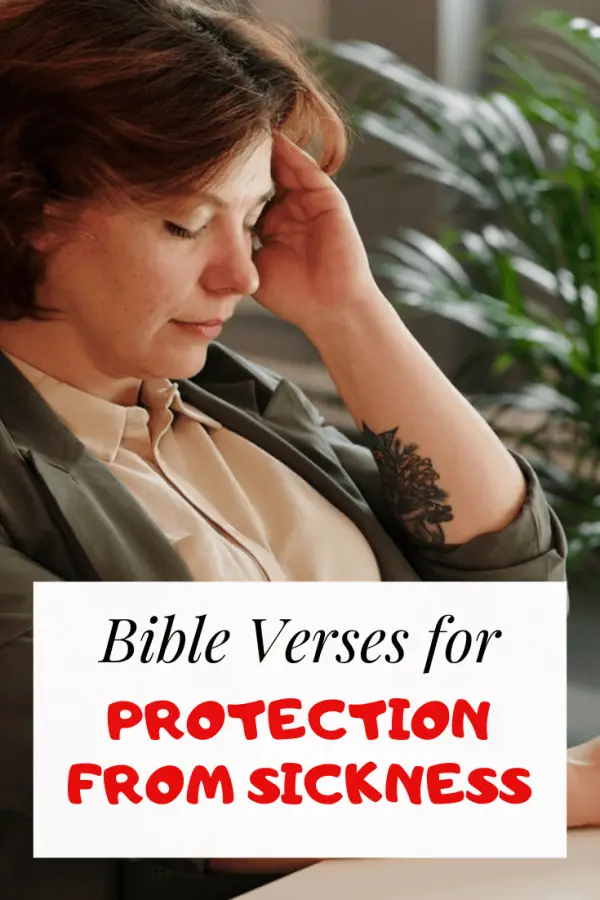 1.  Psalm 34:7
The angel of the Lord encamps around those who fear him,
    and he delivers them.
2.  Psalm 91:11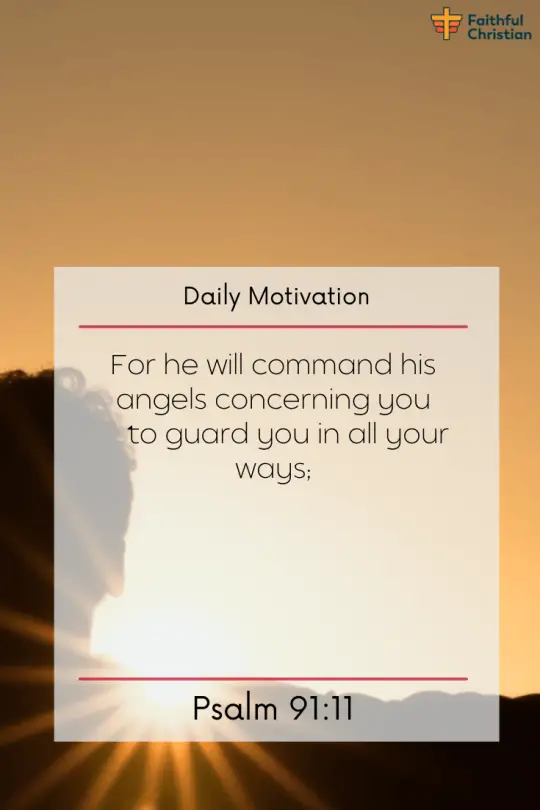 For he will command his angels concerning you
    to guard you in all your ways;
3.  Exodus 15:26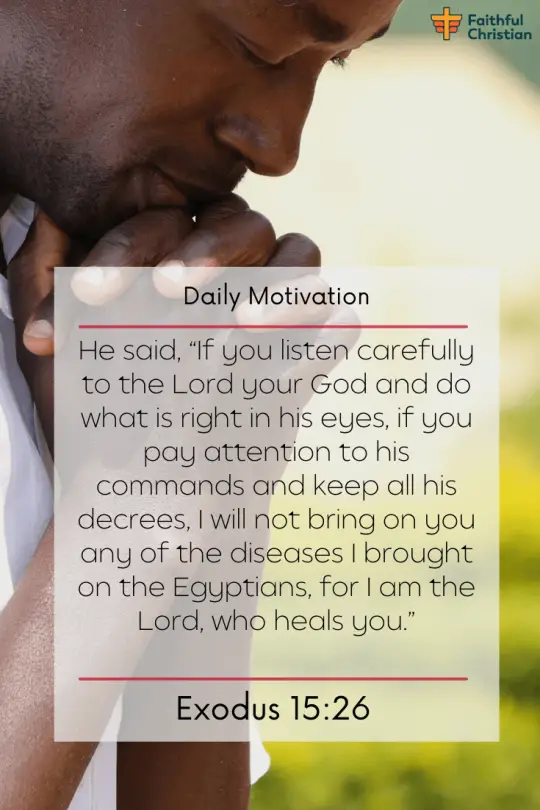 He said, "If you listen carefully to the Lord your God and do what is right in his eyes, if you pay attention to his commands and keep all his decrees, I will not bring on you any of the diseases I brought on the Egyptians, for I am the Lord, who heals you."
4.  Psalm 103:3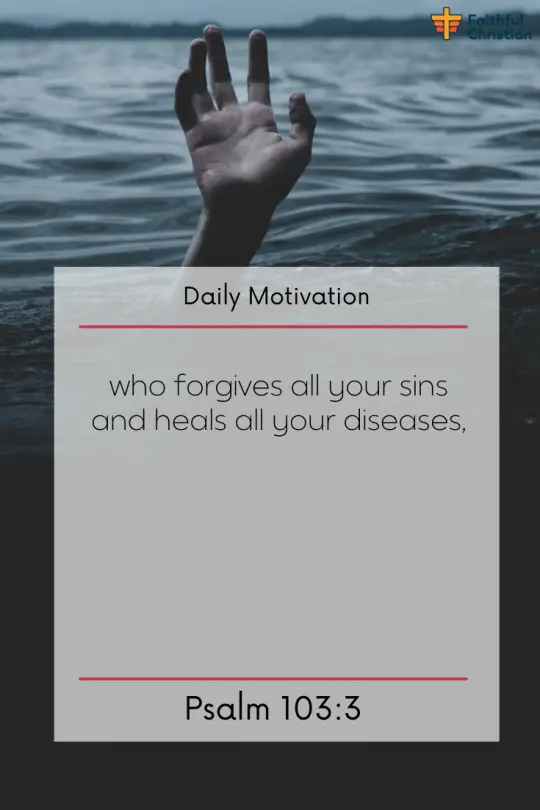 who forgives all your sins
    and heals all your diseases,
5.  Deuteronomy 7:15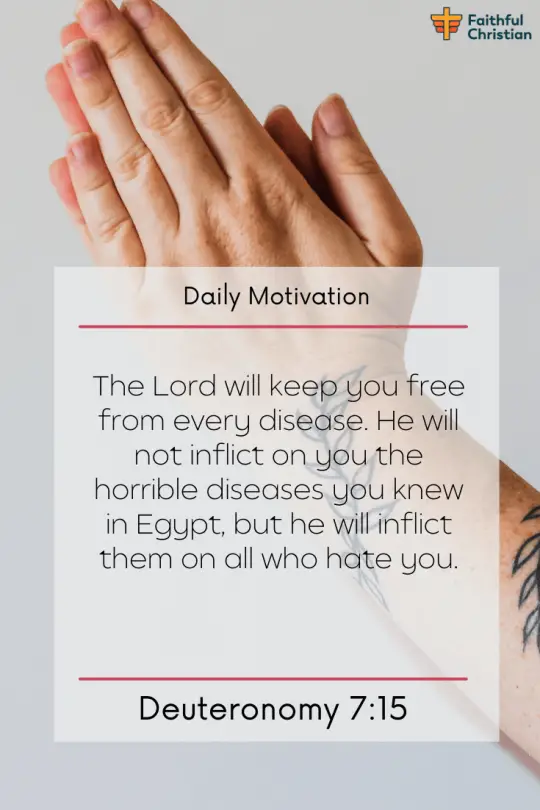 The Lord will keep you free from every disease. He will not inflict on you the horrible diseases you knew in Egypt, but he will inflict them on all who hate you.
6.  Psalm 147:3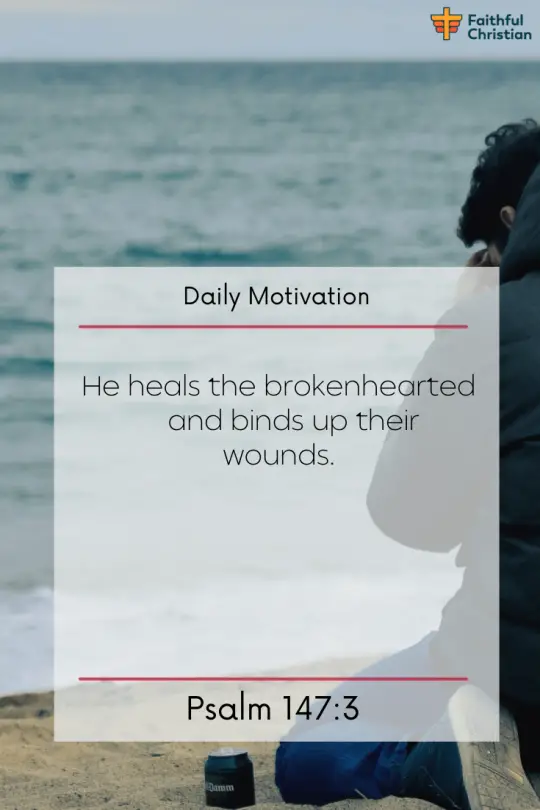 He heals the brokenhearted
    and binds up their wounds.
7.  Exodus 23:25-26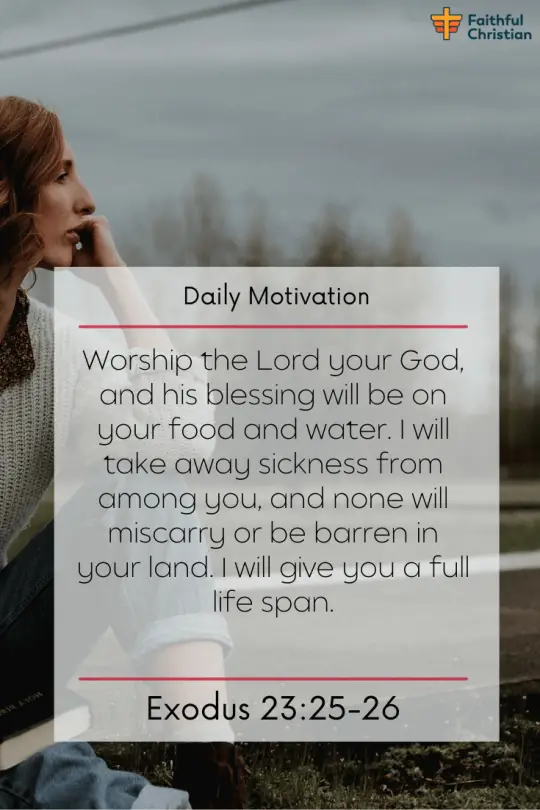 Worship the Lord your God, and his blessing will be on your food and water. I will take away sickness from among you, 26 and none will miscarry or be barren in your land. I will give you a full life span.
8.  Hosea 6:1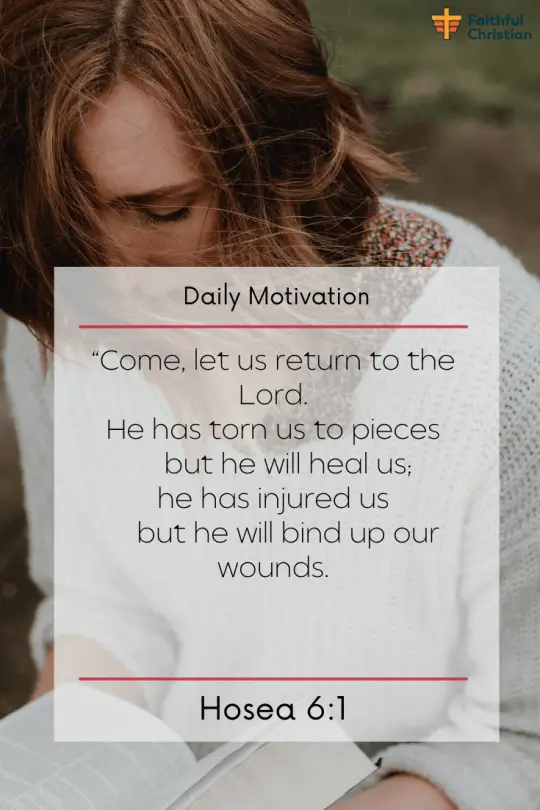 "Come, let us return to the Lord.
He has torn us to pieces
    but he will heal us;
he has injured us
    but he will bind up our wounds.
9.  Jeremiah 33:6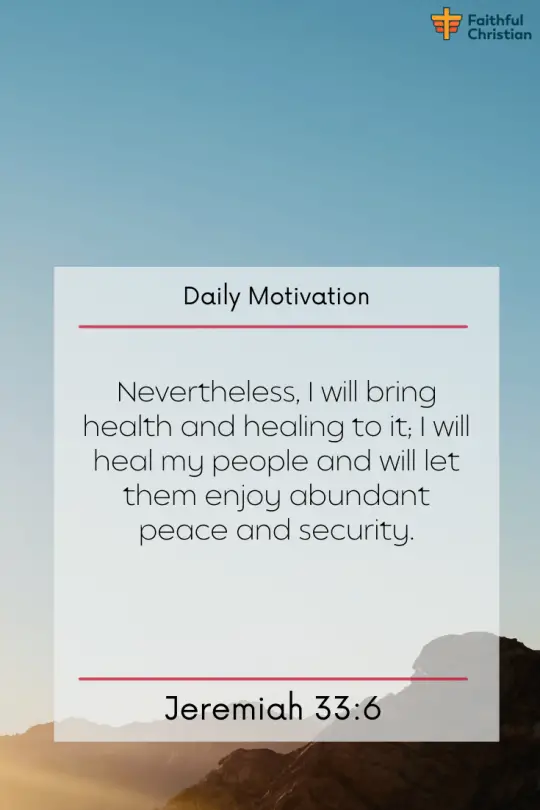 Nevertheless, I will bring health and healing to it; I will heal my people and will let them enjoy abundant peace and security.
10.  Psalm 41:3-4
The Lord sustains them on their sickbed
    and restores them from their bed of illness.
4 I said, "Have mercy on me, Lord;
    heal me, for I have sinned against you."
11.  Job 5:18
For he wounds, but he also binds up;
    he injures, but his hands also heal.
12.  2 Thessalonians 3:3
But the Lord is faithful, and he will strengthen you and protect you from the evil one.
13.  2 Timothy 4:18
The Lord will rescue me from every evil attack and will bring me safely to his heavenly kingdom. To him be glory for ever and ever. Amen.
14.  1 Corinthians 10:13
No temptation[a] has overtaken you except what is common to mankind. And God is faithful; he will not let you be tempted[b] beyond what you can bear. But when you are tempted,[c] he will also provide a way out so that you can endure it.
15.  Psalm 121:7
The Lord will keep you from all harm—
    he will watch over your life;
16.  Matthew 6:13
And lead us not into temptation,[a]
but deliver us from the evil one.
---
Recommended for you
---
More Bible Verses about protection from disease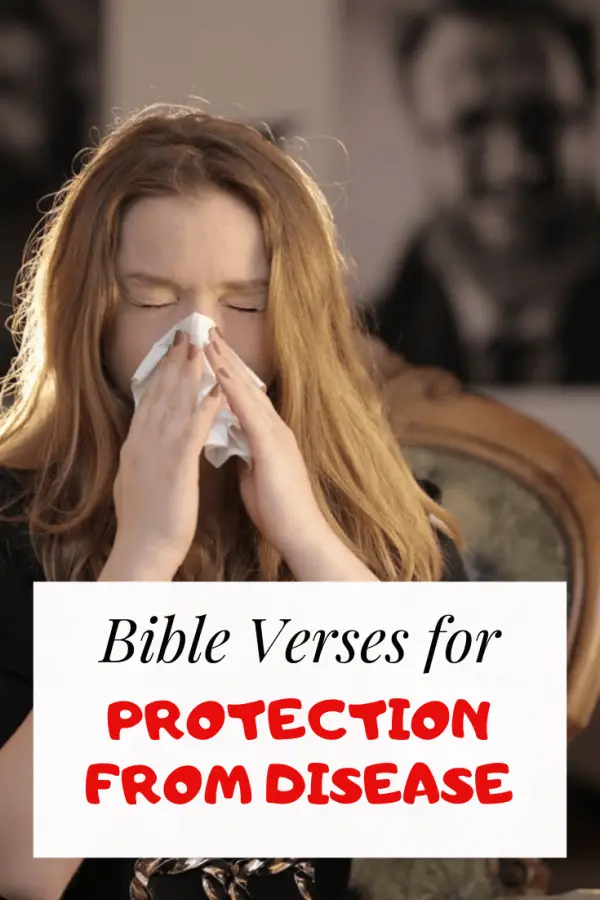 17.  2 Peter 2:9
if this is so, then the Lord knows how to rescue the godly from trials and to hold the unrighteous for punishment on the day of judgment
18.  Mark 1:34
and Jesus healed many who had various diseases. He also drove out many demons, but he would not let the demons speak because they knew who he was.
19.  Isaiah 54:17
 no weapon forged against you will prevail,
    and you will refute every tongue that accuses you.
This is the heritage of the servants of the Lord,
    and this is their vindication from me,"
declares the Lord.
20.  John 10:28-30
I give them eternal life, and they shall never perish; no one will snatch them out of my hand. 29 My Father, who has given them to me, is greater than all[a]; no one can snatch them out of my Father's hand. 30 I and the Father are one."
21.  Isaiah 41:10
So do not fear, for I am with you;
    do not be dismayed, for I am your God.
I will strengthen you and help you;
    I will uphold you with my righteous right hand.
22.  Joshua 1:9
Have I not commanded you? Be strong and courageous. Do not be afraid; do not be discouraged, for the Lord your God will be with you wherever you go."
23.  Isaiah 43:1-2
But now, this is what the Lord says—
    he who created you, Jacob,
    he who formed you, Israel:
"Do not fear, for I have redeemed you;
    I have summoned you by name; you are mine.
2 When you pass through the waters,
    I will be with you;
and when you pass through the rivers,
    they will not sweep over you.
When you walk through the fire,
    you will not be burned;
    the flames will not set you ablaze.
24.  Romans 8:31
What, then, shall we say in response to these things? If God is for us, who can be against us?
25.  Philippians 4:13
I can do all this through him who gives me strength.
26.  Isaiah 40:29-31
He gives strength to the weary
    and increases the power of the weak.
30 Even youths grow tired and weary,
    and young men stumble and fall;
31 but those who hope in the Lord
    will renew their strength.
They will soar on wings like eagles;
    they will run and not grow weary,
    they will walk and not be faint.
27.  Luke 4:40
At sunset, the people brought to Jesus all who had various kinds of sickness, and laying his hands on each one, he healed them.
28.  Mark 1:32-34
 That evening after sunset the people brought to Jesus all the sick and demon-possessed. 33 The whole town gathered at the door, 34 and Jesus healed many who had various diseases. He also drove out many demons, but he would not let the demons speak because they knew who he was.
---
Recommended for you
---
God can protect you from sickness, even in impossible times
There are multiple passages in the bible that show God's healing hand is able to deliver us from any form of disease.
The story of Hezekiah shows that God can heal and take away any disease in seconds.
Hezekiah was sick unto death. As he lay on his bed, God spoke to Isaiah to inform him to prepare his household for he would die.
That would have been very painful considering how much true and perfect leadership Hezekiah has shown as a king.
But he was not discouraged.
He understood that the powers of long life and deliverance lie in the hands of God.
So, quickly, he returned to God in prayers.
He said,
"Remember, Lord, how I have walked before you faithfully and with wholehearted devotion and have done what is good in your eyes."
As he prayed, he wept and cried before God for deliverance.
He knew within himself that God can take our scourge away.
He is also able to protect us from death from sicknesses.
And while he cried, God spoke to Isaiah, to return to him.
Isaiah said,
Go and tell Hezekiah, 'This is what the Lord, the God of your father David, says: I have heard your prayer and seen your tears; I will add fifteen years to your life
God delivered him from severe illness.
If God can deliver and heal established diseases, Can he not protect you from diseases? He can.
He is able to save the righteous and protect them from all temptations of the devil.
Author: Akatakpo Dunn
Dunn is a firm believer and a teacher of God's word. Suffering for Jesus is an attribute of a faithful Christian, and I hope to win new souls to Christ with every chance that I get. Articles are well-researched and backed by the scriptures.
Follow me: on Youtube, Facebook, Twitter, Instagram, and Pinterest.