Experiencing physical pain? You're not alone.
Whether it's a sudden ache or a chronic condition, we all face pain and seek solace in different ways.
But here's a thought: have you ever looked to the Bible for solace?
In this post, we're diving into Bible verses for physical pain and healing that can ease your mind and soothe your spirit.
So, what's the payoff? By embracing these verses, you'll find hope and strength to tackle life's hurdles.
Can the Word of God truly help you heal?
If you haven't tried, it's time to explore divine wisdom that has guided countless souls.
"By His stripes, we are healed" (Isaiah 53:5) – a simple yet profound truth empowering you to face pain head-on and reclaim your well-being.
Ready to embark on a healing journey?
Join us as we uncover the power of Bible verses to mend physical pain and hurt. Discover a renewed sense of hope in your quest for solace.
Bible verses for physical pain and suffering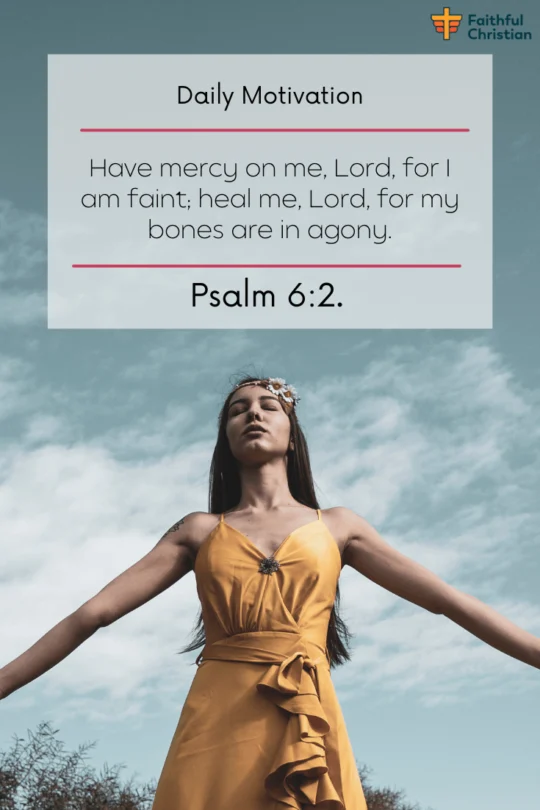 Have mercy on me, Lord, for I am faint; heal me, Lord, for my bones are in agony.
The bottom Line
Psalm 6:2 offers comfort to those in physical pain.
This verse acknowledges our human fragility and reminds us to turn to God for healing during times of suffering.
Genesis 20:17 displays God's healing power in action.
In this story, Abraham prays for Abimelek, his wife, and his servants.
God hears Abraham's prayer and restores their health, proving that He listens and responds to our heartfelt pleas.
In Numbers 12:13, we see Moses praying for his sister Miriam, who suffers from leprosy.
He begs God, "Please, God, heal her!" Miriam eventually regains her health, demonstrating God's mercy and His willingness to aid us in times of need.
The tale of Job (Job 2:7-8) presents a compelling case of physical suffering.
Job, a devout man, endures a faith-testing trial as Satan covers his body in painful boils.
Despite his agony, Job's faith in God never wavers, illustrating the value of trust and perseverance during hardship.
In each account, God's healing power shines through.
Whether dealing with injuries, illnesses, or other struggles, seeking God's help through prayer and faith can provide relief and comfort.
When faced with pain or frailty, trusting in God's intervention is vital.
It's essential to remember that no pain is too great for God to heal.
Christ's miracles, such as restoring sight to the blind and raising the dead, showcase His boundless power.
Trusting in God and seeking His guidance leads to peace and healing during life's challenges.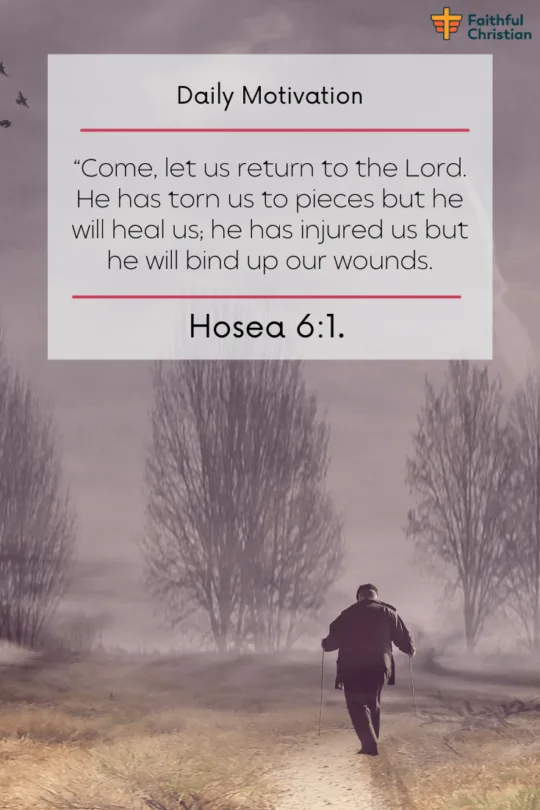 "Come, let us return to the Lord. He has torn us to piecesbut he will heal us; he has injured usbut he will bind up our wounds.
The bottom Line
Hosea 6:1 shines a light on God's amazing healing power, reminding us that He knows the pain and obstacles we confront.
When grappling with physical injuries, we're encouraged to seek His help.
Don't let fear overcome your faith in God's healing power, no matter the injury's severity.
His healing abilities know no limits, and nothing is too overwhelming for Him to tackle.
Seek God's help to relieve your pain and have faith in His ability to provide a swift recovery.
He's aware of your struggles even before you approach Him.
So, why not seek His guidance and rely on His healing powers?
The story of Jacob wrestling an angel (Genesis 32:24-32) shows how faith can bring strength and transformation amid physical pain.
Although Jacob suffered a dislocated hip and limped, his determination to obtain God's blessing in his time of suffering led to profound spiritual growth.
Alongside Hosea 6:1, other scriptures emphasize God's healing capabilities:
Lamentations 3:40-41 urges us to reflect, return to God, and offer our hearts and hands to Him, seeking help and healing.
This act acknowledges our need for divine support and expresses trust in His power to heal.
Hosea 14:4 reveals God's commitment to heal and restore those who repent and come back to Him.
This verse reminds us that seeking God's compassion and forgiveness brings healing and renewal.
Jeremiah 30:17 assures us that God will mend our health and injuries, bolstering our faith in His power to heal physical and emotional wounds.
Physical suffering often stems from the devil's attempts to dishearten and frustrate us. However, don't let these trials dampen your trust in God.
Believe in His ability to heal you, whether you face chest, leg, or nerve pain.
Remember, through prayer and faith, all things become possible.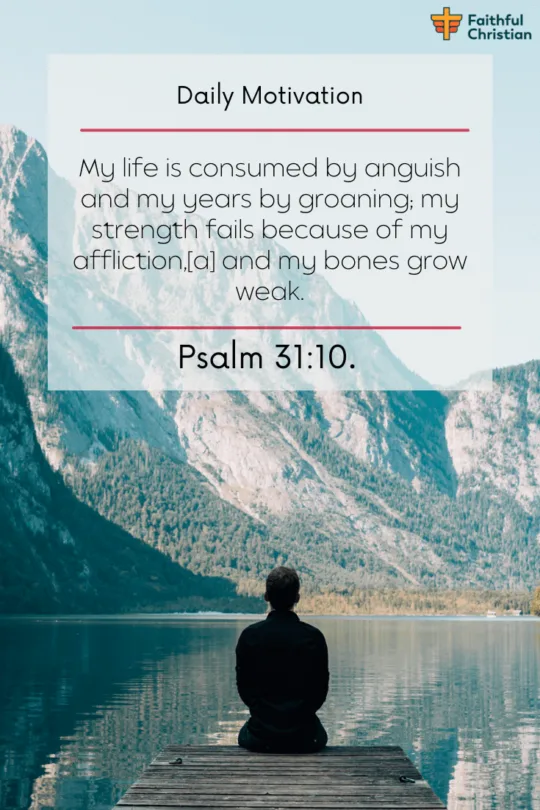 My life is consumed by anguishand my years by groaning; my strength fails because of my affliction,[a]and my bones grow weak.
The bottom Line
Are you wrestling with chronic physical pain or a persistent joint injury?
It's crucial not to lose hope in medical treatments or let your condition shake your faith in God.
Continuously remind yourself that no ailment is too big for God to heal, and He can restore life even when faced with death.
During challenging times, maintain unwavering faith in God.
Don't let worry or fear rule your life, and resist the devil's attempts to steal your happiness and joy in Christ.
A solid faith in God and Jesus is the cornerstone of our spiritual journey.
Psalm 31:10 resonates with those in physical pain: "For my life is spent with sorrow, and my years with sighing; my strength fails because of my iniquity, and my bones waste away."
This verse teaches us that pain and suffering are universal.
As we age, our bodies may weaken, and injuries can occur from various activities.
Paul's story in 2 Corinthians 12:7-10 illustrates how physical pain can impact even the most dedicated believers.
Paul faced a "thorn in the flesh," thought to be a physical ailment.
Despite his suffering, he relied on God's grace and strength, showing us that God's power is most evident in our weakest moments.
Psalm 88:15 is another poignant scripture addressing physical pain and suffering: "I have suffered and been in pain since my youth; I am near death and in despair."
This verse captures the feelings of despair and anguish accompanying long-term physical suffering.
It reminds us to seek God's solace and strength during dark times.
Psalm 38:3 also discusses physical pain: "There is no health in my body because of your indignation; there is no strength in my bones because of my sin."
This verse suggests physical pain can be linked to spiritual turmoil or sin's consequences.
However, it reminds us that repentance and turning to God can bring healing and restoration.
Romans 9:2 explores the emotional pain accompanying physical suffering: "I have great sorrow and unceasing anguish in my heart."
This verse emphasizes the emotional impact of pain, especially when witnessing loved ones or fellow believers suffer.
It serves as a reminder that emotional support and empathy are vital during times of hardship.
When facing physical pain or injury, seek God's help. Trust that He can heal all your afflictions, no matter how long-lasting.
Believe in His power, and you'll find renewed strength and healing. Remember, with steadfast faith in God, everything can be made new.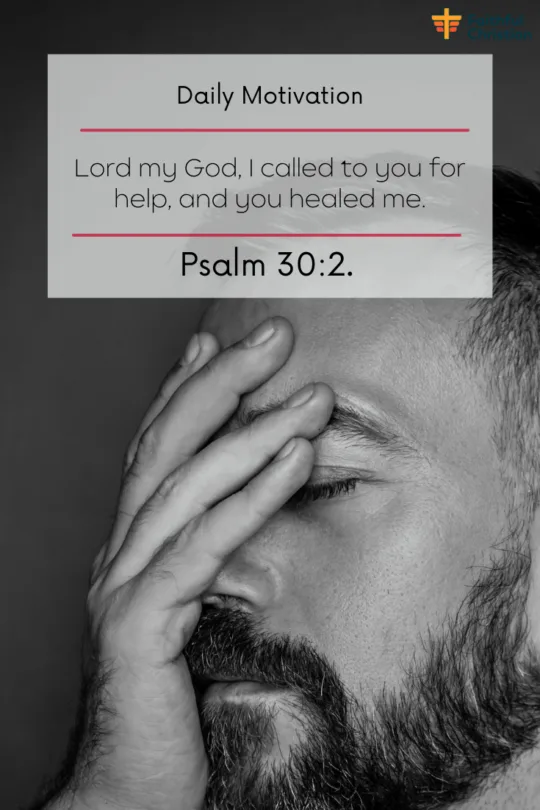 Lord my God, I called to you for help,and you healed me.
The bottom Line
Psalm 30:2 highlights the psalmist's deep gratitude for God's healing touch.
This verse underscores the significance of seeking God's help when in need and trusting His ability to mend both physical and emotional wounds.
As we face life's challenges, we can confidently call out to God, assured that He hears our prayers and extends His healing hand.
Psalm 103:3-4 shows God's role in healing physical and emotional afflictions, not just forgiving sins.
Trusting in God and seeking His healing opens the door to a renewed sense of hope and well-being.
He can lift us from our darkest moments and shower us with love and compassion.
Exodus 15:26 reaffirms the value of heeding God's commands to receive His protection and healing.
By trusting in His wisdom and aligning our lives with His plan, we can feel His healing presence.
The crucifixion of Jesus, narrated in Matthew 27, Mark 15, Luke 23, and John 19, demonstrates the immense physical pain He bore.
Yet, even amidst His suffering, Jesus remained devoted to God, exemplifying the power of faith in overcoming pain and adversity.
This profound example teaches us that prayer, coupled with faith, can work wonders beyond imagination.
In every situation, we must turn to God, reach out through prayer, and trust in His healing abilities.
This trust doesn't mean dismissing medical advice or treatments.
Instead, it reflects our belief that God will perfect our efforts and ease our pain.
He can heal our bodies and grant us the strength we need.
God caters to each person's needs in unique ways.
In the Bible, He healed Hezekiah on the verge of death, adding 15 years to his life and turning his sorrow into joy.
Jesus healed lepers, restoring their dignity and happiness.
Why should your situation be any exception?
Will God not help you in times of need?
Will He let you suffer without end?
Keep in mind, God can alleviate your physical pain – never cease believing.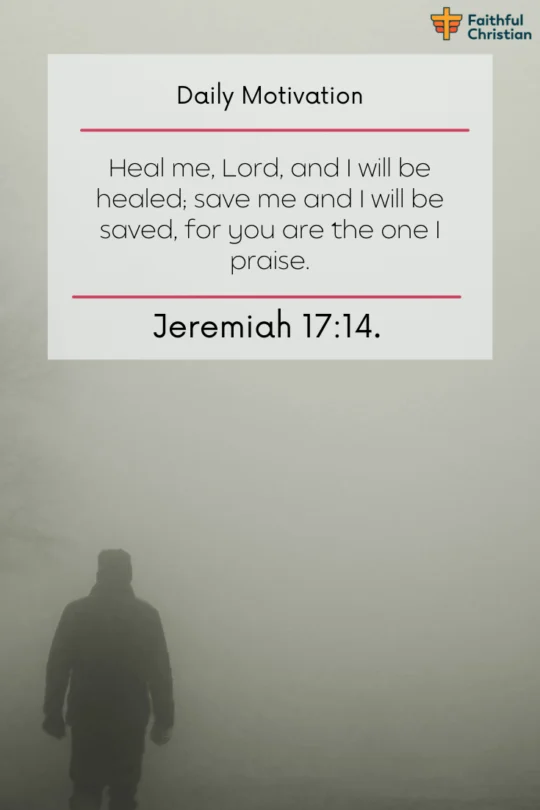 Heal me, Lord, and I will be healed;save me and I will be saved,for you are the one I praise.
Jeremiah 17:14 emphasizes the deep faith we should have in God's healing abilities. Turning to the Lord is crucial during physical pain or suffering.
In recognizing God as our healer, we honor and praise Him for His enduring love and mercy.
Jeremiah 31:18 reveals Ephraim accepting God's discipline. This discipline may represent the physical pain or challenges we face in life.
By embracing God's lessons, we show our faith in His divine plan and our willingness to return to Him.
This verse encourages us, during painful moments, to maintain our faith, trusting that God's purpose leads to healing and restoration.
Matthew 8:25 captures the disciples' fear and desperation as they face a stormy sea. In their distress, they turn to Jesus for help and protection.
This verse reminds us to call upon Jesus during times of physical pain or suffering, trusting in His power to save and heal. Even in our darkest moments, faith in Him brings comfort and strength.
Psalm 6:4 shows the psalmist asking God for deliverance and salvation, appealing to His unwavering love. This earnest plea highlights the psalmist's trust in God's love and healing power during physical pain and suffering.
This verse urges us to seek God's assistance and depend on His steadfast love when facing challenges and pain.
King David, who endured various physical ailments, exemplifies trust and faith in God's healing power.
In Psalm 38, he describes his body in pain, yet he never lets his soul yield to negativity. He resists doubt, remaining confident in God's ability to heal and ease his physical pain.
By exploring these verses, we deepen our understanding of faith in God's healing power during physical pain and suffering. Each verse inspires us to seek God's guidance, trust His plan, and rely on His love during our trials.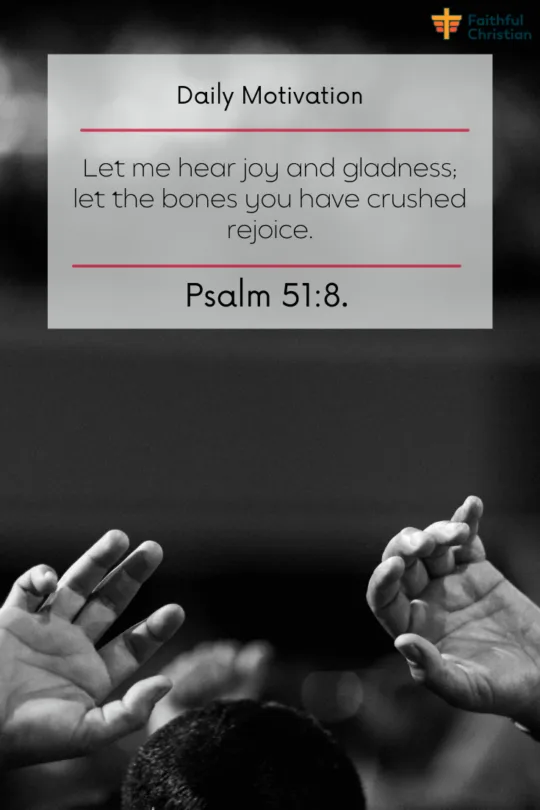 Let me hear joy and gladness;let the bones you have crushed rejoice.
Psalm 51:8 highlights the significance of joy and hope amidst suffering. In King David's prayer for forgiveness, he seeks solace in faith and God's healing power to rejuvenate the body and spirit.
In Psalm 119:81-82, the psalmist expresses their longing for God's comfort and salvation during difficult times. Despite the physical toll of suffering, they find hope in God's word, trusting in His healing.
Isaiah 35:10 prophesies the future restoration of God's people. It showcases the transformative power of God's healing, replacing pain with everlasting joy and gladness.
King Hezekiah's story in 2 Kings 20:1-11 demonstrates the impact of prayer and faith during physical pain. Hezekiah turns to God, praying for healing from his grave illness. In return, God grants him more years of life and cures his sickness.
Let these biblical examples inspire you during physical pain. Draw strength from God's word, rejoicing in His healing power. Keep the faith, and God will bring the healing you desire.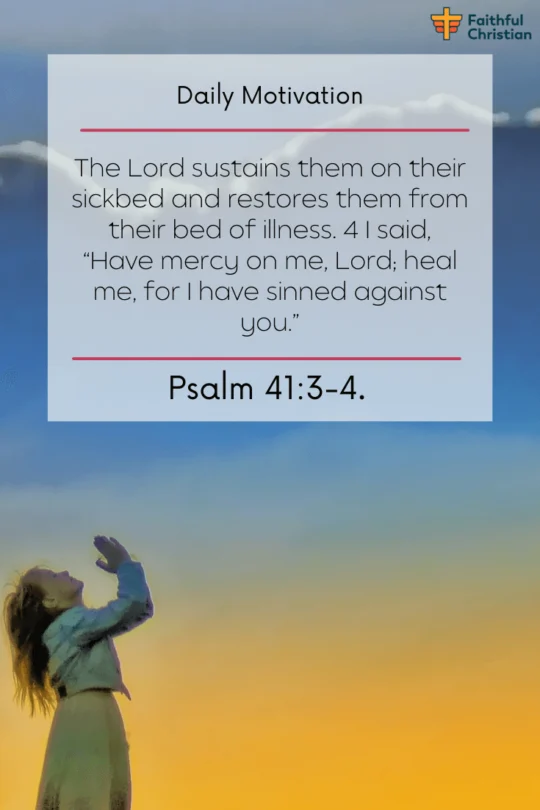 The Lord sustains them on their sickbedand restores them from their bed of illness. 4 I said, "Have mercy on me, Lord;heal me, for I have sinned against you."
Psalm 41:3-4 highlights the importance of seeking forgiveness and connecting with God when coping with illness or physical pain. Sin can hinder our prayers and distance us from God's healing grace.
By embracing a fresh mindset, asking for forgiveness, and pursuing a righteous life, we can have faith in God's healing power in even the toughest situations.
Lazarus' story (John 11:1-44) showcases Jesus' ability to raise the dead and heal the gravely ill. Placing our trust in God allows us to find healing and transformation.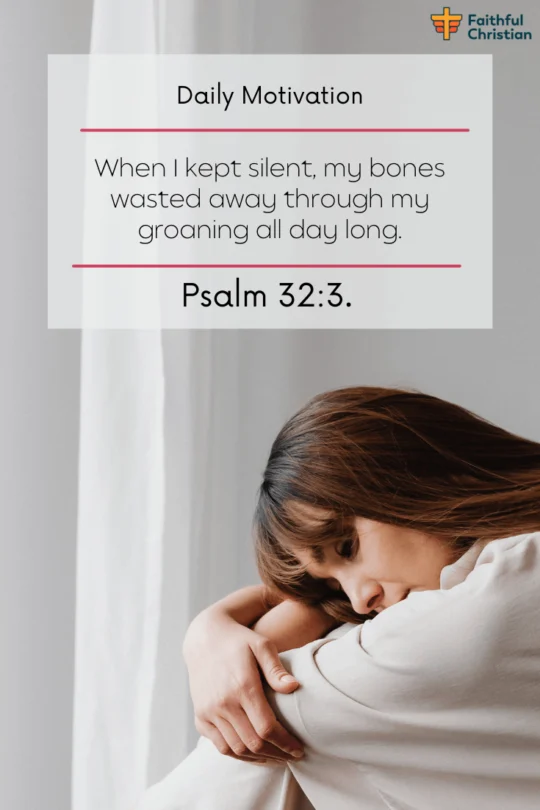 When I kept silent,my bones wasted awaythrough my groaning all day long.
Psalm 32:3 urges us not to remain silent during trials but to seek God's help and healing when facing illness or pain.
Jonah's story (Jonah 1:17-2:10) reveals the physical suffering he underwent inside the great fish before God saved him.
Joseph (Genesis 37:12-28) exemplifies someone who overcame physical pain and found redemption through God's mercy. These stories teach us to rely on God's power to rescue us from pain and suffering.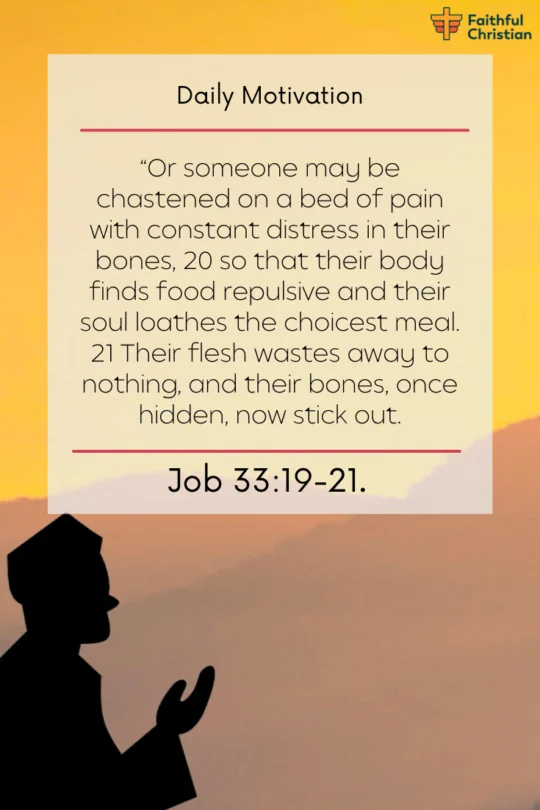 "Or someone may be chastened on a bed of painwith constant distress in their bones, 20 so that their body finds food repulsiveand their soul loathes the choicest meal. 21 Their flesh wastes away to nothing,and their bones, once hidden, now stick out.
Job 33:19-21 encourages us to trust God during painful moments, regardless of the severity of our suffering.
Moses' experience (Exodus 9:8-12) during the plagues on Egypt shows his physical pain, yet he stayed faithful to God's plan.
Tamar (2 Samuel 13:1-22), a victim of physical pain and trauma from rape, highlights the significance of remaining loyal to God amidst adversity.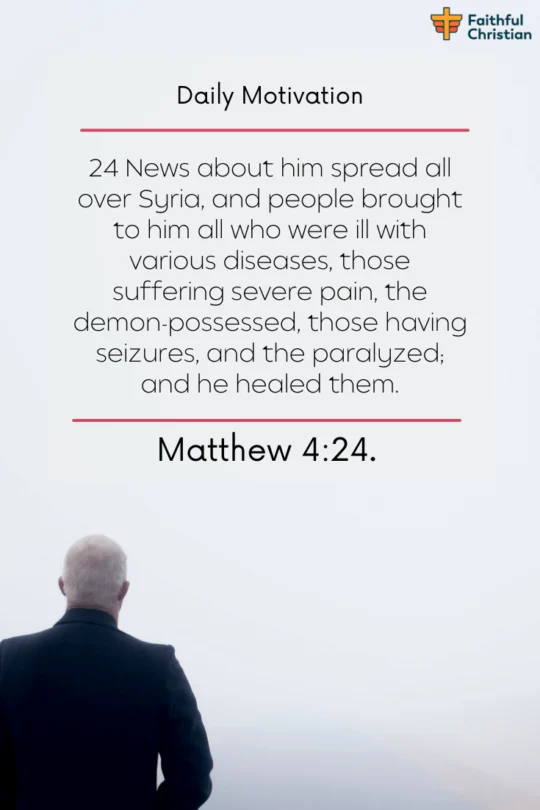 24 News about him spread all over Syria, and people brought to him all who were ill with various diseases, those suffering severe pain, the demon-possessed, those having seizures, and the paralyzed; and he healed them.
Matthew 4:24 demonstrates Jesus' healing capabilities, as he cured a variety of ailments, seizures, paralysis, and intense pain during his time on Earth.
The stories of Jabez (1 Chronicles 4:9-10), born in pain, and Samson (Judges 16:21), who suffered when his eyes were gouged out, illustrate the power of faith in triumphing over hardship and suffering.
Trusting in Jesus enables us to find healing and the fortitude to endure our pain.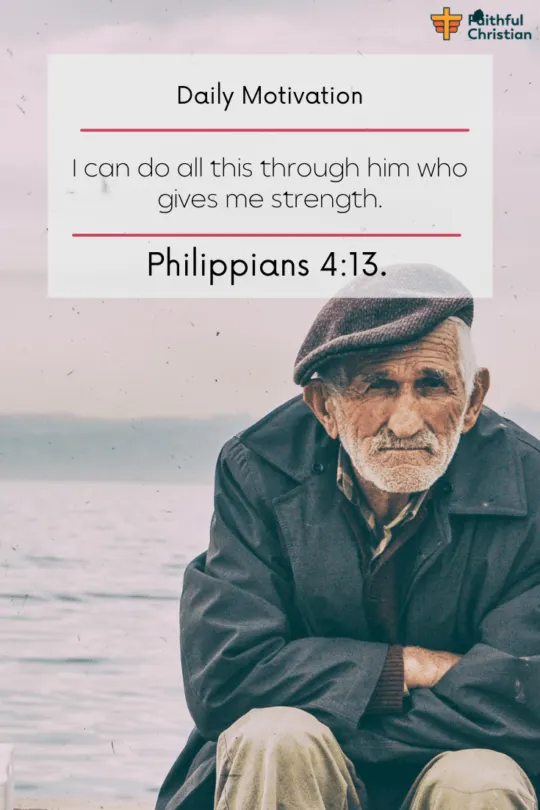 I can do all this through him who gives me strength.
Philippians 4:13 underlines the need to grasp God's will and timing in our lives, even when confronted with physical pain. We must persist and progress in life, as Apostle Paul did despite his eye issues.
Bartimaeus' story (Mark 10:46-52), a blind man who faced physical limitations and pain, showcases the transformative impact of Jesus' healing touch.
By placing our faith in God, we can overcome trials and achieve all things, irrespective of the physical pain we face. Ultimately, trusting God's plan and timing paves the way to healing and renewal.
Psalm 38:3.
2 Corinthians 1:3-4.
Job 5:18.
Deuteronomy 32:39.
2 Corinthians 12:10.
Frequently asked questions
Which Psalm is for physical healing?
Psalm 103 stands out as a source of hope for physical healing. It reminds us of God's power to heal and restore our bodies. The psalm proclaims, "Praise the Lord, my soul, and forget not all his benefits—who forgives all your sins and heals all your diseases." Another verse, Psalm 41:3, also speaks to God's ability to heal during times of illness.
What is the best Bible verse about pain and suffering?
When dealing with pain and suffering, 1 Peter 5:10 offers comfort. It says, "And the God of all grace, who called you to his eternal glory in Christ, after you have suffered a little while, will himself restore you and make you strong, firm, and steadfast."
How do you pray in physical pain?
During physical pain, pour your heart out to God. Express your needs, feelings, and trust in His healing power. Ask for strength, comfort, and guidance, knowing He'll provide healing in His perfect timing.
What are scriptural prayers for physical healing?
The Bible is rich with prayers for physical healing. James 5:14-15 suggests anointing the sick with oil and praying for their recovery. Mark 5:34 emphasizes the importance of faith in Jesus for healing. In 2 Corinthians 12:9, we learn that God's power is perfected in our weakness.
What psalm for physical body pain?
Turn to Psalm 6 when seeking relief from body pain. This psalm conveys David's plea to God for relief and affirms that God listens to our cries. Another helpful verse, Psalm 147:3, declares, "He heals the brokenhearted and binds up their wounds," underscoring God's ability to comfort and heal those in pain.
How to heal physical pain spiritually?
Healing physical pain spiritually involves deepening your connection with God. Engage in prayer, meditation, and scripture reading. Trust in His healing power, and release negative thoughts and emotions. Allow God's love and grace to bring you peace, comfort, and healing.
What is a powerful prayer for physical healing?
A powerful prayer for physical healing involves asking God for healing, strength, and peace. Acknowledge His sovereignty over your life, express your faith, and ask Him to guide you through pain and suffering.
What is the most powerful prayer for healing?
The most effective healing prayer comes from a sincere heart, full of faith and trust in God's ability to heal and restore. Approach God humbly, recognizing His wisdom and power. In Mark 9:24, a father's humble request to Jesus to heal his son is a perfect example: "I believe; help my unbelief."
Author: Akatakpo Dunn
Dr. Akatakpo Dunn is a dedicated follower of Christ, an active member and speaker, and an ongoing learner of the Scriptures. Passionate about his faith and serving others, he is committed to sharing his spiritual journey and insights to inspire and uplift fellow believers. He has been active in the church for more than 23 years. Through The
Faithful Christian Blog
,
Dr. Dunn
combines his love for God, philanthropy, and Scripture, providing a valuable resource for those seeking to grow in their faith.
Follow me: on Youtube, Facebook, Twitter, Instagram, and Pinterest.
Content Disclosure:
At The Faithful Christian Blog, I create authentic and inspiring content. Although I am the main author, I occasionally use AI for minor language enhancements. This minimal AI usage ensures high-quality, trustworthy articles without compromising originality or sincerity, ultimately supporting our shared faith journey.
Warmly,
Dr. Akatakpo Dunn
Was this article helpful?