A few days back, a young boy was rushed into the hospital very sick.
He was just two years old and was severely vomiting and frequently passing watery stools.
Unsurprisingly, His mum was so worried because, as she said, this was the first time her son has fallen ill.
She was panicked and worried about losing her first child.
Will this sickness go away so soon?
Is God going to help my child and return good health to him or her?
As parents, these are some of the scariest questions we ask ourselves when our children aren't feeling well.
We all love how they play around us and eagerly want them to be healed by God.
That is why we must pray to ask God for the healing of your sick child.
And despite your child's medical or surgical diagnosis, you must trust in God in difficult times.
There are many scriptures about trusting in God that can encourage your right now.
And just when you may think all hope is lost, God intervenes to disappoint the devil and your enemies.
As parents, it is worrying to see your child sick, weak, and restless.
So, today we will pray for healing for your children and ask that God's mighty hand of healing locate your child.
No matter what the doctor has said, God is able to heal if you believe.
No matter what he or she has been diagnosed with, be it cancer, or other severe or terminal illnesses, God can heal.
I have put together this prayer for a sick child to guide you.
---
Recommended for you
---
Short prayer points for a sick child (healing and recovery)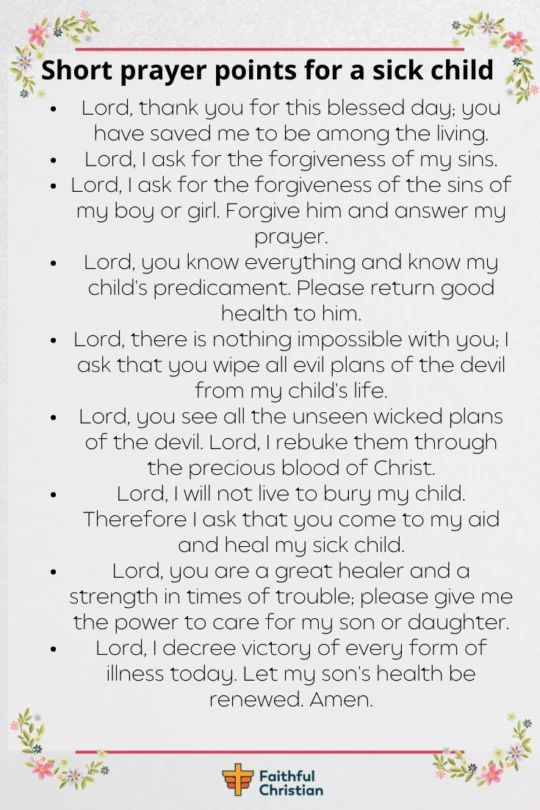 Heavenly Father, I bow before you with a heart full of gratitude. Each day, you fill my life with blessings. For the breath of life, for each dawn that breaks, I say thank you. As David said in Psalm 118:24, "This is the day the Lord has made; we will rejoice and be glad in it."
Yet, I am far from perfect. I stray, I falter. But Father, your love never fails. Like the Prodigal Son, you welcome me back (Luke 15:11-32). Thank you for your mercy.
Just as I need your forgiveness, so does my little one. They might stumble, but you're there to catch them. As in Matthew 18:14, you're not willing that any little ones should perish.
Almighty God, you know our plight. You see my child, ailing, and it breaks my heart. Yet, I trust you. You, who calmed the storm (Mark 4:35-41), can surely soothe my child's suffering.
Lord, your power is beyond understanding. Nothing is beyond your reach. Today, I ask for that power. Shield my child from the wicked plans of the enemy. As in Psalm 91:11, send your angels to guard them in all their ways.
Evil lurks in hidden corners. But with you, Lord, we are safe. You see what we don't. In the shadow of your wings, we take refuge (Psalm 17:8). Keep my child safe, under the precious blood of Christ.
My greatest fear is to outlive my child. But your promises are unbreakable. You will restore health to my child (Jeremiah 30:17). I trust in you, Lord.
You are our rock, our fortress, our deliverer (Psalm 18:2). Please grant me strength. I need it to support my child. To carry them through this ordeal.
Today, Lord, I declare victory. Not my victory, but yours. Your healing hand will restore my child. As in Isaiah 53:5, by your wounds, my child is healed. I believe, Father. Amen.
Scriptures to pray for a sick child
Jeremiah 30:17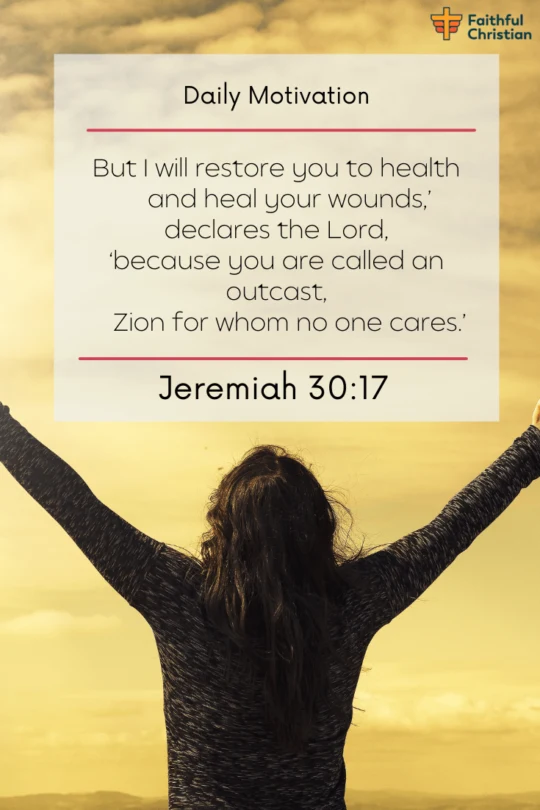 But I will restore you to health
    and heal your wounds,'
declares the Lord,
'because you are called an outcast,
    Zion for whom no one cares.'
Psalm 107:20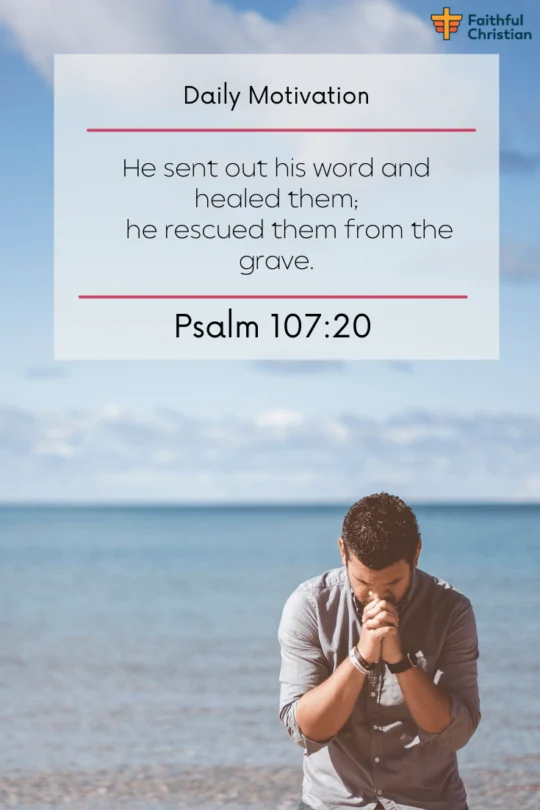 He sent out his word and healed them;
    he rescued them from the grave.
1 Peter 2:24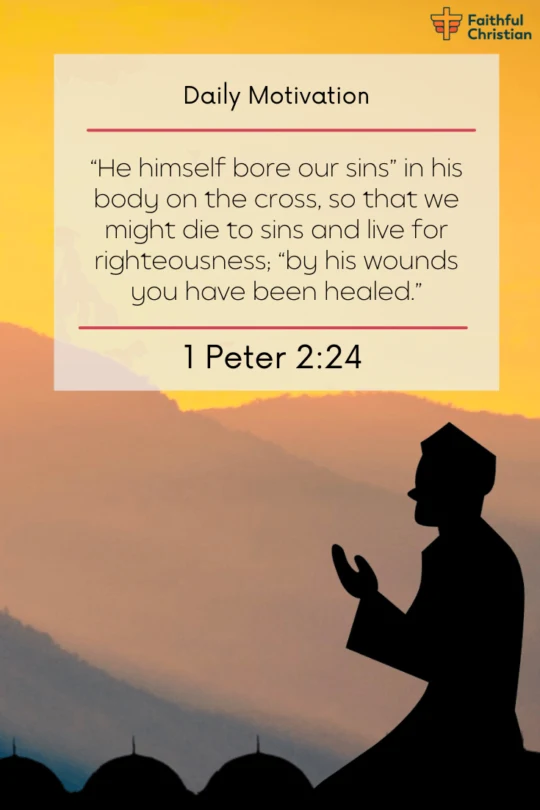 "He himself bore our sins" in his body on the cross, so that we might die to sins and live for righteousness; "by his wounds you have been healed."
Psalm 103:3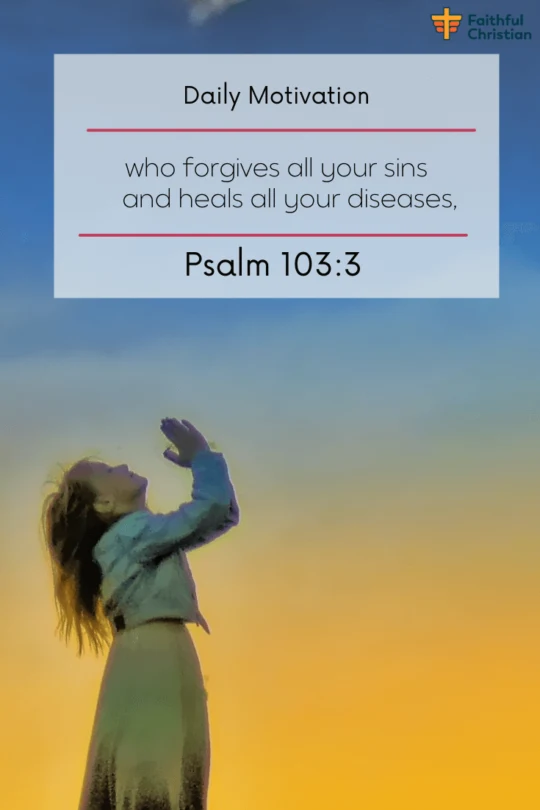 who forgives all your sins
    and heals all your diseases,
---
Recommended for you
---
Prayer for sick Child with Healing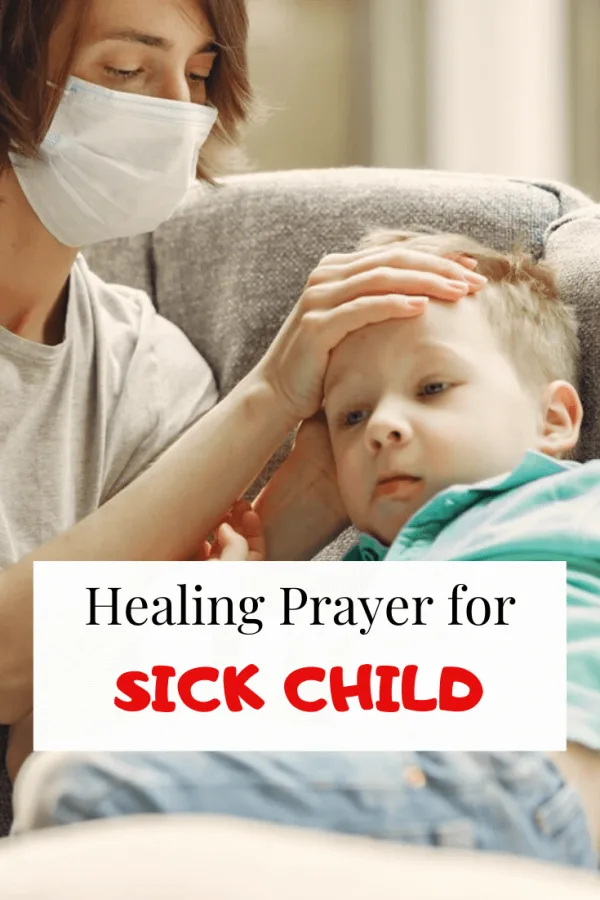 Healing is his children's bread.
This afternoon, a young girl was rushed into the hospital, unable to stand upright and in excruciating pain.
While she was playing, she accidentally poured boiling-hot water on her body.
And after that, she sustained significant burns to most parts of her body.
She was crying helplessly, and as expected, the mother was in pain too.
She didn't know what to do because, as she said, "everything happened in a split second."
Thankfully, she was able to get hold of her emotions.
At first, she thought her daughter would never recover from her wounds.
But we serve a healing God that can take away all kinds of sicknesses.
I know God can heal her of her wounds in the shortest possible time.
So far, my team and I have examined and taken care of her wounds.
And by the grace of God, she would make a full recovery from her burns.
Likewise, if your son or daughter is not feeling well, you must pray to God.
Don't always put all your trust in doctors and health care professionals.
I have managed multiple cases that God intervened miraculously.
I have also done multiple surgeries that I knew God had a hand in it.
So, If your child is sick, God can heal him.
Take your child to the doctor and pray for healing.
The scripture says,
Have mercy on me, Lord, for I am faint; heal me, Lord, for my bones are in agony.

Psalm 6:2
Let us pray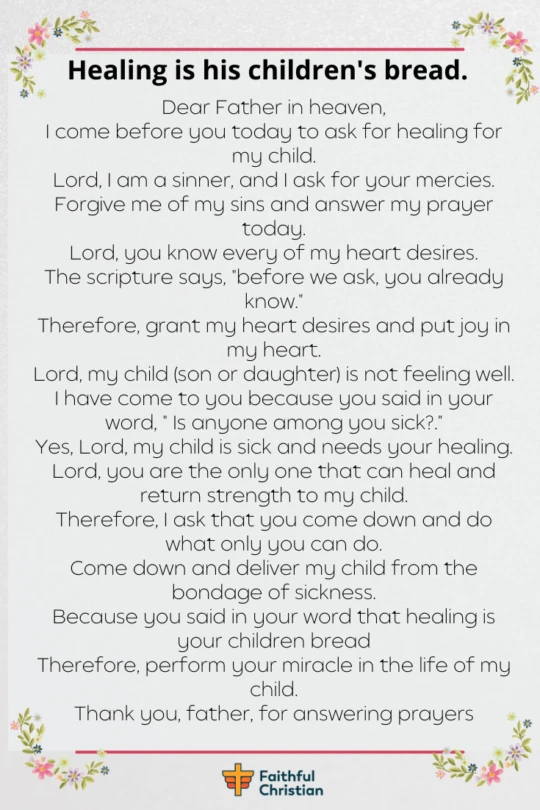 Dear Heavenly Father,
In awe, I stand before You. Your glory and power, unmatched. With a humble heart, I bring forth my plea.
My child, my beloved, is sick.
You, the Great Healer, know this. The weight of my worries, my silent cries, are no secret to You. "Before they call I will answer," You promise in Isaiah 65:24.
Father, I hold onto that promise.
I trust in You, the Unchanging One. My child, struggling and weak, needs Your healing touch. In Your infinite wisdom, You ask, "Is anyone among you sick?" (James 5:14). Yes, Lord, I reply.
My child, my precious one, needs You.
In this time of hardship, I seek You. For You, and only You, can renew my child. You, the Almighty, the Breath of Life, are our refuge.
And so, I implore You.
Descend in Your mercy, Father. Grant my child the miracle of Your healing, as You promised in Exodus 15:26, "For I am the Lord, who heals you."
Your words bring hope, Almighty.
My child's strength, stolen by sickness, can be restored by You. Let my child feast on the bread of healing, as You declared in Matthew 15:26, for healing is the children's bread.
Father, Your promises hold true.
In this storm, You are our Anchor. Amidst this pain, You are our Comforter. Please, set my child free from sickness, just as You liberated the Israelites from bondage.
You are our Deliverer, after all.
As I pray, I already feel a wave of gratitude. I thank You, God, the Hearer of Prayers, the Source of every good thing. My heart rejoices, for I know You've heard my plea.
Amen, my King, amen.
By his stripes, we were healed
Did Jesus die for nothing?
Of course, he did not.
The suffering and death of Jesus Christ were to heal our souls.
We were filled with sin, and by his persecution and sacrifice, we are redeemed to God.
We are no longer far away from our father by Christ's death.
That is, when we pray, God is willing to hear and answer every one of our heart desires.
It doesn't stop there. We must also have an unshakable faith in God.
If your child has been diagnosed with a terminal disease, trust in God to overcome it.
God can do anything if we believe in him.
The scriptures say,
And I will do whatever you ask in my name, so that the Father may be glorified in the Son.

John 14:13
Let us pray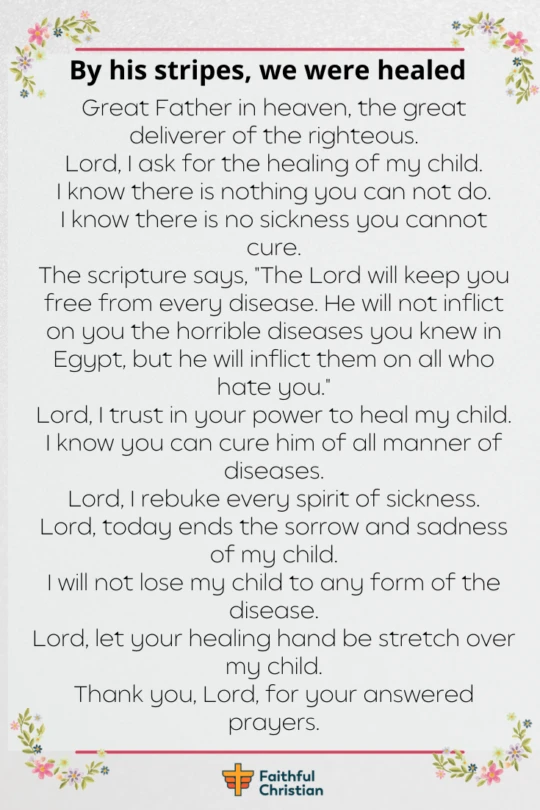 Father in the heavens, you are our Shield and Fortress. Today, I kneel before you with a plea. A plea wrapped in a parent's love. It's for my child, your beloved creation.
Lord, you're all-powerful. There is nothing that escapes your divine reach. No ailment is too strong for your healing. This truth resonates in the Psalmist's words, "Psalm 147:3. He heals the brokenhearted and binds up their wounds."
Lord, our faith in you is rock-solid. We believe in your power to cure all diseases. Your touch, we know, is all it takes to mend the broken. You said, "Jeremiah 30:17. I will restore you to health and heal your wounds."
Father, today we confront illness in your name. We refuse to bow to its shadows. Your Word has equipped us to be bold. To say to sickness, "Enough is enough!"
Today, we declare an end to our child's pain. We replace tears with joy. Sadness with laughter. Like David declared in Psalm 30:2, "Lord my God, I called to you for help, and you healed me." We too, cry out to you, Lord.
In your name, we reject the prospect of loss. Our child will not be a casualty of sickness. We stand firm on the promise in Isaiah 41:10, "So do not fear, for I am with you; do not be dismayed, for I am your God. I will strengthen you and help you."
Almighty God, we request your healing touch. Let it cascade upon our child. Let it restore vitality to the body and peace to the soul.
We look to you, our Lord and Saviour, with gratitude. For you hear our pleas. You mend our hearts. Your love is our refuge, our sanctuary in tumultuous times. As we read in Philippians 4:6-7, "Do not be anxious about anything, but in every situation, by prayer and petition, with thanksgiving, present your requests to God."
Thank you, Lord, for you are our Healer. Our Provider. Our Hope. You're the Answer to our prayers. So we rest in your love, secure in your promises, and trust in your timing. For "The Lord is near to all who call on him, to all who call on him in truth."
Healing through faith
Faith and healing go hand in hand.
Just as fuel in a car propels it from one place to the other, your faith propels your prayers to be answered by God.
There are lots of misconceptions about what faith means and what it is not.
But I'm usually not concerned about what works for others but what has worked in my life.
Faith, to me, is believing that anything is possible with God.
That is, in dire circumstances, God can deliver you from your troubles.
So, we will pray for God to conquer all the troubles in your child's life.
We will pray for quick healing and sound health.
The scripture says,
Truly I tell you, if you have faith as small as a mustard seed, you can say to this mountain, 'Move from here to there,' and it will move. Nothing will be impossible for you.

Matthew 17:20
Let us pray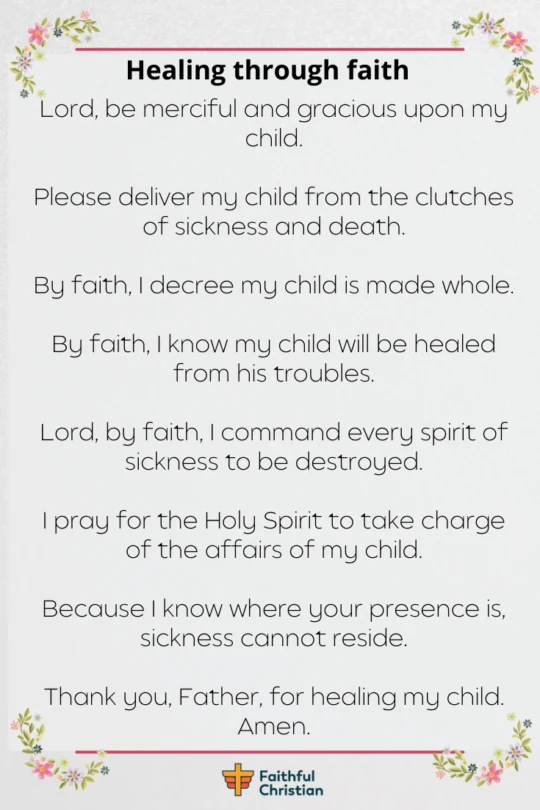 Dear Father, hear our humble prayer. Your mercy is our solace, and we seek it for our precious child. You, who calmed the stormy sea with a word, bring peace to our hearts.
We need Your healing, Almighty One. Please liberate our child from sickness, just as you freed the Israelites from slavery. Strengthen them, and restore their joy.
Your promise in Jeremiah 30:17 gives us hope: "I will restore health to you and heal you of your wounds." On this promise, we make a declaration. We see our child whole again. Faith fuels our words, and faith knows no bounds.
We hold onto Your word, Lord, that speaks life and healing. We believe in complete recovery, as stated in Isaiah 53:5, "by His wounds we are healed." We claim this truth for our child, Lord.
By faith, we command illness to leave. You told us in Luke 10:19, "I have given you authority… to overcome all the power of the enemy." Our faith crushes the enemy of sickness.
Lord, may Your Spirit guide our child. We echo David's prayer in Psalm 31:3, "for the sake of Your name, lead and guide me." Let Your Holy Spirit bring peace and comfort.
We know Your presence is a shield, a fortress. When you walked with Shadrach, Meshach, and Abednego in the fiery furnace, they remained unscathed. In Your presence, our child is protected.
We end this prayer with a grateful heart, as said in 1 Thessalonians 5:18, "give thanks in all circumstances." We thank You, Father, for restoring our child's health.
In Your name, we pray, Amen.
Frequently Asked Questions
What is a powerful prayer for healing for a child?
Father in Heaven, we approach you today with hearts full of faith and love. We're reminded of Psalm 107:20: "He sent out his word and healed them; he rescued them from the grave." We humbly request you place your hands of healing on this beloved child. Remove their suffering. Bring back their health. Let peace replace any discomfort. We place this prayer in Jesus' hands. Amen.
What is a good prayer for a sick child?
Dear Father, we reach out to you with a plea. Bestow your mercy and healing upon this precious child. Your words in James 5:15 inspire our faith: "And the prayer offered in faith will make the sick person well; the Lord will raise them up." Illuminate their path with your healing light. Strengthen their spirit, energize their body. We pray this with trust and love, in Jesus' name. Amen.
What is the best prayer for my sick son?
Lord, as a parent, I stand before you. My heart is filled with concern for my sick son. Jeremiah 17:14 inspires my prayer: "Heal me, O Lord, and I shall be healed; save me, and I shall be saved, for you are my praise." Please surround him with your love. Guide those caring for him. Let my faith be strong. Your mercy and love never fail. We pray in Jesus' Name. Amen.
What is a good Bible verse for a sick child?
For a sick child, Psalm 34:19 brings hope: "The righteous person may have many troubles, but the LORD delivers him from them all."
It's a reminder of God's constant presence. He provides comfort and healing, even in the darkest hours.
What is a quick prayer for healing?
Our Heavenly Father, we call upon your promise in Jeremiah 30:17: "For I will restore health to you, and your wounds I will heal, declares the Lord." Please, touch us with your healing hand. Restore our health. We believe in your power, Lord. In Jesus' name, we pray. Amen.
How do I pray for sick children?
Dear Father, we lift up the children burdened by illness. We lean on your promise in Exodus 23:25: "Worship the LORD your God, and his blessing will be on your food and water. I will take away sickness from among you." Please, remove their suffering. Strengthen their bodies and spirits. This we pray in Jesus' name. Amen.
Who can I pray for a sick child in the hospital?
We can pray for a hospitalized child, their caregivers, and family. "Dear Lord, we pray for this child. Psalm 41:3 guides us: "The Lord sustains them on their sickbed and restores them from their bed of illness." Bless those caring for the child. Give strength to the family. Your love and mercy guide us. In Jesus' name, we pray. Amen."
How can I pray for my child's healing?
God, I seek your healing for my child. Matthew 18:19 fills us with hope: "Again I say to you, if two of you agree on earth about anything they ask, it will be done for them by my Father in heaven." We stand in agreement, asking for your healing power. Let us stay strong in this trial. In Jesus' name, we pray. Amen.
What are some healing prayers for a baby boy?
Heavenly Father, I bring this baby boy to you. Psalms 30:2 gives us courage: "O Lord my God, I cried to you for help, and you have healed me." Hear our cries. Heal this little one. Let him be strong in your love. We trust in your mercy. In Jesus' name, we pray. Amen.
How can I pray for a friend who has a sick child?
Lord, I ask you to comfort my friend. They are struggling with their child's illness. Psalm 9:9 is our refuge: "The Lord is a refuge for the oppressed, a stronghold in times of trouble." Be their strength. Heal their child. Grant them courage. We pray this in Jesus' name. Amen.
What is a prayer for a mother with a sick child?
Dear Lord, I pray for a mother with her sick child. Your words in Isaiah 41:10 comfort us: "So do not fear, for I am with you; do not be dismayed, for I am your God. I will strengthen you and help you; I will uphold you with my righteous right hand." Give her strength. Heal her child. We pray this in Jesus' name. Amen.
How can I pray for parents of a sick child?
God, we lift the parents of a sick child to you. We lean on 2 Corinthians 1:3-4 for comfort: "Praise be to the God and Father of our Lord Jesus Christ, the Father of compassion and the God of all comfort, who comforts us in all our troubles." Comfort them, Lord. Heal their child. We pray this in Jesus' name. Amen.
What prayers can I offer for my sick granddaughter?
Lord, I plead for my granddaughter's healing. Psalm 103:2-3 is our prayer: "Praise the Lord, my soul, and forget not all his benefits—who forgives all your sins and heals all your diseases." Lord, heal her. Comfort her. Surround her with love. We pray in Jesus' name. Amen.
Author: Akatakpo Dunn
Dr. Akatakpo Dunn is a dedicated follower of Christ, an active member and speaker, and an ongoing learner of the Scriptures. Passionate about his faith and serving others, he is committed to sharing his spiritual journey and insights to inspire and uplift fellow believers. He has been active in the church for more than 23 years. Through The
Faithful Christian Blog
,
Dr. Dunn
combines his love for God, philanthropy, and Scripture, providing a valuable resource for those seeking to grow in their faith.
Follow me: on Youtube, Facebook, Twitter, Instagram, and Pinterest.
Content Disclosure:
At The Faithful Christian Blog, I create authentic and inspiring content. Although I am the main author, I occasionally use AI for minor language enhancements. This minimal AI usage ensures high-quality, trustworthy articles without compromising originality or sincerity, ultimately supporting our shared faith journey.
Warmly,
Dr. Akatakpo Dunn
Was this article helpful?