Cancer – a word we all dread. When a loved one faces this battle, we often feel helpless. How can we offer strength and support? One powerful solution is prayer.
In this post, we'll dive into the uplifting world of prayer for healing cancer for friends and family members.
Ready to discover the true power of prayer? Can it genuinely impact the healing journey? Together, we'll explore the benefits of praying for those with cancer. We'll also examine how it contributes to their well-being.
"The Lord is near to all who call on him, to all who call on him in truth." (Psalm 145:18)
With your love, faith, and support, a heartfelt prayer can be a beacon of hope. It guides your friend or family member through their darkest moments.
So, let's dive into the world of healing prayers and discover how they can truly make a difference.
Short prayer for healing cancer for a friend or family member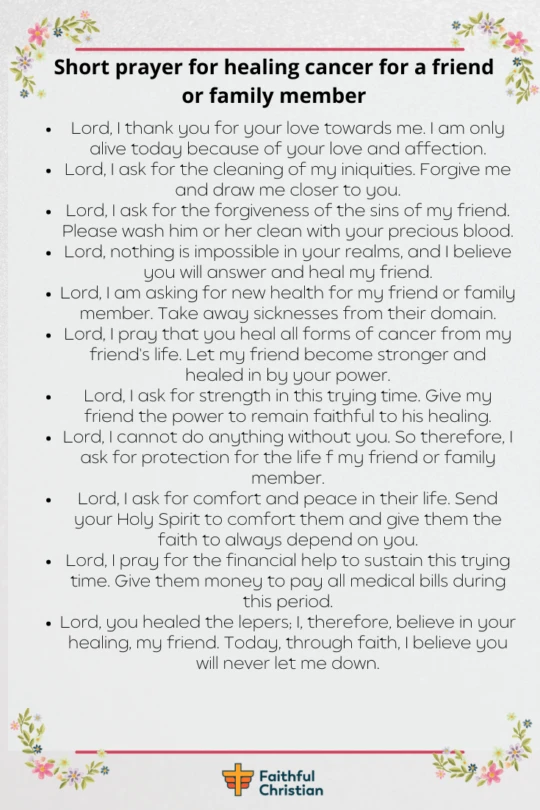 Prayer for healing cancer for a friend or family member
Let the weak say that I am strong
The devil aims to cause chaos and suffering in our lives and those of our loved ones. We're reminded in 1 Peter 5:8 to stay vigilant against this enemy, who lurks around, seeking someone to devour.
This is why prayer is so crucial—it's our spiritual armor against the forces of darkness.
Feeling overwhelmed? God consistently offers support and guidance during challenging times. Psalm 46:1 reassures us that God is our refuge and strength, ready to help in times of trouble. Prayer is our lifeline, connecting us to divine comfort and wisdom.
Cancer is an intimidating and often seemingly incurable disease. But take heart: through faith, there's nothing impossible for God.
In Mark 10:27, Jesus reminds us that what's impossible for man is possible with God. Keep the faith—He has the power to heal any ailment.
Let's lift your friend or family member up in prayer, asking for healing and recovery from cancer. We trust in the Lord for their complete restoration. As highlighted in James 5:15, faith-filled prayers lead to healing and recovery.
In uncertain situations, trust God and follow His guidance, as advised in Proverbs 3:5-6. By doing so, He'll make our paths straight. Trust in His plan, even when the way forward is unclear.
Deuteronomy 7:15 is an inspiring reminder that God is our protector and healer. He frees us from every disease, just as He did for the Israelites in Egypt.
Similarly, Psalm 103:2-3 encourages us to appreciate God's blessings, including forgiveness and healing. Maintain faith in God's wisdom and healing power, knowing He is present even in our darkest moments.
Let us pray for healing cancer for your friend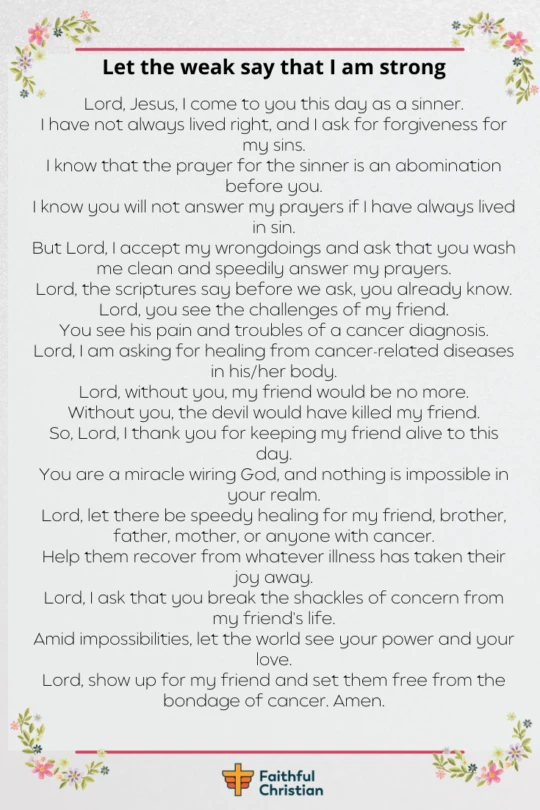 Heavenly Father and Savior, Jesus Christ, I approach you today, aware of my flaws as a sinner. Your word tells us in Romans 3:23 that we've all sinned and fallen short of your glory.
I admit I haven't lived up to your will, and I ask for your forgiveness. 1 John 1:9 assures us that when we confess our sins, you are faithful to forgive and purify us.
A prayer from an unrepentant sinner is abhorrent to you, as Proverbs 28:9 states. If I keep sinning, my prayers will go unheard. Yet, Lord, I accept my mistakes and seek your cleansing grace. Psalm 51:10 encourages me to ask for a clean heart and a renewed spirit.
You know our needs before we ask, as Jesus said in Matthew 6:8. You see my friend's pain and struggles with their cancer diagnosis. I beg for your healing touch upon them. Jeremiah 17:14 gives us hope, proclaiming that if we ask for healing and salvation, you will answer.
My friend's survival is due to your divine help. Without you, their life could have been lost. I thank you for protecting them. Psalm 34:19 reminds us that you deliver the righteous from their troubles. You are a God of miracles, capable of anything.
I pray for my friend and all those battling cancer. May they find health and joy once more. Isaiah 58:8 promises that healing will come quickly. I ask you to break cancer's hold on my friend's life. In the face of adversity, let the world see your love and power at work.
Please, Lord, be present in my friend's life and free them from cancer's grip. Psalm 107:20 tells us that you send your word to heal and rescue. May your healing embrace my friend, and may your love guide them.
We trust in your unfailing love and power, for Luke 1:37 declares that nothing is impossible with you. Amen.
Your body is the temple of the Lord.
In times of illness, let's not forget that our bodies are God's sacred creations. Just as 1 Corinthians 6:19-20 tells us, we are temples of the Holy Spirit. With this in mind, let's honor God by caring for ourselves.
Jesus' sacrifice on the cross came at a high price, but it granted us the redemption of our sins. Ephesians 1:7 emphasizes the power of Christ's sacrifice and the boundless grace of God that transforms our lives.
So, when sickness strikes, turn to God for healing. Psalm 103:2-3 reminds us of God's many blessings, including forgiveness and the ability to heal our diseases. By serving God faithfully, we invite His healing touch into our lives.
God's mercy can heal even the most severe illnesses, like cancer. Jeremiah 17:14 showcases our reliance on God's healing power, and the importance of praising Him in all situations.
Faith is essential for our loved ones as well. Trusting in God's promise of healing can make all the difference. The Bible shares stories of such faith, like in Luke 4:40, where Jesus heals many with just a touch.
There are no limits to God's healing power. He can cure all types of cancer and more. Matthew 19:26 reminds us that while human efforts may falter, nothing is impossible for God.
Trust in His might and pray for His mercy on our loved ones' lives. Through unwavering faith and heartfelt prayer, we can witness God's miraculous healing power.
Let us pray for healing for your friend.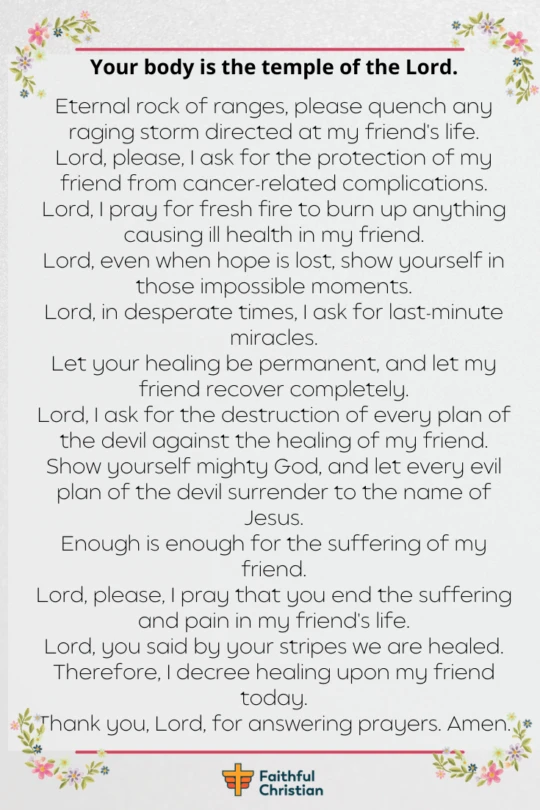 Eternal Rock of Ages, we come to You with humble hearts. We ask You to calm any storms in my friend's life, showering them with Your love and protection. You are our refuge, as Psalm 46:1 says, always by our side during tough times.
Heavenly Father, please protect my friend from cancer-related complications. Give them the strength to endure this journey. We trust Your promise in Isaiah 41:10 that You will strengthen and uphold us.
Almighty Lord, cleanse my friend's body with Your purifying fire. Remove anything causing their ill health. You are the "refiner's fire" in Malachi 3:2, and we trust You to restore their health completely.
When hope feels lost, show us Your loving presence. Shine Your light in our darkest corners. Jesus said in Matthew 19:26, "with God, all things are possible." We believe in Your power to work miracles in my friend's life.
Gracious God, we ask for last-minute miracles that defy human understanding. We remember how Jesus raised Lazarus from the dead in John 11:43-44. We trust in Your ability to transform my friend's situation.
Let Your healing be permanent, just as Jesus healed the woman who had been bleeding for twelve years in Mark 5:34. We have faith in Your healing power, and we ask for a similar release from suffering for my friend.
Sovereign Lord, destroy any evil schemes against my friend's well-being. Crush any forces that seek to harm them. Ephesians 6:12 reminds us that our struggle is against spiritual forces of evil. We pray for Your divine protection.
Show Your mighty power by causing every evil plan to surrender to Jesus' name. Philippians 2:10 tells us that every knee should bow to Jesus' name. We trust in Jesus' authority to conquer any darkness in my friend's life.
We declare it's time for my friend's suffering to end. Your loving-kindness will heal them, as stated in Psalm 30:2. We believe that just as You have healed others, You will also heal my friend.
Lord, please end my friend's anguish and distress. Replace them with peace and comfort. Jesus said in Matthew 11:28, "Come to me, and I will give you rest." We trust that You will ease my friend's burdens.
By Your stripes, we are healed, as Your Word declares. We trust in Your divine promise in 1 Peter 2:24 that Jesus' wounds have healed us. We believe in the healing power of the cross for my friend.
Thank You, Lord, for listening to our prayers. We are grateful and humbled by Your love and mercy. 1 John 5:14-15 assures us that You hear our prayers, and we have faith that You will answer according to Your divine will. Amen.
God shall restore
Let's explore the powerful message in Joel 2:25. It says, "I will restore to you the years the locusts have eaten." This verse shows God's ability to redeem and restore even the toughest situations.
In Isaiah 61:7, we find similar reassurance: "Instead of your shame, you will receive a double portion." These verses reveal God's amazing healing and transformative power.
We all face temptations and trials. During tough times, remember God's infinite power and love. 1 Corinthians 10:13 comforts us: "God is faithful; he will not let you be tempted beyond what you can bear."
Have faith in God's guidance and protection, even when things seem impossible.
God can turn our pain and hardships into growth opportunities. Romans 8:28 emphasizes that God can bring about positive change in our lives, even during our darkest moments, if we love Him.
Think of your friend, who's been suffering for years. God can heal them, restore lost years, and bring joy and abundance. Psalm 30:5 says, "Weeping may stay for the night, but rejoicing comes in the morning."
This verse highlights God's transformative power to bring hope out of despair.
The story of Job in the Bible is a great reminder of God's restorative power. Despite losing everything, Job never lost faith in God. The story of Job, as told in Job 42:10, demonstrates God's restorative power to heal and transform our lives for the better.
In conclusion, trust that God will restore everything your friend has lost, just like He did for Job. Philippians 4:19 promises, "And my God will meet all your needs according to the riches of his glory in Christ Jesus."
Hold onto this assurance, face life's challenges confidently, and remember that God is always with us.
Let us pray for cancer healing for your friend.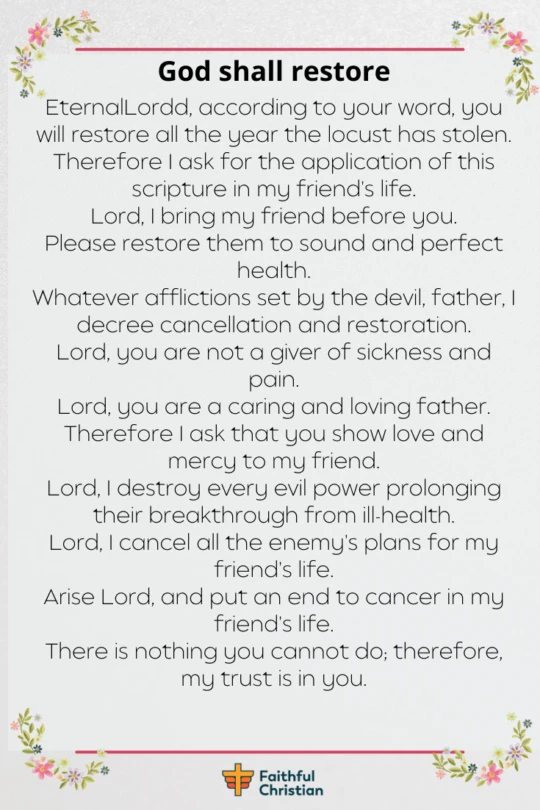 Oh Eternal Lord, your divine promises assure us that you'll restore all lost to life's hardships. In Joel 2:25, you say, "I will restore to you the years the locust has eaten." We're reminded of your power to redeem and rebuild shattered lives.
With this scripture in mind, I seek your guidance for my dear friend. Proverbs 3:5-6 teaches us to trust in you wholeheartedly. We believe you will protect and guide us, fulfilling your promises.
Almighty Father, I bring my friend before you, asking for perfect health. Psalm 103:2-3 reminds us of your healing power, forgiving our sins and healing our diseases. We trust you to restore their health.
As Isaiah 54:17 states, no weapon formed against us shall prosper. I declare freedom from any afflictions, trusting you to protect us from the enemy.
You, Heavenly Father, are not a source of pain. As a loving parent, you care for your children. Matthew 7:11 says you provide good things to those who ask in faith. We turn to you, confident in your love.
I implore you to show mercy to my ailing friend. We know from Ephesians 6:12 that our battle is against spiritual darkness, not earthly issues. We rely on you for strength and wisdom.
I reject any schemes the enemy may have for my friend. Rise up, Lord, and end their battle with cancer. Jeremiah 30:17 proclaims your promise to restore health and heal wounds. We believe in your deliverance from this disease.
Mark 10:27 tells us all things are possible with you. Our faith remains strong, knowing you can transform even the toughest situations for our good.
In tough times, we remember Philippians 4:6-7. We bring our concerns to you and trust in your divine peace to comfort us.
Romans 8:28 gives us hope, knowing all things work together for good for those who love you. We trust in your ability to bring goodness and restoration to my friend's life amid their trials.
We claim victory over sickness, embracing the truth of 1 John 5:4. Our faith in You helps us overcome the world and experience your grace and healing power.
Trusting in your power and kindness, we're grateful for the hope and strength your Word provides. May your healing touch surround my friend, and may your divine presence bring comfort and restoration to their life. In your Holy Name, we pray. Amen.
Have faith in God
In times of despair, where do you find the strength to carry on? Remember, the Bible offers solace in the darkest moments. Psalm 42:5 nudges us to put our hope in God, who is always there to guide us.
What options are left when your friend has tried every cancer treatment without success? The Bible encourages reliance on God's strength during hardships. 2 Corinthians 12:9 reveals how God's power thrives in our weakness, leading to renewed hope.
When hope seems scarce, faith is paramount. Hebrews 11:1 highlights the importance of faith in uncertain situations. Believing in God's power grants courage to face adversity.
God's healing power transcends human understanding, as shown in John 9:1-7. Faith in God leads to transformative healing, even when it seems impossible.
As a doctor, I've witnessed divine healing in patients. James 5:14-15 emphasizes the power of prayer and faith in healing the sick. God's healing touch impacts lives in profound ways.
I've seen patients recover miraculously, even when all hope seemed lost. Jesus' words in Matthew 19:26 remind us that with God, anything is possible. Trust in God's power to achieve the impossible.
During moments of hopelessness, encourage your friend to trust God. Proverbs 3:5-6 urges us to trust the Lord wholeheartedly. By placing trust in Him, your friend will find comfort and guidance, even when the path seems uncertain.
Let us pray for cancer healing for your friend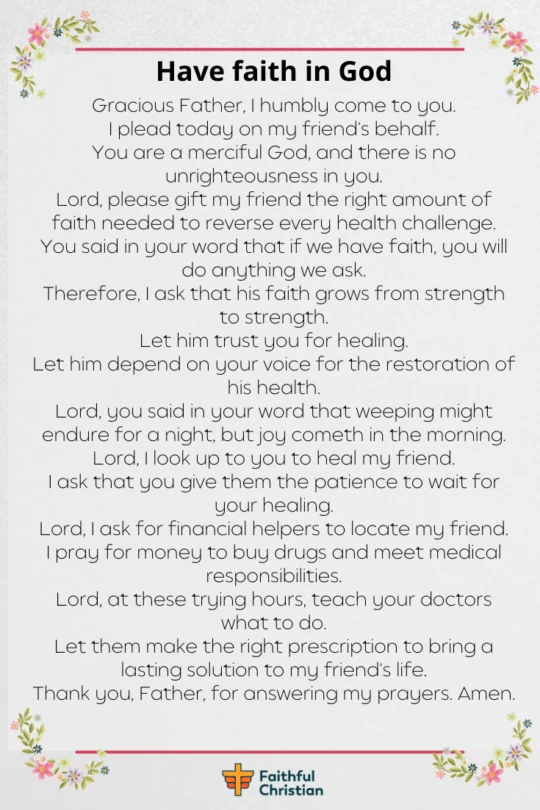 Heavenly Father, with a humble heart, I turn to You. Your divine guidance is my beacon in this world. Psalm 51:17 reminds us that a broken spirit and a contrite heart are sacrifices You won't despise. In humility, I lean on Your wisdom.
Today, I pray earnestly for my dear friend who needs Your healing touch. Your mercy and compassion are boundless, as Jeremiah 17:14 proclaims, "Heal me, O Lord, and I shall be healed; save me, and I shall be saved, for You are my praise."
Lord, grant my friend the faith to conquer their health challenges. Matthew 17:20 says even faith as tiny as a mustard seed can move mountains. May their faith be their stronghold.
Help my friend trust You for healing and restoration. Proverbs 3:5-6 teaches us to trust in You wholeheartedly, and You'll guide our paths. May they rely on Your wisdom for renewed health.
You promise, Lord, that weeping endures for a night, but joy comes in the morning (Psalm 30:5). I trust You to heal my friend. Grant them patience to wait for Your perfect timing, knowing it's always best (Ecclesiastes 3:1).
Furthermore, Lord, send financial helpers to aid my friend. Philippians 4:19 declares You'll supply all our needs according to Your riches in Christ Jesus. Provide the means for medications and medical expenses.
During these trials, bless the doctors with wisdom. James 1:5 encourages us to ask You for wisdom, and You'll give it generously. Guide the doctors in diagnosing and treating my friend effectively.
Thank You, Father, for hearing my prayers and loving us unconditionally. 1 John 5:14-15 assures us that if we ask anything according to Your will, You hear us and grant our requests. Amen.
Frequently Asked Questions
What is a powerful prayer for healing cancer?
A powerful prayer for healing cancer calls upon God's intervention, strength, and guidance. Lean on scriptures like Exodus 23:25 and Jeremiah 30:17 to emphasize God's healing power.
Ask for divine healing, wisdom for medical professionals, and the fortitude to face challenges.
What is the short prayer for healing and recovery from cancer?
A concise prayer for healing from cancer can be: "Heavenly Father, please heal my loved one with cancer. Restore their health, guide doctors, and grant us courage.
In Jesus' name, I trust Your healing power. Amen." This prayer focuses on key aspects of healing, guidance, and strength.
What is the most powerful healing prayer for a friend?
The most heartfelt healing prayer for a friend combines faith, compassion, and empathy. Highlight scriptures like Psalm 107:19-20 to underscore God's healing power.
Show genuine concern for your friend's wellbeing, asking for God's healing, strength, and guidance in their recovery.
How do you deal with bad news cancer?
Coping with bad cancer news involves faith, seeking comfort in God's promises, and surrounding yourself with supportive loved ones.
Scriptures like Psalm 34:18 provide solace in hard times. Allow yourself to grieve, process the news, and seek emotional and spiritual support.
How do I pray for someone with cancer?
To pray for someone with cancer, have faith in God's healing power and request His intervention. Pray for physical, emotional, and spiritual healing, as well as wisdom for their medical team.
Use scriptures like Isaiah 53:5 to emphasize healing through faith. Ask for comfort, strength, and courage for the patient and their loved ones.
Author: Akatakpo Dunn
Dr. Akatakpo Dunn is a dedicated follower of Christ, an active member and speaker, and an ongoing learner of the Scriptures. Passionate about his faith and serving others, he is committed to sharing his spiritual journey and insights to inspire and uplift fellow believers. He has been active in the church for more than 23 years. Through The
Faithful Christian Blog
,
Dr. Dunn
combines his love for God, philanthropy, and Scripture, providing a valuable resource for those seeking to grow in their faith.
Follow me: on Youtube, Facebook, Twitter, Instagram, and Pinterest.
Content Disclosure:
At The Faithful Christian Blog, I create authentic and inspiring content. Although I am the main author, I occasionally use AI for minor language enhancements. This minimal AI usage ensures high-quality, trustworthy articles without compromising originality or sincerity, ultimately supporting our shared faith journey.
Warmly,
Dr. Akatakpo Dunn
Was this article helpful?