Looking for a heartfelt prayer for someone dying, seeking to offer them a peaceful death? You've come to the perfect spot.
In this blog post, we'll delve into the significance of praying for a loved one's tranquil passage, share soothing Bible verses, and guide you to make your prayer even more powerful.
What's in it for you? Two key things.
First, you'll find solace, knowing you're supporting their serene journey. Second, the chosen Bible verses will uplift you during this tough time.
Ready to uncover this life-changing prayer for a peaceful death? Let's dive in.
"Blessed are the peacemakers, for they shall be called sons of God" (Matthew 5:9). In this post, you will discover how to pray for someone dying and become a peacemaker in their final moments.
Let's begin.
short prayer for someone sick and dying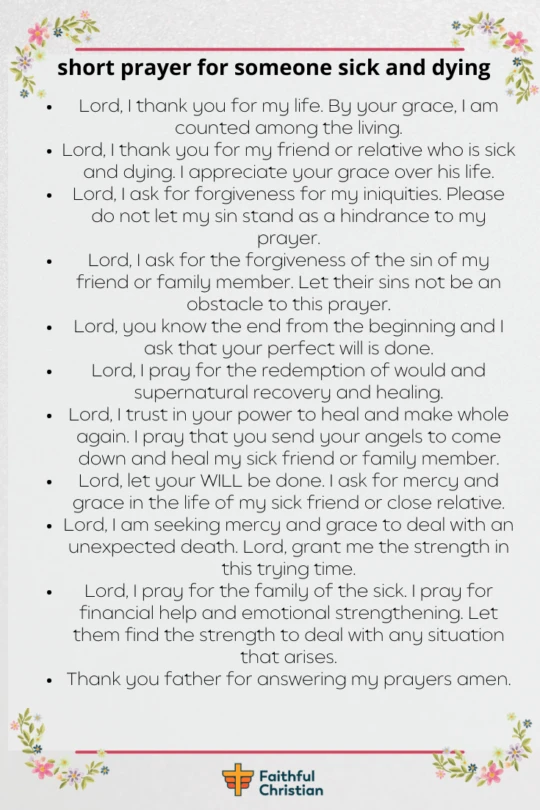 Dear Heavenly Father, my heart overflows with gratitude for the life You've given me. Your grace makes me part of the living, and for that, I'm thankful.
I bring my loved one, struggling with illness, to You. I cherish our time together and thank You for the love and grace You've shown them.
You, the Beginning and the End, know everything. I trust Your wisdom and ask for Your perfect plan to unfold in my loved one's life (Proverbs 3:5-6 NIV).
Lord, let Your will prevail, and shower Your mercy and grace upon my dear one in their struggle (2 Corinthians 12:9 NIV).
Facing a potential loss, I lean on Your mercy and grace to cope. Give me strength and resilience in this tough time (Isaiah 40:29 NIV).
I pray for the family of the one suffering. Provide financial aid and emotional strength. Guide them through any challenges (Psalm 46:1 NIV).
Thank You, Father, for listening and answering my prayers faithfully (1 John 5:14-15 NIV). In Jesus' name, I pray. Amen.
Bible verses for someone dying
And my God will meet all your needs according to the riches of his glory in Christ Jesus.
Philippians 4:19 reminds us of God's unwavering dedication to supplying our needs from His limitless resources.
When praying for a loved one facing illness or nearing life's end, we can trust that God will grant them the strength, consolation, and serenity they require in this challenging season.
This scripture encourages us to place our full confidence in God's provisions and to rely on His infinite support.
Heavenly Father, we thank You for Your unshakable promise to fulfill all our needs through Christ Jesus' boundless riches.
We entrust our dear friend or family member, who is battling illness or nearing their life's close, to Your tender care and provision.
Please shower them with the strength, comfort, and peace they need during this trying time and remind them of Your steadfast presence. In Jesus' name, we pray. Amen.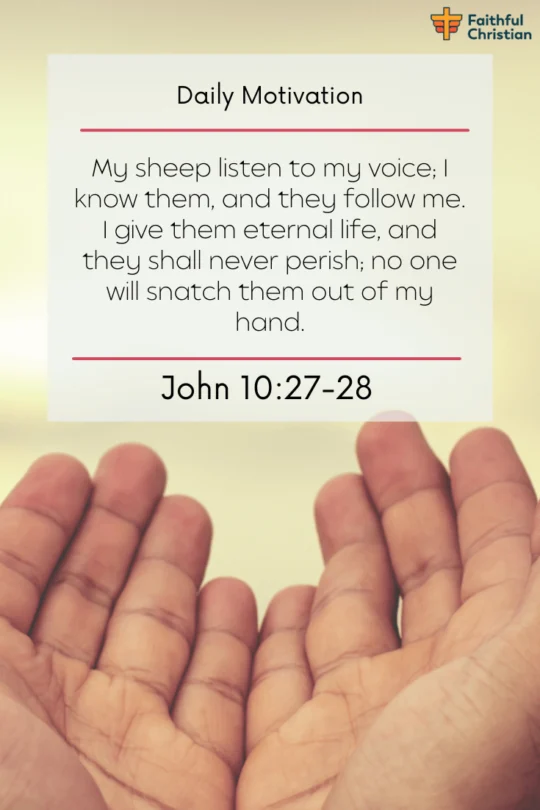 My sheep listen to my voice; I know them, and they follow me. 28 I give them eternal life, and they shall never perish; no one will snatch them out of my hand.
29 My Father, who has given them to me, is greater than all[a]; no one can snatch them out of my Father's hand. 30 I and the Father are one."
John 10:27-30 assures believers in Jesus that they are safeguarded by His loving care and protection. This scripture passage inspires us by highlighting God's gift of eternal life to those who trust in Him.
When praying for a dying loved one, we can find comfort knowing their life will continue eternally with God, beyond the earthly realm.
This passage also underscores the security we have in the hands of Jesus and the Father, confirming that nothing can break the bonds of their love for us.
Gracious Lord, we express our heartfelt gratitude for the promises of eternal life and protection You've given us through Your Son, Jesus Christ.
As we pray for our dear one who is struggling with illness or nearing their life's end, we find solace knowing their life will continue in Your eternal embrace.
May they experience Your love and presence, bringing them warmth and assurance in this moment. In Jesus' name, we pray. Amen.
Prayer for someone dying.
You shall not die but live.
In moments when hope seems lost, it's crucial that we turn to God, seeking redemption and a supernatural breakthrough (Psalm 121:1-2). He is capable of anything at any time, regardless of the doctor's report (Jeremiah 32:27).
Trust God to heal loved ones with terminal illnesses (Psalm 103:2-3). It is through prayer and faith that we can witness the impossible become possible (Mark 11:24).
As our faith grows, fear diminishes (2 Timothy 1:7). Trusting and believing in God allows us to witness His healing power at work (Matthew 9:22).
One significant Bible story worth reflecting on is found in Isaiah 38. Hezekiah prayed when God said he'd die and not recover. He asked the Lord to remember his devotion and faithfulness (Isaiah 38:1-3).
This story is a powerful reminder that we should trust God to heal friends and relatives, regardless of illness (Psalm 34:17-18).
Hezekiah's fervent prayers, despite God's initial message, led to the Lord granting him an additional fifteen years of life (Isaiah 38:5). God heard his prayers and saw his tears, proving His unwavering faithfulness (Psalm 116:1-2).
Inspired by this story, let us not accept the status quo. Instead, let's engage in spiritual warfare through prayer and faith (Ephesians 6:18).
Pray for God's intervention in the lives of your friends or family members. Ask Him to heal them of their sickness or disease (James 5:14-16).
Let us pray for someone dying.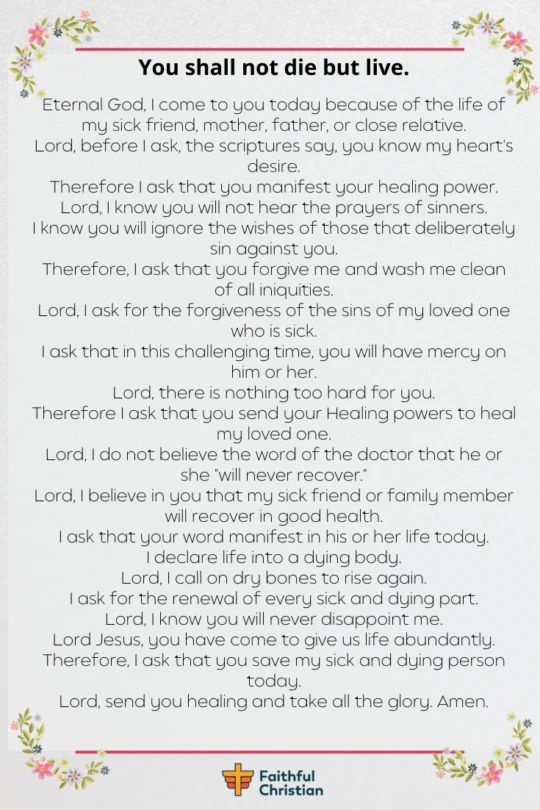 Eternal God, I come before Your throne of grace today, bearing the weight of concern for my sick friend, mother, father, or close relative.
Your Word assures us that You know our needs even before we ask, and You are attentive to our prayers (Matthew 6:8). With this promise, I implore Your divine healing power to be at work in my loved one's life.
Lord, I recognize that sin separates us from Your presence, and You do not hear the prayers of those who persist in it (Isaiah 59:2). I humbly ask for Your forgiveness and for the cleansing of my heart from all unrighteousness (1 John 1:9).
I also intercede on behalf of my sick loved one, praying for the forgiveness of their sins and seeking Your mercy during this challenging period (Psalm 103:3).
Almighty Father, there is nothing too difficult for You (Jeremiah 32:27). I earnestly request that Your miraculous healing power be poured out upon my loved one, mending their body and spirit (Exodus 15:26).
In defiance of the doctor's prognosis, I choose to place my trust in You, Lord, believing in the full recovery and restoration of my friend or family member (Psalm 107:20).
Embracing the faith of David, who professed, "I shall not die, but live, and declare the works of the Lord" (Psalm 118:17), I affirm Your Word over my terminally ill loved one.
May Your life-giving Word take root in their life today, infusing strength and vitality into their weakened body (Hebrews 4:12).
I call upon the dry bones of their being to rise again, asking for the renewal and revival of every sick and dying part (Ezekiel 37:4-6).
Father, I trust that You will never let me down (Romans 10:11). Jesus, You came to bestow abundant life upon us (John 10:10), and I implore You to deliver my sick and dying loved one today.
Let Your healing flow, and may Your glory be magnified through their recovery. In Jesus' name, I pray. Amen.
He will bless your bread and water and take sickness away from you
With unwavering faith, let's stay strong in prayer, knowing God's Word is powerful and life-giving (Hebrews 4:12).
As we pray together, let's uplift each other, trusting that our faith can move mountains (Matthew 17:20). In every situation, rely on God's promises, believing His love will guide us through dark times.
As we passionately pray for healing for our sick loved ones, remember the miracles Jesus performed (Matthew 4:23-24). In tough moments, find comfort knowing God cares for them, and His grace is enough (2 Corinthians 12:9).
Our loving God promises mercy and compassion in times of hardship and uncertainty (Lamentations 3:22-23). Facing trials, remember we're not alone; the Lord is by our side (Isaiah 41:10).
God's vow to remove sickness shows His unwavering love and concern (Exodus 15:26). In prayer, find solace in His promises, knowing He hears and answers in His perfect time (Psalm 40:1-3).
Exodus 23:25 inspires us:
"Worship the Lord your God, and His blessing will be on your food and water. I will take away sickness from among you."
Let this scripture remind us of the power of faith and the rewards of a life devoted to God (Psalm 91:14-16).
In prayer, let's ask the Lord to fulfill His Word for our ailing loved ones. Remember the many healing testimonies in the Bible (Luke 8:43-48), strengthening our belief in God's healing touch today.
Lastly, let's pray for the Lord to ease the burden of end-stage terminal illness, granting relief and hope (Psalm 34:17-18).
In difficult moments, remember God's unfailing love and His peace that surpasses all understanding (Philippians 4:7). May we find strength and inspiration in His presence as we face these challenges together.
Let us pray for someone dying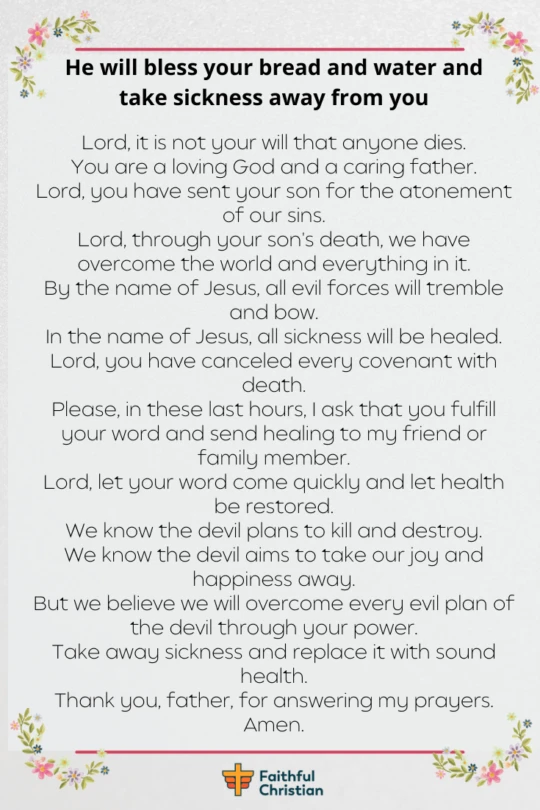 Heavenly Father, Your word promises abundant life for all Your children (John 10:10). You are a loving, compassionate God, always meeting our needs.
As we pray, we remember Your ever-present love for us and our loved ones.
You sent Jesus, Your Son, as the ultimate sacrifice to atone for our sins, bridging the gap between us (John 3:16).
Through His death and resurrection, we triumph over life's trials (1 John 5:4). In this time, we hold onto the victory and hope in Jesus.
In Jesus' mighty name, every knee bows, and evil forces tremble (Philippians 2:10).
Through His authority, we declare healing for every sickness (James 5:14-15). We stand in faith, trusting Jesus to bring restoration and wholeness.
Father, You've nullified every agreement with death (Isaiah 28:18). In these final moments for our loved one, we ask You to bring healing and comfort. We trust in Your divine plan, even as they face life's end.
Let Your word come swiftly, like a healing balm, restoring their health (Psalm 107:20). We know the enemy seeks to steal, kill, and destroy (John 10:10), but we trust Your power to overcome evil plans (Ephesians 6:12).
As our loved one faces life's fragility, we ask for Your peace to surround them. Provide comfort, assurance, and solace in their final hours (Psalm 23:4). Let them rest in Your loving embrace as their earthly journey ends.
In Jesus' name, we rebuke illness and ask for a peaceful passing for our dear one (Revelation 21:4). Replace their suffering with divine peace and assurance of eternal life with You.
Thank You, Father, for Your faithfulness in answering our prayers and being our refuge. In Jesus' name, we pray. Amen.
"Thy will be done"- prayer for a peaceful death.
In every situation, remember God's authority is supreme (Job 42:2). As the universe's creator, He controls all and has a divine plan.
Embracing His sovereignty brings comfort and peace, knowing He'll work things out for our good (Romans 8:28).
God's wisdom guides our future. His plans, even when incomprehensible, are always for our good. Trusting His love and guidance leads us on the right path. Amid life's ups and downs, find solace in His watchful care (Proverbs 3:5-6).
Recognize that God's will ultimately triumphs. Our prayers should align with His will, even when different from our desires.
Trust His perfect plan and prepare for His final decision, knowing our best interests are at heart (Isaiah 55:8-9).
In prayer, seek forgiveness for our sick loved ones (James 5:16). Confessing and repenting on their behalf brings them closer to God's grace and mercy.
Interceding for them, request salvation (Acts 4:12), ensuring their eternal security in Christ.
Ask for strength to face potential loss. Losing a loved one is tough, but God promises refuge and strength. Seek financial help for medical and funeral expenses. In hardship, He'll provide according to His riches.
Meditate on Jesus' words in Luke 22:42: "Father, if you are willing, take this cup from me; yet not my will, but yours be done."
Embrace surrender, find peace in challenges, and experience His grace, love, and presence while facing the unknown.
Let us pray for a peaceful death for someone dying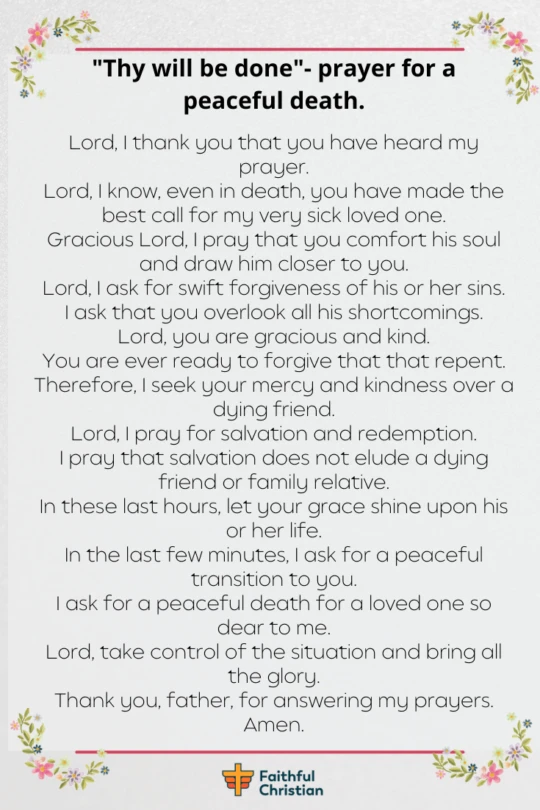 Heavenly Father, my heart overflows with gratitude, knowing You've heard my prayer for my dear one nearing life's end. You are our refuge and strength, and I trust Your divine guidance during this tough time.
Lord, I find solace in Your wisdom and plans, even in death. Your love and care for us never waver, even in our darkest hours.
Gracious God, please comfort my loved one's soul and draw them near during this trying time. Let them find peace in Your presence and rest in Your hands (Psalm 23:4).
Lord, I ask for swift forgiveness of their sins and for Your grace to cover their shortcomings. Thank You for forgiveness and redemption through Jesus Christ.
You, O Lord, are gracious and compassionate, forgiving the repentant (Psalm 86:5). I seek Your mercy and kindness for my dying friend or relative, softening their heart to receive Your love.
Father, I pray for their salvation and redemption. May salvation reach my dying loved one, trusting in Your unfailing love and eternal life promise (John 3:16).
As their earthly journey ends, let Your grace shine upon them (2 Corinthians 12:9). May they feel Your comforting presence and know they are never alone.
In their final moments, grant them a peaceful transition to Your eternal embrace (Philippians 4:7). Fill their heart with peace as they enter Your everlasting arms.
Lord, take control and receive all the glory (Psalm 115:1). I trust Your perfect will, knowing Your love and care will guide us through this challenge.
Thank You, Father, for hearing and answering my prayers. I'm grateful for Your never-ending love and Your presence in our lives. In Jesus' name, I pray. Amen.
Frequently Asked Questions
What is a powerful prayer for someone dying?
A heartfelt prayer for someone nearing the end of their life should focus on seeking God's comfort, strength, and peace for both the individual and their loved ones during this challenging period.
Recognizing God's sovereignty and trusting His divine plan for the person is crucial. Including scriptures like Philippians 4:7 and Psalm 23:4 helps emphasize God's presence and reassurance.
It's essential to ask for a peaceful transition into God's eternal embrace and forgiveness of sins in such a prayer.
What Psalm is for dying people?
Psalm 23 is often seen as the perfect Psalm for those facing the end of life, as it eloquently conveys God's guidance, protection, and presence during our most difficult moments.
It provides solace to the dying and offers reassurance to their loved ones.
How do you pray for the sick and dying?
When praying for the sick and dying, approach God with humility and faith, requesting His mercy and healing for the person in need.
Prayers for the terminally ill should encompass both their physical and emotional comfort. Additionally, pray for the strength and comfort of their family during this challenging time.
Integrating relevant scriptures like James 5:14-15 and Psalm 103:2-3 highlights God's healing and restorative powers.
Moreover, praying for the forgiveness of sins and for the person to draw closer to God in their final moments is essential.
What is a good scripture to read to someone who is dying?
John 14:1-3 is an ideal scripture to read to someone who is dying, as it provides comfort and hope through Jesus' promise of preparing a place for believers in His Father's house.
This passage assures eternal life and the continuation of our existence beyond the earthly realm, offering peace and solace to those facing the end of their life.
How do you comfort a dying person?
To comfort a dying person, be present, listen, and provide emotional support. Offer words of reassurance, emphasizing God's love, care, and presence during this time.
Share relevant scriptures like Romans 8:38-39, which speaks of the inseparability of God's love, or 2 Corinthians 5:1, which promises a heavenly dwelling for believers after death.
Pray with and for them, ensuring they know they're not alone on their journey.
Ultimately, being compassionate, understanding, and supportive is essential when comforting someone who is dying.
Author: Akatakpo Dunn
Dr. Akatakpo Dunn is a dedicated follower of Christ, an active member and speaker, and an ongoing learner of the Scriptures. Passionate about his faith and serving others, he is committed to sharing his spiritual journey and insights to inspire and uplift fellow believers. He has been active in the church for more than 23 years. Through The
Faithful Christian Blog
,
Dr. Dunn
combines his love for God, philanthropy, and Scripture, providing a valuable resource for those seeking to grow in their faith.
Follow me: on Youtube, Facebook, Twitter, Instagram, and Pinterest.
Content Disclosure:
At The Faithful Christian Blog, I create authentic and inspiring content. Although I am the main author, I occasionally use AI for minor language enhancements. This minimal AI usage ensures high-quality, trustworthy articles without compromising originality or sincerity, ultimately supporting our shared faith journey.
Warmly,
Dr. Akatakpo Dunn
Was this article helpful?