The power of God can heal all manner of ailments.
It's all about embracing faith in His limitless power.
I've witnessed inspiring accounts of people living lives untouched by sickness, believing with unswerving faith that they would never be sick.
Through His boundless mercy, God has blessed them with the gift of wellness.
Similarly, if you find yourself battling any form of illness, rest assured that God's compassion can liberate you from this affliction.
Even terminal illnesses and chronic pain can find relief through God's word.
Prayer, coupled with unwavering faith, are essential tools in overcoming disease.
A couple of months ago, I found myself praying fervently for a patient on the brink of death.
She was suffering from severe bleeding post-surgery, and our options were dwindling.
That's when I turned to prayer. The prayer I made that day was nothing short of miraculous.
Today, she is discharged and enjoying great health.
If you're facing illness, I've gathered potent healing prayers to guide your supplications.
In faith, God will absolve you of your sins and wash away your pain, all in the name of Jesus. Amen.
---
Recommended for you
---
Healing prayers for sickness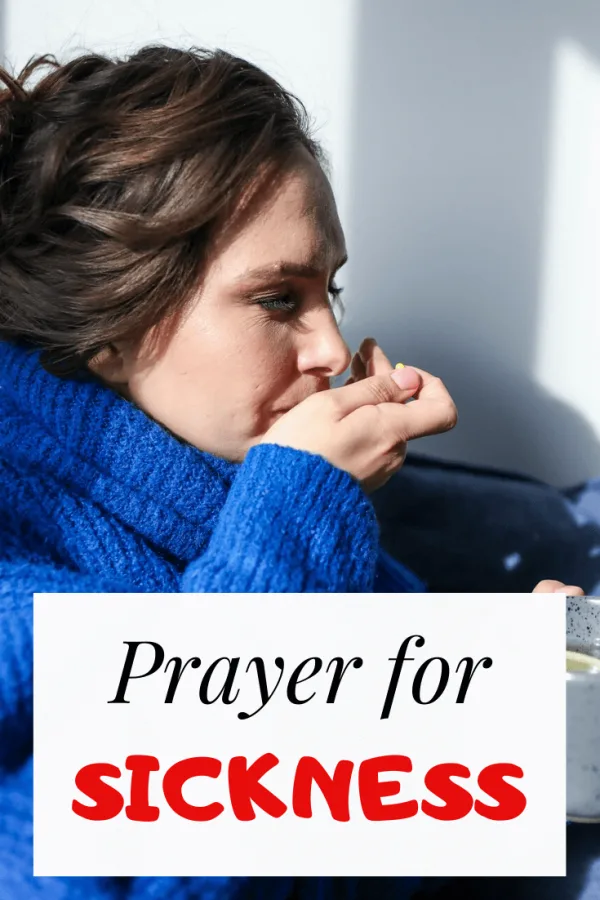 Sickness is a spirit (let us pray for deliverance)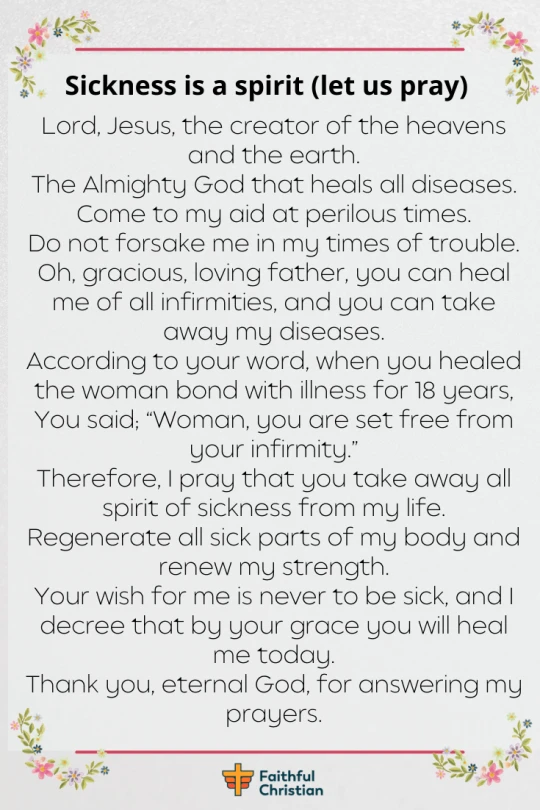 Lord Jesus, you are the grand architect. You crafted the heavens and earth. The wonders of creation? They're your handiwork. John 1:3 captures your might. "Through him all things were made."
You're not just a builder. You're a healer too. Every ailment, every disease, you cure them all. Matthew 4:23 says it best. You healed "every disease and sickness among the people." Your healing touch? It breathes life into the weakest spirits.
Times of distress? You're there. Your guiding hand leads me through uncertainty. Psalm 46:1 declares you as my refuge. My strength. You're the lighthouse guiding me through life's storms, just as you did for the apostles in Matthew 8:23-27.
Even in my darkest hours, you're by my side. You promised in Deuteronomy 31:6, "He will never leave you nor forsake you." My faith stays strong, knowing you're my constant beacon.
Father, your love and mercy are boundless. You restore my health. You clear my body of disease. Psalm 103:2-3 shows it. You forgive sins. You heal diseases. You rejuvenate my spirit to its full strength and vitality.
Your words? They're hope incarnate. Just look at Luke 13:10-13. You healed a woman bound by illness for 18 years. Your divine decree? "Woman, you are set free from your infirmity." Such words still echo, healing countless souls.
I pray to you, asking to cleanse my body and spirit of any ailment. Isaiah 53:5 promises your healing. "By his wounds, we are healed." I ask you to restore my health and renew my strength.
Your teachings convey your wish for my well-being. 3 John 1:2 says, "I pray that you may enjoy good health." I believe in your grace. I know you will heal me today, taking me back to optimal health.
With profound gratitude, I thank you, Lord. I thank you for hearing my prayers. I thank you for your compassion. I thank you for the healing I know will come. Psalm 107:19-21 says it all. "He sent out his word and healed them." Your mercy and love are my solace in these trying times.
Lastly, I hold onto your promise in Jeremiah 30:17. "I will restore you to health and heal your wounds." I believe my pleas have been heard. I believe your healing hand is at work. I am grateful for your boundless mercy and grace.
You've shown your unrivaled power and endless love through countless miracles. As I journey through sickness, I hold onto your promises. I know you are with me. I know, by your stripes, I am healed.
Thank you, my eternal God, for your unwavering love. Your healing touch. Your promise of restoration. You are my refuge. My strength. My healer. My guide. For this, I am eternally grateful.
Prayer for healing – Your body is the temple of God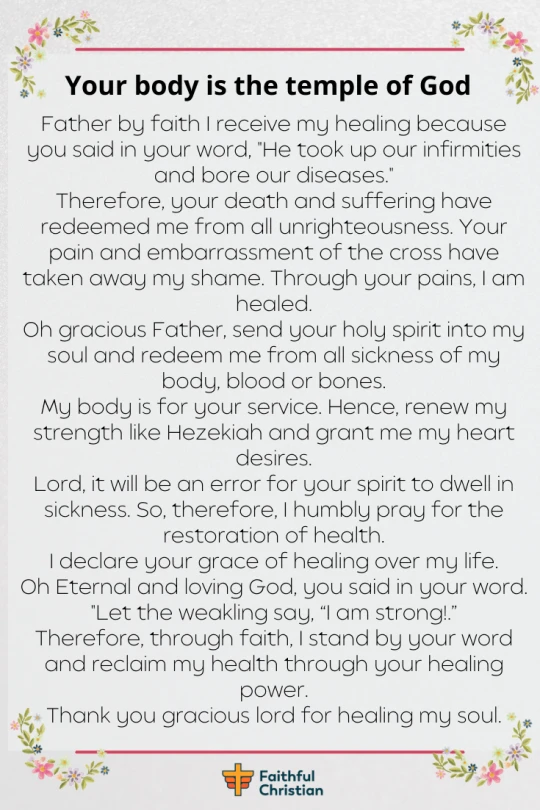 Dear Heavenly Father, I come before you. My heart is full, brimming with faith. You have promised healing, and I'm here to embrace it. I lean on your divine words. They echo the prophecy of Isaiah, "He took up our infirmities and bore our diseases." These words? They're my beacon. My hope. They strengthen my belief in your healing power. Your sacrifice, it's my redemption.
Think about it. You, the Holy One, suffered on a cross. Your suffering? It wiped away my shame. It's a testament to your boundless love. It's as Isaiah said, "By His wounds, we are healed." It's through your wounds, dear Lord, that I find healing.
Now, I turn to you with a plea. Send your Holy Spirit. The one promised in John's gospel. Let it sweep into the depths of my soul. I ask for liberation from all afflictions. For my body, my blood, my bones, they all serve you. Remember Hezekiah? Your divine intervention renewed his strength. I'm asking for the same. Let the desires of my heart be fulfilled, just as the Psalms say.
Lord, your Spirit dwells within us. It's a fact Paul emphasizes. Our bodies are your temple. So here's my humble request. Heal me. Restore my health. It's what you promised in Jeremiah, isn't it? You said you'd restore health and heal wounds.
Oh, Everlasting God, your word is clear. Joel wrote, "Let the weakling say, 'I am strong!'". That's what I'm doing. I'm standing firm, embracing your word. My health? I'm reclaiming it through your healing power. James backs me up. He said faith-based prayer would make the sick person well.
And finally, thank you. My heart swells with gratitude. You've healed my soul. You've shown immeasurable kindness. You've given me renewal. Just like the joyous exclamation in Psalms, you've healed me. Your grace is my strength. My hope. My healing. And through your word, I'm healed.
Healing is his children bread (let us pray)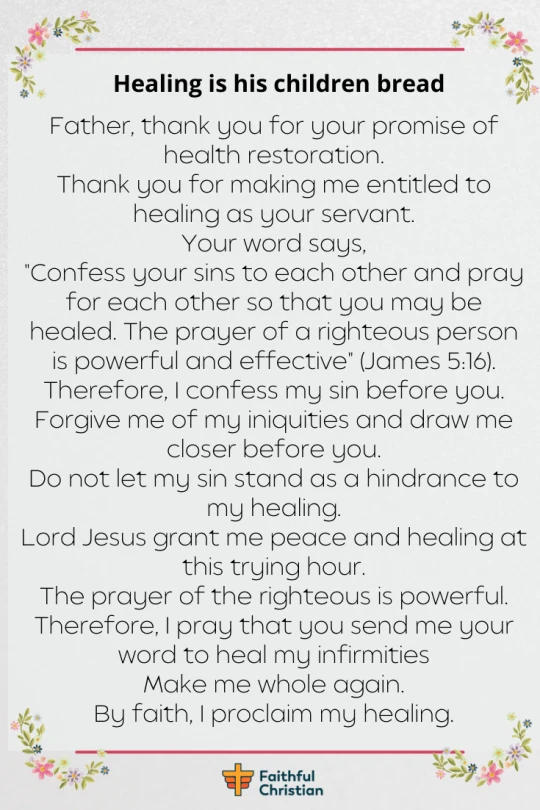 Dear Heavenly Father, my heart overflows with gratitude. Your promise to restore my health fills me with hope. I thank you. I cherish your mercy, your love. It's a divine privilege, a blessing. You've promised healing to your faithful.
Your sacred word guides me. James 5:16 – a beacon of light. It teaches us to confess, to pray, and to heal. The prayer of the righteous? Powerful, effective. The path to redemption? Clear. Confession. It's necessary. It's purifying. As 1 John 1:9 guides us, "He forgives. He cleanses." I echo this plea today.
So here I am, Lord. Open. Repentant. I beg your forgiveness. Cleanse me of my mistakes. Draw me closer to your grace. I understand. My sins could obstruct my healing. I seek your forgiveness. Psalm 51:2, a humble cry – "Cleanse me from my sin!". It's my prayer today.
These are challenging times. I turn to you, Jesus. Grant me your peace, your healing. Your promise in John 14:27 – "My peace I give to you." It's a lantern in the storm. I need your guidance, your comfort. I seek the peace of Philippians 4:7. A peace that will guard my heart, my mind.
The righteous prayer? Powerful, effective. Lord, I need your divine intervention. Heal my afflictions. Psalm 107:20 shines a light – "He sent out his word and healed them." I yearn for this. Your healing touch. Your life-giving Word.
Lord, I long for your touch. Make me whole again. Renew me. Rejuvenate my spirit. Isaiah 40:31 offers hope – "They will renew their strength." I believe in your power. I anticipate your healing presence.
In the strength of my faith, I proclaim my healing. I stand on your promise. I embrace the truth of 1 Peter 2:24 – "By his wounds, you have been healed." I believe. I await your divine intervention. My heart is full of hope. Amen.
---
Recommended for you
---
Affliction shall not rise the second time (Let us pray)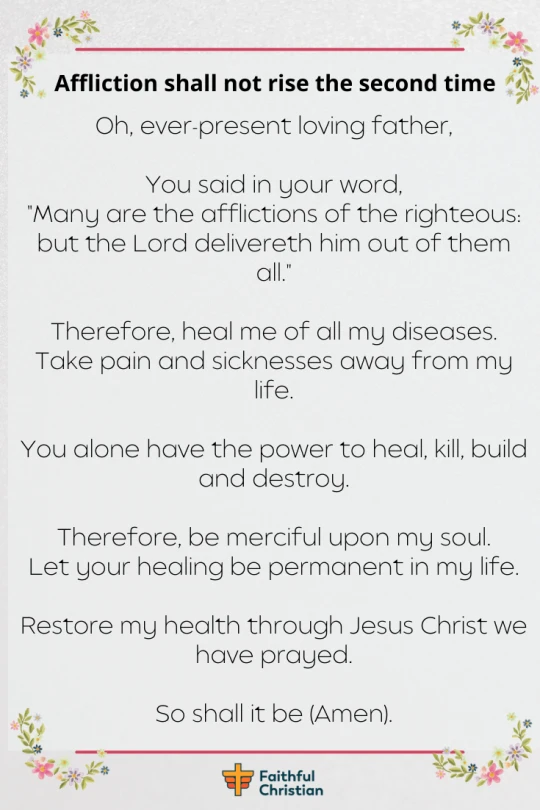 Oh, ever-present, loving Father,
Your infinite wisdom and boundless love surround us daily. We find solace knowing that no matter where we go, You are there, guiding our steps and warming our hearts.
Scriptures teach us that trials may come, but Your love remains steadfast. You carry us through every storm, ensuring we emerge stronger and wiser. We rest assured, knowing that with You by our side, we can conquer any obstacle.
In my time of need, I ask for Your miraculous healing. I trust in Your power to free me from the burdens of illness and disease. As my body mends, I rejoice, knowing that Your divine touch transcends all earthly understanding.
Remove pain and sickness from my life, dear Lord. Your healing power surpasses all else, and I trust in You alone. Your omnipotent hand molds our lives, giving us strength in times of darkness and lifting us up when we fall.
Show me mercy, Father. Cleanse my soul from spiritual burdens, purify my heart, and draw me closer to You. In my weakest moments, Your grace shines brightest, providing me the strength I need to face life's battles.
May Your healing transform me, leaving a lasting impact on my life. Let this newfound health serve as a testament to Your unwavering love and mercy. With each step forward, I am reminded of Your divine presence in my life.
Through the sacrifices of Jesus Christ, I seek the restoration of my health. His love flows through me, healing my body and spirit. In His name, I am made whole, renewed, and restored.
As I walk this path of healing, I pray that Your will is always at the forefront of my journey. Guided by Your divine light, I continue to grow and flourish. In Jesus' name, we pray. Amen.
---
Recommended for you
---
Prayer for diseases (Bible verses)
Deuteronomy 7:15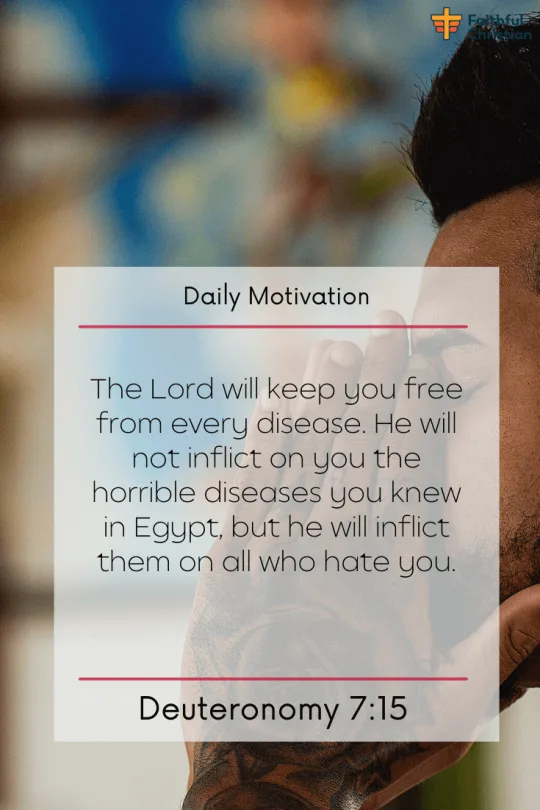 The Lord will keep you free from every disease. He will not inflict on you the horrible diseases you knew in Egypt, but he will inflict them on all who hate you.
Say a Healing Prayer for sickness and Diseases with Deuteronomy 7:15
Dear Cherished Father,
In Your presence, we find comfort and peace. Your Word, our guiding light, promises in Deuteronomy 7:15, "The Lord will take away from you all sickness." You are our Healer, our rock amidst life's storms, and the ultimate comforter in times of distress.
We're here today, calling out to You. We seek healing for those under the yoke of illness. We trust in Your promise to lift this burden, knowing Your healing touch can restore us.
Your love, dear Lord, is our fortress. We lean on You in times of sickness and health. We believe in Your power to cure ailments, to banish disease, and to bring about a deep, lasting wellness.
Today, we lift up those in the throes of sickness. May Your healing hand touch them, bringing relief and restoration. Guide them through this tough journey, reassuring them they are never alone.
As they battle illness, infuse them with Your strength. Let Your love be their beacon, guiding them through the darkest nights. Fill them with hope and resilience, bolstering their spirits and renewing their faith.
Let their healing be a testament to Your boundless mercy. May their trials morph into a testament of Your grace, igniting their faith, and inspiring others.
Thank you, Father, for Your healing promise. Your presence in our lives is our anchor, our beacon of hope. We offer this prayer in the powerful name of Jesus Christ, our Savior. Amen.
Luke 4:40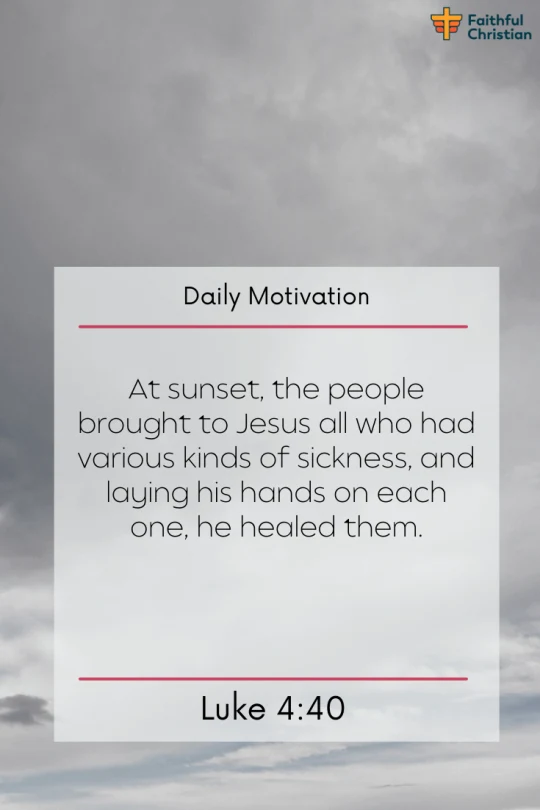 At sunset, the people brought to Jesus all who had various kinds of sickness, and laying his hands on each one, he healed them.
Say a Healing Prayer for the sick with Luke 4:40
Heavenly Father,
We approach You today, humbly embracing Your boundless love and mighty power. You are the Ultimate Healer, the Mender of all wounds, the Restorer of strength. We lean on You, and in Your powerful name, we pray.
We recall the miraculous moment from the Gospel of Luke. In Luke 4:40, Jesus healed the sick as the sun set, touching each one with His hands. This moment is a testament to Your enduring mercy and the healing power You channel through Jesus, Your Son.
Today, we raise our voices for those battling illness. We plead for Your healing hand to touch them, just like in the days of Jesus. As their days of pain fade into the setting sun, we ask for a new dawn of wellness and strength to rise with Your healing touch.
Comfort their bodies, ease their pain, and mend their afflictions. Let them feel Your mighty presence, just as those did when Jesus touched them. Boost their spirits, fortify their faith, and heal their bodies in Jesus' mighty name.
Through this healing journey, bless them with more than physical health. Remind them of Your unwavering love, Your steadfast support, and Your promise of undying companionship. Use this time to deepen their faith and reaffirm their trust in Your grand plan.
When the shadows of sickness creep in, let them feel Your love's warmth, Your assured presence, and Your healing power's certainty. Like those who experienced Jesus' healing, let them find relief, comfort, and restoration in You.
May Your will shape their lives and our world. Let Your healing power flow, bringing solace to the sick, easing the weary, and inspiring hope in the hopeless. In the name of Jesus Christ, our Savior, and Healer, we pray.
Amen.
Read more powerful Bible verses for the sick here
Frequently Asked Questions
What is the most powerful prayer for healing?
The ultimate prayer for healing is tucked away in James 5:14-16. It's more than just a plea for physical wellness. It's a confession of sins, a clear call linking our spiritual and physical health. It's a rally cry for believers to uplift each other in prayer. It asserts the profound power of prayers spoken by the righteous.
What is a prayer for healing the body from infection?
Consider this prayer for combating infection: "Jehovah Rapha, our healing God, we call on You. We seek Your healing touch for this infection-ridden body. By Jesus' name, we command the infection to flee. We declare full recovery. Psalm 103:3 reminds us of Your promise to mend all ailments. We place our trust in You, Lord."
What is the miracle prayer for healing the sick?
When it comes to the miracle prayer for healing the sick, surrender to God's will is key. It's about placing trust in His healing capabilities. Such a prayer might be: "Lord Jesus, as You healed all brought before You, we raise up the sick to You. With You, healing is possible. Luke 9:11 tells us You healed those in need. We believe in Your miracles, Lord."
Which Psalm is for healing sickness?
Psalm 103 serves as a potent source of healing. It starts with blessings showered on the Lord, reminders of His endless benefits. These benefits include forgiveness of sins and the healing of all diseases. It's a glorious hymn recognizing God's merciful, healing strength.
What is the most powerful prayer to pray?
The ultimate prayer to utter is the Lord's Prayer, found in Matthew 6:9-13. Jesus Himself taught this prayer. It's an all-encompassing prayer – offering praise, requesting our daily needs, confessing sins, and asking for guidance and protection.
What are the most powerful healing prayers in the Bible?
Powerful healing prayers are scattered across the Bible. James 5:14-16 urges believers to pray for each other's healing, emphasizing the efficacy of such prayers. Jeremiah 17:14 reveals the prophet's prayer for healing and salvation. Psalm 103:2-4 encapsulates a prayer for healing, recognizing God's bountiful benefits, including the healing of all diseases.
How do you pray for a fast miracle?
For a speedy miracle, one must approach God with unwavering faith, trusting in His miracle-working abilities. Mark 11:24 teaches us to pray with expectancy, trusting in the miracle before we witness it.
What is the most powerful prayer that never fails?
The prayer of faith never fails. It is the most powerful. Hebrews 11:6 encourages us to approach God with steadfast faith, trusting in His mighty power and readiness to answer our prayers.
What is the shortest, most powerful prayer?
"Jesus, I trust in You." may be the shortest yet most potent prayer. This prayer signals a total surrender to Jesus and unshakable trust in His power and His plan for our lives.
How can I perform a miracle healing prayer for the sick?
To perform a miracle healing prayer for the sick, approach God with faith, intercede for the sick, and trust in God's healing power. James 5:15 tells us that faith-filled prayer will restore the sick. This verse encourages us to pray with faith, believing in God's healing abilities.
What is a short prayer for healing and recovery for someone?
A short prayer for healing and recovery might be: "Heavenly Father, we request Your healing touch for [name]. Restore their health, Lord, and grant them strength in this recovery period. Jeremiah 30:17 tells us You will restore health and heal wounds. We trust in Your promise, Lord."
How does intercessory prayer work for the sick?
Intercessory prayer for the sick operates by standing in the gap, pleading on behalf of the sick. We approach God with faith, imploring Him to heal and restore. James 5:16 supports this, urging us to "pray for each other so that you may be healed." This highlights the power of prayer and the crucial role of intercession.
Can you suggest a healing prayer for a sick friend?
A healing prayer for a sick friend might sound like: "Lord, I bring my friend [name] to You. Please bestow them with Your healing touch and renew their health. As it says in Psalm 147:3, You heal the brokenhearted and bind up their wounds. We lean on Your promise, asking for Your healing for my friend."
What is an effective prayer for a sick person?
Effective prayers for a sick person are driven by faith, empathy, and understanding God's will. A heartfelt prayer might go: "Lord, we know You cherish [name] more than we could ever do. We plead for Your healing power to touch them. As stated in Isaiah 53:5, 'by His wounds we are healed.' We trust in this promise and seek Your healing for [name]."
How can I pray for healing and strength?
Praying for healing and strength could sound like this: "Heavenly Father, we beseech Your healing touch and strength to bear this time of illness. You promise in Psalm 29:11 to grant strength to Your people and bless them with peace. We claim this promise, Lord."
How can I offer a prayer for healing and protection?
A prayer for healing and protection might go: "Lord, we seek Your healing for [name]. Please safeguard them from further harm and restore their health. As it says in Psalm 46:1, You are our refuge and strength, ever-present in times of trouble. We lean on You, Lord."
What are some prayers for healing a sick family member?
Prayers for healing a sick family member might sound like: "Lord, we bring our family member [name] before You. We beseech Your healing touch on their body. Your words in Jeremiah 17:14 reassure us: 'Heal me, Lord, and I will be healed; save me and I will be saved.' We trust in Your word and seek Your healing."
Author: Akatakpo Dunn
Dr. Akatakpo Dunn is a dedicated follower of Christ, an active member and speaker, and an ongoing learner of the Scriptures. Passionate about his faith and serving others, he is committed to sharing his spiritual journey and insights to inspire and uplift fellow believers. He has been active in the church for more than 23 years. Through The
Faithful Christian Blog
,
Dr. Dunn
combines his love for God, philanthropy, and Scripture, providing a valuable resource for those seeking to grow in their faith.
Follow me: on Youtube, Facebook, Twitter, Instagram, and Pinterest.
Content Disclosure:
At The Faithful Christian Blog, I create authentic and inspiring content. Although I am the main author, I occasionally use AI for minor language enhancements. This minimal AI usage ensures high-quality, trustworthy articles without compromising originality or sincerity, ultimately supporting our shared faith journey.
Warmly,
Dr. Akatakpo Dunn
Was this article helpful?