Prosperity and wealth only come from God.
There's no doubt he owns everything you desire.
If you need money, a new job, a new business, or even in your academics, God can provide anything you need.
There is nothing we cannot ask from God.
We can ask for long life, good health, and salvation.
Likewise, we can also pray for wealth and prosperity in all we do.
There is nothing wrong with seeking God's financial blessing.
After all, he said, if we trust and have faith in him, he is willing to bless us with all we want.
Nevertheless, we must be content with what we have.
Contentment and patience are invaluable qualities of an expectant Christian.
I have compiled prayers for prosperity and wealth to invigorate your soul.
God will bless you with your heart desires according to his will.
Amen.
---
Recommended for you
---
Prayer Bible verses for prosperity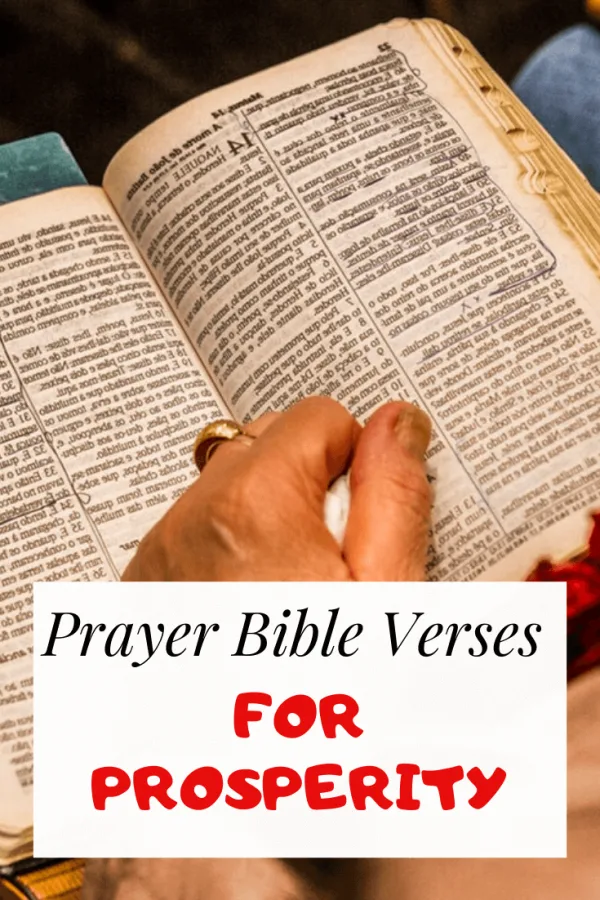 Deuteronomy 8:18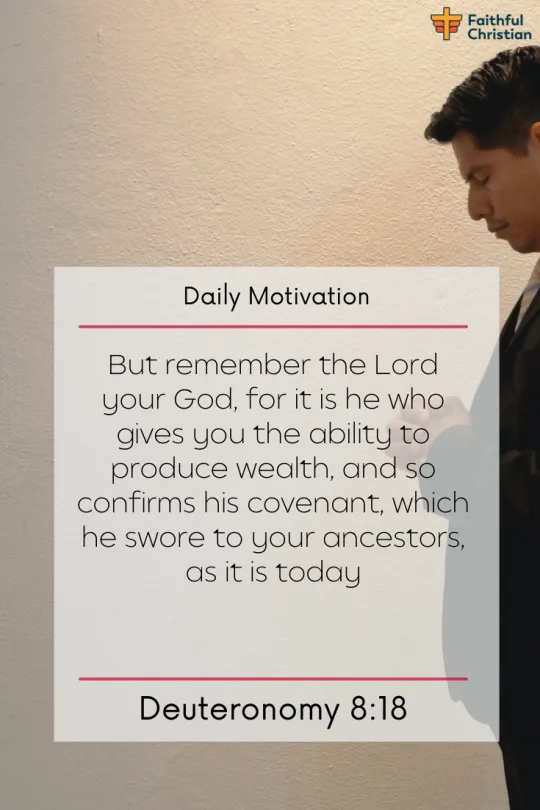 But remember the Lord your God, for it is he who gives you the ability to produce wealth, and so confirms his covenant, which he swore to your ancestors, as it is today
Jeremiah 29:11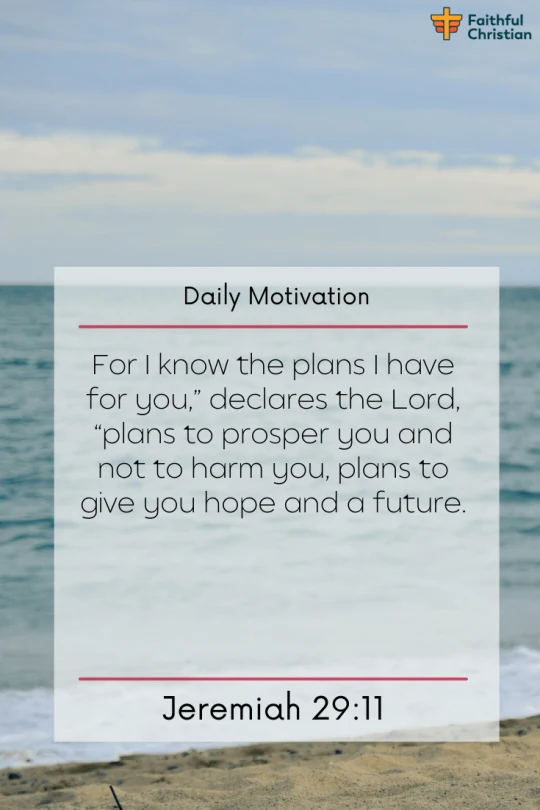 For I know the plans I have for you," declares the Lord, "plans to prosper you and not to harm you, plans to give you hope and a future.
Philippians 4:19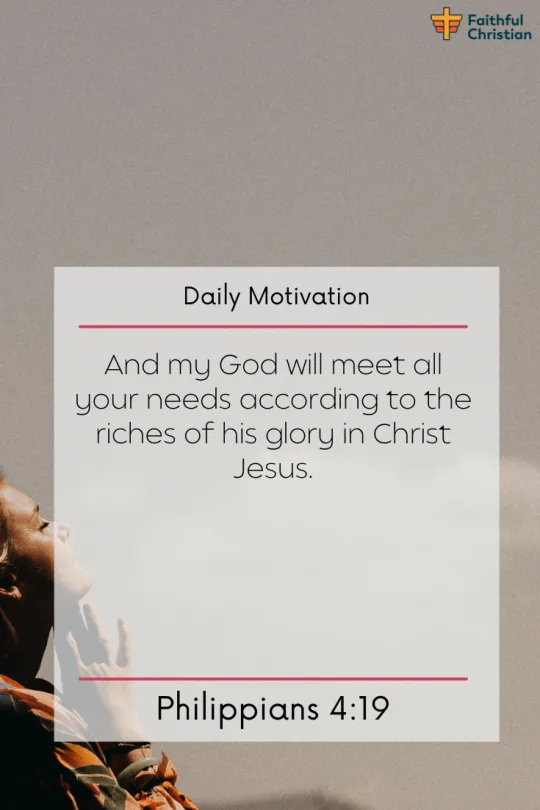 And my God will meet all your needs according to the riches of his glory in Christ Jesus.
3 John 1:2
Beloved, I wish above all things that thou mayest prosper and be in health, even as thy soul prosperity.
Psalms 128:2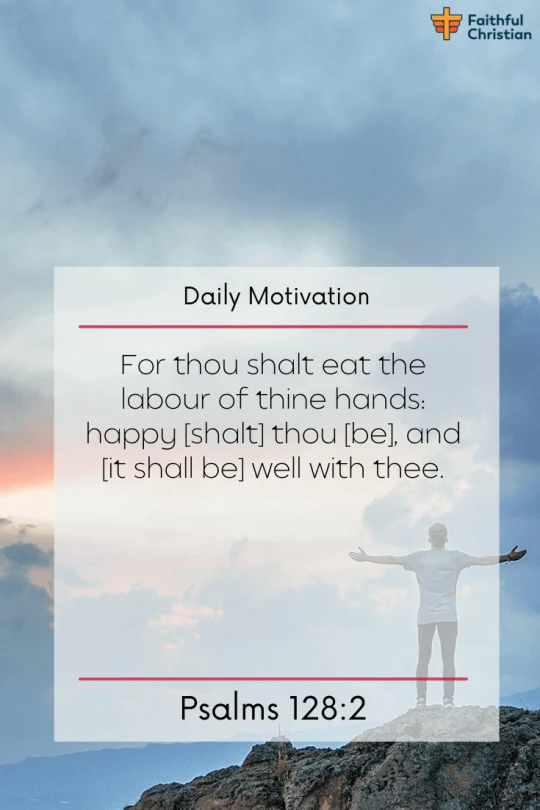 For thou shalt eat the labour of thine hands: happy [shalt] thou [be], and [it shall be] well with thee.
Prayer For Prosperity and Wealth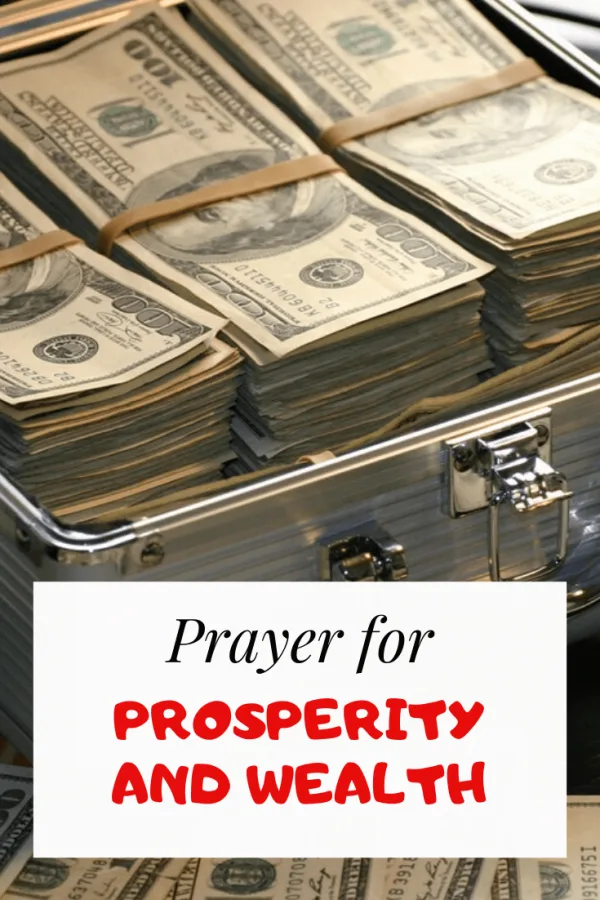 His wish is for us to prosper (let us pray)
Dear Father, the One who radiates grace and mercy, I come to You. I'm like the character in a gripping story, one who often stumbles, who needs mercy. Just like in Luke 15, the tale of the prodigal son, I need Your love. I admit my mistakes, craving Your mercy. Picture King David, his pleas echoing in the chambers of Your heart (Psalm 51). That's me, Father, reaching out, seeking the same mercy.
There have been times, I confess, when my life hasn't sparkled with Christian faith. Like Peter in Matthew 26, my faith wavered. Yet, like a child learning to walk, I know You're there to pick me up when I fall. You assure me that even in my weakness, Your grace is my strength (2 Corinthians 12:9). Despite tripping up, I'm never knocked out.
It's true, I've often failed to follow Your commandments. Think of the Israelites in the desert, questioning, doubting (Numbers 14). Yet, even as they lost faith, You provided. Just as You showered manna from heaven, you've catered to my needs (Exodus 16). For my mistakes, I ask forgiveness. Bless my efforts, Father. I hope for success, just like Joseph experienced in Egypt (Genesis 39).
Turning to the beautiful image painted in 2 Corinthians 8:9, I understand the depth of Christ's sacrifice. He traded riches for poverty, for us. So, I ask, give me a share of that grace. Let me channel it into success. Like a puzzle with a thousand pieces, life can be complex. But with You, every piece fits (Mark 10:27).
I need You, Father, in my financial world. Your Word shows how You met Solomon's needs, aiding him in his colossal project (1 Kings 5). As You provided for him, please provide for me. In 3 John 1:2, we're told to prosper, to be healthy. Following this, I ask for prosperity. Picture my home, now imagine it overflowing with blessings.
Bless the work I do. Expand my borders. Just as You did for Jabez (1 Chronicles 4:10), do it for me. Whether it's in my job or my business, I need Your hand. And just as You promised in Malachi 3:10, let blessings rain from heaven, filling every corner of my life.
I am a descendant of Abraham, a man of faith and blessings (Genesis 17). You promised to bless his descendants. I ask You, let that blessing flow into my life. I hope for a blessing as deep and wide as the ocean, just like Abraham.
I aim to break free from any family curses. They're like chains, but Your love can break them (Galatians 3:13). I reach out for Your grace, knowing it's always enough (2 Corinthians 12:9).
And now, I thank You. You're the Father who listens, the God who answers (1 John 5:14-15). You've heard my prayers. I have faith in Your timing (Ecclesiastes 3:11). So, with a heart full of gratitude, I close this prayer. Amen.
The blessing of the Lord maketh rich and added no sorrow (let us pray)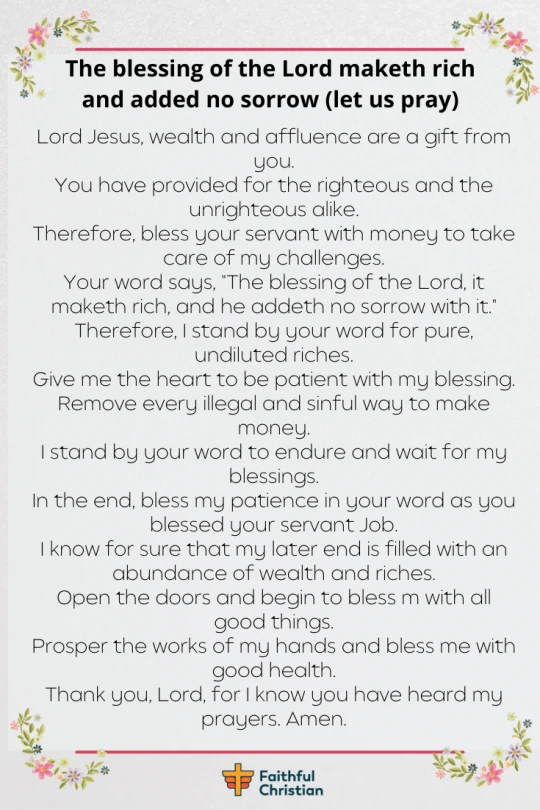 Dear Jesus, my divine Benefactor, I'm fully aware that every perfect gift, each sprinkle of prosperity, wealth, or abundance, is your generous offering. It's a testament to your incredible love and compassion, echoing the timeless wisdom of James 1:17. You're the great Provider, giving freely to all, both good and bad. Your unconditional love reflects Matthew 5:45 beautifully – as the sun shines and rain pours on both the righteous and the unrighteous.
So here I am, Lord, humbly asking for your blessing. I'm facing life's hurdles and I need your help. I'm reminded of Philippians 4:19. It assures me that my God, you, will meet all my needs. I lean on this promise, believing in your infinite riches in Christ Jesus.
Your divine Word, Proverbs 10:22, is a beacon of hope. It tells me your blessing brings wealth without sorrow. That's the kind of wealth I'm seeking, Lord. The kind that fosters joy, peace, and prosperity. The kind that truly enriches.
But, Lord, I need patience. Patience to wait for your blessings, echoing the counsel in Psalm 37:7. Guide me away from any dishonest or sinful pursuit of wealth. I'd rather be poor and walk with integrity, just like Proverbs 28:6 advises.
Your servant Job inspires me. Despite his trials, he remained patient. He was rewarded with even more blessings in the end. Job 42:12 tells his story, giving me hope. It assures me of your faithfulness, your commitment to bless me, too.
I'm certain my future is bright, ordained with wealth and riches. The promise in Jeremiah 29:11 fuels this conviction. It tells me you have wonderful plans for my welfare. It's a future brimming with hope, prosperity, and blessings beyond measure.
I call on you, Lord, to open heaven's floodgates. Shower me with blessings as promised in Malachi 3:10. Bless the work of my hands, as per Deuteronomy 28:12. Along with prosperity, gift me good health, echoing 3 John 1:2.
And finally, Lord, thank you. I know you've heard my prayers. 1 John 5:14 gives me that confidence. I'm grateful for your enduring love, your grace, and your generous provision. I offer this prayer in your holy name. Amen.
The Law of Giving (Let us pray)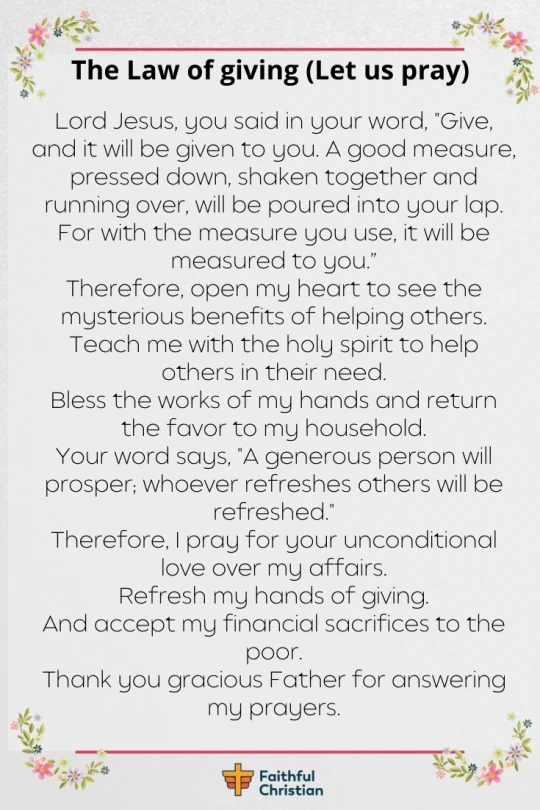 Beloved Jesus, your wisdom rings true: "What we give, we receive." Like grains in a bountiful harvest, pressed, mixed, overflowing. Our generosity sets our blessings' size. These divine words mirror the truth of Luke 6:38. Our deeds, like echoes, return to us. As we sow love, we reap joy. Your teachings, our guiding star.
Help me, Lord, to grasp the hidden blessings of kindness. The Book of Hebrews, Chapter 13, Verse 16, nudges us to remember. Giving and sharing please you. Let your Holy Spirit be my guide. As promised in John 14:26, your Spirit teaches us. Guide my hands to help those in need.
Bless my efforts, Lord, and my loved ones too. This plea springs from Deuteronomy 15:10. Generosity brings your blessings on our work. Your words remind us, "The generous thrive; the giver is invigorated." It's Proverbs 11:25 brought to life. Our abundance grows as we lift others. May your infinite love rule my life.
Reignite my giving spirit, Lord. Like Paul said in 2 Corinthians 9:7, you adore a joyful giver. Nurture in me a happy, open heart. I offer my financial gifts to the less fortunate. Proverbs 19:17 assures us, kindness to the poor is a loan to you. And you always repay.
I thank you, Father, for hearing my prayers. 1 John 5:14 gives me courage. You listen when I pray your will. I trust in your boundless mercy. Your timing is always perfect. Thanks for your unwavering attention. Your love, a river in full flow.
Bless me like my father Abraham (let us pray)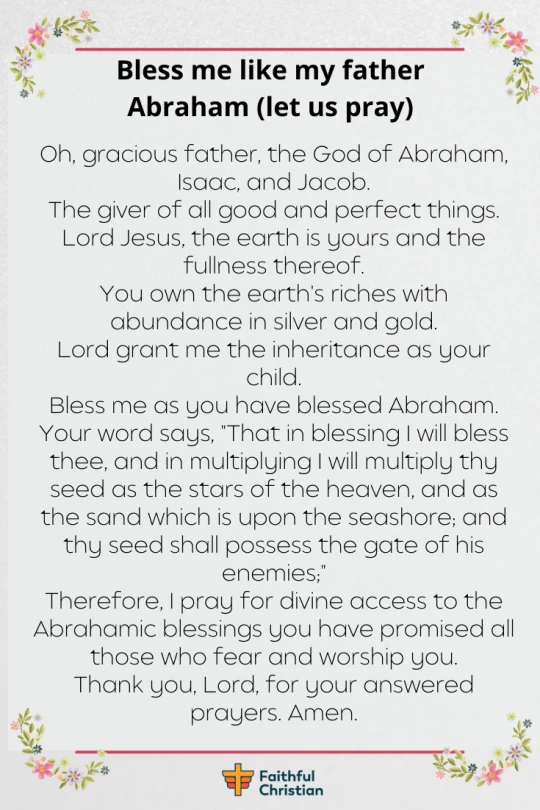 Dear Heavenly Father, we draw near to You with reverence. We remember the stalwart patriarchs – Abraham, Isaac, and Jacob. These men, guided by Your hand, live in the holy pages of Genesis. As you walked with them, we ask for Your guiding presence too. You are their God, and ours.
You are a wellspring of blessings, the source of all good in the cosmos. All our joys, all that's perfect in life, flow from Your boundless generosity. This truth is clear in James 1:17. We echo the sentiment with heartfelt gratitude.
Jesus, You own the world! From towering mountains to verdant valleys, it's all Yours. This truth rings clear in the Psalms. They sing about Your ownership of Earth's boundless riches. Silver and gold, they are Yours too, as Haggai tells us. You are the ultimate proprietor of wealth.
As Your children, we come to You, Lord, with a humble request. Give us our share of Your blessings, our divine inheritance. Your word in Romans echoes our status as Your heirs, joint heirs with Christ. You blessed Abraham, and we yearn for a taste of that blessing too.
Your words resound with a promise. A promise in Genesis that excites our hearts. We dream of blessings like stars in the sky, like sand on the seashore. A grand promise of prosperity for us, for our descendants. This divine assurance fuels our faith, drives us to stand firm in the face of trials.
Our prayer, Lord, is simple. Grant us access to the bounty of Abrahamic blessings. You've promised them to those who fear and worship You. As Psalm 111:10 teaches us, this fear is the foundation of wisdom. May we walk in this wisdom, bask in the prosperity that only You provide.
We thank You, Lord, for hearing our prayers. John assures us of this in his first epistle. Our prayers align with Your will. You hear us. We believe it. Your timing is perfect, Your wisdom infinite. We trust You.
And so, we wrap up our prayer with an "Amen". It's a word that signals our faith in You. It's our tribute to Your glory. Paul taught us this in Corinthians. We finish our prayer in the same spirit. For every thought, every word, every deed is for Your glory. Amen.
Frequently Asked Questions
What is the most powerful prayer for prosperity?
"Dear Heavenly Father, I thank You for all the blessings You have bestowed upon me. I am humbled by Your constant love and support. Lord, I pray for prosperity in all aspects of my life – my career, my finances, my relationships, and my spiritual growth. Help me to prosper not just for my benefit, but so that I may be a blessing to those around me. In Jesus' name, I pray. Amen."
What is a powerful prayer for wealth?
"Lord, I trust in Your promise that You shall supply all my needs according to Your riches in glory by Christ Jesus (Philippians 4:19). I seek first Your kingdom and righteousness, knowing that all these things, including financial abundance, will be added to me (Matthew 6:33). Grant me wisdom and discernment to manage wealth wisely and for Your glory. In Jesus' name, I pray. Amen."
How to attract money from God?
"Dear God, I come before You acknowledging You as the source of all blessings. I ask that You open the windows of heaven and pour out financial blessings upon me (Malachi 3:10). May I use this wealth to fulfill Your purpose and glorify Your name. In Jesus' name, I pray. Amen."
What is the most powerful prayer for financial breakthrough?
"Heavenly Father, I believe in Your promise in Jeremiah 29:11 for plans of peace and not evil, to give me a future and a hope. Lord, I am facing financial difficulties, but I am trusting in You for a breakthrough. Show me the right path, guide me in my decisions, and bless my efforts. In Jesus' name, I pray. Amen."
How to pray for good luck?
"Dear Lord, I come to you today asking for Your guidance and blessings. 'For I know the plans I have for you,' declares the Lord, 'plans to prosper you and not to harm you, plans to give you hope and a future' (Jeremiah 29:11). Lord, guide my steps and bring good fortune into my life. In Jesus' name, I pray. Amen."
What is the most powerful prayer for wealth?
"God, You are the provider of all good things and I know that every good gift comes from You (James 1:17). I pray that You will bless me with the wealth that comes only from You. Grant me the wisdom to use this wealth in a way that honors You. In Jesus' name, I pray. Amen."
What is the prayer for prosperity and financial breakthrough?
"Dear God, I pray that you will lead me to the abundance and prosperity that you have promised in Your Word. Let me trust in Your divine provision, and in Your timing (Philippians 4:19). I know that with You all things are possible. Help me to break through my financial struggles and prosper in Your name. Amen."
Can you provide a 4-sentence prayer for abundance?
"Heavenly Father, thank You for Your abundant love and grace. I pray that You pour out Your abundance in my life, meeting all my needs according to Your riches in glory by Christ Jesus. Grant me the wisdom to manage Your blessings wisely. In Jesus' name, Amen."
How can I say a 2-minute prayer for a money blessing?
"Dear Heavenly Father, I thank You for Your love and mercy. I come before You today in need of financial blessings. You promise to provide for our needs according to Your riches in glory by Christ Jesus (Philippians 4:19), and I am holding onto this promise. Lord, open the windows of heaven and pour out a financial blessing so great that there isn't room enough for me to receive it (Malachi 3:10). I pray for wisdom to handle this wealth in a way that honors You, and I declare that I will use it to bless others and spread Your love. Please guide my steps in this journey, Lord. I trust in Your provision, and I thank You in advance for answering my prayer. In Jesus' name, I pray. Amen."
Is there a prayer for prosperity and protection?
"Heavenly Father, I pray for Your prosperity and protection. Guide me in Your truth and teach me, for You are God my Savior, and my hope is in You all day long (Psalm 25:5). Protect me and my family from all harm, and bless us that we may prosper in all things and be in good health (3 John 1:2). In Jesus' name, I pray. Amen."
Do you have a daily prayer for prosperity?
"Lord, thank You for this new day and the opportunities it brings. I pray for Your guidance in all my endeavors today. Bless the work of my hands (Deuteronomy 28:12), and let me prosper in everything I do. In Jesus' name, I pray. Amen."
---
Recommended for you
---
READ MORE
Monday prayer for myself.
Tuesday prayers for family and friends.
Wednesday prayer for boyfriend and girlfriend.
Thursday prayer for Husband and wife.
Friday prayer and blessings.
Powerful Short Saturday prayer.
Sunday prayer message and quotes.
Author: Akatakpo Dunn
Dr. Akatakpo Dunn is a dedicated follower of Christ, an active member and speaker, and an ongoing learner of the Scriptures. Passionate about his faith and serving others, he is committed to sharing his spiritual journey and insights to inspire and uplift fellow believers. He has been active in the church for more than 23 years. Through The
Faithful Christian Blog
,
Dr. Dunn
combines his love for God, philanthropy, and Scripture, providing a valuable resource for those seeking to grow in their faith.
Follow me: on Youtube, Facebook, Twitter, Instagram, and Pinterest.
Content Disclosure:
At The Faithful Christian Blog, I create authentic and inspiring content. Although I am the main author, I occasionally use AI for minor language enhancements. This minimal AI usage ensures high-quality, trustworthy articles without compromising originality or sincerity, ultimately supporting our shared faith journey.
Warmly,
Dr. Akatakpo Dunn
Was this article helpful?