My wife has been a positive influence since our wedding.
Each day, she prays for me in all areas of my life.
These prayers have helped me in so many ways.
She knows that God's protection is needed in our family.
We can, of course, not do anything without his grace.
So, today, we are going to pray for your husband's safety.
We will ask God to protect his life, finances, businesses, and job.
We will also ask God to save him from all evil temptations that will lead him astray.
God has the power to direct the thoughts of your husband.
He can protect your husband from the prying eyes of other women.
Our father is merciful and will protect your husband in all areas of his life.
Amen.
---
Recommended for you
---
Short Prayer for my husband's protection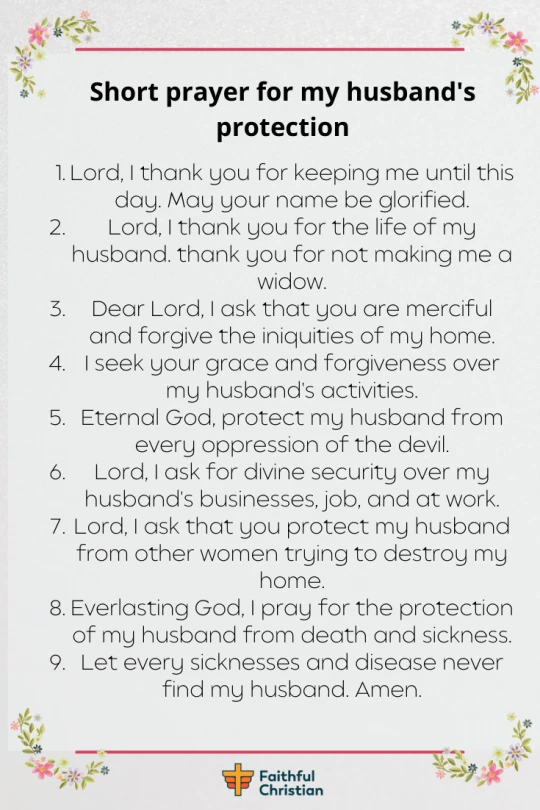 ---
Recommended for you
---
Prayer Bible verses for husband protection
Psalm 46:1
God is our refuge and strength,
    an ever-present help in trouble.
Psalm 145:18
The Lord is near to all who call on him,
    to all who call on him in truth.
Psalm 62:7-8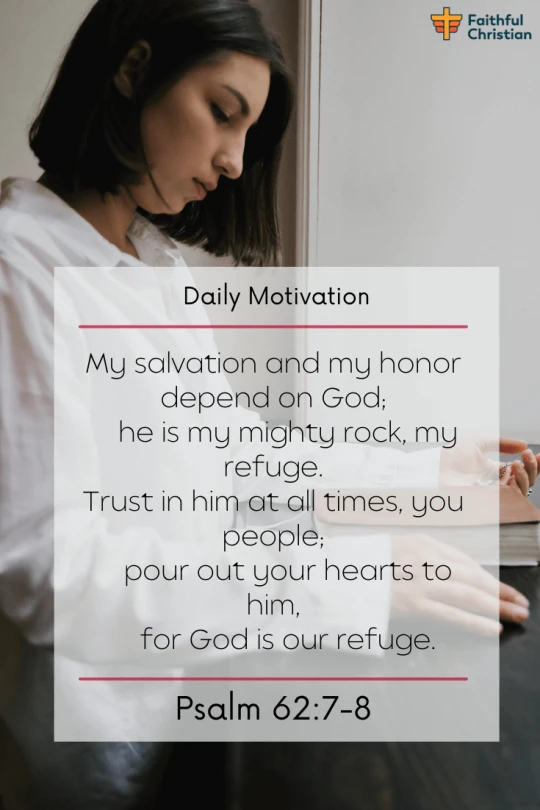 My salvation and my honor depend on God[a];
    he is my mighty rock, my refuge.
8 Trust in him at all times, you people;
    pour out your hearts to him,
    for God is our refuge.
Proverbs 18:10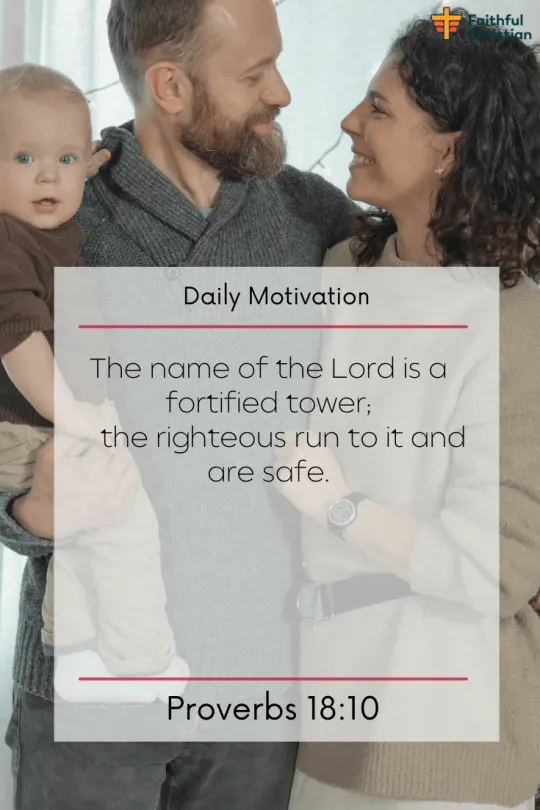 The name of the Lord is a fortified tower;
the righteous run to it and are safe.
---
Recommended for you
---
Prayer for my Husband's Protection from temptations
We have peace through Christ our Lord (let us pray)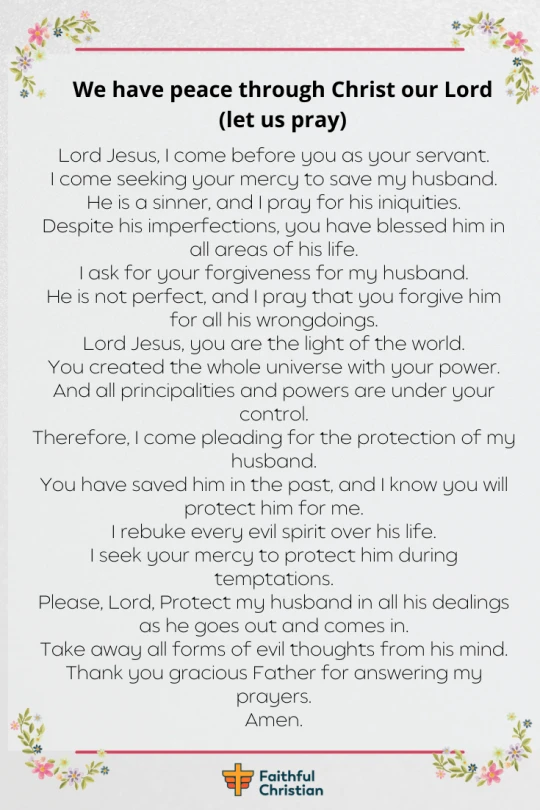 My Dearest Jesus, it's with a trusting heart I approach You. Just like Hebrews 4:16 teaches, I come boldly, filled with hope. I seek mercy, grace, and help for my husband in his time of need.
Yes, we all falter, just as Romans 3:23 states. But I believe in Your mercy. Your grace is limitless. I'm asking, dear Jesus, for my husband's return to Your loving path.
You have blessed him. This I know. Much like Psalm 23, Your love follows us constantly. Even in his flaws, Your favor shines. For this, I'm forever grateful.
James 5:16 talks about confession and forgiveness. Following that, I stand in prayer for him. He isn't perfect, but then, who is? Yet, I'm asking for Your forgiveness for his wrongs.
You are our guide, our light, Lord Jesus. Just like You say in John 8:12, You light up our world. You chase away the darkness. You are our sanctuary.
Your might is evident everywhere. It is by Your power the universe was born. All realms of power respect Your authority, as Colossians 1:16 teaches. It is in this power I seek protection for my husband.
Like David, in Psalm 17:8, I am asking. Please keep my husband safe. Hide him under Your wings. Let Your love shield him always.
Your promises, like in Deuteronomy 31:6, give me hope. You won't abandon him. You'll guide his every step. I believe this promise is for him, too.
The promise in 2 Thessalonians 3:3 assures me of Your faithfulness. You will strengthen and protect him. Please, keep my husband safe. Keep our family's pillar standing tall and strong.
In line with Jesus's prayer in John 17:15, I ask for protection. Keep him safe from all evil. I rebuke every spirit of darkness over his life.
Temptations are real. But 1 Corinthians 10:13 says there's a way out. I'm asking for strength for him in moments of weakness. Guide him towards righteousness when temptation comes knocking.
He's out in the world every day. I take solace in Psalm 121:8, trusting that You watch over him. Guide his every move. Anchor his heart in Your love.
Paul encourages us in Philippians 4:8. It's about our thoughts. Make my husband's thoughts true, noble, and right. May his heart embrace what's righteous and pure.
1 John 5:14 says You hear us. This brings joy to my heart. I know my prayers are not in vain. Thank You for listening, gracious Father.
In this prayer and all things, let Your perfect will be done. Amen.
You are untouchable my husband (let us pray)
Heavenly Father, I come to you today. My heart beats for my husband. Just like Hannah, I pour my soul before You.
Every day, my husband faces the world. His tasks are many. I yearn for his safety. I pray for divine guidance. Give him wisdom, Lord, like the gift given to Solomon.
God, Your angels are powerful and swift. Send them to guard my husband. Like Daniel in the lion's den, let my husband feel their presence. Keep him from harm.
Enemies, Lord, they are real. They might attack physically or spiritually. But with You, he can stand tall. You shielded Job, do the same for my husband.
Strength and resilience, O Lord, I seek them for my husband. They are the glue holding our family. Abraham was strong for Isaac. Let my husband be strong for us.
Temptations, they are ever-present. Jesus, You resisted them in the desert. Bestow the same grace on my husband. Help him resist and win.
Paths can be confusing, Lord. The enemy lays traps. Illuminate my husband's way. Guide him clear, like You did with Joseph.
I pray for a shield, Lord. Let it protect my husband. The enemy may shoot arrows, but they won't reach him. You shielded David. Do the same for my love.
Preserve his soul, O God. Protect his life. Keep death at bay, as You did for Moses. My husband's life is precious. Keep him safe.
Your promise, Lord, is comforting. You protect the anointed. The same promise that saved Israel from Pharaoh. It applies to my husband too.
Gracious Father, thank You. Your love is infinite. Your peace is soothing. I am grateful, like the psalmist. Trusting in You, believing in Your love.
I pray all this in Jesus' name. Amen.
The secret place of the most-high (let us pray)
Heavenly Father, your love overflows. Your divine protection, endless. The words of the Psalmist in Psalm 91:1 echo through my heart. It tells us of the divine shelter you provide. With this in mind, I come to you, asking for this divine canopy for my dear husband. Let him find peace and safety under your watchful gaze.
The world can be tough. The paths can be rocky. But, you're there. Psalm 121:7 assures us of your loving watch. It's a promise that you shield us from harm. Just as you did for the Psalmist, do the same for my husband. Make him feel the warmth of your protection.
Paul speaks to us in Ephesians 6:12. He tells us of the invisible battles we face. Our foes aren't of flesh and blood. No, they are unseen forces in heavenly realms. With this in mind, I pray for my husband. I ask that you arm him with faith and truth. Shield him from these dark forces.
Proverbs 10:22 is an anchor. It reminds us of the blessings you bestow. It tells us how your blessing can bring wealth without strife. I ask for this for my husband. Guide his work. Bless his endeavors. Make prosperity his constant companion.
The Lord's ears are never closed. Jeremiah 29:12 tells us that you listen when we pray. Keep this promise for my husband. Hear his prayers. Respond to his calls. Gift him with divine wisdom.
The words in Proverbs 3:5-6 are a guiding beacon. They tell us to trust in the Lord. They assure us that if we do, our paths will be straight. Lord, guide my husband. Help him trust in you. Keep him from stumbling into temptation's traps.
Lamentations 3:22-23 speaks of your faithfulness. A love that never wanes. Compassions that are ever fresh. They are there every morning. I thank you for this love. For this compassion. For your faithfulness that never ends. I am sure you will guard my husband. You will lead him. You will answer my prayers.
In your glorious name, I pray. Amen.
The angels of the lord are at work (let us pray)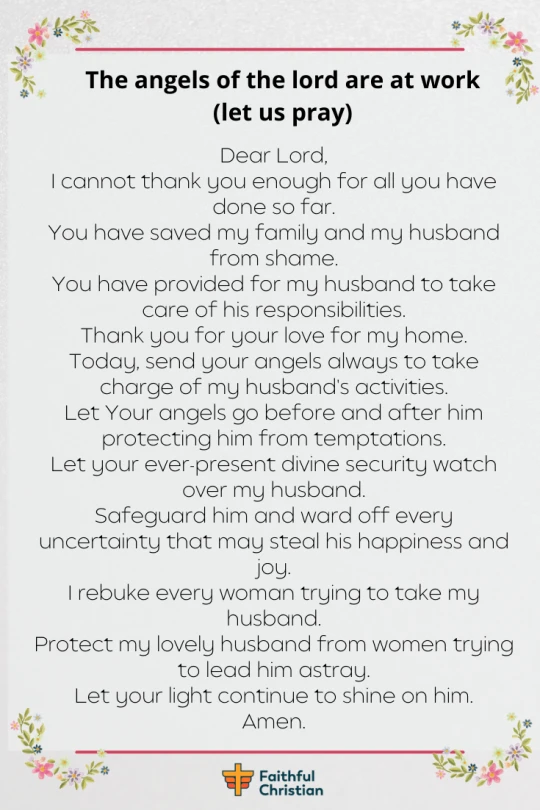 Heavenly Father,
Our hearts are filled to the brim with thankfulness. We're forever in awe of Your grace. It's our lifeboat in the roughest seas. A reminder of Your promise: Your power shines through our weakness.
Each blessing You send our way is a beacon of hope. It's proof of Your commitment to cater to our needs. Just as it's said in Philippians 4:19. We see this in the strength You give my husband. The strength that helps him fulfill his role with honor.
Today, I have a plea, Lord. Wrap my husband in Your divine protection. This protection You promise in Psalms 91:11. Let Your angels accompany him. They'll guide his actions, steer his decisions, and lead him down the right path.
These celestial beings are symbols of Your love. A love that doesn't just guard but also guides. With them at his side, he'll never stray. They're his shield against temptation and his guide through life's uncertainties.
In the face of doubt and fear, Lord, I ask you to arm him. Give him the full armor of God, as outlined in Ephesians 6:10-18. With these spiritual tools, he'll stand firm. No adversity will be too great. Your truth will be his sanctuary.
And today, I stand firm against negative influences. I rebuke every intention, every woman who tries to sway his heart. Just as it says in James 4:7. I ask you, Lord, to shield him. Keep him safe from deceit and temptation.
Your love, Lord, is boundless. It's a light in the darkest night, as written in Lamentations 3:22-23. Let this light shine on my husband. Guide him through his journey and lead him home.
We're grateful for Your ever-present light. It guides us all home, to the sanctuary of love and grace. We say this prayer in faith, knowing You listen, You guide, and You protect.
Amen.
Frequently Asked Questions
How do you ask God to keep someone safe?
Petitioning God for the safety of someone can take the form of an earnest, heart-centered prayer. Invoke Psalms 91:11, which underlines divine protection, in your plea. This example may serve as a guide: "Divine Protector, I entrust [Name] into Your care. Shield them as declared in Psalms 91:11, 'For He will command His angels concerning you to guard you in all your ways.' Guide their steps in Your grace. Amen."
What is a good morning prayer for my husband's protection?
Here's a proposed morning prayer seeking divine safeguarding for your husband: "Heavenly Father, thank You for the dawn of a new day. Your word in Psalms 121:8 assures of Your protection in our daily activities. Bestow such safety on my husband today, guiding his steps in the path of Your righteousness. Amen."
What happens when you pray for your husband?
Praying for your husband beckons God's influence, inviting divine guidance, safeguarding, and wisdom into his life. The tangible outcomes are personal evolution, a more robust relationship, and respect for your spouse as Ephesians 5:33 encourages.
How do you pray to keep your husband safe?
A prayer seeking the safety of your husband may align with the words in 2 Thessalonians 3:3. Example: "Father, Your faithfulness ensures our protection against evil. Echoing 2 Thessalonians 3:3, I seek such safeguarding for my husband. Guard his life and guide his steps. Amen."
What is a prayer to stay away from temptation?
A prayer seeking resistance against temptation is promised in 1 Corinthians 10:13. An example prayer may be: "Heavenly Father, Your Word in 1 Corinthians 10:13 promises strength against temptation. Impart such strength to me, allowing me to resist and focus on You. Amen."
How do I pray when my husband feels like my enemy?
Pray to God for guidance in your relationship when your husband feels adversarial. An example might be: "Lord, Ephesians 4:31-32 calls for kindness, compassion, and forgiveness. Inspire these virtues in us, helping us overcome our strife. Soften our hearts and replace bitterness with love. Amen."
What is the best prayer for your husband?
This prayer can be an ideal invocation for your husband: "Lord, my gratitude for my husband is boundless. Bless him with guidance, protection, and wisdom. Remind him of Proverbs 3:5-6, encouraging trust in You above all. Help him lead our family with Your love. Amen."
How to be a prayer warrior for my husband?
Being a prayer warrior for your husband means consistently interceding for him before God. Fulfill this role by invoking divine influence over his spiritual growth, health, career, protection, and wisdom, following Ephesians 6:18.
What is a prayer for my husband's success and protection?
You can pray for your husband's success and protection with reference to Jeremiah 29:11. Example: "Lord, Your plans to prosper us are declared in Jeremiah 29:11. Guide my husband's endeavors and protect him in all his paths. Amen."
Can you suggest a powerful prayer for my husband's protection?
A potent prayer seeking protection for your husband might look like this: "Heavenly Father, Psalms 18:2 attests to Your role as our refuge and deliverer. Shield my husband from harm and guide him in Your ways. I commit him into Your hands. Amen."
How can I pray for my husband's health and protection?
To seek health and protection for your husband, invoke 3 John 1:2. For instance: "Heavenly Father, I pray for my husband's health as promised in 3 John 1:2. May he be strong and healthy. Protect him in all his ways. Amen."
Is there a prayer to remove strongholds on my husband?
Invoke 2 Corinthians 10:4 to pray against any strongholds on your husband. For example: "Lord, I seek Your divine power to break any strongholds on my husband, as stated in 2 Corinthians 10:4. Free him from any obstacles to Your purpose. Amen."
What prayer can I say for my husband in difficult times?
In times of difficulty, Psalms 46:1 provides solace. An example prayer might be: "Father God, grant my husband strength and guide him through this challenging time. May he trust in Your unfailing love and find peace in Your presence. Amen."
Are there any suggested midnight prayers for my husband?
Pray for your husband's peaceful rest, using Psalms 4:8 for guidance. An example prayer might be: "Lord, Psalms 4:8 promises peace and safety in sleep. Watch over my husband, grant him strength and comfort. Amen."
How can I pray to protect my husband from evil?
Invoke 2 Thessalonians 3:3 when praying for your husband's protection from evil. For instance: "Father, I seek Your protection over my husband from evil, as promised in 2 Thessalonians 3:3. Shield him from harm and guide him with wisdom. Amen."
Is there a specific prayer for my husband to leave the other woman?
Pray for the restoration of your marriage using Mark 11:24. An example might be: "Father, I come to You in pain, invoking Mark 11:24 for the restoration of my marriage. Guide my husband back to our vows and help us forgive and rebuild. Amen."
---
Recommended for you
---
Author: Akatakpo Dunn
Dr. Akatakpo Dunn is a dedicated follower of Christ, an active member and speaker, and an ongoing learner of the Scriptures. Passionate about his faith and serving others, he is committed to sharing his spiritual journey and insights to inspire and uplift fellow believers. He has been active in the church for more than 23 years. Through The
Faithful Christian Blog
,
Dr. Dunn
combines his love for God, philanthropy, and Scripture, providing a valuable resource for those seeking to grow in their faith.
Follow me: on Youtube, Facebook, Twitter, Instagram, and Pinterest.
Content Disclosure:
At The Faithful Christian Blog, I create authentic and inspiring content. Although I am the main author, I occasionally use AI for minor language enhancements. This minimal AI usage ensures high-quality, trustworthy articles without compromising originality or sincerity, ultimately supporting our shared faith journey.
Warmly,
Dr. Akatakpo Dunn
Was this article helpful?