There are diverse ways the devil gets hold of our faith.
Sicknesses are one of them.
But thank God, he constantly creates a means for us to escape.
But quite often, we are confronted with the unthinkable battle of severe diseases.
A cancer diagnosis is one of them.
About two months ago, I met a woman in the clinic.
When she presented, she needed an urgent resuscitation and blood transfusion.
She was in so much pain and could not bend forward.
By her side was her husband who has struggled to get her through this challenging time.
She was diagnosed with advanced breast cancer.
It is impossible to express how they were feeling entirely.
The husband has been to many hospitals, and she has also received chemotherapy but no improvement.
His resources were draining because there is no universal health insurance in my country.
But somehow, though battling cancer, she was unbelievably strong.
Most people don't get the psychological and physical trauma cancer sufferers go through.
As doctors, we try to encourage and inspire them, especially in advanced carcinoma.
But now and again, we see the pain and pessimism in their faces.
If you have a friend or family member fighting cancer, there are inspirational verses you can use to encourage them.
Not just that, as caregivers and friends, you also need to invigorate yourself.
Taking care of cancer patients is emotionally draining, and you will absolutely need God's word for inspiration.
I have compiled comforting bible verses for those battling cancer.
Read, stay strong, and be blessed.
---
Recommended for you
---
Inspiring healing Bible verses for battling with cancer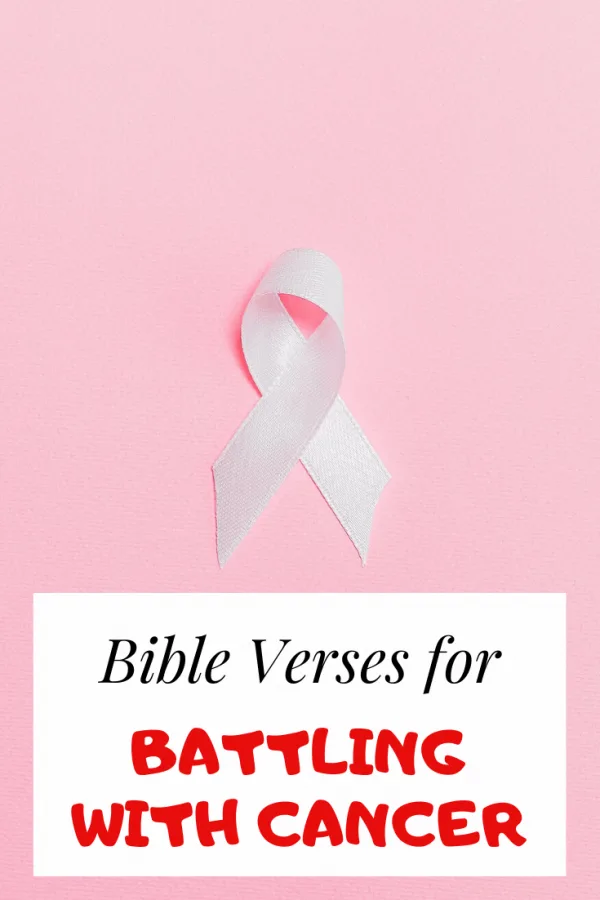 1.  Isaiah 43:1-2 NIV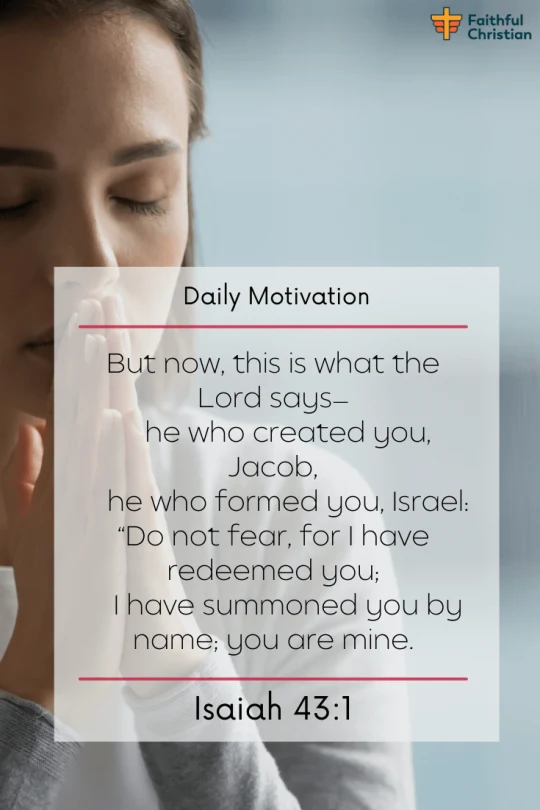 But now, this is what the Lord says—
he who created you, Jacob,
he who formed you, Israel:
"Do not fear, for I have redeemed you;
I have summoned you by name; you are mine.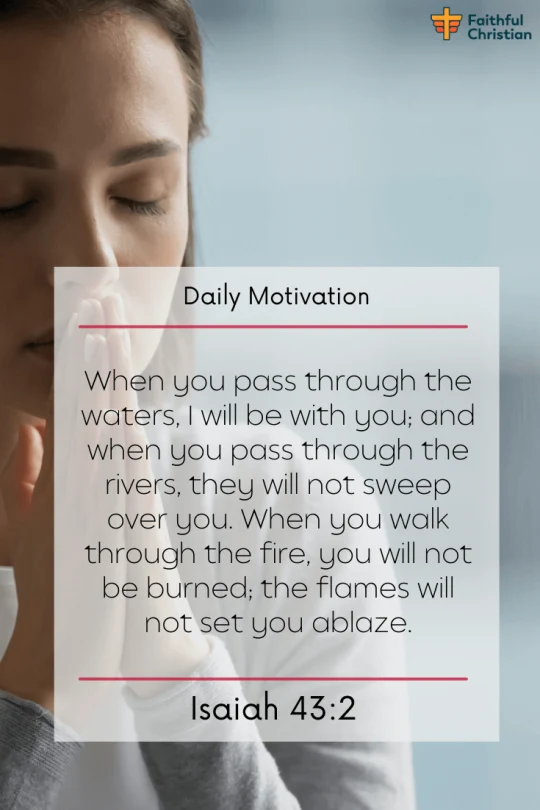 2 When you pass through the waters,
I will be with you;
and when you pass through the rivers,
they will not sweep over you.
When you walk through the fire,
you will not be burned;
the flames will not set you ablaze.
When you're battling something as formidable as cancer, it's easy to feel lost. You might feel like you're fighting alone. Yet, in these challenging moments, the Bible offers a lifeline.
One verse, Isaiah 43:1-2, shines bright. It says, "Do not fear, for I have redeemed you; I have summoned you by name; you are mine."
Let's pause there. How empowering is it to know that God, the mighty Creator, knows us by name? He promises to accompany us, even in our darkest hours.
As we wade through the trials of cancer, we're not alone. God assures us that the waters won't swallow us up.
Another uplifting verse is Isaiah 41:13. It says, "For I am the LORD your God who takes hold of your right hand and says to you, Do not fear; I will help you." The message is clear.
God Himself is willing to guide us. He's there, holding our hand through the cancer journey. His promise kindles a flame of hope within us.
Yes, God's plan can be hard to understand. But trusting in His wisdom can bring peace. A peace that dulls the sting of anxiety during treatment and recovery.
Psalm 46:1 echoes this sentiment. It describes God as an "ever-present help in trouble."
Strength is a virtue when battling cancer. It's not a journey for the weak. Yet, Isaiah 43:1-2 ensures us that the flames of our trials won't consume us. We draw our strength from an unyielding source — God Himself.
During challenging times, it's natural to seek comfort. God is our refuge. He offers a comforting embrace. He assures us that He's with us, fighting for us, holding us close.
Consider the biblical story of a woman healed by Jesus in Mark 5:34. She had suffered from bleeding for twelve years.
Her healing showcases the power of faith and God's healing grace. It shows that reaching out in faith brings healing.
But healing isn't confined to biblical times.
Take Anita Moorjani, for example. She fought stage 4 lymphoma cancer. After a near-death experience, she miraculously healed. Doctors were left stunned. Her story embodies the hope and healing power of verses like Isaiah 43:1-2.
In summary, cancer is a daunting adversary. But, in these scriptures, we find a divine ally. He walks with us, gives us strength, and offers refuge.
With faith, hope, and courage, we can face our battles. We aren't alone. God is with us. He knows our name, and He will help us.
2.  Joshua 1:9 NIV
Have I not commanded you? Be strong and courageous. Do not be afraid; do not be discouraged, for the Lord your God will be with you wherever you go."
It's like staring up at a towering, seemingly unbeatable wall. Cancer. The word alone is daunting. But there's a beacon of hope in the Bible. It's in Joshua 1:9. It's a call to be brave, even in life's most formidable battles.
Joshua had a tough task. He had to lead his people into a land of uncertainty. In his journey, God spoke words of power to him. Words that can also guide those battling cancer.
"Be strong and courageous," He said. This is a command that echoes through time. It's a rallying cry for all who face cancer today.
Being strong and courageous doesn't mean you're alone. God promises to be with you. He's not just watching from the sidelines. He's in the fight with you.
Deuteronomy 31:6 reminds us of this promise. The Lord, the Creator, pledges to never leave or forsake you.
Let's look at Naaman's story from 2 Kings 5. A mighty warrior. A helpless leper. But he was healed. How? By obeying God's command through Elisha.
He washed in the Jordan river seven times. Faith and obedience led to his healing. This story serves as a reminder. Trust God's promises. Follow His lead.
Lance Armstrong's story is also inspiring. He battled severe testicular cancer. It spread to his lungs and brain. But he didn't give up. He fought with courage and determination.
He not only recovered but also triumphed in the Tour de France multiple times. His story epitomizes strength. It's the essence of Joshua 1:9.
Psalm 31:24 further fuels this message. "Be strong and take heart, all you who hope in the LORD." It's a call to maintain hope. To draw strength from God. This hope is a potent tool. It's crucial as you navigate your cancer journey.
Remember, these verses aren't just for the person battling cancer. They're for the support system too. For families. For friends. It calls for unity. For strength in numbers. Together, we can face this giant.
And lastly, these verses offer comfort. They whisper a promise. You're not alone. The Lord is with you. Wherever you go. So, be strong. Be courageous. Your battle against cancer isn't a lonely journey.
3.  Deuteronomy 31:6-8 NIV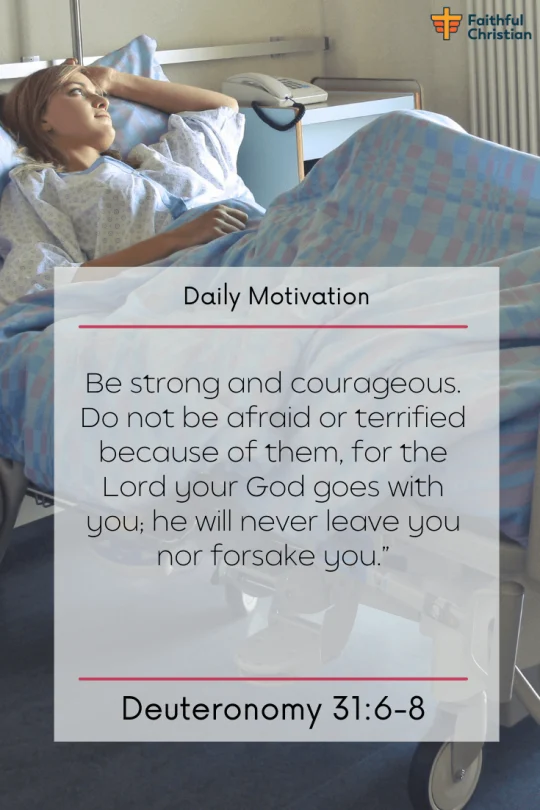 Be strong and courageous. Do not be afraid or terrified because of them, for the Lord your God goes with you; he will never leave you nor forsake you."
When facing the harsh reality of cancer, remember Deuteronomy 31:6-8. This passage is a beacon of hope, a comfort in times of distress. Here, God reassures us of His unwavering presence.
When I read this verse, I feel comforted. God's continuous presence shines even in the darkest times. The journey through cancer is tough, but this scripture reminds us we're not alone. God is there, strengthening our spirit, providing peace in turmoil.
A related verse is Hebrews 13:5. It promises, "I will never leave you nor forsake you." This scripture emphasizes God's commitment to us, like a friend promising to stay by your side. It assures us that God won't abandon us in our battle.
Psalm 91:15 emphasizes God's promise to hear and answer our calls for help during difficult times.
The healing of a lame man by Peter and John in Acts 3 is a tangible biblical example. The man, crippled from birth, experienced divine healing through Jesus Christ.
His story illuminates the transformative power of divine intervention, showing God's unfailing help and presence.
In real life, we see divine support too. Take Kris Carr's story, for instance. Despite a daunting stage 4 cancer diagnosis, she used her faith as a pillar, transformed her lifestyle, and started a mission to aid others.
Her journey demonstrates the power of a strong spirit, echoing the courage and strength spoken of in Deuteronomy.
In summary, these scriptures instill hope and faith, crucial for anyone battling cancer. They encourage us to be content, rely on God's presence, and trust in His support. And remember, our calls for help will never go unheard.
With God, there is always deliverance, comfort, and honor. And in that promise, I find profound peace.
4.  Philippians 4:13 NIV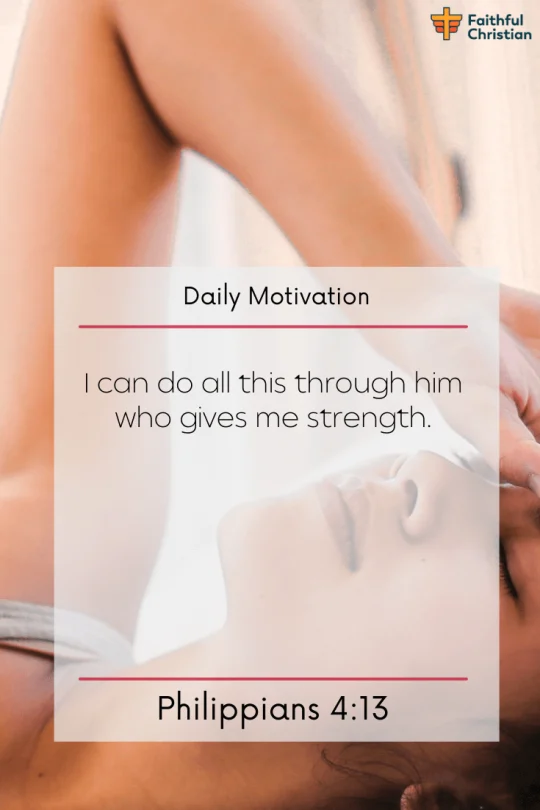 I can do all this through him who gives me strength.
In life, we face highs and lows. Some valleys are darker than others, and the cancer valley is a deep one. Here, fear and uncertainty grow. But even in this shadowy place, hope shines through.
This hope comes from the Bible, especially verses like Philippians 4:13, which states, "I can do all this through Him who gives me strength."
Can you see it? This verse is more than words; it's a lifeline when we're in deep waters, battling fierce storms. It assures us we're not alone.
As we wrestle with cancer's physical toll, Philippians 4:13 lifts us, reminding us of divine strength that goes beyond human understanding.
Take the story of Jesus healing ten lepers in Luke 17:11-19. Faith wasn't just for physical healing; it also led to spiritual renewal.
In their darkest hour, the lepers found healing in Jesus. Only one returned to express gratitude. It's here we see faith's power – it moves mountains, heals lepers, and comforts weary souls fighting cancer.
Now, let's talk about Robin Roberts, a popular TV host on Good Morning America. Robin's battle with breast cancer and a blood disorder was a testament to resilience and courage.
Facing daunting odds, she anchored herself in faith, embodying Philippians 4:13. Like the healed leper thanking Jesus, Robin found physical healing and spiritual strength.
But how do we access this divine strength the Bible mentions? Isaiah 40:31 tells us that those who hope in the Lord will renew their strength. It's a call to trust in God and anchor our hopes in Him.
Like an eagle soaring above stormy clouds, our spirits can rise above cancer's turmoil, powered by divine strength and unwavering faith.
In our fight against cancer, 1 Corinthians 16:13 instructs us to be vigilant, maintain our faith, and embody courage and strength. These words are not mere reminders, but spiritual directives guiding us through this journey.
They echo Philippians 4:13, emphasizing the power of inner strength and courage.
In the fight against cancer, these verses become more than scriptures. They transform into shields of faith, swords of courage, and beacons of hope. They remind us that though the journey is tough, we are not alone.
Our strength may fade, but through Him, we find renewal. Our courage may waver, but in His words, we find the will to stand firm.
And in our darkest hour, we find hope's light, ever reminding us, "I can do all this through Him who gives me strength."
5.  Romans 8:31 NIV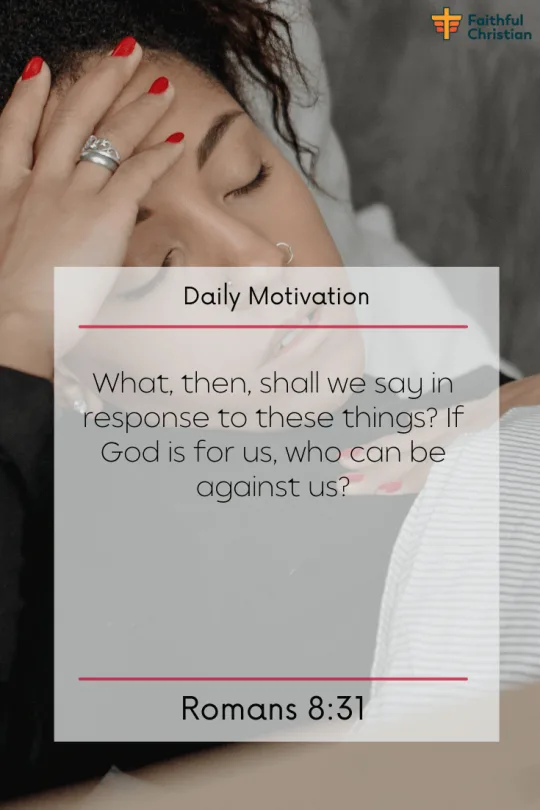 What, then, shall we say in response to these things? If God is for us, who can be against us?
Have you ever pondered your inner strength? Have you considered the power of your faith? Take Romans 8:31, for example. It's a verse that ignites courage, hope, and divine power. It's particularly relevant for cancer warriors.
It reads, "What, then, shall we say in response to these things? If God is for us, who can be against us?" This verse speaks volumes. It reminds us that the universe's Creator is on our side.
How incredible! The One who crafted the cosmos, who set the stars ablaze, stands with us. Even a devastating disease like cancer can't compete with such divine power.
Fear is natural when facing cancer. But, remember, with God on your side, you can confront that fear.
Psalm 118:6 confirms this: "The LORD is with me; I will not be afraid. What can mere mortals do to me?" So, even when battling cancer, you're never alone.
These verses convey a potent message: faith can help you overcome adversity. Job's story exemplifies this.
Amidst suffering, loss, and pain, he held onto faith. He stayed true to God. The result? His health and blessings were restored.
Shannon Miller, an Olympic gymnast, experienced a similar triumph.
After her ovarian cancer diagnosis, she tapped into her inner strength, the same force that fueled her gymnastics career. She fought and won. Her victory demonstrated the power of faith and determination.
These scriptures and stories highlight victory. They remind cancer fighters that winning is possible.
As 1 John 4:4 says, "You, dear children, are from God and have overcome them, because the one who is in you is greater than the one who is in the world."
In conclusion, remember your divine heritage. A power lies within you, rooted in faith and God's love. It's the same force that guided Job and Shannon Miller.
Embrace this power on your journey, even during your battle against cancer. If God is for you, who can stand against you?
6.  Isaiah 41:10 NIV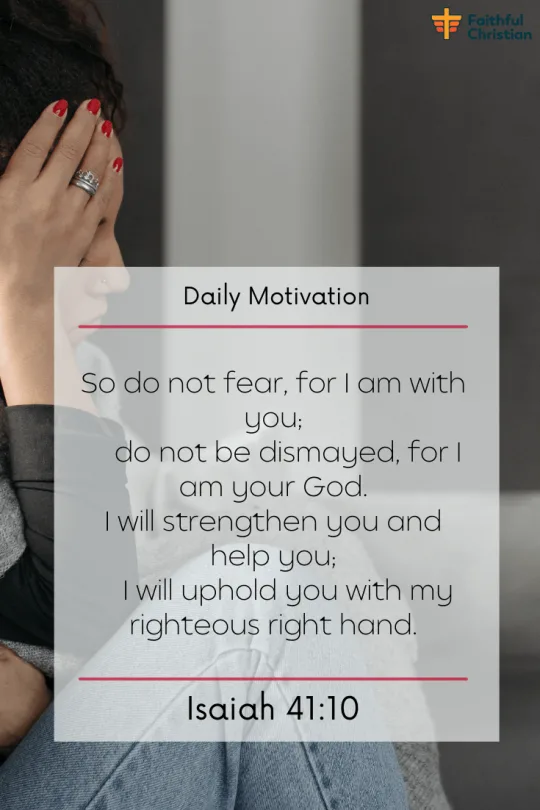 So do not fear, for I am with you;
do not be dismayed, for I am your God.
I will strengthen you and help you;
I will uphold you with my righteous right hand.
There's a hidden treasure in Isaiah 41:10. It reads, "Do not fear, for I am with you." It's a powerful promise. It's meant for anyone navigating life's storms.
Cancer patients, in particular, might find solace here. It's an anchor in the chaos, a place to rest and gather strength.
Think about it. This verse is an invitation. It asks you to lean into God's care. To let Him carry your fears and worries. That's no small comfort when you're facing a giant like cancer.
I've witnessed this verse's power. It can light up faces with hope. It can lift spirits with the promise of divine help.
Consider Ruth Cavin's story. At 80, she was diagnosed with stage 4 stomach cancer. But she didn't give in to despair.
Instead, she leaned on her faith. She trusted in God's care. Her journey embodied Isaiah 41:10. She lived 11 more years, not merely surviving, but thriving.
Another verse, Psalm 55:22, echoes this sentiment. It says, "Cast your cares on the LORD and he will sustain you." It's a gentle reminder. God is ready to carry our burdens. He wants to help us stay firm, even when things get tough.
This message is reflected in a biblical story. In Acts 14:8-10, a man is healed by Paul. This man had been lame since birth.
But when he heard Paul speak, he believed. He had faith in God's healing power. And Paul, seeing his faith, healed him. His story is a testament to the power of faith.
1 Peter 5:7 adds to this promise. It says, "Cast all your anxiety on him because he cares for you." It's a gentle nudge, reminding us that no worry is too small for God. He cares about every detail of our lives.
Together, Isaiah 41:10, Psalm 55:22, and 1 Peter 5:7 provide hope.
They remind us we're not alone. They promise divine strength and help. They say that when we trust in God, we can find peace. We can lean on His strength. We can open ourselves to His healing and comfort.
When you're walking the tough path of cancer, remember these verses. They can light your way. They can encourage you to keep faith. They can help you find hope in the midst of the storm.
And, as Ruth and the man healed by Paul found out, miracles can happen even in the darkest moments.
7.  2 Corinthians 12:9 NIV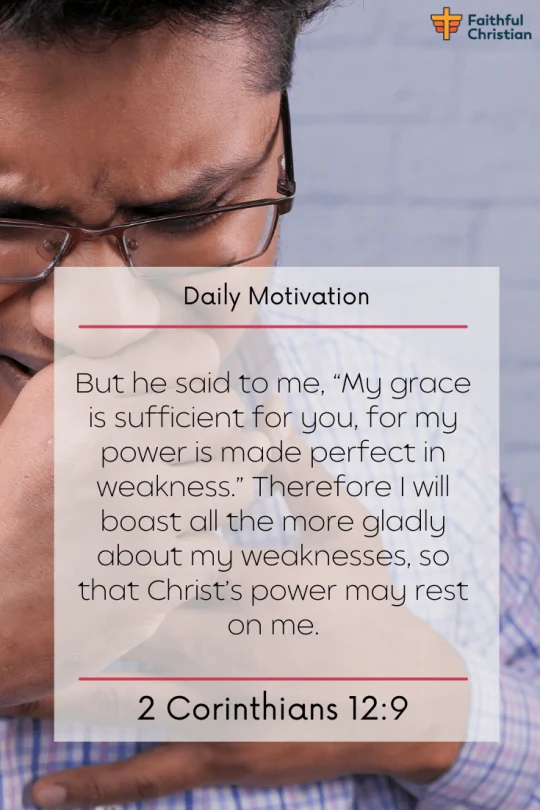 But he said to me, "My grace is sufficient for you, for my power is made perfect in weakness." Therefore I will boast all the more gladly about my weaknesses, so that Christ's power may rest on me.
There's an inherent power in weakness. A strange concept, isn't it? But it's a truth embodied in 2 Corinthians 12:9. "My grace is sufficient for you, for my power is made perfect in weakness."
This verse is a beacon for cancer warriors. It's a promise. We are not alone in our darkest hour.
Cancer is a challenging journey. Our bodies weaken. Fatigue creeps in. Hope may flicker. But here is the silver lining.
In these moments, God's promise is tangible. His power shines through when we are weakest. It's a lifeline amidst the storm.
Look at Matthew 11:28-30. "Come to me, all you who are weary and burdened, and I will give you rest." These words soothe. No need to face this alone. God offers us divine rest. A quiet haven. A place for solace.
Humility is key in our fight. It's about accepting our human frailty. It's about leaning on God's mighty strength. It's not self-belittlement. It's opening ourselves to the divine. Drawing strength from His endless resources.
Take John 9:1-7. Jesus heals a blind man. In his weakness, God's power was evident. With a touch of mud and a command, sight was restored. This story mirrors our fight. In our darkest moments, God's power can heal.
Brittany Maynard's story is inspiring. Diagnosed with a brain tumor, she faced the unthinkable. She considered ending her journey. But she chose life.
Her story reflects Psalm 73:26. "My flesh and my heart may fail, but God is the strength of my heart and my portion forever."
Brittany showed us the truth. Our bodies can fail us. But our spirits fortified by God's strength, remain strong.
God's strength is eternal. It's reliable. It's unwavering. His strength doesn't replace ours. It supplements it. Perfects it. Cancer may weaken the body. But our spirits powered by God's strength are indestructible.
In conclusion, 2 Corinthians 12:9 is not just a verse. It's a lifeline. A beacon of hope. A source of strength. It's a reminder that His grace is enough. Even when we falter. Lean on Him. In your weakness, His strength will shine.
8.  Isaiah 40:29-31 NIV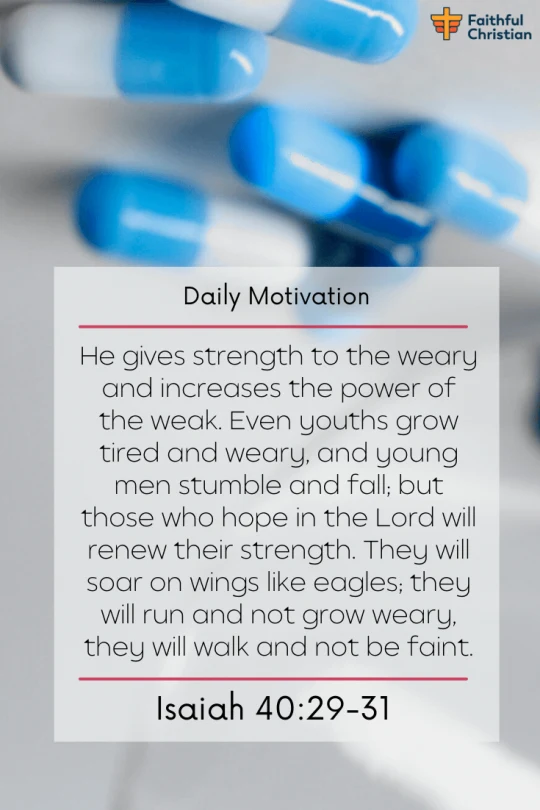 He gives strength to the weary
and increases the power of the weak.
30 Even youths grow tired and weary,
and young men stumble and fall;
31 but those who hope in the Lord
will renew their strength.
They will soar on wings like eagles;
they will run and not grow weary,
they will walk and not be faint.
Navigating life's stormy seas can be daunting. Cancer is one such storm. During these times, we yearn for a lighthouse of hope. Enter Isaiah 40:29-31, a verse that's as healing as it is uplifting.
"He gives strength to the weary and increases the power of the weak."
This powerful line rings true for many. Cancer can leave you exhausted, drained. But this verse offers comfort. It speaks of a higher power that replenishes us. It's a power that infuses us with divine strength.
Strength isn't always physical. It's also about the spirit. The story of the centurion in Matthew 8:5-13 illustrates this.
His faith in Jesus led to a miraculous healing. His servant was cured, not by touch, but from afar. This story reminds us of the power of faith. It shows us that hope can lead to spiritual and physical renewal.
The verses also assure us of divine protection. God is our shield, our fortress.
Psalm 29:11 amplifies this, "The LORD gives strength to his people; the LORD blesses his people with peace." It's this divine shield that brings peace. It allows us to face adversity with faith, not fear.
Kathy Bates, the acclaimed actress, embodied this divine strength. She battled ovarian and breast cancer with fortitude.
Despite her trials, she raised awareness about lymphedema. Her story is a testament to the power of faith. It shows us that we can soar above our trials.
Lastly, these verses encourage us to exalt God. Even in the midst of turmoil. Exodus 15:2 echoes this sentiment, "The LORD is my strength and my defense; he has become my salvation. He is my God, and I will praise him."
Cancer is a tough opponent. It tests our resolve. But remember, we're not alone. We have divine strength and protection on our side.
The God who healed the centurion's servant, who strengthened Kathy Bates, is with us. He is our source of salvation. Our promise of peace.
Let's soar on wings like eagles. Run and not grow weary. Walk and not faint. For in the LORD, we find healing.
9.  Psalm 27:1 NIV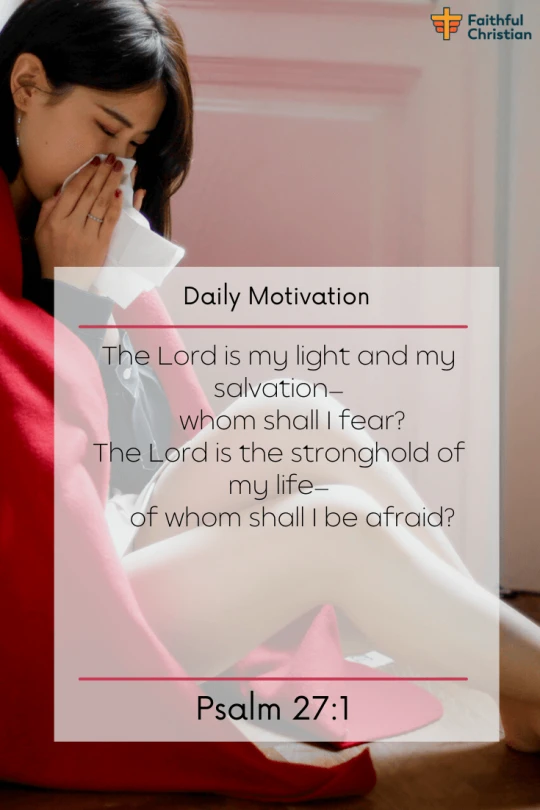 The Lord is my light and my salvation—
whom shall I fear?
The Lord is the stronghold of my life—
of whom shall I be afraid?
A cancer diagnosis feels like a dark valley. A journey no one wants. Psalm 27:1 is a beacon, promising light and hope for those facing this battle. It declares that God is present, even in the darkest times.
This verse is comforting. It speaks of God's light, salvation, and strength. I'd like to think it's a bold statement that assures us we're not alone.
Another verse, Psalm 23:4, portrays God as a protective shepherd. He guides us through the dark valley. His presence brings comfort to believers.
John 8:12 adds hope. Jesus says, "I am the light of the world." He urges us to follow Him, even during life's toughest trials.
Take the woman in Luke 8:43-48. Suffering for twelve years, she touched Jesus' cloak and found healing. Her faith brought light in the darkness.
Alex Trebek's story inspires us. Despite stage 4 pancreatic cancer, he remained positive. He continued hosting "Jeopardy!", shining his light undimmed.
In conclusion, these verses remind us that God is our fortress. He provides security and strength. In our battle against cancer, let's find the light in the darkness and seek healing and hope. Remember, we are never alone.
10.  2 Chronicles 20:17 NIV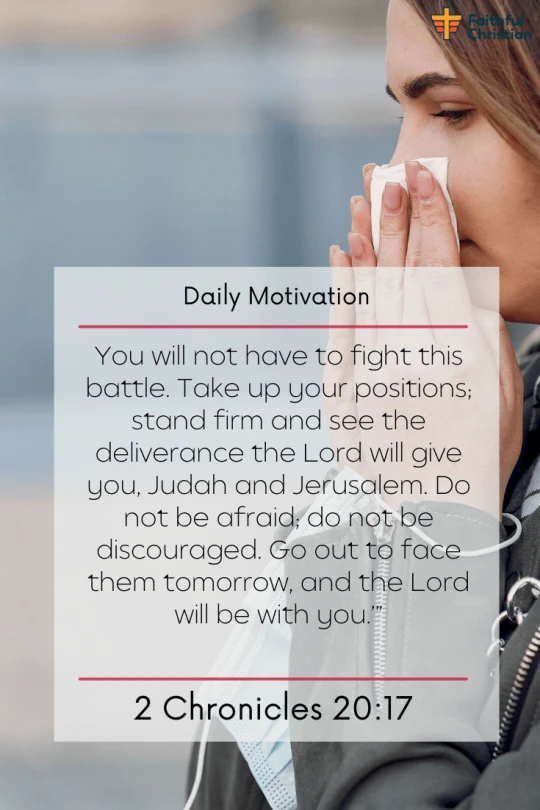 You will not have to fight this battle. Take up your positions; stand firm and see the deliverance the Lord will give you, Judah and Jerusalem. Do not be afraid; do not be discouraged. Go out to face them tomorrow, and the Lord will be with you.'"
In our lives, we face many trials. Cancer is one such formidable foe. Yet, solace emerges from the Bible. 2 Chronicles 20:17 is one such comforting verse.
These words bring peace. They suggest a partnership in your battle against cancer. The Lord is your ally. He is your strength, your protector.
Exodus 14:14 offers a promise, "The Lord will fight for you; you need only to be still." Just think of it! You are not alone. The ultimate warrior is by your side. Your task? Be still, have faith, surrender your worries to Him.
Deuteronomy 3:22 reaffirms this comforting message: "Do not be afraid of them; the Lord your God himself will fight for you." This scripture underscores God's commitment. The Lord isn't a bystander. He's an active participant in your fight.
Mark 2:1-12, a New Testament story, showcases the power of faith and healing. A paralyzed man is lowered by his friends through a roof to reach Jesus. Their faith leads to a miracle. The man is healed!
This story mirrors the journey of Marlie Martin. She was diagnosed with a rare eye cancer. Yet, she found strength in her faith and her community.
Like the friends of the paralyzed man, her community supported her. Marlie's faith never wavered. She once said, "The battle belongs to the Lord." Despite losing an eye, her positive outlook never faded.
These scriptures act as a beacon of hope. They alleviate fear and instill a comforting certainty. Marlie found solace in this promise.
If you're grappling with cancer, remember this: you are not alone in this battle.
Let these scriptures resonate in your heart. Stand still, trust in God's protection, and embrace His victory. The Lord is fighting for you. Your battle against cancer is not a lonely one.
---
Recommended for you
---
More bible verses for fighting cancer
11.  Isaiah 60:19 NIV
12.  Psalm 89:13-14 NIV
13.  Proverbs 12:25 NIV
14.  Proverbs 15:13 NIV
15.  Proverbs 18:14 NIV
16.  Jeremiah 29:11 NIV
17.  Isaiah 55:8-12 NIV
18.  Psalm 40:5 NIV
19.  Job 23:13 NIV
20.  I Peter 5:7 NIV
21.  Psalm 55:22 NIV
22.  Philippians 4:6 NIV
23.  Psalm 37:5 NIV
24.  Matthew 6:25-26 NIV
25.  Psalm 27:13-14 NIV
26.  Romans 8:28 NIV
27.  1 Peter 5:10 NIV
28.  James 1:12 NIV
---
Recommended for you
---
Fighting cancer? The story of Hezekiah will inspire you
If you're fighting cancer, take heart. Look to Hezekiah's story for inspiration. His tale unfolds in Isaiah 38:1-5. He was gravely ill, near death. God's prophet Isaiah warned him: prepare for your end.
But Hezekiah was a fighter. He turned to prayer, pleading with God. He asked God to remember his devotion. He shed heartfelt tears. God heard him. He noticed Hezekiah's faith. He sent Isaiah back with a new message: you'll live 15 more years.
So, if you're facing cancer, remember Hezekiah. It's not over. You're precious to God. He wants you to live. Your part? Trust Him. Pray for healing. Sing His praises.
Hezekiah was a beacon of faith. He led with integrity. He honored God's commandments. When he fell ill, he sought God's help. Hezekiah's story offers us two key lessons.
First, God rewards His servants. Exodus 23:25 promises blessings for those serving the Lord. God stands by the righteous. If you've served Him, He's ready to heal you. Even advanced cancer can be healed. Just pray and believe.
Second, don't delay in prayer. A timely prayer is like a stitch in time: it saves nine. Hezekiah's quick prayer saved his life. If he had waited, he might have died.
I can vouch for the power of quick prayer. I once operated on a woman in a dire state. We ran out of blood. Her husband declined additional surgical options. I prayed as a last resort. Suddenly, things started improving. She was brought back from the brink of death.
God's mercy is profound. He grants it to those He chooses. So, in your battle against cancer, remember Hezekiah. Turn to God, trust in His mercy, and believe in the power of prayer.
Frequently Asked Questions
What are some encouraging Bible verses for cancer patients?
Cancer patients can find solace and strength in various Bible verses. Isaiah 41:10 (NIV) is a beacon of hope, assuring us that we're not alone in our battles. This verse instills faith and courage during challenging times.
Can you provide an inspirational Bible verse for someone with cancer?
For someone navigating through the tribulations of cancer, 2 Corinthians 12:9 (NIV) can be truly uplifting.
It sends a powerful message about discovering strength in our vulnerability, reminding us to lean on God's grace in times of distress.
Is there a Bible verse that talks about spreading like cancer?
Interestingly, 2 Timothy 2:17-19 (NIV) uses a metaphor that relates to cancer. It highlights the detrimental and pervasive nature of false teachings, comparing them to the spread of a disease.
What are some uplifting words for cancer patients?
Words of hope can uplift cancer patients. Simple phrases like "You are stronger than you know," or "Miracles happen every day," can make a world of difference.
Although Psalm 23 isn't specifically about cancer, it invokes a sense of serenity during sickness.
Is there a specific psalm for healing cancer mentioned in the Bible?
While there's no psalm that directly addresses healing cancer, Psalms 107:20 (NIV) provides solace. It serves as a reminder of God's healing prowess and His ability to deliver us from affliction.
Could you share some Bible verses for cancer patients in the King James Version (KJV)?
In the King James Version (KJV), Psalm 34:18 (NIV) and Romans 8:18 (NIV) offer comforting words, affirming God's proximity to the broken-hearted and the insignificance of current sufferings compared to future glory.
Do you have any Christian words of encouragement for someone with cancer?
Christian encouragements can uplift someone battling cancer. Affirmations like "God walks this path with you," coupled with verses such as Jeremiah 29:11 (NIV), can provide a much-needed sense of comfort.
What is a powerful prayer for cancer patients?
A prayer invoking God's healing and seeking strength can be a powerful tool for cancer patients.
It can be as simple as, "Lord Jesus, we seek Your healing touch for those fighting cancer. Grant them the strength, courage, and comfort they need."
What are some encouraging words for cancer patients from the Bible?
Isaiah 40:31 (NIV) provides encouraging words for cancer patients, assuring them that those who wait upon the LORD shall renew their strength.
How can I pray to God to heal cancer?
When praying for cancer healing, one can say,
"Father in Heaven, we seek Your healing touch. We trust in Your omnipotence and benevolence. May Your peace and comfort envelop us in these challenging times. In Jesus' name, Amen."
This prayer seeks divine healing, peace, and comfort in the battle against cancer.
Author: Akatakpo Dunn
Dr. Akatakpo Dunn is a dedicated follower of Christ, an active member and speaker, and an ongoing learner of the Scriptures. Passionate about his faith and serving others, he is committed to sharing his spiritual journey and insights to inspire and uplift fellow believers. He has been active in the church for more than 23 years. Through The
Faithful Christian Blog
,
Dr. Dunn
combines his love for God, philanthropy, and Scripture, providing a valuable resource for those seeking to grow in their faith.
Follow me: on Youtube, Facebook, Twitter, Instagram, and Pinterest.
Content Disclosure:
At The Faithful Christian Blog, I create authentic and inspiring content. Although I am the main author, I occasionally use AI for minor language enhancements. This minimal AI usage ensures high-quality, trustworthy articles without compromising originality or sincerity, ultimately supporting our shared faith journey.
Warmly,
Dr. Akatakpo Dunn
Was this article helpful?