Most people don't just get it – Addiction is nothing easy to let go of.
It slowly creeps into your mind and controls your body.
With each passing day, it eats you up until you become depressed.
I have had my experiences with addiction.
And luckily, God redeemed me from myself.
For four years through medical school, I was addicted to smoking.
My cravings were unbelievable because I could not stay for an hour without smoking.
I knew smoking was a shameful act, but within me, I was helpless.
Sometimes, I stayed for a week, and then I was back to smoking again.
But some years ago, I made up my mind to quit.
And that was it – God intervened.
It has been years since I stopped smoking and it is all because of God's grace over my life.
Likewise, God is willing to set you free from all types of addiction.
From pornography, masturbation, stealing, drugs, alcohol, and the rest of them.
It all starts with believing in yourself and Trusting in God.
I have compiled powerful prayers for addictions to heal your obsessions.
These prayers could be used for loved ones and family members to regain their freedom from bad habits.
Addiction is spiritual warfare, and we must be ready to ask God for deliverance and dominion over our cravings.
---
Recommended for you
---
Powerful prayers for addictions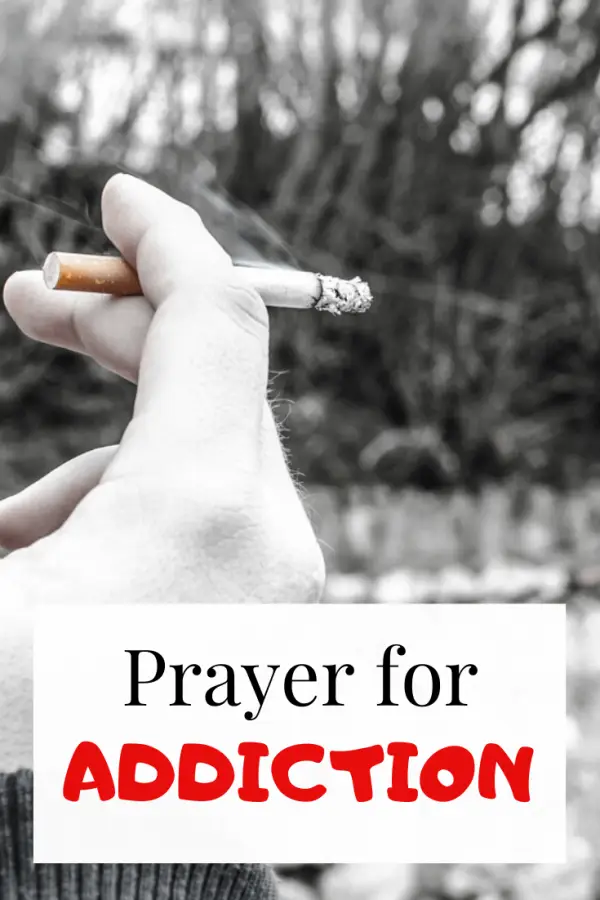 Confess your sins to God and forsake them (let's pray)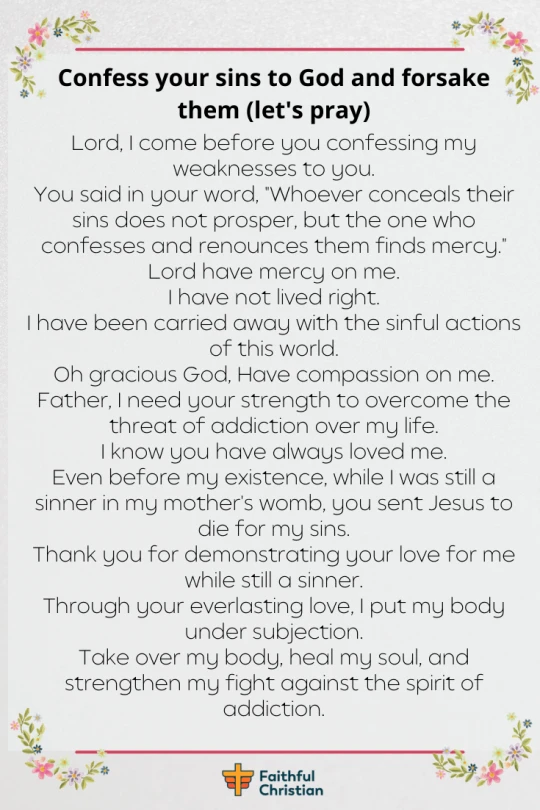 Dear Lord, your power is infinite. Your mercy is boundless. I stand here, vulnerable and humbled. I own up to my flaws, my shortcomings. You promise strength in our weakness.
This promise, from 2 Corinthians 12:9, fills me with hope. Your grace is my refuge. Your strength shines brightest in my weakness.
Your sacred teachings guide us. Hiding our sins leads nowhere. Admitting and turning away from them brings mercy.
This insight, from Proverbs 28:13, echoes in my heart. It's a call for truth and repentance. It's a guide to your mercy. It's the key to your forgiveness.
Lord, I seek your mercy. I've strayed from your path of righteousness. Worldly temptations have led me astray. I'm a sinner, like everyone else.
Romans 3:23 confirms this universal truth. I'm not alone in my failures. I need your grace, just like everyone else.
God, your kindness knows no bounds. Look upon me with compassion. Bathe me in your mercy. Wash away my sins. Guide me back to righteousness.
The plea of the Psalmist in Psalms 51:1 echoes in my heart. Like him, I trust in your love. I trust in your mercy.
Father, addiction grips me. It threatens to consume me. I need your strength, now more than ever. I need your guidance to break free.
Isaiah 41:10 is a ray of hope. It promises strength, help, and support. These words are my beacon in the storm.
Your love, Lord, is eternal. You loved me before I existed. You loved me as an unborn sinner. You showed the depth of your love by sending Jesus. He bore the cross for my sins.
Romans 5:8 speaks of this divine love. Your love isn't dependent on our actions. It's a gift, free and gracious.
Your love empowers me. I commit to change my life. I give my body and soul to you. Guide me. Cleanse me. Strengthen my resolve to beat addiction.
1 Corinthians 6:19-20 reminds me of my duty. My body is a temple of the Holy Spirit. I must honor you with it. I must keep it pure.
I surrender to you, Lord. Heal my wounded soul. Strengthen my willpower. Guide me to overcome addiction. I trust in your healing. I trust in your mercy. I trust in your love.
Jeremiah 17:14 resonates with me. Healing and salvation come from you. Trusting and praising you will lead me to deliverance.
Lastly, Philippians 4:13 rings in my ears. "I can do all things through Christ who strengthens me." This verse empowers me. It promises strength and courage to face any obstacle. As I battle addiction, I hold onto this promise.
With your strength, I can overcome. Lord, I rely on you. Be my strength. Be my guide. Be my healer. With you, I will overcome.
Addiction is a tool of the devil (let's pray)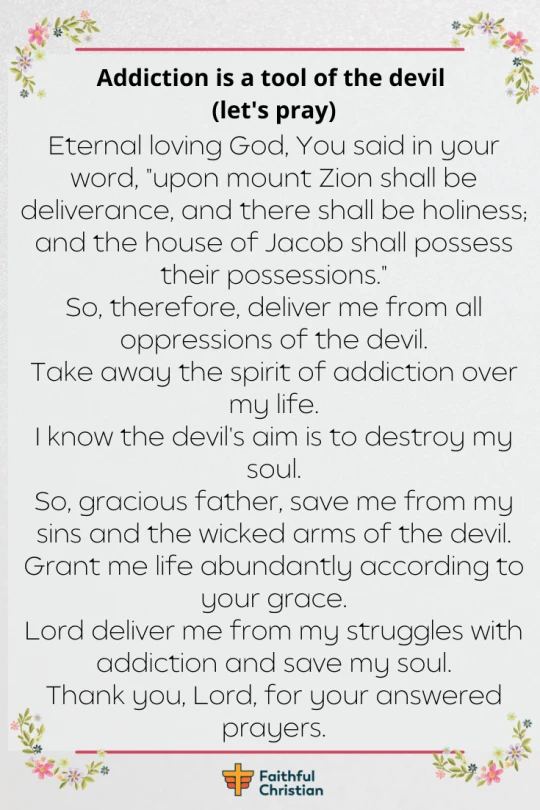 Eternal, loving God, Your Word promises deliverance and holiness on Mount Zion (Obadiah 1:17). It strengthens our faith and fills us with hope (Romans 10:17). Trusting You, I seek relief from the devil's chains.
You vowed to destroy the devil's works (1 John 3:8). I'm shackled by addiction, but I know You can free me. Psalm 40:2 speaks of Your deliverance, lifting us from despair.
I'm aware of the devil's evil intentions (1 Peter 5:8). Gracious Father, rescue me from sin and restore my spirit. Jesus came to save the lost (Luke 19:10), and I need Your salvation.
Grant me abundant life, filled with purpose, joy, and peace (John 10:10). I battle addiction, but with Your help, I can overcome. Deliver me, heal me, and save my soul (Philippians 4:13).
I'm grateful for Your unfailing love and mercy. You're my refuge and strength (Psalm 46:1). Your love is inseparable (Romans 8:38-39). Your Word guides me away from addiction's destruction (Psalm 119:105).
I cling to Your promises, seeking refuge in Your teachings (Joshua 1:8). In my journey, I seek You wholeheartedly, confident in Your guidance (Jeremiah 29:13). You're a God who listens, saves, and loves unconditionally (Psalm 136:26).
Thank You, Almighty God, for Your unwavering love, deliverance, and hope. In Jesus' name, I pray. Amen.
By strength shall no man prevail (let us pray)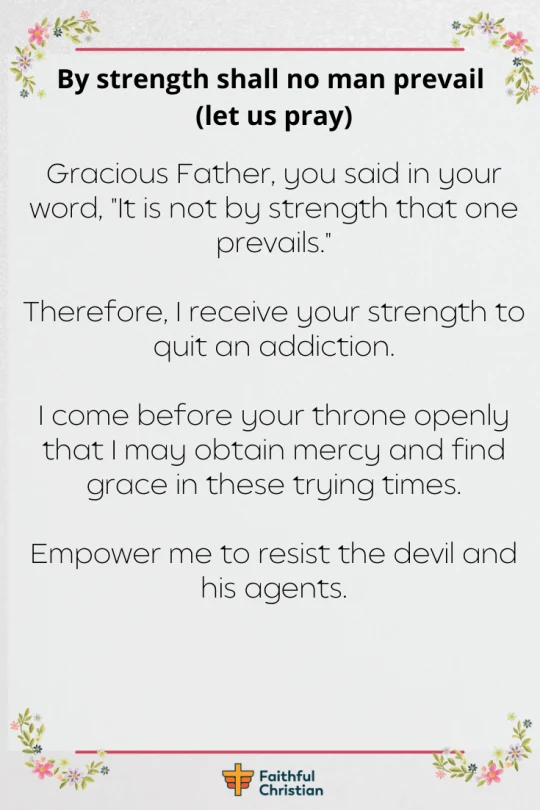 Dear Creator, the divine wisdom you've shared is profound. In your words, it's clear – it's not about human strength or power, but Your Spirit (Zechariah 4:6).
This lesson resonates within me. I'm reminded that I can't do it alone. It's only through Your power that I can truly conquer life's trials.
I openly embrace your strength. This strength is a gift from You, perfect in my moments of weakness (2 Corinthians 12:9). I've battled addiction alone for too long. I need Your strength now.
Your power can free me from these chains. It's a path to liberation, a journey from the dark abyss of addiction to the comforting light of renewal.
Now, I stand before You, unmasked and transparent. You've encouraged us to approach your throne with boldness (Hebrews 4:16).
I'm here, with all my flaws and struggles. I admit my human weakness. I seek Your mercy. I'm in dire need of Your grace. These times are tough. Your grace can cleanse, comfort, and transform me.
Finally, I seek Your divine power. It's the power You promise to those who stand against the devil (James 4:7). This spiritual battle is relentless. It aims to pull me into despair. Yet, I'm confident.
With Your strength, I can resist these forces. Guide me, O Lord, in this rocky journey. Despite the challenges, I know I can triumph over these forces with Your help. You are by my side.
Victory is not just possible, but certain. For You, who is in me, is greater than any evil in the world (1 John 4:4).
Holy Spirit, deliver me from addiction to alcohol, drugs, masturbation, cigarettes.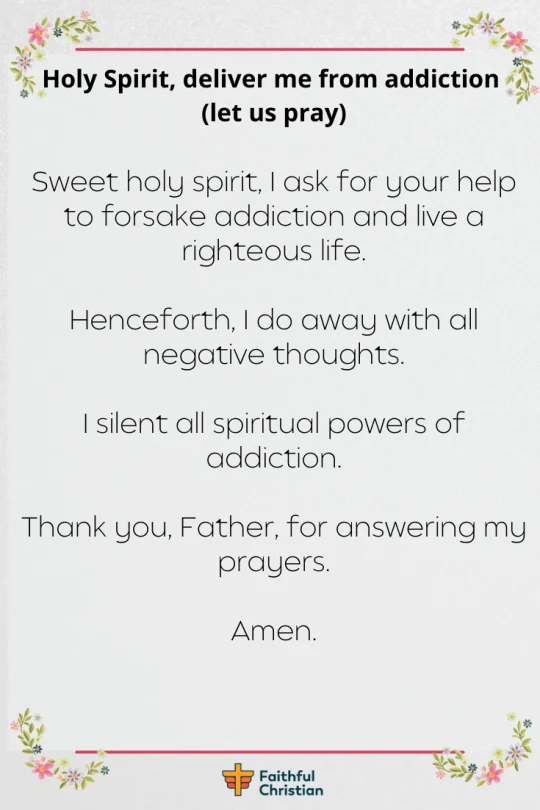 Oh, Divine Spirit of Holiness, I come to you with a humble heart. My battle with addiction has left me weary. I need your strength and grace to help me let go of this destructive vice.
With your guidance, I want to walk the path of righteousness. As your scripture reminds us in 1 Corinthians 10:13, you always provide a way out of temptation.
I trust you to light the way to a life of virtue, integrity, and spiritual growth.
My journey won't be easy. But I'm determined to leave behind negative thoughts and influences. They've held me back for too long. I want to embrace positivity, self-belief, and courage.
Inspired by Philippians 4:8, I will focus on what is good, pure, and uplifting. I'm ready to create a brighter, more harmonious life.
I know addiction's spiritual powers are strong. But I won't let them win. With your divine help, I will silence them and break free.
Ephesians 6:11 urges us to wear the full armor of God to resist the devil's schemes. Strengthened by these words, I'm prepared to fight for my freedom and peace.
Father, gratitude fills my heart. For your love. For your compassion. I trust that you hear my prayers and answer them in your divine wisdom.
Your holy scripture in 1 John 5:14 comforts me, knowing that you listen and respond to our calls for help. And for that, my heart overflows with thanks.
As I conclude my prayer, I feel secure knowing your guidance is with me. Proverbs 3:5-6 encourages us to trust in your wisdom and submit to your will.
I have faith that, under your divine guidance, I will navigate this journey to a brighter future.
Amen.
---
Recommended for you
---
Bible verses about addictions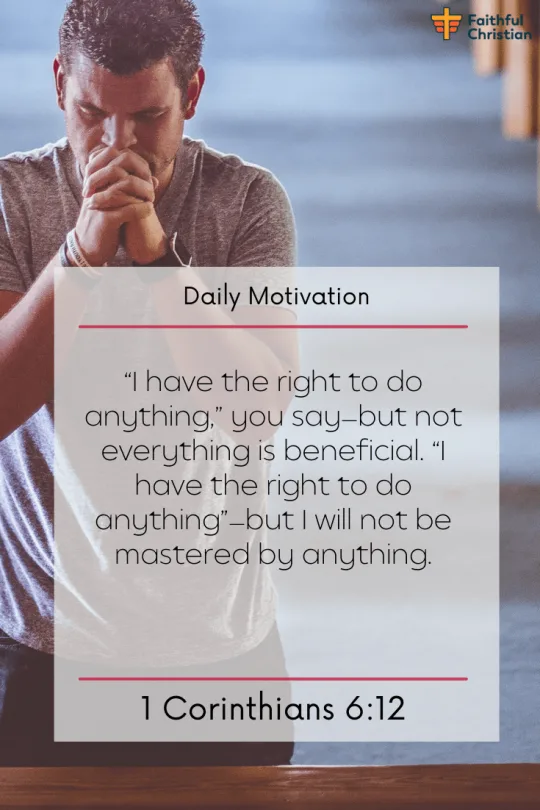 "I have the right to do anything," you say—but not everything is beneficial. "I have the right to do anything"—but I will not be mastered by anything.
Say a Prayer to stop addictions with 1 Corinthians 6:12
Dear Heavenly Father,
Here I am, struggling with addiction. I feel its weight on my shoulders. It robs me of joy, leaving me with pain. But, in your love, you've paved a way for me. A path to freedom.
1 Corinthians 6:12 guides me. This is my compass, my anchor, as I break free from addiction.
Help me, Lord. Give me strength to see that while I can do many things, not all are good for me. Teach me to choose wisely. To pick what nourishes my spirit, not what merely pleases the flesh.
And remind me, Father, that I mustn't be controlled by anything. Let me find courage in this verse. Let me regain control over my choices, my actions. Let addiction no longer rule me.
As I battle this addiction, let me hold onto this verse. In weak moments, let it shine like a beacon. In times of confusion, let it guide me.
I trust in you, Lord. I know that with your grace, I can overcome this addiction. I ask for your guidance, your strength, your wisdom. Be with me in this journey.
In Jesus' name, I pray.
Amen.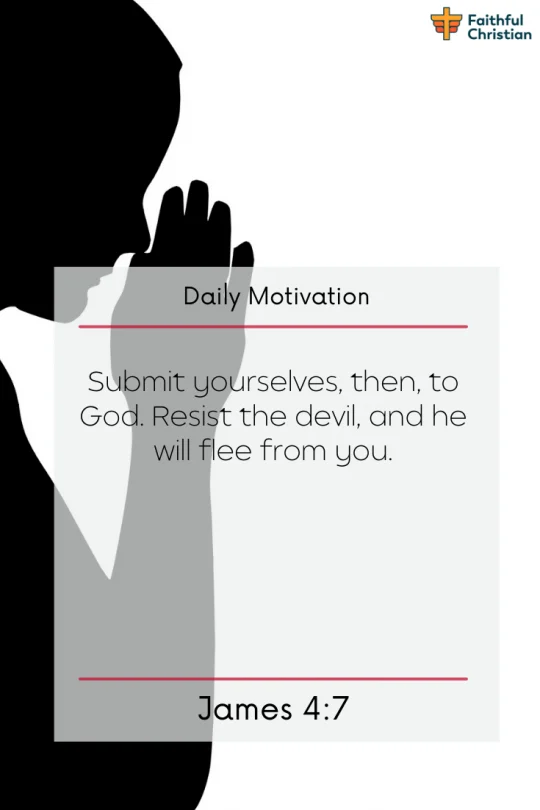 Submit yourselves, then, to God. Resist the devil, and he will flee from you.
Say a Prayer for Addiction – For friends, loved one and family members with James 4:7
Dear Heavenly Father,
Today, I stand before you. My heart heavy for loved ones battling addiction. Friends, family – all precious souls, each one loved by you.
Addiction is a fierce battle. It seeks victory over those dear to me. Yet, your promise in James 4:7 gives me hope. "Submit yourselves…to God. Resist the devil…he will flee." Let this be a beacon for them.
I ask for your guidance, Father. Help them submit to you. Help them find courage. To resist the pull of addiction. Because in surrender to you, they gain power. Power to make the devil flee.
Show them the path they tread, Lord. The destruction addiction brings. Ignite in their hearts a desire for change. A yearning for a life free from shadows. Help them see the beauty in a life lived in grace. A life full of purpose, joy.
Protect them, Father. Keep them from triggers and negative influences. Surround them with love, support. May they find strength in a community reflecting your love.
And for us standing by their side, give us patience. Understanding. The wisdom to offer the right support. The resilience to stay hopeful. Let our actions reflect your love, fostering healing.
I thank you, Father. For your boundless love. Your enduring mercy. I trust in your divine intervention. I trust that it's leading my loved ones to recovery.
In Jesus' name,
Amen.
Frequently Asked Questions
What is a prayer for a drug-addicted family member?
Praying for a family member trapped in the snare of drugs? You're seeking divine help. You're asking for strength, courage, healing. Wisdom, too, for the one battling addiction.
Take comfort in Psalm 34:17-18. It tells us God is close to the broken-hearted. He delivers them from their troubles.
What is a prayer for someone who has relapsed?
A loved one has relapsed? They need comfort. They need encouragement. Your prayer can offer that. Ask for resilience, forgiveness, renewed strength.
Proverbs 24:16 is a beacon of hope. The righteous may stumble. But they always rise again.
What prayers are there for those struggling with addiction?
Those struggling with addiction need prayers, too. Prayers for healing, strength, guidance. Prayers for a supportive community. Prayers for wisdom to make healthy decisions.
Psalm 107:13-14 is a powerful scripture. It speaks of God's deliverance from distress, of breaking chains of darkness.
What is a prayer for the mother of a drug addict?
Are you a mother, praying for your drug-addicted child? You need comfort, strength, hope. You need wisdom to support your child. You need peace to cope. Isaiah 41:10 is a promise. God will strengthen you, help you.
What is a prayer for an addicted son?
Praying for an addicted son? Seek protection for him. Seek his healing. Pray for a strong desire in him to change. Ask for wisdom to support him. Remember Philippians 4:13. All things are possible through Christ.
Are there any prayers for addiction mentioned in the Bible?
The Bible may not have specific prayers for addiction. But it gives us powerful verses. Like James 5:15, assuring us of the power of prayer. Of its ability to restore the sick.
What is a prayer for a drug-addicted brother?
Your brother is battling drug addiction? You're praying for divine intervention. You're asking for healing, transformation. You're seeking courage, strength, wisdom.
Psalm 147:3 is your assurance. God heals the broken-hearted.
Are there any prayers for addiction and depression?
Battling addiction and depression together? It's tough. Pray for healing, strength, peace. Pray for a supportive community. Remember Psalm 34:18. God is close to the broken-hearted.
How do you pray for someone who is addicted?
How to pray for an addicted person? Ask for divine healing. Pray for strength to resist temptation. Wisdom to make healthy choices. 1 Corinthians 10:13 is your guide. God helps in times of temptation.
What is a strong prayer for addiction?
A strong prayer for addiction involves fervent pleas. Pleas for healing, transformation. Pleas for strength against addiction. Pleas for a supportive community. Remember 2 Corinthians 5:17. In Christ, we are new creations.
What Scripture to pray to break an addiction?
Breaking an addiction? Pray with powerful scriptures. Like Romans 12:2. It encourages transformation, renewing of the mind.
What do you say to someone who has an addiction?
Talking to someone with addiction? Be loving, understanding, respectful. Offer support. Encourage them to seek help. Galatians 6:2 guides you. Bear one another's burdens.
What is God's grace for addicts?
God's grace for addicts? It's unmerited favor, love, mercy. Healing, transformation, freedom – all are possible through His grace. Ephesians 2:8-9 tells us so.
What does the Bible say about dealing with an addict?
Dealing with an addict, according to the Bible? Be loving, understanding, compassionate. Encourage them to seek help. Support their recovery. Galatians 6:1 teaches us to restore gently those caught in sin.
Author: Akatakpo Dunn
Dr. Akatakpo Dunn is a dedicated follower of Christ, an active member and speaker, and an ongoing learner of the Scriptures. Passionate about his faith and serving others, he is committed to sharing his spiritual journey and insights to inspire and uplift fellow believers. He has been active in the church for more than 23 years. Through The
Faithful Christian Blog
,
Dr. Dunn
combines his love for God, philanthropy, and Scripture, providing a valuable resource for those seeking to grow in their faith.
Follow me: on Youtube, Facebook, Twitter, Instagram, and Pinterest.
Content Disclosure:
At The Faithful Christian Blog, I create authentic and inspiring content. Although I am the main author, I occasionally use AI for minor language enhancements. This minimal AI usage ensures high-quality, trustworthy articles without compromising originality or sincerity, ultimately supporting our shared faith journey.
Warmly,
Dr. Akatakpo Dunn
Was this article helpful?