We all need God's divine protection in our lives.
And that's because we are powerless on our own.
We are just humans and only see the physical battles in front of us.
But in reality, there is an unseen spiritual battle going on every day of our lives.
Apostle Paul said,
For our struggle is not against flesh and blood, but against the rulers, against the authorities, against the powers of this dark world and against the spiritual forces of evil in the heavenly realms.
That's why we must always seek God's power of protection.
God has promised to always stand by the righteous.
He has promised never to leave us in times of trouble.
And what about your unknown enemies who try to hurt you and your family.
Even worse are your fake friends that are willing to harm and destroy you.
But, do not fear.
We serve a living God that is capable of protecting us.
God is willing to protect you from all evil plans against you and your household.
God is also able to protect your loved ones and your friends.
I have compiled bible verses about protection from your enemies to inspire you.
---
Recommended for you
---
Bible verses about protection from danger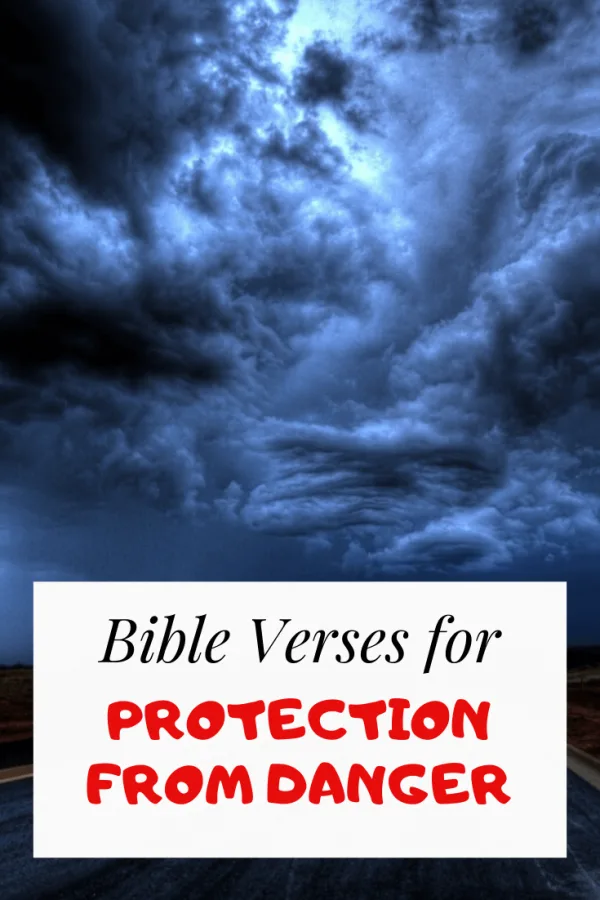 1.  Ephesians 6:11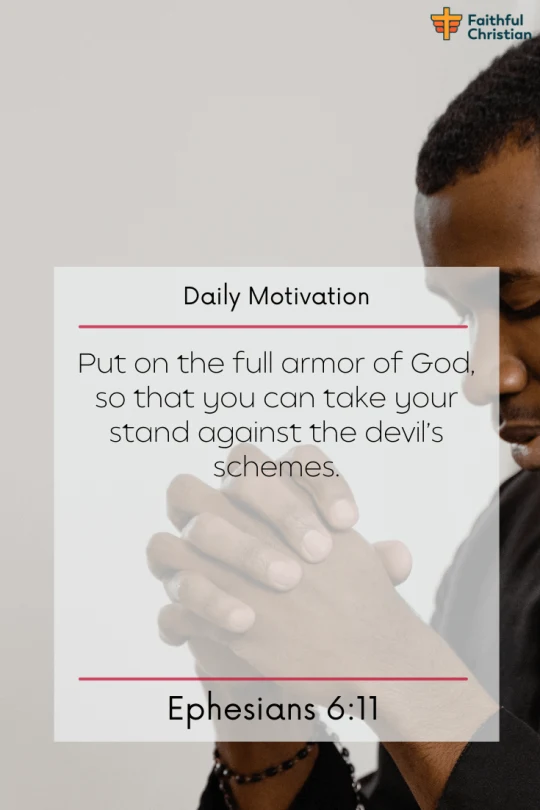 Put on the full armor of God, so that you can take your stand against the devil's schemes.
2.  2 Corinthians 10:4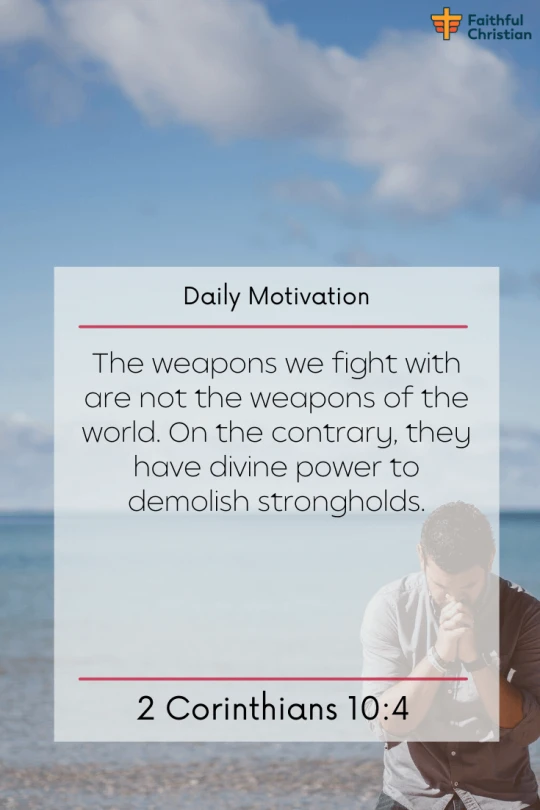 The weapons we fight with are not the weapons of the world. On the contrary, they have divine power to demolish strongholds.
3.  Romans 13:12
The night is nearly over; the day is almost here. So let us put aside the deeds of darkness and put on the armor of light.
4.  Ephesians 6:13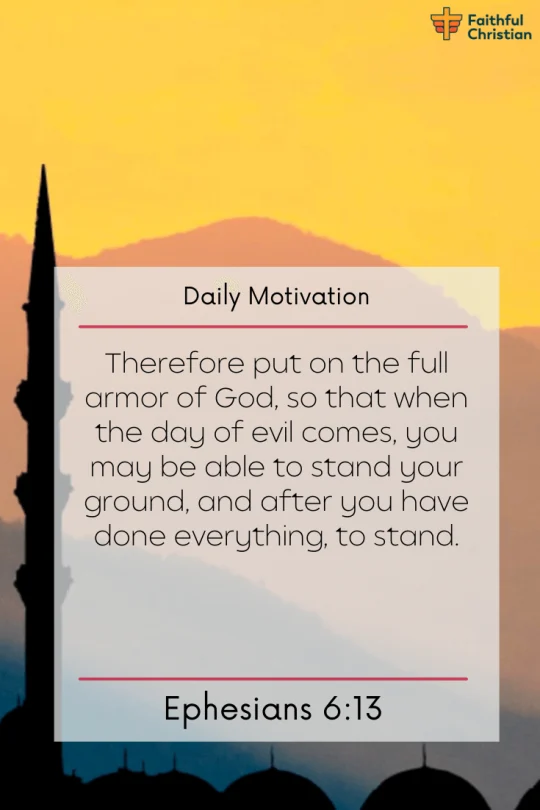 Therefore put on the full armor of God, so that when the day of evil comes, you may be able to stand your ground, and after you have done everything, to stand.
5.  1 Thessalonians 5:8
But since we belong to the day, let us be sober, putting on faith and love as a breastplate, and the hope of salvation as a helmet.
6.  1 Peter 5:8
Be alert and of sober mind. Your enemy the devil prowls around like a roaring lion looking for someone to devour.
7.  2 Corinthians 2:11
in order that Satan might not outwit us. For we are not unaware of his schemes.
8.  2 Thessalonians 2:9-11
The coming of the lawless one will be in accordance with how Satan works. He will use all sorts of displays of power through signs and wonders that serve the lie,
10 and all the ways that wickedness deceives those who are perishing. They perish because they refused to love the truth and so be saved. 11 For this reason God sends them a powerful delusion so that they will believe the lie
9.  Psalm 9:9
The Lord is a refuge for the oppressed,
    a stronghold in times of trouble.
10.  Psalm 119:114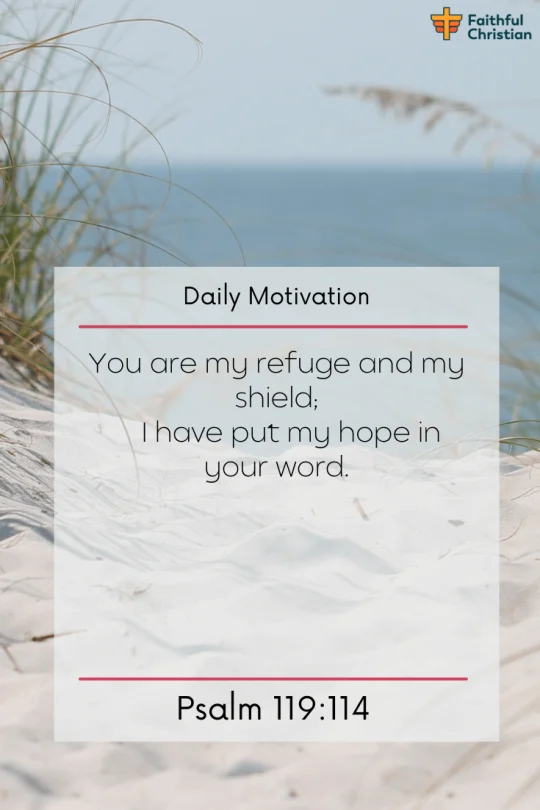 You are my refuge and my shield;
    I have put my hope in your word.
11.  Psalm 91:1
Whoever dwells in the shelter of the Most High
    will rest in the shadow of the Almighty.
12.  Psalm 27:5
For in the day of trouble
    he will keep me safe in his dwelling;
he will hide me in the shelter of his sacred tent
    and set me high upon a rock.
13.  Psalm 31:20
In the shelter of your presence you hide them
    from all human intrigues;
you keep them safe in your dwelling
    from accusing tongues.
14.  Psalm 143:9
Rescue me from my enemies, Lord,
    for I hide myself in you.
15.  Psalm 118:6-9
The Lord is with me; I will not be afraid.
What can mere mortals do to me?
7 The Lord is with me; he is my helper.
I look in triumph on my enemies.
8 It is better to take refuge in the Lord
than to trust in humans.
9 It is better to take refuge in the Lord
than to trust in princes.
---
Recommended for you
---
More Bible verses about protection from enemies
16.  Isaiah 41:10
So do not fear, for I am with you;
    do not be dismayed, for I am your God.
I will strengthen you and help you;
    I will uphold you with my righteous right hand.
17.  Psalm 27:1-3
The Lord is my light and my salvation—
    whom shall I fear?
The Lord is the stronghold of my life—
    of whom shall I be afraid?
2 When the wicked advance against me
    to devour[a] me,
it is my enemies and my foes
    who will stumble and fall.
3 Though an army besiege me,
    my heart will not fear;
though war break out against me,
    even then I will be confident.
18.  Romans 8:31
 What, then, shall we say in response to these things? If God is for us, who can be against us?
19.  Psalm 124:8
Our help is in the name of the Lord,
    the Maker of heaven and earth.
20.  Hebrews 4:16
Let us then approach God's throne of grace with confidence, so that we may receive mercy and find grace to help us in our time of need.
21.  Psalm 56:4
    In God, whose word I praise—
in God I trust and am not afraid.
    What can mere mortals do to me?
22.  Matthew 10:28
Do not be afraid of those who kill the body but cannot kill the soul. Rather, be afraid of the One who can destroy both soul and body in hell.
23.  Isaiah 54:17
 no weapon forged against you will prevail,
    and you will refute every tongue that accuses you.
This is the heritage of the servants of the Lord,
    and this is their vindication from me,"
declares the Lord.
24.  John 10:28-30
I give them eternal life, and they shall never perish; no one will snatch them out of my hand. 29 My Father, who has given them to me, is greater than all[a]; no one can snatch them out of my Father's hand. 30 I and the Father are one."
25.  Isaiah 50:8
He who vindicates me is near.
    Who then will bring charges against me?
    Let us face each other!
Who is my accuser?
    Let him confront me!
26.  Proverbs 18:10
The name of the Lord is a fortified tower;
    the righteous run to it and are safe.
27.  2 Samuel 22:3
 my God is my rock, in whom I take refuge,
    my shield[a] and the horn[b] of my salvation.
He is my stronghold, my refuge and my savior—
    from violent people you save me.
28.  Isaiah 26:4
Trust in the Lord forever,
    for the Lord, the Lord himself, is the Rock eternal.
29.  Psalm 91:2
I will say of the Lord, "He is my refuge and my fortress,
    my God, in whom I trust."
30.  Psalm 144:2
He is my loving God and my fortress,
    my stronghold and my deliverer,
my shield, in whom I take refuge,
    who subdues peoples[a] under me.
31.  Psalm 61:3-4
For you have been my refuge,
    a strong tower against the foe.
4 I long to dwell in your tent forever
    and take refuge in the shelter of your wings
32.  1 Peter 1:5
who through faith are shielded by God's power until the coming of the salvation that is ready to be revealed in the last time.
33.  1 Kings 1:29
 The king then took an oath: "As surely as the Lord lives, who has delivered me out of every trouble,
34.  Psalm 31:5
Into your hands I commit my spirit;
    deliver me, Lord, my faithful God.
---
Recommended for you
---
The story of Daniel is a reminder, Do not be afraid
The story of Daniel is one that can inspire you to always trust in God for protection.
He can save you even in impossible times
Daniel was a servant to God but served under the king of Babylon.
Over the years, he has gradually risen in the ranks of the kingdom.
So, he had enemies that wanted to kill him.
They became jealous of Daniel and deceived the king into making a new decree that anyone who prayed to any other God, besides the king, will be thrown into the lion's den.
And despite knowing that his enemies had a plan to prosecute and kill him, Daniel continued in God's worship.
He kept praying to God with his windows opened to Jerusalem.
Quickly, these wicked administrators reported Daniel to the king, and he was thrown into the lion's den.
Very early in the morning, the king rushed out to the den to see if Daniel was still alive.
He called unto Daniel, saying,
"Daniel, servant of the living God, has your God, whom you serve continually, been able to rescue you from the lions?"
And Daniel replied,
My God sent his angel, and he shut the mouths of the lions. They have not hurt me, because I was found innocent in his sight. Nor have I ever done any wrong before you, Your Majesty."
Therefore, Always trust in God's protection power.
Author: Akatakpo Dunn
Dr. Akatakpo Dunn is a dedicated follower of Christ, an active member and speaker, and an ongoing learner of the Scriptures. Passionate about his faith and serving others, he is committed to sharing his spiritual journey and insights to inspire and uplift fellow believers. He has been active in the church for more than 23 years. Through The
Faithful Christian Blog
,
Dr. Dunn
combines his love for God, philanthropy, and Scripture, providing a valuable resource for those seeking to grow in their faith.
Follow me: on Youtube, Facebook, Twitter, Instagram, and Pinterest.
Content Disclosure:
At The Faithful Christian Blog, I create authentic and inspiring content. Although I am the main author, I occasionally use AI for minor language enhancements. This minimal AI usage ensures high-quality, trustworthy articles without compromising originality or sincerity, ultimately supporting our shared faith journey.
Warmly,
Dr. Akatakpo Dunn
Was this article helpful?