We all need to be with the right person, that person that understands us and our flaws.
We need someone that has all the qualities we desire.
Someone willing to love us the way we are.
Most importantly, we need a partner (husband or wife) that will be faithful.
Not someone that breaks your heart with every chance that they get.
That's why we must be patient while waiting for the right person.
We mustn't rush into the next available relationship.
We must be patient and trust in God for a perfect partner.
Thankfully, there are bible verses about waiting for love.
These scriptures can inspire you to hold on and be patient.
I have been in a similar situation where I was left heartbroken from a very toxic relationship.
I wasn't so sure of the next step to take.
In my emotional troubles, I became anxious and impatient.
I just wanted to move on to the next available relationship.
And in my quest to do that, I found myself making numerous mistakes.
I fell into the devil's trap and repeatedly sinned without remorse.
I found myself in many incompatible relationships.
But thank God, he rescued me from my impatience.
Today, I am happily married.
If you find it challenging to be patient, we must learn from the scriptures (more on that later).
I have put together bible verses about waiting for love.
---
Recommended for you
---
Bible verses about waiting for love
1 Corinthians 13:4-5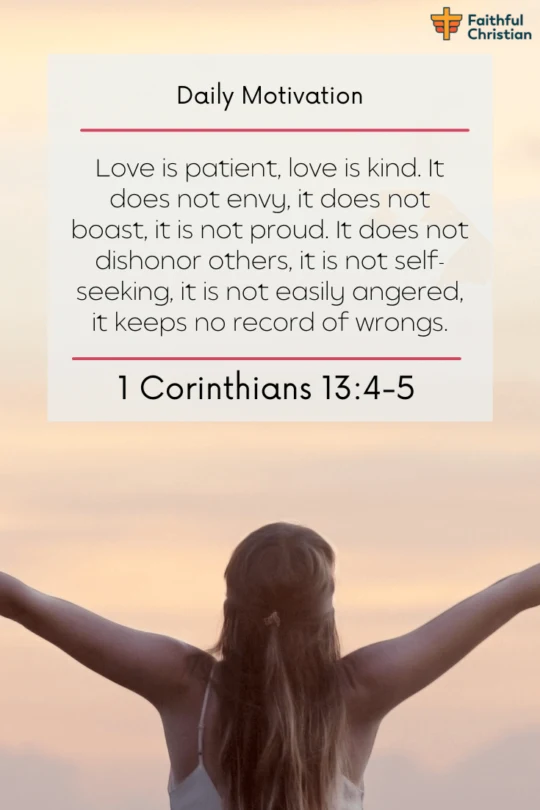 Love is patient, love is kind. It does not envy, it does not boast, it is not proud. 5 It does not dishonor others, it is not self-seeking, it is not easily angered, it keeps no record of wrongs.
Psalm 27:14
Wait for the Lord;
    be strong and take heart
    and wait for the Lord.
Isaiah 40:31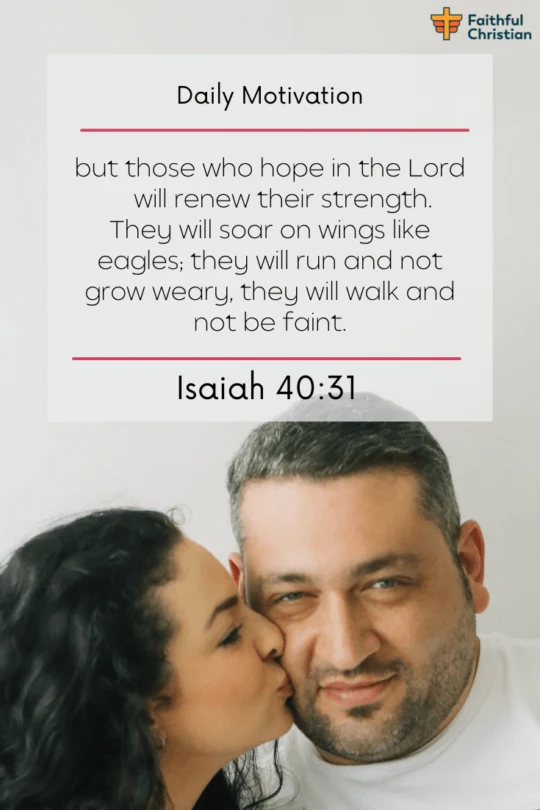 but those who hope in the Lord
    will renew their strength.
They will soar on wings like eagles;
    they will run and not grow weary,
    they will walk and not be faint.
Psalm 31:24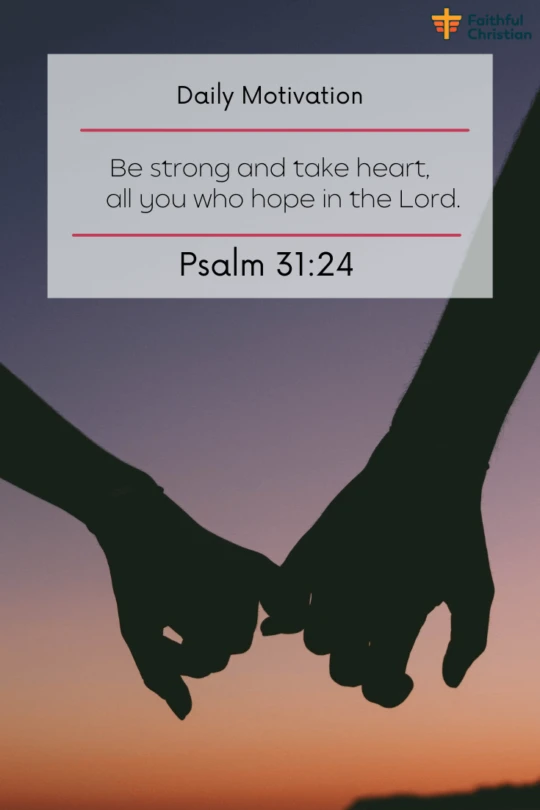 Be strong and take heart,
    all you who hope in the Lord.
Psalm 37:34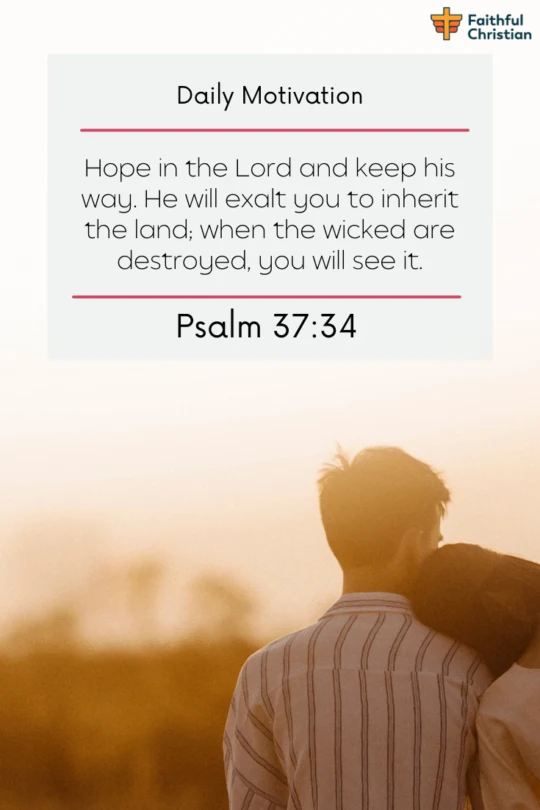 Hope in the Lord
    and keep his way.
He will exalt you to inherit the land;
    when the wicked are destroyed, you will see it.
Isaiah 30:18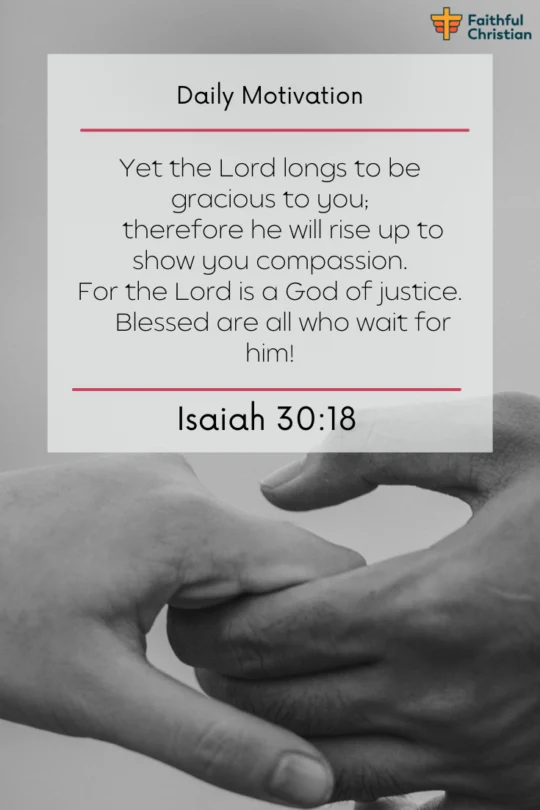 Yet the Lord longs to be gracious to you;
    therefore he will rise up to show you compassion.
For the Lord is a God of justice.
    Blessed are all who wait for him!
Psalm 130:5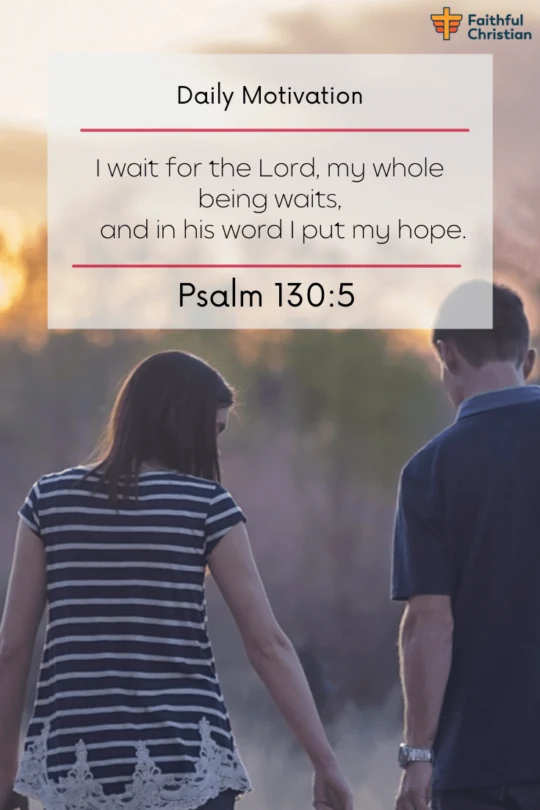 I wait for the Lord, my whole being waits,
    and in his word I put my hope.
Habakkuk 2:3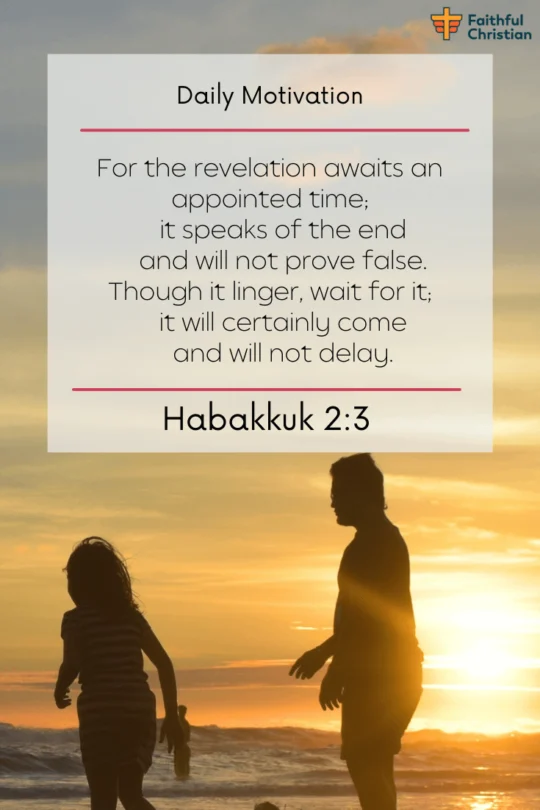 For the revelation awaits an appointed time;
    it speaks of the end
    and will not prove false.
Though it linger, wait for it;
    it[a] will certainly come
    and will not delay.
Colossians 1:11
being strengthened with all power according to his glorious might so that you may have great endurance and patience,
Philippians 4:13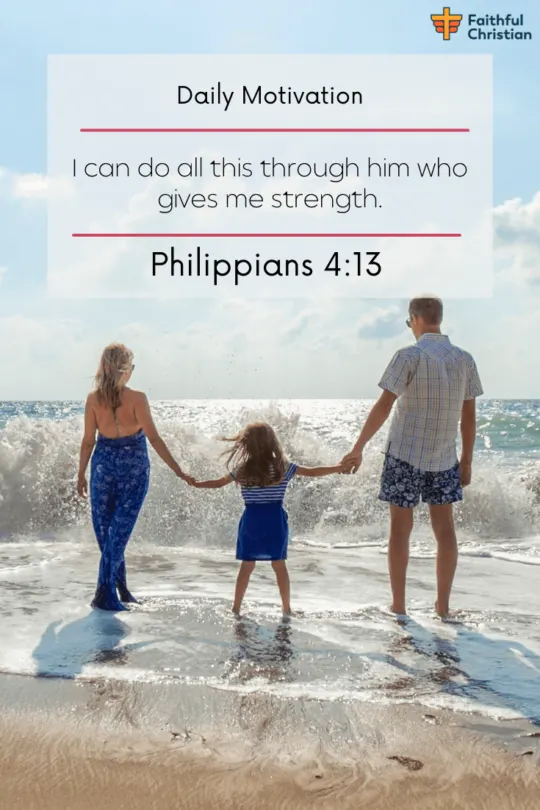 I can do all this through him who gives me strength.
Psalm 62:5
Yes, my soul, find rest in God;
    my hope comes from him.
Proverbs 20:22
Do not say, "I'll pay you back for this wrong!"
    Wait for the Lord, and he will avenge you.
Psalm 33:20
We wait in hope for the Lord;
    he is our help and our shield.
Lamentations 3:26
it is good to wait quietly for the salvation of the Lord.
Isaiah 25:9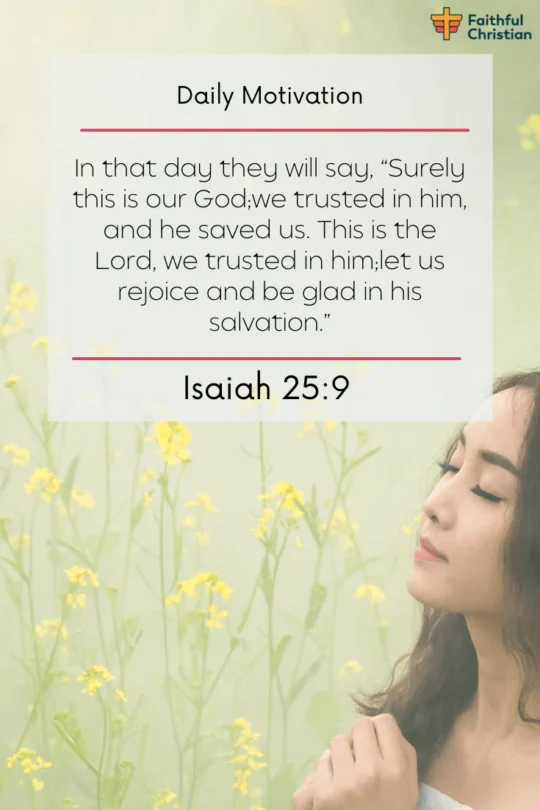 In that day they will say, "Surely this is our God;we trusted in him, and he saved us. This is the Lord, we trusted in him;let us rejoice and be glad in his salvation."
---
Recommended for you
---
More scriptures on waiting on God for a spouse
2 Corinthians 12:9
But he said to me, "My grace is sufficient for you, for my power is made perfect in weakness." Therefore I will boast all the more gladly about my weaknesses, so that Christ's power may rest on me.
2 Corinthians 12:10
That is why, for Christ's sake, I delight in weaknesses, in insults, in hardships, in persecutions, in difficulties. For when I am weak, then I am strong.
Romans 8:25
But if we hope for what we do not yet have, we wait for it patiently.
Psalm 25:3
No one who hopes in you
    will ever be put to shame,
but shame will come on those
    who are treacherous without cause.
Isaiah 8:17
I will wait for the Lord,
    who is hiding his face from the descendants of Jacob.
I will put my trust in him.
Proverbs 3:5
Trust in the Lord with all your heart
    and lean not on your own understanding;
Jeremiah 17:7-8
But blessed is the one who trusts in the Lord,
    whose confidence is in him.
Psalm 62:8
Trust in him at all times, you people;
    pour out your hearts to him,
    for God is our refuge.
Isaiah 26:3-4
You will keep in perfect peace
    those whose minds are steadfast,
    because they trust in you.
4 Trust in the Lord forever,
    for the Lord, the Lord himself, is the Rock eternal.
Psalm 146:3-5
Do not put your trust in princes,
    in human beings, who cannot save.
4 When their spirit departs, they return to the ground;
    on that very day their plans come to nothing
Song of Solomon 8:4
Daughters of Jerusalem, I charge you:
    Do not arouse or awaken love
    until it so desires.
Galatians 5:19
The acts of the flesh are obvious: sexual immorality, impurity and debauchery;
Romans 12:12
Be joyful in hope, patient in affliction, faithful in prayer.
Hebrews 10:36
You need to persevere so that when you have done the will of God, you will receive what he has promised.
---
Recommended for you
---
Waiting for husband or wife? A Story to Inspire you
If you are searching for love, it is crucial to depend on God's timing.
He created you from the dust and knew your exact genetics.
In other words, God knows the best person to love and cherish.
Despite your impatience or probably painful past, God will indeed bless you with the right person when the time comes.
One important Bible story that teaches us to always wait for God's timing is Jacob and Rachel.
Jacob was the son of Isaac and the twin brother of Esau.
When he fled from his home to his uncle's house, he fell in love with his daughter.
Right from the first day they met, he instantly fell in love with her.
It was more like love at first sight.
Quickly, he informed his uncle, Laban (his mother's elder brother), of his intention to marry Rachel.
And they agreed that he would work for seven years to have her as his wife.
You could imagine his patience to wait for his true love.
Waiting for seven years is no joke. But it's a lesson to us that we can wait for a more extended period for the right person.
For seven years, he didn't just wait to do nothing.
Jacob worked for his uncle tirelessly for seven years.
At the end of seven years, Jacob got betrayed.
He was married to the elder sister of Rachel on the grounds of tradition.
But that wasn't enough to deter him from his true love.
And so, he waited for another seven years to have Racheal as his wife.
What can we learn?
1. The best timing is God's own time
We must learn to be patient when finding love.
It could take months or even years, but we must always wait on the lord.
Marriage is not an ordinary affair.
If we must get married, we must unite with the right person.
Only God knows the right person.
He created you and saw the end from the beginning.
With this mindset, you can see he will never forsake you.
He hasn't created you to be single and unhappy all through your lifetime.
He created you to be happy and fulfill your days on earth.
If you are searching for your spouse, God can bring him closer to you.
But be patient, trusting him to act.
2.  Shun fornication
The story of Jacob is one we should learn from.
He was patient and faithful to God.
Patience is meaningless when we completely disregard the commandments of God.
What's the point of waiting for your husband when you are sleeping around?
Or, what's the point of waiting for your perfect wife when you are fornicating?
God has instructed us to keep our bodies because our body is the temple of the lord.
Do you not know that your bodies are temples of the Holy Spirit, who is in you, whom you have received from God? You are not your own; 20 you were bought at a price. Therefore honor God with your bodies.

1 Corinthians 6:19-20
Author: Akatakpo Dunn
Dr. Akatakpo Dunn is a dedicated follower of Christ, an active member and speaker, and an ongoing learner of the Scriptures. Passionate about his faith and serving others, he is committed to sharing his spiritual journey and insights to inspire and uplift fellow believers. He has been active in the church for more than 23 years. Through The
Faithful Christian Blog
,
Dr. Dunn
combines his love for God, philanthropy, and Scripture, providing a valuable resource for those seeking to grow in their faith.
Follow me: on Youtube, Facebook, Twitter, Instagram, and Pinterest.
Content Disclosure:
At The Faithful Christian Blog, I create authentic and inspiring content. Although I am the main author, I occasionally use AI for minor language enhancements. This minimal AI usage ensures high-quality, trustworthy articles without compromising originality or sincerity, ultimately supporting our shared faith journey.
Warmly,
Dr. Akatakpo Dunn
Was this article helpful?