How else can we show our love for God?
How else can we be confident that we are faithful to God's service?
If we claim we love God, we must make time for him.
This entails worshiping and praying to God.
What differentiates us from unbelievers if we don't spend quality time with God?
Thankfully, there are many bible verses about making time for God.
These scriptures teach us to love God and serve him wholeheartedly.
If we seek God and be righteous, everything we ask for will be done for us.
Each morning, you must pray and at least look through the scriptures to meditate.
The evening or nighttime is another time to spend quality time with God.
You don't necessarily need to spend all your daily hours with God.
If you spend 5 or 10 minutes, open your heart and fully commit to your meditation.
I have put together important bible verses about making time for God.
Read and be blessed.
Bible Verses about Making Time For God.
Matthew 6:33.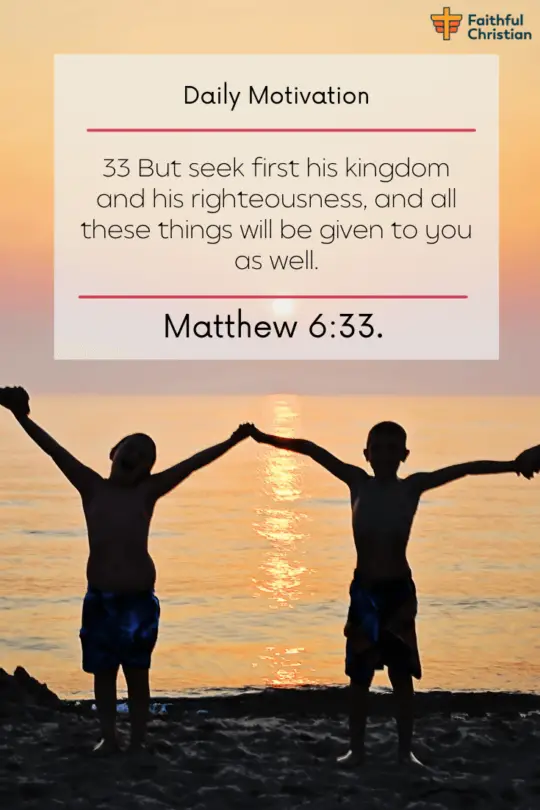 33 But seek first his kingdom and his righteousness, and all these things will be given to you as well.
We all have to face our daily struggles, and we may get stressed as we do.
With a busy schedule, we may quickly forget the most important part of our journey on earth, Which is to spend quality time with God.
We cannot make it on our own.
We cannot also depend on our friends or family to help us in times of need.
God is our provider and our strength.
He is the power we need to overcome every obstacle in our lives.
So, why should we overlook our daily meditation if God is this important and powerful?
Why worry about less important things in life?
The truth is, we may often forget that God needs us to worship and reverence Him.
He created us from the dust and has given us the precious gift of life.
And in all our worries, he has promised to give us eternal life.
So, why not spend time with God?
This is essentially the reason this bible verse is very inspiring.
In all we do, we must seek God first.
At all times, we must pray and keep our fellowship with God.
If we seek God first, He has promised to bring unlimited blessings to our lives.
Colossians 3:17.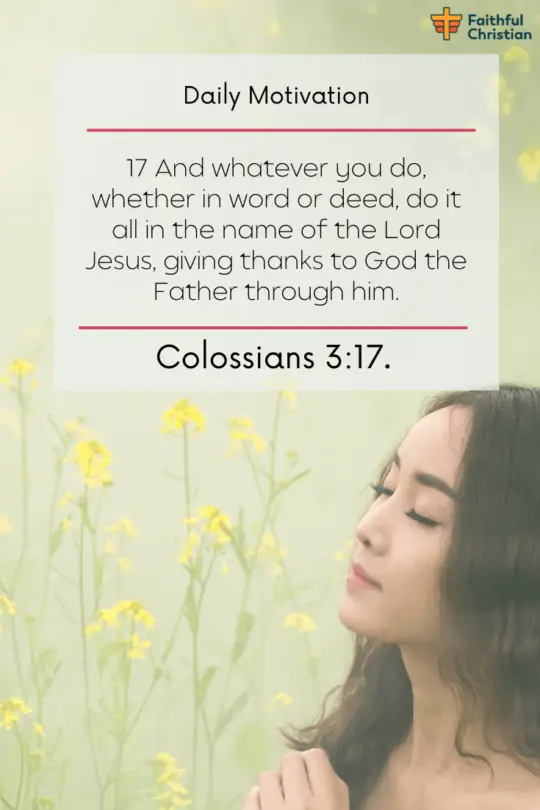 17 And whatever you do, whether in word or deed, do it all in the name of the Lord Jesus, giving thanks to God the Father through him.
Every human must give thanks to God.
God is our refuge in hard times.
When you are sad, you can trust that God will help you heal.
This is why we must keep giving thanks, whether happy or sad.
We must keep thanking God for everything he has done for us.
This bible verse reminds us that whatever we plan to do, we must glorify God in the process.
The are many times I am guilty of not making time for God.
With my busy schedule, I forget the very essence of my time here on earth.
And sometimes, for a week or so, I am forgetful of the caring God I have.
And like me, there are a lot of people who only seek God's help in times of trouble.
But it shouldn't be so; we must always make time for God regardless of our daily schedule.
We need God every minute of our lives.
So, don't stop spending time with Him. Instead, continuously give thanks to the Lord.
Hebrews 10:25.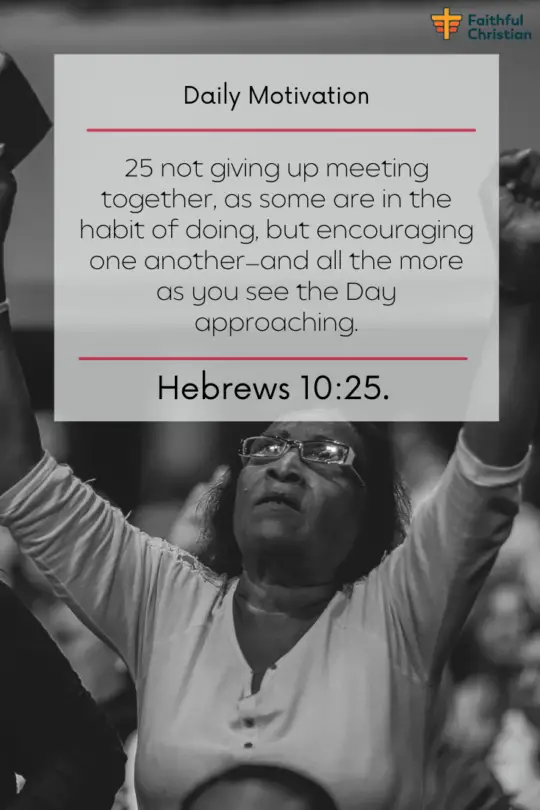 25 not giving up meeting together, as some are in the habit of doing, but encouraging one another—and all the more as you see the Day approaching.
How can we make time for God?
How can we mediate and open our hearts to receive God?
The truth is when we repent, God gives us the Holy Spirit.
The holy spirit changes us into a new beings with the power to overcome sin.
Through the holy spirit, we know what is right and wrong.
And in times of trouble, The Holy Spirit is our comforter and friend.
Similarly, when we decide to serve God, we must give room for meditation.
When we pray ceaselessly and worship God with our hearts, souls, and might.
This bible verse encourages us always to worship God in truth and never forsake the gathering in the church.
Through continued meditation and prayer, God will open the heavens to protect and bless you.
Acts 2:42.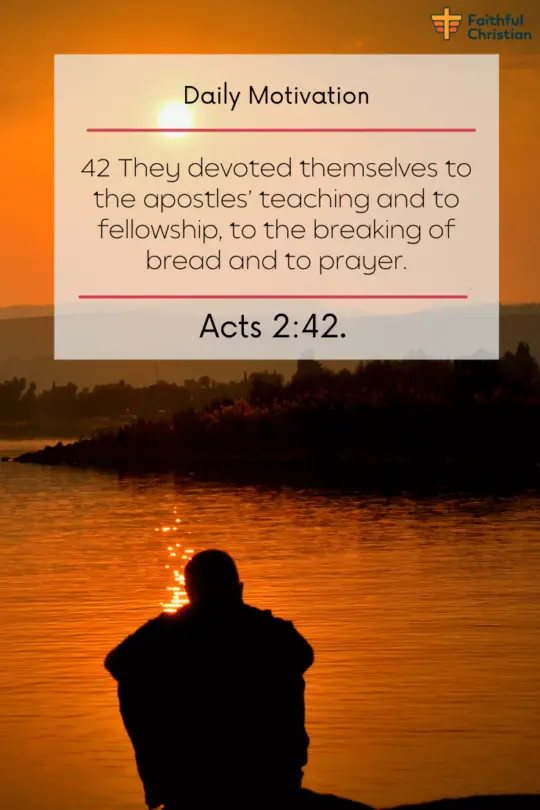 42 They devoted themselves to the apostles' teaching and to fellowship, to the breaking of bread and to prayer.
We can't serve God without making time for Him.
We can't say we love God without giving him a good part of our time.
How can you be busy with work and forget about serving God?
Why will you keep giving excuses for going to church?
If we must serve God, we must devote ourselves and consistently pray and worship Him.
This bible verse encourages us to spend time with like Christian minds and devote ourselves to prayer and meditation.
Ecclesiastes 3:1-4.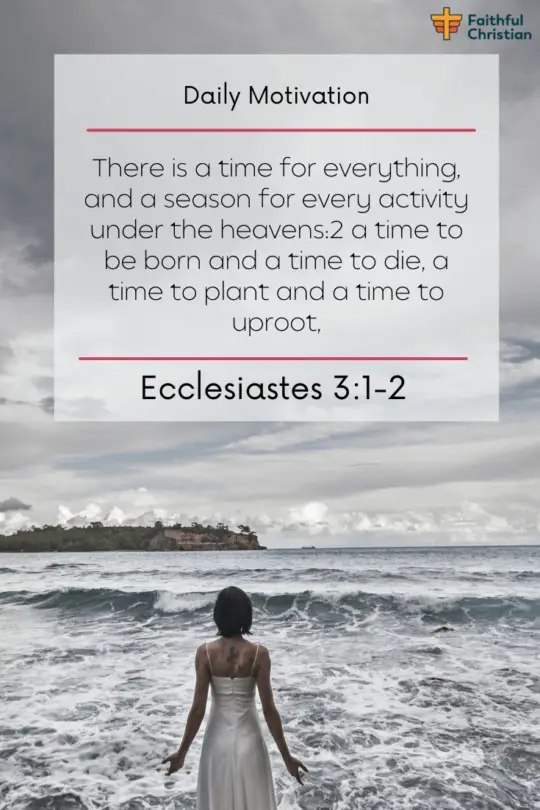 There is a time for everything,and a season for every activity under the heavens:2 a time to be born and a time to die,a time to plant and a time to uproot,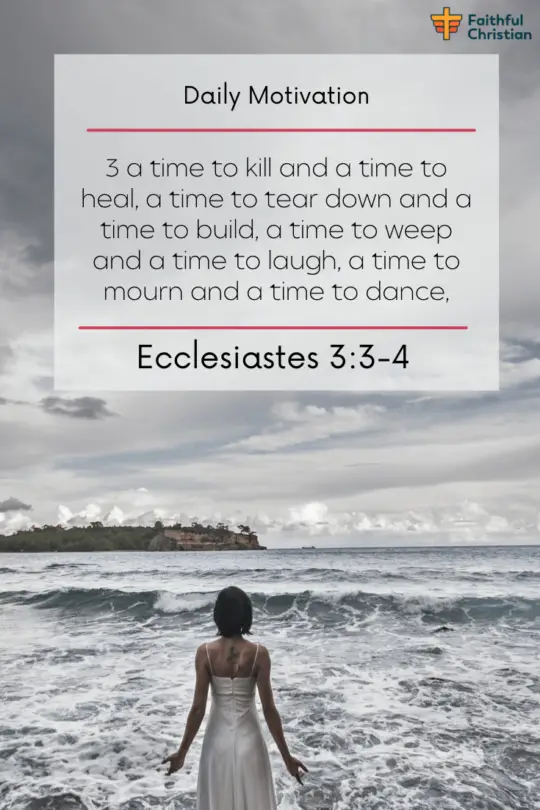 3a time to kill and a time to heal,a time to tear down and a time to build, a time to weep and a time to laugh,a time to mourn and a time to dance,
What if you are so busy that you have no time to pray?
Will God be angry with you?
And what if you are tired and can't pray before your night's rest?
The truth is, when we make up our minds to serve God, we have a different perspective on life.
We become more informed and wise because the Holy Spirit opens our minds to new revelations.
When we commit to God, we see that prayer becomes a part of us.
But initially, it may seem not easy, especially if you have a busy schedule.
You can set prayer time alarms on your phone or wristwatch.
This is important because every moment with God opens our hearts to new possibilities.
These bible scriptures teach us that there is time for everything under the sun.
There is a time to sleep and a time to wake up.
There is also a time you must set aside for God.
Create time for God to pray, study the scriptures and meditate.
Matthew 18:20.
20 For where two or three gather in my name, there am I with them."
God is always ready to have our attention.
He is always ready to help when we call on him.
But we need to find him first and let him do the rest.
When we decide to make time for God, he is already in our midst.
He is ready to fill us with the Holy Spirit to help us with all our challenges in life.
This bible verse encourages praying and meditating with friends and family.
We shouldn't be shy to ask our wives, husbands, family, or friends to pray.
When we pray with one heart and mind, God is ready to listen and answer our prayer.
This is a promise that when two or three are gathered together for Christ's sake, He is there with them.
So, don't stop praying because when you do, God is right next to you.
Luke 12:31.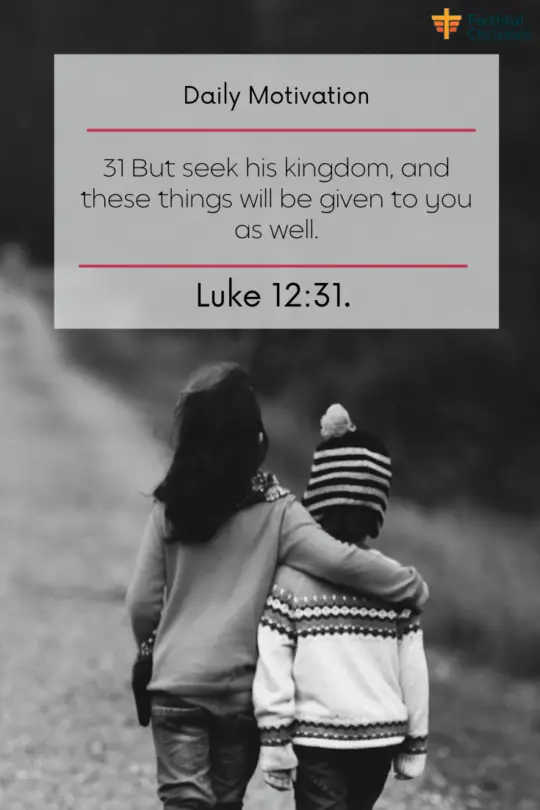 31 But seek his kingdom, and these things will be given to you as well.
What are your plans for the future?
What are the problems you are dealing with?
Are you struggling in your marriage and need God's help?
Are you worried about why you are yet to find a job despite multiple job applications?
This bible verse is vital to uplift you in hard times.
There is no need to keep worrying about what we cannot fix.
There is no need to keep struggling when you have God by your side.
All you need to do is ask God to help you deal with your challenges.
And to do this, you need to make time for God.
You need to seek and find God and worship Him with all your heart.
When praises go up, miracles come down from heaven.
So, don't worry about the problems in your life.
Instead, seek God, and he will give you rest.
1 Corinthians 10:31.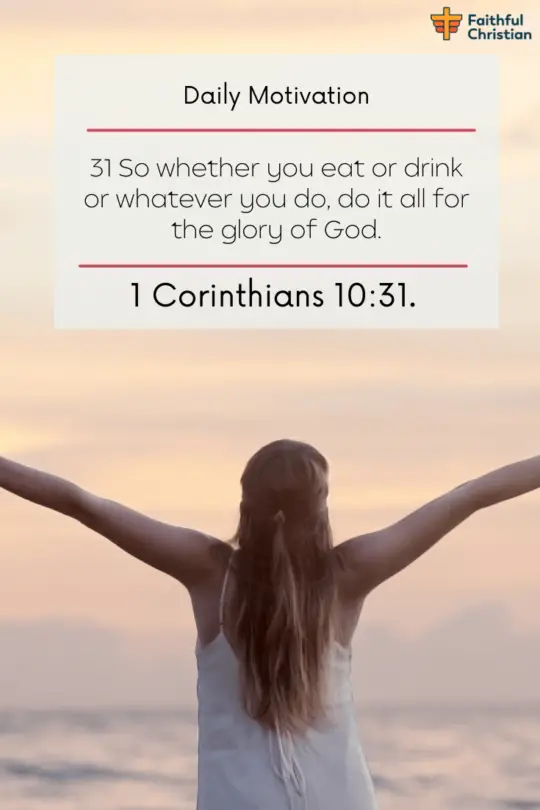 31 So whether you eat or drink or whatever you do, do it all for the glory of God.
We always have an excuse for not doing the right thing.
Some don't pray because they are so busy.
Others don't pray because they forget to do so.
Others pray only when they need help from God.
But it shouldn't be so; and we must change this mindset quickly to always have God on our side.
This bible verses encourage us to change our mindset and get closer to God.
We must think and breathe Jesus at every time in our lives.
Jesus is the way, the truth, and the life.
He is the only pathway to our salvation.
If Jesus is our only Hope for salvation, why not give him time every moment of our lives?
Praying doesn't benefit God. It doesn't make Him more mighty than he already is.
When we make time for God, we are doing it for ourselves.
So whatever you do, always create time for God.
1 Corinthians 5:4.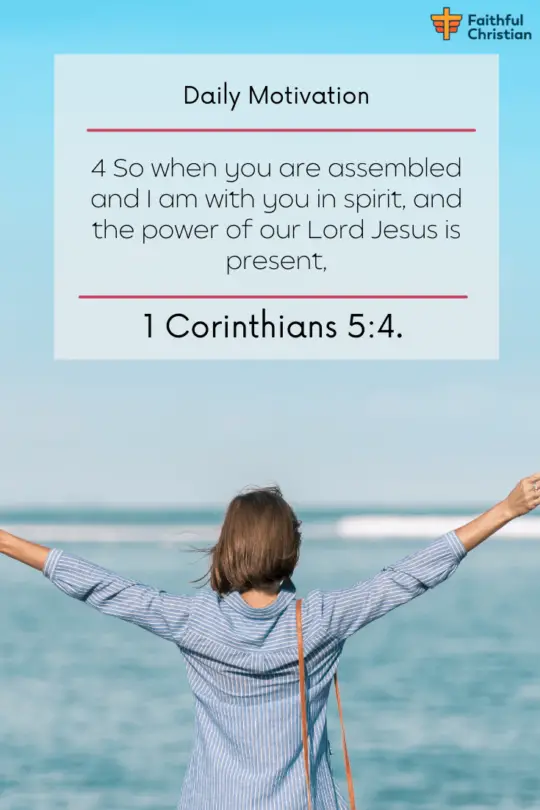 4 So when you are assembled and I am with you in spirit, and the power of our Lord Jesus is present,
For many years of my life, going to church was a problem.
I didn't understand why I had to or what I intended to gain.
I was ignorant of the most crucial reason to worship God.
Which was to give thanks for everything He has done for me.
Each day I sleep and wake up.
I wake up healthy with no signs of sickness.
And if I am sick, God heals my diseases.
He cures me of my pain and hurt.
In times of trouble, God delivered me from my enemies.
So, you see, God is always faithful when we are not.
He keeps fighting our battles despite ignoring his presence.
So, should we continue in sin that grace may abound?
This bible verse reminds us that God is always with us when we assemble in His presence.
He is there to give you the wisdom to deal with issues in your life.
So trust in God and make time for Him daily through prayers and thanksgiving.
Matthew 5:6.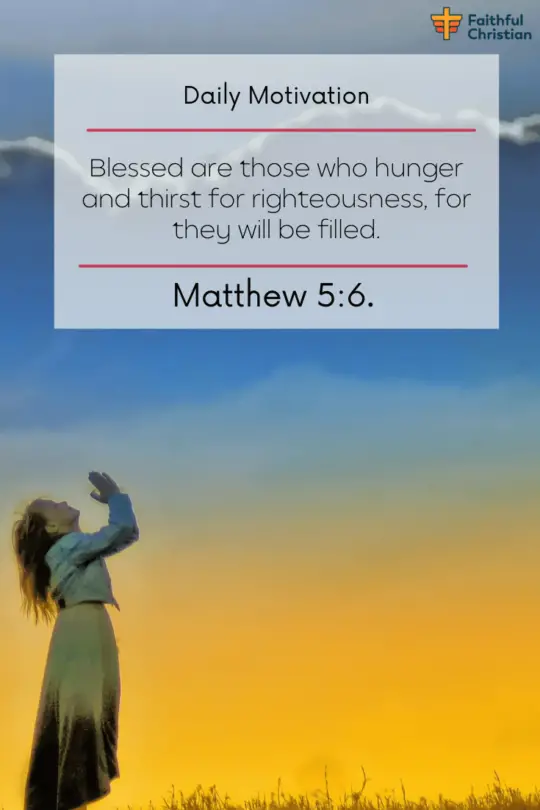 Blessed are those who hunger and thirst for righteousness,for they will be filled.
If God is always ready to help us, Why not make time for him?
Imagine having an encounter with christ every day of your life.
Definitely, your life will never remain the same.
If we must seek God, we must first have the desire.
We must have the hunger to have God in our presence.
God is not limiting himself to us.
He is not asking for preconditions or huge requirements for His presence.
All we need is the hunger and thirst for His presence.
When we make time for God and pray, we will receive God's blessings.
Colossians 3:23.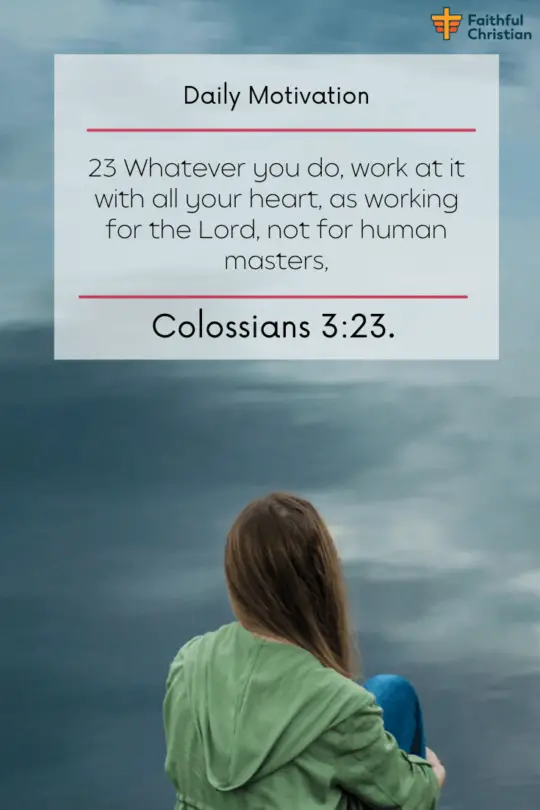 23 Whatever you do, work at it with all your heart, as working for the Lord, not for human masters,
If we make time for God, we must do it with all our hearts.
Not grudgingly or hesitantly.
God loves it when we serve him willingly.
He loves it when we voluntarily give our all in his service.
So, make up your mind and understand the importance of serving God.
Only with a sense of purpose can we willingly submit to God's presence.
Pray and ask God to draw you closer to Him.
When we have the holy spirit in us, serving God becomes easy.
John 6:27.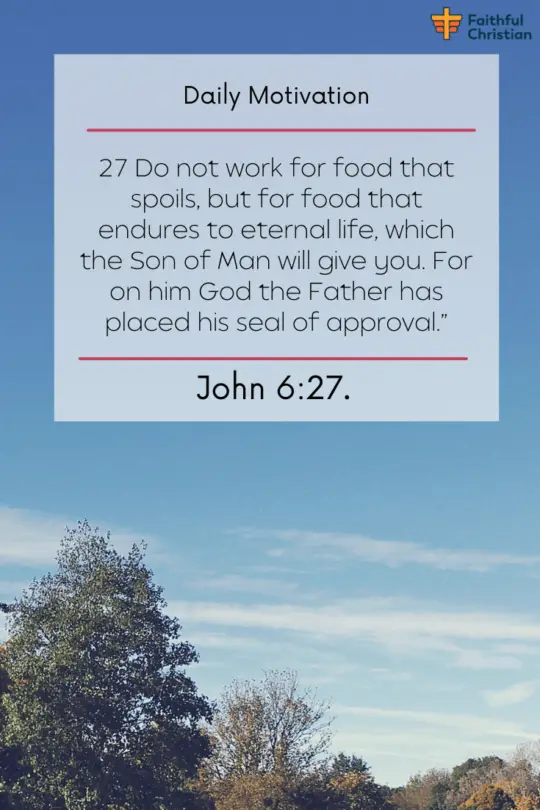 27 Do not work for food that spoils, but for food that endures to eternal life, which the Son of Man will give you. For on him God the Father has placed his seal of approval."
Sometimes, I ask myself, why haven't I prayed today?
Why haven't I had time with God?
And most times, I find out that I am busy at work.
Or I am spending time with my friends or family.
At other times I'm figuring out plans for my future and thinking about my business.
But it shouldn't be so because our earthly effort does not guarantee eternal life.
So, we must make time for God and work for food that does not spoil.
We must strive to enter God's kingdom where there is no pain or sadness.
If we focus on God, earthly blessings will be given to us.
Proverbs 3:6.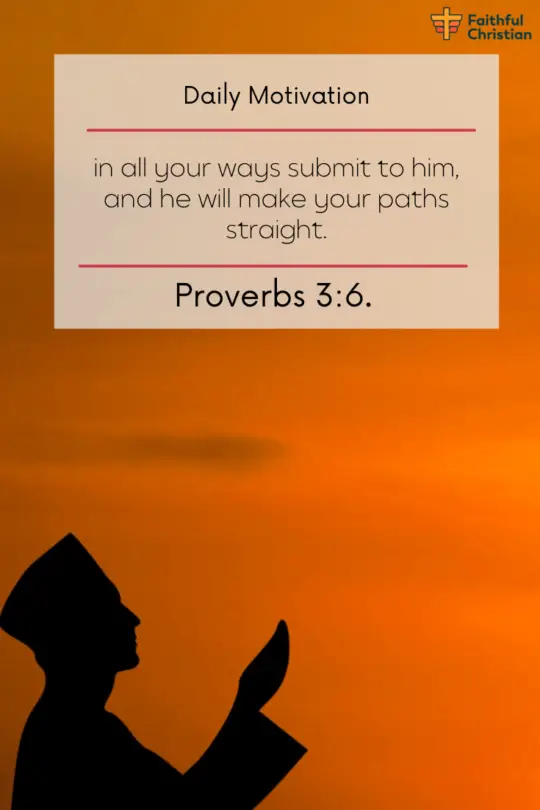 in all your ways submit to him,and he will make your paths straight.
What are your plans for the future?
What do you need God to do for your life?
Whatever your plans are, you must first seek God for direction.
We must ask for his blessing and seek guidance.
This bible verse about making time for God should inspire you right away.
The bible didn't say "some" but "all your ways."
So keep praying because God will help lead you through the right way.
Acts 2:1.
Psalm 34:9-10.
Ephesians 5:15-17.
1 Thessalonians 5:17.
Mark 10:29-30.
Romans 12:12.
Colossians 4:2.
Psalm 84:11-12.
Ephesians 6:18.
Luke 18:1.
Romans 14:17.
Luke 21:36.
1 Chronicles 16:11.
Psalm 37:25.
Matthew 19:29.
Psalm 37:18-19.
Luke 18:29-30.
Author: Akatakpo Dunn
Dunn is a firm believer and a teacher of God's word. Suffering for Jesus is an attribute of a faithful Christian, and I hope to win new souls to Christ with every chance that I get. Articles are well-researched and backed by the scriptures.
Follow me: on Youtube, Facebook, Twitter, Instagram, and Pinterest.