"Patience is bitter, but its fruit is sweet."  ~Jean-Jacques Rousseau
As parents, we need God's divine guidance over our children.
We cannot do it all alone.
As a result, we need God's omnipresent powers to direct our kids.
Our children's character can easily be influenced by their companions.
And when they repeatedly flout our directives, it can be truly painful.
But we must be patient with them.
The scriptures say,
Fathers, do not embitter your children, or they will become discouraged

Colossians 3:21
I have put together this powerful prayer for patience with child.
My God will supply your needs and heal your imperfections In the name of Jesus.
Amen.
---
Recommended for you
---
Prayer Bible verses for patience with a child
Ephesians 6:4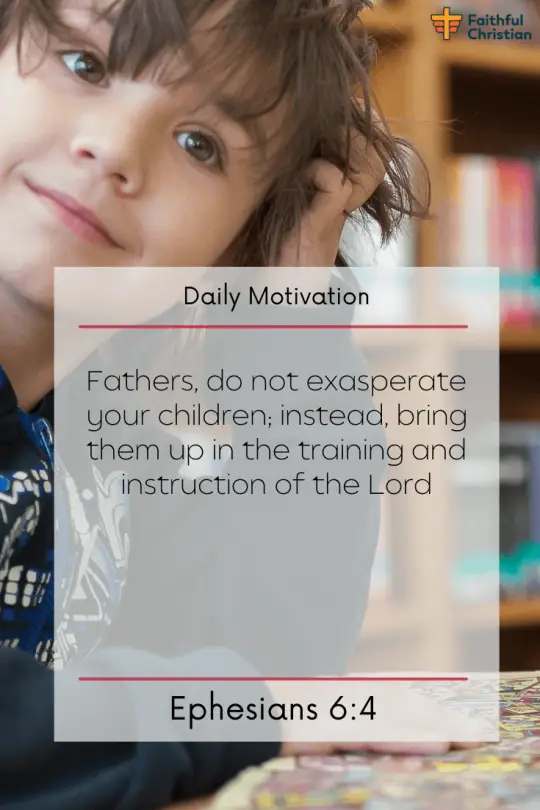 Fathers,[a] do not exasperate your children; instead, bring them up in the training and instruction of the Lord
Proverbs 3:12
because the Lord disciplines those he loves,
    as a father the son he delights in.[a]
Psalm 103:13
As a father has compassion on his children,
so the Lord has compassion on those who fear him;
---
Recommended for you
---
Prayer for patience with child Behavior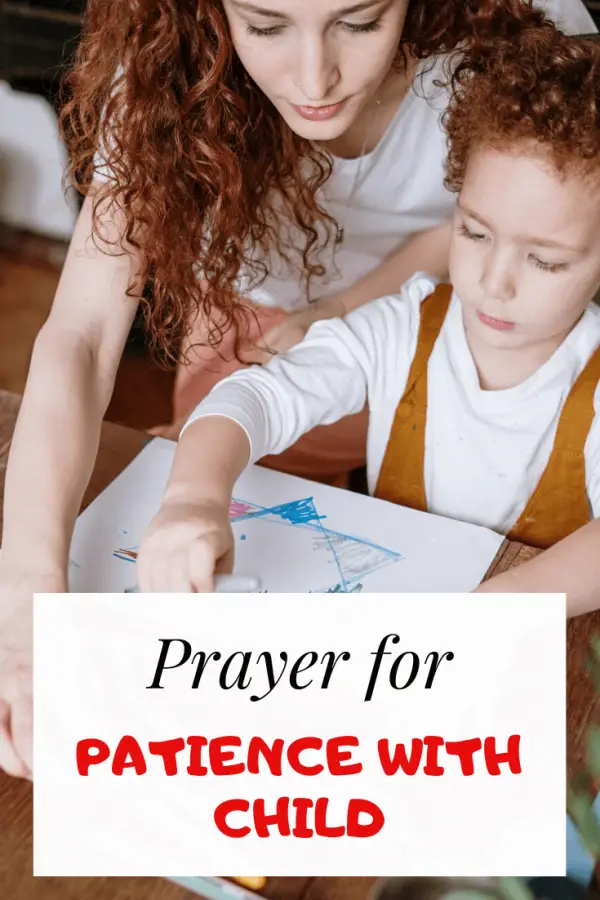 Love is patient (let us pray)
Dear loving and caring father,
The only true and mighty God.
I come before you acknowledging all that you have done for me.
You have not made me childless, and I come with thanksgiving.
Despite my iniquities, you have always stood by me.
Forgive me my sins and bless my household with love.
Everlasting Father, Help me to cherish my child regardless of whatever he has done.
Help me to be patient with the son or daughter you have given me.
Your word says, "Train up a child in the way he should go: and when he is old, he will not depart from it."
Therefore, give me the grace to train up my child in the right ways that are pleasing in your sight.
Guide the path of my child in whatever decisions he or she makes.
Teach him with your Holy Spirit to be obedient.
Give him the grace to be remorseful and learn from his mistakes.
Open his heart to change his attitude for the better.
Above all, give him a repentant spirit to always fear and worship you.
Amen.
Love is kind (Let us pray)
Lord, I repent from any way I have been indifferent towards my child.
I repent from any form of unnecessary anger towards him or her.
Please open his/her heart to understand my grievances.
Help my child be obedient to my instructions.
In times of misunderstanding, give me the grace to be patient with my child.
Give me the heart to easily forgive all that he/she would do.
You said in your word, "Forgive, and ye shall be forgiven."
So, therefore, remove every form of bitterness from my heart and give me the grace to love him or her forever.
Thank you, gracious, loving father because we know by faith you have answered our prayers.
Amen.
Spare the rod and spoil the child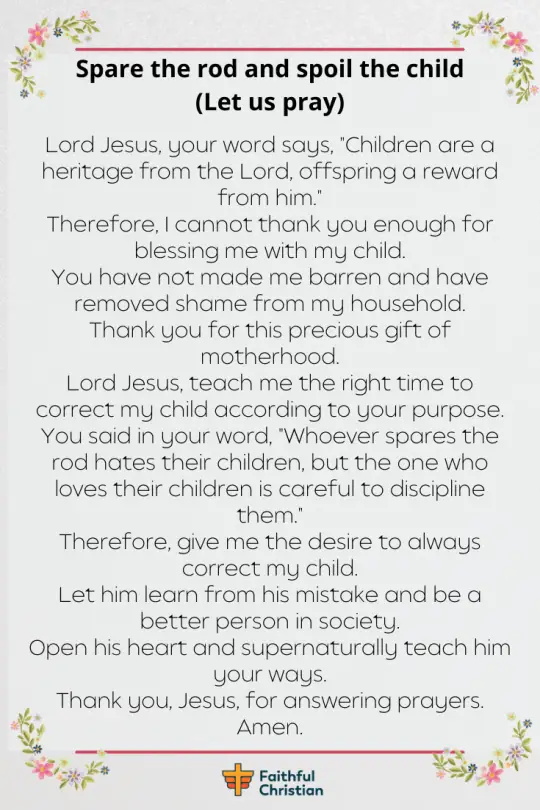 Lord Jesus, your word says, "Children are a heritage from the Lord, offspring a reward from him."
Therefore, I cannot thank you enough for blessing me with my child.
You have not made me barren and have removed shame from my household.
Thank you for this precious gift of motherhood.
Lord Jesus, teach me the right time to correct my child according to your purpose.
You said in your word, "Whoever spares the rod hates their children, but the one who loves their children is careful to discipline them."
Therefore, give me the desire to always correct my child.
Let him learn from his mistake and be a better person in society.
Open his heart and supernaturally teach him your ways.
Thank you, Jesus, for answering prayers.
Amen.
Evil communication corrupts good manners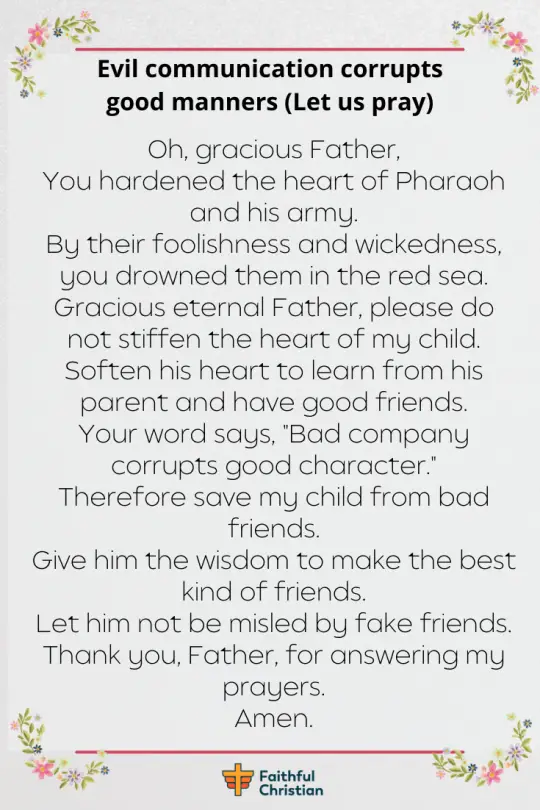 Oh, gracious Father,
You hardened the heart of Pharaoh and his army.
By their foolishness and wickedness, you drowned them in the red sea.
Gracious eternal Father, please do not stiffen the heart of my child.
Soften his heart to learn from his parent and have good friends.
Your word says, "Bad company corrupts good character."
Therefore save my child from bad friends.
Give him the wisdom to make the best kind of friends.
Let him not be misled by fake friends.
Thank you, Father, for answering my prayers.
Amen.
---
Recommended for you
---
Author: Akatakpo Dunn
Dunn is a firm believer and a teacher of God's word. Suffering for Jesus is an attribute of a faithful Christian, and I hope to win new souls to Christ with every chance that I get. Articles are well-researched and backed by the scriptures.
Follow me: on Youtube, Facebook, Twitter, Instagram, and Pinterest.