The workplace can get annoying sometimes.
And sadly, you simply can't quit your job.
Even worse, no one cares about how you feel.
When you face difficult challenges at your workplace, you can overcome them through prayers.
Just last week, a younger colleague felt so frustrated with the way he was treated at the hospital.
One of the senior doctors here had insulted him during a surgical procedure.
He felt demoralized and unable to continue with his job.
But that's where patience comes in.
Patience is the ability to endure even in the face of provocation.
And it is an essential tool for every Christian.
The scripture says,
Rejoice in hope, be patient in tribulation, be constant in prayer

Romans 12:12 
In other words, in difficult times, when you are losing control of yourself, you must pray.
I have compiled four prayers for patience at work.
---
Recommended for you
---
Prayer Bible verses for patience at work
Proverbs 3:5-6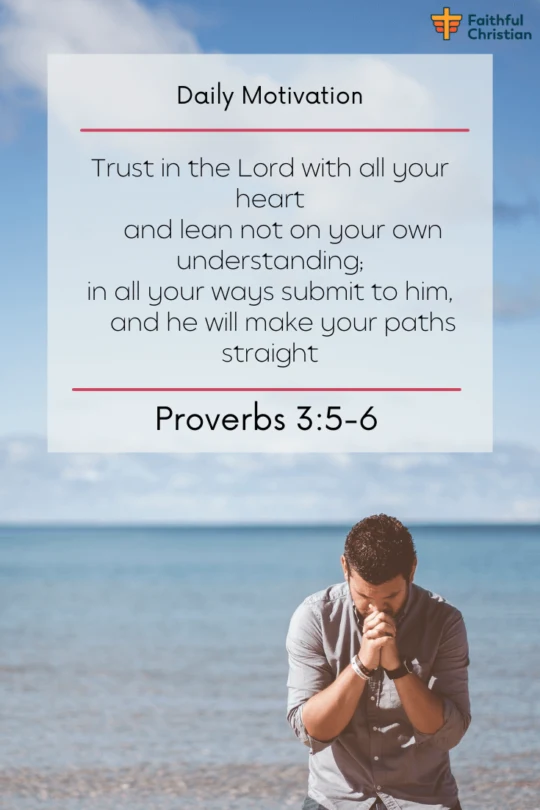 Trust in the Lord with all your heart
    and lean not on your own understanding;
6 in all your ways submit to him,
    and he will make your paths straight
1 Peter 5:7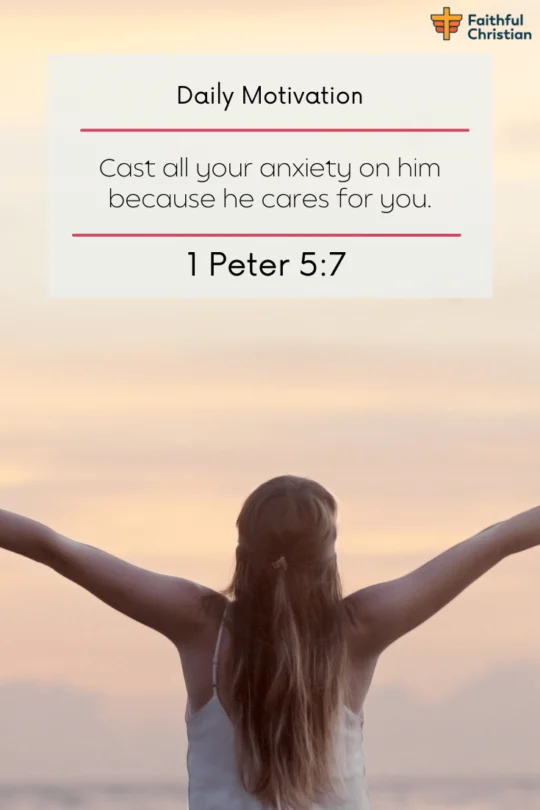 Cast all your anxiety on him because he cares for you.
Philippians 4:6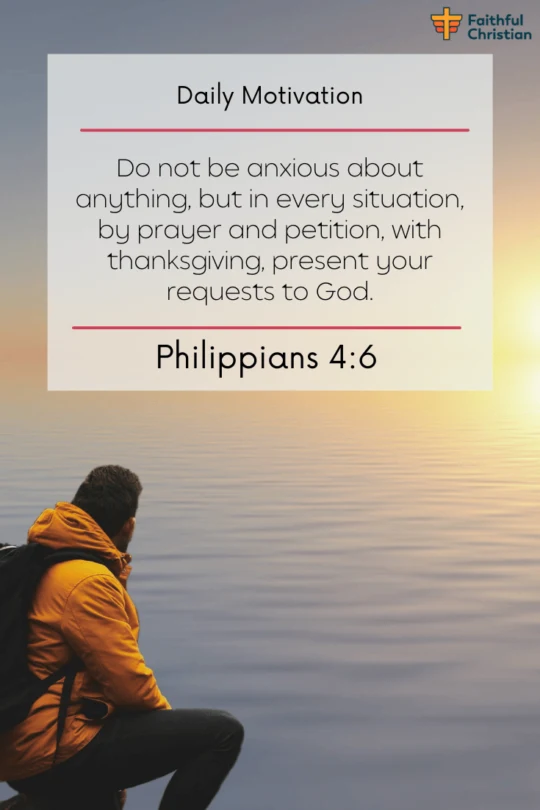 Do not be anxious about anything, but in every situation, by prayer and petition, with thanksgiving, present your requests to God.
Ecclesiastes 7:8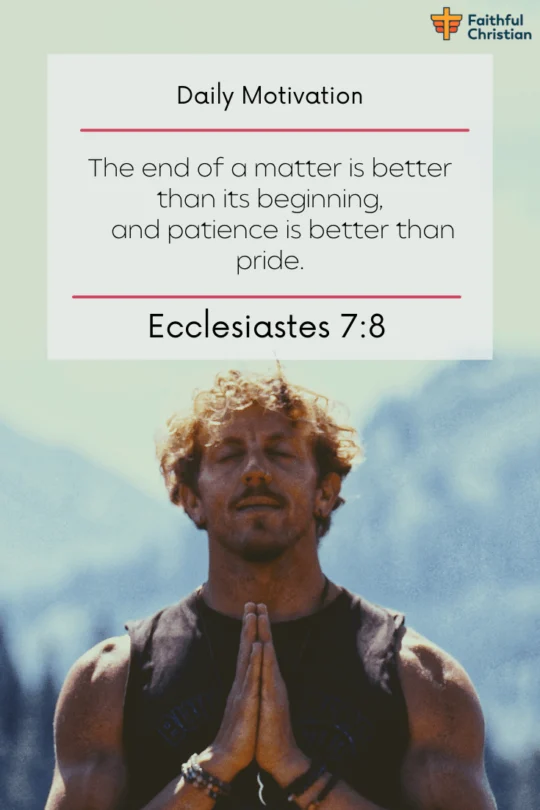 The end of a matter is better than its beginning,
    and patience is better than pride.
---
Recommended for you
---
Prayer for patience at work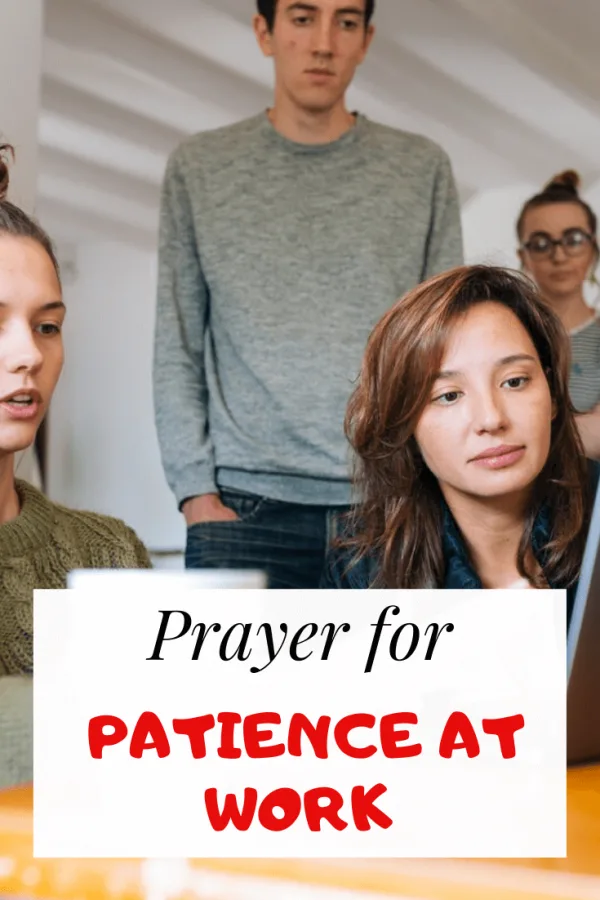 Thank God for where you are now (let us pray)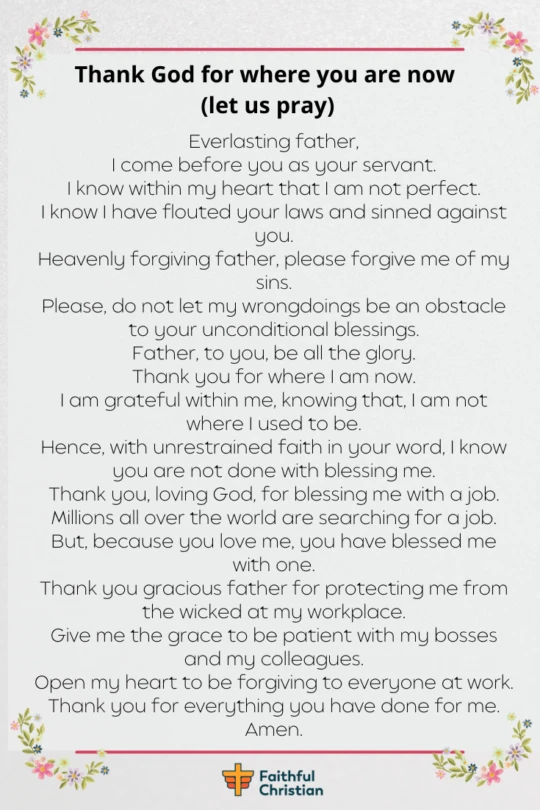 Everlasting father,
I come before you as your servant.
I know within my heart that I am not perfect.
I know I have flouted your laws and sinned against you.
Heavenly forgiving father, please forgive me of my sins.
Please, do not let my wrongdoings be an obstacle to your unconditional blessings.
Father, to you, be all the glory.
Thank you for where I am now.
I am grateful within me, knowing that, I am not where I used to be.
Hence, with unrestrained faith in your word, I know you are not done with blessing me.
Thank you, loving God, for blessing me with a job.
Millions all over the world are searching for a job.
But, because you love me, you have blessed me with one.
Thank you gracious father for protecting me from the wicked at my workplace.
Thank you for protecting my life and that of my household.
Your word says, "The Lord will fight for you, and you have only to be silent."
Therefore, I come before your authority seeking your protection.
Give me the grace to be patient with my bosses and my colleagues.
Open my heart to be forgiving to everyone at work.
Thank you for everything you have done for me.
Amen.
Let your gentleness be known to all men (let's pray)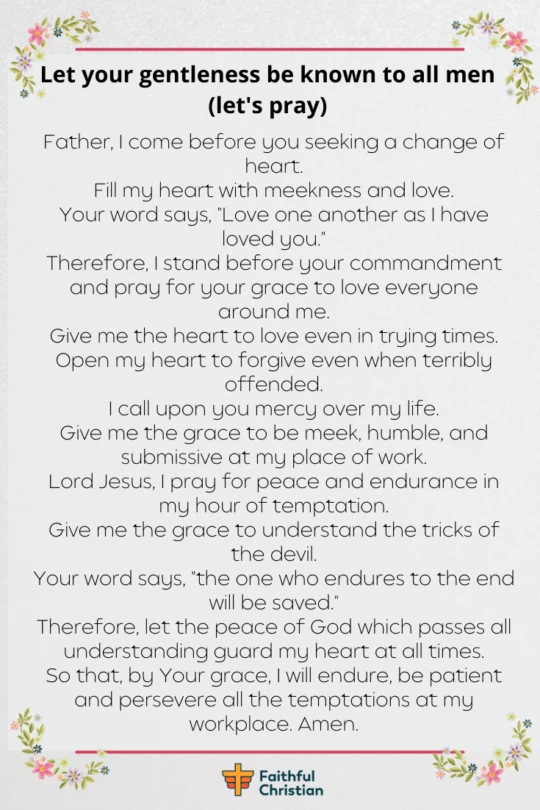 Father, I come before you seeking a change of heart.
Fill my heart with meekness and love.
Your word says, "Love one another as I have loved you."
Therefore, I stand before your commandment and pray for your grace to love everyone around me.
Give me the heart to love even in trying times.
Open my heart to forgive even when terribly offended.
I call upon you mercy over my life.
Give me the grace to be meek, humble, and submissive at my place of work.
Your word says, "Obey your earthly masters in everything; and do it, not only when their eye is on you and to curry their favor, but with sincerity of heart and reverence for the Lord."
Therefore, I pray for the grace to always obey my superior at my workplace.
Lord Jesus, I pray for peace and endurance in my hour of temptation.
Give me the grace to understand the tricks of the devil.
Your word says, "the one who endures to the end will be saved."
Therefore, let the peace of God which passes all understanding guard my heart at all times.
So that, by Your grace, I will endure, be patient and persevere all the temptations at my workplace.
Amen.
---
Recommended for you
---
Let his word comfort you (let us pray)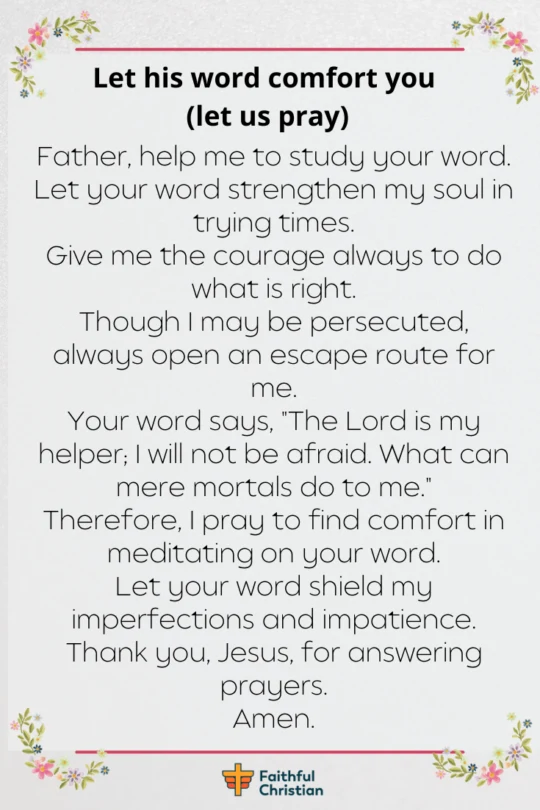 Father, help me to study your word.
Let your word strengthen my soul in trying times.
Give me the courage always to do what is right.
Though I may be persecuted, always open an escape route for me.
Your word says, "The Lord is my helper; I will not be afraid. What can mere mortals do to me."
Therefore, I pray to find comfort in meditating on your word.
Let your word shield my imperfections and impatience.
Thank you, Jesus, for answering prayers.
Amen.
Author: Akatakpo Dunn
Dr. Akatakpo Dunn is a dedicated follower of Christ, an active member and speaker, and an ongoing learner of the Scriptures. Passionate about his faith and serving others, he is committed to sharing his spiritual journey and insights to inspire and uplift fellow believers. He has been active in the church for more than 23 years. Through The
Faithful Christian Blog
,
Dr. Dunn
combines his love for God, philanthropy, and Scripture, providing a valuable resource for those seeking to grow in their faith.
Follow me: on Youtube, Facebook, Twitter, Instagram, and Pinterest.
Content Disclosure:
At The Faithful Christian Blog, I create authentic and inspiring content. Although I am the main author, I occasionally use AI for minor language enhancements. This minimal AI usage ensures high-quality, trustworthy articles without compromising originality or sincerity, ultimately supporting our shared faith journey.
Warmly,
Dr. Akatakpo Dunn
Was this article helpful?