Looking for peace in your home? You're not alone.
The quest for harmony is a struggle many families face, but a prayer for peace in the family can be the answer.
In this blog post, we'll dive into the significance of invoking divine intervention to foster tranquility within your household.
How can a simple prayer create a ripple effect of positive change?
Stand with us as we explore this powerful practice.
"Peace I leave with you; my peace I give you" (John 14:27). These words from the Bible remind us that peace is not only attainable but also a gift we can embrace.
By offering a prayer for peace in the family, you are taking an active step toward unity and understanding.
You'll uncover the lasting benefits of turning to prayer, and we'll guide you through the process.
Are you ready to experience the transformative power of prayer? Let's get started.
Prayer for peace in the family.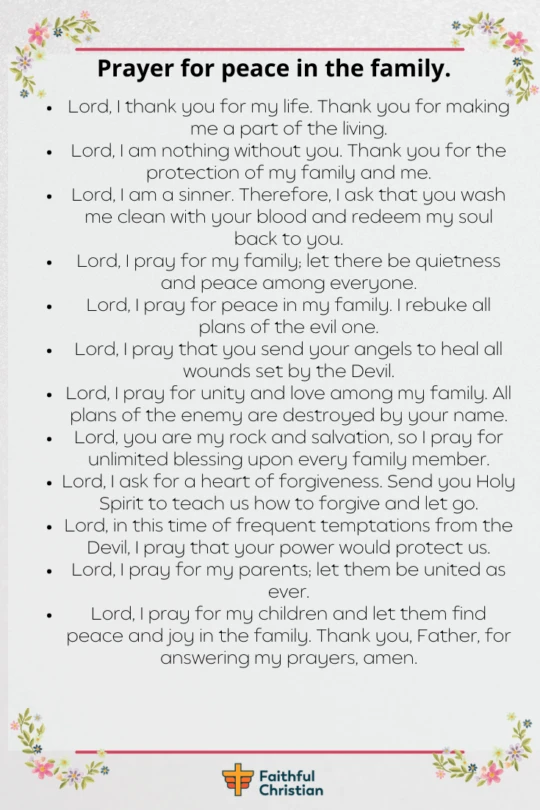 Dear Heavenly Father, my heart overflows with gratitude for the precious gift of life. Thank you for making me part of Your amazing plan. I'm in awe of how beautifully You've created us, as Psalm 139:14 reminds us. Your love for us is beyond measure.
Father, I admit I'm a sinner. I ask for Your cleansing and a renewed spirit. Your Word in 1 John 1:9 assures us of Your forgiveness and purification when we confess our sins. I trust in Your redeeming power.
I bring my family to You, praying for a peaceful, loving home. May we experience unity and harmony, just as Psalm 133:1 describes. We're also guided by Colossians 3:13-14, which teaches us to forgive and love one another.
I resist any attempts by the enemy to disrupt our family's harmony. Your Word in Ephesians 6:12 reminds us that our battle is against dark spiritual forces. Lord, help us stand strong in faith.
Please send Your angels to heal wounds caused by the enemy. Touch our hearts and minds, allowing forgiveness to flow freely. Isaiah 53:5 comforts us, knowing that Your wounds bring our healing.
You are my rock, Lord. I ask for Your blessings upon every family member. Your Word in Matthew 7:11 promises that You will give good gifts to those who ask. We trust in Your provision.
Help us forgive and release grudges, Lord. Guide us to let go of past hurts and embrace the healing power of forgiveness. Ephesians 4:31-32 teaches us to be kind, compassionate, and forgiving, following Your example.
Lord, bless my parents' relationship, reflecting Your love and the sanctity of marriage. Ecclesiastes 4:12 reminds us that a strong bond is not easily broken. May their love grow with Your presence.
Lastly, Father, I pray for my children. May they find comfort, joy, and belonging in our family. Proverbs 22:6 instructs us to guide them on the right path. Thank You for answering our prayers, as Philippians 4:19 promises that You will meet all our needs. In Your mighty name, I pray. Amen.
Prayer bible verses about peace in the family.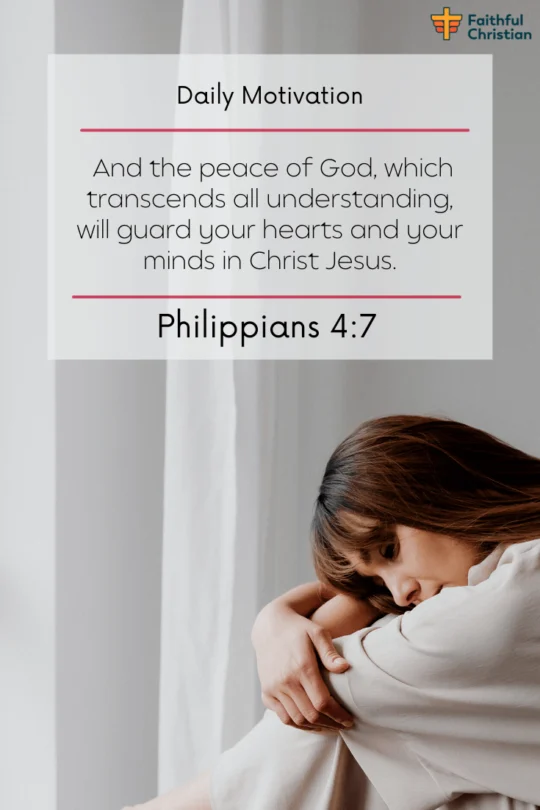 And the peace of God, which transcends all understanding, will guard your hearts and your minds in Christ Jesus.
Lets say a prayer for family peace with Philippians 4:7
Loving Father, today we gather as a family, longing for Your guidance and blessings to fill our home with peace and harmony. We recognize the challenges we face daily, yet we trust in Your love and grace to help us prevail.
We find solace in Philippians 4:7: "And the peace of God, which transcends all understanding, will guard your hearts and your minds in Christ Jesus."
Lord, we pray that Your peace wraps our family, fortifying our bond and nurturing love, understanding, and unity among us.
Infuse our hearts with compassion, forgiveness, and patience, enabling us to approach conflicts with kindness and grace. Direct our actions, thoughts, and words to align with Your will and foster peace in our home.
Thank You for Your unwavering love and for being our refuge in times of need. We trust You to bring peace and harmony to our family. Amen.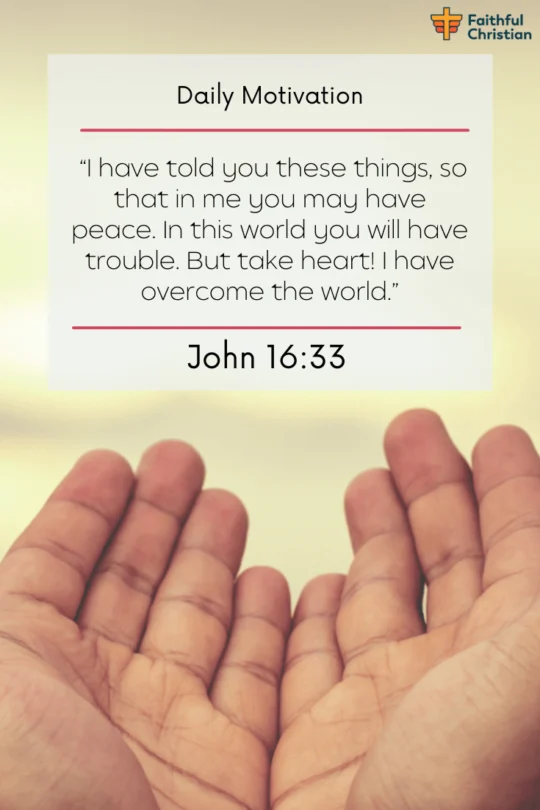 "I have told you these things, so that in me you may have peace. In this world you will have trouble. But take heart! I have overcome the world."
Lets pray for peace in the family with John 16:33
Heavenly Father, our family comes before You today, seeking Your divine guidance to bring peace and harmony to our home. We're grateful for Your Son, Jesus Christ, who overcame the world and granted us His peace.
We humbly ask You to fill our hearts with love and understanding. Help us overcome obstacles, conflicts, or challenges that may arise.
In tough moments, remind us of Your unwavering presence and the peace that You offer through Jesus.
Bless our family, Lord, with unity and grace. Support us as we journey together, always mindful of Your love and the strength we find through faith in You. Amen.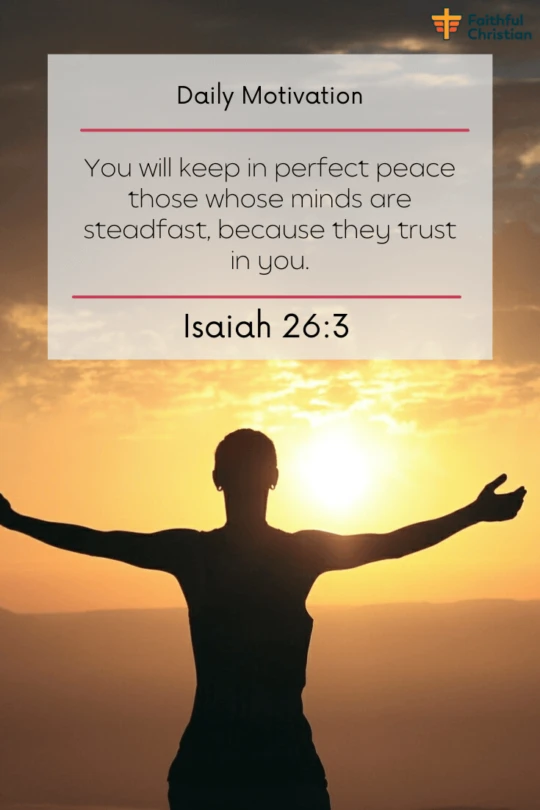 You will keep in perfect peacethose whose minds are steadfast,because they trust in you.
Lets pray for family peace and love with Isaiah 26:3
Heavenly Father, we come together as a family, seeking Your guidance and divine intervention to bring peace and harmony to our home.
We turn to Your Word, as written in Isaiah 26:3, "You will keep in perfect peace those whose minds are steadfast, because they trust in You."
Lord, we ask that You grant us steadfast minds, filled with unwavering trust in You. May Your perfect peace envelop our family, strengthening our relationships, and fostering love, understanding, and compassion among us.
In times of struggle and conflict, remind us of Your promise of peace, and help us to turn to You in faith. Guide us in our daily actions and interactions, so that we may reflect Your love and grace to one another.
We thank You, God, for Your enduring love and guidance, and for the gift of Your peace that surpasses all understanding. In Your holy name, we pray. Amen.
Prayer for peace in the family.
Great peace to those that love God.
Amid doubt and uncertainty, remember that God's unwavering presence offers comfort. His love extends beyond personal well-being to encompass family safety and harmony.
Hebrews 13:5 reminds us, "Never will I leave you; never will I forsake you." Trust in His continual care.
God pledges to protect us, offering peace and guidance in our lives. As His beloved children, we can trust His defense against the enemy's plots.
Psalm 91:4 depicts His protection: "He will cover you with his feathers… his faithfulness will be your shield and rampart."
Prayer is crucial. John 16:33 tells us, "In me you may have peace… I have overcome the world." Jesus promises peace in hopeless situations.
Philippians 4:6-7 advises us to pray, and God's peace will guard our hearts and minds in Christ Jesus.
Facing unresolved family conflicts, recall Christ's triumph over the world's troubles.
Romans 8:37 states, "No, in all these things we are more than conquerors through him who loved us." Through Christ, we can overcome adversity.
Join together in prayer for family harmony, inviting God to fulfill His promise of peace.
Matthew 18:20 says, "For where two or three gather in my name, there am I with them." United in prayer, we welcome God's presence in our lives.
Ask the Lord to oversee every situation, nurturing love and unity among family members, strengthening our bonds.
Colossians 3:14 urges, "And over all these virtues put on love, which binds them all together in perfect unity." Embrace this teaching and cultivate love, unity, and peace in your family.
Let us pray for peace in the family.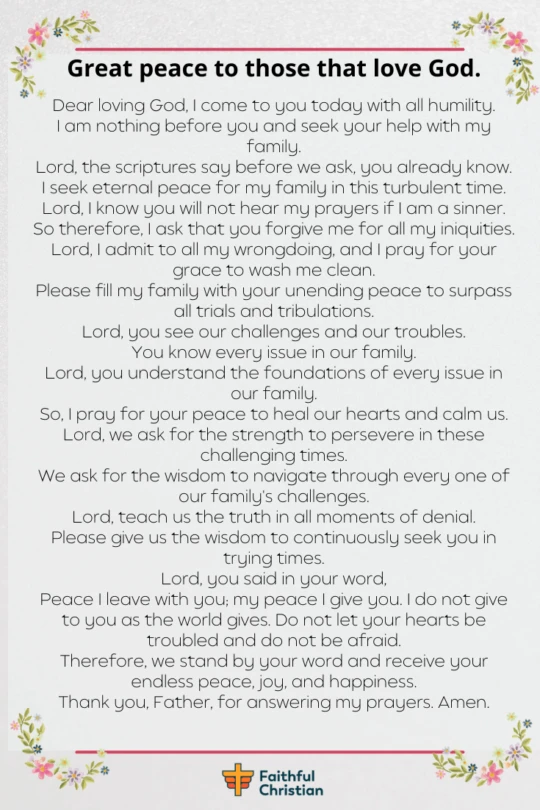 Oh gracious and loving God, with a humble heart, I approach Your throne today. Your word tells us to humble ourselves before You, and You will lift us up (James 4:10).
I know I'm nothing without You and need Your divine help for my family (Psalm 16:2).
In these challenging times, I seek eternal peace for my family as we navigate life's storms. You know our deepest desires and concerns, even before we ask (Matthew 6:8).
You are our refuge and strength (Psalm 46:1), and we desire the peace of Christ in our hearts (Colossians 3:15).
I understand, dear Lord, that You won't hear my prayers if I hold on to sin (Psalm 66:18). Humbly, I ask for Your forgiveness and for Your grace to cleanse me.
As John wrote, You are faithful and just to forgive and purify us (1 John 1:9).
Heavenly Father, I admit my wrongdoings and ask for Your mercy and grace. Fill my family with Your unending peace, so we can endure all trials (Philippians 4:7). Jesus said, "Take heart! I have overcome the world" (John 16:33).
You, Lord, know our family struggles and issues. I pray for Your peace to heal our hearts and calm our spirits. We trust in You to restore harmony in our family (Psalm 55:22).
Grant us strength and wisdom to navigate our family's challenges (Isaiah 40:31, James 1:5). You give wisdom and understanding, Lord (Proverbs 2:6). Teach us truth and guide us through these difficult times (Psalm 119:105).
You assure us, "Peace I leave with you; my peace I give you" (John 14:27). We hold steadfast to Your promise, receiving Your boundless peace, joy, and happiness. Thank You for hearing and answering my prayers. Amen.
We're grateful for Your unfailing love and faithfulness (Psalm 89:1). Help us to be a family grounded in Your word, following Your teachings (Joshua 24:15).
May we be united in love, living out the command to love one another deeply (1 Peter 1:22).
Guide us to honor You in all we do, reflecting Your love and grace. Jesus told us that others will know us by our love for one another (John 13:35).
Empower us to be a beacon of hope, sharing Your message of peace with a world in need.
As we journey together, may our family find hope and assurance in Your promises. Nothing can separate us from Your love in Christ Jesus our Lord (Romans 8:38-39).
Thank You, Heavenly Father, for Your constant presence and love. We are grateful for the peace and unity You provide.
May we always remain faithful, trusting in Your perfect plan for our lives. To You be all glory, honor, and praise, forever. Amen.
A heart to forgive and unite.
Forgiveness is key to creating peace in our homes. It helps us build a loving environment, strengthening family bonds and personal growth.
Colossians 3:13 reminds us to forgive others as the Lord forgave us, reflecting God's grace and mercy.
By seeking the Holy Spirit's guidance, we learn to release grudges and heal from past hurts. The Spirit teaches us mercy and compassion.
Similarly, Ephesians 4:31-32 encourages us to be kind, compassionate, and forgiving like Christ.
Every day, God offers us a fresh start to repent for our sins. His boundless love and patience allow us time to make amends.
Lamentations 3:22-23 illustrates God's steadfast love, with compassions that never fail and are renewed each morning.
When we choose to repent, God eagerly welcomes us back. He forgives us, setting a powerful example for our own lives. 1 John 1:9 reassures us that God will purify us from all unrighteousness if we confess our sins.
We must also pray for a forgiving heart. We can ask God to fill our family with His love, ensuring we're always ready to forgive.
A forgiving spirit creates a harmonious atmosphere, as Jesus taught us in Matthew 5:44 to love our enemies and pray for our persecutors.
Scripture emphasizes forgiveness as crucial for spiritual growth and our relationship with God.
Matthew 6:14-15 states that our heavenly Father forgives us when we forgive others, highlighting the importance of practicing forgiveness to find peace and strengthen our divine connection.
Let us pray for peace in our home.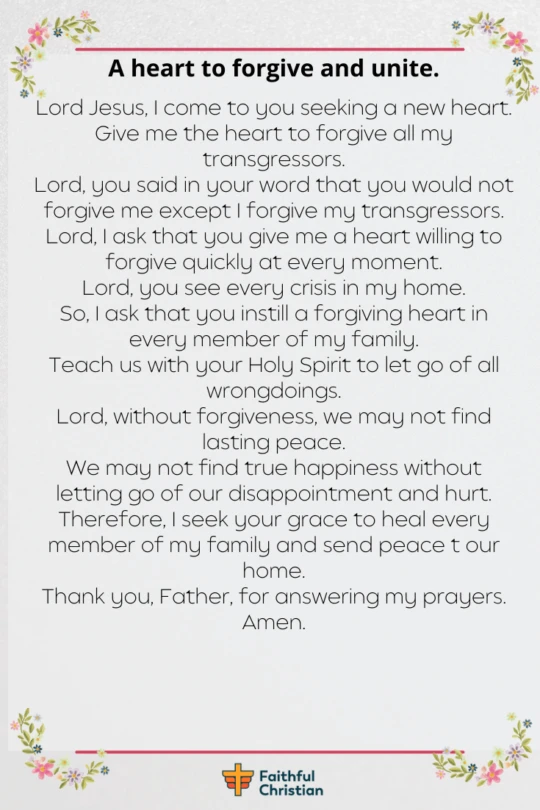 Dear Heavenly Father, I come before You, seeking Your help to bring peace to my family. With faith, I draw near to Your throne of grace. May we grow closer to You and find the harmony and unity You want for us.
Jesus, Prince of Peace, please fill my heart with love, compassion, and forgiveness. Create a clean heart in me, so I can love others as You love us. Let us follow Your command to love one another.
Father, Your Word teaches us to forgive those who hurt us. Help me to forgive quickly and unconditionally, just like the unforgiving servant's lesson in the Bible.
You know our family's struggles and conflicts. Please touch each family member's heart, inspiring us to forgive and reconcile. Let Your Holy Spirit guide us to release bitterness, resentment, and pain, leading to healing.
Help us remember Apostle Paul's words about being kind and forgiving. Teach us to embrace forgiveness, essential for lasting peace and harmony. Love keeps no record of wrongs and always perseveres.
True happiness comes when we let go of past disappointments and hurts. I ask for Your grace to heal our family, mend broken hearts, and restore calm to our home. You are close to the brokenhearted and save those crushed in spirit.
Thank You, Father, for Your love and faithfulness. I trust that You hear my prayer and will answer it. May Your peace guard our hearts and minds in Christ Jesus. As we journey together, guide us, and make our paths straight.
Move to the Lord's side.
In tough times, rely on God's wisdom for peace and harmony. Psalm 46:1 emphasizes that God is always available to support us.
Recognize that we don't have all the solutions, but prayer can guide us. Seek God's wisdom, and He will generously provide. James 1:5 inspires us to turn to God when we need clarity and guidance.
Keep Proverbs 3:5-6 in mind:
"Trust in the Lord with all your heart. Lean not on your own understanding; in all your ways submit to Him, and He will make your paths straight."
This scripture prompts us to depend on God rather than just ourselves. He is always ready to assist and bring tranquility to our families. Matthew 11:28 confirms that God offers solace and respite when we need it most.
Avoid relying solely on your own perspective. God's limitless knowledge exceeds our comprehension. Isaiah 55:8-9 illustrates the vast difference between our thoughts and God's wisdom.
By placing our trust in God, we welcome His healing touch. He can foster enduring peace in our lives.
Philippians 4:6-7 shows us that through faith and prayer, we can experience divine peace and garner the strength to tackle life's obstacles.
Let us pray for peace in your family.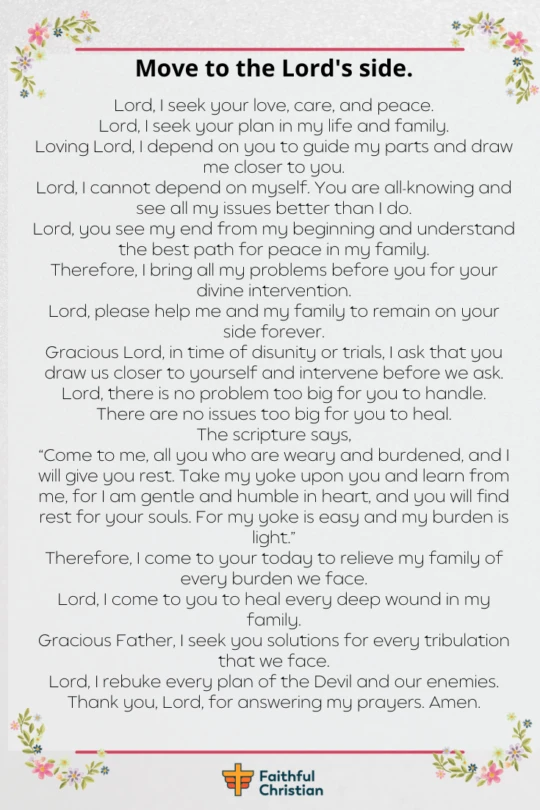 Dear Heavenly Father, we come to You seeking Your love, care, and peace for our family. Remind us that unity brings joy, as it says in Psalm 133:1. Help us experience that unity and harmony, trusting in Your love and grace.
We yearn to align our family with Your perfect plan, Lord. Your Word teaches us to trust You with all our heart (Proverbs 3:5-6). Guide our lives and family, and lead us on the right path.
In Your warm embrace, we find the guidance we need. You're our Good Shepherd, as Psalm 23:1-3 tells us. You provide for us and lead us in righteousness.
We know our strength is not enough. You understand our struggles better than we do. We cling to Your promise in 2 Corinthians 12:9, where Your power is made perfect in our weakness.
You know our life's journey and the best path for our family's peace. With Jeremiah 29:11 in mind, we trust Your divine plan and seek Your guidance in life.
We place our troubles before You, trusting in Your intervention. Philippians 4:6-7 reminds us not to be anxious. We turn to You, our refuge and strength, to bring peace to our family.
Help us, Lord, to stay close to Your love and grace. Jesus says in John 15:5 that we'll bear fruit when we remain in Him. May our family abide in You, filled with love, joy, and peace.
In tough times, draw us closer to Your presence. Psalm 46:1 tells us You're our ever-present help. We find comfort knowing You're always there to guide us.
We acknowledge that You can handle any problem. You can heal any wound, as Isaiah 53:5 reminds us. We trust Your power to mend our family's brokenness.
Your Word invites us to find rest in You (Matthew 11:28-30). Today, we seek relief from our burdens, casting our cares on You (1 Peter 5:7).
We ask for Your healing hand to mend our family's wounds. Psalm 147:3 says You heal the brokenhearted. We trust You to restore our family.
We request Your divine solutions for our challenges. Romans 8:28 reassures us that You work for our good. May Your providence guide us through every trial.
We stand against the Devil's schemes (Ephesians 6:11-12), trusting in Your protection and guidance to overcome any adversity.
We thank You, Lord, for Your love and for answering our prayers. Psalm 28:7 celebrates Your faithfulness. We're grateful for Your presence and the peace that surpasses understanding. Amen.
Peace is a great virtue of the Holy Spirit.
Have you ever basked in the warmth of happiness and tranquility? Recall instances where situations unfolded more smoothly than anticipated. It's crucial to acknowledge God's involvement during these moments.
Jeremiah 29:11 reflects His divine intentions: "For I know the plans I have for you… plans to give you hope and a future."
Our lives are graced with peace and protection through the Holy Spirit, as it safeguards us from the malevolent designs of evil forces.
Jesus imparts comforting words in John 14:26-27: "The Holy Spirit will teach you all things… Peace I leave with you; my peace I give you." He urges us to remain calm and fearless in the face of uncertainty.
Scripture emphasizes the Spirit's precious fruits, including love, joy, patience, kindness, and self-control (Galatians 5:22-23).
By inviting the Holy Spirit into our hearts, we cultivate these positive attributes, propelling us towards a richer and more harmonious existence.
Philippians 4:7 provides additional solace: "The peace of God… will guard your hearts and your minds in Christ Jesus."
Let us pray for peace to return to our family.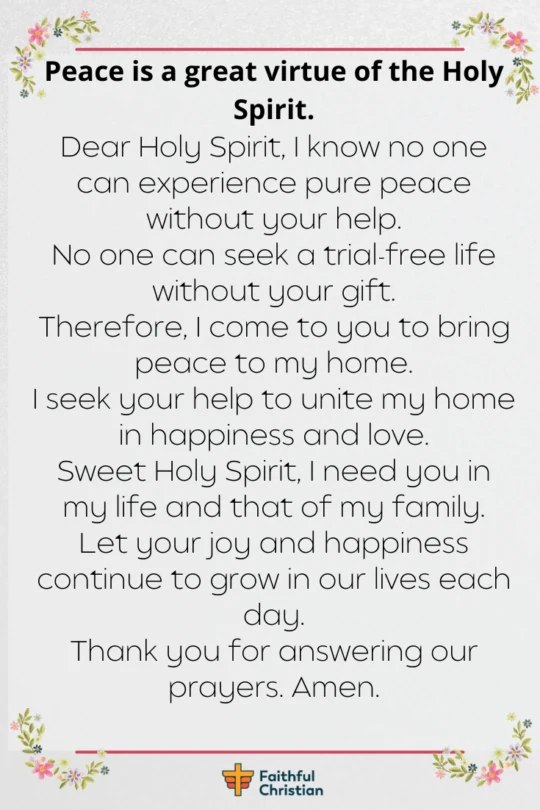 Dear Heavenly Father, today our family gathers with one goal: to find peace and harmony in our home. We know, Holy Spirit, that genuine peace comes only through Your divine guidance.
As John 14:27 says, "Peace I leave with you; my peace I give you. I do not give to you as the world gives. Do not let your hearts be troubled and do not be afraid." We hold onto these words in our hearts.
We realize a life without challenges is impossible. Yet, James 1:2-4 reminds us to find joy in these trials, as they help us grow and persevere.
So, we ask for Your wisdom to guide us through tough times, ultimately bringing us closer in love and happiness.
Kind Holy Spirit, we welcome You into our lives, hearts, and home. Fill every space with Your divine presence, fostering unity and understanding among us.
Colossians 3:14-15 encourages us to let the peace of Christ rule our hearts and to be thankful. May we embrace these words and grow in love and compassion.
We pray for Your joy and happiness to bloom within our family each day, allowing us to share Your love with others.
Psalm 34:14 tells us to "Turn from evil and do good; seek peace and pursue it." Help us actively seek peace and maintain harmony in our relationships.
Thank you, God, for hearing our prayers and for Your endless love and support. We trust You to care for our family, guiding and protecting us always. In Your holy name, we pray. Amen.
Frequently Asked Questions
How do you pray for family problems?
When praying for family issues, start by acknowledging God's presence and seeking His guidance. Share your worries and have faith in His ability to comfort and resolve.
Request wisdom and strength to face challenges and ask for healing and reconciliation among family members.
Forgive and seek forgiveness, as Matthew 6:14 says. Trust in God's divine plan and express gratitude for His love.
What is a short Prayer for family peace?
A brief prayer for family peace could be: "Lord, fill our family with Your divine peace. Help us love, understand, and support each other, drawing strength from Proverbs 3:5-6. Amen."
What is a powerful Prayer for peace and unity in the family?
A powerful prayer for family unity involves inviting the Holy Spirit into your lives, seeking guidance to resolve conflicts.
Ask for God's wisdom in fostering love and understanding, as Romans 12:10 says, "Be devoted to one another in love. Honor one another above yourselves." Pray for grace to heal rifts and the willingness to forgive.
What is the best Prayer for a family?
The best family prayer comes from the heart, recognizing God's love, protection, and guidance. Pray for your family's spiritual, emotional, and physical well-being, asking for God's blessings.
Philippians 4:6 reminds us, "Do not be anxious about anything, but in every situation, by prayer and petition, with thanksgiving, present your requests to God."
How do you pray for family harmony?
To pray for harmony, ask God to fill your home with love, grace, and understanding. Seek help in building unity and cooperation among family members.
Pray for the strength to face conflicts with patience and wisdom, keeping Colossians 3:13 in mind: "Bear with each other and forgive one another if any of you has a grievance against someone. Forgive as the Lord forgave you."
Author: Akatakpo Dunn
Dr. Akatakpo Dunn is a dedicated follower of Christ, an active member and speaker, and an ongoing learner of the Scriptures. Passionate about his faith and serving others, he is committed to sharing his spiritual journey and insights to inspire and uplift fellow believers. He has been active in the church for more than 23 years. Through The
Faithful Christian Blog
,
Dr. Dunn
combines his love for God, philanthropy, and Scripture, providing a valuable resource for those seeking to grow in their faith.
Follow me: on Youtube, Facebook, Twitter, Instagram, and Pinterest.
Content Disclosure:
At The Faithful Christian Blog, I create authentic and inspiring content. Although I am the main author, I occasionally use AI for minor language enhancements. This minimal AI usage ensures high-quality, trustworthy articles without compromising originality or sincerity, ultimately supporting our shared faith journey.
Warmly,
Dr. Akatakpo Dunn
Was this article helpful?