About three months ago, a lady had requested my support to start a small business.
She is married with two little kids.
Not too long ago, her husband was involved in an accident that fractured both of his legs.
And as a result, he couldn't meet up with his obligations of taking care of the family.
More so, he was yet to be taken to the hospital because of a lack of funds.
That Sunday, as she asked for my help, I was dumbfounded.
But sadly, though I wanted to help, I had my own financial issues.
I recently took a loan that required monthly deductions of about 70 percent from my salary.
As a result, I had very little cash on me. So, I asked for patience.
About two weeks later, after church service, my wife and I decided to surprise her.
We drove down to her apartment and gave her precisely the money she requested.
At that point, I realized firsthand the importance of helping others in need.
She was so emotional that she started crying.
She was filled with so much happiness and joy that she was lost in praises.
Helping the poor is a critical way of fulfilling the bible commands.
God has asked us to love others and help them without recognition.
Most importantly, we must care for others without bragging.
That way, when we assist those in need in secret, God has promised to bless us in the open.
I have compiled Bible verses about helping others in need to inspire you.
---
Recommended for you
---
Bible verses about helping others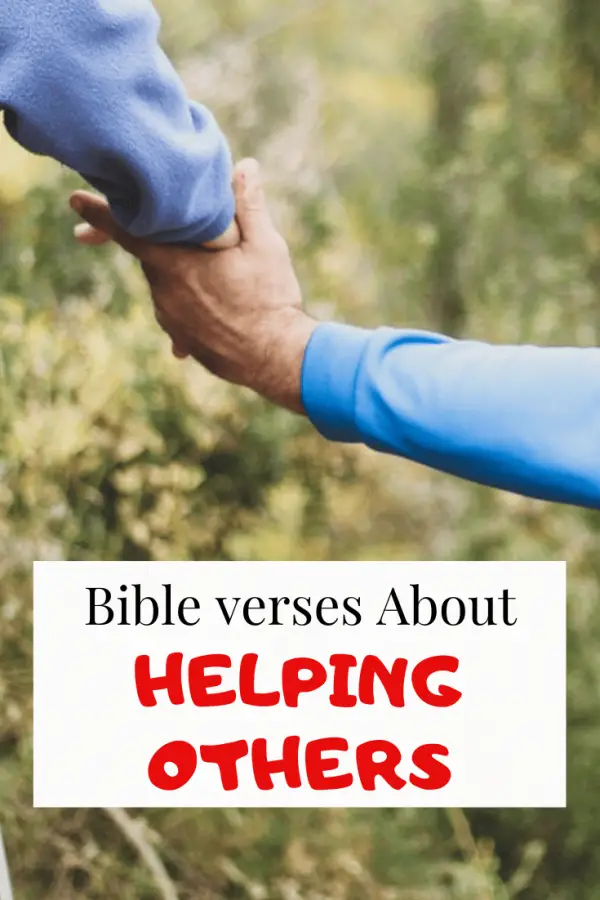 Hebrews 13:16
And do not forget to do good and to share with others, for with such sacrifices God is pleased.
Romans 12:13
Share with the Lord's people who are in need. Practice hospitality.
Hebrews 6:10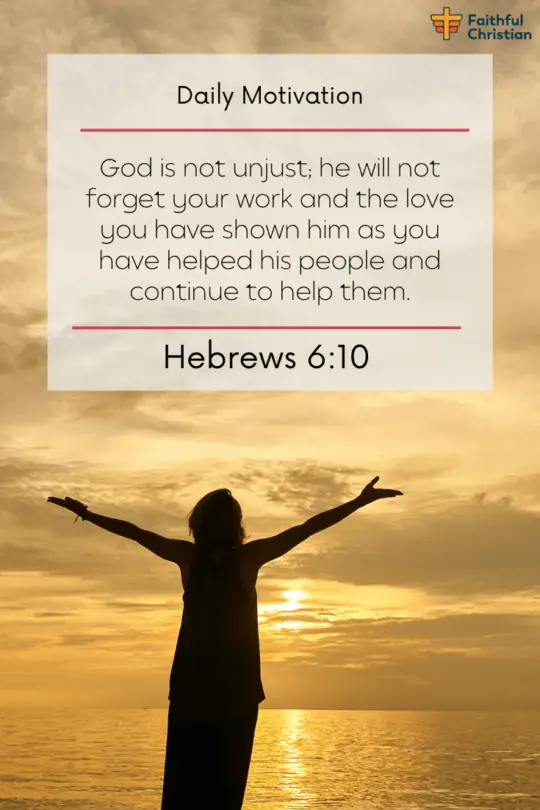 God is not unjust; he will not forget your work and the love you have shown him as you have helped his people and continue to help them.
2 Thessalonians 3:13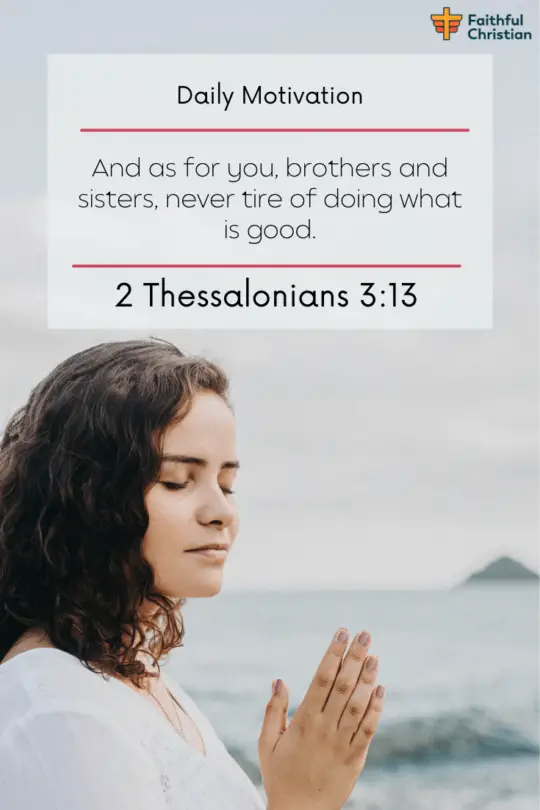 And as for you, brothers and sisters, never tire of doing what is good.
Galatians 6:10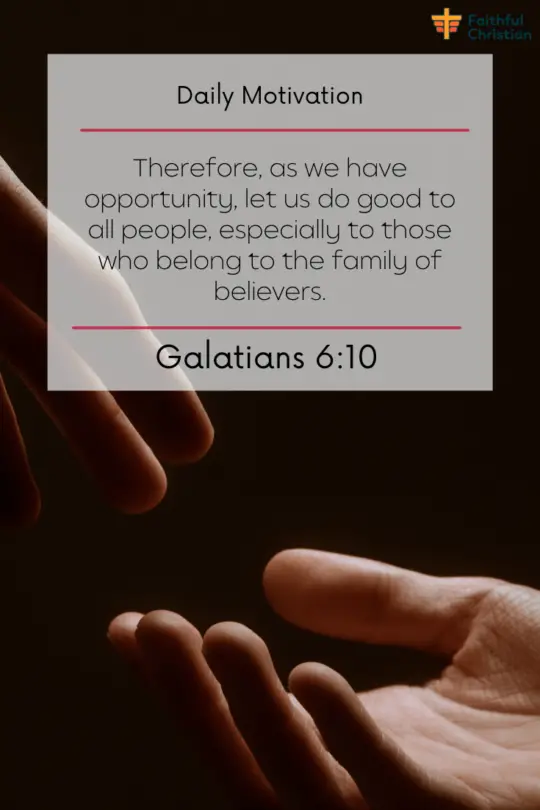 Therefore, as we have opportunity, let us do good to all people, especially to those who belong to the family of believers.
Philippians 4:18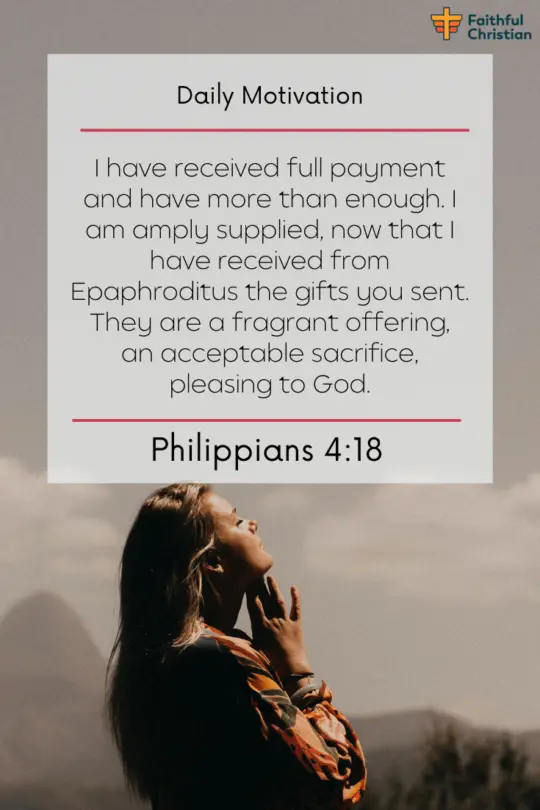 I have received full payment and have more than enough. I am amply supplied, now that I have received from Epaphroditus the gifts you sent. They are a fragrant offering, an acceptable sacrifice, pleasing to God.
Hebrews 13:1-2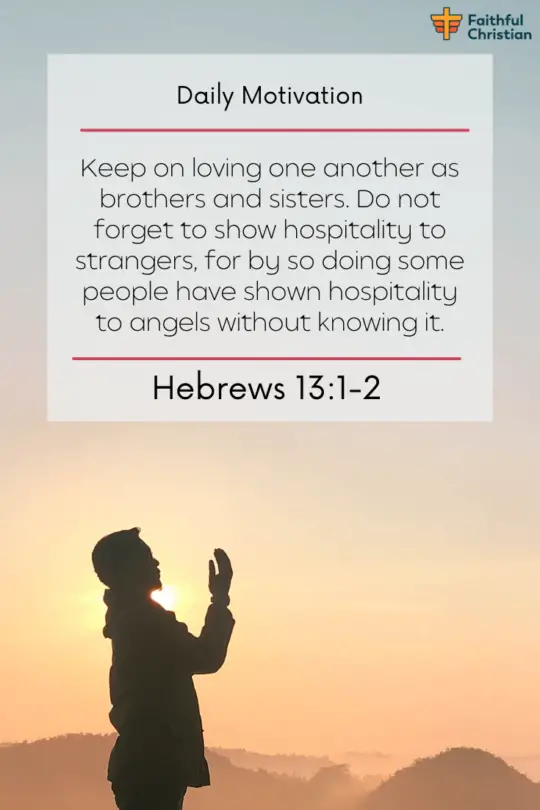 Keep on loving one another as brothers and sisters. 2 Do not forget to show hospitality to strangers, for by so doing some people have shown hospitality to angels without knowing it.
1 Timothy 6:18
Command them to do good, to be rich in good deeds, and to be generous and willing to share.
Ephesians 4:28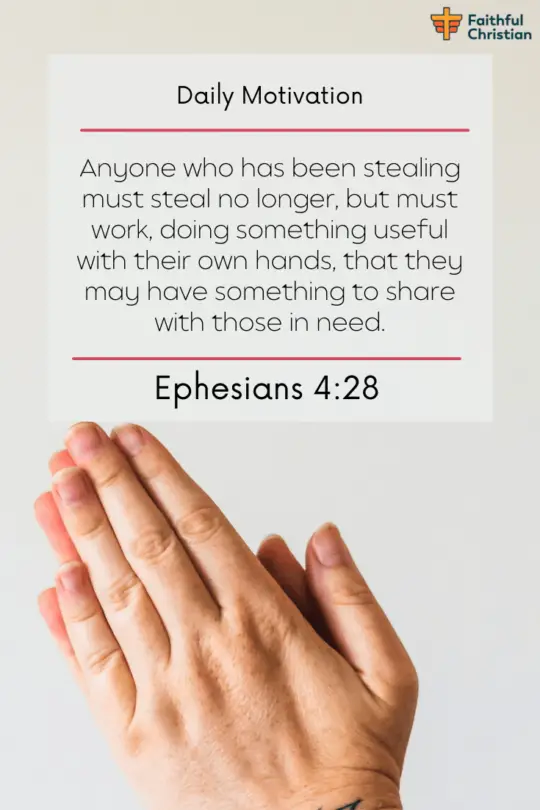 Anyone who has been stealing must steal no longer, but must work, doing something useful with their own hands, that they may have something to share with those in need.
Philemon 1:6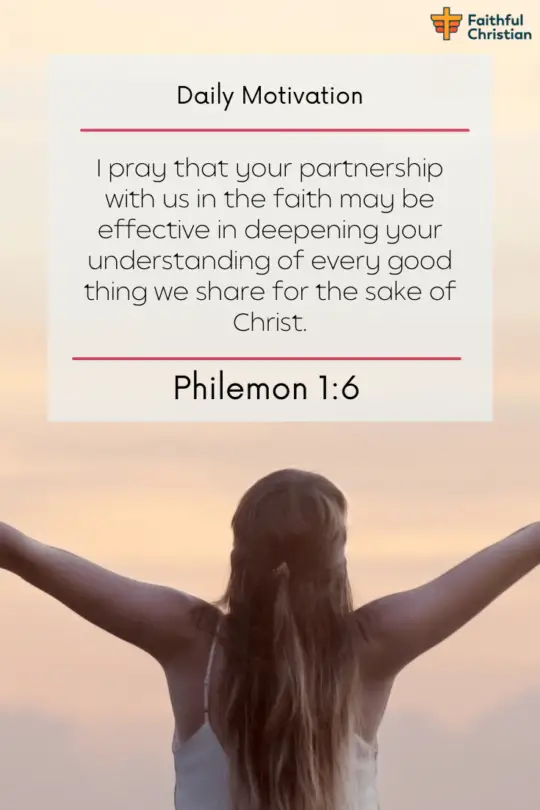 I pray that your partnership with us in the faith may be effective in deepening your understanding of every good thing we share for the sake of Christ.
1 Thessalonians 5:15
Make sure that nobody pays back wrong for wrong, but always strive to do what is good for each other and for everyone else.
Galatians 6:6
Nevertheless, the one who receives instruction in the word should share all good things with their instructor.
2 Corinthians 9:12
This service that you perform is not only supplying the needs of the Lord's people but is also overflowing in many expressions of thanks to God.
2 Corinthians 9:13
13 Because of the service by which you have proved yourselves, others will praise God for the obedience that accompanies your confession of the gospel of Christ, and for your generosity in sharing with them and with everyone else.
Acts 10:38
how God anointed Jesus of Nazareth with the Holy Spirit and power, and how he went around doing good and healing all who were under the power of the devil, because God was with him.
Luke 18:22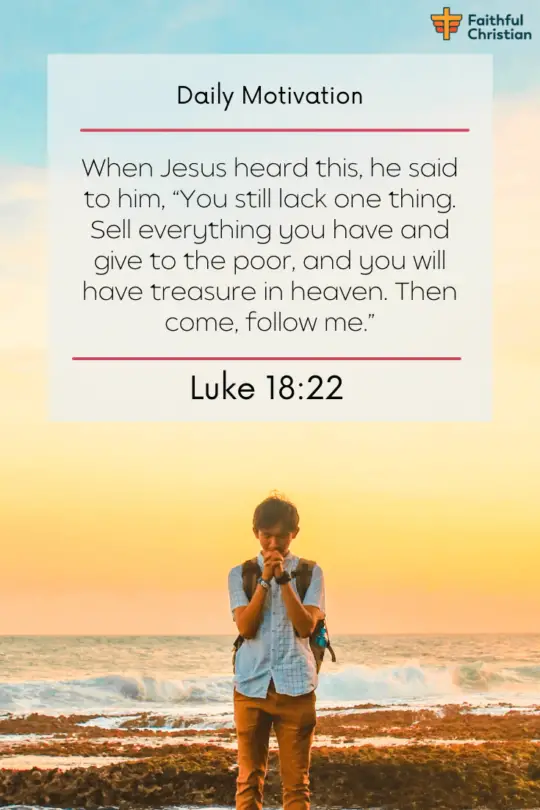 When Jesus heard this, he said to him, "You still lack one thing. Sell everything you have and give to the poor, and you will have treasure in heaven. Then come, follow me."
Psalm 37:3
Trust in the Lord and do good;
    dwell in the land and enjoy safe pasture.
Philippians 2:4
not looking to your own interests but each of you to the interests of the others.
1 Corinthians 10:24
No one should seek their own good, but the good of others.
Romans 15:1
We who are strong ought to bear with the failings of the weak and not to please ourselves.
James 2:8
If you really keep the royal law found in Scripture, "Love your neighbor as yourself,"[a] you are doing right.
1 Corinthians 10:32-33
Do not cause anyone to stumble, whether Jews, Greeks or the church of God— 33 even as I try to please everyone in every way. For I am not seeking my own good but the good of many, so that they may be saved
Romans 12:15
Rejoice with those who rejoice; mourn with those who mourn.
Luke 6:38
Give, and it will be given to you. A good measure, pressed down, shaken together and running over, will be poured into your lap. For with the measure you use, it will be measured to you."
Mark 4:24
"Consider carefully what you hear," he continued. "With the measure you use, it will be measured to you—and even more.
Matthew 7:2
For in the same way you judge others, you will be judged, and with the measure you use, it will be measured to you.
Proverbs 19:17
Whoever is kind to the poor lends to the Lord,
    and he will reward them for what they have done.
Proverbs 22:9
The generous will themselves be blessed,
    for they share their food with the poor.
Luke 6:30
Give to everyone who asks you, and if anyone takes what belongs to you, do not demand it back.
Matthew 10:42
And if anyone gives even a cup of cold water to one of these little ones who is my disciple, truly I tell you, that person will certainly not lose their reward."
Acts 20:35
 In everything I did, I showed you that by this kind of hard work we must help the weak, remembering the words the Lord Jesus himself said: 'It is more blessed to give than to receive.' "
Deuteronomy 15:11
There will always be poor people in the land. Therefore I command you to be openhanded toward your fellow Israelites who are poor and needy in your land.
---
Recommended for you
---
Help the poor; More words of encouragement
1.  It is a commandment, not an advice
Helping others is not a piece of advice; it is a commandment of God.
At all times, we must stick to the true gospel of God, which has its foundation built on love.
We are all recipients of love and must reciprocate this kind gesture to others in need.
Jesus, when speaking to his disciples, reminded them to love one another.
Yes, we must put ourselves in the shoes of others.
We must help the poor in the best possible way we can.
Ignoring or leaving them in their misery is ungodly and sinful.
Christ said,
"A new command I give you: Love one another. As I have loved you, so you must love one another

John 13:34.
2.  Be compassionate and never expect a reward
One outstanding quality of a faithful Christian is unconditional love.
When love engulfs your life, you instantly become compassionate, showing empathy to the poor.
Love opens our minds to understand the pains of others and help them.
Love also inspires us to do good to the indigent, even in our scarcities.
You mustn't be rich to help.
Help can be in diverse forms. For example, it could be financial assistance or encouraging them with the word of God.
3.  Help in secret, and God will bless you openly
Have you ever seen those giveaways in the public domain? Where people try to help others openly for the sake of the public eye.
God frowns at such and requests that we help others with dignity.
We must help those in need secretly and without bragging.
Most times, I find this extremely difficult to do, especially in a public spot.
But, I allow myself to be led by my conscience because It is even more sinful not to help at all than to help in the public domain.
If you must help, always try to be discreet as possible, knowing full well that God is watching.
Bible verse about helping others in secret
Be careful not to practice your righteousness in front of others to be seen by them. If you do, you will have no reward from your Father in heaven.

2 "So when you give to the needy, do not announce it with trumpets, as the hypocrites do in the synagogues and on the streets, to be honored by others. Truly I tell you, they have received their reward in full.

3 But when you give to the needy, do not let your left hand know what your right hand is doing, 4 so that your giving may be in secret. Then your Father, who sees what is done in secret, will reward you
May God bless you with riches and wisdom to support those in need around you. Amen.
Author: Akatakpo Dunn
Dunn is a firm believer and a teacher of God's word. Suffering for Jesus is an attribute of a faithful Christian, and I hope to win new souls to Christ with every chance that I get. Articles are well-researched and backed by the scriptures.
Follow me: on Youtube, Facebook, Twitter, Instagram, and Pinterest.