About three months ago, a lady had requested my support to start a small business.
She is married with two little kids.
Not too long ago, her husband was involved in an accident that fractured both of his legs.
And as a result, he couldn't meet up with his obligations of taking care of the family.
More so, he was yet to be taken to the hospital because of a lack of funds.
That Sunday, as she asked for my help, I was dumbfounded.
But sadly, though I wanted to help, I had my own financial issues.
I recently took a loan that required monthly deductions of about 70 percent from my salary.
As a result, I had very little cash on me. So, I asked for patience.
About two weeks later, after church service, my wife and I decided to surprise her.
We drove down to her apartment and gave her precisely the money she requested.
At that point, I realized firsthand the importance of helping others in need.
She was so emotional that she started crying.
She was filled with so much happiness and joy that she was lost in praises.
Helping the poor is a critical way of fulfilling the bible commands.
God has asked us to love others and help them without recognition.
Most importantly, we must care for others without bragging.
That way, when we assist those in need in secret, God has promised to bless us in the open.
I have compiled Bible verses about helping others in need to inspire you.
---
Recommended for you
---
Bible verses about helping others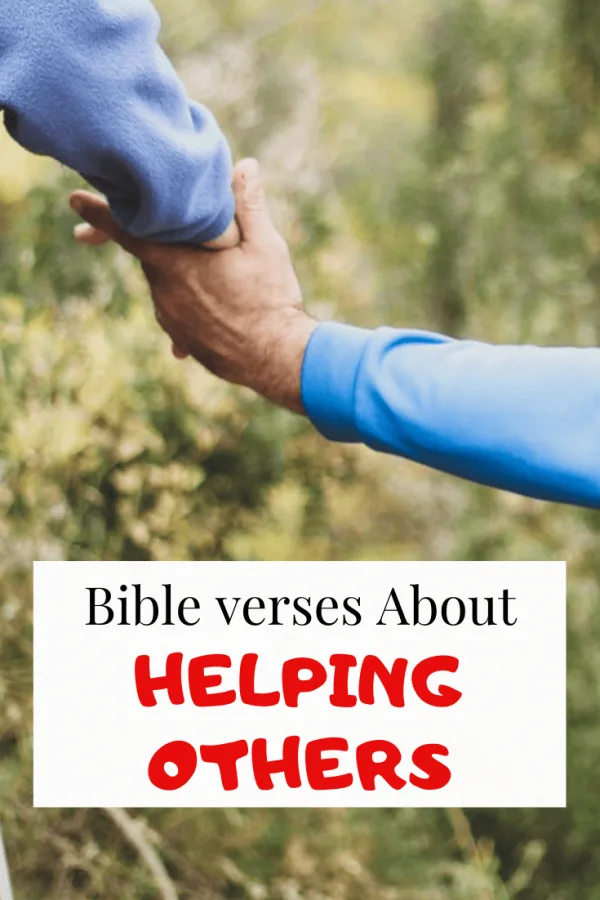 Hebrews 13:16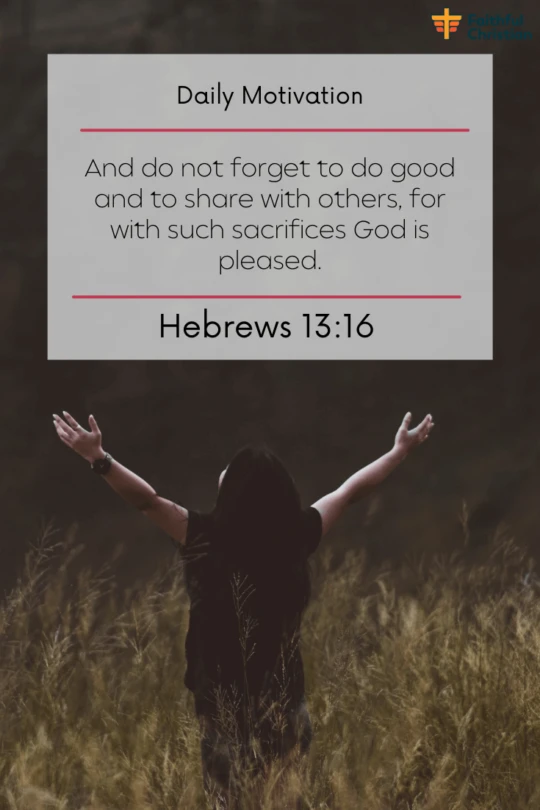 And do not forget to do good and to share with others, for with such sacrifices God is pleased.
Biblical teachings emphasize the virtue of aiding others in need. The essence of this principle is encapsulated in Hebrews 13:16, "And do not forget to do good and to share with others, for with such sacrifices God is pleased."
It's a powerful message that implores us to engage in acts of kindness and generosity.
This divine mandate intertwines faith and actions, a link evident in James 2:14-17. Here, the apostle James contests the notion of a dormant faith, one devoid of good deeds.
He asserts that faith must energize our actions, compelling us to serve. It's a symbiotic relationship – faith kindles deeds; deeds validate faith.
The parable of the Good Samaritan (Luke 10:25-37) is a vivid portrayal of faith in action. A man, robbed and beaten, is bypassed by a priest and a Levite.
A Samaritan, however, assists him out of compassion. This Samaritan embodies Christian love, illustrating faith's capability to surmount societal barriers and extend help.
In Matthew 25:35-40, Jesus reframes our perception of service. He declares that providing for the needy equates to serving Him directly.
It's an enlightening perspective, prompting us to recognize Christ's image in those we assist. It presents service as an avenue to commune with our Lord.
Furthermore, our acts of kindness don't go unnoticed. Hebrews 13:16 asserts that God finds pleasure in such sacrifices. This mirrors Paul's assertions about a "crown of righteousness," assuring us that God acknowledges and rewards our service (2 Timothy 4:8).
Let's consider Mother Teresa, a shining example of a life dedicated to service. Guided by her unwavering faith, she labored tirelessly among the destitute and sick in India, seeing in them the face of Christ.
Her remarkable journey resonates with us today, inspiring a multitude of hearts to help those in need.
In summary, our faith compels us to aid those in need. This principle is central to Christianity, reflecting divine love. When we act on it, we become more Christ-like, enriching our spiritual connection with God.
So, let's heed this call, allowing our actions to illuminate the path for others.
Romans 12:13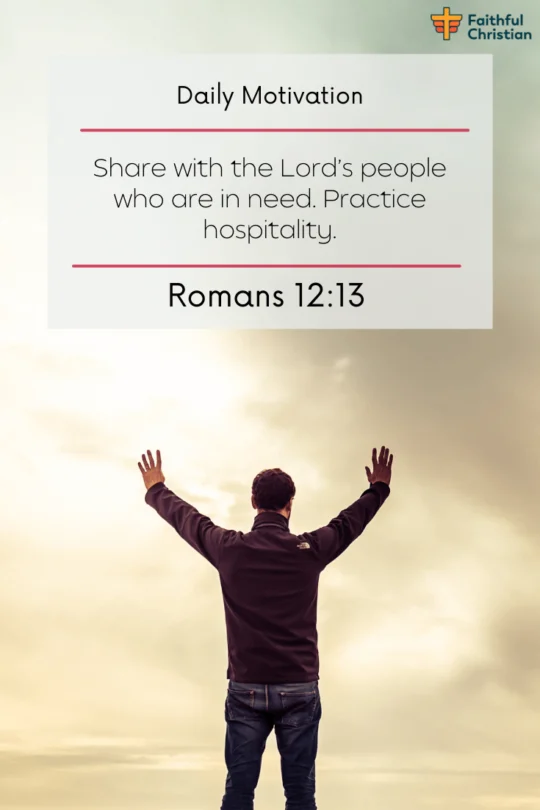 Share with the Lord's people who are in need. Practice hospitality.
The essence of Christianity centers around love and service. Romans 12:13 exemplifies this by advocating for hospitality. This verse asks Christians to extend kindness, particularly to the needy within the community.
Why does hospitality hold such importance in Christian faith? Luke 14:13-14 gives us an understanding.
In these verses, Jesus urges his followers to show kindness to those unable to reciprocate. This act mirrors Christ's love and provides a tangible demonstration of the gospel's transformative power.
However, the practice of hospitality goes beyond mere giving. As 1 Peter 4:9 indicates, the attitude accompanying the act is equally crucial. Christians are called to serve joyfully, without reluctance or resentment. Thus, the role of attitude is pivotal in Christian discipleship.
Biblical narratives provide excellent examples of these principles. Take Lydia from Acts 16:14-15. Her story emphasizes Christian hospitality. After her baptism, she offered her home to Paul and his companions, showcasing her deep faith and understanding of God's service.
Historical figures, such as Oskar Schindler, also serve as powerful examples. During WWII, Schindler employed and protected over a thousand Jews, thereby saving them from the Holocaust.
His selfless actions resonate with the Christian principle of hospitality and depict how compassion can make a significant difference.
Christian hospitality is more than merely opening our homes; it's about opening our hearts to those in need. It involves seeing them as part of our spiritual family. I believe that to practice this form of hospitality brings us closer to embodying Christ's love.
To sum up, hospitality in Christianity isn't just about sharing resources, but about doing so with an open, joyful heart. It's about demonstrating Christ's love in action, reflecting the transformative power of the gospel. Each act of hospitality brings us closer to living like Christ.
As such, we must embrace this calling, transforming our faith into tangible love. In essence, that's what being a Christian truly entails.
Hebrews 6:10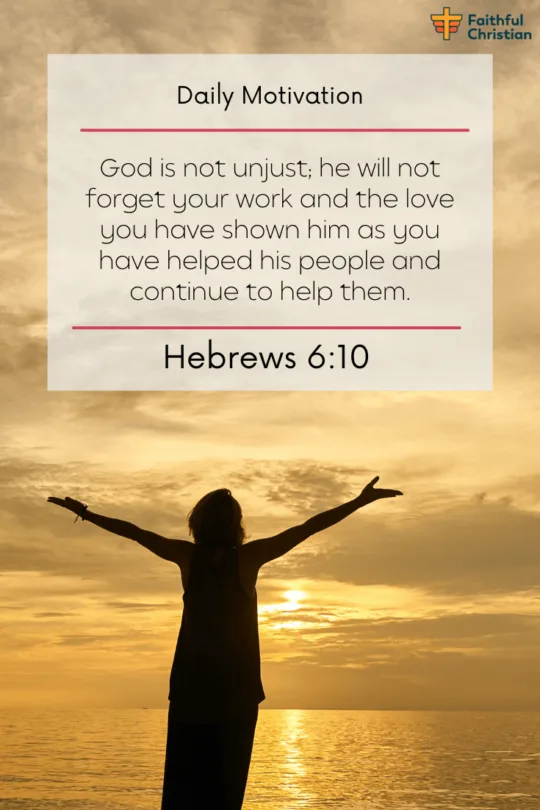 God is not unjust; he will not forget your work and the love you have shown him as you have helped his people and continue to help them.
Understanding Hebrews 6:10 requires delving into the heart of Christianity – service to others. This verse states, "God is not unjust; He will not forget your work and the love you have shown Him as you have helped His people and continue to help them."
The value God places on kindness and love towards His people is evident here.
When you serve others, you're demonstrating your love for God. He sees your actions. More than that, He cherishes them. This love is an unseen link, connecting us to the divine.
God promises a reward for every act of kindness. Echoing Matthew 10:42, even the smallest act, like offering a cup of water, is recognized. No act is wasted in His eyes.
Finding encouragement in service is crucial. 1 Corinthians 15:58 urges us to remain steadfast. It assures us that our work for the Lord is never futile. God recognizes each act of service, each effort made to aid others.
We see service and charity exemplified in the biblical figure, Tabitha. As outlined in Acts 9:36-42, she was renowned for her acts of charity. Her actions made an impact, influencing those around her.
Her story reminds us that service extends beyond the act itself. It resonates with others, inspiring acts of kindness.
In our contemporary world, Andrew Carnegie serves as a paragon of service. His wealth is famous, but his philanthropy is legendary. His foundations – libraries, schools, universities – stand as testaments to his belief in service. Like Tabitha, his story continues to inspire.
Finally, let's focus on the theme of divine reward. It might not be material or immediate, but God remembers our acts of love. The knowledge that our actions resonate in eternity surpasses any earthly reward.
In the grand scheme of life, each act of service is a thread in a magnificent tapestry. Let's create a legacy of service, touching lives and connecting to the divine through acts of kindness and love.
Let's make our mark by expressing love for God through service.
2 Thessalonians 3:13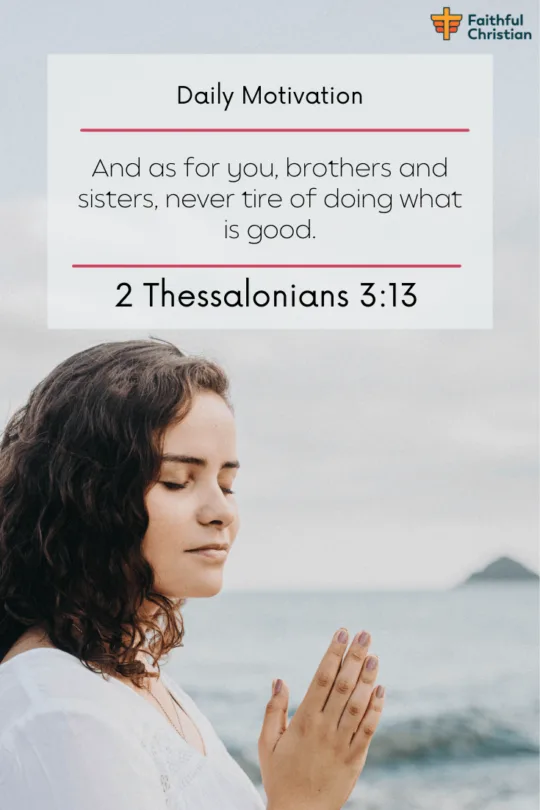 And as for you, brothers and sisters, never tire of doing what is good.
Consider 2 Thessalonians 3:13. The message is clear: "Brothers and sisters, never tire of doing what is good." It underpins Christian teachings, especially on aiding others. The verse suggests we should persist in good deeds.
Galatians 6:9 bolsters this point. It reads, "Let us not become weary in doing good, for at the proper time, we will reap a harvest if we do not give up."
It urges patience, likening good deeds to sowing seeds. These seeds take time to grow, but they ultimately yield a rich harvest of kindness and respect.
1 Corinthians 15:58 echoes this sentiment. "Stand firm. Let nothing move you. Always give yourselves fully to the work of the Lord, because you know that your labor in the Lord is not in vain." It calls for unwavering dedication to helping others, assuring us that our efforts are never futile.
These verses come to life through the story of Barnabas. As seen in Acts 4:36-37, Barnabas sells a field and gives the proceeds to the apostles.
His act serves as a practical demonstration of these verses. It is a testament to the transformative power of persistent kindness.
A historical example is Thomas Barnardo, a 19th-century philanthropist. Despite numerous challenges, Barnardo opened homes for homeless children in the UK. His relentless effort reflects the essence of these verses.
Doing good has a profound impact on our communities. It creates a ripple effect, inspiring others to act similarly. It fosters unity and mutual support, creating a chain of goodwill extending far beyond our immediate reach.
In conclusion, 2 Thessalonians 3:13, along with Galatians 6:9 and 1 Corinthians 15:58, encourages us to persist in doing good. The actions of Barnabas and Thomas Barnardo illustrate the transformative power of this persistence. Our labor is not in vain.
Let's remember, as we start each day, that our kind acts can sow the seeds of a compassionate, unified community.
Galatians 6:10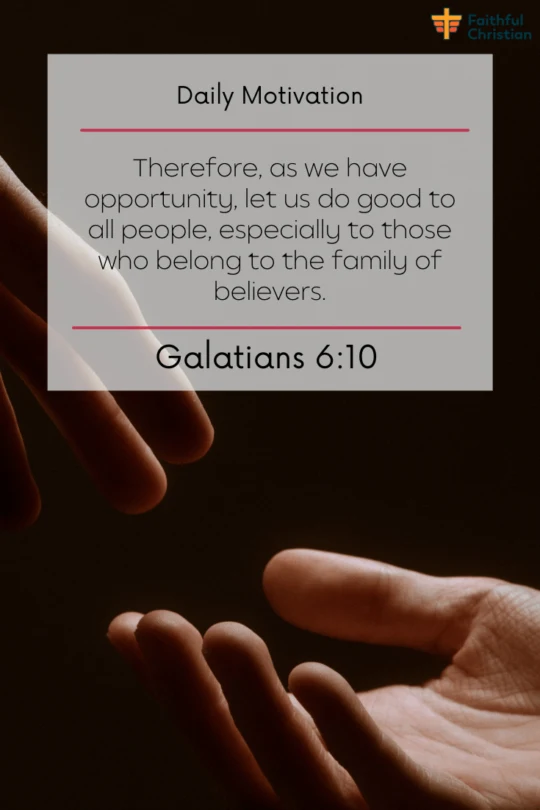 Therefore, as we have opportunity, let us do good to all people, especially to those who belong to the family of believers.
Navigating our complex world, it's easy to feel overwhelmed by the myriad of needs around us. So, how can we effect change? A guiding principle is tucked away in Galatians 6:10.
It reminds us of our Christian duty: "As we have opportunity, let us do good to everyone, and especially to those who are of the household of faith."
This charge, bestowing on us a moral responsibility, insists we seize every chance to extend kindness. The Acts 2:44-45 narrative is a vivid illustration of this ethos.
Early Christians, motivated by a deep love for their community, sold belongings, sharing the proceeds with those in need.
This instruction resonates with Proverbs 3:27: "Do not withhold good from those to whom it is due, when it is in your power to do it." Every action we undertake can make an impact. It's akin to sowing seeds of kindness, bearing fruit in due time.
Our mission aligns with Jesus' teachings in Luke 6:35: "Love your enemies, do good, and lend, expecting nothing in return, and your reward will be great." It underlines universal love, generous and unexpecting.
Reflecting this principle in today's world, we find Bill and Melinda Gates. Their foundation exemplifies the spirit of the early Christian community, demonstrating the transformative power of love and generosity on a global scale. Their efforts focus on the marginalized and underprivileged, fostering unity and love.
These actions bolster the bond within the Christian community and beyond. We become vessels of His divine grace, easing others' burdens and reinforcing our shared humanity. This call to do good is not just a duty; it's an honor. It allows us to carry the love of Christ into the world around us.
So, whenever doubt sets in about the impact you can make, remember Galatians 6:10.
Every act of kindness contributes to a more compassionate world. It's a call to do good, a call to bring light into the world, one act at a time.
Philippians 4:18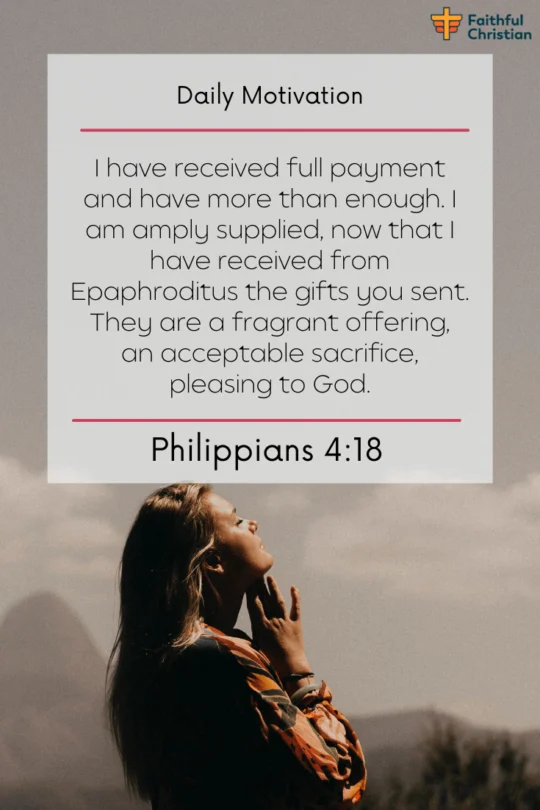 I have received full payment and have more than enough. I am amply supplied, now that I have received from Epaphroditus the gifts you sent. They are a fragrant offering, an acceptable sacrifice, pleasing to God.
The Christian faith holds giving and receiving in high esteem, as showcased in Philippians 4:18. But what does the act of giving truly entail? And what is the return on this noble investment?
One key aspect is discreet charity, a secret act involving the giver, the receiver, and God. It's a heartfelt exchange, defined in Matthew 6:3-4 as a private transaction, shielded from public scrutiny.
This secrecy enhances the value and intimacy of the gift, creating a direct connection between the involved parties.
Luke 6:38 introduces the concept of reciprocity in giving, highlighting the dynamic cycle that it sets into motion. As we extend our hand to give, we simultaneously open the way for abundant blessings. This continuous cycle echoes the spiritual law of "reaping what we sow."
Our offerings, when given out of genuine love and empathy, become "fragrant offerings," an expression used in Philippians 4:18.
This phrase metaphorically captures the pleasing essence of our gifts in God's perspective. It's not the material value of the gift that counts but the heart behind the act.
This principle of heartfelt giving resonates deeply in 2 Corinthians 8:1-5. The Macedonian churches, amidst their poverty, overflowed with rich generosity, illustrating that true wealth lies in our capacity to share and love.
In the modern era, Warren Buffett's pledge to donate 99% of his wealth reflects this biblical principle of generosity. His actions mirror Philippians 4:18, demonstrating the potential impact of wealth when used as a tool for change.
In essence, giving is not about the depletion of resources, but the enrichment of lives. It's an intimate act of love, faith, and sacrifice that pleases God and sparks a cycle of blessings.
The art of giving is as much about the heart as it is about the hand. When we give, we don't lose; we gain, initiating a divine cycle of blessings that ultimately enriches us in return.
Thus, let's embrace the culture of giving, spreading love and blessings wherever we go.
Hebrews 13:1-2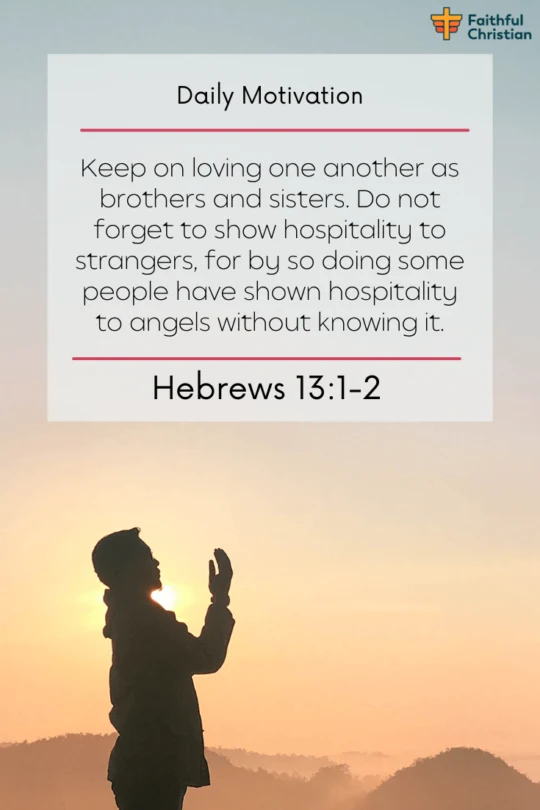 Keep on loving one another as brothers and sisters. 2 Do not forget to show hospitality to strangers, for by so doing some people have shown hospitality to angels without knowing it.
A primary pillar of Christianity is serving those in need. The essence of this principle is beautifully encapsulated in Hebrews 13:1-2. It encourages us to show continuous mutual love.
Further, it calls us to show hospitality to strangers, akin to entertaining divine beings unknowingly.
Hospitality, as per these verses, is a keystone of brotherhood and unity. It stands as a beacon of unconditional love and acceptance, urging us to extend kindness to the unknown. It subtly reminds us that any stranger could be an angel in disguise.
Matthew 25:35 reiterates the virtue of hospitality, stating its spiritual value. Welcoming a stranger, it suggests, is akin to serving Jesus himself. Hospitality, then, transcends being a mere act of kindness, becoming a spiritual service.
The Old Testament presents the story of Abraham in Genesis 18:1-5. Unbeknownst to him, three strangers he hospitably welcomes are divine visitors. His spontaneous act of kindness manifests as an unforeseen divine encounter, emphasizing hospitality's potential.
In the context of Christian teachings, hospitality is an act of love and compassion. It reflects Jesus's open-armed acceptance and love. Hospitality, therefore, isn't optional; it's fundamental to the Christian way of life.
Remember the Sanctuary Movement of the 1980s? Churches and synagogues across the U.S. provided refuge to Central American refugees fleeing civil unrest. These faith groups embraced biblical hospitality, seeing it as an inherent expression of their beliefs, despite the associated risks.
Hospitality also plays a broader role. It aids community building by fostering acceptance and unity. It creates a nurturing environment, reflecting the communal harmony the Bible encourages.
So, let's heed the message of Hebrews 13:1-2. Let's exemplify love and hospitality. As we welcome strangers, we may be unknowingly entertaining angels, and most importantly, serving the divine.
1 Timothy 6:18
Command them to do good, to be rich in good deeds, and to be generous and willing to share.
The edict in 1 Timothy 6:18 resonates profoundly. It urges those blessed with affluence to be liberal, sharing willingly. This isn't a faint-hearted proposal; it's a dynamic invitation to meaningful action. By acting on it, we foster tangible change for those less fortunate.
Reflect on Proverbs 19:17. When we assist the poor, it's akin to lending to the Lord. A fascinating concept. This "divine investment" ensures a guaranteed return. It's more than just a good deed; it's an act with an eternal promise.
Our world often touts wealth accumulation as the ultimate success. Luke 12:33-34, however, provides a counterpoint, advising us to invest in eternal treasures.
This isn't negating earthly responsibilities, but encouraging a shift in focus. It's about aligning our heart with the eternal, not the temporary.
There's a remarkable story of Zacchaeus in the Bible, a wealthy tax collector who, after meeting Jesus, pledged half of his possessions to the poor. He also vowed to repay fourfold anyone he had cheated—a dramatic transformation sparked by an encounter with Christ's love.
Zacchaeus understood that with wealth comes responsibility, and he used his resources to make amends and provide for the needy.
Chuck Feeney, the Duty-Free Shoppers billionaire, mirrors this ethos in modern times. He committed to give away his fortune within his lifetime. His impactful philanthropy funded global education, scientific research, and civil rights endeavors.
Like Zacchaeus, Feeney acknowledged the responsibility that wealth brings and acted to effect change.
In closing, our examination of 1 Timothy 6:18 and related scriptures invites reflection on our approach to wealth.
It's not about self-indulgence or merely providing for our needs. It's about responsible stewardship, readiness to share, and giving generously.
Through these actions, we lay a solid foundation for the future life. We should remember that acts of generosity enrich not just the lives of recipients, but ours as well.
Ephesians 4:28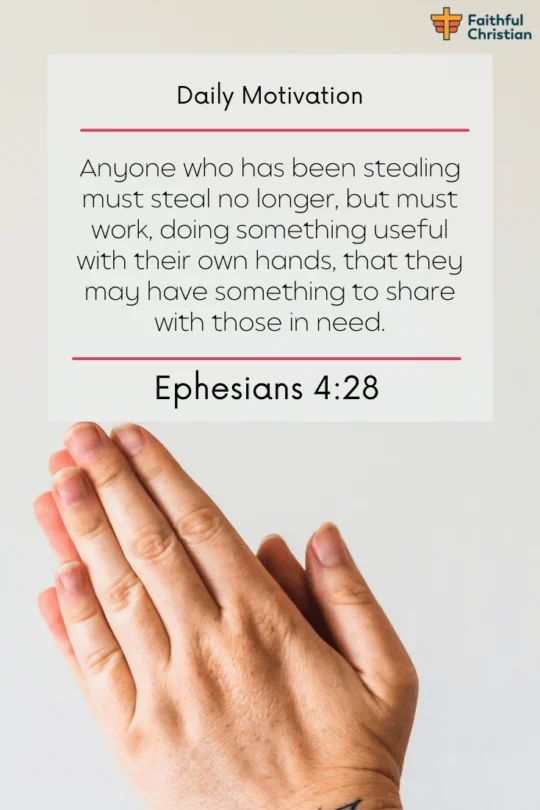 Anyone who has been stealing must steal no longer, but must work, doing something useful with their own hands, that they may have something to share with those in need.
Ephesians 4:28 holds deep truths about Christian transformation. First, it's a switch from taking to giving. Second, it pivots from idleness to hard, honest work. This transformation underpins the Christian life.
Let's delve into the journey from theft to generosity. Matthew, a biblical tax collector, lived this change (Luke 5:27-29).
Before Jesus's call, Matthew's life was marred by greed. Post-encounter, he held a grand feast, sharing his wealth, not for personal gain but to introduce others to Jesus.
A real-life example of this transformation is the remarkable story of John Newton. Once a ruthless slave trader, Newton had a profound spiritual awakening.
The man who once capitalized on the suffering of others became a passionate abolitionist. He penned the hymn "Amazing Grace," a testament to his transformed life. His example powerfully illustrates that change is possible, no matter our past.
Why does Ephesians 4:28 stress the need for honest work? Proverbs 14:21 provides insight. It says, "blessed is he who is generous to the poor." Productivity equips us with resources to help the needy, thereby receiving blessings.
Recall Acts 20:35, "It is more blessed to give than to receive." This truth adds depth to our perspective on labor. We're not working solely for personal gain. Instead, our efforts serve a higher purpose – extending God's love to those in need.
I see Ephesians 4:28 as a testament to the transformative power of the Christian faith. The metamorphosis I've witnessed in believers' lives confirms this – a shift from self-centered gain to selfless service.
This change isn't merely behavioral; it's a profound alteration of the heart. As Christians, we're called to embrace this transformation for the collective good. It's a call I urge us all to heed.
Philemon 1:6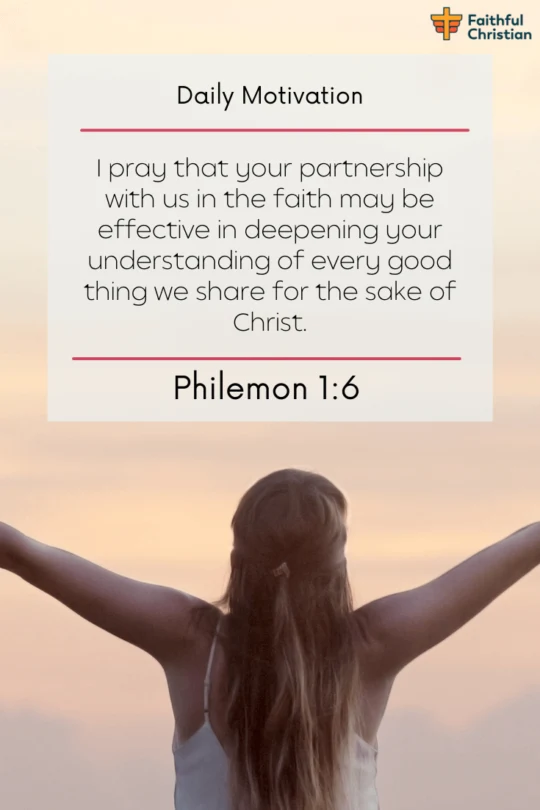 I pray that your partnership with us in the faith may be effective in deepening your understanding of every good thing we share for the sake of Christ.
Philemon 1:6 teaches the importance of sharing faith, enriching our understanding of Christ's goodness. It encourages us not to hide our faith, but to let it radiate, guiding others.
Matthew 5:16 encourages this radiance: "Let your light shine before others…" In essence, our faith, mirrored in our deeds, testifies to God's goodness. Our actions become a canvas showcasing the divine love of Christ.
How do we paint this canvas effectively? James 3:13 tells us. It implies that wisdom, reflected in good conduct, speaks volumes about one's faith. It states that as we grow in wisdom and understanding, acts of kindness become a natural byproduct.
A shining example of this connection between faith and kindness can be seen in Acts 8:26-40. Philip, led by the Spirit, encounters an Ethiopian eunuch struggling to understand a passage of scripture.
Philip shared the good news of Jesus with him, an act of kindness that led to the Ethiopian's conversion and baptism.
Philip's willingness to engage with the man's need for understanding transformed the man's life. The light of Philip's faith shone brightly, leading another soul to Christ.
Likewise, Martin Luther King Jr., driven by faith, advocated for civil rights. He embodied faith in action, helping others by fighting against racial inequality. King's life shows faith's power in aiding others.
Thus, shared faith can inspire acts of charity. Philip's and King's lives, deeply rooted in faith, demonstrate understanding of Christ's goodness. Every kind act was a testament to their profound faith.
I urge you, then, to ponder. How does your faith influence your actions? Are you letting it inspire kindness, especially to those in need? When we let our faith shine, we not only glorify God but create a ripple effect of kindness in our world.
In essence, our faith, like a beacon, guides and inspires. It promotes understanding, encourages charity, and brings us closer to the true essence of Christ's teachings.
Our shared faith is a beacon, a light that leads and inspires others, nurturing a world steeped in kindness.
More bible verses about helping the needy
---
Recommended for you
---
Help the poor; More words of encouragement
1.  It is a commandment, not an advice
Helping others is not a piece of advice; it is a commandment of God.
At all times, we must stick to the true gospel of God, which has its foundation built on love.
We are all recipients of love and must reciprocate this kind gesture to others in need.
Jesus, when speaking to his disciples, reminded them to love one another.
Yes, we must put ourselves in the shoes of others.
We must help the poor in the best possible way we can.
Ignoring or leaving them in their misery is ungodly and sinful.
Christ said,
"A new command I give you: Love one another. As I have loved you, so you must love one another

John 13:34.
2.  Be compassionate and never expect a reward
One outstanding quality of a faithful Christian is unconditional love.
When love engulfs your life, you instantly become compassionate, showing empathy to the poor.
Love opens our minds to understand the pains of others and help them.
Love also inspires us to do good to the indigent, even in our scarcities.
You mustn't be rich to help.
Help can be in diverse forms. For example, it could be financial assistance or encouraging them with the word of God.
3.  Help in secret, and God will bless you openly
Have you ever seen those giveaways in the public domain? Where people try to help others openly for the sake of the public eye.
God frowns at such and requests that we help others with dignity.
We must help those in need secretly and without bragging.
Most times, I find this extremely difficult to do, especially in a public spot.
But, I allow myself to be led by my conscience because It is even more sinful not to help at all than to help in the public domain.
If you must help, always try to be discreet as possible, knowing full well that God is watching.
May God bless you with riches and wisdom to support those in need around you. Amen.
Frequently Asked Questions
How can we help others in time of need?
The act of helping others in need encompasses several forms, including emotional, physical, and financial assistance. The biblical directive is clear: action trumps words.
In James 2:15-16, the scripture underscores the importance of meeting physical needs. It points out the hollow nature of well-wishes unaccompanied by deeds.
What does Jesus say about helping others?
Jesus' words in Matthew 25:35-40 delineate our role as caretakers of each other. Jesus explains that benevolence shown to the least among us equates to kindness to Him.
Thus, assisting others isn't just a societal responsibility; it's a divine command.
What are the best Bible verses about helping others?
A couple of powerful Bible verses emphasize the importance of aiding others. Proverbs 19:17 informs us that kindness to the poor is akin to lending to God, and He will reward this generosity.
Likewise, Hebrews 13:16 encourages us to share with others, noting that such sacrifices please God.
What does the Bible say about giving to others in need?
The act of giving, according to the Bible, extends beyond obedience to divine commands. As Jesus states in Acts 20:35, there's a unique blessing in giving.
In 2 Corinthians 9:7, Paul echoes this sentiment, emphasizing that God loves a cheerful giver. The message? Give freely, joyfully, and generously.
Is there a Bible verse about helping others without recognition?
The Bible urges us to give anonymously. Matthew 6:3-4 advises us to keep our charity secret, promising that God, who sees all, will reward us. The aim is not public recognition but sincere kindness.
What are some Bible verses about caring for others in need?
The verse 1 John 3:17-18 underscores the importance of tangible compassion. Seeing someone in need and not helping contradicts God's love. The verse challenges us to love in action and truth, not merely in speech.
Are there any Bible verses about giving to others?
Luke 6:38 beautifully illustrates the principle of reciprocity. The verse suggests that generous giving will result in abundant blessings, reflecting a divine assurance of reward for our kindness.
Can you provide some Bible verses about caring for the vulnerable?
Psalms 82:3-4 invites us to protect the weak and uphold the cause of the disadvantaged. The verses advocate for the defense and rescue of those who are vulnerable and oppressed, painting a picture of active compassion.
What are the benefits of helping others according to the Bible?
Acts 20:35 and Proverbs 11:25 both elucidate the intrinsic reward of helping others. The former suggests that giving brings more happiness than receiving, while the latter guarantees refreshment for those who refresh others.
What does the Bible say about helping others too much?
The Bible also encourages prudence while helping others. 2 Thessalonians 3:10 stipulates that if a person is unwilling to work, they should not eat.
The scripture emphasizes the balance between helpfulness and enabling laziness or dependency.
Are there any Bible verses about help from God?
The Bible reassures believers of God's help in times of trouble. Psalm 46:1 portrays God as a refuge and source of strength.
Likewise, Hebrews 4:16 invites us to approach God's throne of grace with confidence to receive mercy and find help in our time of need.
Is there a Bible verse about caring for others more than yourself?
Selflessness is at the heart of the biblical worldview. In Philippians 2:3-4, the scripture instructs us to esteem others more than ourselves. The verses promote a lifestyle of humility and selfless concern for the interests of others.
Author: Akatakpo Dunn
Dr. Akatakpo Dunn is a dedicated follower of Christ, an active member and speaker, and an ongoing learner of the Scriptures. Passionate about his faith and serving others, he is committed to sharing his spiritual journey and insights to inspire and uplift fellow believers. He has been active in the church for more than 23 years. Through The
Faithful Christian Blog
,
Dr. Dunn
combines his love for God, philanthropy, and Scripture, providing a valuable resource for those seeking to grow in their faith.
Follow me: on Youtube, Facebook, Twitter, Instagram, and Pinterest.
Content Disclosure:
At The Faithful Christian Blog, I create authentic and inspiring content. Although I am the main author, I occasionally use AI for minor language enhancements. This minimal AI usage ensures high-quality, trustworthy articles without compromising originality or sincerity, ultimately supporting our shared faith journey.
Warmly,
Dr. Akatakpo Dunn
Was this article helpful?