There is no need to panic.
And that's because your future husband is blessed.
God is preparing for you a perfect life partner.
So, today, we will pray for your husband wherever he is.
We will ask God to provide and prosper the works of his hands.
We will also ask for protection against evil forces.
Not just that, we will ask God to locate and bring him to you.
God knows your heart desires and the qualities you desire in a man.
Today, we will ask God to mold your husband according to your likeness.
I have put together this Prayer for your future husband to guide you.
---
Recommended for you
---
Short Prayer for my future husband (prayer points)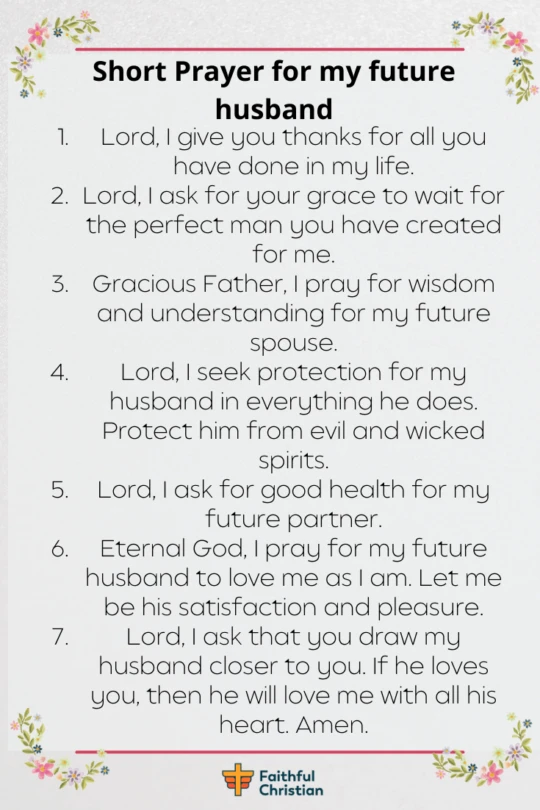 Almighty Father, my heart sings a melody of gratitude. Every sunrise, every sunset – your love surrounds me. You've crafted my story with such beautiful, unexpected twists, just like you do with the rivers and the winds. For this, I thank you.
Yet, today, I stand before you with an eager heart. I'm excited for what's to come. Like a child awaiting Christmas morning, I pray for the perfect life partner, handcrafted by you. Your timing, Lord, is never rushed or delayed, it's always perfect.
"Wait for the Lord; be strong and take heart and wait for the Lord" (Psalm 27:14). This verse, dear Father, is a reminder of your beautiful promises. It's a melody I hum as I wait with a heart filled with hope and eyes fixed on your divine timeline.
A prayer for my partner, my rock, my future husband. Endow him with wisdom, Lord. In Proverbs, it says, "For the Lord gives wisdom; from his mouth come knowledge and understanding" (Proverbs 2:6). I pray that these gifts become his guiding lights, helping him decipher right from wrong, even when the path gets a bit hazy.
Father, your protection is what I seek for him. A divine shield to fend off wicked spirits and bad influences, just like you did for Daniel in the lion's den. You're the ultimate protector, our refuge, and our fortress.
His health, Lord, is another aspect close to my heart. May he have the strength of Samson and the vigor of David, ready to conquer every Goliath that stands in his path. The scriptures assure us, "But those who hope in the Lord will renew their strength" (Isaiah 40:31). This is my prayer, Father.
Love, oh sweet divine love. That's what I pray for next. Let his love for me be a reflection of your love for us. Let him cherish me, accept me, just as I am. Let me be his joy, his solace. Love is patient, love is kind (1 Corinthians 13:4). Let this verse be the melody of our love story.
Draw him closer to you, oh, loving Father. When he seeks you, may he find you. Let his heart be the dwelling place for your Word. As it's said, "Draw near to God and He will draw near to you" (James 4:8). I pray that as he walks closer to you, his love for me strengthens, deepens.
The Almighty, into your hands, I place these prayers. I know you listen, you care, you love. Like a child, I surrender my hopes, my dreams to you. My heart echoes a simple prayer – Your will be done. Amen.
Prayer Bible verses for my future husband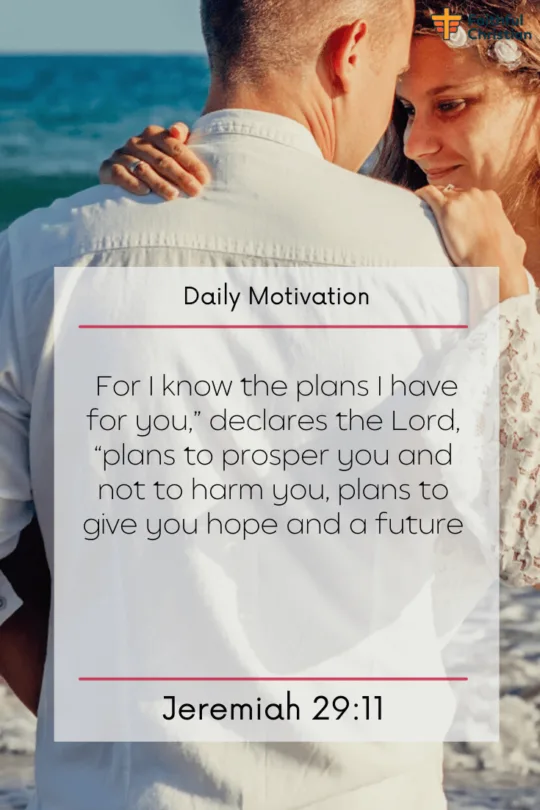 For I know the plans I have for you," declares the Lord, "plans to prosper you and not to harm you, plans to give you hope and a future
Psalm 28:7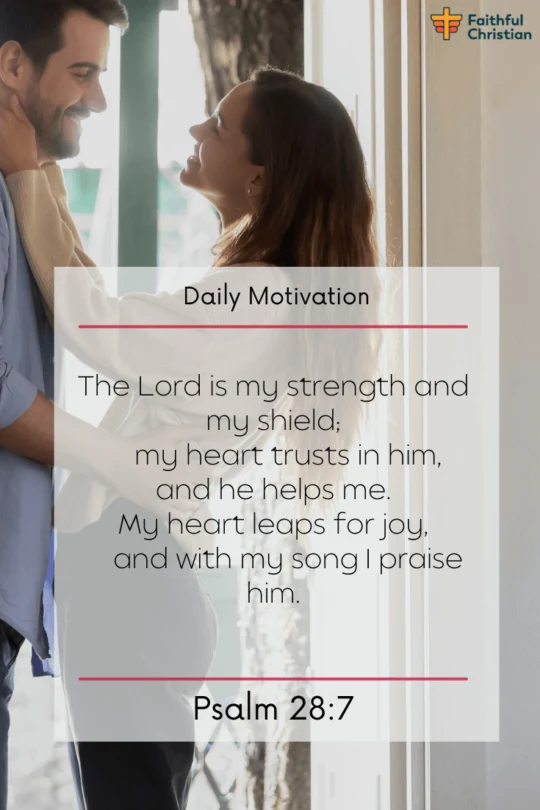 The Lord is my strength and my shield;
    my heart trusts in him, and he helps me.
My heart leaps for joy,
    and with my song I praise him.
Matthew 6:33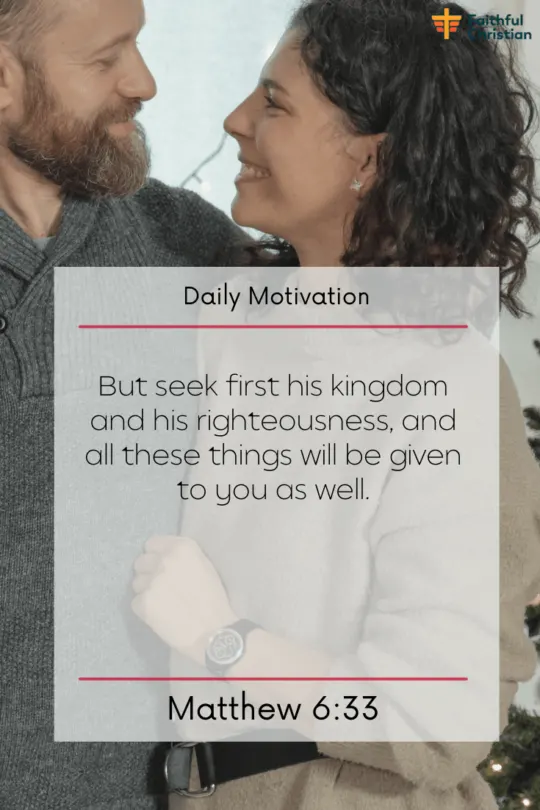 But seek first his kingdom and his righteousness, and all these things will be given to you as well.
---
Recommended for you
---
Prayer for my future husband (To get married)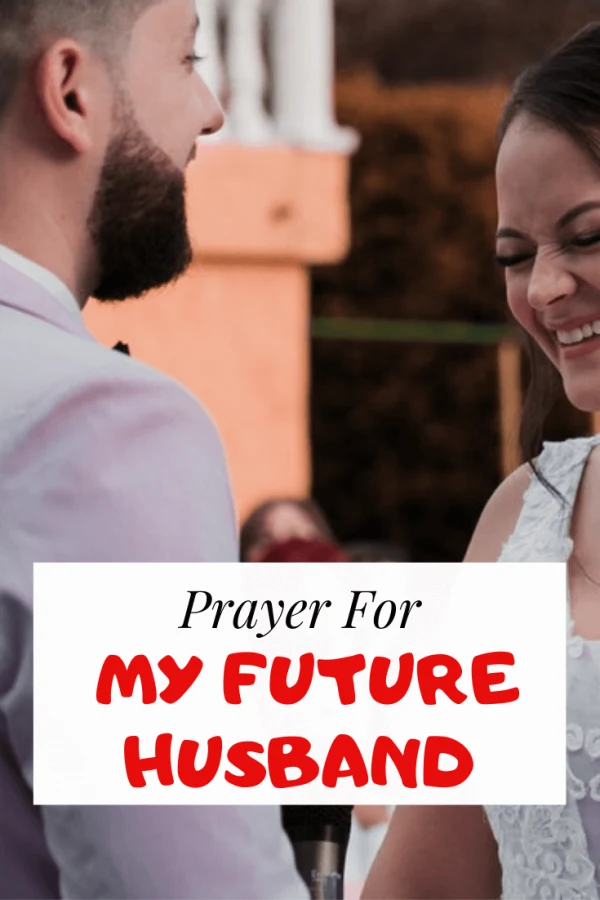 Let's give him thanks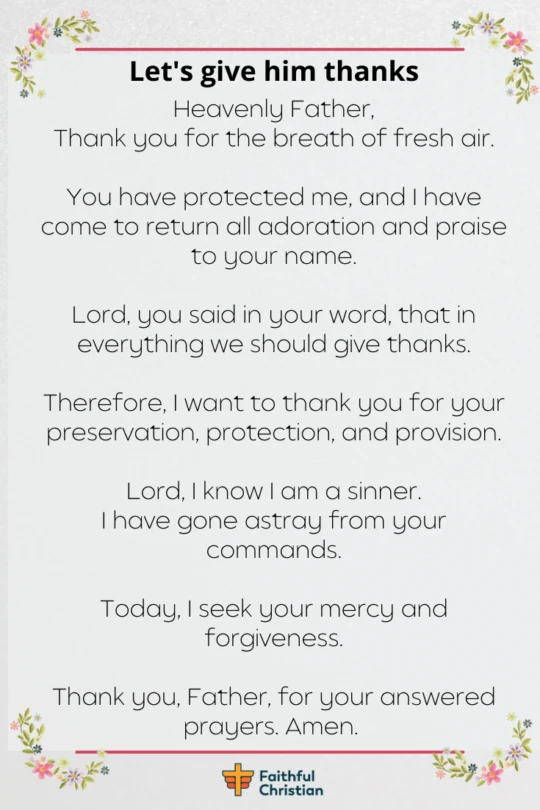 Dear Loving Father,
Thank you for life's sweetness. Every single breath I take is a miracle, a testament to Your love. Your divine shield guards me day and night. You, the Almighty, are my fortress, my deliverer. Like the Psalmist declared in Psalm 18:2, You indeed are my rock.
Father, I am in awe of Your majestic name. Your love for me is vast and boundless. Your faithfulness is like the morning sun, unwavering and dependable. So, I stand to give You all praise, all honor.
The Bible tells us in 1 Thessalonians 5:18 to be grateful in all situations. Here I am, Lord, bowing my head in deep appreciation. You are my Provider, my Protector. You nourish me and shield me from life's storms. I am, because You are.
Yet, like the lost sheep in Luke 15:4, I've strayed, Father. I've fallen short, missing the mark of Your holy standard. I've erred in words and deeds. Now, I seek Your mercy, Your divine pardon.
In the light of Your grace, I come asking for forgiveness. You, oh Lord, are a God of second chances, of new beginnings. As I return to You, I trust in Your promise in 1 John 1:9. I know You will cleanse me and make me new.
The Almighty God, You are the Father who hears us. Your ears are never deaf to our pleas. My heart rejoices in this knowledge, and I say thank You. Thank You for answered prayers.
Looking ahead, I bring my future spouse before You. Mold him with Your wisdom. Strengthen him with Your love. Let our lives unite in Your perfect time, just as Ecclesiastes 3:11 promises. Our union, Lord, should glorify You.
And so, in the powerful name of Jesus, I pray.
Amen.
Let us pray for wisdom for your future husband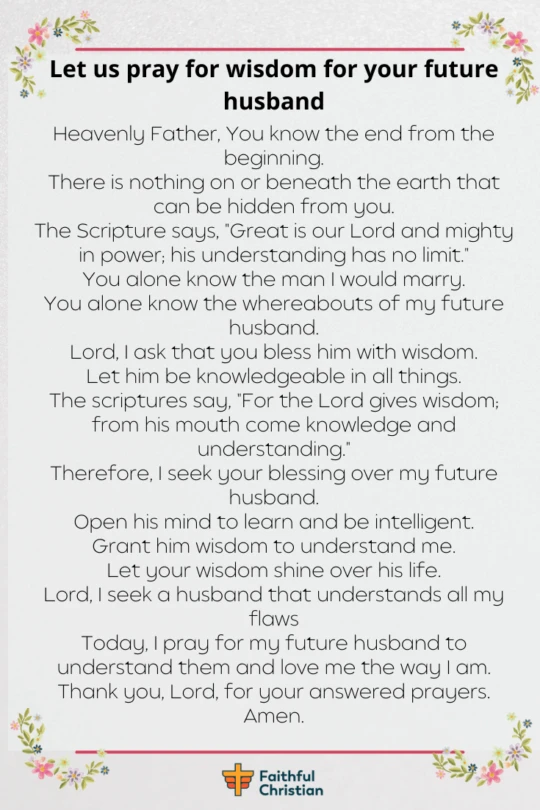 Almighty Father, the Master of Time,
You exist beyond the confines of beginning and end. Nothing can slip from Your divine gaze – not on Earth, not beneath it. You are the Great One, mighty and full of wisdom. You see it all – past, present, future – every inch of creation.
Lord, in Your all-knowing wisdom, You've seen my future. You've seen the man I'll share my life with. Your boundless knowledge extends to him, the one I'll call my husband. I trust in Your grand design, for Your plans are perfect.
Father, I bring my future partner into Your presence today. I ask for Your blessings, for wisdom to fill his soul. Your words promise us: "For the Lord gives wisdom" (Proverbs 2:6). Let these words resonate in his life. Let them guide him, shape him, and fortify him with Your divine wisdom.
My prayer for him doesn't stop at knowledge. Oh no, dear Lord. I pray for his mind to be wide open, seeking understanding in every corner of life. May Your light guide him, illuminating his path, filling his spirit with an unquenchable thirst for wisdom.
Even more, Lord, I ask for a special kind of wisdom for him – wisdom to understand me. The me that dreams, the me that fears, the me that loves. May his steps in Your light lead him to a deep understanding of who I am.
I am a vessel of Your creation, complete with flaws. I am human, after all. I pray that my future husband will not only see these flaws but will love me because of them. Today, I ask for a man who loves me wholly, in spite of, and because of, my imperfections.
My gratitude to You, Father, is beyond words. I am humbled by Your endless mercy, Your support, and Your love. I feel grateful for prayers answered and those yet to be fulfilled. My future, my marriage – I lay them in Your hands, assured that You will guide me.
In Your powerful name, I offer this prayer. Amen.
Prayer for God to draw him closer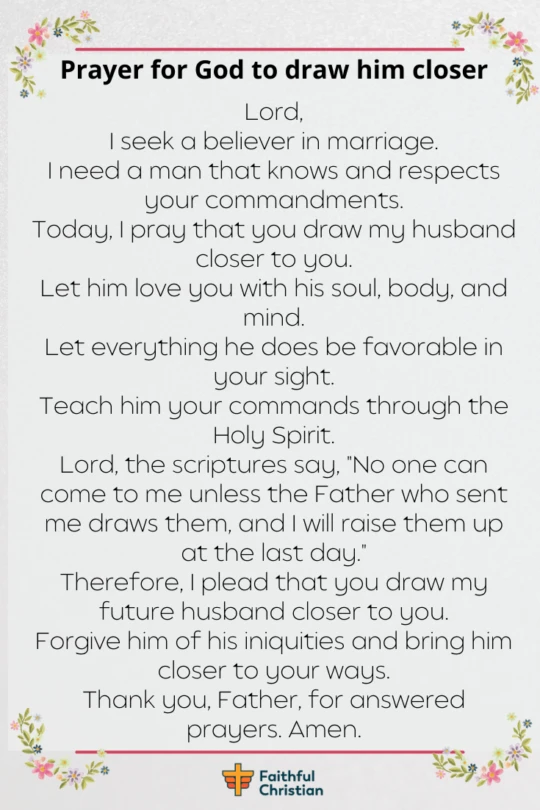 Dearest Lord, our Heavenly Father,
I stand before you, humbled and hopeful. I desire a partner. A fellow believer. One who cherishes marriage, as you intended.
You've declared, "Two are better than one" (Ecclesiastes 4:9). And so, I ask. Bestow upon me a man of faith. A man who respects your commandments. An echo of your divine love.
Father, I pray. Draw this man closer to you. Let his love for you be fervent, like David who was "after God's own heart" (Acts 13:22). Let it consume his soul. His body. His mind.
I pray that his actions glorify you. Just as Jesus said, "Let your light shine before others" (Matthew 5:16), I pray his life does the same. May he seek your approval in every act.
God, breathe into him your Holy Spirit. Let it be his teacher. For as John wrote, "the Holy Spirit… will teach you all things" (John 14:26). Equip him with your wisdom.
Lord, your word is clear. "No one can come to me unless the Father draws them" (John 6:44). So, Father, draw him. Call my future husband closer to your divine heart.
The Almighty, your mercy knows no bounds. So I ask, forgive him. Cleanse his past. Guide him towards righteousness.
Father, I stand firm in faith. I trust in your wisdom. I believe in your timing. I am thankful, knowing you've heard my prayer.
In your magnificent name, I pray.
Amen.
Prayer for my future husband to be prosperous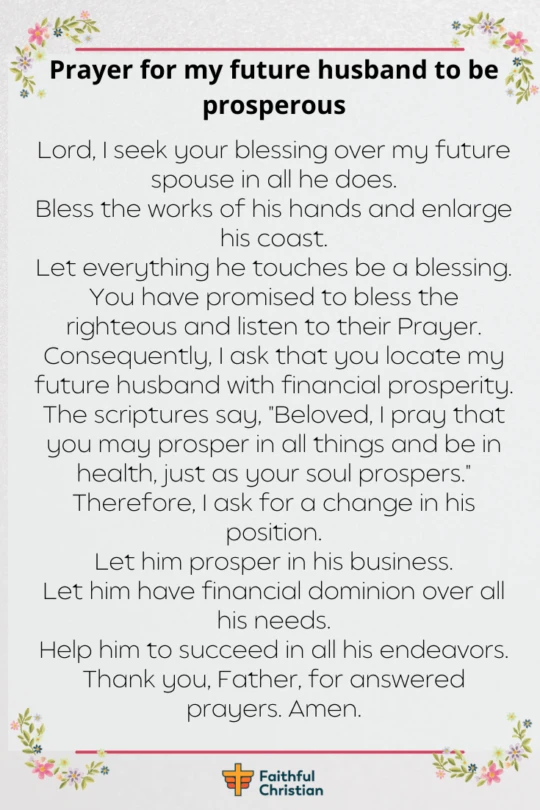 Dear Father in Heaven, I stand before You with a hopeful heart. I seek Your grace for my future partner, known only to You in Your infinite wisdom. I fervently pray, Lord, guide his life's journey in line with Your perfect plan.
Gracious God, drench every corner of my future husband's life with Your unending favor. May his deeds glorify Your name, turning all he touches into a source of blessing, reminiscent of Your promise in Deuteronomy 28:8. Allow his borders to stretch wide, Father, embracing others with the love You've shown us.
With each interaction, let him be a conduit of Your divine blessing. As Proverbs 10:22 tells us, it is Your blessing that brings wealth, free from sorrow. Lord, let him live this reality daily.
You, the Almighty, have committed to bless those who seek righteousness, answering their cries for mercy. Armed with this assurance, I ask You, God, to shower my future husband with financial abundance. Equip him with wisdom to steward wealth in a manner that honors You and serves others.
Just as 3 John 1:2 expresses, we wish all to prosper and enjoy health as their soul flourishes. Inspired by this, I call on You to bring a shift in my future husband's standing. Let him thrive in his business or career. May his efforts yield a rich harvest.
Lord, grant him control over his financial life. Free him from the shackles of scarcity, instead filling him with the confidence that You are his provider. In accordance with Philippians 4:19, meet all his needs from Your glorious riches in Christ Jesus.
Guide him to success in every challenge he undertakes. Let him make decisions with discernment. When he faces trials, remind him of Your strength, knowing You have already triumphed over the world, as stated in John 16:33.
As I thank You for Your enduring faithfulness, I remember You're a God who hears and responds. You're ready to bless us more than we can ask or imagine. As I wait for my future partner, I trust Your good plans, confident of a prosperous future, as expressed in Jeremiah 29:11.
In the sacred name of Jesus, I offer this prayer,
Amen.
Prayer for God's protection
Dear Father,
In Your grand design, You alone grasp the hurdles my future husband will face. As Psalm 147:5 declares, "Great is our Lord and mighty in power; His understanding has no limit," You know his fears. As in James 1:13 which assures us that, "God cannot be tempted by evil," help him stand strong, Father.
Safeguard him, Lord. Let his weaknesses find their strength in You, the Almighty. Just as Romans 5:3-4 encourages us to "rejoice in our sufferings, because we know that suffering produces perseverance," may he resist his vices.
Unwanted companions, Lord, keep them at bay. Surround him with friends who, like Proverbs 27:17 suggests, "As iron sharpens iron, so one person sharpens another." In good company, let him thrive, Almighty.
God, unseen spiritual forces can be menacing. In John 10:10, it is said, "The thief comes only to steal and kill and destroy," protect him. Shield my husband-to-be, Lord, from every malicious intent.
Send your angels, Father. Like in Psalm 91:11, "For He will command His angels concerning you to guard you in all your ways." Protect him from evil, make him invincible in Your name.
You are our protector, Father. As stated in Proverbs 11:8, "The righteous person is rescued from trouble," be his fortress in adversity. Guard his path, let him find solace in Your arms.
He's out in the world, Lord. As in Deuteronomy 31:8, "The Lord Himself goes before you and will be with you," keep him safe. Watch his steps, let him come back safe.
Gratitude fills my heart, Lord. Knowing You listen, I trust that my prayer has reached Your ears. I believe, like Matthew 21:22 says, "And all things, whatever you ask in prayer, believing, you will receive."
Thank you, Father. Thank you for being our refuge, our protector, our guide. I pray this prayer to You, the Almighty, with unwavering faith, knowing that Your will will be done. In Your holy name, Amen.
---
Recommended for you
---
Prayer for good health for future husband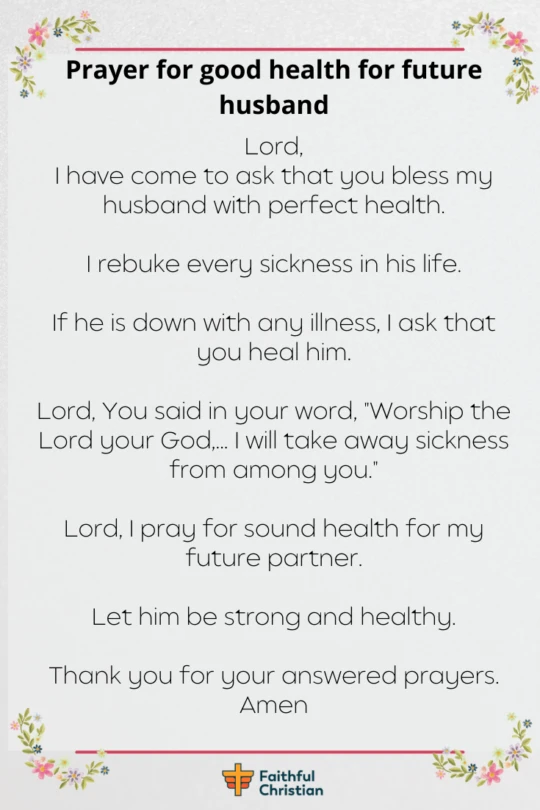 Oh, Lord of Lords,
Today, I stand before You. With a humble heart, I bring a special prayer. This prayer is for my future husband, the man you've chosen for me.
I ask that You, the Almighty, bless him. Bless him with the gift of perfect health. With you, all things are possible, Father. We read this in Matthew 19:26. This truth assures us of your omnipotence.
Dear Father, let any ailment troubling him vanish. Your mighty power has the capacity to do this. Just as darkness flees from light, may sickness flee from him. You are the Great I Am, the supreme ruler of all.
Is my future husband burdened with illness right now? If so, Lord, stretch out Your healing hand. You are the Master Healer. Remembering Psalms 30:2 fills us with confidence in Your healing. It says, "Lord my God, I called to you for help, and you healed me."
Lord, shower him with robust health. This is my heart's plea. As I recall Jeremiah 30:17, I remember Your promise, Lord. It says, "I will restore you to health and heal your wounds."
Give him strength, Father. Let him be resilient against life's challenges. Yet, let him also enjoy the joys of life. Proverbs 18:10 assures us of this strength. It says, "The name of the Lord is a fortified tower; the righteous run to it and are safe."
Your love for us, Father, is unending. I thank You for this love. For the assurance that my prayers will be answered. We find this assurance in 1 John 5:14. It says, "This is the confidence we have in approaching God: that if we ask anything according to His will, He hears us.
In Jesus' wonderful name, I pray. Amen.
Prayer to love me (as my husband)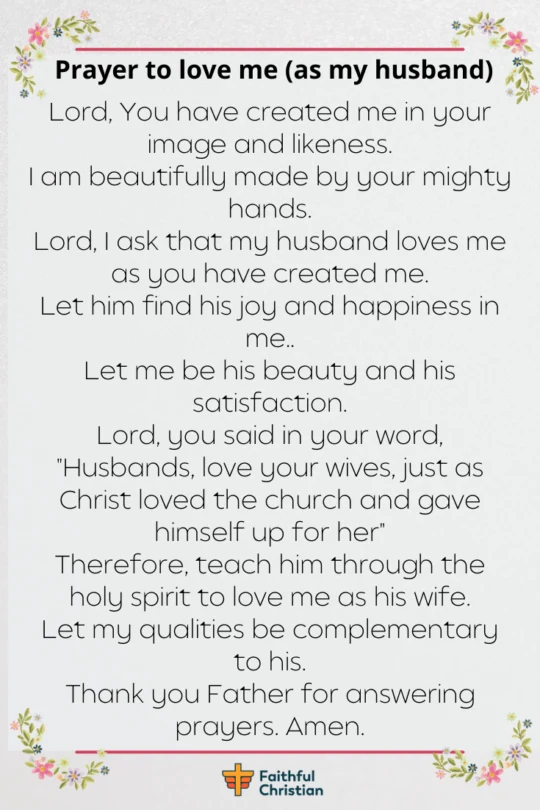 Oh, Lord, the Master Craftsman, it is You who shaped me. From Your divine mold, I exist. Genesis 1:27 reminds us that we're crafted in Your image. That's me, beautifully made.
Each day, I marvel at Your handiwork, evident in my being. I'm Your mirror, reflecting the splendor of Your divine image.
Now, Father, I crave a deeper love. I yearn for my future husband's affection. A love that sees me, truly sees me.
He should recognize Your craftsmanship in me. May he find his joy, his peace, his fulfillment in my company. May I be his haven, his beacon, his delight.
In Your wisdom, Lord, You taught us the essence of love. Ephesians 5:25 is a testament to this, advocating for a husband's love akin to Christ's love for the church. That's the love I yearn for.
Guide him, Holy Spirit. Teach him the ways of love. Love that mirrors the selfless, enduring affection of Christ.
Father, let our traits dovetail, complementing each other like puzzle pieces. Psalm 34:3 says, "Oh, magnify the LORD with me, and let us exalt His name together." As a pair, may we honor You.
My heart sings with gratitude, knowing You've heard my plea. You, the Almighty Listener, always hear our prayers. In Jeremiah 29:12, You promised, "Then you will call on me and come and pray to me, and I will listen to you."
In Your promise, I trust. Each word uttered, each plea raised, has reached Your ears. This, I believe.
In Your name, I find comfort and faith. Thank You, Father, for Your love is boundless, Your promises steadfast. Amen.
Frequently Asked Questions
How do you pray for future marriage?
When praying for future matrimony, begin with a grateful heart, acknowledging God's grace. Request divine guidance for the wisdom to choose a supportive, caring, and God-fearing partner. Ask for your preparation as a compassionate and respectful spouse. Entrust your future marriage to God, recognizing His perfect timing. Proverbs 3:5-6 encapsulates this, reminding us to rely on the Lord for direction.
How do I ask God for my future husband?
Asking God for a future husband starts with admitting He knows your heart's yearnings. Request His guidance on your marital journey. Pray that your future husband embodies God's love, serving Him faithfully. Ask for divine preparation for both you and your husband-to-be, with patience in waiting. Psalm 37:4 articulates this, promising God's fulfillment of your heart's desires.
How do I pray for my future soulmate?
When praying for a future soulmate, engage in honest dialogue with God about your desire for a soulmate. Request divine guidance, patience, and your partner's spiritual growth. Trust God's perfect timing and plan. 1 Corinthians 13:4-7, describing love's nature, is a pertinent guide.
Can I pray for someone to be my husband?
It's possible to pray for someone specific to become your husband. However, prayer should not contravene someone's free will but should seek God's will. Pray for discernment and clarity about this person's role in your life. If you believe he is your destined partner, pray for alignment with God's plan. James 1:5 backs this approach, promising God's generous provision of wisdom.
Which God to worship to get married soon?
In the context of prayer for marriage, the focus isn't on a specific deity but on the act of worship itself. In Christianity, prayers are directed to God the Father, Son, and Holy Spirit. Prayers for blessings, patience, and wisdom are appropriate. Ephesians 4:2-3 urges humility, patience, and love, embodying a perspective to guide prayers for marriage.
How do I wait on God for marriage?
Waiting on God for marriage demands faith and patience, trusting His perfect timing. Utilize this period for personal growth and spiritual development. Use this time to equip yourself for marriage's responsibilities and commitments. Isaiah 40:31 provides encouragement, promising renewal and endurance for those who hope in the Lord.
What scriptures can I pray for my future husband?
Various scriptures serve as prayer guides for your future husband. Ephesians 3:17-19, for instance, helps you pray for his faith. It emphasizes the importance of being "rooted and grounded in love" and filled with the "fullness of God."
Is there a specific miracle prayer to find a husband?
While there's no specific miracle prayer to find a husband, prayer is inherently powerful. Acknowledge God's supremacy, express your desire for a spouse, and trust His timing. Pray for wisdom and preparation while awaiting your future spouse. Matthew 7:7 affirms the efficacy of prayer, urging us to ask, seek, and knock.
Good Morning Prayer message for My husband
Author: Akatakpo Dunn
Dr. Akatakpo Dunn is a dedicated follower of Christ, an active member and speaker, and an ongoing learner of the Scriptures. Passionate about his faith and serving others, he is committed to sharing his spiritual journey and insights to inspire and uplift fellow believers. He has been active in the church for more than 23 years. Through The
Faithful Christian Blog
,
Dr. Dunn
combines his love for God, philanthropy, and Scripture, providing a valuable resource for those seeking to grow in their faith.
Follow me: on Youtube, Facebook, Twitter, Instagram, and Pinterest.
Content Disclosure:
At The Faithful Christian Blog, I create authentic and inspiring content. Although I am the main author, I occasionally use AI for minor language enhancements. This minimal AI usage ensures high-quality, trustworthy articles without compromising originality or sincerity, ultimately supporting our shared faith journey.
Warmly,
Dr. Akatakpo Dunn
Was this article helpful?