If you are struggling with your marriage, God is able to help you today.
Don't feel like you have lost your husband.
Today, we are going to pray to God to return your husband to you.
We will seek his mercies to redeem him from the world.
He who finds a wife finds a good thing and obtains favor.
Therefore, there is no reason to blame yourself.
You are already a blessing to your husband.
I have put together this powerful prayer for your husband to love you again.
If he is far away or has left home, God will return him to you.
May God, who is merciful from generation to generation, locate your husband, soften his heart, and make him love you like never before.
Amen.
---
Recommended for you
---
Short prayers to make my husband fall in love with me again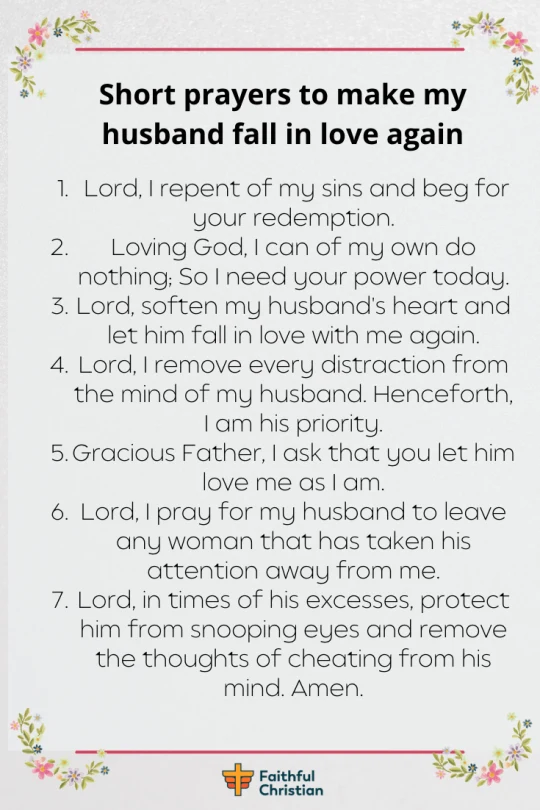 Oh, Compassionate Creator, I come to you with humility. Like a river that confesses to the ocean, I lay bare my sins. I yearn for your divine forgiveness, inspired by a promise in 1 John 1:9. Here, we learn about your nature. You are faithful, ready to cleanse those who seek redemption.
Dear Lord, I understand my human limitations. Our weaknesses are stepping stones to your strength, as said in 2 Corinthians 12:9. Your grace and divine guidance are all I need. Today and every day.
Holy One, I turn to you for my husband's heart. Remind him of our love, of the flame that once burned bright. Your promise in Ezekiel 36:26 is a beacon. It shows that you can renew our hearts and spirit. With this, I ask you to rekindle our love.
God, the Supreme Guide, lead my husband. Let him see our marriage as a divine reflection of love. His focus should be our union, as taught in Matthew 6:33. Remove distractions. Reinforce in his heart that I am his priority.
Kind Father, help my husband see me as I am. Your words in 1 Corinthians 13:4-7 are a guide. Love is patient. It's kind. It overlooks human flaws. Inspired by these, I seek his acceptance.
Lord, I call upon the wisdom of Proverbs 5:15-20. Let my husband resist external temptations. Let him honor our bond as Christ honors His Church, as stated in Ephesians 5:25. Our marriage is sacred. Help him realize this.
Oh Lord, be my husband's shield. Protect him in times of weakness. Matthew 5:28 warns us against lustful thoughts. Let him not harbor such. Strengthen our bond. Let his commitment to our marriage remain firm. With your divine protection, I say Amen.
Prayer Bible verses for husband's love
1 Corinthians 13:4-8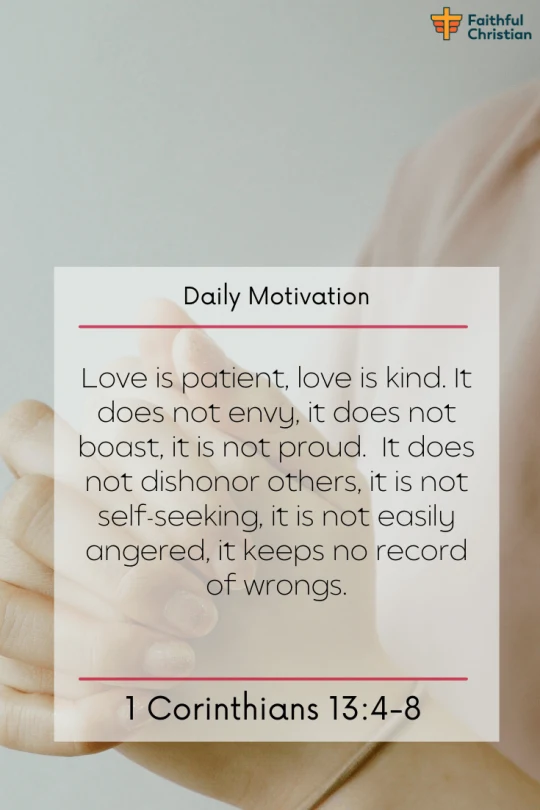 Love is patient, love is kind. It does not envy, it does not boast, it is not proud. 5 It does not dishonor others, it is not self-seeking, it is not easily angered, it keeps no record of wrongs.
1 Peter 4:8
Above all, love each other deeply, because love covers over a multitude of sins.
Colossians 3:14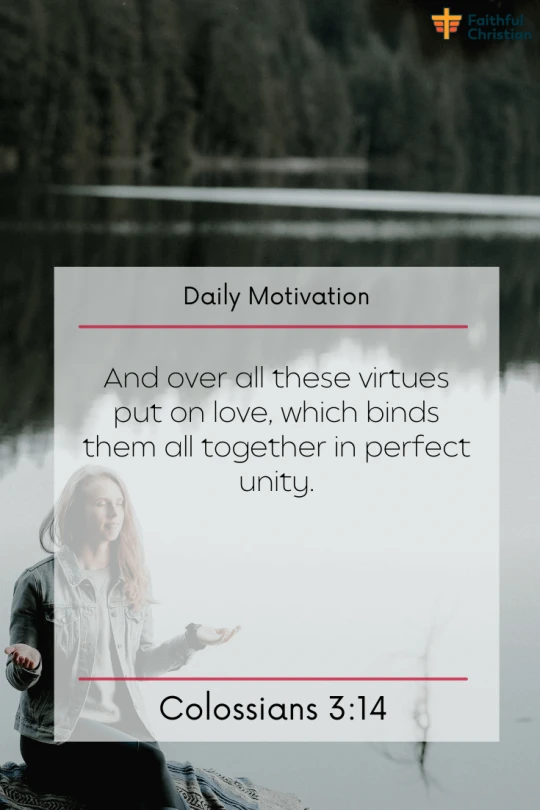 And over all these virtues put on love, which binds them all together in perfect unity.
Ephesians 5:25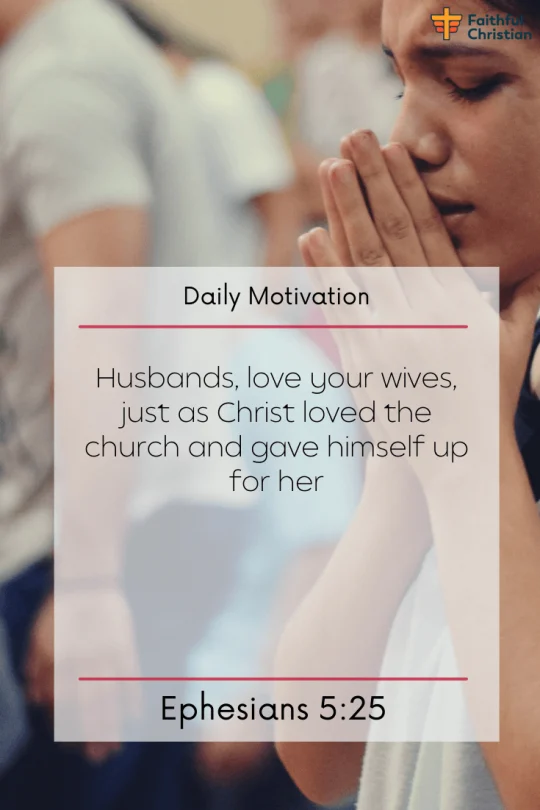 Husbands, love your wives, just as Christ loved the church and gave himself up for her
---
Recommended for you
---
Prayer For My Husband To Love Me Again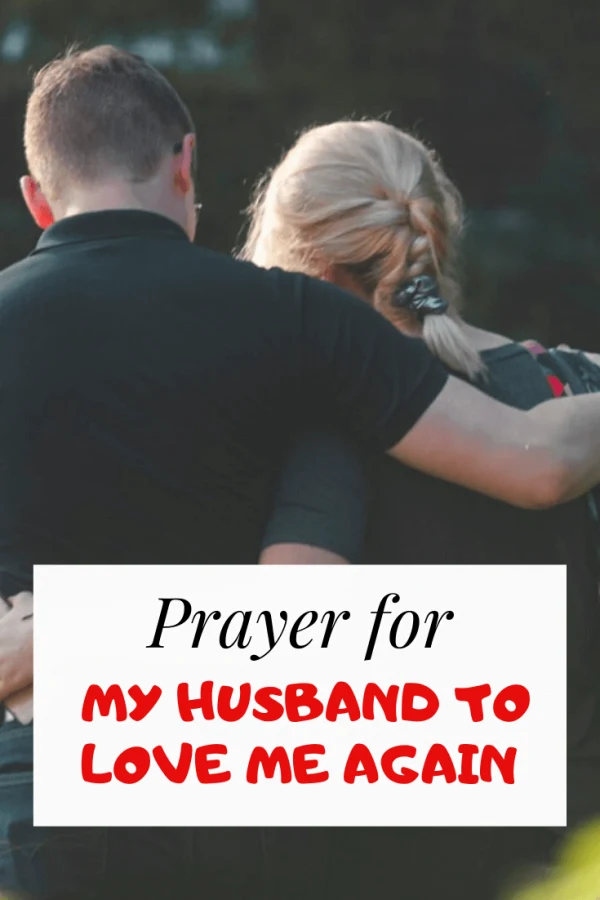 Let's ask God for the forgiveness of sins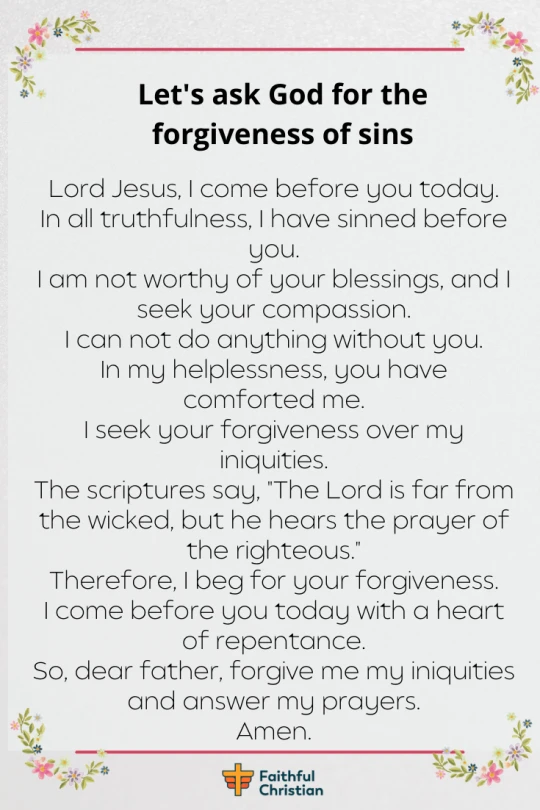 As I stand before you, Lord Jesus, there's a humble whisper in my heart. Today, I bring myself to you. Not perfect, not pristine, but real. Human. I've learned from the book of James. Humility matters. So here I am, embracing my flaws, trusting you to elevate me.
There's power in admitting our wrongs. Today, I admit mine. I've strayed from your righteous path. But your words in 1 John 1:9 are clear. You promise forgiveness. You promise purity. So, I confess, and I trust your divine grace.
I look at your blessings, Lord. They're abundant, overflowing. And me? I feel small, unworthy. Yet, your mercy and compassion beckon me. The story of the prodigal son in Luke 15:11-32 echoes within me. Like him, I've wandered. But now? I want to return. Your arms await.
Life's like a stormy sea, isn't it? On my own, I'm adrift. Lost. But with you, I find my course. Your words in John 15:5 give me strength. Apart from you, I can do nothing. I recognize this. I lean on your guidance, your protection.
Moments of despair find me, Lord. Fragile moments. Desperate moments. But even in the darkest valley, I'm not alone. The comfort of Psalm 23 is a beacon. It tells me you're with me. You, my sanctuary. My beacon of light in the storm.
The weight of sin is heavy. My soul yearns for cleansing. Inspired by David's plea in Psalms, I ask for your intervention. For your forgiveness. Wash me clean, Lord. Let your grace renew me.
In Proverbs, we learn the Lord hears the prayers of the righteous. I seek this closeness. This connection with you. My sins laid bare, I ask for your mercy. For your forgiveness. For your grace to cover my transgressions.
Today, I come with a repentant heart. I seek transformation, alignment with your divine will. Romans 12:2 has a powerful message. It urges us not to conform but to transform. I pray for this renewal. A spiritual shift aligning my heart with yours.
Finally, Heavenly Father, I ask for your forgiveness. My prayers are fervent, sincere. I recall the words of Psalm 86:5. You are good. You are forgiving. Full of steadfast love. So, I call upon you. I ask for your blessings. For your divine plan to unfold in my life.
As I wrap up my prayer, I think of Peter's words. Humility. Sincerity. Trust in your boundless love. I know you hear me, Lord. I know you care. And so, I stand here. Unworthy, yet hopeful. Humble, yet full of faith. Amen.
God is love (let us pray)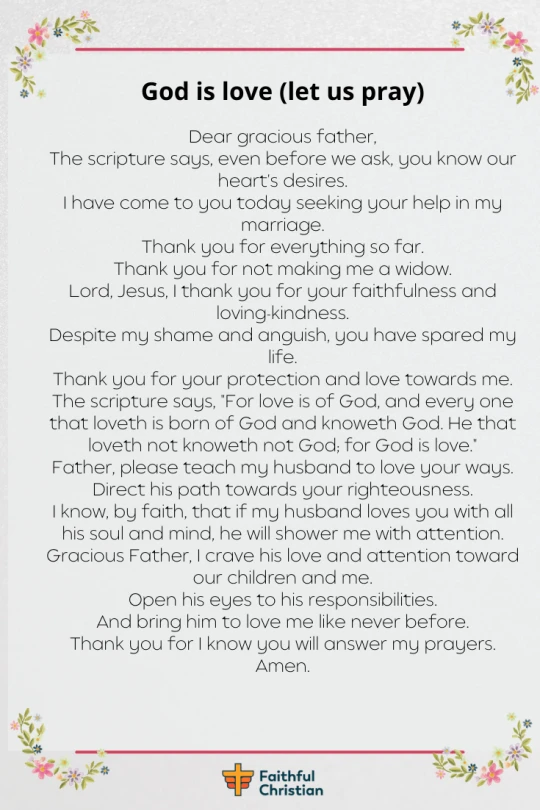 Dear kind and loving Father,
Your wisdom is a shining beacon. It lights the path of our lives. Scripture holds a comforting promise. You know our deepest desires. You see our hidden dreams. Even before we voice them, you understand. This truth echoes Psalm 139:4. You're aware of every word before we utter it.
Today, I seek your help. My marriage needs your divine touch. Ephesians 4:2-3 inspires me. It's a call for unity. A plea for peace. A desire to love and endure. My spouse and I need this unity. We need this peace.
You've showered my life with blessings. Kept me from heartbreak. You've held me in tough times. In this, I see Psalm 68:5 come alive. You're a defender of the defenseless. A parent to those who've lost.
Jesus, your faithfulness amazes me. Your kindness, a comforting balm. These sentiments echo Lamentations 3:22-23. Your mercy never fades. It is new every morning. In my struggles, I see your mercy. In my pain, I see your love.
Your divine love is my safe haven. It's my hope, my shield. This love mirrors 1 John 4:8. You're the embodiment of love. This love, I yearn for. I pray for it in my marriage.
I ask you, Father, lead my husband. Show him the path of your divine love. Let righteousness be his aim. This mirrors Proverbs 3:6. When we seek your guidance, our paths become straight. This guidance, I crave for my husband.
My faith in you is unwavering. If my husband deeply loves you, I believe his love for me will grow. This belief is rooted in Matthew 22:37-39. Loving God with all our hearts paves the way for profound love for others.
My heart seeks his love. His attention. For me. For our children. Illuminate his heart, Father. Remind him of his responsibilities. These reflect Ephesians 5:25. Husbands should love like Christ loved the church.
With hope and gratitude, I thank you. I trust your mercy. I believe in your love. I know you hear my prayers. This reflects 1 John 5:14. When we pray according to your will, you listen.
I offer this prayer in your holy name.
Amen.
---
Recommended for you
---
I pray for his love towards me (let us pray)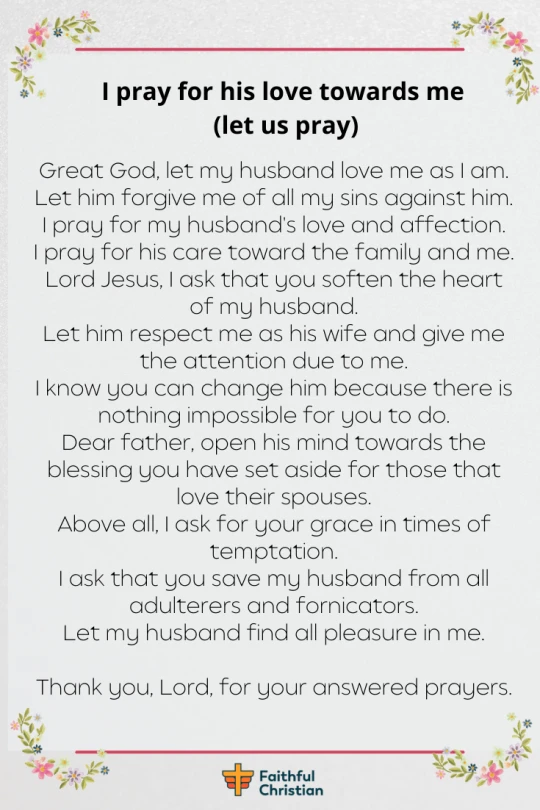 Dear God, I stand before you. My plea is simple. I yearn for my husband's love. Let it be unconditional, just like yours. May he love me, with my flaws and strengths. Perfect behavior isn't what I'm after. I want a love that mirrors yours – vast and unending.
Next, I seek forgiveness. We've all made mistakes. It's human. Ephesians 4:32 encourages compassion and forgiveness. May we imbibe this teaching. Let us show kindness. Let us forgive, as You have forgiven us.
My heart longs for a deep love. A love that's always present. Sincere and unshakeable. It's what Corinthians 16:14 encourages. Let love be at the center of all we do. May my husband's love for me be the anchor of his actions. Let's strive to love like You.
Responsibility is a mantle my husband carries. He is the caregiver for our family. It's a noble role. Ephesians 5:25 sets the standard. Husbands should love their wives, just as Christ loved the church. May my husband live up to this. May his actions echo selflessness and love, just like Christ.
Jesus, I ask for a soft and tender heart for my husband. Proverbs 4:23 urges us to guard our hearts. They dictate our actions. Let my husband's heart overflow with kindness and understanding. May he see me as his equal. A partner deserving of respect and attention.
With God, nothing is impossible. Matthew 19:26 says it. I believe it. You can guide my husband towards righteousness and unity. Bring peace into our marriage.
Marriage is a blessing. Proverbs 18:22 is clear on that. One who finds a spouse, finds a good thing. May my husband understand this. Let him see the joy that comes from a loving marriage.
In trying times, I seek your grace, God. You've promised us a way out in Corinthians 10:13. We can bear any temptation. I ask for strength. Help us stand strong against temptations. May we uphold our marriage's sanctity.
I pray for protection, dear God. Shield my husband from infidelity. Proverbs 5:15 encourages loyalty. May my husband find joy in our relationship. Let him be fulfilled.
May our bond bring him pleasure. Song of Solomon 4:9 speaks of stolen hearts. Let me captivate my husband. Let me fulfill his needs. Let our bond stay strong. Let it offer comfort, companionship, and love.
Finally, I thank You, God. You listen to our prayers. 1 John 5:14 tells us of your attentive ear. I have faith in your wisdom and love. I know you will guide our marriage. Thank you for bringing peace to our relationship. Thank you for your boundless love.
He who loves his wife loves himself (Let us pray)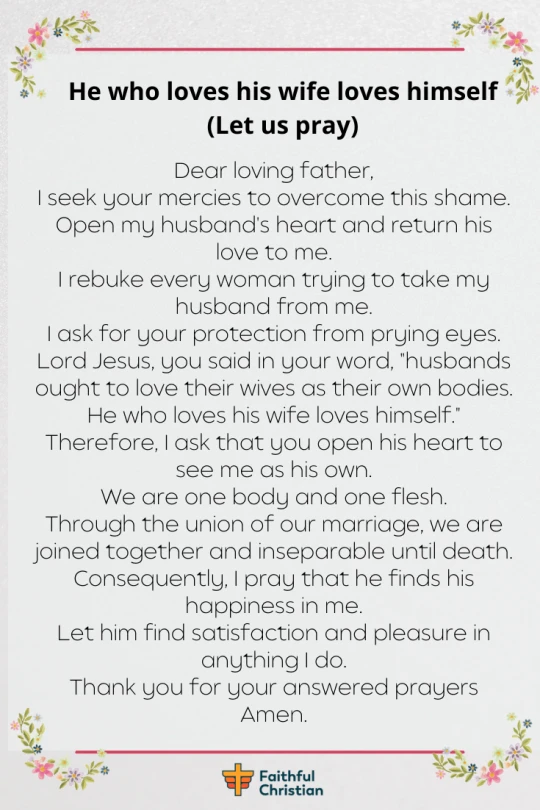 Beloved Father,
In this moment, I'm crushed. Overwhelmed. I'm seeking refuge in you. The pain of shame has hit hard, but I remember Psalms 34:18. You're close to the broken-hearted. I draw strength from this, believing you'll mend my crushed spirit.
I'm handing over my husband's heart to you, Father. It needs your touch. Can you reignite the love he once had for me? Bring back the memories of shared dreams. I'm reminded of Proverbs 21:1. A heart in your hands can change its course. I know you can.
Father, our marriage is sacred. A third person has no place in it. Echoing the words of Hebrews 13:4, I stand firm. I ask for your divine justice. I know you'll honor our marriage and keep it pure.
I need your shield, dear Father. We need protection from prying eyes. Harmful intentions lurk around. But 2 Thessalonians 3:3 brings me comfort. You are faithful. You'll strengthen us, protect us. I believe our love will survive any storm.
Lord Jesus, your words ring clear in my heart. A husband's love for his wife mirrors his love for himself. Drawing on Ephesians 5:28-30, I pray for my husband. Help him see me as a part of him. Remind him of our deep connection. It's more than a partnership; it's a communion of souls.
We're one body, one flesh. Our marriage bond is powerful, inseparable. The words of Mark 10:8 reverberate in my heart: "the two will become one flesh." This union, it's not symbolic. It's deeply spiritual, until death do us part.
My fervent wish is for my husband to find joy in our love again. Proverbs 5:18-19 inspire my prayer. Let him rejoice in his wife, be captivated by her love. May he see more than a partner in me. May he find a haven of love, comfort, and peace.
In you, Father, I find assurance. I know my prayers reach you. I can't wait for your answers. They're on their way, and that fills me with joy. I am forever grateful.
In your holy name, I pray. Amen.
The mystery of one flesh (let us pray)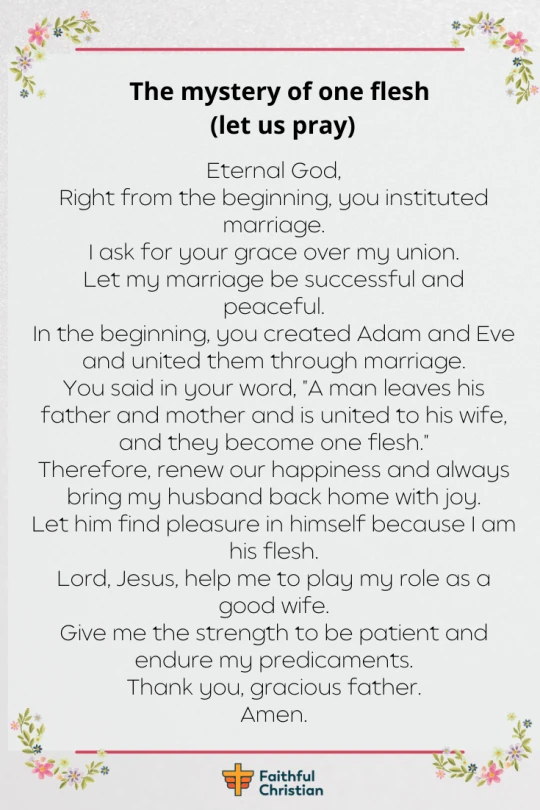 Eternal God,
Your genius shines through from the dawn of time. You created the loving bond we call marriage. This holy unity reflects your love for us. It's like the bond between a vine and its branches. Just as John's Gospel (John 15:5) shows us, we depend on you. Like branches depend on the vine. Our marriage should mirror this divine relationship.
Right now, I'm reaching out to you. I'm asking for your divine help. Fill our marriage with your endless grace. Bathe us in your blessings. Like sunlight breaking through the clouds, may your love light up our lives. Let it strengthen our bond and enhance our understanding. It's like Proverbs 24:3-4 hints. Our home is built on wisdom, understanding, and knowledge – your gifts to us.
You, Lord, are the mastermind of marriage. You breathed life into Adam and Eve. You then united them in marriage. They were the first, setting the standard for marital love. It's just like Mark 10:6-9 teaches us. We were created male and female, destined to unite in marriage.
The holy words from Genesis 2:24 are profound: "A man shall leave his father and mother, and be joined to his wife, and they shall become one flesh." It's a powerful statement. It's a plea for your intervention. Rekindle the joy in our union. Lead my husband home daily with a heart full of joy. Show us the unity we share. It's the harmony of one body, as shown in 1 Corinthians 12:12-27.
My husband should find peace within himself. He should recognize I am part of him. It's the philosophy of Ephesians 5:28-30. Husbands should love their wives as their own bodies. We are one in flesh. This understanding helps us build a home filled with mutual respect.
Jesus, I need your help to fulfill my duties. I want to be a beacon of support for my husband. I want to be his sanctuary, like Proverbs 31:10-31 outlines the virtues of a noble wife. Give me strength. Let me be patient, just as James 1:2-4 instructs. With patience, we can weather any storm.
I'm grateful to you, Father. Your love and guidance never cease. With your strength, I can navigate life's ups and downs. Just like Philippians 4:13 suggests, I can do anything through you. You're my solid rock, my firm foundation.
In your holy name, I trust and offer this prayer.
Amen.
Frequently Asked Questions
1. What is the powerful prayer to restore my marriage?
A potent invocation for marital restoration might be as follows:
"Dear Heavenly Father, with a heart burdened with despair over my faltering marriage, I beseech Your divine assistance. Accept our repentance for the transgressions we have committed. Lead us back to the path of love and understanding, mirroring Your guidance of the Israelites out of Egypt (Exodus 13:21). Soften our hearts, eradicating the bitterness that has festered between us. Reinstate our marital unity as You decreed in Genesis 2:24. May we learn to love as You have loved us, following the precepts of 1 Corinthians 13:4-7. In Jesus' name, I pray, Amen.
2. How can I bring my husband back to me?
The path to regaining your husband's love entails compassionate communication, personal development, and supplication. Convey your emotions articulately and strive to understand his standpoint.
Show commitment to mending your relationship through personal growth. Pray for divine guidance and restoration of the love that once was.
The instructions in Ephesians 4:2-3 may guide you: "Be completely humble and gentle; be patient, bearing with one another in love. Make every effort to keep the unity of the Spirit through the bond of peace."
3. What is a powerful prayer to send to my husband?
You could send your husband a powerful prayer such as:
"Dear Lord, I lift my husband up to You today. Guide his decisions and shield him from harm (Psalm 91:11). Grant him strength and courage (Joshua 1:9) to guide our family in righteousness and love, as per Your command in Ephesians 5:25. Gift him wisdom (James 1:5) in all his endeavors and immerse him in Your peace (Philippians 4:7). In Jesus' name, I pray, Amen."
4. How do you pray for a man to fall in love with you?
Praying for someone to reciprocate your love must always align with God's will as expressed in Matthew 6:10: "Your kingdom come, your will be done, on earth as it is in heaven.
Therefore, your prayer could be, "Heavenly Father, I am grateful for the love You have instilled in me for this man. If it is in accordance with Your divine plan, may he also harbor the same affection for me. May our love embody mutual respect, comprehension, and deep affection. Guide us in love, as You depict in 1 Corinthians 13:4-7, and direct us according to Your perfect will. In Jesus' name, I pray, Amen."
Always remember, God's plans aim at your prosperity and not your detriment (Jeremiah 29:11).
5. How do I restore my marriage and fall in love again?
Reviving a marriage and rekindling love demands effort, patience, and faith. Foster open and honest dialogue with your spouse and express your emotions and aspirations. Practice forgiveness and consider counseling if required. Revisit shared interests and carve out quality time together. Above all, prayer is indispensable.
You could pray: "God, help us to reignite our love for each other. May we always recall our bond (Ecclesiastes 4:9) and strive to love each other as You have loved us (1 John 4:19). Guide us in reviving the love we once cherished. In Jesus' name, I pray, Amen."
6. How do I restore my broken marriage?
Restoring a broken marriage necessitates forgiveness, understanding, patience, and professional intervention. Recognize and accept the issues causing the marital breakdown and engage with your spouse, listening and comprehending their perspective. Pray for guidance, healing, and fortitude.
Here's a potential prayer: "Dear God, our marriage is in crisis, and we seek Your intervention. Guide us through this challenging time, help us to forgive as You command us in Colossians 3:13, and restore our union. In Jesus' name, Amen."
7. What is a dangerous prayer to get my husband back?
The phrase "dangerous prayer" could denote a deeply impactful prayer. However, it's essential to remember that prayers are not tools for manipulation. Here is a prayer for the restoration of your relationship with your husband:
"Lord, I am in pain and yearn for my husband's return. If it is Your will, reconcile us as You reconciled the world to Yourself through Christ (2 Corinthians 5:18). Lead him back home and help us both learn and grow from this experience. In Jesus' name, I pray, Amen."
8. Is there a specific prayer to reunite with my husband?
While no specific prayer exists, you can certainly pray for reconciliation.
For instance: "Dear God, my heart aches for the restoration of my marriage. I pray for my husband, asking You to touch his heart and bring reconciliation between us. May our relationship embody the unity You intended in Mark 10:9: 'Therefore what God has joined together, let no one separate.' In Jesus' name, Amen."
9. What prayer can I use for my husband to leave the other woman?
Despite the complexity of this situation, remember that prayers aren't tools to control others' actions. Instead, focus your prayers on healing, understanding, and the restoration of your marriage.
"Heavenly Father, my marriage is in turmoil, and my heart is shattered. I pray for my husband, remind him of our shared love and vows. I pray for the strength to forgive and the grace for reconciliation, as instructed in Matthew 6:14-15. Even in this tough time, I trust in Your wisdom and goodness. In Jesus' name, I pray, Amen."
10. How can I pray for my husband to love me more?
While prayer doesn't control emotions, it's crucial to request God's guidance and strength in your relationship.
Here's a possible prayer: "Lord, I pray for my husband's growing love for me. Remind him of the love we shared and the bond between us. Teach us to love as You love us, unconditionally and selflessly, mirroring the love mentioned in Ephesians 5:25. Guide us through this journey with Your grace. In Jesus' name, I pray, Amen."
11. Are there any specific Bible verses to help get your husband back?
When aiming to restore your marriage, various Bible verses offer comfort and direction.
Verses like Ephesians 4:32 and 1 Peter 4:8 highlight the importance of kindness, compassion, and deep love, while 1 Corinthians 13:7 underscores love's enduring qualities.
These verses can serve as foundations for prayers seeking reconciliation and restoration in your relationship with your husband.
12. Is there a miracle prayer to bring my husband back?
While no specific "miracle prayer" exists to bring your husband back, you can pray passionately for reconciliation and restoration.
Here is a prayer: "Heavenly Father, my heart aches, and I yearn for my husband's return. I trust in Your infinite wisdom and power. I pray for a miracle to restore our marriage, akin to Your miraculous deliverance of the Israelites from Egypt (Exodus 14:21-22). Guide us back together, Lord, and may our relationship glorify You. In Jesus' name, I pray, Amen."
13. What are some midnight prayers I can say for my husband?
Praying for your husband, whether at midnight or any other time, can be a potent practice.
Here's an example: "Lord, as the night's tranquility descends, I offer my husband to you. Protect him, guide him, and provide him restful sleep (Psalm 4:8). May he wake with renewed strength (Isaiah 40:31) and a heart centered on Your love and righteousness. May he remain strong in faith, overflowing with love, and steadfast in all his ways, following 1 Corinthians 16:13-14. In Jesus' name, I pray, Amen."
14. Can you suggest a prayer for my husband's success and protection?
Absolutely. Here's a possible prayer:
"Heavenly Father, I pray for my husband. Please guide him in his endeavors and lead him to success. Protect him from harm and give him the strength to surmount any obstacles (Isaiah 41:10). May he find favor in Your sight (Exodus 33:12) and achieve success in his work, as You promised in Joshua 1:8. May he act justly, love mercy, and walk humbly with You in all his dealings (Micah 6:8). In Jesus' name, I pray, Amen."
---
Recommended for you
---
Powerful Prayer for Encouragement for My Love
Author: Akatakpo Dunn
Dr. Akatakpo Dunn is a dedicated follower of Christ, an active member and speaker, and an ongoing learner of the Scriptures. Passionate about his faith and serving others, he is committed to sharing his spiritual journey and insights to inspire and uplift fellow believers. He has been active in the church for more than 23 years. Through The
Faithful Christian Blog
,
Dr. Dunn
combines his love for God, philanthropy, and Scripture, providing a valuable resource for those seeking to grow in their faith.
Follow me: on Youtube, Facebook, Twitter, Instagram, and Pinterest.
Content Disclosure:
At The Faithful Christian Blog, I create authentic and inspiring content. Although I am the main author, I occasionally use AI for minor language enhancements. This minimal AI usage ensures high-quality, trustworthy articles without compromising originality or sincerity, ultimately supporting our shared faith journey.
Warmly,
Dr. Akatakpo Dunn
Was this article helpful?