While on Earth, Jesus encouraged us with some powerful bible verses.
One of those verses is John 14: 13- 14.
While speaking to the apostles, Christ urged them to ask anything through prayer.
That, if they ask, he will do it.
This verse of the bible is so inspiring and reminds us of the kind of thoughts Christ has for us – A thought of love and protection.
Christ knew that challenges would come around, but he put himself on the line. He knows he will do anything to protect us from the hands of the devil.
As Christians, we know his words are also backed with faith.
You must first realize that Christ can do anything through faith.
If you don't understand the powerful nature of Jesus Christ, then you may limit yourself about what you ask.
Therefore, whatever challenges we are facing in life, there is one takeaway from the book of John 14: 13-14.
Our Lord and Savior, Jesus Christ, can do anything we ask. We only need to believe in the power of his words and abide in him.
If you are struggling with your faith in Christ, this post will surely be of help.
---
Recommended for you
---
Whatever you ask in my name I will do it: What did Jesus mean?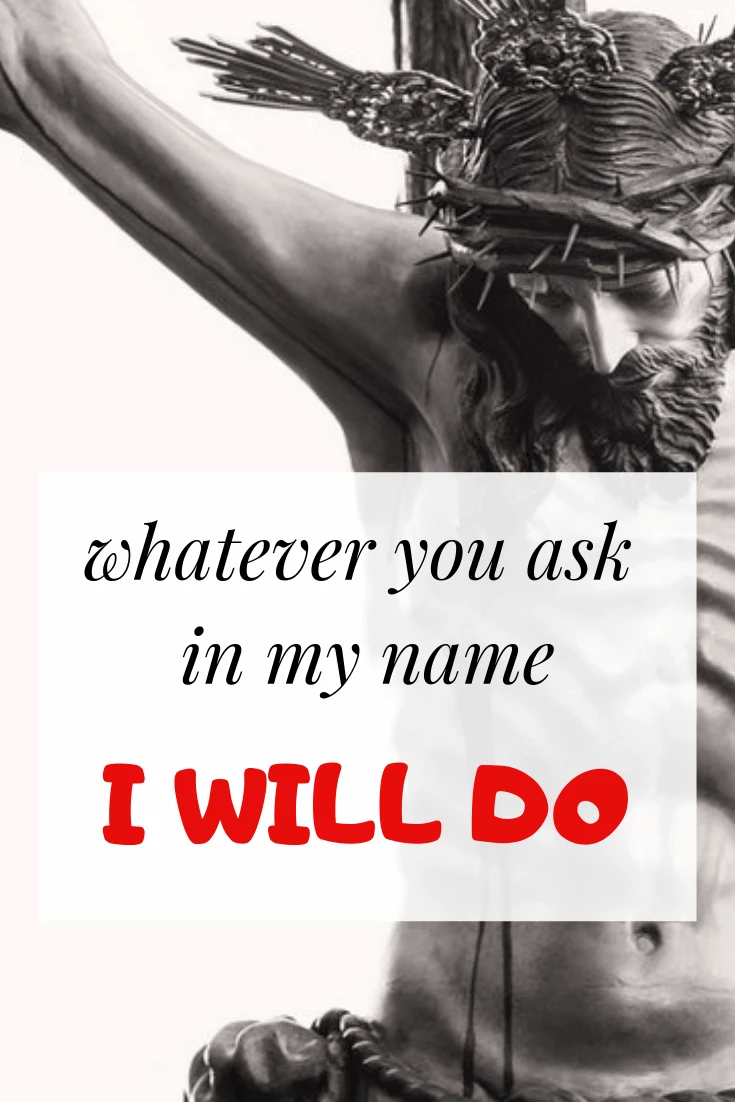 Jesus, while speaking to his apostles, assured them that they can ask anything, and he will do it provided they ask in the power of his name. In John 14:12-15, Christ said,
Verily, verily, I say unto you, He that believeth on me, the works that I do shall he do also; and greater works than these shall he do; because I go unto my Father. And whatsoever ye shall ask in my name, that will I do, that the Father may be glorified in the Son. If ye shall ask anything in my name, I will do it. If ye love me, keep my commandments.
It is essential to view the words that Christ used. "Anything" and "whatsoever."
The English dictionary defines anything as "used to refer to a thing, no matter what." 
This means that we can entirely cast our whole burdens on Christ and expect that he will answer our prayers.
If this verse is taken literally, it means that anyone can ask anything he wishes, and expect Christ to do it.
In fact, it has been interpreted that, we can ask anything we want then add the words "in Jesus' name" and we will receive whatever we desire.
However, this is not entirely true.
We must understand the three main phrases in John 14: 13 to fully grasp what Christ was talking about- "you ask," "in his name," and "he will do."
If we fail to ask according to his will, and instead, according to our own lust, we may not receive what we prayed for. James, an apostle of Jesus Christ, said,
When you ask, you do not receive, because you ask with wrong motives, that you may spend what you get on your pleasures.  James 4:3
"You ask," what did Christ mean?
By the "you ask" phrase, Christ was referring to prayer. Christ knew that we would all face temptations, so he requested that we should pray regularly. The power of prayers cannot be overemphasized.
Through prayers, God has done numerous miracles in times past.
In this blog, I've always likened a Christian that does not pray to a soldier carrying an AK-47 without any bullets.
So I say to you: Ask and it will be given to you; seek and you will find; knock and the door will be opened to you. For everyone who asks receives; the one who seeks finds; and to the one who knocks, the door will be opened. Luke 11:9
The story of Daniel
In the Old Testament, years before the birth of Jesus, the story of Daniel is there for our own enlightenment. He was a righteous man and believed in God. He prayed regularly, three times a day. Then other presidents and princes requested to trick the king, Darius, to set up a decree, that for 30 days, no one will serve any other God, save him.
Daniel's faith in God was unwavering on being aware of the new decree, which cannot be altered. Instead, he knelt before God and continued praying as he always did with his windows opened to Jerusalem.
Now when Daniel learned that the decree had been published, he went home to his upstairs room where the windows opened toward Jerusalem. Three times a day he got down on his knees and prayed, giving thanks to his God, just as he had done before. Daniel 6:10
When the jealous man found out, they informed the king who had no other choice but to throw Daniel into the den of lions. But, because of the power of prayers and his trust in God, the mouths of the lions were shut by God.
My God sent his angel, and he shut the mouths of the lions. They have not hurt me, because I was found innocent in his sight. Nor have I ever done any wrong before you, Your Majesty. Daniel 6:22
This story of Daniel shows that God has always answered prayers, especially when we are walking in righteousness. Daniel was an upright man. He feared God and always prayed even when there were no tribulations. If we similarly ask Christ, he promised to do anything we ask.
Jesus prayer before persecution
The way Christ prayed to God is an easy way to understand how God works. For every decision he takes in our lives, it is for a better purpose.
When the time came for Christ to die, he withdrew from the apostles to pray.
He withdrew about a stone's throw beyond them, knelt down and prayed, "Father, if you are willing, take this cup from me; yet not my will, but yours be done." An angel from heaven appeared to him and strengthened him
Jesus Christ was already living in accordance with the will of the father. He has already obeyed him by coming to the world to die for our sins. When the time came, he knew. Yet, he prayed to God to take the suffering away from him, if it pleases him.
Even so, this prayer was not answered by God. Instead, he let the Jews crucify Jesus Christ. He only allowed Christ to suffer in the hands of the Jews because he had a better plan for him.
Let this mind be in you, which was also in Christ Jesus:Who, being in the form of God, thought it not robbery to be equal with God:But made himself of no reputation, and took upon him the form of a servant, and was made in the likeness of men:

And being found in fashion as a man, he humbled himself, and became obedient unto death, even the death of the cross.Wherefore God also hath highly exalted him, and given him a name which is above every name:That at the name of Jesus every knee should bow, of things in heaven, and things in earth, and things under the earth;

And that every tongue should confess that Jesus Christ is Lord, to the glory of God the Father. Philippians 2:5-11
In summary
God answers all prayers. In the case of Daniel, God shuts the mouth of the lions, and he was saved to the glory of God. In the case of Jesus, God still answered his prayer, but in a mysterious way. He let him suffer yet he was Glorified in the end.
Therefore, we must ask and receive all things according to his purpose.
"In my name," what did Christ mean?
Christ has always been powerful even before the earth was created. Yet, God made him even more powerful when he obeyed him and died for our sins. Through him, a mediator between God and man, our prayers can be answered by God. He is the only way to access God.
Jesus saith unto him, I am the way, the truth, and the life: no man cometh unto the Father, but by me

John 14:6
This was further demonstrated on the day of Pentecost. The apostles received the Holy Spirit and started speaking in tongues. Then the passersby were amazed and asked Peter what to do to earn salvation. He replied and said
Peter replied, "Repent and be baptized, every one of you, in the name of Jesus Christ for the forgiveness of your sins. And you will receive the gift of the Holy Spirit. Acts 2:38
The name of Jesus Christ is mighty and can save us in times of need. Christ is our mediator through which we must pray.
"He will do" – What did Jesus Mean?
If you have fervently prayed through our mediator Jesus Christ, he promised that he would do everything we have asked. Remembering how he prayed just before his persecution, we must understand that God will answer our prayers in his time.
Paul knowing this reminds us that everything happens for the best for those that serve God diligently. Therefore, if you have prayed and still not received from God, you must remember God's ways are mysterious and different from ours.
And we know that all things work together for good to them that love God, to them who are the called according to his purpose. Romans 8:28
---
Recommended for you
---
"If ye ask anything in my name, I will do" – Other bible verses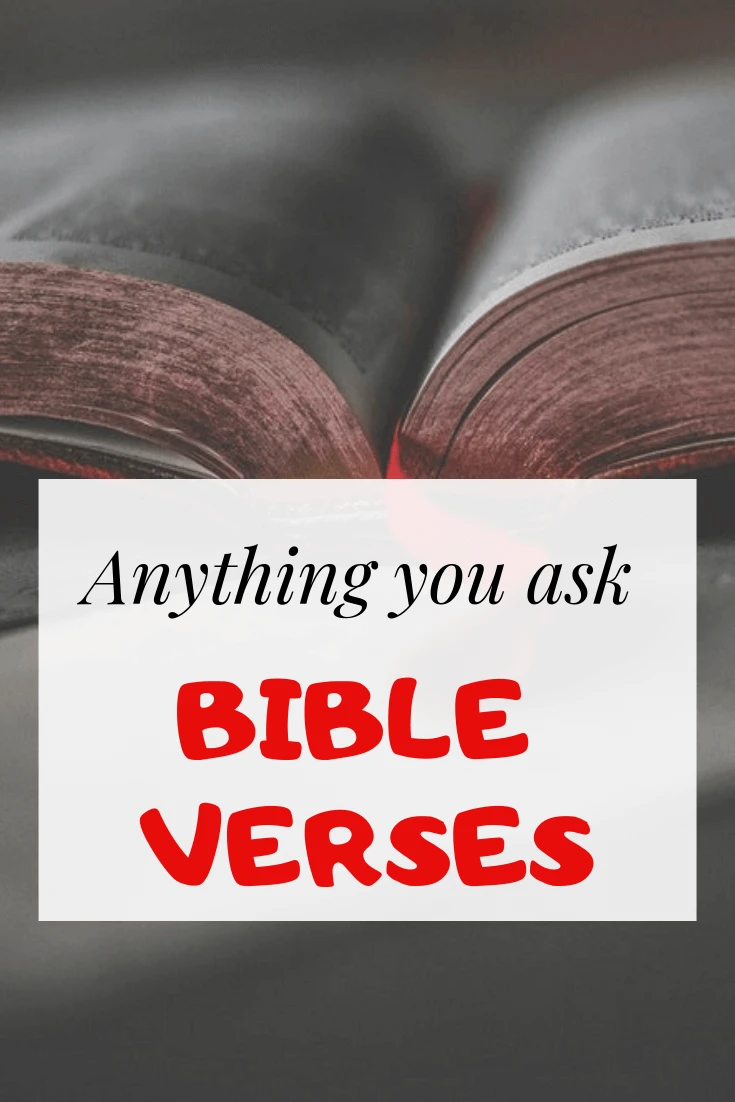 By the grace of God, I have compiled other bible verses that show Christ is willing to do whatever we ask through prayer. Read and be blessed.
1.  Mark 11:24 – ask, and you shall receive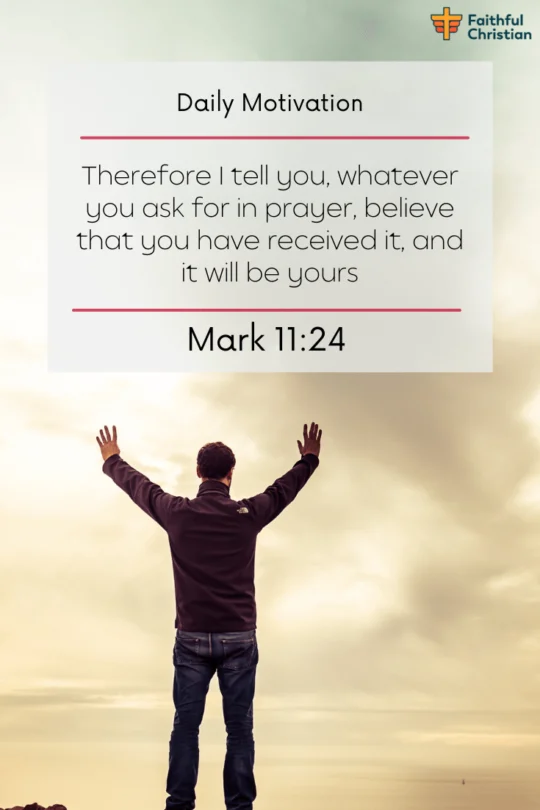 Therefore I tell you, whatever you ask for in prayer, believe that you have received it, and it will be yours
Faith is needed in God's service. Without faith, you may doubt the power of God. God Almighty can do all things. There is nothing he has not done in the past. He can destroy the world if he chooses to. He can also raise the dead. Through Christ, he has given us hope in our prayer.
If we pray without faith, then we may not receive what we ask. Faith gives us spiritual confidence that God will hear our prayers.
Therefore, when we pray, we must believe in the power of God to answer our prayers. If you have faith in him, your prayers "will be yours."
2.  John 16:23-24 on you have not asked anything in my name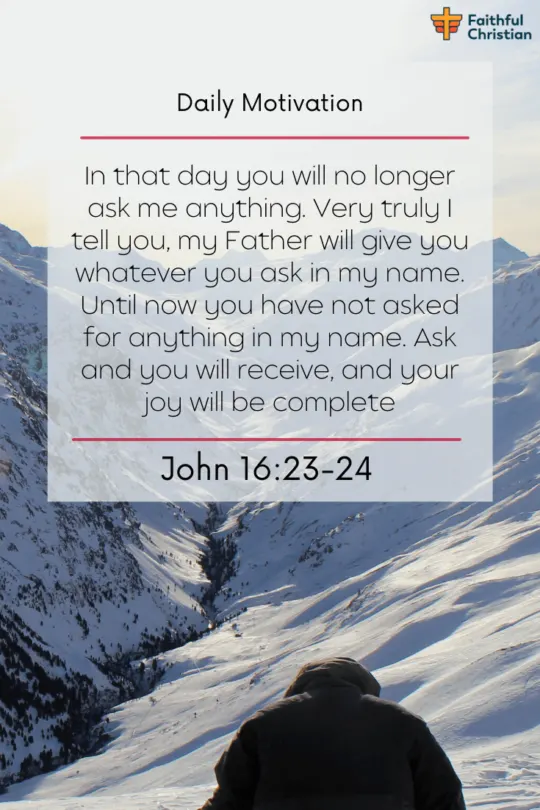 In that day you will no longer ask me anything. Very truly I tell you, my Father will give you whatever you ask in my name. Until now you have not asked for anything in my name. Ask and you will receive, and your joy will be complete
Jesus Christ, while speaking to the apostles, made them a promise. That, in his name, he will do all they ask until the end of the world.
"In that day you will no longer ask me anything." Here Christ was speaking about eternal glory. Christ has promised to deliver us into eternal life if we continue to be righteous until the end.
Until then, we are to ask all we need through his name. If you ask from Christ, you will receive from him if you believe.
3. John 15:7 Abiding in Christ for our prayers to be answered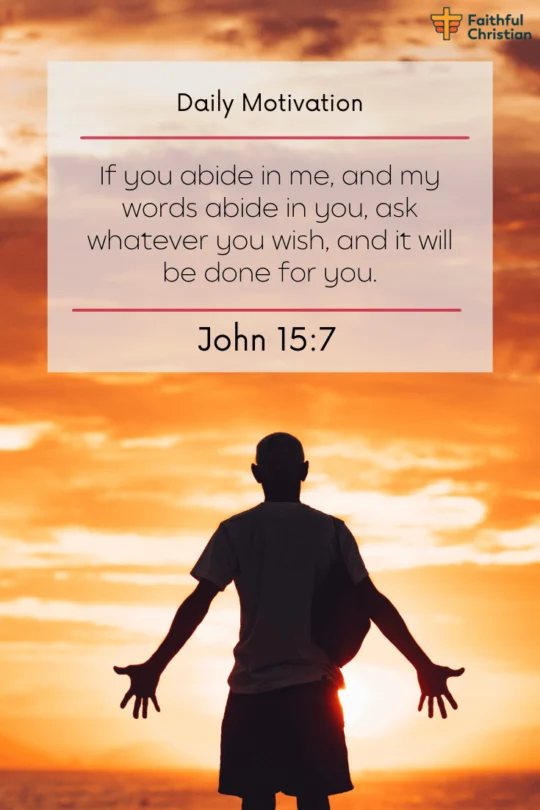 If you abide in me, and my words abide in you, ask whatever you wish, and it will be done for you.
We must all understand that God answers prayers. He lets his will also be done in our lives. If we want God to always answer our prayers, we must abide in the body of Christ.
Living in Christ means allowing the holy spirit to direct your paths. If the spirit leads you, you will live righteously and eschew evil. God always hears the prayers of a righteous man. However, if we continue to live in sin, our prayers may not be heard by God.
Now we know that God heareth not sinners: but if any man be a worshipper of God, and doeth his will, him he heareth. John 9:31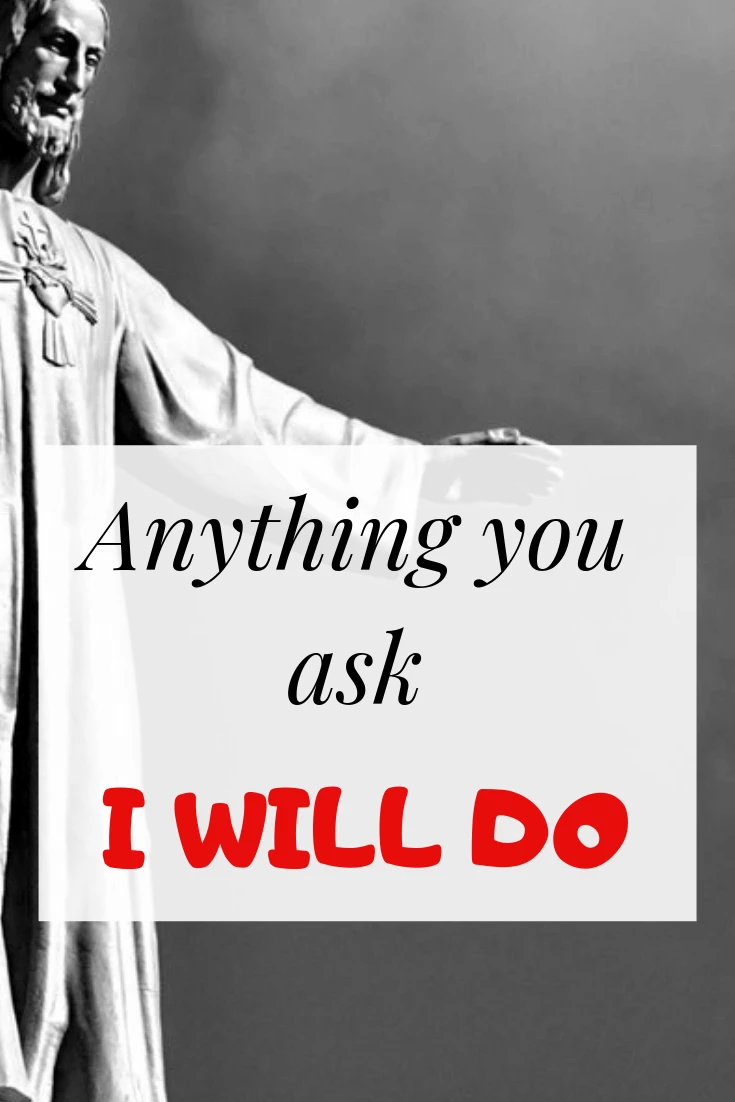 Author: Akatakpo Dunn
Dr. Akatakpo Dunn is a dedicated follower of Christ, an active member and speaker, and an ongoing learner of the Scriptures. Passionate about his faith and serving others, he is committed to sharing his spiritual journey and insights to inspire and uplift fellow believers. He has been active in the church for more than 23 years. Through The
Faithful Christian Blog
,
Dr. Dunn
combines his love for God, philanthropy, and Scripture, providing a valuable resource for those seeking to grow in their faith.
Follow me: on Youtube, Facebook, Twitter, Instagram, and Pinterest.
Content Disclosure:
At The Faithful Christian Blog, I create authentic and inspiring content. Although I am the main author, I occasionally use AI for minor language enhancements. This minimal AI usage ensures high-quality, trustworthy articles without compromising originality or sincerity, ultimately supporting our shared faith journey.
Warmly,
Dr. Akatakpo Dunn
Was this article helpful?