It is a brand new morning again.
And so, we will pray for your husband.
We will ask God to direct his paths and preserve him.
We will ask God to strengthen him when he is weak.
May God protect and bless your husband today in all that he will do. Amen.
---
Recommended for you
---
Short morning prayer for husband and wife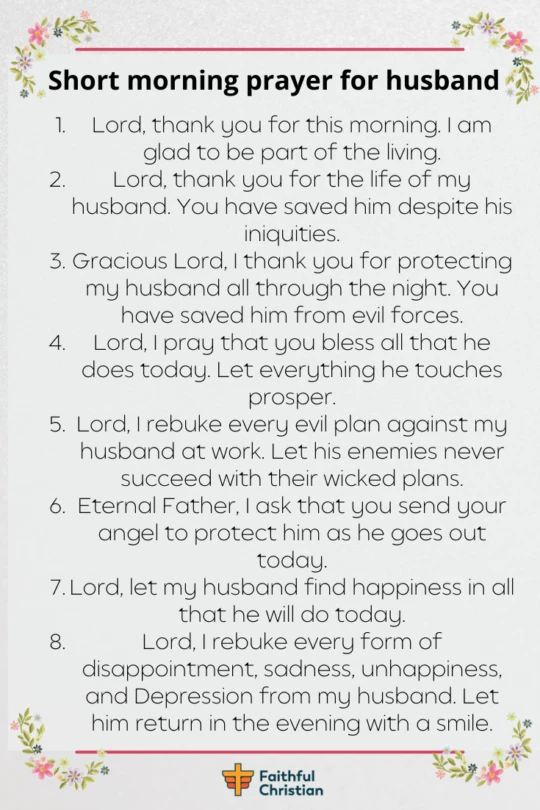 Heavenly Father, the dawning of a new day fills me with awe. As I stir from my slumber, my heart sings a song of gratitude. It's another beautiful day to live, to love, and to be loved (Psalm 118:24).
Lord, I'm deeply thankful for my husband. Your grace, The Almighty, is evident in his life. He is a testament to Your unfailing love and mercy, despite his human imperfections (Romans 5:8).
Our Protector, You've cradled my husband in Your safety through the night. You've been his shield against the unseen, a haven in the dark (Psalm 91:4). My heart overflows with gratitude for Your ceaseless watch over him.
As the sun paints the morning sky, my prayer rises to You, Father. Bless his endeavors today (Deuteronomy 28:8). May his efforts bear fruit, every task he undertakes bloom under Your nurturing gaze.
Almighty God, I humbly ask Your intervention against harm at his workplace. You are our refuge, our fortress. Under Your watch, no evil plan shall prosper (Psalm 91:2).
Father, send Your angels to keep him safe (Psalm 91:11). As he steps out into the world today, may Your celestial guardians be his steadfast companions, ensuring his safe passage home.
Lord, may joy color his day. In every task he undertakes, in every encounter, may he find happiness (Philippians 4:4). His day, like every moment under Your reign, is a gift to be cherished.
And as the sun sets, I rebuke shadows of despair (Psalm 43:5). Disappointment, sadness, depression – these have no place in his heart. Instead, let him return home wearing a smile, his heart light, his spirit renewed. This, O Lord, is my prayer. Amen.
Good Morning prayer for my husband (with these Bible verses)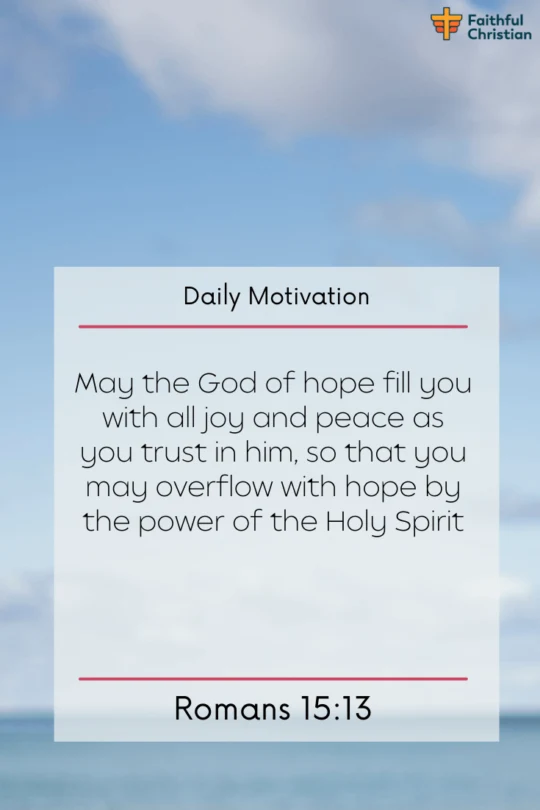 May the God of hope fill you with all joy and peace as you trust in him, so that you may overflow with hope by the power of the Holy Spirit
Psalm 86:15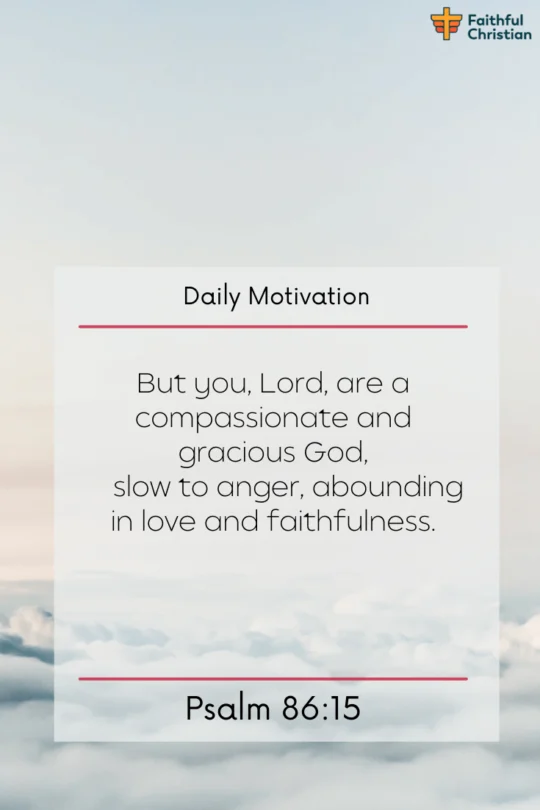 But you, Lord, are a compassionate and gracious God,
    slow to anger, abounding in love and faithfulness.
Luke 1:50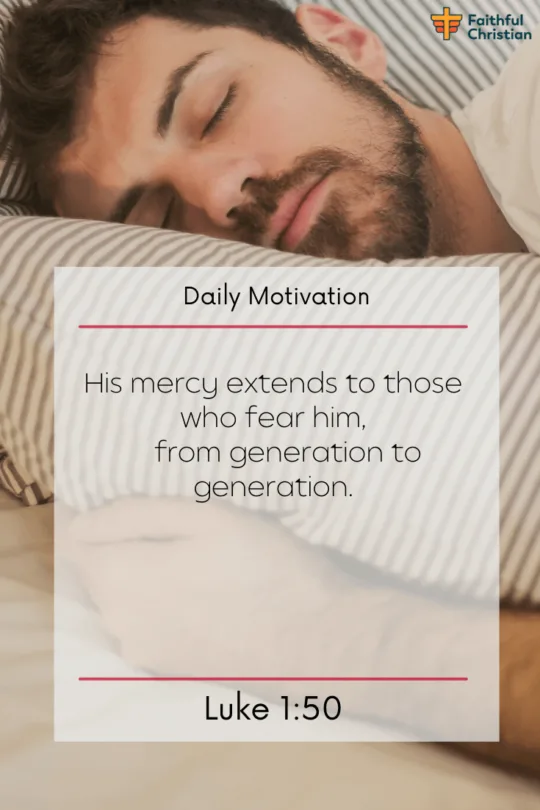 His mercy extends to those who fear him,
from generation to generation.
---
Recommended for you
---
Morning Prayer for My husband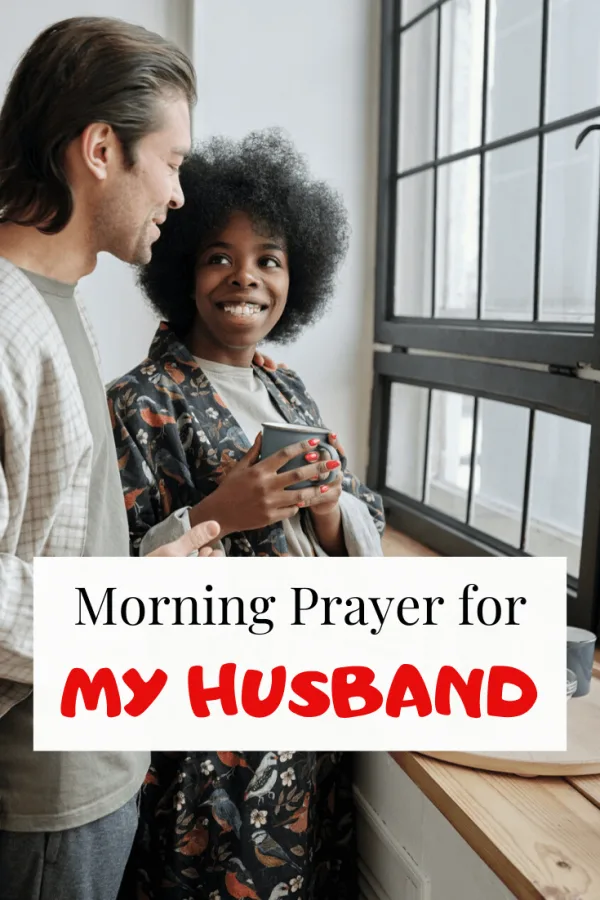 Ask for forgiveness (let us pray)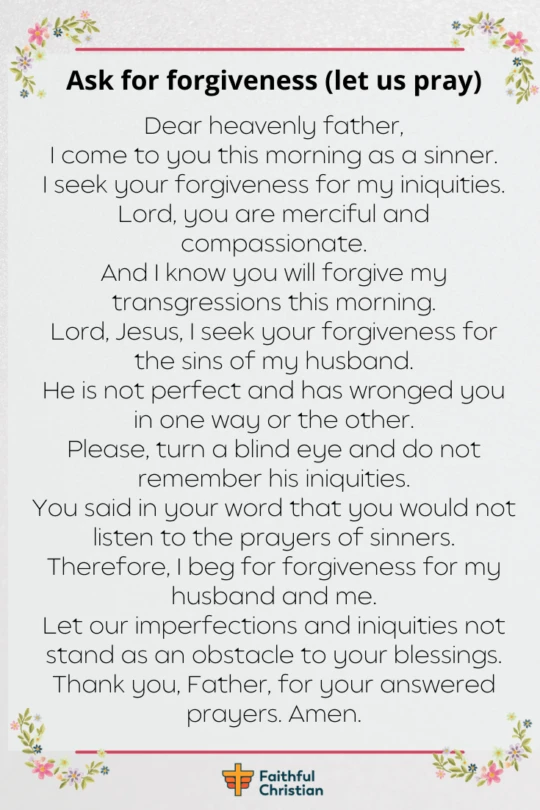 Dear Father, the One who paints the morning sky,
Today, I rise, aware of my flaws. Yet, I stand before you, humbly seeking your mercy, recalling Psalm 51:2, "Wash away all my iniquity and cleanse me from my sin." Father, wipe my slate clean.
God of Endless Compassion, I know your love knows no bounds. My sins? You'll forgive. Just as Micah 7:18 reminds us, "Who is a God like you, who pardons sin?" Your love, everlasting. My faith, unwavering.
I turn my thoughts to my dear husband. The One who molded him knows his human errors. Imperfect, yet cherished. Lord, I beseech you, pardon his missteps.
Almighty Creator, your grace is our sanctuary. Mistakes, overlooked. Shortcomings, forgotten. As promised in Isaiah 43:25, "I, even I, am he who blots out your transgressions, for my own sake, and remembers your sins no more."
Oh, the promise of your word, it fills us with hope! A prayer from a sinner? You might not heed. But Father, our hearts bleed repentance. Please, lend us your ear.
Lord, you are our Guiding Star. Imperfections? Yes, we have many. But let them not bar us from your blessings. We strive to walk on the path lit by Psalm 119:105, "Your word is a lamp to my feet and a light to my path."
Guidance is what we seek, Lord. To flee from sin, to nurture a pure heart, to live righteously. Let our lives echo Proverbs 21:3, "To do what is right and just is more acceptable to the Lord than sacrifice."
Gratitude swells within me, Heavenly Father. Your love listens. Your love forgives. Prayers, you answer. For this, we are eternally grateful.
In this divine dance of words and silence, I feel your reassuring presence. My trust in you, Lord, strengthens. Our lives, your canvas. Your love, our paint.
And so, in the name of Jesus, I offer this prayer. Amen.
Give Thanks to the Lord (let us pray)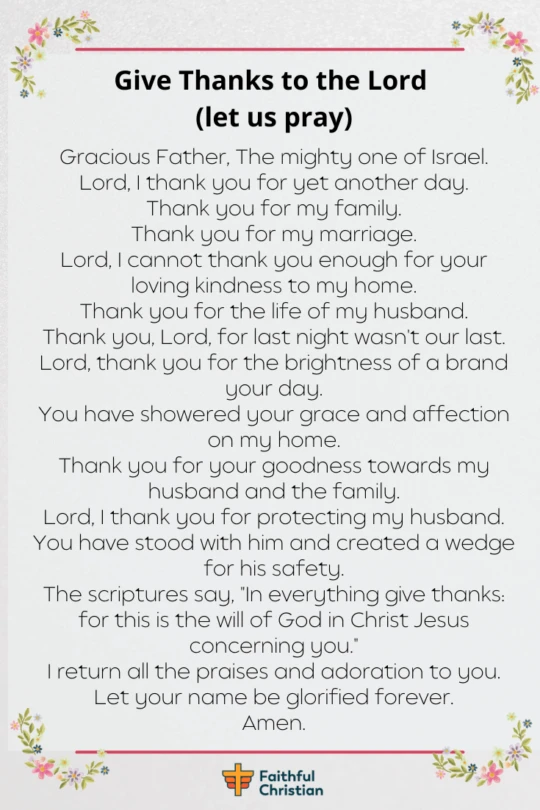 Almighty God, our Rock of Ages,
In the gentle hush of this new morning, I bow before You. A grateful heart is all I bring. Your mercies? They're new each day. For that, Father, I give thanks.
Look around us. Family. Love. Unity. Your gifts to us. Each one a testament of Your love, woven into the fabric of our lives. In the midst of them, I find my marriage. A blessing beyond measure. A reflection of Your divine partnership with the church. A mirror of Your endless love.
Your benevolence graces our home, Father. It's ceaseless. Unyielding. For this grace, I offer my thanks. It's not just my home You've graced. It's also my husband. His life is a priceless gift from You. For his life, for his wisdom, for his strength, I'm forever in Your debt.
We slept. We woke. It wasn't our last. Your divine protection was our cover, our shield. It's as the Psalmist proclaimed in Psalm 121:5, "The Lord is thy keeper." Each night You keep us, Lord. Each morning, we see a new day. A radiant reminder of Your unwavering watch over us.
Lord, Your goodness showers down on my home like the morning sun. It's warm. It's consistent. I see Your fingerprints on our lives, and for that, I'm deeply thankful.
Father, You stand as my husband's fortress, his ever-present help in times of need, just as in Psalm 46:1. A divine barrier of safety, shielding him from harm. For this divine shield, I'm eternally thankful.
In everything, we're to give thanks. It's a command from 1 Thessalonians 5:18. Today, I obey that command. With a heart brimming with gratitude, I bring my praise and thanks.
Lord, it's You who deserve all glory and honor. To You, the Ancient of Days, the Prince of Peace, I return all praise. Your works are visible in every breath we take.
In You, oh God, we trust. Your name shall forever be glorified in our lives, our marriage, and our home.
To the One who reigns above all, the Alpha and Omega, the King of Kings, be all the glory.
Amen.
Early will I seek you (let us pray)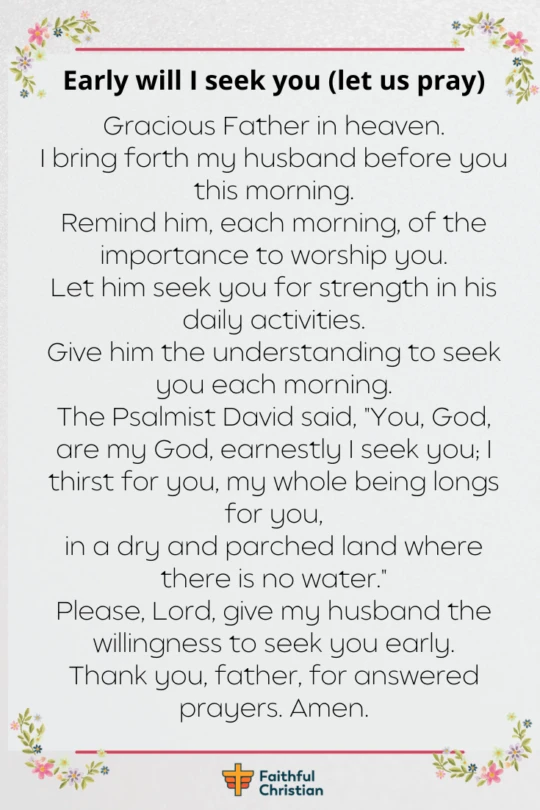 Divine Architect of the Universe,
As dawn breaks, my dear husband is on my heart. With the rise of the morning sun, a prayer escapes my lips for him. Lord, fan a gentle spark within him. Let him feel a deep call to honor you, the Master of all Creation, at the start of each new day.
Remind him, Almighty, that every heartbeat is a hymn. Every breath, a silent whisper of gratitude for your unfathomable love.
Father, help him seek you. Be his compass amidst life's bustling activities. Teach him to pause, breathe, and find strength in you, the Divine Sustainer. But those who hope in the LORD will renew their strength. They will soar on wings like eagles." (Isaiah 40:31).
Cultivate in him, Lord, a hunger for you. Let his day not begin with worldly matters, but in holy whispers with you. Psalms 63:1 reflects our deepest yearnings, "O God, you are my God; earnestly I seek you; my soul thirsts for you; my flesh faints for you, as in a dry and weary land where there is no water." Thus, let his soul mirror this thirst, the desire to find you, to know you.
Infuse in him a desire, Lord, to seek your face at dawn. May his heart beat in sync with yours, his spirit resonate with your love before the world draws him in. Let his soul become a sanctuary, where he finds tranquility, courage, and hope for the day.
Lord, you said in Jeremiah 29:13, "You will seek me and find me when you seek me with all your heart." So, inspire my husband to have this pursuit, to seek you with every fiber of his being.
As I lift this prayer to you, Father, I'm filled with joy. My heart finds comfort in your promises. For I know every prayer, whispered in faith, reverberates in the heavens and showers blessings upon us.
In your holy name, we find refuge. Thank you, Father, for your unending grace and love. You're our rock, our fortress, and our deliverer (Psalm 18:2). In you, we find peace, guidance, and strength for the journey.
Amen.
His going out and coming in is blessed (let us pray)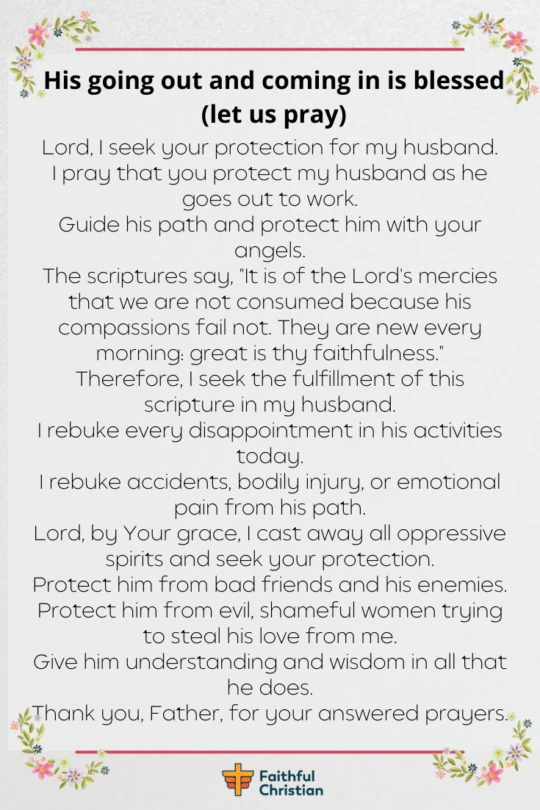 Oh Heavenly Father, as the sun greets a new day, I lift my dear husband in prayer. I yearn for your divine shield to guard him. Lord, let him venture forth, embraced by your mercy.
He steps into the world to work. Guide him, I pray. As said in Proverbs 3:5-6, lean not on our understanding. Direct his path, Almighty. Let your protective angels walk beside him.
Your words promise, "His mercies… are new every morning" (Lamentations 3:22-23). Today, I ask you to manifest this promise for my husband. Let his day brim with your love, fresh as the morning dew.
Father, push away any cloud of disappointment. Let his daily endeavors shine with your blessing. As he strides forth, let him experience the victory in Romans 8:37; as more than a conqueror through you who loves him.
I pray against all harm. No accident, physical, or emotional turmoil should shadow his path. Just as Psalm 91:11 assures, may your angels guard him, Almighty.
By your infinite grace, I rebuke oppressive spirits. Your powerful protection, like in 2 Thessalonians 3:3, is what I seek. Cast out all that seeks to harm him.
Shield him from harmful friends and foes. Surround him with love, support, and positivity, as Proverbs 27:17 suggests, iron sharpens iron.
Lord, protect him from immoral women. As affirmed in Proverbs 6:24, let wisdom keep him. Our love is sacred; keep it secure under your watch.
Bestow on him understanding and wisdom. Let his actions echo the wisdom in James 3:17; pure, peace-loving, considerate.
Thank you, gracious Father. Each answered prayer is a testament to your boundless love. Your mercy, fresh as each new day, never fails. Great is your faithfulness. Amen.
---
Recommended for you
---
All he shall do today is blessed (let us pray)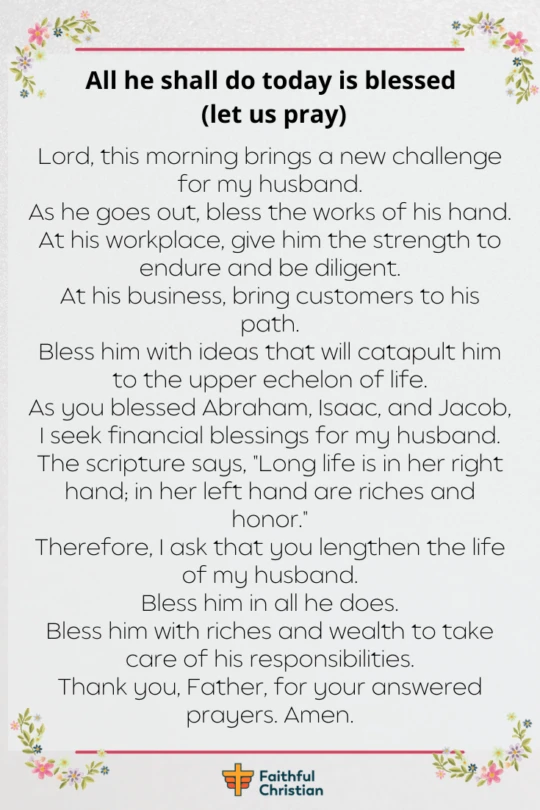 My dear Heavenly Father, as the day awakens, I draw close to you in humble prayer. I carry in my heart, my beloved husband, who readies himself for today's challenges.
"Commit to the Lord whatever you do, and he will establish your plans" (Proverbs 16:3). Father, in line with your word, I commit his endeavors to you. I ask for your blessing on his labor, making every effort a stepping stone to success.
His workplace can be tough, Lord. It reminds me of Ephesians 6:10, "Finally, be strong in the Lord and in his mighty power." I ask for that strength for him. May he remain diligent, resilient, and never tire.
He manages his business with such care. Just like in Luke 14:28, which talks about planning, I pray you guide him. Bring clients to him, Lord. Boost his venture, leading it to prosperity.
Father, he yearns for innovative ideas. As said in James 1:17, "Every good gift and every perfect gift is from above." I pray for those good gifts for him. May these ideas take him to life's higher planes.
You blessed Abraham, Isaac, and Jacob, oh Lord. Just like in Genesis 12:2, "I will make you a great nation, and I will bless you", I seek those blessings for my husband too.
Proverbs 3:16 promises long life and riches. I claim that for my dear one, Lord. Please, grant him a long, fulfilling life.
In all he does, shower him with blessings, Almighty. May he have enough wealth to fulfill his responsibilities, as promised in Deuteronomy 8:18.
Lastly, I say thank you. Psalms 107:1 tells us, "Give thanks to the Lord, for he is good; his love endures forever." So, I thank you, Father, for your unfailing love and answered prayers.
In your divine name, I pray, Amen.
Joy comes in the morning (let us pray)
Beloved and eternal Father,
Your love astounds me. In every moment, it cradles my dear husband. As in Psalms 23:6, your goodness and mercy are ever with him. For this, my heart sings praises!
Your guiding hand has shaped his journey. Like a skilled potter with clay, you've molded him. It's evident in his life. For this, Father, I'm grateful.
The future? It's an open book penned by you. Jeremiah 29:11 promises us that. For my husband, the journey to grand heights starts today. I believe it.
A new day dawns. Fresh as the morning dew, it's a divine gift. May it light up his heart with joy, like David danced in Psalms 150:4. A new beginning, a fresh chance!
May this day fill his sails with delight. Every task, every moment. May they echo Proverbs 15:23, and bring joy in achievement. I pray this for him, Lord.
At sunset, may his return home echo the joy of Luke 15:6. A day well spent, a radiant smile of satisfaction. His reward, Lord, for hard work.
I know you hear my whispers, Father. Like Hannah in 1 Samuel 1:27, I know you answer. My husband's protector, his guide. You are amazing!
Each sentence is a prayer, Almighty. Each word, a plea. Your will be done. In reverence, I bow to your greatness.
In Jesus' name,
Amen.
Frequently Asked Questions
What is the powerful daily prayer for my husband?
"Dear Heavenly Father, I pray for my husband today. Let your wisdom be his guide, your peace his comfort. May he find strength in you, Lord, as he walks through the trials of this life. I pray for your hand of protection over him, guarding him against any harm. Strengthen his heart and his faith. Help him to lead our family in love and righteousness, reflecting Your grace and mercy in all he does. In Jesus' name, I pray. Amen." (See Ephesians 5:25-28)
What is a successful prayer for my husband?
"Dear Lord, I come before you today to pray for my husband. I ask that you guide his steps and help him succeed in his endeavors. Grant him success in his career and wisdom in his decisions. May he be like a tree planted by the rivers of water, that brings forth its fruit in its season. (Psalms 1:3) May he find favor in your sight and in the sight of men. In Jesus' name, I pray. Amen."
What is a powerful blessing prayer for my husband?
"Gracious Lord, I lift my husband to you today and ask that you bless him abundantly. Let him experience your love and peace in profound ways. I pray that you equip him with all he needs to thrive and to be a blessing to others. May you prosper his work, his relationships, and his walk with you. As in Numbers 6:24-26, 'The LORD bless you and keep you; The LORD make His face shine upon you, And be gracious to you; The LORD lift up His countenance upon you, And give you peace.' In Jesus' name, I pray. Amen."
How do I pray for my husband's message?
"Dear Father, I pray for my husband as he prepares to deliver this message. I ask that you fill him with your Spirit, give him the words to speak, and guide his thoughts. May the message he shares be anointed by you, inspiring, and uplifting. Let it touch hearts and transform lives for your glory, as in 2 Timothy 3:16, 'All Scripture is God-breathed and is useful for teaching, rebuking, correcting and training in righteousness.' In Jesus' name, I pray. Amen."
How do you pray for the man you love?
"Father in Heaven, I come before you with a heart full of gratitude for the man I love. I ask that you watch over him, guide his steps, and keep him safe. Fill him with your peace and joy, and let him know how deeply he is loved. Equip him to face whatever challenges come his way, and let his life be a testament to your faithfulness. '1 Peter 4:8' says, 'Above all, love each other deeply, because love covers over a multitude of sins.' In Jesus' name, I pray. Amen."
What is a powerful prayer for my man?
"God, I thank you for the gift of my man. I pray that you continue to mold him into the image of Your son, Jesus Christ. Let your grace and mercy follow him always. Strengthen him in faith and fill him with the wisdom to lead as you would have him do. May he walk in integrity, and may his heart always seek after You. As Proverbs 27:17 says, 'As iron sharpens iron, so one person sharpens another.' May he continually be sharpened and shaped by Your Word and Spirit. In Jesus' name, I pray. Amen."
How do I pray and ask God for my husband?
Lord God, I come before You today asking for my future husband. Prepare both of us, Lord, for the time when we will meet. Allow us to grow individually, and in Your timing, bring us together in a way that glorifies You. Guide us in Your truth and teach us, for You are God our Savior, and our hope is in You all day long as in Psalm 25:5. In Jesus' name, I pray. Amen."
How do I pray for my husband to love me more?
"Heavenly Father, I come to You today to pray for my marriage. I ask that You touch my husband's heart and stir in him an even deeper love for me. May we continue to grow together in understanding, respect, and affection. Let our love for each other reflect Your love for us, and may we be an example of a godly marriage. As in Ephesians 4:2-3, 'Be completely humble and gentle; be patient, bearing with one another in love. Make every effort to keep the unity of the Spirit through the bond of peace.' In Jesus' name, I pray. Amen."
How do I pray for my husband to be saved?
"Dear Lord, I come before you today with a heavy heart for my husband. I pray that he comes to know You, Lord, and accepts You as his personal Savior. Soften his heart, open his eyes to Your truth, and let Your Holy Spirit convict him of his need for You. I trust in Your promise in Romans 10:9, 'If you declare with your mouth, "Jesus is Lord," and believe in your heart that God raised him from the dead, you will be saved.' I pray this for my husband. In Jesus' name, I pray. Amen."
What is a blessing prayer for my husband?
"Almighty Father, I ask for Your blessing over my husband. May he be filled with Your love and grace each day. Guide him, protect him, and grant him health and prosperity. May his life bear witness to Your goodness and faithfulness. May Your words in Jeremiah 29:11, 'For I know the plans I have for you,' declares the LORD, 'plans to prosper you and not to harm you, plans to give you hope and a future,' be fulfilled in his life. In Jesus' name, I pray. Amen."
What is a powerful prayer message for my husband to start the morning?
"Dear God, as my husband wakes to a new day, I pray that Your grace and mercy accompany him. Let him walk in Your light and truth. Help him to face the challenges of the day with courage and wisdom. May he find favor in all his dealings and may Your love always guide his decisions. 'Let the morning bring me word of your unfailing love, for I have put my trust in you. Show me the way I should go, for to you I entrust my life.' (Psalm 143:8) In Jesus' name, I pray. Amen."
Can you provide a short morning prayer for my husband?
"Heavenly Father, thank You for this new day. I pray for my husband as he starts his day. Guide his steps, grant him wisdom and strength. Protect him from harm and lead him in Your ways. 'Psalm 118:24' says, 'This is the day the Lord has made; let us rejoice and be glad in it.' In Jesus' name, I pray. Amen."
Author: Akatakpo Dunn
Dr. Akatakpo Dunn is a dedicated follower of Christ, an active member and speaker, and an ongoing learner of the Scriptures. Passionate about his faith and serving others, he is committed to sharing his spiritual journey and insights to inspire and uplift fellow believers. He has been active in the church for more than 23 years. Through The
Faithful Christian Blog
,
Dr. Dunn
combines his love for God, philanthropy, and Scripture, providing a valuable resource for those seeking to grow in their faith.
Follow me: on Youtube, Facebook, Twitter, Instagram, and Pinterest.
Content Disclosure:
At The Faithful Christian Blog, I create authentic and inspiring content. Although I am the main author, I occasionally use AI for minor language enhancements. This minimal AI usage ensures high-quality, trustworthy articles without compromising originality or sincerity, ultimately supporting our shared faith journey.
Warmly,
Dr. Akatakpo Dunn
Was this article helpful?