Marriage is honorable especially when both parties are faithful.
If you are struggling with a husband that cheats all the time, Through prayers you can make a difference today.
It is quite difficult to deal with a cheating partner.
It takes away your happiness and fills your heart with sadness.
Most nights you can't sleep, and you find yourself going through his phone.
In some scenarios, you are tempted to approach the lady and fight or embarrass them.
But you shouldn't.
Fighting and worrying about your husband's infidelity is not the solution.
Remember Christ's words, he said,
Can any of you by worrying add any second to your life
Getting all worked up will not bring your husband's love back home.
And that's why we all need God.
From a man's perspective, it is really tempting to cheat on your wife.
I've been married for months now, and yet lots of ladies still want me around.
That's where self-control comes in.
I've conditioned my mind to stay focused on my marriage because I know there are huge repercussions for cheating on your partner.
My wife is also a prayerful woman.
Each day she prays at least twice, and every time I'm in her prayers.
If you are struggling with a cheating husband, Get on your knee and start praying for your husband to leave the other woman.
---
Recommended for you
---
Prayer for a cheating husband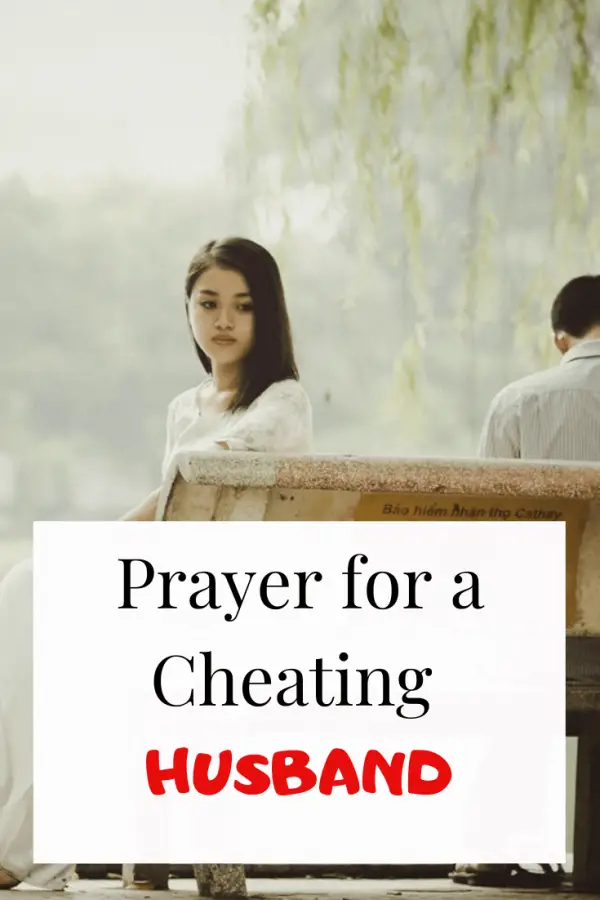 1. Let us thank God for your husband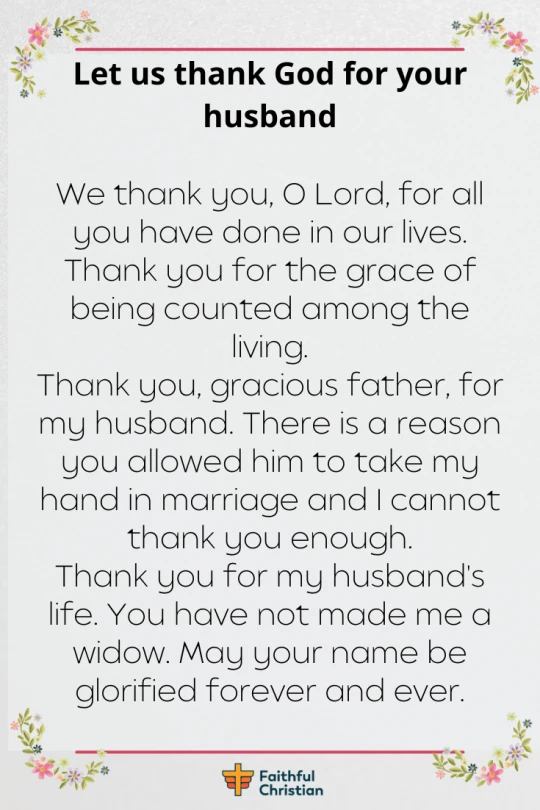 Our hearts are brimming, Lord, with your blessings. Life. Breath. It's all a gift from you. Each beat of our hearts sings a silent hymn of gratitude. This breath we draw, this precious life, it's all because of you. It's a divine privilege, as said in Acts 17:28. Yes, we are alive because of you. We are privileged to witness your grand creation.
My husband, my partner, is a divine gift. Our meeting wasn't random. You guided us together, just as Proverbs 18:22 suggests. He's not just a man, but a blessing from you. Our hands joined in marriage, a reflection of your grand design. A joyous arrangement, a silent hymn to your wisdom. And for that, Lord, my heart is brimming with thanks.
His breath, his life, it's all a miracle. Every moment he exists is a testament to your love. It reminds us of Genesis 2:7, where life began with a divine breath. This symphony of life, of love, is your work, Lord. I am spared from widowhood, a mercy for which I am ever thankful.
So, we praise you. Yes, we'll glorify your Holy Name. Just like it says in Psalm 34:1, we'll bless you at all times. Sunrise or sunset, answered prayers, unseen blessings. We see you, Lord. Your benevolence shines through. We give you all the glory. Today, tomorrow, forever. Amen.
---
Recommended for you
---
2. Payer to let your unfaithful husband love you back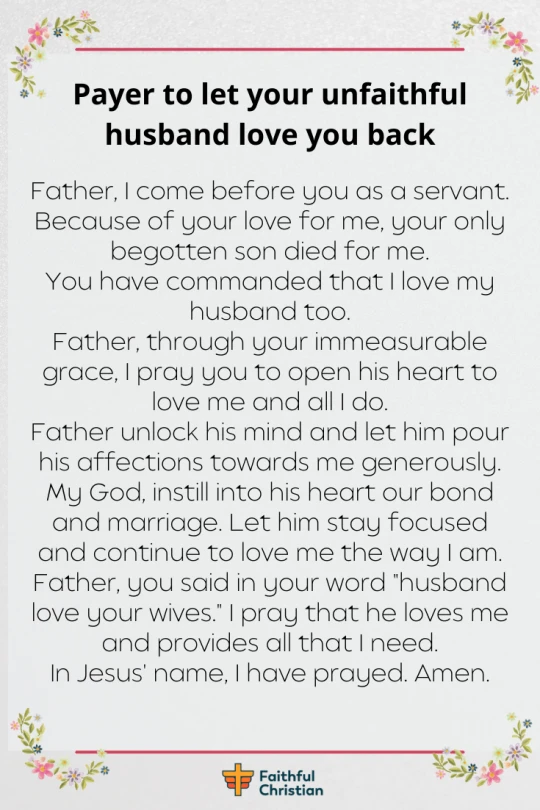 Standing before You, dear Father, I recognize my place. Just like Apostle Paul, I'm a servant of Christ. That's what it's all about: love. The love You showed by offering Your Son, a mirror to John 3:16's message. Believing in Him grants us life everlasting. Isn't that a beautiful thing?
Your teachings guide me, like a compass on a foggy night. There's one commandment that stands out: Love. Love your husband, just as I have loved you. It's a proactive love, as Paul tells us in 1 Corinthians. It's patient and kind. It's humble and honest. A love that always stands strong, never losing hope.
Father, I need Your grace. I need Your mercy. I'm asking for a miracle here. Transform my husband's heart. Make it open and receptive, like the promise in Ezekiel. Make it a heart ready to embrace my love, my actions, my whole being. Let him return this love, generously and unreservedly.
God, You created everything. I need You to create something more. A strong bond in my husband's heart, like that three-strand cord from Ecclesiastes. A bond that our marriage vows fortified. Help him stay focused. Help him love every bit of me. My strengths, my flaws. I'm perfect in his eyes, as we're reminded in Song of Solomon.
Your word is a wellspring of wisdom, Father. "Husbands, love your wives," says Ephesians. It's more than a suggestion. It's a divine calling, mirroring Christ's love for His church. May my husband embody that love. May he cherish me, providing everything I need.
Lastly, I lift these prayers to You in faith. Hebrews tells us faith is our hope's assurance. Even when we can't see it, we believe. In Jesus' name, I pray. Amen.
3.  Prayer to stop adultery and remove shame from your family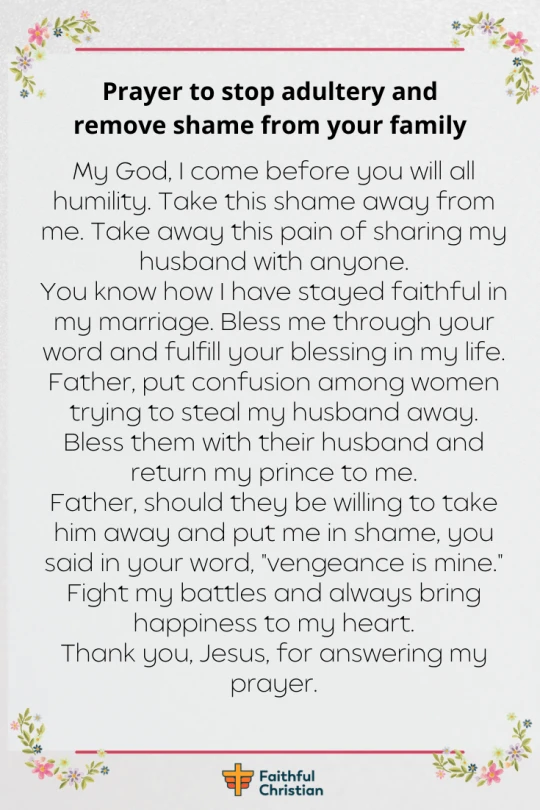 My dear Lord, I approach Your divine presence, heart full of humility. I'm reminded of Psalm 25:9. You're my teacher, my guide. You show the humble the right path.
Today, I stand at a crossroads, pleading for Your divine help. I need Your strength, Your guidance to overcome this torment. You're my comfort, as per Psalm 34:18, the Savior of the crushed spirit. My heart bears a heavy burden. Please take it away.
You've been a silent witness. A witness to my unwavering commitment in marriage. Every moment, every decision is seen by You, the All-Seeing, as per Proverbs 15:3. Your word is my roadmap, my comfort. It's time for Your blessing. May it flourish in my life. Jeremiah 29:11 gives me hope. You've planned a bright future for me.
Divine Father, confusion is not Your way. You're a God of peace, as 1 Corinthians 14:33 says. But, I beg for Your intervention. May those who seek to steal my husband find their path obscured. Guide them back to righteousness.
Let them find their partners, Lord. A good partner is a gift from You, as in Proverbs 18:22. My husband and I have created a sacred bond. Guide him back, back to our love-filled home. Our love echoes Ephesians 5:25, divine and profound.
Father, their persistence may try to shatter my peace. But, I remember Romans 12:19. 'Vengeance is mine', You said. I trust in Your divine justice. You will restore my harmony.
In this battle, You are my shield. You promised in Exodus 14:14, to fight for me while I remain silent. Fill my heart with joy. John 16:24 reassures me. You promised to complete my joy. That's my prayer, Lord. Shield me from the pain and bless me with happiness.
My gratitude goes to You, Jesus. Your divine intervention is my solace. I put my trust in You, as Proverbs 3:5-6 encourages. You've granted me serenity to face my trials. Your love is my assurance. You will never forsake me, according to Deuteronomy 31:8. I find comfort in Your words. You are my guide, my savior, my refuge.
4. Prayer to make your husband provide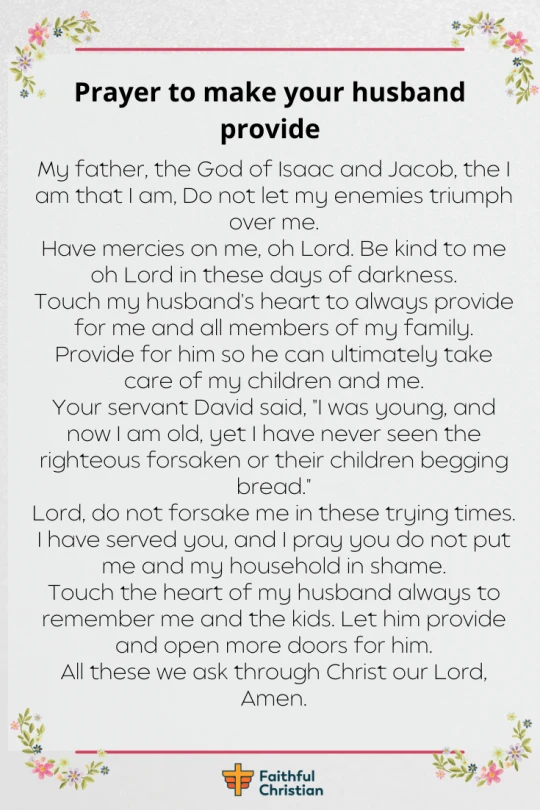 My dear, kind Father above, you're the One who guided Isaac and Jacob. The One who never changes, the Great I am. I need your shield of protection. I remember the comforting words, "God is our refuge, our strength". So, I ask, be my refuge. Let no enemy have victory over me. After all, isn't it written, "If God is for us, who can be against us?"
Times are tough, and life is filled with shadows. You know this, Lord. You are a God of unending mercy and kindness. Isn't it true that your "compassions never fail?" They're "new every morning", aren't they? With this promise, I ask for your mercy. Guide me. Be the light to my path in this difficult time.
The heart of my dear husband, Lord, needs your touch. He's our provider, our rock. A man must provide for his household, isn't that what we're taught? Please inspire him. May he be like Christ, loving his wife, giving himself up for her. Provide for him. May he create a loving, caring home for us.
I remember David's words in the Psalms. "I've never seen the righteous forsaken or their children begging bread." I stand on this promise, Lord. Please, guide me. Provide for us in these testing times.
You've promised to "never leave or forsake me," haven't you? I trust you, Lord. Let not me or my family be put to shame. We remember your promise, "You will not be put to shame."
My husband, Lord, he must remember me and our children. Touch his heart, Lord. Remind him of his duty. May he love his wife as his own body. May he care for us. Just as Christ does the church.
Lastly, it's in the name of Jesus we ask all this. We have confidence because of Him. We know you hear us, Lord. We believe in the promise, "Whatever you ask in my name, I will do." And so, with faith, we say, Amen.
My prayer for you
Dearest Father, we're here, gathered before Your glorious presence. With confidence born from Hebrews 4:16, we approach. Our hearts overflow with love for You and an unending faith in Your merciful nature.
Like Job, your servant suffers, caught in the devil's grasp. She remains resolute in her faith, unbowed. Hear our prayers. Safeguard her life. Keep her from shame. As she has sought refuge in You, let her find peace.
You're our tower of strength, Father. We believe this truth wholeheartedly. Our cry for help reaches Your ears. It's the promise we've gleaned from Psalm 34:17. Your rescue is sure, bringing us from life's tempests to calm shores. Nothing is impossible for You. This confidence comes from Jeremiah 32:27. Your abilities know no bounds.
In the darkest times, You bring light. You promise honor instead of shame in Isaiah 61:7. We've seen Your miracles. The Red Sea parting. Manna in the wilderness. Evidence of Your mighty power is all around us. Your love for Your people, unwavering and true.
You hold hearts in Your hand, Lord. We remember Pharaoh's hardened heart from Exodus 7:3. Today, we beseech You to turn a hardened heart to one of love. Let the wayward husband remember his vows. Bring him back to his wife. Guide him to a life of shared love and respect.
Thanksgiving fills our hearts even in trials. We remember Your command in 1 Thessalonians 5:18. We're grateful, for we believe in Your divine love. You hear our pleas. Jeremiah 33:3 tells us You answer our calls. Our faith is in Your promise.
And so, we come before You, full of hope. We're confident in Your attentive care. Our pleas, sent up in prayer, are heard. Your name holds the power. We believe 1 John 5:14-15. Our prayers are according to Your will. You hear us. Amen.
Bible verses used in this prayer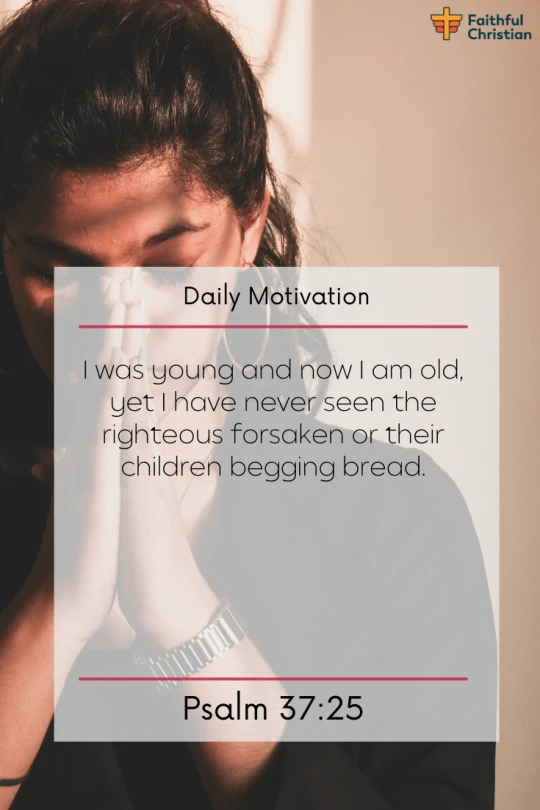 I was young and now I am old, yet I have never seen the righteous forsaken or their children begging bread.
Romans 12:19
Do not take revenge, my dear friends, but leave room for God's wrath, for it is written: "It is mine to avenge; I will repay,"[a] says the Lord.
Ephesians 5:25-26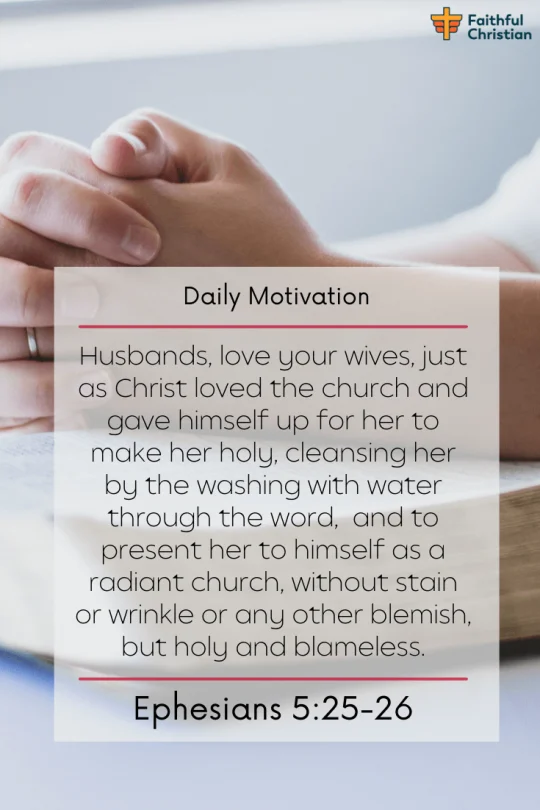 Husbands, love your wives, just as Christ loved the church and gave himself up for her 26 to make her holy, cleansing[a] her by the washing with water through the word, 27 and to present her to himself as a radiant church, without stain or wrinkle or any other blemish, but holy and blameless.
Frequently Asked Questions
Can your husband love you again after he cheated?
Love after cheating is indeed possible. It requires remorse, forgiveness, and concerted effort. Rebuilding trust is key, as Ephesians 4:32 underscores the importance of forgiveness and compassion.
How do I make my husband jealous after he cheated?
Instigating jealousy isn't constructive. Open communication about feelings, not fueling resentment, is crucial. Proverbs 14:29 promotes patience over hasty reactions.
How to stop a cheating husband spiritually?
Spiritual intervention may halt a cheating husband. Relying on prayer and divine guidance is crucial. James 5:16 suggests prayer has transformative power.
What to say to a cheating husband to make him feel bad?
Communication should focus on expressing your feelings, not provoking guilt. Ephesians 4:29 suggests uplifting dialogue benefits the listener.
How do I make my husband love me after he cheated?
Rekindling love post-betrayal involves trust-building and honest conversations. It's crucial to reciprocate listening and expressing feelings. 1 Corinthians 13:4-7 emphasizes patient, enduring love.
How do I find peace after being cheated on?
Discovering peace after cheating is a journey. Allow yourself to grieve, seek support, and find solace in prayer. Philippians 4:7 highlights the healing power of divine peace.
What not to do after your husband cheats?
After a husband's infidelity, avoid rash decisions, public accusations, or revenge. Time for emotional processing is essential. Proverbs 15:1 supports thoughtful, gentle responses.
What to do after husband cheats?
Following a husband's infidelity, prioritizing self-care and seeking support are essential. Consider couples therapy. Matthew 18:21-22 encourages forgiveness and potential reconciliation.
How do husbands act after cheating?
Post-cheating behavior varies: guilt, defensiveness, emotional withdrawal, or overcompensated affection. Proverbs 10:9 admonishes against deceit.
How can praying help in dealing with the presence of another woman and tearing down strongholds?
In the face of another woman, prayer can offer strength, wisdom, and understanding. 2 Corinthians 10:4-5 speaks of divine power over worldly strongholds.
What are some dangerous prayers that can be used to keep the other woman away from my husband?
Seek divine protection for your marriage through prayer, not dangerous invocations. Proverbs 3:5-6 advises relying on divine wisdom over personal understanding.
Let's pray. Heavenly Father, I come before You today asking for Your guidance and protection over my marriage. Help my husband resist the temptation of infidelity. Remind him of our love and commitment, and draw him closer to You. Strengthen our bond and fill our hearts with understanding, love, and patience. Surround us with Your divine protection, and may Your will be done in our lives. In Jesus' name, I pray, Amen.
What is a war room prayer specifically designed for a cheating husband?
A War Room prayer could call for husband's repentance, personal strength, and marital healing. Ephesians 6:18 encourages diverse, Spirit-led prayers.
A War Room prayer could be: "Lord, I ask for Your guidance and strength in this trying time. I pray for my husband's heart, that he may see the error of his ways and find repentance. I also seek strength for myself, to navigate through this ordeal, and for the healing of our marriage. In Jesus' name, Amen."
What is a powerful prayer to protect against the other woman's influence?
Protect against outside influence through prayer: request divine guard over your husband's heart and resistance to temptation. James 4:7 suggests submission to God yields divine protection.
A protective prayer could be: "Heavenly Father, I come before You seeking protection for my marriage. Please, guard my husband's heart against temptation and strengthen his resolve. Let our marriage stand strong against outside influence. In Your name, Amen."
Is there a specific prayer that can be used to help a cheating husband stop committing adultery?
Pray for your husband's heart and repentance, invoking divine intervention. Proverbs 28:13 asserts that confessing and abandoning transgressions lead to mercy.
A prayer for stopping adultery: "Gracious God, I pray for my husband, that he may cease this hurtful path of adultery. May Your divine love and guidance touch his heart, leading him back to the path of faithfulness and love. Help us both to seek forgiveness and reconciliation. In Jesus' name, I pray. Amen."
---
Recommended for you
---
Author: Akatakpo Dunn
Dr. Akatakpo Dunn is a dedicated follower of Christ, an active member and speaker, and an ongoing learner of the Scriptures. Passionate about his faith and serving others, he is committed to sharing his spiritual journey and insights to inspire and uplift fellow believers. He has been active in the church for more than 23 years. Through The
Faithful Christian Blog
,
Dr. Dunn
combines his love for God, philanthropy, and Scripture, providing a valuable resource for those seeking to grow in their faith.
Follow me: on Youtube, Facebook, Twitter, Instagram, and Pinterest.
Content Disclosure:
At The Faithful Christian Blog, I create authentic and inspiring content. Although I am the main author, I occasionally use AI for minor language enhancements. This minimal AI usage ensures high-quality, trustworthy articles without compromising originality or sincerity, ultimately supporting our shared faith journey.
Warmly,
Dr. Akatakpo Dunn
Was this article helpful?