Ever struggled to find the right words to express your gratitude to God for answered prayers? You're not alone.
Many yearn to thank the Almighty for their blessings but can't seem to articulate their feelings.
In this article, we'll delve into an inspiring prayer that showcases the strength of faith and God's steadfast love.
Ephesians 2:8-9 highlights the importance of grace, encouraging us to be grateful for the blessings we receive.
What does this prayer have in store for you?
It will help you express appreciation for God's unwavering support, even in times of personal weakness.
The prayer leads you to acknowledge the divine love that envelops you daily, inspiring you to share that love with those in need.
Are you ready to explore a heartwarming prayer for thanking God for answered prayers?
Let's begin.
Short prayer for thanking God for answered prayers.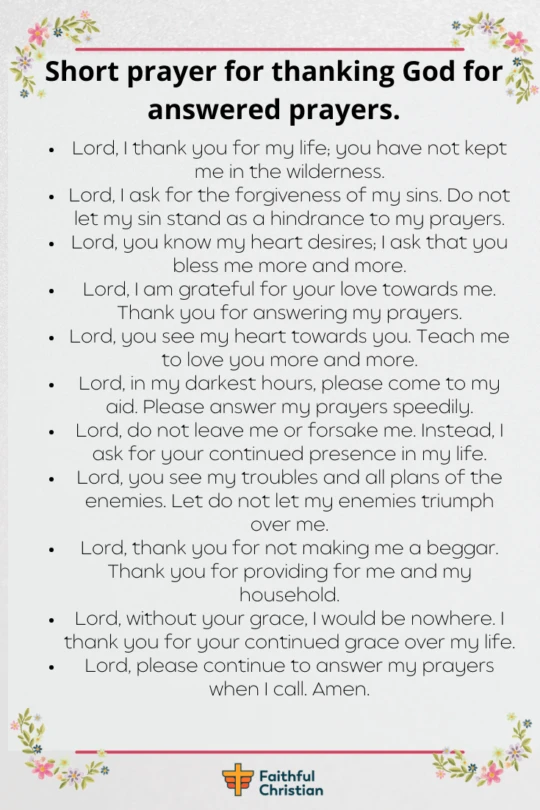 Prayer for thanking God for answered prayer.
But it will turn out for you as a testimony.
Every answered prayer reflects God's immense love for us. Though we're far from perfect, His love endures, watching over us despite our flaws. Romans 5:8 emphasizes the depth of His love, as Christ died for us even in our sinfulness.
All of us have sinned in different ways. Yet, when we pray, God doesn't dwell on our past errors. He gazes into our hearts and blesses us, even in our imperfection.
Psalm 103:12 reassures us that God's forgiveness is vast, allowing us to approach Him confidently.
It's vital to express gratitude for God's blessings. Thankfulness not only acknowledges His gifts but also secures them.
1 Thessalonians 5:18 highlights the importance of giving thanks in all circumstances, aligning ourselves with God's will.
Gratitude opens doors for more blessings. Colossians 3:17 encourages us to be grateful in every aspect of life, honoring God and inviting His favor. Thankfulness fosters a cycle of blessings for ourselves and those around us.
By being grateful, we inspire God to continue showering us with love and grace. 2 Corinthians 9:11 suggests that as we give thanks, God provides for us, enabling generosity and fostering thanksgiving in others.
Cultivating a heart of gratitude enriches not just our lives, but also the lives of those we touch.
Let us pray for answered prayers.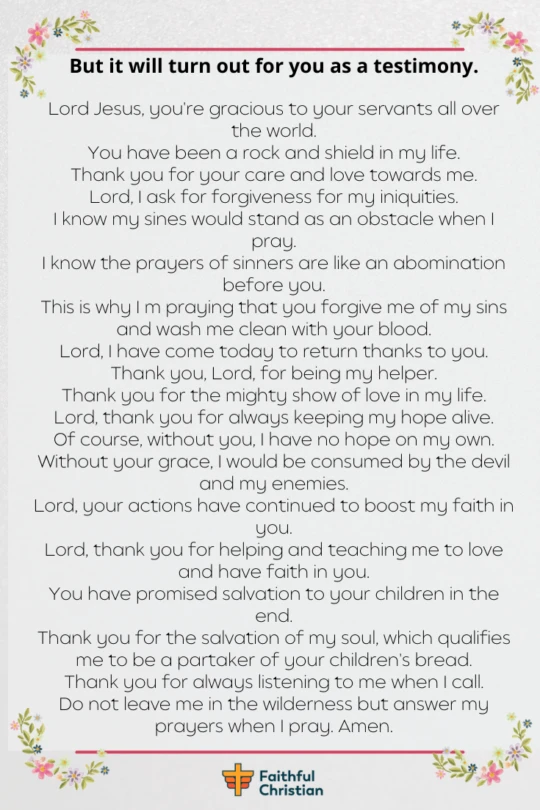 Lord Jesus, we are deeply grateful for Your grace, which reaches every corner of the globe and unites us as Your cherished children.
Ephesians 2:8 reminds us that this incredible gift of salvation is not earned, but rather, is received through faith in You.
In my life, You have been a steadfast rock and a protective shield, offering refuge and stability amidst life's challenges.
Psalm 18:2 beautifully captures this sentiment, as David sings praises to You for being his fortress and deliverer.
Your unwavering care and love are immeasurable. Romans 8:38-39 conveys the depth of Your love, emphasizing that nothing in creation can ever separate us from it.
This powerful bond transcends all barriers, remaining constant through every circumstance.
Seeking Your forgiveness for my sins, I find comfort in 1 John 1:9, which assures us that confessing our sins leads to Your forgiveness and the purification of our hearts.
I pray for this cleansing so that I may grow closer to You and experience the fullness of Your grace.
In Isaiah 1:15, we learn that living in sin can hinder our communication with You. I humbly ask for Your forgiveness and cleansing, so my prayers may find favor in Your sight.
Today, I express my gratitude for Your boundless love and support. Psalm 107:1 encourages us to give thanks for Your enduring love and faithfulness, recognizing the countless blessings You provide each day.
Hebrews 13:5 reassures us that You are always by our side, guiding and loving us throughout our lives. I praise You for being my constant helper and for demonstrating Your unwavering love in every aspect of my life.
Your presence instills hope within me, even during challenging times. Romans 15:13 emphasizes this, as it explains how You, the God of hope, fill us with joy and peace through the empowering presence of the Holy Spirit.
As I remain vigilant against the enemy's tactics, I look to 1 Peter 5:8, which warns us to be watchful and rely on Your grace for protection and strength.
Your faithfulness and kindness, highlighted in Psalm 145:13, inspire trust and confidence in Your promises. These qualities serve as a foundation for our faith and encourage us to rely on You.
Proverbs 3:5-6 emphasizes the importance of wholeheartedly trusting in God. As I follow this advice, I know that You will lead me on the path that aligns with Your divine plan.
I am grateful for the gift of salvation, as revealed in John 3:16. This powerful verse demonstrates the depth of Your love and the incredible gift available to all who believe in Jesus Christ.
Thank You for always hearing my prayers and responding to my calls for help. Psalm 34:15 reassures us that when we live in righteousness, You are ready to listen and provide the assistance we need.
Finally, I ask that You never leave me in life's wilderness, but continue to guide my steps and provide for my needs.
Deuteronomy 31:8 provides solace and motivation, reminding us of God's unwavering presence in even the toughest circumstances. Amen.
As you have spoken in my hearing, so will I do for you.
Don't hesitate to turn to God with your needs. The Bible encourages us to boldly seek His help (Hebrews 4:16). As a loving Father, He wants the best for us (Matthew 7:11).
Feeling hopeless? Keep your faith in God. He's ready to help with your challenges (Isaiah 41:10). Trust in His unwavering love and support.
Losing faith hurts you. Remember the woman Jesus healed due to her faith (Matthew 9:22). By maintaining faith, we too can experience His power.
With steadfast trust in God, nothing's impossible. Jesus said faith could move mountains (Mark 11:23-24). Believe wholeheartedly and trust His limitless power (Ephesians 3:20).
Speak your desires and believe. Romans 10:10 teaches us that belief and confession lead to salvation. Trust God to answer when you express your needs.
Rely on God, and He'll support you through trials and temptations (1 Corinthians 10:13). Depending on Him helps us overcome difficulties and grow in faith.
It's comforting to know that when you call on God, He answers (Psalm 34:17). Keep your faith, knowing that He's watching over you.
Numbers 14:28 emphasizes a positive attitude and faith when facing challenges. Speak words of faith, and trust God to come to your aid, just as Jesus encouraged in Matthew 21:22.
When God meets your needs and fulfills your desires, express gratitude. Thankfulness is key in the Bible (1 Thessalonians 5:18). A grateful heart strengthens our relationship with God.
Let us thank God for answered prayers.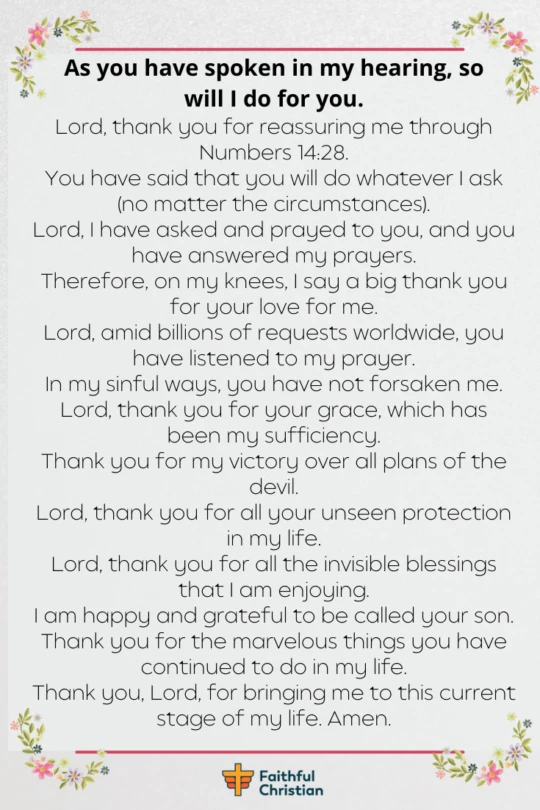 Heavenly Father, my heart brims with gratitude as I ponder Your reassurance in Numbers 14:28. Your promises remind me that You always answer prayers (Matthew 7:7). Your Word comforts and strengthens me.
Almighty God, in every season, I seek Your guidance. You encourage me to cast my burdens on You (1 Peter 5:7). Time and again, You've answered my prayers, giving me strength to face life's challenges.
I kneel before You, humbled by Your boundless love and mercy (Psalm 103:8). Amid countless prayers, You've heard my voice (Psalm 34:15). I am awestruck by our personal connection, echoing Psalm 8:4.
Despite my sins, You never forsake me (Hebrews 13:5). Your love endures, and Your forgiveness covers my faults (Psalm 103:12). Your grace, as written in 2 Corinthians 12:9, sustains me in my weakness.
Father, I'm grateful for victories over the enemy (Ephesians 6:10-13). You're my refuge, protecting me even when I'm unaware (Psalm 91:2). Your hand steadies me, and Your presence fills me with peace (Isaiah 26:3).
In daily life, I cherish the unseen blessings You bestow. James 1:17 reminds me that every good gift comes from You. Your love fills my heart, and I'm honored to be called Your child (1 John 3:1).
Lord, Your works amaze me, and I'm forever grateful for Your presence in my life (Psalm 40:5). I trust Your guidance and provision (Proverbs 3:5-6). Thank You for leading me here and for future blessings. Amen.
While you are speaking, I will hear.
The presence of God's greatness in your life is truly awe-inspiring. His unyielding love and grace are evident in His commitment to answering the prayers of the righteous.
Psalm 34:17 beautifully captures this sentiment, revealing that God hears us and rescues us from our troubles.
Giving thanks is a wonderful way to acknowledge the blessings and guidance we receive from God. Even when we don't pray directly, He knows our needs and desires.
As Jesus said in Matthew 6:8, our Father knows what we need before we even ask. Trusting in God's love, we can rest assured He'll always work for our best interests.
Reflect on the numerous ways God has cared for you. Each morning we wake up is a gift, as highlighted in Psalm 3:5.
When we face illness, God's healing power, as mentioned in Exodus 15:26, brings us back to health. He truly is our constant support and comfort.
God understands our needs before we even express them. Isaiah 65:24 illustrates His attentiveness to our prayers, even when we don't explicitly ask for help.
Jesus, in Mark 11:24, encourages faith in prayer and God's responsiveness.
Expressing gratitude shouldn't be limited to answered prayers. We should thank God daily, recognizing that He constantly works to bless our lives.
The apostle Paul in 1 Thessalonians 5:16-18 advocates for a constant attitude of prayer and thankfulness. By adopting this mindset, our relationship with God will continue to flourish.
Let us thank God for answered prayers.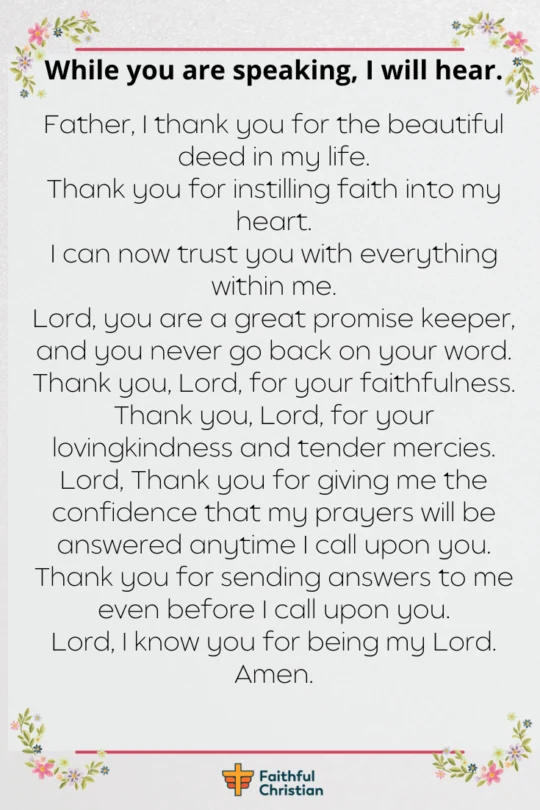 Heavenly Father, my heart overflows with gratitude for your incredible acts of love and beauty in my life. Psalm 23:6 reminds us that goodness and mercy follow us every day.
This gift of faith lets me trust you wholeheartedly, just as Proverbs 3:5-6 encourages us to lean on you.
Oh, Almighty Lord, you truly embody the essence of a promise keeper. Your steadfast word never wavers.
Numbers 23:19 assures us that you never lie or change your mind, fulfilling every promise made. Your unwavering faithfulness fills me with gratitude.
Your lovingkindness and tender mercies embrace me. Lamentations 3:22-23 depicts your love as ceaseless, with new mercies every morning.
Your constant presence strengthens and reassures me, reflecting Psalm 136:26, where your love endures forever.
Lord, I'm grateful for the confidence you instill. Your word in Jeremiah 29:12 guarantees that our prayers will be heard and answered.
You guide us with grace and foresight, as Isaiah 65:24 reveals you answer prayers even before we speak.
Father, thank you for your eternal love and divine support. Romans 8:28 confirms that you work for the good of those who love you. In your endless grace, we find our purpose. Amen.
When you pray, believe, and it shall come to pass.
The Bible emphasizes the power of faith, urging us to trust in God no matter our circumstances. Remember Hebrews 11:6: without faith, pleasing God is impossible.
Proverbs 3:5-6 also advises us to lean on the Lord rather than our understanding. By trusting Him, He will guide our paths.
God promises to bless all who believe and serve Him. Jesus shares the Beatitudes in Matthew 5:3-12, showing the rewards for those who seek righteousness, mercy, and humility. Knowing this, there's no need to lose hope.
Romans 15:13 reveals God as our hope source, bringing joy and peace. Prayer is crucial, and we must persist in seeking God's mercy.
1 Thessalonians 5:16-18 emphasizes rejoicing, praying, and gratitude in every circumstance. Trust that God is prepared to heal, guide, and respond.
James 5:16 assures us of the potency of righteous prayers. By keeping faith in God, we foster a deeper bond with Him and receive His generous blessings.
Let's keep our faith strong and embrace the power of prayer, knowing that God is always by our side.
Let us pray
Heavenly Father, my heart overflows with gratitude for the divine guidance You offer daily. Just as Psalm 32:8 promises, You teach me the right path.
This loving presence boosts my faith and confidence in navigating life's journey.
Your grace, Lord, is a precious gift. It helps me embrace Your instructions, as James 4:6 tells us that humble hearts receive more grace.
Growing closer to You, I'm shaped into the person You envision, as 2 Peter 3:18 advises us to grow in grace and knowledge.
I'm overwhelmed by the abundant blessings in my life. Your generosity and care are evident in everything, much like Psalm 23:5. It speaks of a table prepared by You, symbolizing a life filled with Your blessings.
Thank you for the blessings of my job, family, spouse, children, and friends. These cherished connections bring joy, support, and love, reflecting Proverbs 17:17, which highlights the love of friends and the support of a brother in adversity.
Lord, You always meet me at my point of need. Philippians 4:19 assures us of Your provision in Christ Jesus. You're my strength and comfort, a promise solidified in Isaiah 41:10, which encourages us to fear not, for You are with us.
Your unfailing love and mercy astonish me. Lamentations 3:22-23 reminds us that Your love never ceases, and Your mercies are new every morning. Even in the darkest moments, You never turn Your back on me.
I'm grateful for my daily bread, a symbol of Your endless provision. Matthew 6:11 teaches us to pray for daily sustenance, and John 6:35 declares Jesus as the bread of life, satisfying our hunger and thirst.
Finally, Lord, thank You for walking with me through life's storms. Isaiah 43:2 assures us of Your presence in both water and fire, giving me courage and resilience to face challenges and grow stronger in faith.
In Jesus' name, I pray. Amen.
The Lord be gracious unto you.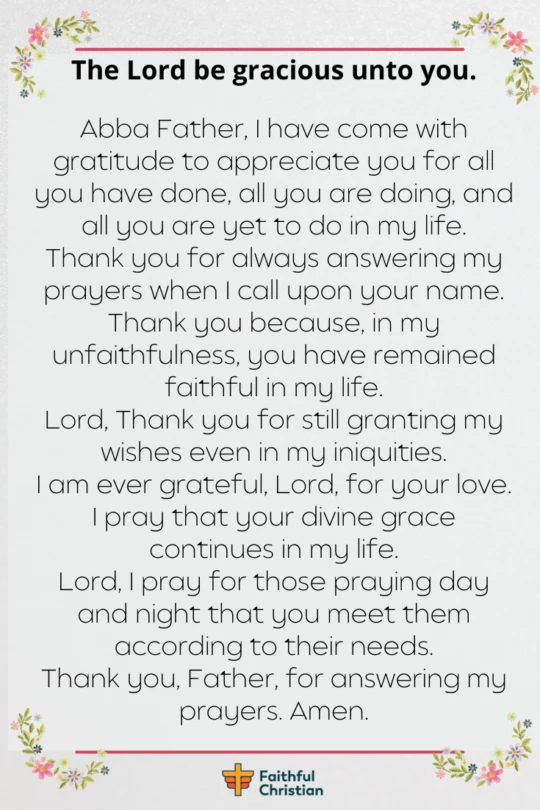 Heavenly Father, my heart overflows with gratitude. I stand in awe of your goodness and blessings in my life.
Psalm 107:1 reminds us to "Give thanks to the Lord, for he is good; his love endures forever." Your love truly endures, and I'm grateful.
I'm deeply thankful for your open ears, always ready to hear my prayers. In Jeremiah 29:12, we learn that when we call upon you, you listen. Your guidance and support are my strength, and I cherish your presence in my life.
Even when I falter, your faithfulness remains. As 2 Timothy 2:13 says, "If we are faithless, he remains faithful." I'm grateful for your unwavering commitment, Lord.
Your steadfast love and mercy are a testament to your divine nature.
Despite my flaws, you still grant my wishes. Ephesians 2:8-9 tells us that your grace is a humbling gift, and I'm thankful for the countless ways you've blessed me.
I pray for your grace to continue guiding me. 2 Corinthians 12:9 assures us that your grace is sufficient. I trust in your grace, Lord, to empower me in moments of weakness and throughout life's journey.
I lift up others in prayer, seeking your guidance and intervention. Philippians 4:19 promises, "And my God will meet all your needs according to the riches of his glory in Christ Jesus."
May you touch the lives of those in need with your divine love.
Thank you for hearing my prayers. 1 John 5:14 confirms that "if we ask anything according to his will, he hears us." I trust in your never-ending love and mercy, and I offer my grateful heart. Amen.
Frequently Asked Questions
How do you thank God for answered prayer?
To express gratitude for answered prayers, start with a heartfelt conversation with God. Share your appreciation for His faithfulness, love, and guidance, recognizing His impact on your life.
specific moments when your prayers were answered and give thanks for each. Incorporate scriptures like Psalm 107:1: "Give thanks to the Lord, for he is good; his love endures forever."
What is the best way to thank God?
The most meaningful way to thank God is through sincere prayer, praise, and worship. Demonstrate your gratitude by living a life reflecting His teachings and sharing His love.
Maintain an ongoing dialogue with God, acknowledging His presence in your daily life. 1 Thessalonians 5:16-18 encourages us to "Rejoice always, pray continually, give thanks in all circumstances."
Which Psalm thanks for answered prayer?
Psalm 118 exemplifies gratitude for answered prayer. The psalmist thanks God for deliverance and steadfast love. Verse 21 states, "I will give you thanks, for you answered me; you have become my salvation."
How do you thank God for today?
To appreciate God for today, recognize the gift of life and the blessings each day offers. Express gratitude for His guidance, protection, and provisions. Psalm 118:24 declares, "
This is the day the Lord has made; let us rejoice and be glad in it."
Which Psalm is for thanking God?
Psalm 100 is perfect for thanking God. It calls for worship, expressing gratitude and acknowledging God's goodness. The opening verses exclaim, "Shout for joy to the Lord, all the earth.
Serve the Lord with gladness; come before him with joyful songs."
How do you thank God every morning?
Begin each morning by thanking God for the gift of life and His protection overnight. Reflect on the day ahead, asking for His guidance and wisdom.
Lamentations 3:22-23 reminds us, "His compassions never fail. They are new every morning; great is your faithfulness."
How do you praise God with words?
Praise God with words by expressing your adoration, gratitude, and awe for His greatness, love, and mercy. Prayers, hymns, or songs of praise can be used to worship Him.
Psalm 150 exemplifies praising God, encouraging us to "Praise the Lord! Praise God in his sanctuary; praise him in his mighty heavens!"
Author: Akatakpo Dunn
Dr. Akatakpo Dunn is a dedicated follower of Christ, an active member and speaker, and an ongoing learner of the Scriptures. Passionate about his faith and serving others, he is committed to sharing his spiritual journey and insights to inspire and uplift fellow believers. He has been active in the church for more than 23 years. Through The
Faithful Christian Blog
,
Dr. Dunn
combines his love for God, philanthropy, and Scripture, providing a valuable resource for those seeking to grow in their faith.
Follow me: on Youtube, Facebook, Twitter, Instagram, and Pinterest.
Content Disclosure:
At The Faithful Christian Blog, I create authentic and inspiring content. Although I am the main author, I occasionally use AI for minor language enhancements. This minimal AI usage ensures high-quality, trustworthy articles without compromising originality or sincerity, ultimately supporting our shared faith journey.
Warmly,
Dr. Akatakpo Dunn
Was this article helpful?