This evening, we must thank God for our lives, businesses, work, and school.
We must appreciate God for taking good care of us, our families, and our friends (boyfriends or girlfriends).
Not just that, we are alive only because of God's mercies.
We must thank and ask him to continue guarding and protecting us.
I have put together this short evening prayer to guide you.
---
Recommended for you
---
Short evening prayers to end the day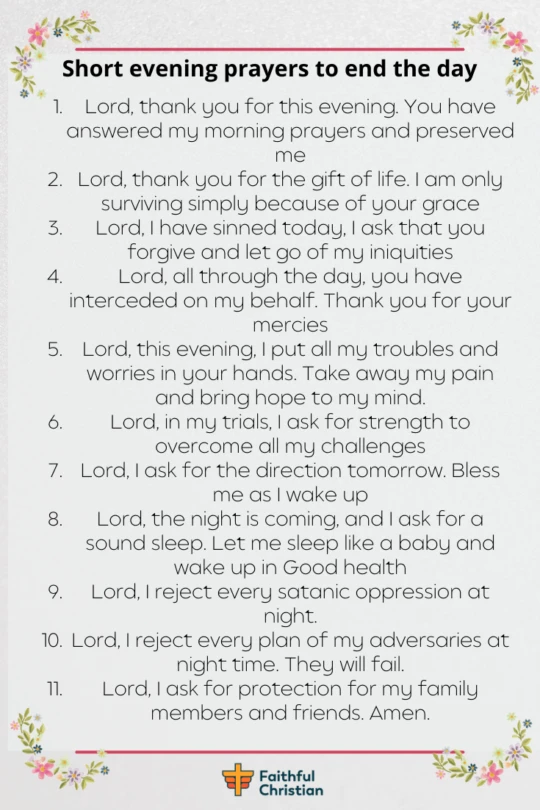 Dear Father, my eternal rock, I kneel in gratitude. This day, you've been my shield. I've felt your hand guiding me from dawn till dusk, like Psalm 32:8 promises: "I will instruct you and teach you in the way you should go; I will counsel you with my loving eye on you." You, Lord, have not just watched over me, you've protected me. I'm here, I'm alive, all due to your profound grace.
Father, I am not perfect. Like any human, I've erred today. I've let you down. But you, in your infinite love, remind us in 1 John 1:9, "If we confess our sins, he… will forgive us our sins." I come to you with a contrite heart, seeking your forgiveness. Wash me clean, Almighty Father, and guide me back to your path of righteousness.
Lord, your mercies, like refreshing rain, have bathed me all day. You've been my advocate, shielding me, opening doors of opportunity. A proof of Lamentations 3:22-23: "Because of the LORD's great love we are not consumed, for his mercies never end. They are new every morning." Your love is not ordinary. It is a sustaining force, a fountain that never runs dry. I am in awe, Father.
Now, I lay before you my burdens, just as Peter advises in 1 Peter 5:7: "Cast all your anxiety on him because he cares for you." Yes, Lord, I believe you care for me. Take my anxieties, my worries, and fill my heart with your peace. Transform my pain into hope. I trust you, my Provider.
Facing trials, I ask for your strength, Lord. Just as David cried out in Psalm 18:32-34, "It is God who arms me with strength, and keeps my way secure…he trains my hands for battle." Make me an overcomer, Father. Let your divine strength be my fortress.
Lord, I also seek your guidance for tomorrow. You are my light, leading me in the darkest times. Psalms 119:105 puts it beautifully: "Your word is a lamp for my feet, a light on my path." Illuminate my path, bless my waking hours, dear Father. Let your favor be my companion as I embrace the dawn.
As night falls, grant me sweet rest. Let my sleep be calm and revitalizing, just as you promise in Psalm 4:8: "In peace, I will lie down and sleep, for you alone, Lord, make me dwell in safety." I ask to wake refreshed, healthy, ready to embrace another day of living for you.
I renounce every form of evil this night. For in Isaiah 54:17 you promise: "No weapon forged against you will prevail." I hold firm to this promise. I rebuke every evil plan. You are my shield, and under your protection, I find solace.
Lastly, Father, I ask for your covering over my loved ones. Keep them safe under your watchful eyes. Let them feel your warm embrace. May they experience your love, as in Numbers 6:24-26: "The LORD bless you and keep you; the LORD make his face shine on you and be gracious to you; the LORD turn his face toward you and give you peace."
In your powerful name, I pray. Amen.
---
Recommended for you
---
Bible verses for evening prayer
Matthew 11:29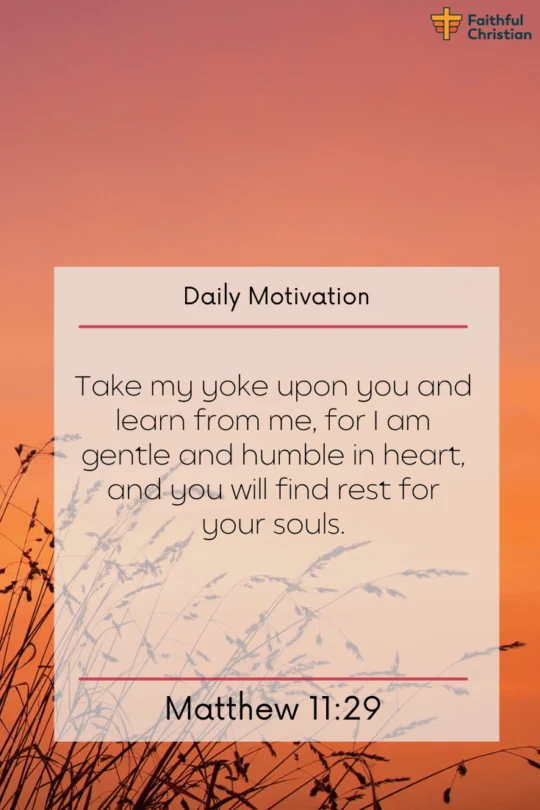 Take my yoke upon you and learn from me, for I am gentle and humble in heart, and you will find rest for your souls.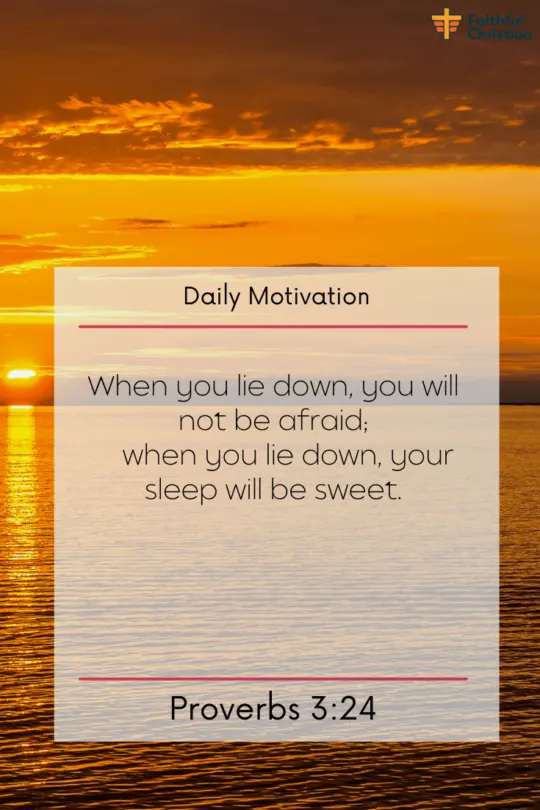 When you lie down, you will not be afraid;
    when you lie down, your sleep will be sweet.
Job 11:19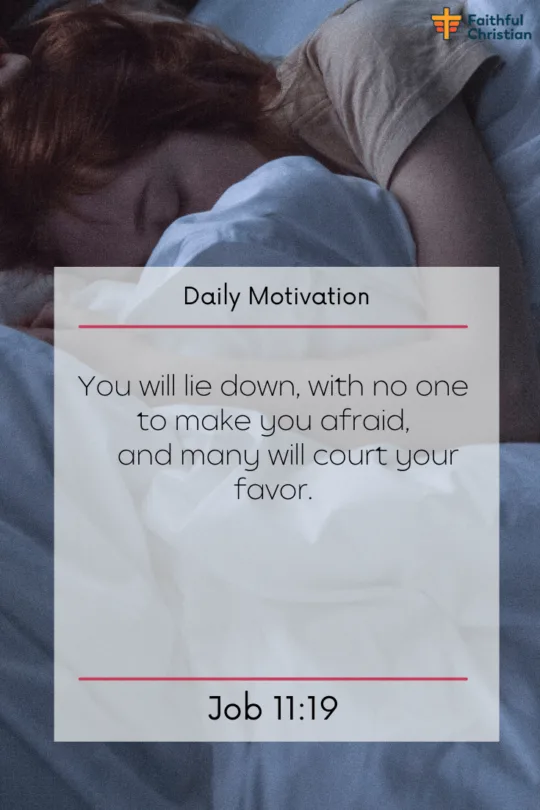 You will lie down, with no one to make you afraid,
    and many will court your favor.
Powerful Evening prayers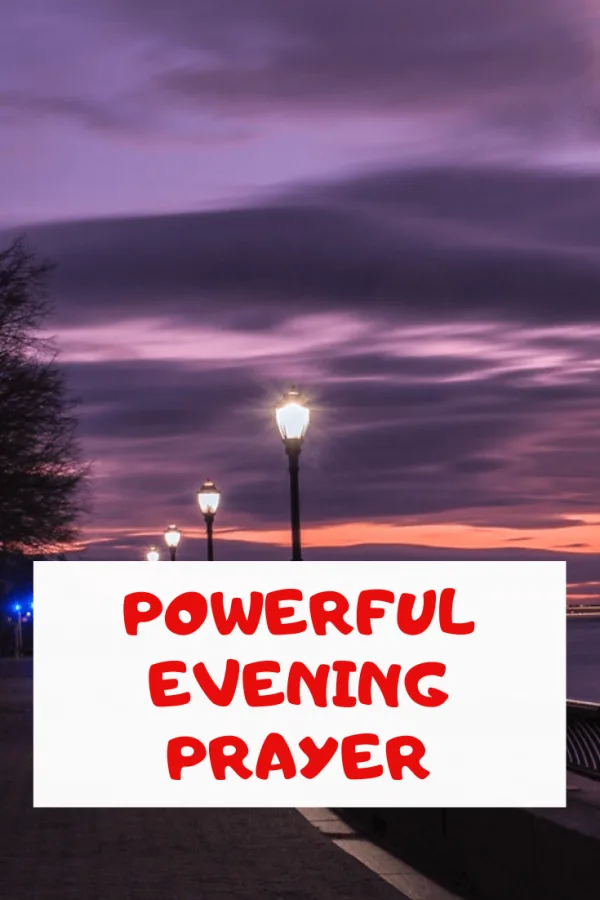 Let us appreciate his name
This prayer is a necessity. We must thank God for all His mercies and his favor towards us.
In good and bad times, we must acknowledge God's mercies because, beyond what you see, he has been faithful.
The scriptures say,
give thanks in all circumstances; for this is God's will for you in Christ Jesus.
Let us pray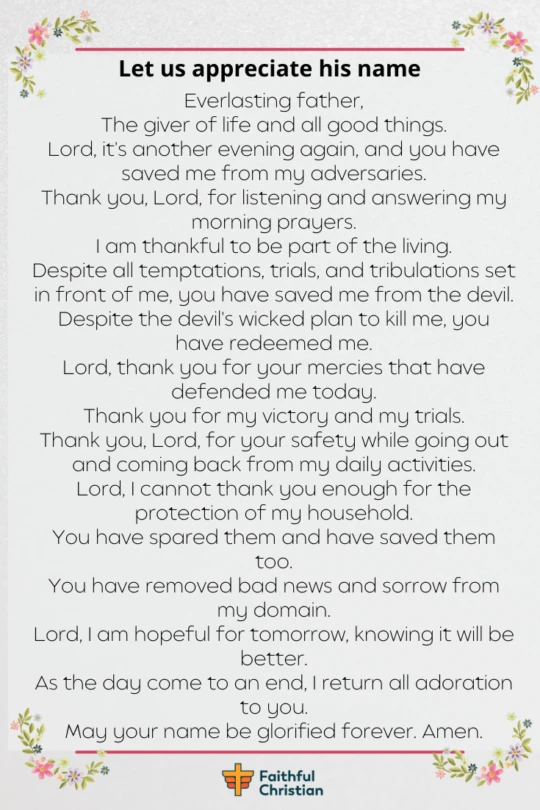 Oh Magnificent Father, Source of endless life and bountiful blessings. Your gifts paint our world with beauty and goodness. Each sunset proclaims Your faithfulness, as echoed by Lamentations 3:22-23. "Your mercies are new every morning."
Your day's end finds me in Your presence, brimming with gratitude. You've been my shield, protecting me from foes unseen. These acts of love, Lord, echo the truth of Psalm 3:3, showing You as my "glory and the lifter of my head."
Your ears heard my dawn cries, Almighty. You responded with love, strength, and action. For the miracle of life, I remain in awe and reverence, mirroring Psalm 118:17's proclamation, "I will not die but live."
Life can be stormy, filled with trials and temptations. Yet, in the tempest, You've been my anchor, Father. It's a divine reflection of 1 Corinthians 10:13, where You promise not to let us be "tempted beyond what we can bear."
The devil spins webs of despair and ruin. But You, the Divine Redeemer, have freed me from these snares. A testament to the promise in 1 John 3:8, "The Son of God appeared to destroy the devil's work."
Your mercies are a fortress around me, Lord. Each victory, each challenge, they shape me, echoing James 1:12, "Blessed is the one who perseveres under trial."
Your protective wings have shielded me through the day's journey, Almighty. You've guided me home, reflecting Psalm 121:8, "The Lord will watch over your coming and going."
Your providence stretches over my household too, Father. You've kept them from harm, a beautiful depiction of Isaiah 54:17, "No weapon forged against you will prevail."
Your love drove sorrow and bad news from my sanctuary. In their place, You planted peace and tranquility, affirming Psalm 29:11, "The Lord gives strength to His people; the Lord blesses His people with peace."
A new dawn holds promise, under Your watch, Lord. This hope mirrors Jeremiah 29:11, "Plans to give you hope and a future."
With the day's end, I pour out my heart's love. I honor You, reflecting Psalm 29:2, "Ascribe to the Lord the glory due His name."
May Your name echo in eternity's halls, revered and glorified. For You, Oh Father, are the Alpha and Omega. You reign supreme. In Your sacred name, I offer this prayer.
Amen.
Count your blessings one by one
At the end of the day, we are quick to forget all God has done for us.
We quickly rush home to relax from the day's tiresome activities.
In our relaxation time, we must encounter God with contentment.
We must appreciate the air we breathe and the roof over our heads.
What has God done for you today? Search through your soul and let us appreciate him again?
He has made everything seem easy in our sight because of his love for us.
The scriptures say,
Bless the LORD, O my soul, and forget not all his benefits
Let us pray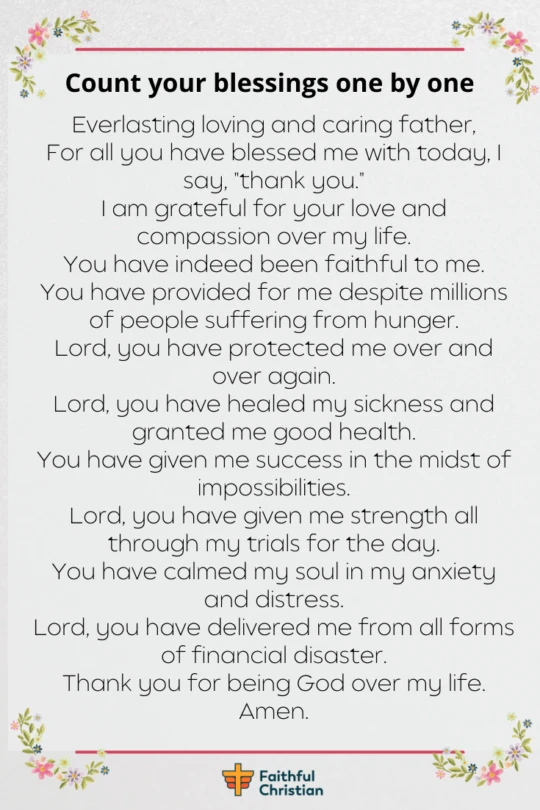 Dear Almighty,
Tonight, I am full of gratitude. The blessings you've showered upon me all day – they have been bountiful. "Give thanks in all circumstances" (1 Thessalonians 5:18), you've taught us, and I heed this wisdom.
Your love, Father, is limitless. Your compassion – it's a river that never dries. Amidst life's ebbs and flows, your love remains my anchor. Much like it says in Lamentations 3:22-23, your steadfast love never ceases.
Lord, your faithfulness is remarkable. Despite hunger gnawing at millions, you've filled my plate. It reminds me of your promise in Matthew 6:26. Just as you feed the birds, you've fed me, too.
Your protection, Father, is a fortress. Dangers lurk, yet they can't reach me. Just as Psalm 91:14 assures us of your protection, I have felt your guarding presence.
You are Jehovah Rapha, our healer. My health, a testament to your divine healing power, reflects the promise of Exodus 15:26. You've mended me where I was broken.
In the face of tall challenges, you've granted me triumphs. I've witnessed the truth of Luke 1:37. Indeed, nothing is impossible for you, Lord.
Trials of the day have come, yet here I stand. Your strength, my Lord, has fueled my resilience. Like the apostle Paul says in Philippians 4:13, I can do all things through you who strengthens me.
Amidst distress, you've gifted me peace. My soul finds rest in you, mirroring the promise of Matthew 11:28. Come to you, I have, and found rest.
My financial woes, they've been swept away. Your provision, a reflection of Philippians 4:19, has shielded me from ruin.
You, the Almighty, reign over my life. I am, because you are. Your sovereignty, as expressed in Psalm 115:3, echoes through my existence.
In surrender and appreciation, I offer my thanks. You, oh Lord, are truly magnificent.
Amen.
Time to meditate and surrender to him
There is no resting time from the scriptures.
We must read through the scriptures, day and night, to strengthen our faith in God.
If you don't study your bible frequently, this is an opportunity to meditate on God's word.
God's word can pierce through your heart and encourage you in difficult times.
Most importantly, when you hear and do God's word, it brings blessings.
The scripture says,
Keep this Book of the Law always on your lips; meditate on it day and night, so that you may be careful to do everything written in it. Then you will be prosperous and successful.

Joshua 1:8
Let us pray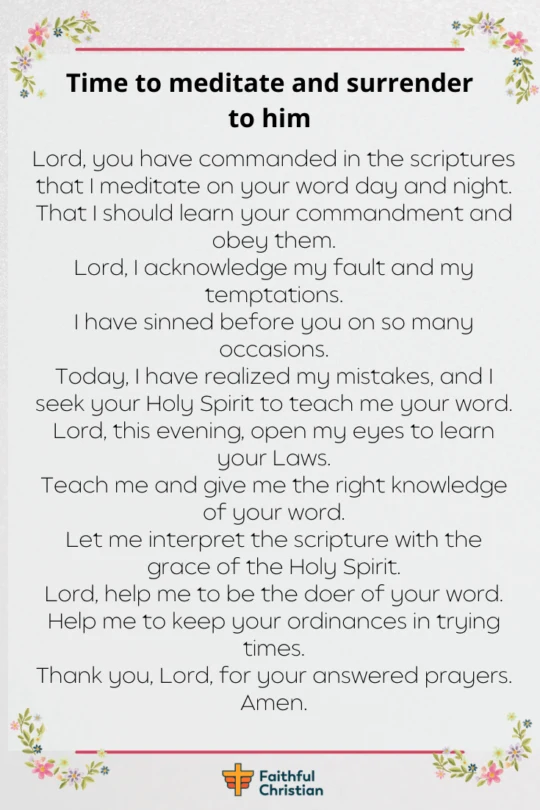 Gracious Father, Psalm 1:2 tells us of the blessedness of delighting in Your law, of meditating on Your word day and night. The Bible is more than an old text. It's our lifeline. It's our beacon. You've called us to embrace it, to live it.
I come to You, Lord, aware of my human frailties. Aware of my missteps. Just like the Psalmist in Psalm 119:67, I know I've erred. I am not proud of these mistakes, Almighty.
But today is different. Today, I see my past errors with a clear lens. My heart is moved. My spirit is stirred. I call upon the Holy Spirit. I seek guidance, understanding, wisdom. Like in John 14:26, I need the Holy Spirit to teach me all things.
As the night draws near, I yearn for Your enlightenment, Lord. I ask for an open heart. An open mind. I crave the wisdom in Your laws. I yearn for a deeper understanding of Your word. Just as Ephesians 1:18 implores, may my heart be flooded with light.
Divine Interpreter, grant me the grace to decipher Your scriptures. Not just with intellect, but with spirit too. The Holy Spirit's guidance is what I seek. I long for the hidden treasures in Your Word, much like the mysteries mentioned in 1 Corinthians 2:10.
The Almighty, I want to embody Your teachings. Not just hear them. Not just read them. But live them. Help me uphold Your commands, even when storms brew. You encourage us in James 1:22 to be doers of the word. I aspire to be just that.
I am grateful, Father. For Your patience. For Your faith in me. For the answers to my prayers. For daily miracles. Your love is boundless. Your grace, immeasurable. I am forever in awe.
As I end this prayer, I look forward to the dawn. To new mercies, as in Lamentations 3:23. To walking under Your guidance.
In the precious name of Jesus, I pray.
Amen.
A prayer for a good night's sleep
Don't take goodnight prayers for granted.
They are very important to keep our souls in God's bosom.
We must pray for sound sleep and the rest of the mind.
Are you worried about your troubles?
Tonight is another opportunity to ask for God's mercies.
And what about God's safety at night? Do you know a lot of people will not wake up tomorrow?
This evening, we must reject every sad news in our life.
The scripture says,
When you lie down, you will not be afraid;when you lie down, your sleep will be sweet

Proverbs 3:24
Let us pray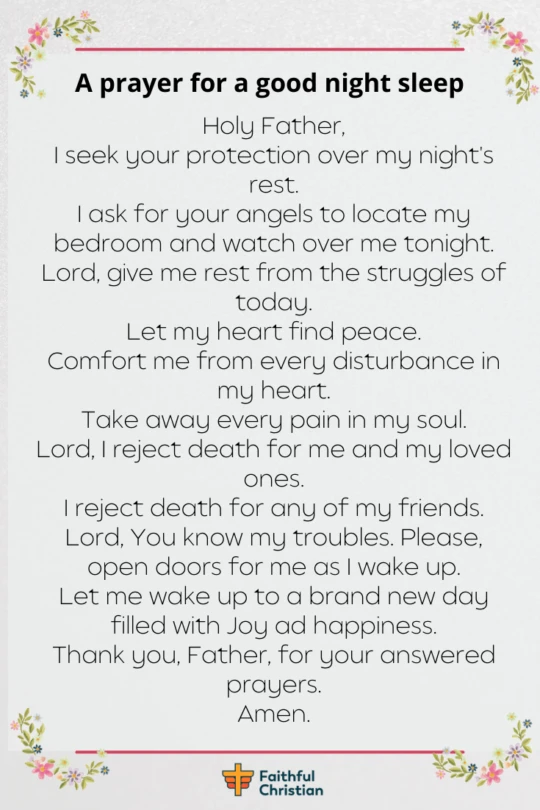 My Gracious Lord,
As the day surrenders to the gentle hush of night, I find solace at Your feet. I yearn for the embrace of Your protection, a refuge from life's whirlwind. Like the Psalmist prayed in Psalm 4:8, "In peace I will lie down and sleep, for you alone, Lord, make me dwell in safety." With faith, I ask for Your heavenly sentinels to stand guard, maintaining a peaceful watch over my slumber tonight.
Dear Father,
Your love is a salve for today's battle scars. Bestow upon me the sweet rest I crave, echoing the reassurance in Exodus 33:14, "My Presence will go with you, and I will give you rest." Let my soul find renewal and my spirit, rejuvenation, as I surrender myself to the tranquility of the night.
Almighty God,
You are my Comforter, the One who soothes my restless heart. Echoing the peace Jesus promised in John 14:27, "Peace I leave with you; my peace I give to you." I plead for Your calming touch to mend any inner turmoil, erasing the pain etched on my soul.
Omnipotent Father,
I declare, with a voice steadfast in faith, the preservation of life. Just as Jesus proclaimed in John 11:25, "I am the resurrection and the life," I rebuke any shadow of death upon me, my family, or my friends.
My Deliverer,
Your understanding surpasses all. You're aware of my struggles, mirroring Psalm 119:28, "My soul is weary with sorrow; strengthen me according to your word." As I rise to a new dawn, I beseech Your grace to pave the way, opening doors of divine favor.
Grant me a daybreak filled with joy and happiness. As Psalm 30:5 states, "Weeping may stay for the night, but rejoicing comes in the morning." May the new day bring me elation and contentment, saturating every moment with delightful grace.
Heavenly Father,
I am forever grateful. Your steadfast love and endless mercies reassure my heart. You hear my prayers and answer them, reflecting the promise in 1 John 5:15, "And if we know that he hears us—whatever we ask—we know that we have what we asked of him." With a spirit overflowing with gratitude, I humbly say, "Thank you."
In the divine intimacy of this prayer, I find peace. And with a heart anchored in trust and submission to Your will, I say, "Amen."
Frequently Asked Questions
What Psalm is the evening prayer?
Psalm 141 stands out as a profound representation of an evening prayer. It illustrates David's supplication during the twilight hours, employing the striking metaphor of an "evening sacrifice". Central to this Psalm is verse 2, stating, "May my prayer be set before you like incense; may the lifting up of my hands be like the evening sacrifice." (Psalm 141:2 NIV)
What Bible verse can I read before going to bed?
Before you retire for the night, the Bible offers many verses to guide your thoughts. One that stands out is Psalm 4:8. The scripture reads, "In peace I will lie down and sleep, for you alone, Lord, make me dwell in safety." (Psalm 4:8 NIV)
What is a powerful Christian evening prayer?
To offer a powerful Christian evening prayer, begin with these words, "Dear Lord, as the day concludes, I entrust my concerns to you." Proceed by requesting divine peace and protection for loved ones. Surrender worries and fears, anchoring your trust in God's eternal love and mercy. Extend gratitude for the day's blessings and ask for forgiveness for any lapses. Close with, "Guide me into a restful sleep to awake rejuvenated, ready to serve again. In Jesus' name, Amen."
How can I engage in an evening prayer today?
Embarking on an evening prayer requires a serene environment devoid of distractions. Start by expressing gratitude for the blessings of the day, alongside contrition for any wrongs committed. Open up to God about your fears, aspirations, and dreams, asking for divine guidance and protection. Complement your prayer with a relevant Bible passage that resonates with you. Remember, prayer is a two-way conversation; take a moment to listen in the silence for God's voice. Be patient, be receptive, and let your heart sync with the divine rhythm.
---
Recommended for you
---
Author: Akatakpo Dunn
Dr. Akatakpo Dunn is a dedicated follower of Christ, an active member and speaker, and an ongoing learner of the Scriptures. Passionate about his faith and serving others, he is committed to sharing his spiritual journey and insights to inspire and uplift fellow believers. He has been active in the church for more than 23 years. Through The
Faithful Christian Blog
,
Dr. Dunn
combines his love for God, philanthropy, and Scripture, providing a valuable resource for those seeking to grow in their faith.
Follow me: on Youtube, Facebook, Twitter, Instagram, and Pinterest.
Content Disclosure:
At The Faithful Christian Blog, I create authentic and inspiring content. Although I am the main author, I occasionally use AI for minor language enhancements. This minimal AI usage ensures high-quality, trustworthy articles without compromising originality or sincerity, ultimately supporting our shared faith journey.
Warmly,
Dr. Akatakpo Dunn
Was this article helpful?