What are your trials?
What do you want God to confirm in your life?
Have you been praying for days, months, or years without an answer?
This night, we will ask for God's miracle and protection over your life.
There are no life issues that are impossible for God to handle.
Are you struggling with your health? Are you worried your financial state is not improving?
Do you need an immediate financial breakthrough in your business or workplace?
Are you searching for restoration of your failing marriage?
Are you struggling to find happiness, love, and peace in your life?
I have put together this midnight prayer to guide you.
---
Recommended for you
---
Short midnight prayer (prayer points)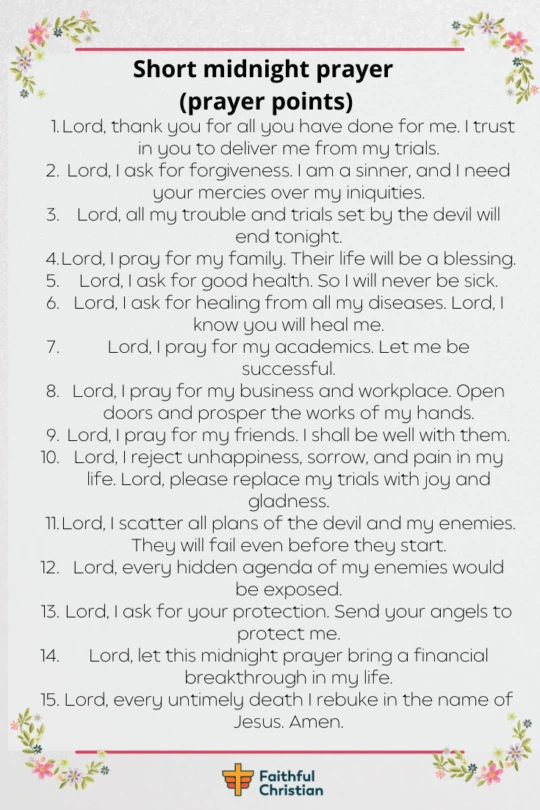 Lord, thank you for all you have done for me. I trust in you to deliver me from my trials.
Lord, I ask for forgiveness. I am a sinner, and I need your mercies over my iniquities.
Lord, all my trouble and trials set by the devil will end tonight.
Lord, I pray for my family. Their life will be a blessing.
Lord, I ask for good health. So I will never be sick.
Lord, I ask for healing from all my diseases. Lord, I know you will heal me.
Lord, I pray for my academics. Let me be successful.
Lord, I pray for my business and workplace. Open doors and prosper the works of my hands.
Lord, I pray for my friends. I shall be well with them.
Lord, I reject unhappiness, sorrow, and pain in my life. Lord, please replace my trials with joy and gladness.
Lord, I scatter all plans of the devil and my enemies. They will fail even before they start.
Lord, every hidden agenda of my enemies would be exposed.
Lord, I ask for your protection. Send your angels to protect me.
Lord, let this midnight prayer bring a financial breakthrough in my life.
Lord, every untimely death I rebuke in the name of Jesus. Amen.
Midnight prayer scriptures and bible verses
Mark 1:35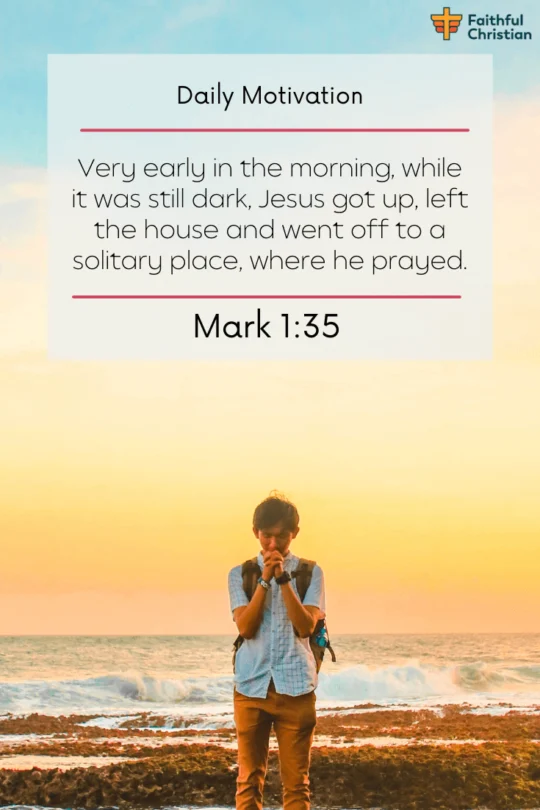 Very early in the morning, while it was still dark, Jesus got up, left the house and went off to a solitary place, where he prayed.
Psalm 119:148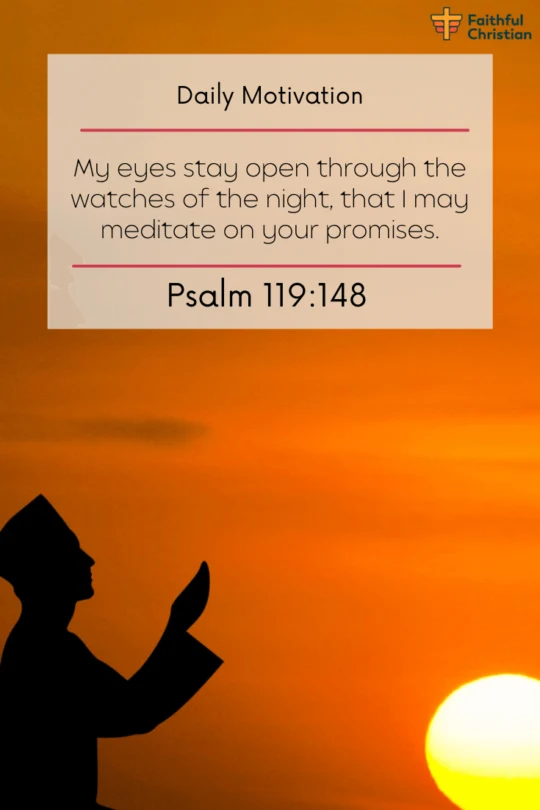 My eyes stay open through the watches of the night, that I may meditate on your promises.
Joshua 1:9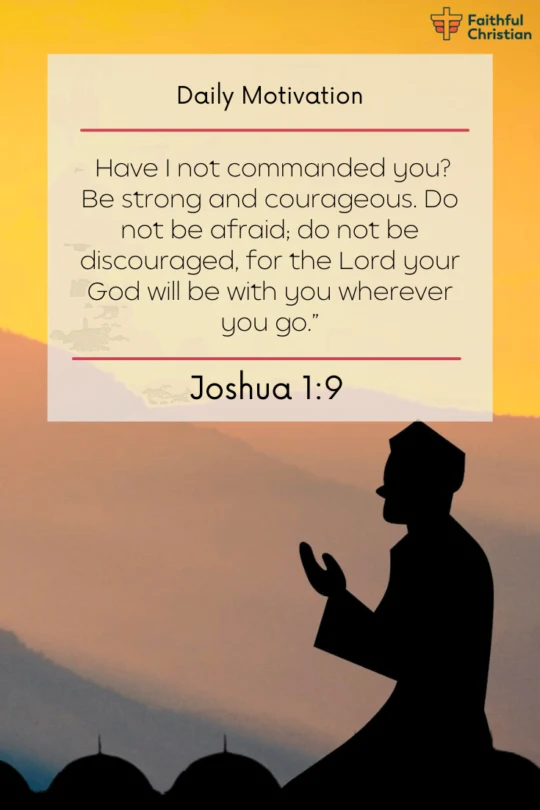 Have I not commanded you? Be strong and courageous. Do not be afraid; do not be discouraged, for the Lord your God will be with you wherever you go."
---
Recommended for you
---
Powerful Midnight Prayer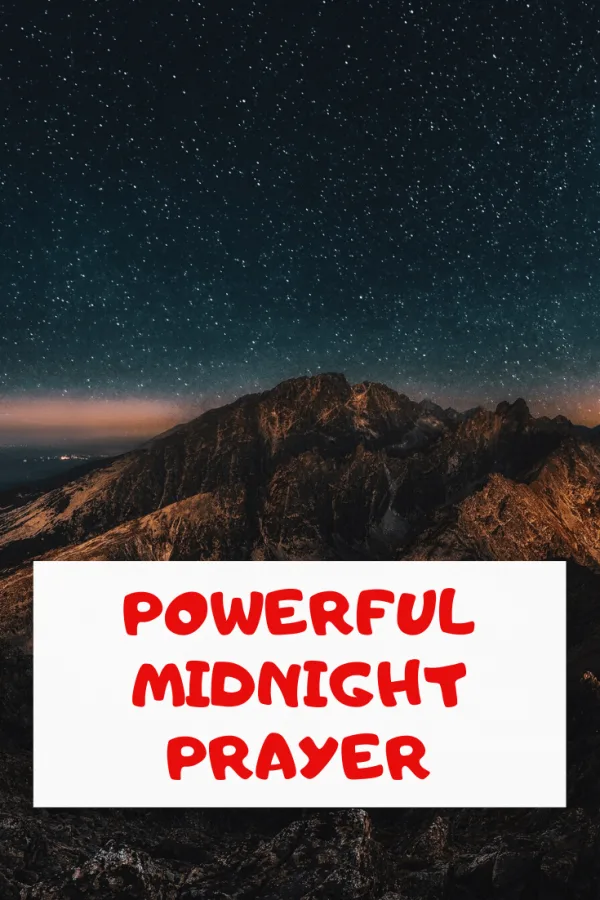 Ask for forgiveness with thanksgiving
Most times, when we pray, we forget to ask for forgiveness for our sins.
There is no righteous man on earth that does not sin.
Repentance and forgiveness are an opportunity to come back to God's fold.
And not just that, when we sin without asking for forgiveness, we limit God's mediation in our trials.
There are lots of scriptures that remind us that God hates sinners.
He dislikes those that refuse to accept their mistakes and ask for forgiveness.
So, this midnight prayer, we will ask God for the forgiveness of all our iniquities.
Don't be afraid to open your hearts and ask for cleansing of your sins.
Is it adultery, murder, or fornication? Is it lying, envy, or jealousy?
If you come unto him with a repentant heart, he has promised, as always, to forgive you your sins.
Here are some scriptures to inspire your midnight prayer for forgiveness.
Proverbs 15:29
The Lord is far from the wicked, but he hears the prayer of the righteous.
John 9:31
We know that God does not listen to sinners. He listens to the godly person who does his will.
1 John 1:9
If we confess our sins, he is faithful and just and will forgive us our sins and purify us from all unrighteousness.
Let us pray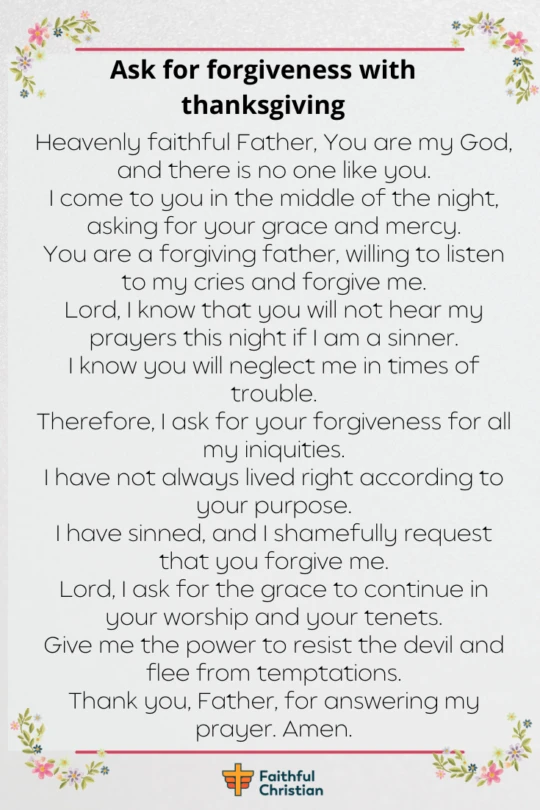 Heavenly faithful Father, You are my God, and there is no one like you.
I come to you in the middle of the night, asking for your grace and mercy.
You are a forgiving father, willing to listen to my cries and forgive me.
Lord, I know that you will not hear my prayers this night if I am a sinner.
I know you will neglect me in times of trouble.
Therefore, I ask for your forgiveness for all my iniquities.
I have not always lived right according to your purpose.
I have sinned, and I shamefully request that you forgive me.
Lord, I ask for the grace to continue in your worship and your tenets.
Give me the power to resist the devil and flee from temptations.
Thank you, Father, for answering my prayer.
Amen.
---
Recommended for you
---
Watch and pray
We live in dangerous times, and we must watch and pray.
As Christians, we must understand the last days and never cease to be prayerful.
The good news is that this midnight prayer will bring relief to your soul.
Your challenges are not caused by God. But he allows it to test us.
Think about the man, Job, and all his persecutions.
Or, Our savior, Jesus Christ, who was humiliated and persecuted by the devil.
Are you struggling with your health or experiencing financial difficulties?
Do you want God's power to break the bondage of spiritual wickedness in high places?
God can strengthen you in your battle.
The scripture says,
"Watch and pray so that you will not fall into temptation. The spirit is willing, but the flesh is weak."

Matthew 26:41
Let us pray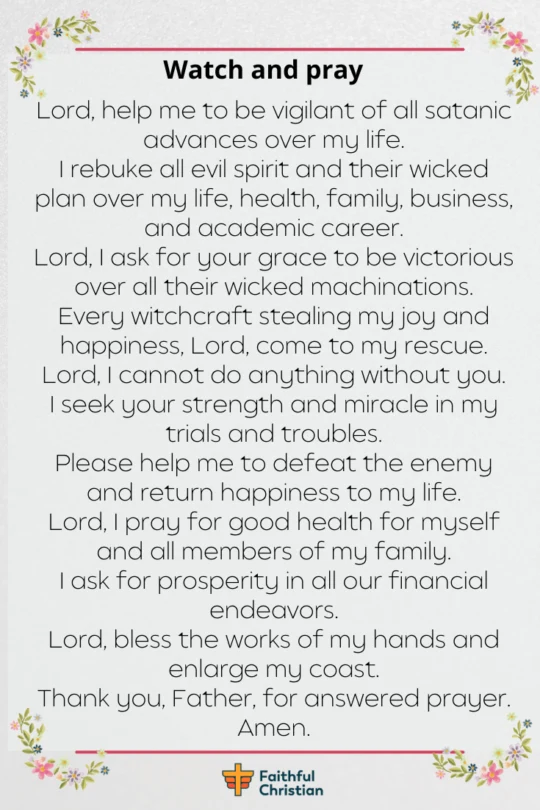 Lord, help me to be vigilant of all satanic advances over my life.
I rebuke all evil spirit and their wicked plan over my life, health, family, business, and academic career.
Lord, I ask for your grace to be victorious over all their wicked machinations.
Every witchcraft stealing my joy and happiness, Lord, come to my rescue.
Lord, I cannot do anything without you.
I seek your strength and miracle in my trials and troubles.
Please help me to defeat the enemy and return happiness to my life.
Lord, I pray for good health for myself and all members of my family.
I ask for prosperity in all our financial endeavors.
Lord, bless the works of my hands and enlarge my coast.
Thank you, Father, for answered prayer. Amen.
Pray with scriptures for strength and breakthrough.
There is nothing better than reading the bible.
It is filled with lots of inspirational quotes that can motivate our souls.
No matter what the devil has planned in your life. He will fail.
Remember, no man, even the devil, can be against you if God stands for you.
So, this night, we will seek God's mercy.
We will humbly ask that he takes over our battles.
The scripture says,
I am with you and will watch over you wherever you go, and I will bring you back to this land. I will not leave you until I have done what I have promised you."

Genesis 28:15
Let us pray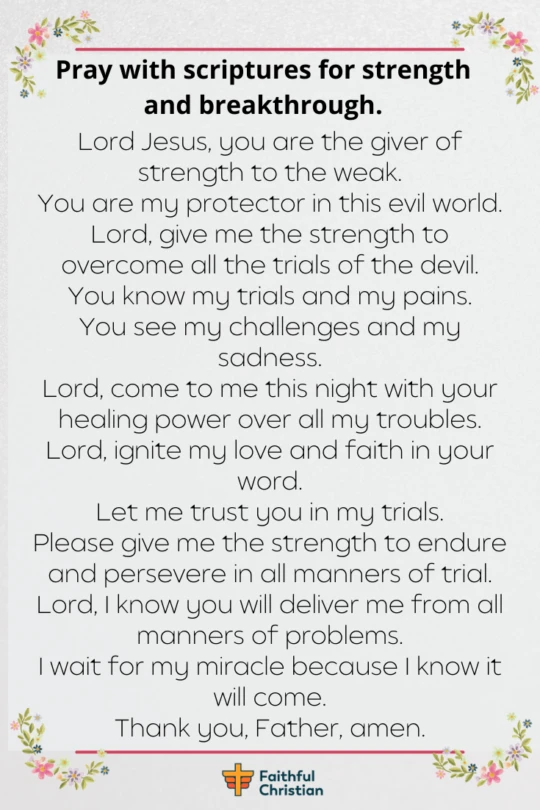 Lord Jesus, you are the giver of strength to the weak.
You are my protector in this evil world.
Lord, give me the strength to overcome all the trials of the devil.
You know my trials and my pains.
You see my challenges and my sadness.
Lord, come to me this night with your healing power over all my troubles.
Lord, ignite my love and faith in your word.
Let me trust you in my trials.
Please give me the strength to endure and persevere in all manners of trial.
Lord, I know you will deliver me from all manners of problems.
I wait for my miracle because I know it will come.
Thank you, Father, amen.
Take responsibility asking God for deliverance.
Yes, God can deliver you right away.
Right now, we will ask for deliverance from all manner of satanic attacks.
Every hidden plan of the enemy will be exposed.
God will open doors of favor in your life.
Take responsibility and ask God for solutions.
Let us pray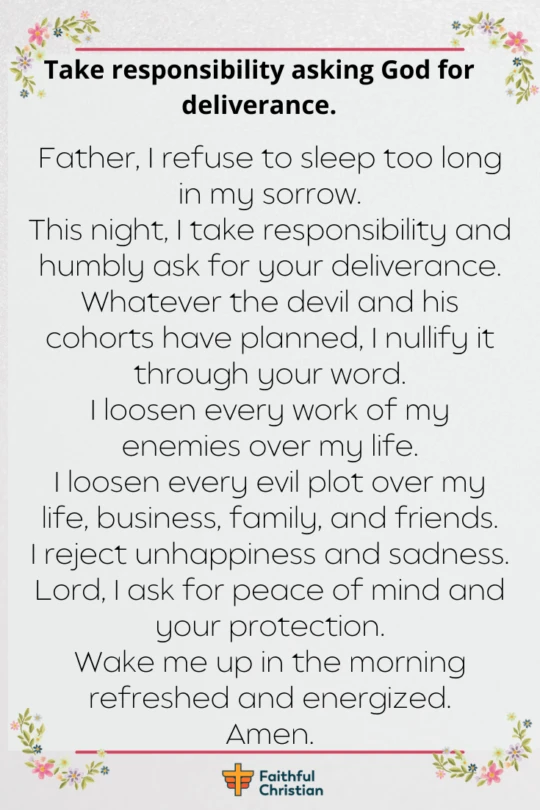 Father, I refuse to sleep too long in my sorrow.
This night, I take responsibility and humbly ask for your deliverance.
Whatever the devil and his cohorts have planned, I nullify it through your word.
I loosen every work of my enemies over my life.
I loosen every evil plot over my life, business, family, and friends.
I reject unhappiness and sadness.
Lord, I ask for peace of mind and your protection.
Wake me up in the morning refreshed and energized.
Amen.
Ask for spiritual intimacy.
You cannot do it on your own.
Despite your efforts, you need God to help you.
Therefore, we must strengthen our relationship with him.
Let us pray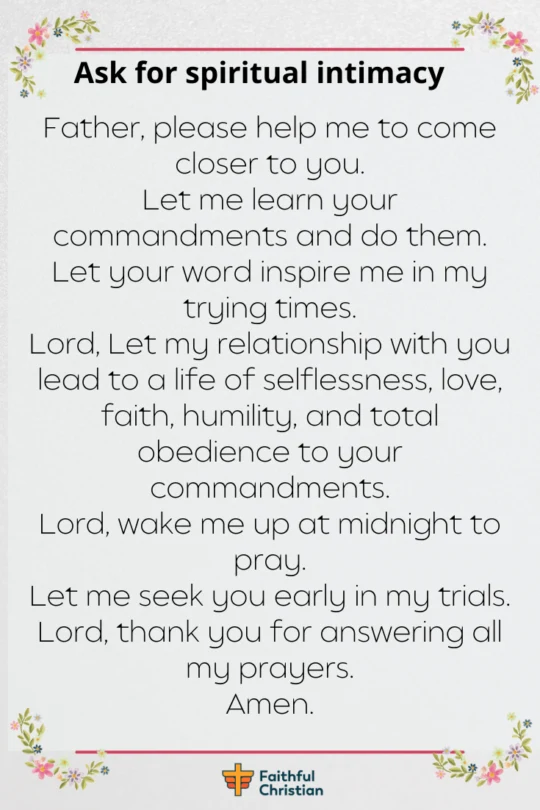 Father, please help me to come closer to you.
Let me learn your commandments and do them.
Let your word inspire me in my trying times.
Lord, Let my relationship with you lead to a life of selflessness, love, faith, humility, and total obedience to your commandments.
Lord, wake me up at midnight to pray.
Let me seek you early in my trials.
Lord, thank you for answering all my prayers.
Amen.
Ask for wealth, money, and a financial breakthrough in your life
We all have unique problems we are dealing with.
It could be your business or money to solve an urgent trial.
It could also be your workplace or finances for your academics.
If you've been searching for a financial miracle for your business, career, or marriage, now is the time to pray.
God is able to provide all that you want, and he can do that even in the midst of impossibilities.
You may have lost all hope for a financial turnaround, but with this prayer, God is able to help you to your destination.
Let Us Pray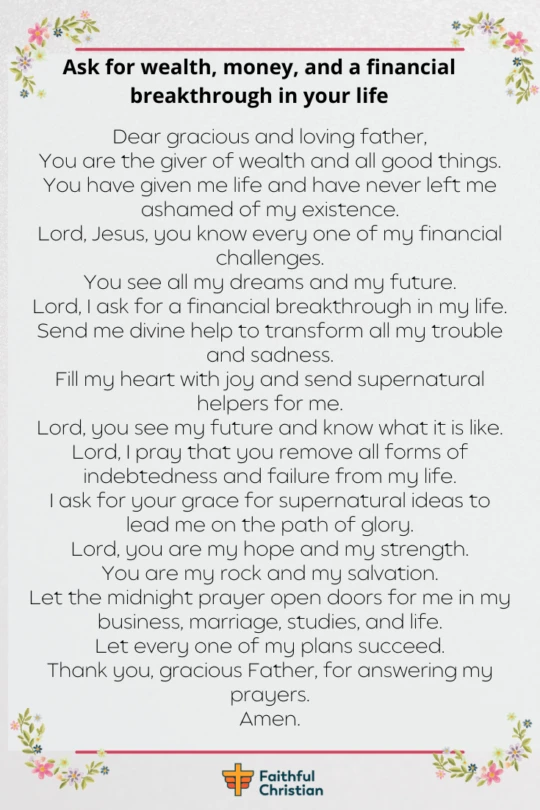 Dear gracious and loving father,
You are the giver of wealth and all good things.
You have given me life and have never left me ashamed of my existence.
Lord, Jesus, you know every one of my financial challenges.
You see all my dreams and my future.
Lord, I ask for a financial breakthrough in my life.
Send me divine help to transform all my trouble and sadness.
Fill my heart with joy and send supernatural helpers for me.
Lord, you see my future and know what it is like.
Lord, I pray that you remove all forms of indebtedness and failure from my life.
I ask for your grace for supernatural ideas to lead me on the path of glory.
Lord, you are my hope and my strength.
You are my rock and my salvation.
Let the midnight prayer open doors for me in my business, marriage, studies, and life.
Let every one of my plans succeed.
Thank you, gracious Father, for answering my prayers.
Amen.
Author: Akatakpo Dunn
Dr. Akatakpo Dunn is a dedicated follower of Christ, an active member and speaker, and an ongoing learner of the Scriptures. Passionate about his faith and serving others, he is committed to sharing his spiritual journey and insights to inspire and uplift fellow believers. He has been active in the church for more than 23 years. Through The
Faithful Christian Blog
,
Dr. Dunn
combines his love for God, philanthropy, and Scripture, providing a valuable resource for those seeking to grow in their faith.
Follow me: on Youtube, Facebook, Twitter, Instagram, and Pinterest.
Content Disclosure:
At The Faithful Christian Blog, I create authentic and inspiring content. Although I am the main author, I occasionally use AI for minor language enhancements. This minimal AI usage ensures high-quality, trustworthy articles without compromising originality or sincerity, ultimately supporting our shared faith journey.
Warmly,
Dr. Akatakpo Dunn
Was this article helpful?