What are your trials?
What do you want God to confirm in your life?
Have you been praying for days, months, or years without an answer?
This night, we will ask for God's miracle and protection over your life.
There are no life issues that are impossible for God to handle.
Are you struggling with your health? Are you worried your financial state is not improving?
Do you need an immediate financial breakthrough in your business or workplace?
Are you searching for restoration of your failing marriage?
Are you struggling to find happiness, love, and peace in your life?
I have put together this midnight prayer to guide you.
---
Recommended for you
---
Short midnight prayer (prayer points)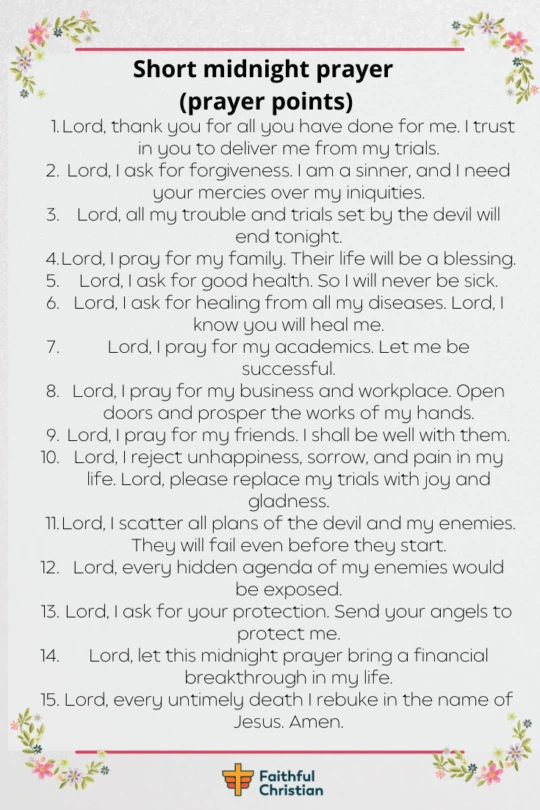 Divine Architect of the Universe, I extend my heartfelt thanks for your countless blessings. Your gifts are like showers of rain on a parched land, refreshing and life-giving. In your might, I trust, much like a child in the arms of a loving parent. In Proverbs 3:5-6, we're advised to trust in the Lord with all our hearts. Just as this verse guides us, I am leaning into your grace, knowing you'll lead me through the toughest storms.
Merciful Father, I come to you as a prodigal child, seeking forgiveness. I've strayed off the path, yet I yearn for your love and grace. Like David prayed in Psalm 51:10 for a clean heart, I too implore you to wash away my wrongdoings. Your mercy renews us, making us whole once more.
Lord, my shield, I proclaim victory over trials tonight. The night may be long, but joy comes in the morning, as stated in Psalm 30:5. As this night fades, so will my tribulations.
Heavenly Father, I present my family to you. Fill their lives with your blessings, turning their existence into a testimony of your love. In Psalm 115:14, we're assured of increased blessings for our family. I claim this promise for my own loved ones.
Healer of all, I ask for a shield of health. Shield me from ailments as promised in Exodus 23:25, that you'll take away sickness. Bless me with vigor, for me to serve you better.
Almighty Physician, I seek your healing touch for my infirmities. Your healing power has been affirmed in Psalm 147:3, you heal the broken-hearted and bind up their wounds. I trust in your promise, believing you will restore me to full health.
Lord, my guide, I seek your wisdom in my studies. Just as Solomon sought wisdom and prospered, I too reach out to you. Grant me success, for success begins and ends with you.
Provider of all, bless my work. Open doors, as declared in Revelation 3:8, where you've set an open door that no one can shut. May my hands be fruitful, reflecting your bountiful nature.
Lord, my rock, I remember my friends in prayer. Guide their steps, bless their lives, just as you promised in Numbers 6:24-26. I claim these blessings for them, confident they'll know peace.
Master of joy, I renounce sorrow, replacing it with your peace. In John 16:22, you promised joy that no one can take away. I claim this joy, declaring it mine.
Father, you see all, including the plans of my adversaries. Scatter these plans, for as the Bible declares in Isaiah 8:10, their plans will not stand. I stand firm in this assurance.
Mighty Protector, I seek your shelter. Surround me with your angelic forces, as you promised in Psalm 91:11. I bask in the certainty of your divine protection.
Almighty Provider, I trust this midnight prayer to be the dawn of financial breakthrough. Open the floodgates of abundance, as Malachi 3:10 says. I am ready to receive your overflowing blessings.
Lord, the giver of life, I rebuke premature death. As Deuteronomy 30:19 suggests, I choose life. In your powerful name, Jesus, I declare and claim a prosperous and blessed life. Amen.
Midnight prayer scriptures and bible verses
Mark 1:35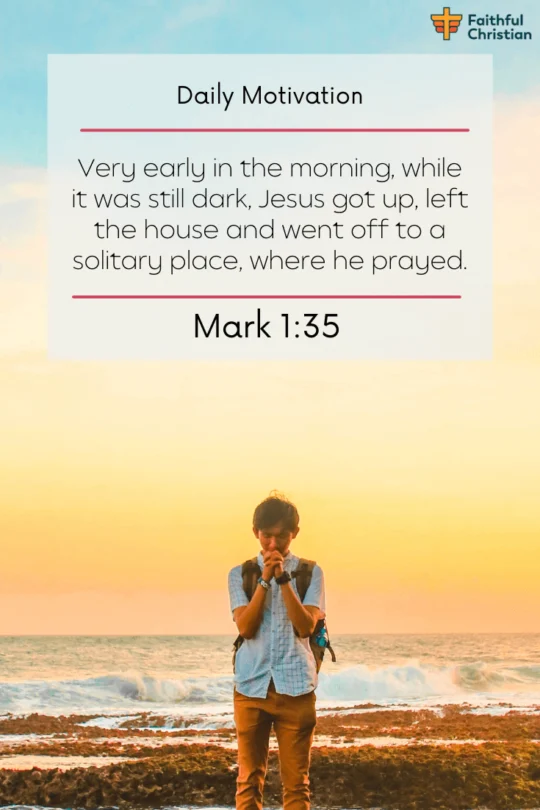 Very early in the morning, while it was still dark, Jesus got up, left the house and went off to a solitary place, where he prayed.
Psalm 119:148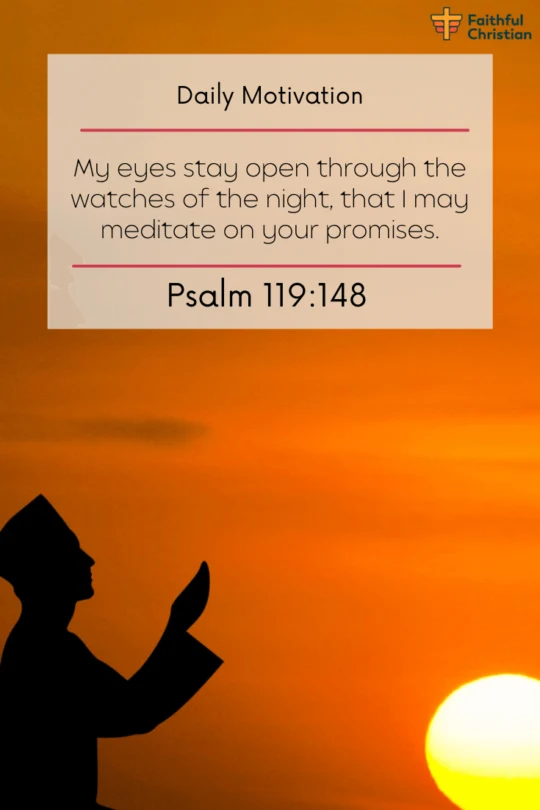 My eyes stay open through the watches of the night, that I may meditate on your promises.
Joshua 1:9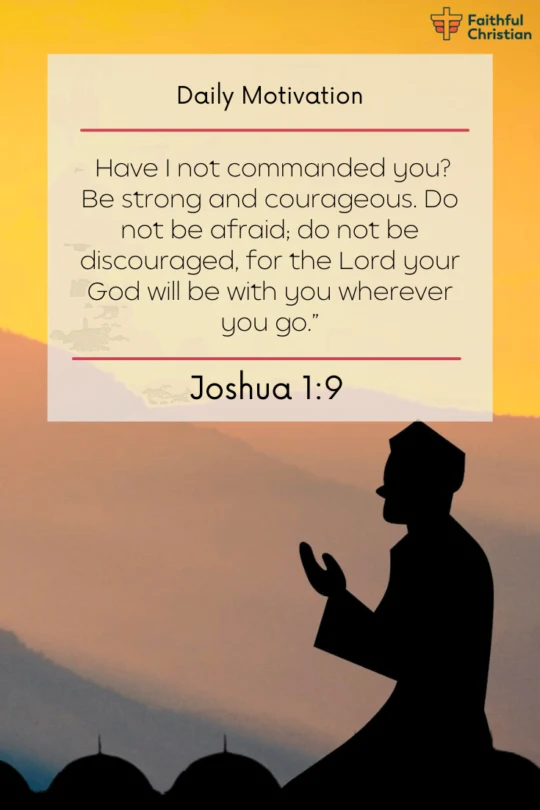 Have I not commanded you? Be strong and courageous. Do not be afraid; do not be discouraged, for the Lord your God will be with you wherever you go."
---
Recommended for you
---
Powerful Midnight Prayer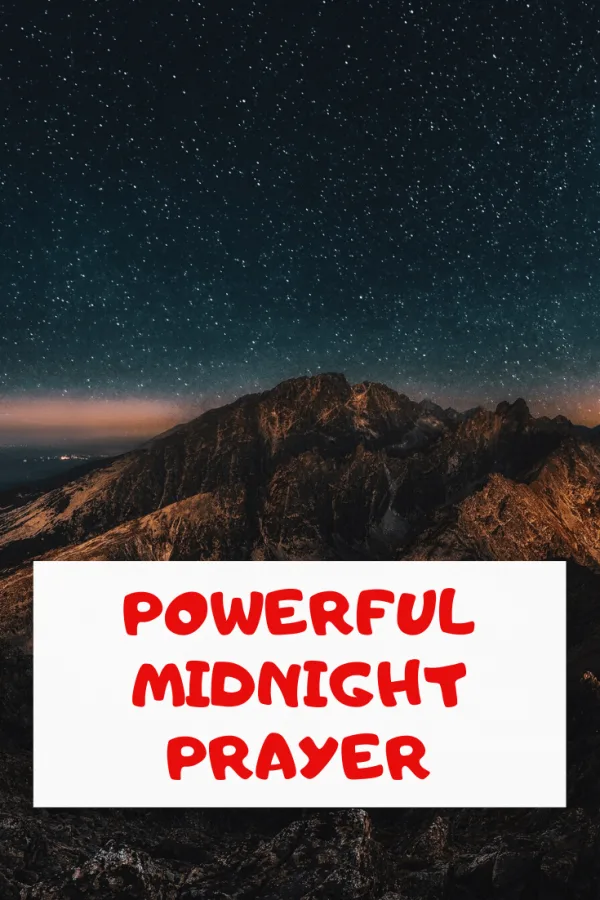 Ask for forgiveness with thanksgiving
Most times, when we pray, we forget to ask for forgiveness for our sins.
There is no righteous man on earth that does not sin.
Repentance and forgiveness are an opportunity to come back to God's fold.
And not just that, when we sin without asking for forgiveness, we limit God's mediation in our trials.
There are lots of scriptures that remind us that God hates sinners.
He dislikes those that refuse to accept their mistakes and ask for forgiveness.
So, this midnight prayer, we will ask God for the forgiveness of all our iniquities.
Don't be afraid to open your hearts and ask for cleansing of your sins.
Is it adultery, murder, or fornication? Is it lying, envy, or jealousy?
If you come unto him with a repentant heart, he has promised, as always, to forgive you your sins.
Here are some scriptures to inspire your midnight prayer for forgiveness.
Proverbs 15:29
The Lord is far from the wicked, but he hears the prayer of the righteous.
John 9:31
We know that God does not listen to sinners. He listens to the godly person who does his will.
1 John 1:9
If we confess our sins, he is faithful and just and will forgive us our sins and purify us from all unrighteousness.
Let us pray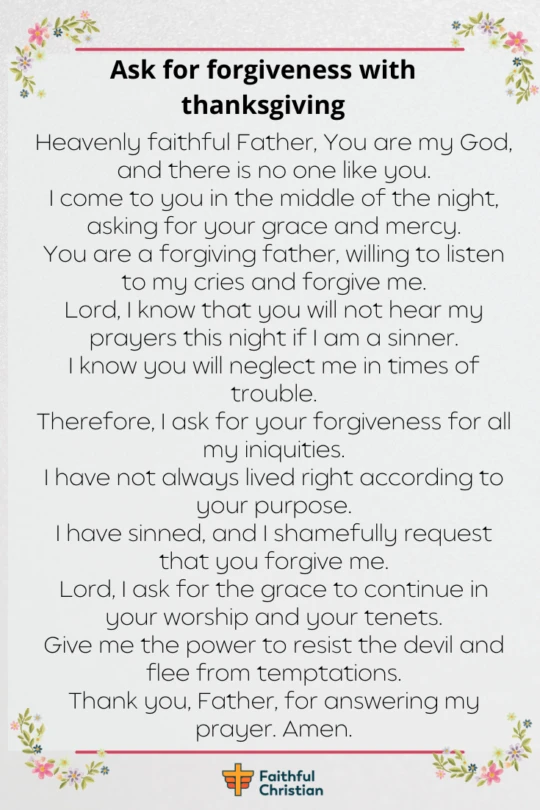 Dearest Father, You're my rock, my fortress. Nothing compares to Your might and majesty. In Psalms, David tells us, "There is no one like you, God." I stand by that truth tonight.
As the world sleeps, I stand awake. It's the midnight hour, the perfect time to bare my soul to You, the Almighty. Just as Jesus often withdrew to lonely places and prayed, I too seek solitude in this silent night.
In You, Father, I find a forgiving spirit, a merciful heart. You're always ready to listen. It's like the Prodigal Son parable, where the father eagerly awaits his lost son's return. I'm that son, seeking solace in Your embrace.
Yet, I understand the power of sin. It can cloud my connection with You. Isaiah reminds us, "Your iniquities have separated you from your God." I fear that separation, Lord.
So, I implore Your forgiveness. I've strayed off course. I've missed the mark. It's what sin means in Greek, 'missing the target.' Forgive me, Father, for not always aiming true to Your purpose.
I seek Your grace, Lord. Let it guide me back on track. Your word tells us, "By grace you have been saved." I hold onto that promise.
Help me resist temptation, the devil's snare. It's like Jesus in the wilderness, turning away from the devil's deceit. Grant me that strength, Father.
I trust You will answer. The Psalmist tells us, "He fulfills the desires of those who fear him." I believe in that promise, Lord.
Thank you, Father. Thank you for hearing my midnight prayer.
Amen.
---
Recommended for you
---
Watch and pray
We live in dangerous times, and we must watch and pray.
As Christians, we must understand the last days and never cease to be prayerful.
The good news is that this midnight prayer will bring relief to your soul.
Your challenges are not caused by God. But he allows it to test us.
Think about the man, Job, and all his persecutions.
Or, Our savior, Jesus Christ, who was humiliated and persecuted by the devil.
Are you struggling with your health or experiencing financial difficulties?
Do you want God's power to break the bondage of spiritual wickedness in high places?
God can strengthen you in your battle.
The scripture says,
"Watch and pray so that you will not fall into temptation. The spirit is willing, but the flesh is weak."

Matthew 26:41
Let us pray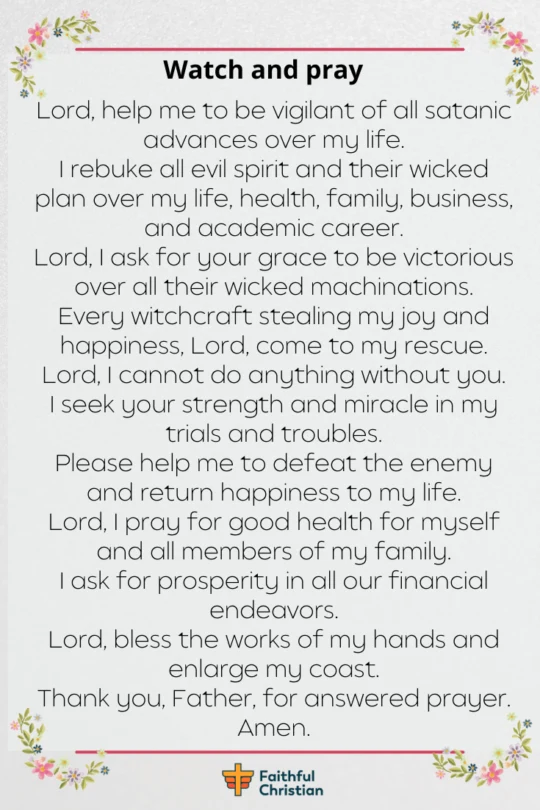 Dear Heavenly Father, as darkness blankets the earth, I seek Your divine protection. Guide me to detect, with spiritual keenness, the sly schemes of the enemy. Like Psalm 5:8, lead me, oh Lord, in your righteousness.
I command, in the mighty name of Jesus, every evil spirit to recoil. Their malicious intentions towards my life, health, family, and career, I declare null. Remember 2 Corinthians 10:5, we demolish arguments against the knowledge of God.
I yearn, Almighty God, for your never-ending grace. Just as David implored in Psalm 28:7, be my shield, my strength, and my heart's trusted fortress. Over every sinister plot, make me triumphant.
In the shadowy corners where witchcraft lurks, Lord, be my beacon. Restore stolen joy and happiness. Like the Psalmist says in Psalm 18:2, you are my rock, my fortress, and my deliverer.
On my own, Father, I'm a ship adrift. Echoing John 15:5, without you, I am nothing. In life's raging storms, I crave your divine miracles. Be my strength, my guide.
Equip me, Almighty, to conquer the enemy. Like in Romans 8:37, we are more than conquerors through Him who loved us. Restore happiness to my life. Make me a testament of joy.
Cover me, oh Lord, with a shield of good health. Just as in 3 John 1:2, may I enjoy good health, just as it goes well with my soul. Extend this protection to my family, safeguarding our mental, emotional, and physical well-being.
In all our financial endeavors, bestow your abundant blessings. As Proverbs 10:22 assures us, the blessing of the Lord brings wealth.
Bless the work of my hands, oh Lord. As in Deuteronomy 28:12, open the heavens to bless all my work. Broaden my horizons, let your grace follow me.
In awe of You, oh Lord, I acknowledge you answer prayers. With an eager heart, I anticipate your blessings. Father, I trust in your word, your promises. As in Matthew 21:22, if we believe, we will receive. In Jesus' name, I pray. Amen.
Pray with scriptures for strength and breakthrough.
There is nothing better than reading the bible.
It is filled with lots of inspirational quotes that can motivate our souls.
No matter what the devil has planned in your life. He will fail.
Remember, no man, even the devil, can be against you if God stands for you.
So, this night, we will seek God's mercy.
We will humbly ask that he takes over our battles.
The scripture says,
I am with you and will watch over you wherever you go, and I will bring you back to this land. I will not leave you until I have done what I have promised you."

Genesis 28:15
Let us pray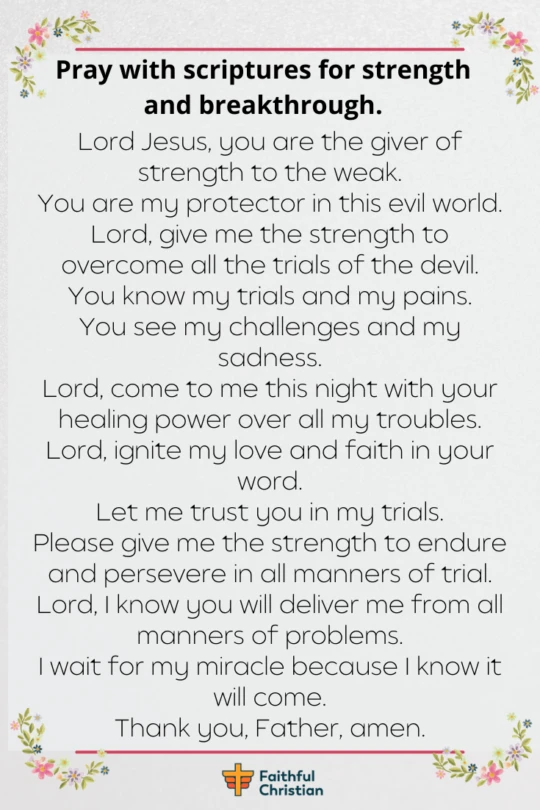 Eternal Lord, you are a boundless source of strength. You are there for us when our knees buckle under the weight of our own frailty, just as the Bible tells us in Isaiah 40:29, "He gives power to the weak."
In this world, often ravaged by the winds of malevolence, you are my fortress. You surround me with your protective grace, echoing Psalm 46:1, "God is our refuge and strength."
In the face of the devil's relentless trials, grant me an unwavering resolve. Let me stand firm, knowing that with you by my side, no challenge is too great.
You, O Omniscient One, see my heartache and trials. You feel my pain and sadness, reminding me of Psalm 34:18, where it's written, "The Lord is near to the brokenhearted."
As the clock strikes midnight, I call upon your healing power. Come, Father, and soothe my burdens. Your love is the balm that heals, like a gentle whisper in the stillness of the night.
Ignite my heart with a fervor for your word, Almighty God. Let your love blaze within me, as it is said in Matthew 22:37, "Love the Lord your God with all your heart."
Help me to place my trust in you, Lord, even when I'm faced with trials. Just like the mustard seed of faith you speak about in Matthew 17:20.
In every hardship, give me the resilience to remain steadfast. May I draw strength from your love, as Paul did in his letter to the Romans, Romans 5:3-4.
In my trials, I know you will deliver me, Father. My faith stands unshaken, mirroring David's conviction in Psalm 34:19, "The righteous person may have many troubles, but the Lord delivers him from them all."
With hopeful anticipation, I wait for my miracle. I know it will come. It is the promise found in Mark 9:23, "Everything is possible for one who believes."
And so, with a heart brimming with gratitude, I say thank you. Thank you, Father, for your undying love and guidance. In your holy name, I offer this prayer, amen.
Take responsibility asking God for deliverance.
Yes, God can deliver you right away.
Right now, we will ask for deliverance from all manner of satanic attacks.
Every hidden plan of the enemy will be exposed.
God will open doors of favor in your life.
Take responsibility and ask God for solutions.
Let us pray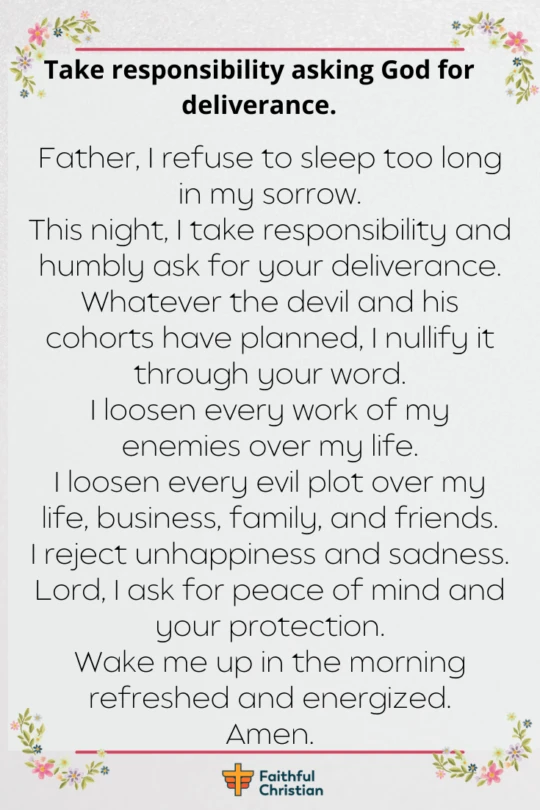 Father in heaven, your word in Psalms 30:5 tells us joy comes in the morning. Nightfall may hold sorrow, but I won't dwell in it. Like the dawn, your deliverance is near.
God, my rock, I approach you. I seek liberation from despair. Like a river, let your word flow, carrying my sorrow downstream.
The enemy, the devil, loves shadows and plots. But I'm holding Isaiah 54:17 close to my heart. Your promise, Lord, no weapon against me shall prosper. I trust you to nullify their plans.
Every work of my enemies, I break loose tonight. Their evil plots over my life, my business, my loved ones – I declare them powerless. With you as our shepherd, we're safe.
Unhappiness, sadness, I reject you. The Almighty didn't design me for despair but for abundant life. I won't let my spirit sink.
Your peace, Father, is my heart's deepest desire. Peace that guards, peace that gives calm amid the storm. I need that peace. I yearn for it.
As I sleep, I need your protection, Lord. Let your divine shield stand between me and the enemy's darts. Keep me safe, under your angelic watch.
As morning arrives, I trust you to wake me. I'll be refreshed, energized, ready for a new day's challenges. Your strength is my sustenance, your grace my attire.
In everything, I thank you, Almighty God. Your mercy endures forever. Your goodness is unending. Hear my prayer, stand with me, today and always.
In Jesus' name, Amen.
Ask for spiritual intimacy.
You cannot do it on your own.
Despite your efforts, you need God to help you.
Therefore, we must strengthen our relationship with him.
Let us pray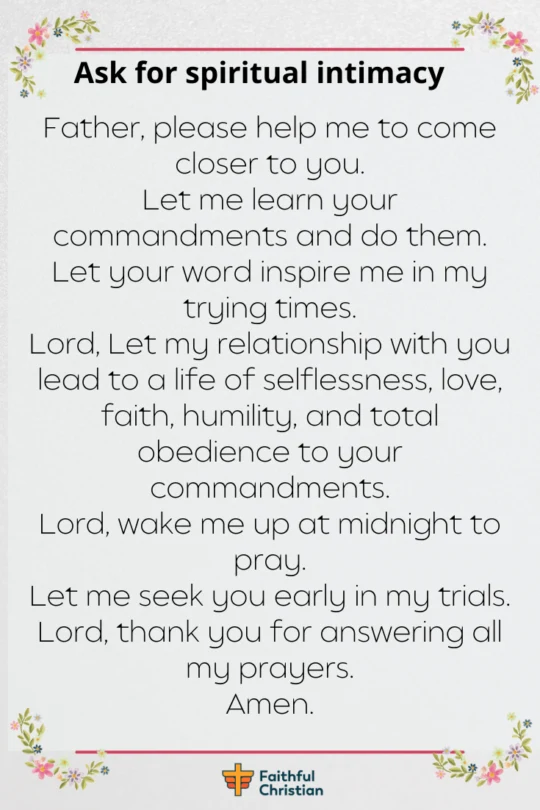 Heavenly Father, draw me near. Pull me closer, into the heart of your love. As it's said in James 4:8, let me move closer to you, and you to me.
Help me understand your laws. Like in Psalm 119:34, give me the insight to do your will. Your commands, the road map to a righteous life.
In dark times, let your word be my guiding star. A light, like you promise in Psalm 119:105, to illuminate my steps.
My bond with you, Lord, let it shape my life. Let it echo the Corinthians' call in 1 Corinthians 13:4-7, inspiring love, patience, and selflessness.
Guide me to humility, mirroring Christ in Philippians 2:3-4. May I put others first, reflecting your love to the world.
Ignite my spirit to pray at midnight. In the stillness, like David in Psalm 63:6, let me remember you, Father.
Lead me to seek you early, when trials are fresh. As you urge in Psalm 46:1, let me find you a refuge, a very present help in trouble.
Thank you, Lord, for answering prayers. Just like in 1 John 5:14-15, I know you hear me. I trust in your perfect timing.
A heartfelt "Amen" finishes this prayer. It ascends to your throne, Almighty, knowing your mercy and love are boundless.
Ask for wealth, money, and a financial breakthrough in your life
We all have unique problems we are dealing with.
It could be your business or money to solve an urgent trial.
It could also be your workplace or finances for your academics.
If you've been searching for a financial miracle for your business, career, or marriage, now is the time to pray.
God is able to provide all that you want, and he can do that even in the midst of impossibilities.
You may have lost all hope for a financial turnaround, but with this prayer, God is able to help you to your destination.
Let Us Pray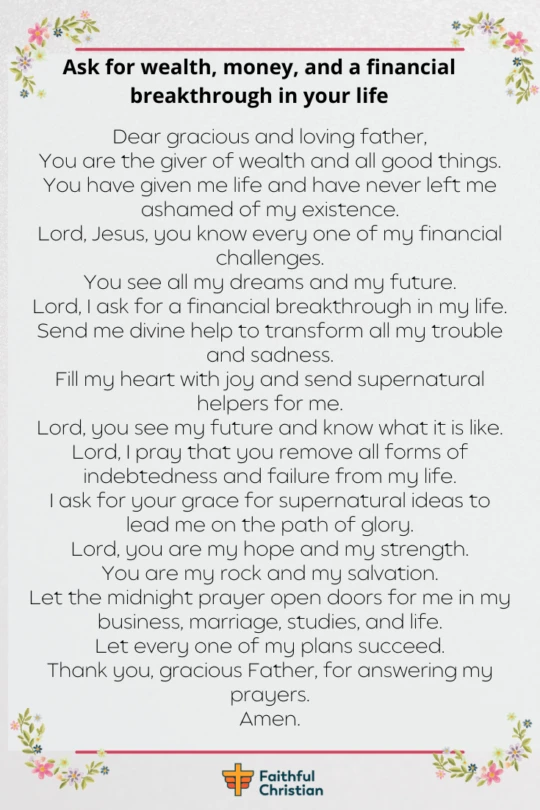 Oh, beloved Father, the grand provider of blessings,
Your generosity knows no bounds, as You shower us with life's gifts (James 1:17). You gave me life, a precious gift, bathing me in Your unwavering love. Shame has no home in my heart, for Your love banishes it.
Mighty Lord Jesus, You see my financial struggles. You've walked in our shoes, faced our hardships (Hebrews 4:15). You understand. Every dream I've woven, every vision of my future – You know them.
Now, I need a financial breakthrough, dear Father. With humility, I ask for Your divine intervention. Turn my trials into triumphs, my sorrows into joy (Romans 8:28).
I pray for joy, Father. Fill my heart to the brim. Send celestial helpers my way, to stand by me in times of need (Hebrews 1:14).
Lord, You see my future. You know what's in store (Jeremiah 29:11). Clear my path of debts and failures. Guide me with Your wisdom, leading me on a path to glory.
You, Lord, are my pillar of strength (Psalm 28:7). My rock. My salvation. I lean on You, always.
As the clock strikes midnight, may this prayer open doors. In business. In marriage. In studies. In life. Success is my prayer for every plan (Proverbs 16:3).
And I thank you, gracious Father. For hearing my prayers. For being by my side.
Amen.
Frequently Asked Questions
What do you pray for at midnight?
Midnight prayer is a deeply personal practice. At this quiet hour, some pray for protection, others for wisdom or strength. Often, prayers intercede for others, plead for healing, or offer gratitude.
The biblical narrative in Acts 16:25 serves as an example. It records Paul and Silas's midnight prayers and songs, which led to a miraculous earthquake freeing them from prison.
What is a powerful night prayer for today?
A potent night prayer might resonate like this: "Gracious Father, I appreciate your daily love and protection. As darkness descends, I beseech your continued guidance. Shine light on my path, grant me discernment. Uphold the suffering, offer them solace and resilience. Provide me tranquil sleep, and rouse in me the bravery to face tomorrow. In Jesus' name, I pray. Amen."
Reflect on Psalm 4:8, emphasizing safety and peace in the Lord's presence.
How can I pray night prayer?
Compline, or night prayer, typically commences with acknowledging God's omnipresence.
You thank Him for daily blessings, confess sins, and implore forgiveness. You seek night-time protection and remember others in your prayers.
Recite comforting scriptures or hymns. A prime example is Psalm 91:1-2, expressing trust and refuge in God's shelter.
What are the powerful prayer hours?
The Bible doesn't explicitly outline "powerful prayer hours," but assigns spiritual significance to specific times.
Some follow Psalm 119:164, praising God seven times daily. Midnight prayer, like Paul and Silas's (Acts 16:25), symbolizes unyielding faith. Early morning, suggestive of divine encounters and fresh starts, is another favored prayer time (Mark 1:35).
Who prayed at midnight in the Bible?
Acts 16:25 recounts Paul and Silas praying at midnight in prison. Their spiritual songs and prayers were audible to their fellow prisoners.
What are the midnight prayer points for breakthrough?
Midnight prayer points for breakthrough may entail imploring God to unlock opportunities, grant wisdom and guidance, or provide strength and clarity amid trials.
Isaiah 43:19 underpins such prayers, promising God's provision in wilderness-like circumstances.
Can you provide an example of dangerous midnight prayers?
A fervent and daring midnight prayer might be: "Omnipotent God, I stand before you at midnight, facing towering challenges. Invoking Jesus' name, I order all barriers in my path to crumble (Luke 10:19). I bind the spirits of confusion, fear, and despair, releasing peace, clarity, and faith. I declare no weapon fashioned against me will prevail (Isaiah 54:17). Victory is mine in Jesus' powerful name. Amen."
This 'dangerous' prayer denotes spiritual authority, not harmful intent.
Author: Akatakpo Dunn
Dr. Akatakpo Dunn is a dedicated follower of Christ, an active member and speaker, and an ongoing learner of the Scriptures. Passionate about his faith and serving others, he is committed to sharing his spiritual journey and insights to inspire and uplift fellow believers. He has been active in the church for more than 23 years. Through The
Faithful Christian Blog
,
Dr. Dunn
combines his love for God, philanthropy, and Scripture, providing a valuable resource for those seeking to grow in their faith.
Follow me: on Youtube, Facebook, Twitter, Instagram, and Pinterest.
Content Disclosure:
At The Faithful Christian Blog, I create authentic and inspiring content. Although I am the main author, I occasionally use AI for minor language enhancements. This minimal AI usage ensures high-quality, trustworthy articles without compromising originality or sincerity, ultimately supporting our shared faith journey.
Warmly,
Dr. Akatakpo Dunn
Was this article helpful?