We all know the plan of the devil.
To steal, kill, and to destroy.
He moves all through the earth searching for an opportunity to strike.
He is unhappy when we are happy and wishes to cause us pain.
In a similar way, he wants to cause disunity, anxiety, and problems in the family.
That's why we must pray and search through the scriptures for bible verses for protecting the family.
God is all-powerful and can defend our household.
Besides physical security, there is nothing else we can do.
We cannot protect each and every one of our families at every time of the day.
The truth is, we are limited in our capabilities to protect even ourselves, let alone others in our family.
Therefore, we must seek God's help for protection.
And that's because God knows everything.
The scripture says,
we know that God is greater than our hearts, and he knows everything

1 John 3:20
The story of Job is one that teaches the importance of God's protection.
Job has lived all through his life as a faithful servant of God.
And, for years, the devil has tried to strike Job.
But God has put Angels to Guide job and his household.
In a conversation with God, the devil said,
Hast not thou made an hedge about him, and about his house, and about all that he hath on every side? thou hast blessed the work of his hands, and his substance is increased in the land.

Job 1:10-11
The devil is powerless with God on our side.
And that's why, despite the devil's wish to hurt Job, He couldn't, because God has placed a hedge around him.
If you are struggling with any issue in your home, I have put together bible verses for the protection of family to inspire.
---
Recommended for you
---
Bible verses for protection of family
1.  2 Samuel 10:12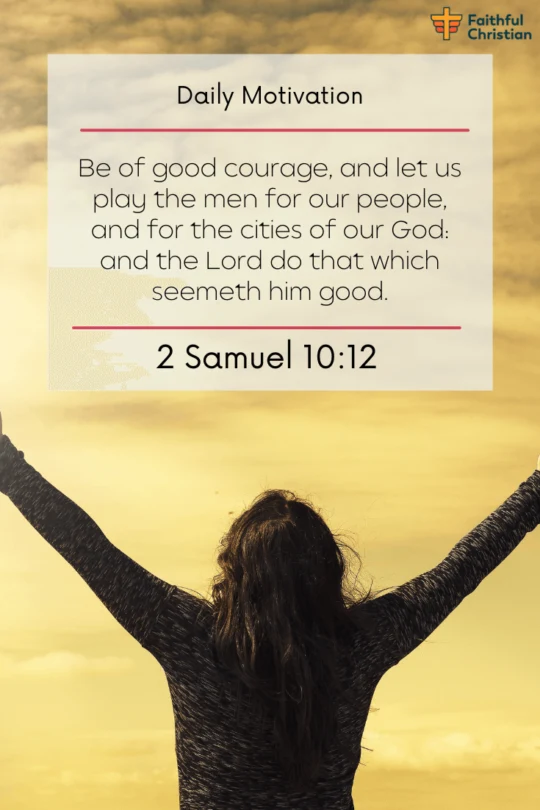 Be of good courage, and let us play the men for our people, and for the cities of our God: and the Lord do that which seemeth him good
2.  Nehemiah 4:14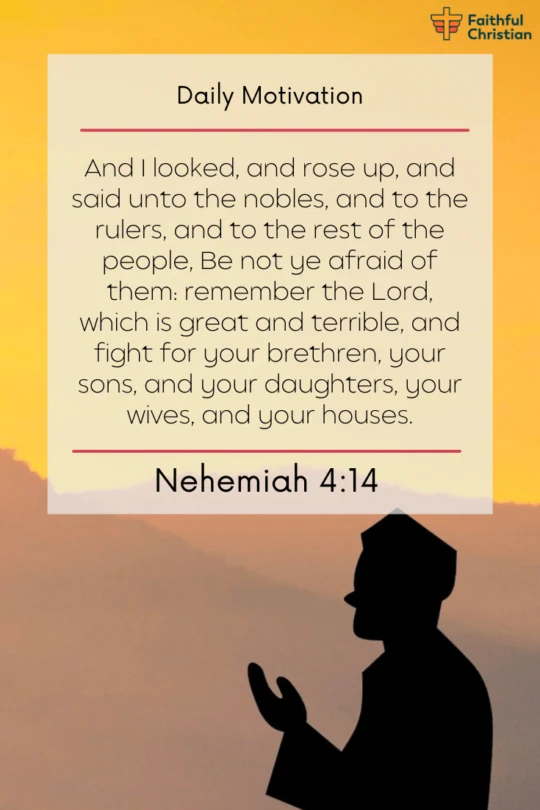 And I looked, and rose up, and said unto the nobles, and to the rulers, and to the rest of the people, Be not ye afraid of them: remember the Lord, which is great and terrible, and fight for your brethren, your sons, and your daughters, your wives, and your houses.
3.  Numbers 14:9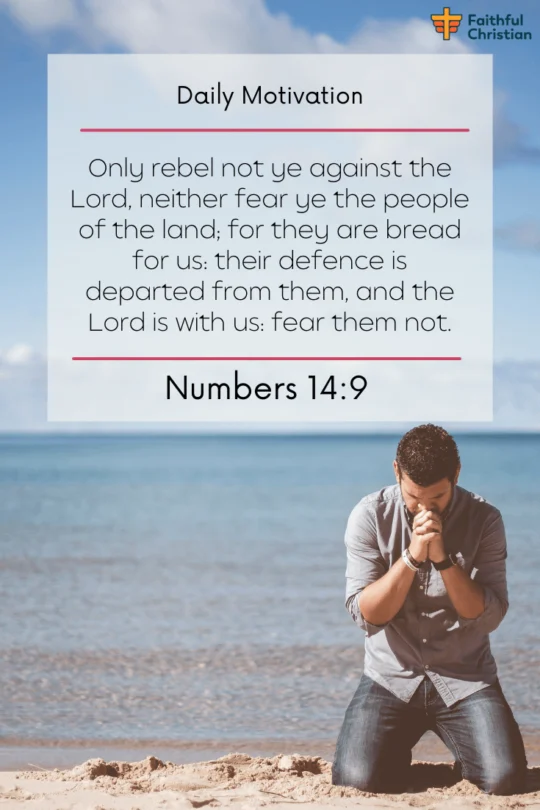 Only rebel not ye against the Lord, neither fear ye the people of the land; for they are bread for us: their defence is departed from them, and the Lord is with us: fear them not.
4.  Isaiah 41:10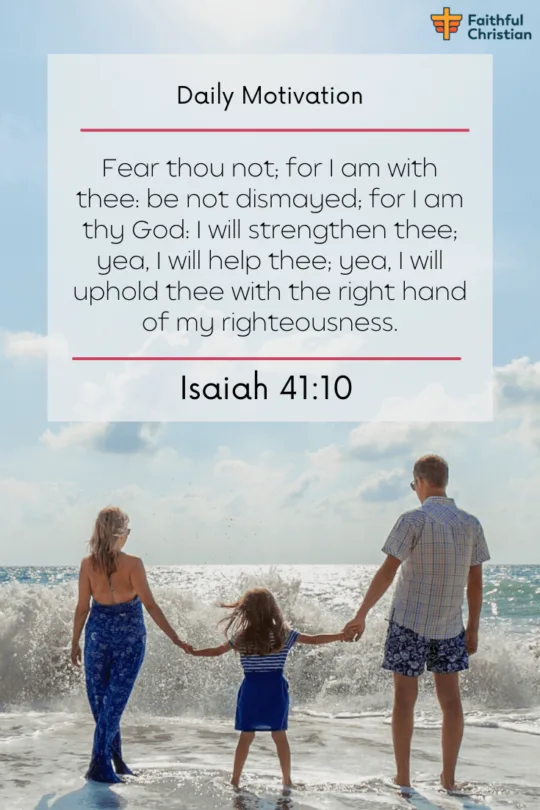 Fear thou not; for I am with thee: be not dismayed; for I am thy God: I will strengthen thee; yea, I will help thee; yea, I will uphold thee with the right hand of my righteousness.
5.  Isaiah 41:11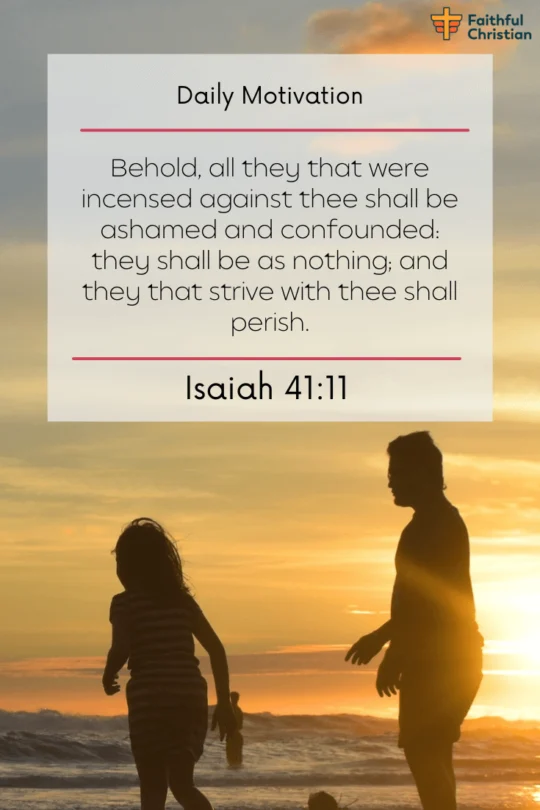 11 Behold, all they that were incensed against thee shall be ashamed and confounded: they shall be as nothing; and they that strive with thee shall perish.
6.  Hebrews 13:6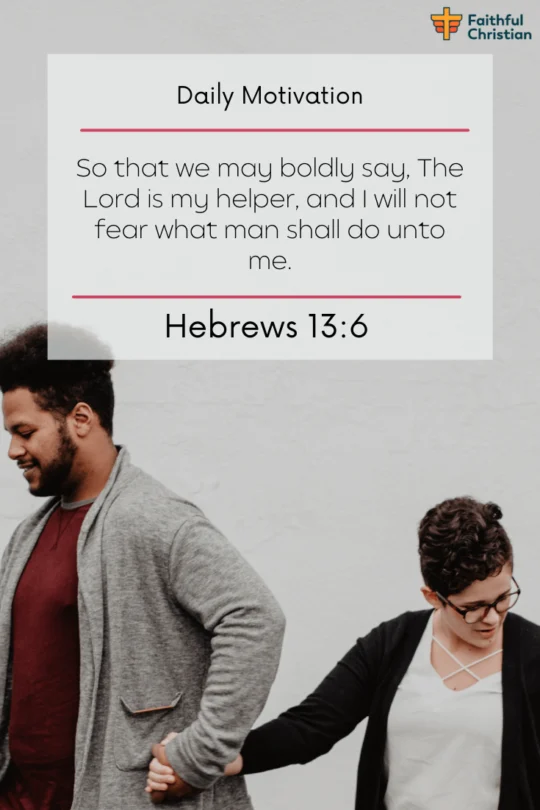 So that we may boldly say, The Lord is my helper, and I will not fear what man shall do unto me.
7.  Matthew 10:28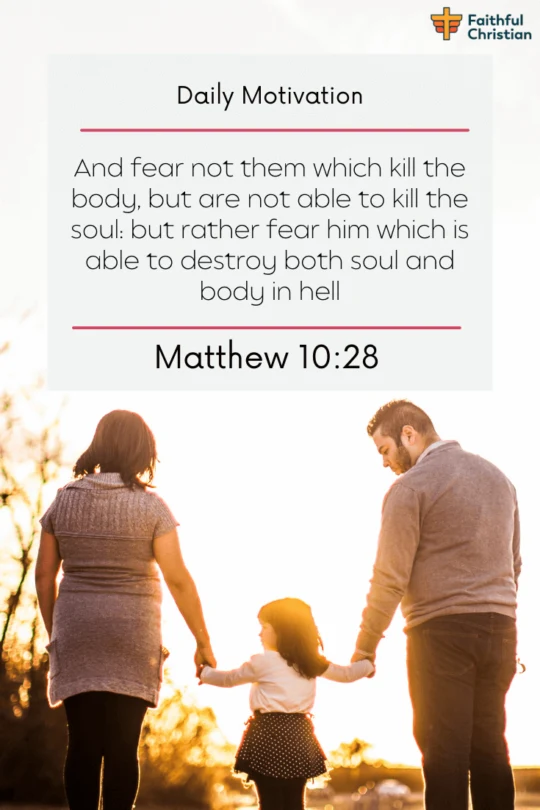 And fear not them which kill the body, but are not able to kill the soul: but rather fear him which is able to destroy both soul and body in hell
8.  Deuteronomy 20:3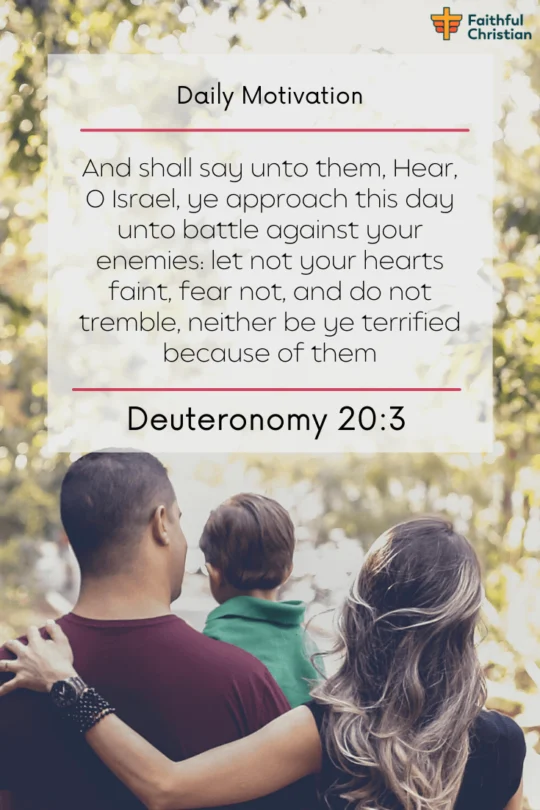 3 And shall say unto them, Hear, O Israel, ye approach this day unto battle against your enemies: let not your hearts faint, fear not, and do not tremble, neither be ye terrified because of them;
9.  Deuteronomy 20:4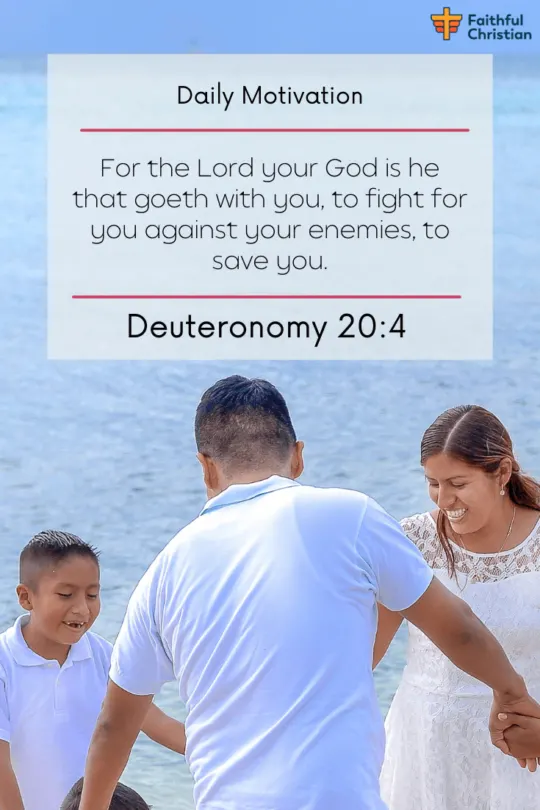 4 For the Lord your God is he that goeth with you, to fight for you against your enemies, to save you.
10.  Psalm 118:6-9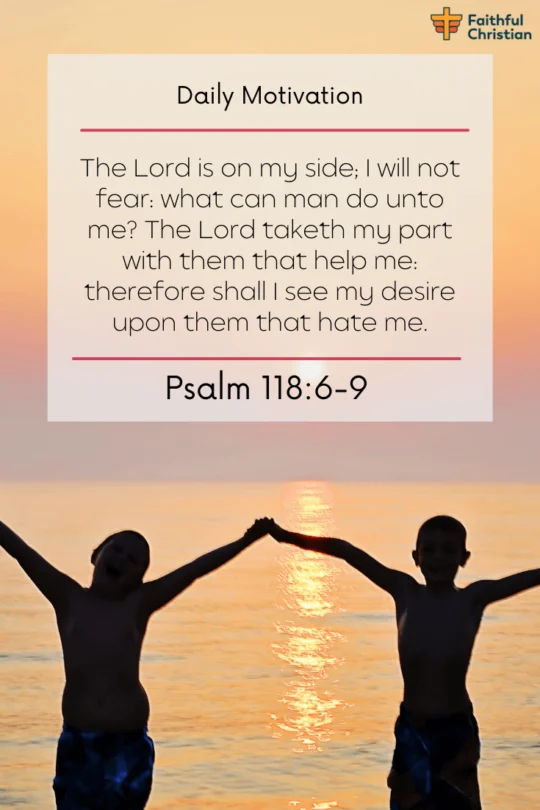 The Lord is on my side; I will not fear: what can man do unto me? The Lord taketh my part with them that help me: therefore shall I see my desire upon them that hate me.
11.  Psalm 27:1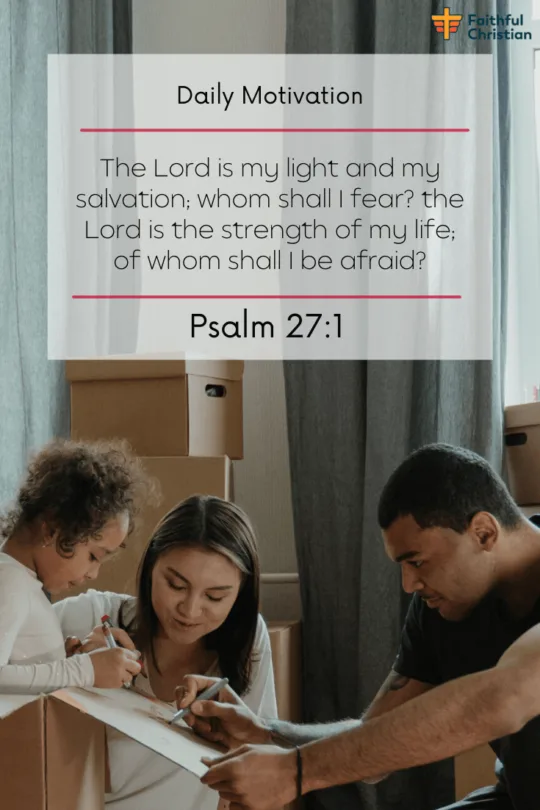 The Lord is my light and my salvation; whom shall I fear? the Lord is the strength of my life; of whom shall I be afraid?
12.  Psalm 27:2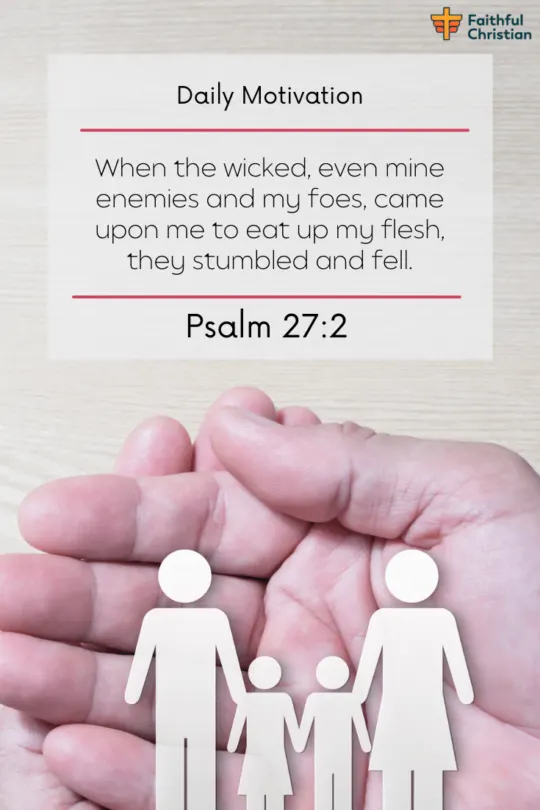 2 When the wicked, even mine enemies and my foes, came upon me to eat up my flesh, they stumbled and fell.
13.  Psalm 27:3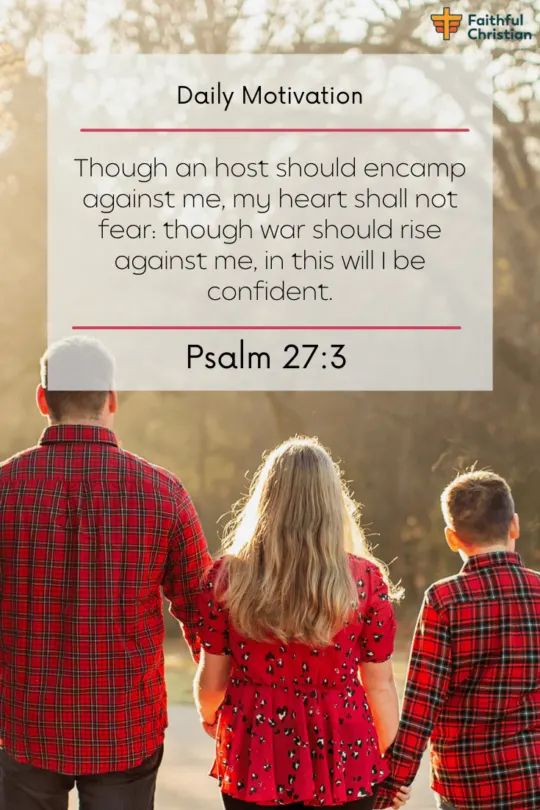 3 Though an host should encamp against me, my heart shall not fear: though war should rise against me, in this will I be confident.
14.  Romans 8:31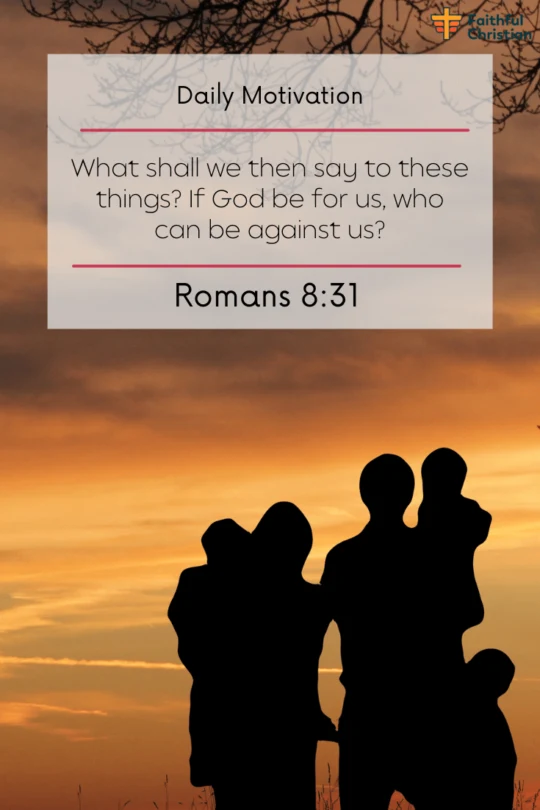 What shall we then say to these things? If God be for us, who can be against us?
15.  Psalm 124:8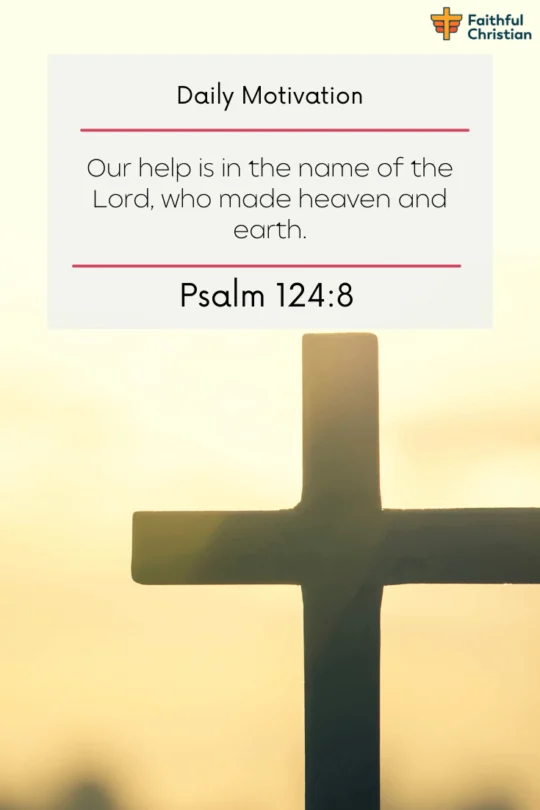 Our help is in the name of the Lord, who made heaven and earth.
16.  Hebrews 4:16
Let us therefore come boldly unto the throne of grace, that we may obtain mercy, and find grace to help in time of need.
17.  Psalm 56:4
In God I will praise his word, in God I have put my trust; I will not fear what flesh can do unto me.
---
Recommended for you
---
More Bible verses about protecting your home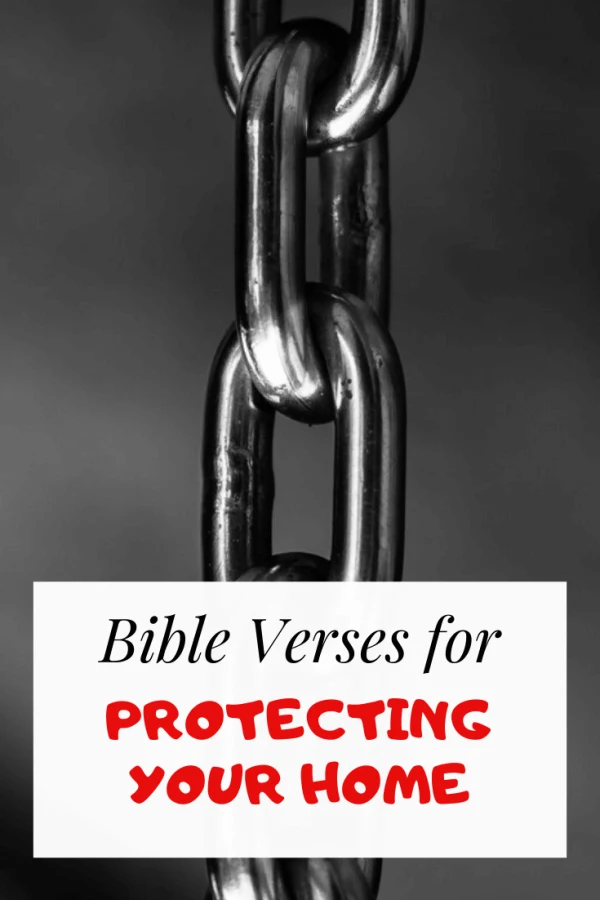 18.  Psalm 33:20
Our soul waiteth for the Lord: he is our help and our shield.
19.  Psalm 54:4
Behold, God is mine helper: the Lord is with them that uphold my soul.
20.  Psalm 94:17
Unless the Lord had been my help, my soul had almost dwelt in silence.
21.  Ephesians 3:12
In whom we have boldness and access with confidence by the faith of him.
22.  1 Timothy 5:8
But if any provide not for his own, and specially for those of his own house, he hath denied the faith, and is worse than an infidel.
23.  2 Corinthians 12:14
Behold, the third time I am ready to come to you; and I will not be burdensome to you: for I seek not yours but you: for the children ought not to lay up for the parents, but the parents for the children.
24.  Psalm 107:41
 Yet setteth he the poor on high from affliction, and maketh him families like a flock.
25.  Psalm 127:1
Except the Lord build the house, they labour in vain that build it: except the Lord keep the city, the watchman waketh but in vain.
26.  Proverbs 12:7
The wicked are overthrown, and are not: but the house of the righteous shall stand.
27.  Proverbs 11:21
Though hand join in hand, the wicked shall not be unpunished: but the seed of the righteous shall be delivered.
28.  Proverbs 14:26
In the fear of the Lord is strong confidence: and his children shall have a place of refuge.
29.  Proverbs 18:10
The name of the Lord is a strong tower: the righteous runneth into it, and is safe.
30.  Jeremiah 32:39
39 And I will give them one heart, and one way, that they may fear me for ever, for the good of them, and of their children after them:
31.  Jeremiah 32:40
40 And I will make an everlasting covenant with them, that I will not turn away from them, to do them good; but I will put my fear in their hearts, that they shall not depart from me.
32.  Psalm 115:13-14
He will bless them that fear the Lord, both small and great. The Lord shall increase you more and more, you and your children.
33.  Proverbs 3:25-26
Be not afraid of sudden fear, neither of the desolation of the wicked, when it cometh. For the Lord shall be thy confidence, and shall keep thy foot from being taken.
34.  2 Thessalonians 3:3
But the Lord is faithful, who shall stablish you, and keep you from evil.
35.  2 Timothy 4:18
And the Lord shall deliver me from every evil work, and will preserve me unto his heavenly kingdom: to whom be glory for ever and ever. Amen.
36.  Matthew 6:13
And lead us not into temptation, but deliver us from evil: For thine is the kingdom, and the power, and the glory, for ever. Amen.
37.  Job 5:24
24 And thou shalt know that thy tabernacle shall be in peace; and thou shalt visit thy habitation, and shalt not sin
38.  Psalm 121:7-8
The Lord shall preserve thee from all evil: he shall preserve thy soul. The Lord shall preserve thy going out and thy coming in from this time forth, and even for evermore.
39.  Psalm 91:10
There shall no evil befall thee, neither shall any plague come nigh thy dwelling.
God's protection over your family — Here's what you must know
1.  Even as a sinner, God still protects you
We are all sinners
And even if you're are born again, you've most likely sinned in one way or the other
But, it is unimaginable that God still protects us even as disobedient children
That's who he is — A father that loves us immensely
He always thinks towards the future, and his thoughts are way superior to ours
In all, he has protected our family because of the love he has for us
The scripture says,
But God demonstrates his own love for us in this: While we were still sinners, Christ died for us.
2.  God does not forsake the righteous
If you want God's love and protection, you must always come closer to him
He is willing to protect you each time you seek him
Your husband, wife, children, and your relatives need his protection
You cannot do anything without him
There are lots of reasons to need God's protection in your home
And he is ready to protect and provide for you if you serve him
It all starts with acknowledging your sins and repenting afterward
And then, you fervently serve and obey his commands
If you do this, God is happy protecting your family from the wicked evil hands of the devil
The scriptures say,
25 And ye shall serve the Lord your God, and he shall bless thy bread, and thy water; and I will take sickness away from the midst of thee.There shall nothing cast their young, nor be barren, in thy land: the number of thy days I will fulfil.

Exodus 23:25-26
Author: Akatakpo Dunn
Dr. Akatakpo Dunn is a dedicated follower of Christ, an active member and speaker, and an ongoing learner of the Scriptures. Passionate about his faith and serving others, he is committed to sharing his spiritual journey and insights to inspire and uplift fellow believers. He has been active in the church for more than 23 years. Through The
Faithful Christian Blog
,
Dr. Dunn
combines his love for God, philanthropy, and Scripture, providing a valuable resource for those seeking to grow in their faith.
Follow me: on Youtube, Facebook, Twitter, Instagram, and Pinterest.
Content Disclosure:
At The Faithful Christian Blog, I create authentic and inspiring content. Although I am the main author, I occasionally use AI for minor language enhancements. This minimal AI usage ensures high-quality, trustworthy articles without compromising originality or sincerity, ultimately supporting our shared faith journey.
Warmly,
Dr. Akatakpo Dunn
Was this article helpful?