It's not uncommon for mothers and daughters to face challenges in their relationships.
In this article, we'll explore the power of prayer for mother and daughter's relationship, highlighting how biblical principles can nurture this unique connection.
Uncover the benefits of spiritual guidance, learn to tackle common issues, and gain insight into God's unconditional love.
Eager to transform your relationship?
Proverbs 31:28 reminds us of a mother's impact: "Her children arise and call her blessed; her husband also, and he praises her.
Join us on this journey, harnessing the power of prayer to cultivate a flourishing mother-daughter bond.
---
Recommended for you
---
Short prayer for mother and daughter relationships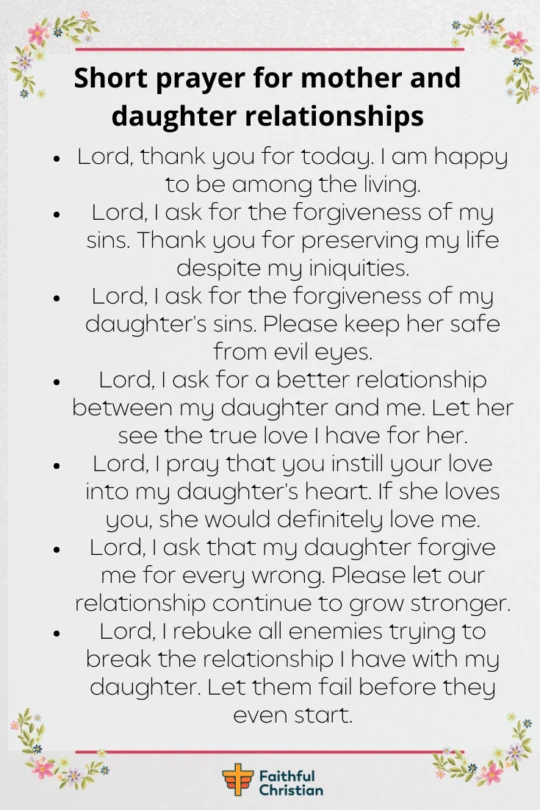 Heavenly Father, my heart overflows with gratitude for the gift of today. I'm blessed to be alive, basking in Your love and mercy. Your faithfulness, like in Lamentations 3:22-23, brings new mercies each morning.
I ask, Lord, for forgiveness. Thank You for Your grace that covers my faults and failures. Your promise in 1 John 1:9 gives me hope, knowing You'll cleanse me from all unrighteousness.
I lift my daughter to You, Lord. Forgive her sins and protect her from harm. Your divine protection in Psalm 121:7-8 keeps her safe, guarding her every step.
God, I pray for a deeper connection with my daughter. Inspired by Proverbs 22:6, help her understand and appreciate my love. Together, let's grow stronger.
Fill my daughter's heart with Your divine love. Matthew 22:37-39 reminds us to love You and others wholeheartedly. As she loves You, our bond will grow too.
Forgive me, Lord, for any wrongs towards my daughter. Colossians 3:13 teaches us to forgive one another. Strengthened by Your grace, may our relationship flourish.
In Jesus' name, I stand against those who seek to harm our bond. Romans 8:31 comforts us, knowing that with You on our side, no one can prevail.
Lastly, I pray for my family's well-being. Bless our finances, so I can provide for my children. Your promise in Philippians 4:19 ensures You'll supply our needs through Christ Jesus.
In Jesus' name, I pray. Amen.
Prayer for mother and daughter relationship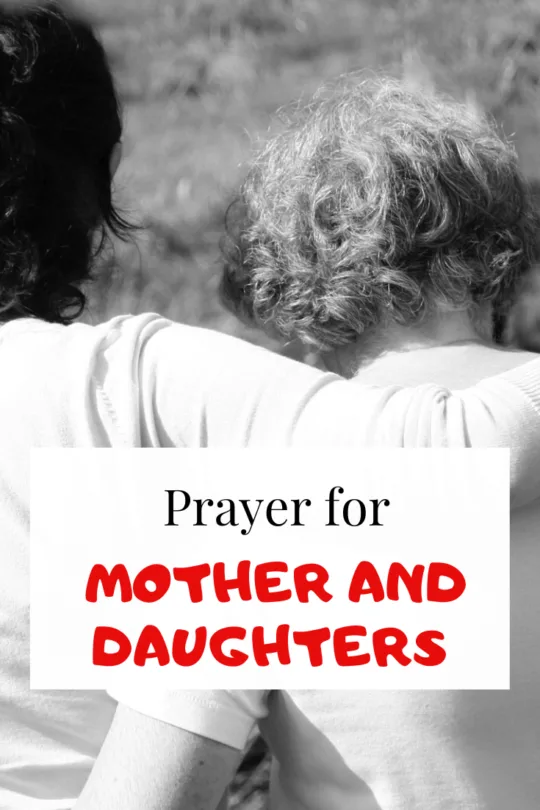 A prudent woman acts with knowledge
As parents, our most significant quest is seeking wisdom to lovingly care for our family. Where can we find this precious insight? God, the ultimate source of knowledge, holds the key.
Proverbs 2:6 says He grants wisdom to those who ask. So, let's turn to Him for guidance on our journey through parenthood.
Why is wisdom essential? Family life is complex, filled with challenges that require discernment. God's wisdom helps us tackle these issues head-on.
Solomon, the wisest man in history (1 Kings 3:9), serves as a shining example. Like him, we need the ability to distinguish good from evil, guiding our children on the right path.
Parenting is a delicate balancing act. We must discern when to be firm and when to show love. Ephesians 6:4 warns against provoking our children to anger.
Instead, we should "bring them up in the discipline and instruction of the Lord." Striking the right balance is key to a healthy parent-child relationship.
Being too harsh strains the bond with our children. On the other hand, excessive leniency leads to unfavorable outcomes.
Proverbs 13:24 highlights the importance of discipline, stating that a loving parent corrects their children. We must find the middle ground for effective parenting.
God's wisdom helps us make the right decisions in every situation. James 3:17 describes divine wisdom as pure, peace-loving, considerate, submissive, and merciful.
Embodying these qualities, we can become the loving, wise parents our children need.
Ask God for wisdom, and He will provide it (James 1:5). His guidance helps us foster an environment where our children can grow in their faith.
In 3 John 1:4, we find the ultimate parenting goal: "I have no greater joy than to hear that my children are walking in the truth." Let's make this our heartfelt mission, seeking divine wisdom every step of the way.
Let us pray for the relationship with your daughter.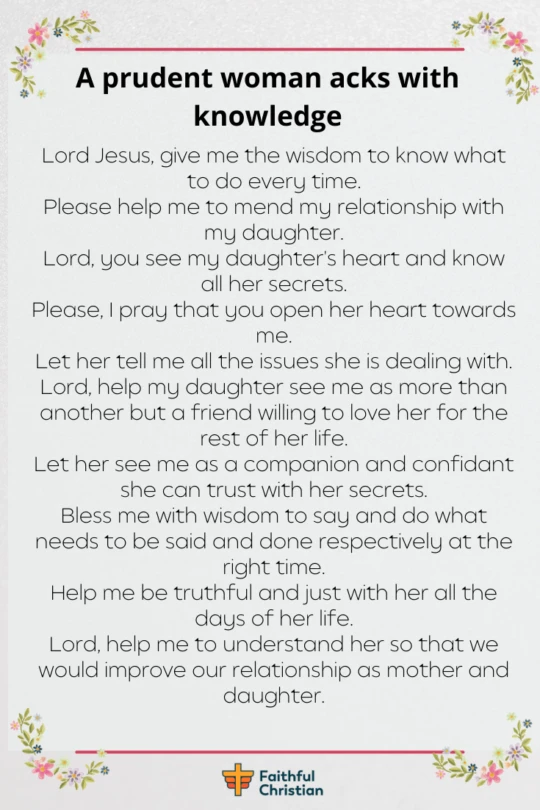 Heavenly Lord Jesus, I humbly seek Your divine wisdom. Inspired by Solomon's wisdom in Proverbs 2:6, I long to make sound decisions, always walking in Your light.
Please help me heal and strengthen my bond with my daughter. Ephesians 4:32 teaches us to be kind, compassionate, and forgiving. May we practice these virtues to pave the way for reconciliation.
You know my daughter's heart, Lord. Psalm 139:23-24 tells us You search our hearts and know our anxious thoughts. I ask You to soften her heart, allowing love and trust to grow between us.
Give her the courage to share her struggles, reflecting David's vulnerability in Psalm 62:8. Let my daughter see me as a loving mother and supportive friend, embodying 1 Corinthians 13:4-7's unwavering love.
Help her see me as a trusted confidante. Proverbs 3:5-6 encourages us to trust in the Lord wholeheartedly. Bless me with wisdom to know when to speak and act, as guided by Ecclesiastes 3:1's reminder that there is a time for everything.
Lord, guide me to be truthful and just, as taught in Colossians 3:9-10. Help me understand my daughter, so we may nurture our relationship, reflecting the compassionate love You show in Isaiah 66:13.
Colossians 3:21 cautions against embittering our children. Following Deuteronomy 6:6-7, I seek Your wisdom to love and guide my children in Your ways.
Bestow upon me the grace to be a loving mother, as encouraged by Titus 2:4. Equip me to help my daughter become strong and compassionate, following Proverbs 22:6's guidance to train up a child.
I am grateful, Heavenly Father. 1 John 5:14-15 assures me that my prayers are heard and answered.
Amen.
A soft answer turns away wrath, but a harsh word stirs up anger
Parenting is an art, and mastering it means taming our emotions, especially anger. The Bible is our guide, offering pearls of wisdom, such as Proverbs 29:11, urging us to stay calm and composed.
Anger can be a tricky beast. It clouds our judgment and pushes us to make poor decisions. Our kids know how to press our buttons, tempting us to say or do things we shouldn't.
The Bible's advice in James 1:19-20 teaches us to be quick to listen, slow to speak, and even slower to get angry. Let's remember this when our little ones test our patience.
To be the best parents, we must recognize and control our emotions. Doing so sets an example for our kids and fosters a strong bond.
Ephesians 4:31-32 reminds us to let go of bitterness, anger, and malice. Instead, we should embrace kindness and forgiveness. These are the qualities we want to model for our children.
When we manage our anger and respond with patience, our kids see the love and support we offer. This helps us become their mentors and role models.
The Bible's words in 1 Corinthians 13:4-7 emphasize that love is patient and kind. It's not easily angered and holds no grudges. As parents, this is the love we should embody.
"A gentle answer turns away wrath, but a harsh word stirs up anger" (Proverbs 15:1). Keeping this wisdom in mind, let's ensure our interactions with our kids are filled with kindness and understanding.
By applying biblical principles, we'll create a nurturing environment for our children's growth, development, and the bond we share.
Let us pray for a better mother-and-daughter relationship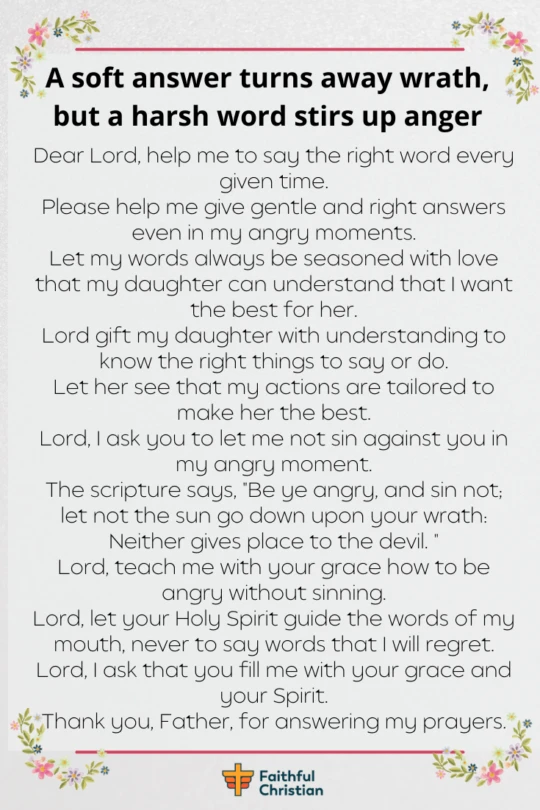 Heavenly Father, I come before You with a humble heart, seeking guidance to choose the right words in every situation.
Remind me, as James 1:19 teaches, to be a good listener, slow to speak, and slow to anger. Grant me the wisdom to respond gently and with understanding, even in moments of frustration.
Your Word in Proverbs 15:1 guides me to use gentle answers that turn away wrath instead of harsh words that fuel anger.
Please, Lord, fill my conversations with love, as Colossians 4:6 instructs. May my daughter see that I want the best for her.
Bless her with the wisdom to do what's right, trusting in Your guidance, as Proverbs 3:5-6 reminds us. Help her understand that my actions aim to help her grow into the best version of herself.
Father, help me stay strong in my faith and avoid sinning in anger. Ephesians 4:26-27 encourages us to be angry without sinning and to resolve conflicts before the day ends.
Teach me, through Your grace, to uphold Your teachings in every aspect of life. Psalm 4:4 guides me to reflect on my emotions and remain calm.
Lord, may Your Holy Spirit guide my thoughts and words, as promised in John 14:26. Fill me with Your grace and presence, empowering me to act according to Your will.
Ephesians 5:18-20 teaches me to seek spiritual fulfillment, share uplifting words with others, and give thanks to You for everything.
Thank you, Father, for hearing my prayers. Your unwavering love and support, as reflected in 1 John 5:14-15, give me confidence that You are listening and will answer my prayers according to Your will. Amen.
Train up a child in the way she should go
Parenting is a skill; striking the right balance between discipline and affection is crucial.
How can parents be strict yet friendly, while still conveying love and support? The answer may lie in biblical wisdom, which offers guidance on this matter.
Proverbs 22:6 reminds us to "train up a child in the way he should go," emphasizing the long-lasting impact of early lessons.
Children are unique, and finding the right balance can be challenging. That's where faith comes in. For believers, prayer can provide wisdom and support, helping them become the best caregivers possible.
As James 1:5 says, asking God for wisdom will lead to generous guidance. This divine insight can help parents navigate the complexities of raising children.
Some parents hesitate to discipline, fearing a damaged relationship or disobedience. However, correction is an essential part of teaching valuable life lessons and fostering personal growth.
The Bible supports this idea, with Hebrews 12:11 stating that while discipline may seem painful, it ultimately yields righteousness.
Scripture can offer valuable insights for those seeking guidance. Proverbs 29:15 highlights the importance of discipline, while Colossians 3:21 advises parents not to provoke their children.
This balance of discipline and understanding is key to avoiding harm or resentment.
In conclusion, raising children effectively involves finding a balance between discipline and affection. Turning to faith, as exemplified by Bible verses, can provide valuable guidance.
Remember, fair and loving discipline is essential for raising well-adjusted, responsible children. As Ephesians 6:4 says, "bring them up in the discipline and instruction of the Lord."
Let us pray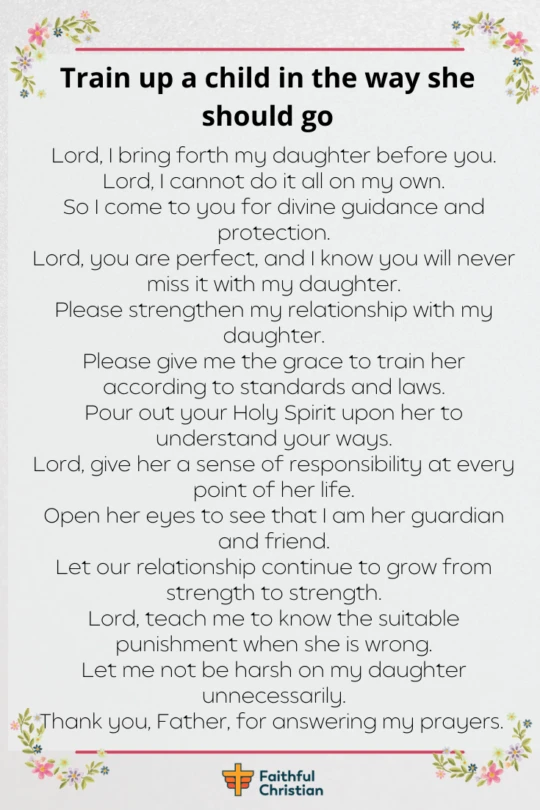 Heavenly Father, today I bring my precious daughter before You. Like Hannah dedicating Samuel in 1 Samuel 1, I too dedicate her to Your care.
As a parent, I admit my limitations, leaning on You for support and wisdom, as Proverbs 3:5-6 encourages.
I ask for Your divine guidance and protection as I raise her. Your love and wisdom are boundless, as shown in Romans 11:33-34. I trust You to guide her, following the promise in Psalm 32:8 to teach us the right path.
Please strengthen our bond. Let us be humble, gentle, and patient, as Ephesians 4:2-3 advises. May we foster unity and peace in our relationship.
Help me teach her Your commandments, as Deuteronomy 6:6-7 says. Grant me wisdom, patience, and grace to be the best parent I can be.
Pour Your Holy Spirit upon her. John 14:26 highlights the Spirit's role in teaching and guiding. May she follow Your divine path with confidence.
Inspire her to embrace responsibility and accountability. Proverbs 22:6 teaches the importance of a solid foundation for our children's future.
Help her see me as both guardian and friend. Let us remember Colossians 3:21, encouraging fathers to support and guide their children with love.
May our connection deepen and flourish. Let us love one another, as You have loved us (John 13:34). May our bond reflect Your perfect love.
Grant me discernment in discipline. Hebrews 12:11 teaches that discipline, while tough, ultimately leads to righteousness.
I am grateful, Heavenly Father, for Your love and guidance. As Philippians 4:6 tells us, I present my requests with thanksgiving. In Your holy name, I pray. Amen.
Do not withhold correction from your child.
Fostering strong relationships with our children is vital, but sometimes we overlook their mistakes. It's essential to offer guidance and truth.
As the Bible reminds us, by teaching them values early on, they'll carry these principles into adulthood (Proverbs 22:6).
Our children need a solid foundation to become responsible adults. The Bible advises us to bring them up with discipline and instruction (Ephesians 6:4). This guidance helps them navigate life and make informed decisions.
Neglecting to address a child's misbehavior can lead to negative consequences. We must intervene and help them learn from their mistakes.
Hebrews 12:11 highlights the importance of discipline. It might be painful at first, but it yields righteousness later on.
Finding the right balance in discipline is crucial. Proverbs 13:24 encourages us to show love through thoughtful discipline. Striking this balance allows our children to flourish.
The Bible's wisdom helps us connect with our children on a deeper level. It urges us to be loving, supportive, and firm in our discipline (Colossians 3:21).
By doing so, we raise strong, responsible individuals who uphold the Lord's values and teachings.
Let us pray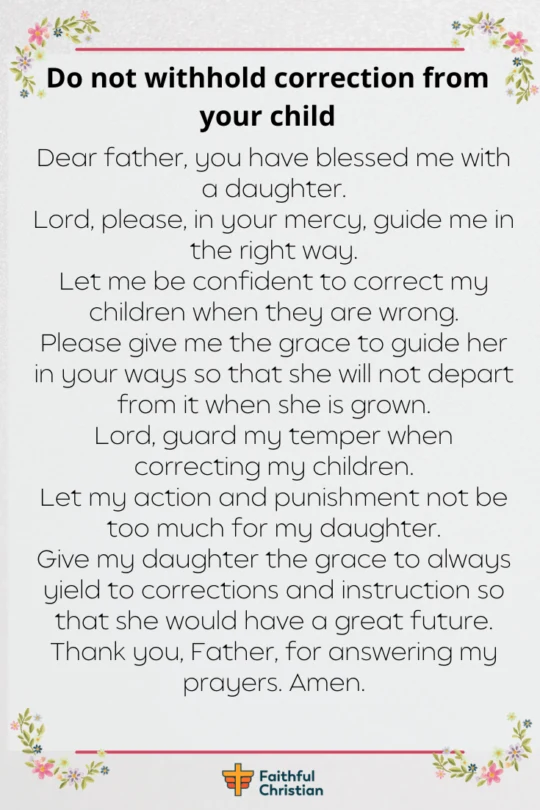 Beloved Heavenly Father, my heart swells with gratitude for the precious gift of a daughter. Your blessings shower my life, and I cherish the joy and love she brings.
Oh, Almighty God, in Your boundless mercy, guide me on the righteous path as a parent. Help me lead my children in Your divine will, so their faith strengthens, and they walk in Your truth.
Lord, grant me the wisdom to correct my children with love and grace when they stray. Inspired by Hebrews 12:11, I'll strive to discipline them, knowing it'll ultimately yield the peaceful fruit of righteousness.
Father, bless me with the ability to nurture my daughter's growth in Your ways. May she always remember Your teachings, even as she matures and faces the world independently.
Heavenly Father, I seek Your help in controlling my temper when correcting my children. As James 1:19-20 advises, let me be quick to listen, slow to speak, and slow to anger, so I may guide them with patience and empathy.
I pray, Lord, that You instill in my daughter the humility to embrace corrections and instruction. With an open heart, she'll walk the path of wisdom and righteousness, building a bright future under Your care.
Thank you, Father, for hearing my prayers. Trusting Your divine plan, I present my gratitude and devotion. In Your holy name, Amen.
---
---
Faithful are the wounds of a friend, but the kisses of an enemy are deceitful.
When we pray for our daughter, we must also ask God to shield her from harmful friendships. The Bible warns us of the dangers of keeping bad company.
Think about Proverbs 13:20, which highlights the importance of wise companions. Toxic friends can taint even the purest hearts, as 1 Corinthians 15:33 reminds us.
For this reason, we must request divine guidance for our child's every step. We want her to meet the right people who will positively influence her life.
Proverbs 3:5-6 encourages us to trust in the Lord wholeheartedly. By doing so, we can rely on His direction in forming meaningful connections.
Jesus Himself showed the value of supportive companionship when He chose the twelve apostles (Luke 6:12-16).
The book of Ecclesiastes also emphasizes the importance of uplifting relationships in 4:9-10. Two are better than one, as they can help each other up in times of need.
By praying for our daughter's circle of friends, we actively participate in her journey of becoming her best self. We trust in God's wisdom, as expressed in Jeremiah 29:11.
By seeking His guidance and protection, we create an environment that encourages growth in character and faith.
Let us pray
Oh, Loving Father, You've gifted me with the treasure of my daughter, a beautiful symbol of Your divine love.
As her parent and guide, I'm dedicated to embracing my God-given role, gently nurturing her and guiding her on the path of righteousness.
But Lord, I know I can't always be there, and choosing her friends isn't up to me.
Inspired by Proverbs 27:17, I humbly ask You to grant her the wisdom to find friends who will help shape her faith and character, sharpening her like iron.
Bless her with friends who embody goodness, lifting her when she stumbles and supporting her in tough times.
Reminded of Ecclesiastes 4:9-10, I pray these friends help her up and walk with her in life's journey. May they correct her lovingly when she strays, encouraging her to grow in faith, just as Galatians 6:1 teaches.
Father, I stand against any dark forces targeting my daughter, guided by Ephesians 6:12, and declare her mind and spirit off-limits to evil thoughts. With the authority of 2 Corinthians 10:5, I stand firm in Your word.
I beseech You, Lord, to shower grace upon her, renewing her mind and soul as Romans 12:2 suggests, and drawing her closer to You. With a heart full of trust in Your promises, I know You hear my prayers (1 John 5:14-15).
In Your compassionate and mighty name, I pray. Amen.
Frequently Asked Questions
How do you grow and improve a mother-daughter relationship?
Nurturing a mother-daughter relationship starts with open communication and understanding. Share quality moments, enjoy activities together, and truly listen to one another.
Show patience, empathy, and love. The Bible highlights love, kindness, and forgiveness in relationships, as seen in Ephesians 4:32.
What does the Bible say about a mother's love for her daughter?
A mother's love for her daughter, as depicted in the Bible, involves nurturing, guidance, and protection.
Proverbs 31:26-28 describes a virtuous woman teaching her children with kindness, while Isaiah 66:13 likens God's love to a mother's comforting embrace. A mother's love mirrors God's unconditional love for His children.
Where in the Bible does it talk about mother-daughter relationship?
The Bible does offer guidance on parent-child bonds and the value of love, respect, and nurturing. Proverbs 22:6 encourages parents to guide their children, laying a strong foundation for their future.
A mother-daughter bond can flourish by embracing these biblical principles.
How do you pray for a mother and daughter relationship?
When praying for a mother-daughter relationship, ask God to bless and guide them, fostering understanding, love, and patience. Pray for open communication and mutual support.
Seek God's wisdom as in James 1:5, and trust His promise of strength and comfort (Isaiah 41:10).
How do you pray for a broken relationship between mother and daughter?
Praying for a broken mother-daughter relationship involves asking God to heal their hearts and restore their connection. Seek His guidance to overcome any obstacles to reconciliation.
Philippians 4:6-7 reminds us to trust God to provide peace and healing through prayer.
How do I heal my broken relationship with my daughter?
To mend a broken relationship with your daughter, recognize the issues, take responsibility, and seek forgiveness. Foster open and honest communication, and ask God for guidance, wisdom, and healing.
Remember love and forgiveness as emphasized in 1 Corinthians 13:4-7 and Ephesians 4:32.
What is the spiritual mother and daughter relationship?
A spiritual mother-daughter bond is grounded in biblical principles, with both individuals growing closer to God. They support each other's spiritual journey, sharing prayer, worship, and studying God's Word.
This relationship, rooted in Christ's love, strengthens their bond and faith.
What is the relationship of daughter to mother?
The daughter-mother relationship is built on love, respect, and reliance. A mother nurtures, guides, and protects her daughter, laying a strong foundation for her life.
Proverbs 1:8-9 advises children to heed their parents' teachings, which will guide and protect them.
What is the importance of mother to a daughter?
A mother's importance to her daughter lies in their unique bond, the wisdom shared, and the unwavering love and support provided. Mothers shape their daughters' character, values, and self-esteem.
Proverbs 31:28-31 praises a mother's guidance and love as vital to her children's happiness and success.
Why is the mother-daughter bond so strong?
The mother-daughter bond is potent due to its foundation of love, trust, and understanding. This unique connection, formed at birth, evolves throughout life, reinforced by shared experiences, joys, and challenges.
The Bible emphasizes family bonds and the impact of a mother's love and guidance, as seen in Proverbs 31:28. This highlights the profound influence a mother's love has on her family, including her daughter.
Author: Akatakpo Dunn
Dr. Akatakpo Dunn is a dedicated follower of Christ, an active member and speaker, and an ongoing learner of the Scriptures. Passionate about his faith and serving others, he is committed to sharing his spiritual journey and insights to inspire and uplift fellow believers. He has been active in the church for more than 23 years. Through The
Faithful Christian Blog
,
Dr. Dunn
combines his love for God, philanthropy, and Scripture, providing a valuable resource for those seeking to grow in their faith.
Follow me: on Youtube, Facebook, Twitter, Instagram, and Pinterest.
Content Disclosure:
At The Faithful Christian Blog, I create authentic and inspiring content. Although I am the main author, I occasionally use AI for minor language enhancements. This minimal AI usage ensures high-quality, trustworthy articles without compromising originality or sincerity, ultimately supporting our shared faith journey.
Warmly,
Dr. Akatakpo Dunn
Was this article helpful?