Seeking a powerful prayer for your daughter's birthday? Look no further!
The moment you step into parenthood, your child becomes your greatest treasure, and celebrating her birthday is a joyous occasion like no other.
But how can you show your love and appreciation on this special day? By invoking divine blessings, of course.
In this post, we reveal a heartwarming prayer for your daughter's birthday. It's perfect for surrounding her with love, protection, and wisdom.
With this prayer, you'll do more than just celebrate her life. You'll also strengthen your faith in the Lord.
Ready to shower heavenly grace upon your daughter's big day? Let's begin.
Short Prayer for my daughter's birthday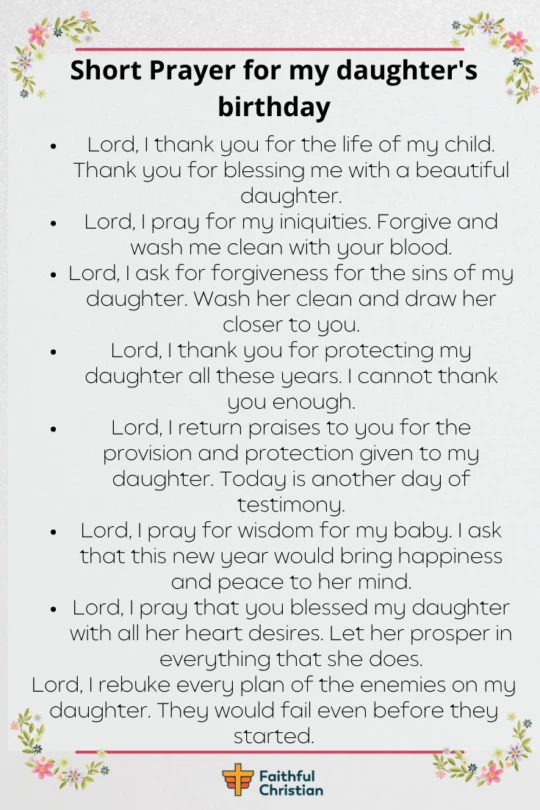 Heavenly Father, my heart overflows with gratitude for the gift of my child's life. Blessed beyond measure, I cherish my beautiful, loving daughter. Your love and kindness shine through her every moment. Psalm 127:3 reminds me that children are a heritage and reward from You. I promise to nurture and treasure her as You've entrusted her to me.
Almighty God, I recognize my shortcomings and humbly seek Your forgiveness. Cleanse me with Your precious blood, purify my heart, and lead me on the path of righteousness. 1 John 1:9 teaches that if we confess our sins, You forgive and cleanse us. I trust in Your love and mercy, knowing You welcome Your children with open arms.
Dear Lord, I pray for my daughter's forgiveness too. Cleanse her soul, draw her close, and let Your light fill her heart. Proverbs 22:6 tells us to train a child in Your ways, so they won't depart from it. Help me guide her, so she walks in Your truth and grows in Your love.
Heavenly Father, I'm forever grateful for Your protection over my daughter's life. Your unwavering love and care are immeasurable. Psalm 91:11 assures us that Your angels guard our ways. I trust Your divine protection, knowing Your angels watch over my precious girl.
Lord, I praise You for Your abundant provisions and protection in my daughter's life. Each day is a testament to Your grace and love. Philippians 4:19 states that You'll supply our every need. I'm confident You'll continue providing for her and blessing her.
Father, as my daughter begins a new year, I pray for Your wisdom to guide her. Let her find happiness, peace, and growth, both spiritually and emotionally. James 1:5 tells us to ask for wisdom, and You'll give generously. May she seek Your guidance and receive discernment and understanding.
Lord, bless my daughter richly and grant her heart's desires. Let her thrive in all aspects of life under Your watchful eye. Psalm 20:4 says You'll grant heart's desires and fulfill plans. I trust Your divine plan, knowing You have amazing things in store for her.
I rebuke any evil plans against my daughter and declare them powerless. No weapon shall prosper, for You are her shield and fortress. Isaiah 54:17 says no weapon against her will prevail. I trust Your protection, believing she's safe in Your loving embrace.
Lastly, Lord, I ask for ongoing protection for my family. May Your grace illuminate our lives, making us living testimonies of Your love and mercy. Psalm 46:1 promises You're our refuge and strength. I have faith You'll watch over and shield us as we strive to serve and follow Your will.
As we journey together, may our family grow closer to You. Through studying Your Word, as in 2 Timothy 2:15, may we deepen our understanding of Your teachings and reflect Your love and compassion to the world.
In these challenging times, let our family be a beacon of hope and comfort to others. May we embody the commandment in Matthew 22:37-39: to love You wholeheartedly and our neighbors as ourselves.
Heavenly Father, I entrust my daughter, our family, and our future to Your loving care. May we always trust Your guidance and follow the path You've set before us. Thank You for Your countless blessings and love surrounding us each day.
In Your holy name, I pray. Amen.
---
Recommended for you
---
Prayer for Daughter's birthday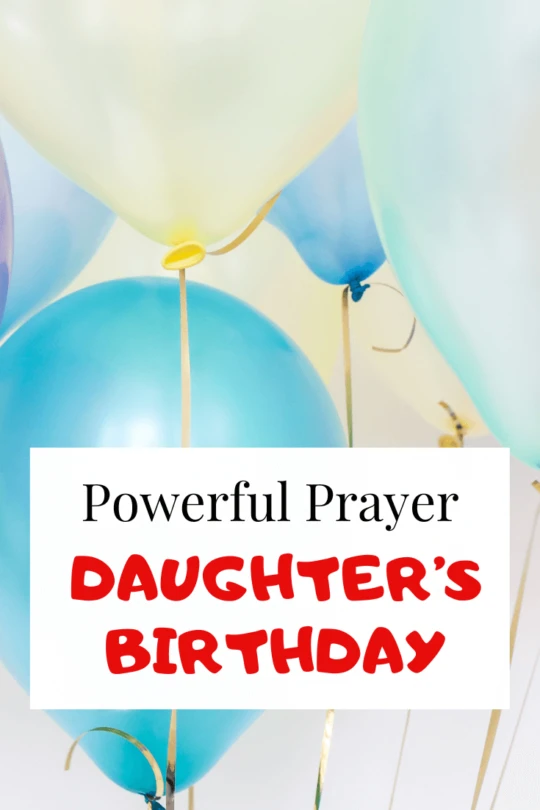 With long life, I will satisfy you.
As devoted Christians, we deeply appreciate faith's vital role in our lives. Hebrews 11:1 reminds us that faith gives substance to our hopes and makes the unseen tangible.
We know that by asking, seeking, and knocking, as Matthew 7:7 suggests, God generously showers us with blessings.
Indeed, maintaining a steadfast faith while serving God and trusting His promises can be challenging. Proverbs 3:5-6 encourages us to rely on the Lord wholeheartedly, rather than our understanding.
Your daughter's birthday is a special occasion. Approaching it with faith, we hope it marks the beginning of abundant blessings and joyful moments.
Mark 11:24 emphasizes the power of faith, teaching us that belief in our prayers grants us our heart's desires. God's plan for us, as stated in Jeremiah 29:11, is to bring happiness and longevity into our lives.
Now, we express our faith and pray for a long, meaningful life for your daughter. John 10:10 assures us that Jesus came to give us an abundant life, one filled with joy, fruitfulness, and prosperity.
We ask for God's blessings upon her, for a life free from sickness, sorrow, or pain.
3 John 1:2 emphasizes the importance of good health and spiritual prosperity.
Scriptures, like Psalm 91:16, offer reassurance. God promises to satisfy us with long life and reveal His salvation. We pray that He meets all of your daughter's needs.
Philippians 4:19 reminds us that God will provide according to His glorious riches in Christ Jesus.
May her days on earth showcase God's boundless love and care for us, as Romans 8:38-39 declares that nothing can ever separate us from His love in Christ Jesus.
Let us pray for your daughter's birthday
Heavenly Father, my heart swells with gratitude for the gift of my daughter. Your grace has brought her into our world and our loving family.
As the Bible says, children are truly a reward from you. For her life, sustained by your endless love and mercy, I am forever grateful.
Lord Jesus, her life reflects your infinite compassion. As your mercies renew each day, I know it's by your grace that she's here. Your unending faithfulness fills our hearts with joy and satisfaction, as we delight in your divine guidance.
Thank you, Lord, for another year in her life. I pray that you continue to watch over her, shielding her with your divine protection.
Guided by your angels, may her steps be steady and her journey through life filled with your presence.
Lord, your Word reminds us that without you, our efforts are in vain. You are our Savior, our strength, and our refuge. You stand as the protector and shield for our family, and we put our trust in you.
With humble hearts, we place our daughter and our family under your care. We pray for many more years of abundant blessings and growth for her.
May each year be a stepping stone towards a life of joy, love, and spiritual enrichment.
Thank you, Lord, for hearing our prayers. We trust in your promise that our requests, presented with gratitude, will be answered. In your holy name, we pray. Amen.
He shall give His angel charge over your daughter
What can we truly achieve on our own? Our human abilities have limits, so we must trust God's guidance. Proverbs 3:5-6 teaches us to lean on the Lord rather than our own understanding. By doing so, He'll set us on the right path.
But without Christ's support, how far can we go? Jesus reminds us in John 15:5 that we must stay connected to Him like branches to a vine. It's through this bond that we find strength and make a real impact.
Rely on God's presence always. Psalm 46:1 says He's our refuge and strength, a help in times of trouble. Trusting in God brings solace and security, knowing He'll always be there.
Acknowledging our dependence on God's care, provision, and protection is crucial. Matthew 6:25-26 tells us not to worry about material needs. God takes care of us, just like the birds of the air, as we are valuable to Him.
Scriptures like Psalm 91:11-12 assure us that God sends angels to watch over us. They keep us safe, guarding us from harm. This divine help brings peace and security.
So, we ask God to send angels to protect your daughter and your family. Ephesians 6:12 tells us that we face spiritual battles, not just physical ones.
Trusting in God's power and guidance, we can overcome these challenges and ensure our loved ones' safety.
Let us pray for your daughter.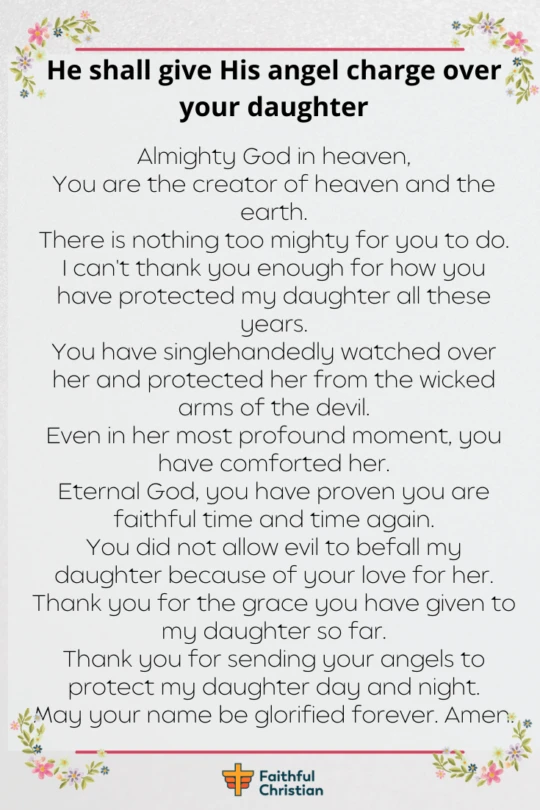 Heavenly Father above,
You, the master artist, skillfully crafted the heavens and earth (Genesis 1:1). With Your wisdom, the universe sprang to life (Hebrews 11:3). Your gentle touch breathed life into every being (Psalm 104:24-30).
No challenge is too great or task too mighty for You. The power that raised Jesus (Ephesians 1:19-20) works in us. With You, nothing is impossible (Luke 1:37). You're our refuge and strength (Psalm 46:1).
I'm forever grateful for Your unyielding protection over my daughter. You led the Israelites safely (Exodus 13:21-22). You are her fortress and shield (Psalm 18:2).
Your all-powerful hand guards her from evil forces. Like Daniel in the lions' den (Daniel 6:22), You protect her from the enemy (Ephesians 6:11).
In her darkest moments, Your comforting presence remains. Psalm 23:4 reassures us that we need not fear. You're with us, guiding and comforting.
Eternal Lord, Your faithfulness never falters. Your mercies are new each day (Lamentations 3:22-23). You remain unchanging (Hebrews 13:8), true to Your promises.
Your boundless love shields my daughter from harm. Romans 8:38-39 tells us nothing can separate us from Your love. Not even darkness can threaten us.
I'm grateful for the grace You've given my daughter. Your grace saves us through faith (Ephesians 2:8). In our weakness, Your power is perfect (2 Corinthians 12:9).
Thank You for sending angels to protect her (Psalm 91:11). They surround and guide us, lifting us up (Psalm 34:7).
May Your name be exalted forever. The Lord is great, deserving endless praise (Psalm 145:3). We join heavenly hosts in worshiping You now and forever (Revelation 4:11). Amen.
You shall not lack any good thing.
Today is a special day; it's your daughter's birthday! This milestone offers the perfect chance to reflect on your dreams and hopes for her bright future.
You're eager to see her prosper, and as Jeremiah 29:11 reminds us, God has amazing plans for her life, filled with hope and blessings.
Your heart's desire is for your daughter to be a woman of faith, embracing God's teachings and walking in His footsteps.
By guiding her towards a strong moral compass, you're echoing the wisdom of Proverbs 22:6, which tells us that a child raised in the right way will remain on that path.
You also have high aspirations for her career. You dream of her soaring to new heights and finding deep satisfaction in her work.
The Bible encourages us in Colossians 3:23 to work passionately and wholeheartedly, as if serving the Lord Himself. What an inspiring thought!
To make these dreams a reality, we must seek God's guidance and favor. Your daughter's birthday is an ideal time to join hands in prayer, asking for abundance, growth, and financial freedom.
Philippians 4:6 reminds us to present our requests to God with gratitude, trusting in His divine provision.
Always remember, God promises to bless those who serve Him faithfully. Deuteronomy 28:1 stresses obedience to God's commands for spiritual elevation and closeness to Him.
Let's come together and pray for your daughter's bright future. We'll ask for wisdom, promotion, financial independence, and the fulfillment of her dreams.
We trust that God will lead her to success as she continues to serve Him and grow in faith.
With Proverbs 3:5-6 in mind, let's place our trust in the Lord and watch as He guides your daughter to a life of endless blessings and divine favor.
Let us pray for your daughter's birthday.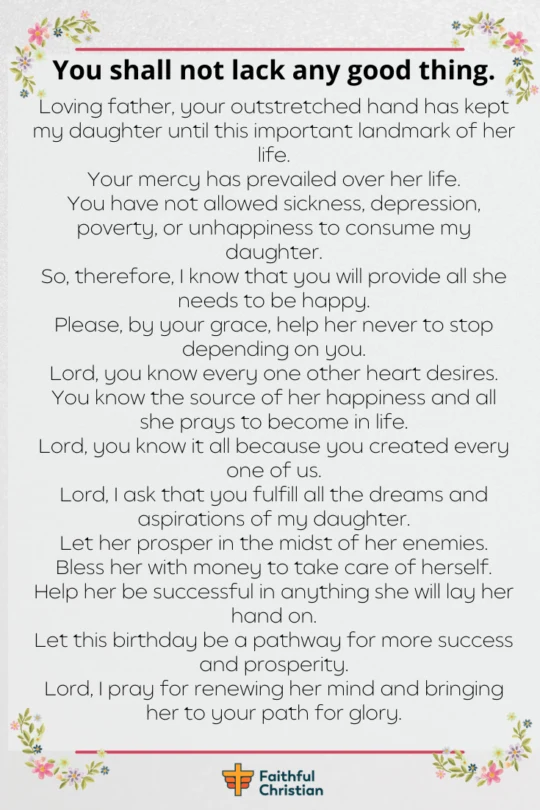 Heavenly Father, your loving embrace has cradled my daughter throughout her life. You've guided her to this significant milestone. We're grateful for your blessings, as Psalm 91:4 highlights your protection and faithfulness.
Your wisdom has kept her from despair, poverty, and unhappiness. Just like Jeremiah 29:11, I'm confident you'll provide her with a joyful life.
Through your divine grace, help her rely on your strength. Proverbs 3:5-6 encourages trusting in you and seeking your guidance. You know her dreams and desires, as Psalm 139:13-14 reminds us of your intimate creation.
Lord, please bring her dreams to life. Let her prosper, even in adversity, as Philippians 4:13 states. Provide financial blessings and success, as promised in Joshua 1:8.
As she celebrates this birthday, open doors for greater achievements. Renew her mind, as Romans 12:2 urges, to follow your path to glory.
Shield her from negativity and harmful friendships, as 1 Corinthians 15:33 warns. Thank you, Father, for hearing our prayer, as 1 John 5:14-15 promises. Amen.
A heart for praise
Embracing God's guidance in every moment is a truly awe-inspiring journey. Proverbs 3:5-6 teaches us to trust in the Lord wholeheartedly. This connection with the Divine goes beyond times of need or challenge. It's a daily devotion.
Even in joyful moments, like your daughter's birthday, invite God to join the celebration. James 1:17 reminds us that every good and perfect gift comes from Him.
Recognizing His presence shows our gratitude for life's countless blessings.
As parents, we dream big for our children and family. Your daughter's special day is a chance to share your hopes with God. Jeremiah 29:11 says He has plans for us—plans to prosper and give hope.
Though He knows our hearts, our prayers show faith and trust in His wisdom.
Offering praise to God strengthens our bond with Him and welcomes miracles into our lives. Psalm 100:4 encourages thanksgiving and praise.
When we lift our voices with gratitude, we create a space for divine blessings, echoing Psalm 150:6's message.
In conclusion, depending on God in every moment is a testament to our faith.
Continual prayer, praise, and guidance-seeking, as 1 Thessalonians 5:16-18 advises, leads to miraculous outcomes and a deeper connection with the Divine.
Embrace this powerful journey and witness the wonders of unwavering faith.
Let us pray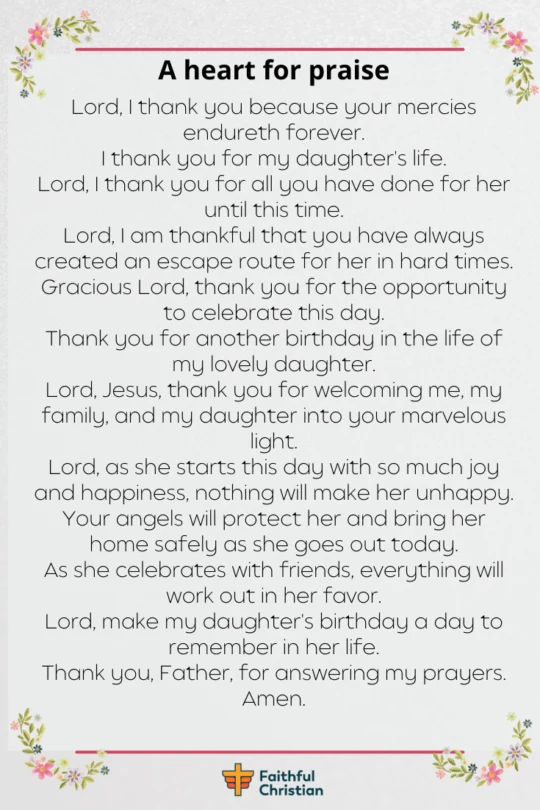 Heavenly Father, with a grateful heart, I recognize Your enduring love and mercy. You bless us with life and joy, fulfilling the Psalmist's words in Psalm 136:1.
I am deeply grateful for my daughter's life, a precious gift from You. Psalm 127:3 highlights that children are a blessing from the Lord, and I cherish the responsibility of guiding her.
Lord, thank You for guiding and protecting her throughout her life. Isaiah 58:11 promises Your unwavering guidance, and I trust You to keep leading her righteously.
You have always provided my daughter an escape in times of hardship, as 1 Corinthians 10:13 assures us. Your faithfulness in helping her overcome challenges is truly appreciated.
Today, we're grateful for another birthday to celebrate. James 1:17 reminds us that good gifts come from You, and this special day is evidence of Your unchanging love.
Jesus, thank You for welcoming us into Your marvelous light, as stated in 1 Peter 2:9. We strive to praise You for bringing us out of darkness and into a life of love and grace.
As my daughter enjoys her special day, may nothing take away her happiness. Philippians 4:7 promises Your divine presence and unwavering peace will guard her heart and mind.
I pray for Your angels to protect her today, as Psalm 91:11 reassures us of their guidance. We trust You to watch over her in all her ways.
During her celebrations, may everything work in her favor, creating cherished memories and lasting bonds. Romans 8:28 encourages us that all things work for the good of those who love You.
Please make this birthday unforgettable, filled with joy, laughter, and love. Proverbs 22:6 reminds us of the importance of guiding our children in Your ways, shaping their character and faith.
I am confident You hear my prayers, as stated in 1 John 5:14-15. Father, thank You for answering my prayers and blessing my daughter's life. Amen.
When the enemy comes, God will fight for her.
Take a moment to ponder this powerful verse from Exodus 23:22. It teaches us that by paying close attention to His words and living by His commandments, God becomes a formidable ally against our enemies.
This idea is also reflected in Psalm 91, where God promises protection to those who love and trust Him.
In a nutshell, serving God brings countless visible and invisible rewards. As highlighted in Matthew 6:33, seeking His kingdom first leads to blessings in our lives.
Most importantly, our devotion ensures divine protection for our daughters against envious and ill-intentioned people. The Lord's faithfulness in shielding us from harm is reinforced in 2 Thessalonians 3:3.
It's crucial for us to pray consistently, as Philippians 4:6 encourages us to present our requests to God with thanksgiving.
We must seek His divine intervention to keep our daughters safe, no matter the situation. Deuteronomy 31:6 reminds us to be strong and courageous, trusting that God will never leave nor forsake us.
By placing our faith in God, we can be confident that He'll watch over our daughters, providing a shield against harm.
Let's embrace the power of prayer, trust in His protection, and celebrate the countless blessings that come from a life devoted to serving Him.
Let us pray for protection on your daughter's birthday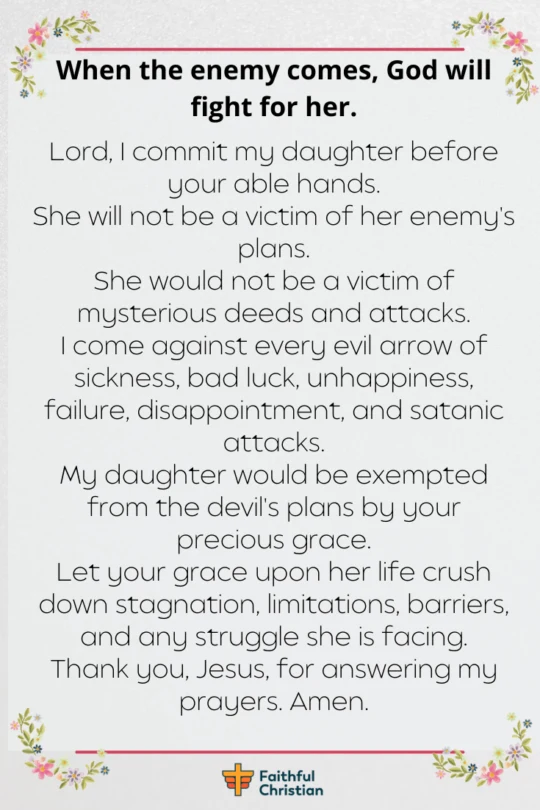 Heavenly Father, I place my precious daughter in Your loving embrace, confident that Your protection surrounds her.
Like Psalm 91:11 says, You'll command angels to watch over her every step. Isaiah 41:10 reminds us not to fear, as You're always by our side, lending Your strength and help.
I proclaim that she won't be ensnared by her foes' wicked plans. Hidden schemes and attacks won't touch her.
As in Isaiah 54:17, no weapon against her will triumph; she'll silence every accusing voice. Romans 8:31 assures us that if You're on our side, no one can stand against us.
In Your powerful name, I reject all evil aimed at her. Illness, misfortune, and despair won't find a place. 1 Peter 5:8-9 teaches us to be vigilant, as the devil seeks to devour. We must stand firm in faith, and I do so now for my daughter.
Your boundless grace shields her from the devil's snares, lighting her path with Your love. Ephesians 6:10-11 inspires her to rely on Your strength, wearing Your armor to resist the devil's tricks.
Your grace will crumble every barrier, enabling her to face life's challenges. Philippians 4:13 declares she'll find strength in Christ.
Jeremiah 29:11 reassures us that You have plans to prosper and protect, granting hope and a future.
Lord Jesus, I'm grateful for Your unwavering presence and answered prayers. Matthew 21:22 promises that faith-filled prayers will be granted. In Your holy name, I pray. Amen.
Frequently Asked Questions
How do I bless my daughter on her birthday?
To bless your daughter on her birthday, spend quality time together. Make her feel cherished and appreciated. Share uplifting words and scriptures like Jeremiah 29:11 or Proverbs 3:5-6.
Pray with her, asking for God's grace, guidance, and protection in the coming year.
What is a nice birthday prayer?
A heartfelt birthday prayer could be: "Heavenly Father, I'm grateful for my wonderful daughter. On her birthday, please fill her life with joy, peace, and love. Guide her steps, strengthen her faith, and let her grow in wisdom and grace. In Jesus' name, I pray. Amen."
What is a lovely prayer for my daughter?
A touching prayer for your daughter is: "Dear Lord, I lift my daughter to You. Surround her with love and protection. Guide her choices, and bless her with kindness. Help her grow closer to You, experiencing Your joy and peace. In Jesus' name, I pray. Amen."
What is a short prayer message for a daughter?
A concise prayer message for a daughter is: "Lord, bless my daughter with strength and courage. Help her use her unique gifts to serve You and others. Amen."
What is a short prayer for a birthday girl?
For a birthday girl, a short prayer is: "God, thank You for this precious girl's life. Grant her wisdom, love, and courage for the challenges ahead. Amen."
What a mother wishes for her daughter on her birthday?
As a mother, you may wish for your daughter to experience love, happiness, and the bravery to pursue her dreams. Pray for her growth in wisdom and strength, cultivating a life rooted in faith and kindness.
How can I wish my daughter happy birthday on Whatsapp?
Wish your daughter a happy birthday on WhatsApp with a genuine message, emojis, photos, or a brief video. Include a prayer or favorite scripture to inspire her faith.
How do I write an emotional birthday wish for my daughter?
An emotional birthday wish could convey your pride in her achievements and personal growth. Share your hopes for her future, unwavering love, and gratitude for her presence in your life.
Include a meaningful scripture, like Proverbs 31:25, to empower her.
What a mother would say to her daughter?
As a mother, express your unconditional love and pride in your daughter's uniqueness. Encourage her to embrace her talents and strengths, reminding her she's beautifully made (Psalm 139:14).
Offer support and guidance, assuring her you'll always be there for her.
Author: Akatakpo Dunn
Dr. Akatakpo Dunn is a dedicated follower of Christ, an active member and speaker, and an ongoing learner of the Scriptures. Passionate about his faith and serving others, he is committed to sharing his spiritual journey and insights to inspire and uplift fellow believers. He has been active in the church for more than 23 years. Through The
Faithful Christian Blog
,
Dr. Dunn
combines his love for God, philanthropy, and Scripture, providing a valuable resource for those seeking to grow in their faith.
Follow me: on Youtube, Facebook, Twitter, Instagram, and Pinterest.
Content Disclosure:
At The Faithful Christian Blog, I create authentic and inspiring content. Although I am the main author, I occasionally use AI for minor language enhancements. This minimal AI usage ensures high-quality, trustworthy articles without compromising originality or sincerity, ultimately supporting our shared faith journey.
Warmly,
Dr. Akatakpo Dunn
Was this article helpful?