Today, we will pray for your children.
Your sons and daughters will become inspired by our prayers.
I don't care what they are going through.
I don't care about the pain and challenges they are dealing with.
If you believe, our prayers can inspire your children in all areas of their life with faith.
Are they unhappy, discouraged, angry, or depressed?
Or are they disobedient with destructive behaviors?
We will ask God to teach them through the word and strengthen them through the holy spirit.
I have put together this prayer for encouragement for your kids.
May God open the gateways of heaven, locate your children, and bless them with all you desire. Amen.
---
Recommended for you
---
Short prayer for children (prayer points)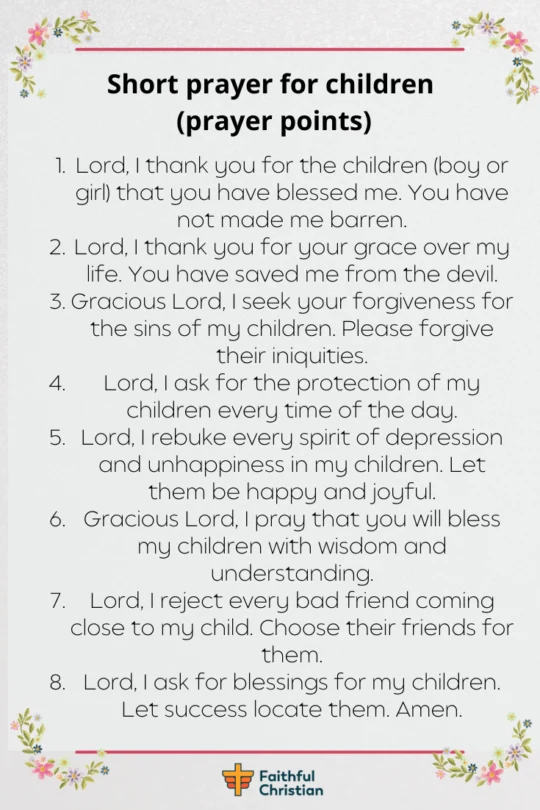 Oh Heavenly Father, your love is immeasurable. You've gifted me with children. Echoing Psalm 127:3, "Children are a heritage from the Lord," I thank you, for I am blessed and fruitful.
Your grace, Father, is my life's cornerstone. Just as Ephesians 2:8 teaches, "For it is by grace you have been saved," you've rescued me from evil's clutches. How deeply I'm grateful, Lord.
Father, my children too are mortal. They may stray, err, and sin. But we're reminded in 1 John 1:9, "If we confess our sins, he is faithful and just to forgive us." I seek that forgiveness for them, Almighty.
Each dawn and dusk, I seek your protection, Father. Akin to Psalm 121:8, "The Lord will watch over your coming and going," let your watchful eyes guard my children.
In the face of despair, I reject the shadows. Father, fill my children's hearts with joy. Remembering Nehemiah 8:10, "The joy of the Lord is your strength," let that strength bolster their spirits.
Impart wisdom to my children, Almighty. The Book of Proverbs 2:6 tells us, "For the Lord gives wisdom." With your wisdom, let them navigate life's mazes confidently.
Lord, shield my children from ill company. In line with 1 Corinthians 15:33, "Do not be misled: Bad company corrupts good character," guide their friendships, Father.
Lastly, Father, bestow blessings upon my children. Just as Deuteronomy 28:2 says, "All these blessings will come on you… if you obey the Lord your God," let success find them. For in submission to you, they'll find prosperity. Amen.
Scriptures to pray over your children.
Here are some bible verses to pray over your children for encouragement, protection, wisdom, and understanding.
Proverbs 3:5-6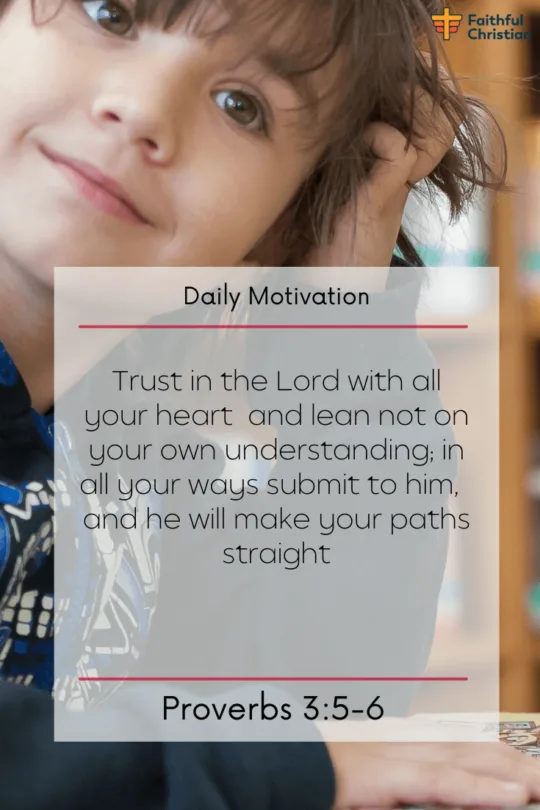 Trust in the Lord with all your heart<span class="indent-1″>  and lean not on your own understanding; in all your ways submit to him,  and he will make your paths straight
Psalm 62:8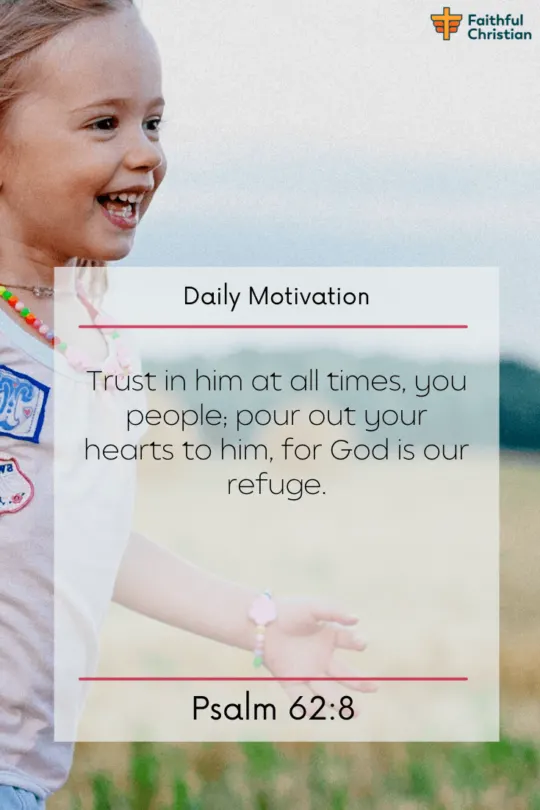 Trust in him at all times, you people; pour out your hearts to him, for God is our refuge.
Isaiah 12:2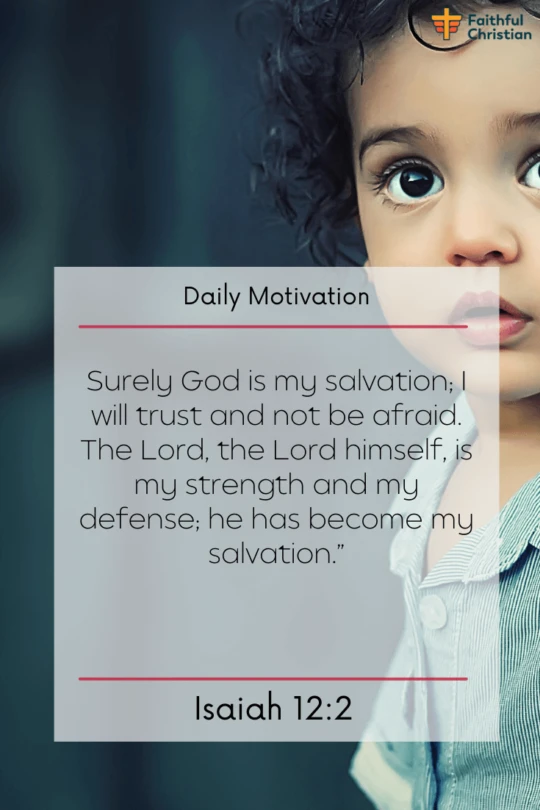 Surely God is my salvation; I will trust and not be afraid. The Lord, the Lord himself, is my strength and my defense; he has become my salvation."
Joshua 1:9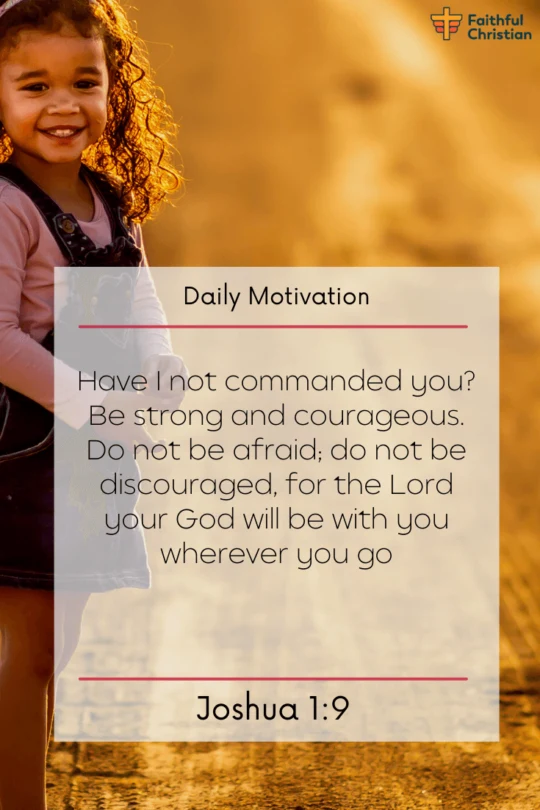 Have I not commanded you? Be strong and courageous. Do not be afraid; do not be discouraged, for the Lord your God will be with you wherever you go
Prayer for Encouragement for Children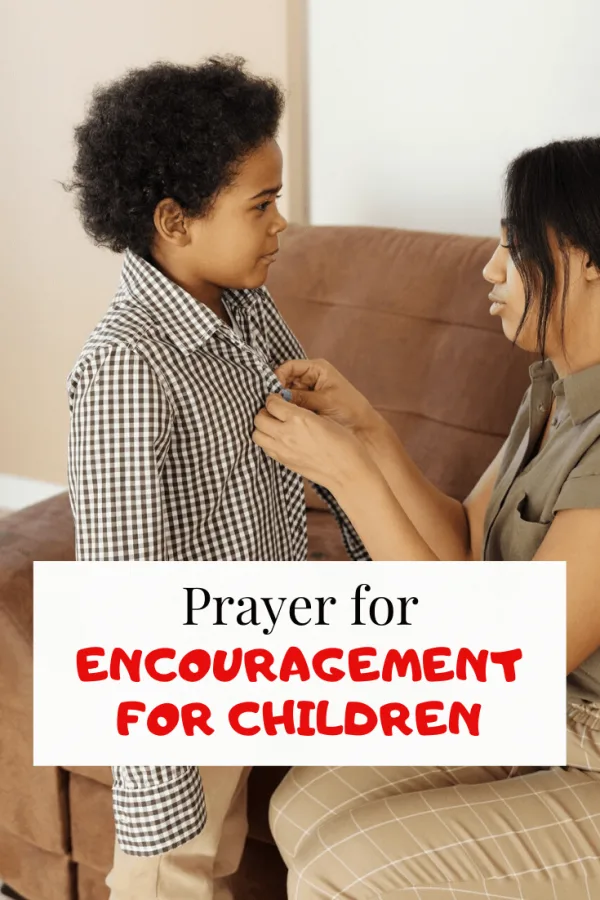 Oh, Lord, Forgive my children (let us pray)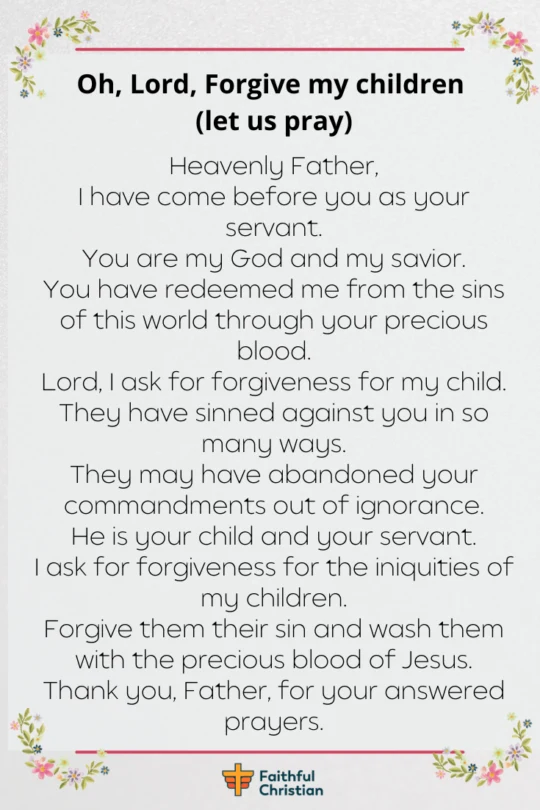 Eternal Father, my Rock, I stand before You. A humble servant, I am. You are my everything. The beacon that guides me. The lifeline that saved me. Remember Psalm 34:18? "The Lord is close to the brokenhearted." You have proven this true. You pulled me from life's darkest abyss.
Today, I kneel for my child. Human as we are, we sin. My child is no exception. Like a lost sheep, my little one has strayed. Echoing Luke 15:7, "There is joy in heaven over one sinner who repents." I plead this for my child.
Young as they are, they've erred. Wandering from your loving rules, they've faltered. And so, I seek Your forgiveness for them. They belong to You too, remember? Crafted in Your divine image. Assigned a purpose under Your vast skies.
I implore Your divine mercy. For their actions, thoughts, and words. Your mercy, the one described in Lamentations 3:22-23: "Because of the Lord's great love we are not consumed, for his compassions never fail. They are new every morning." I long for this mercy on my child.
Look also upon my other children. Every sin is different. But my plea remains constant. Cleanse their hearts, purify their souls. I call upon the redeeming power of Jesus' blood. A reminder of Ephesians 1:7: "In him, we have redemption through his blood, the forgiveness of sins."
I thank You, Lord. The One who hears. The One who understands. As 1 John 1:9 tells us: "If we confess our sins, he is faithful and just and will forgive us our sins." I trust this promise. I thank You for Your assurance.
In submission, I offer my children. Confident in Your guidance. I am certain You'll mold them. May Your mercy endure on them. Let Your light brighten their paths. Let Your love fill their hearts. In every situation, they face.
Father, hear this prayer. In the mighty name of Jesus, I pray. Thank you, Lord. Amen.
My sons and daughters are for signs and wonders (let's pray)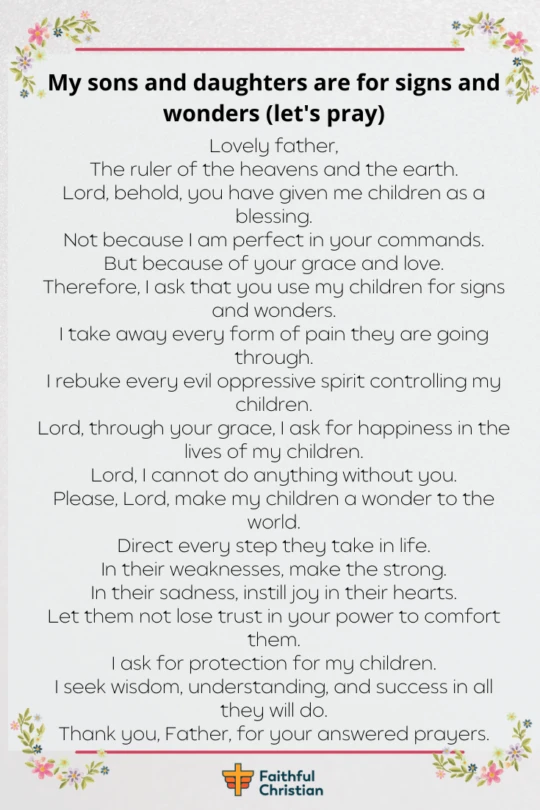 Heavenly Father, the Great Architect of the Universe,
You've blessed me with the treasured gift of parenthood. Your children, under my wing, are a priceless gem. This isn't a reward, but a measure of Your immeasurable grace.
You're the Author of miracles, Lord. Use my children to reflect Your majestic wonders. Let their lives be a vibrant canvas, painted with Your divine glory.
Life tosses us challenges, often ones heavier than our hearts can bear. Take away the pains my children endure, Father. Just like in Psalm 34:18, You're close to the brokenhearted and save those who are crushed in spirit.
I fervently cast away any spirits that aim to control my children. Cloak them with Your protective love, Father. Bestow them with joy, peace, and fulfillment. True happiness comes from You, Lord.
"I can do all things through Christ who strengthens me," Philippians 4:13 tells us. It's a gentle reminder that we're powerless without You.
The scriptures say we and our children are for signs and wonders. Let my children mirror Your majesty, stirring the world in awe.
Help them navigate life, Father. Empower them with strength in their weakness. Fill their hearts with joy where there's sadness. Let their trust in You never wane.
I plead for Your divine shield, Father. Be their fortress in a world filled with storms. Bestow them wisdom, understanding, and success. For we know in James 1:5, if any of us lacks wisdom, we should ask God, who gives generously to all.
Thank you, Almighty Father, for listening to my prayers. Your answers come in Your perfect time, and for this, I remain grateful. Amen.
Children obey your parents (let us pray)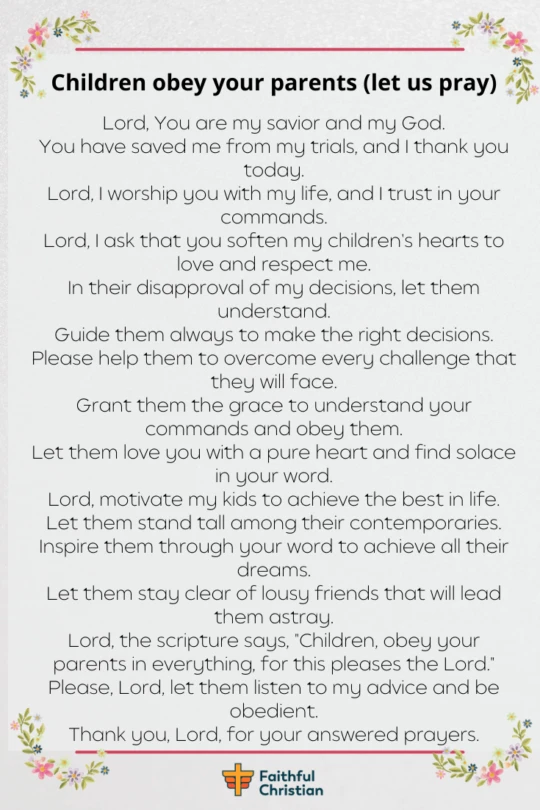 Lord, my Rock and my Redeemer, You are my haven. I am humbly before You, brimming with gratitude. In trials, You've been my lifeline. Today, I thank You.
With my life, I honor You, the Alpha and Omega. In Your divine law, I place my trust. Today, my prayer is for my treasured children.
Father, touch their hearts. Infuse them with love for me, their earthly guide, and You, their Heavenly Father. Let them comprehend my actions, my intentions. Guide them, just like Psalm 32:8 says, "I will instruct you and teach you in the way you should go; I will counsel you with my loving eye on you."
Almighty God, guide their steps. Infuse their minds with discernment, aiding them in making the right choices. Equip them with Your wisdom and strength to weather life's storms.
Father, let Your grace fill their hearts. Like Psalm 119:11 says, "I have hidden your word in my heart that I might not sin against you." Let them comprehend Your commands and live by them.
Let their hearts beat with pure love for You. Let them find peace in Your word, their guiding light. Kindle a fire within them, Father. Inspire them to reach the peak of their potential.
Like the cedars of Lebanon in Psalm 92:12, may they stand tall among their peers. Inspire them through Your word. Let them achieve their dreams, under Your watchful eye.
Shield them from bad influences, Father. Guide them away from those who could lead them astray. As Ephesians 6:1 advises, "Children, obey your parents in the Lord, for this is right." May they listen to my counsel and walk in obedience.
Almighty God, thank You for being our fortress. Thank You for answering our prayers. Amen.
---
Recommended for you
---
Train up your child the right way (let us pray)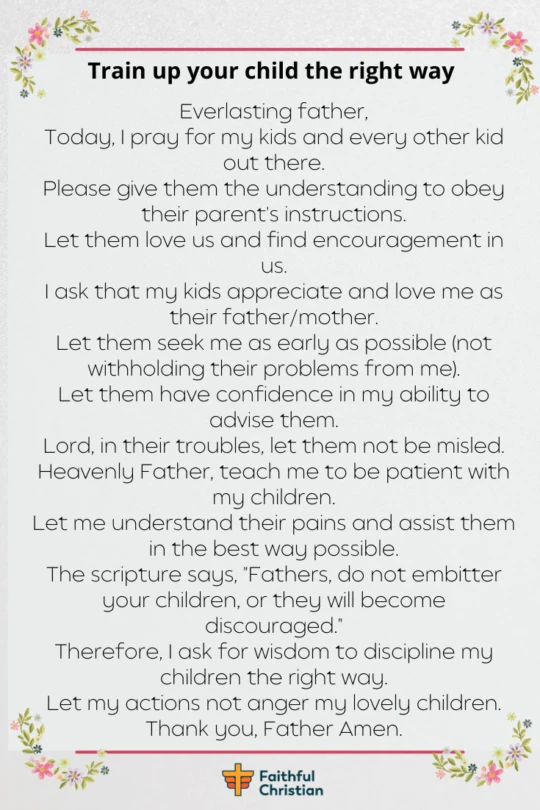 Dear Lord, our Refuge and Strength,
In the spirit of Psalm 127:3 that celebrates children as a reward from You, I lift my voice in prayer. For my children and every little heart that beats across the world, I pray. Each one, a precious gift, is full of untapped potential and promise.
Father, I ask that You grant them discernment. Let them heed their parents' counsel, just as Proverbs 1:8 advises. Nurture in their hearts a deep respect and love for us. Let them see us as their safe harbor in life's stormy seas.
Almighty God, impress upon my children the love I bear for them. May they not delay to seek my counsel in troubling times, trusting that I, their parent, am ever ready to guide them. Your wisdom, as stated in Proverbs 22:6, guides us to "start children off on the way they should go."
Lord, protect them in their trials. Just as You guided Daniel in the lion's den, steer my children away from harm's path. Let them never falter or be led astray, Father.
Bestow upon me, Heavenly Father, a heart filled with patience and understanding. Empower me to comprehend their deepest fears, their joyous triumphs, and their unspoken dreams. After all, Psalm 103:13 reminds us how a "father has compassion on his children," and so should I.
Your word, in Colossians 3:21, warns us against embittering our children. Teach me, Lord, to discipline my children in a way that promotes growth, not resentment. Grant me the wisdom to parent them without causing frustration or anger.
Father, let my actions echo Your love and kindness. May I mirror Your patience and tenderness, becoming a beacon of comfort, understanding, and love.
To conclude, Lord, I express my profound gratitude. Thank You for the blessing of parenthood, the wisdom to guide my children, and the boundless love that fills our home. Every good gift, as James 1:17 says, is from You, and I acknowledge these blessings.
In the power of Your glorious name, I submit this prayer. Amen.
Grace to offer the right encouragement your child needs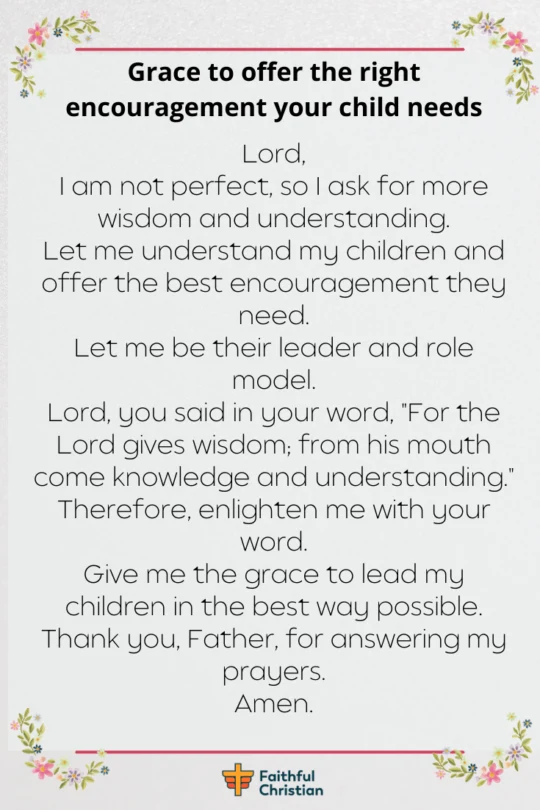 Almighty Father, in humility, I kneel before you.
I'm far from perfect. But you knew that already. You, who fashioned me from the dust and breathed life into my soul. My imperfections are no secret to you. And it's in this honesty, I seek your divine wisdom and understanding.
Lord, you know my kids. You knew them before I did. You've counted every hair on their heads, understand their thoughts from afar. As their earthly parent, lend me a fraction of that knowledge. Help me understand them, their dreams and their fears.
Give me the right words, Father. Words of encouragement that can light up their world. Words that can turn a frown into a smile, a tear into laughter.
Inspire me to be more than a parent. To be a leader, a role model. As Moses led your people out of Egypt, guide me to lead my little ones in righteousness.
Your Word, Lord, is a lamp to my feet. You've declared, "For the Lord gives wisdom; from his mouth come knowledge and understanding." This promise is my hope, my beacon in the journey of parenthood. Fill me with your wisdom, make me a mirror of your love.
Shower me with grace, Heavenly Father. The grace to steer my children in the right path. Equip me with your wisdom, that I might help them grow in spirit and truth.
Your love is a fortress, a rock in times of storm. My heart knows that you hear me. That you, O Lord, the listener of secret whispers and silent sobs, have heard my plea.
The privilege of parenthood, it's a gift from you. An opportunity to mold young minds, hearts, and souls. It's a task that's daunting yet humbling. But with you, Lord, I am up for the challenge.
And so, I end with gratitude. Gratitude for your ceaseless guidance, for answering prayers, for the love that you show me each day.
In your mighty name, I pray, amen.
Frequently Asked Questions
What is the best prayer for a family?
A prayer that encapsulates love, unity, understanding, and divine guidance makes the best family prayer.
Picture these words: "Heavenly Father, thank you for the gift of family. Help us emulate Your love for us in our dealings with each other. Teach us to forgive as we have been forgiven and to find strength in unity. Light our path and meet our needs from your limitless resources. Enable our family to reflect Your light, touching lives around us. Amen."
This echoes Colossians 3:13, urging us to be forgiving as the Lord forgave us.
What could be a powerful prayer for sons?
For your sons, pray for wisdom, protection, and spiritual understanding. Consider this heartfelt appeal: "Dear God, my sons are your gifts. May they, like Jesus in Luke 2:52, mature in wisdom and grace. Guard their paths, protect them, and grant them a deep understanding of Your Word. Help them become men after Your own heart, dedicated to serving You. Amen."
How should one pray for their sons and daughters?
To pray for your children, focus on their specific needs and future. An example: "Lord, I surrender my children to You. Guide their journeys, shield them from harm, and arm them with wisdom. Inspire in them a love for You, a reliance on You, and a desire to follow Your path. May they honor their parents as Exodus 20:12 instructs and mature into godly men and women. Amen."
What's the best prayer for our children?
A prayer that seeks their total wellbeing makes an ideal prayer for our children. Try this: "Dear Father, may my children grow in wisdom, physical strength, and favor with You and others, as in Luke 2:52. Let them know You early and live Your will all their days. Shield them, bless them, and use them for Your glory. Amen."
What's a good blessing prayer for children?
To bless children with a prayer, you could say: "Dear God, shower my children with blessings. May they enjoy health, joy, and a life lived according to Your Word. Guard them from harm, guide their steps, and grant them a deep understanding of Your teachings. May they always sense Your presence and grow into kind, generous individuals. In the spirit of Numbers 6:24-26, may Your face shine upon them, and give them peace. Amen."
How should one pray intercessory prayer for children and youth?
An intercessory prayer for children and youth might read: "Dear Father, I stand before You, pleading for our children and youth. Guide them, protect them, and draw them closer to You. Equip them to face the world's challenges. Give them wisdom for their decisions, strength for their struggles, and fill their hearts with Your love. Just as Paul prayed for the Ephesians in Ephesians 3:16-19, may they be strengthened through Your Spirit, knowing Christ's love that surpasses understanding."
How should one pray for all children?
Praying for all children worldwide could sound like this: "Father, we lift all children to You. May they discover Your love and truth early in life. Comfort them with Your presence, strengthen them with Your promises, and fill them with joy in Your service. In line with Matthew 19:14, we pray for their protection, guidance, and spiritual growth. Amen."
What could be a prayer for encouragement?
For times when you need encouragement, consider this prayer: "Father, during my struggles and doubts, comfort and guide me. Strengthen my spirit, renew my hope, and remind me of Your never-ending love. As Psalm 31:24 encourages us to be strong and courageous, may that truth reverberate in my heart. May I find encouragement in Your presence. Amen."
What are some short prayers for children?
Short prayers for children can be powerful, such as: "Dear God, bless us and keep us safe today. Amen." Or "Lord, guide us in truth, teaching us to love as You have loved us. Amen."
These prayers are inspired by Numbers 6:24-26 and John 13:34, emphasizing God's protection and the mandate to love one another.
What could be a parent's prayer for children?
A parent's prayer for children might be: "Father, I thank You for the gift of my children. Guide me as I raise them. Help me to model Your ways and to love them as You love us. May they, like Jesus in Luke 2:52, grow in wisdom and grace with You and with others. Protect and guide them all their days. Amen."
What could be daily prayers for children?
Daily prayers for children could include: "God, bless this day and guide my choices. Amen." Or "Lord, thank You for my family and friends. Help me show kindness today. Amen." These prayers encourage children to be grateful and seek God's guidance in their daily lives.
How could one pray for a child in crisis?
In times of crisis, consider this prayer for your child: "Dear Lord, I lift up my child who is in crisis. May Your healing, peace, and comfort surround them. Grant us wisdom to help and them strength to endure. As Psalm 34:18 says, 'The Lord is close to the brokenhearted and saves those who are crushed in spirit.' We trust in You. Amen."
What could be a prayer for children's protection?
To seek divine protection for your children, try this prayer: "Dear Father, I ask for Your divine protection over my children. Guard them, guide their steps, and keep them under Your watchful eye. As Psalm 121:7-8 assures us, 'The Lord will keep you from all harm— He will watch over your life; the Lord will watch over your coming and going both now and forevermore.' Amen."
How could one pray for their son's educational success?
To pray for your son's success in education, say this: "Dear Father, I pray for my son as he pursues his education. Grant him wisdom, perseverance, and a desire for lifelong learning. As Proverbs 2:6 says, 'For the Lord gives wisdom; from His mouth come knowledge and understanding.' Direct his path and may his education glorify You. Amen."
What could be a short prayer for your son?
A short prayer for your son could be: "Dear Father, bless my son today. Guide his actions, protect him, and let him feel Your love. As Jeremiah 29:11 reveals Your plan for us – to prosper and not harm us, to give us hope and a future – I trust in Your plan for him. Amen."
How can one pray for children in school?
A prayer for children in school might read: "Father, I pray for children in school. Help them understand their lessons, give them courage to stand for what is right, and grace to be kind. As Philippians 4:13 declares, 'I can do all things through Christ who strengthens me,' may they embrace this truth and live it daily at school. Amen."
Author: Akatakpo Dunn
Dr. Akatakpo Dunn is a dedicated follower of Christ, an active member and speaker, and an ongoing learner of the Scriptures. Passionate about his faith and serving others, he is committed to sharing his spiritual journey and insights to inspire and uplift fellow believers. He has been active in the church for more than 23 years. Through The
Faithful Christian Blog
,
Dr. Dunn
combines his love for God, philanthropy, and Scripture, providing a valuable resource for those seeking to grow in their faith.
Follow me: on Youtube, Facebook, Twitter, Instagram, and Pinterest.
Content Disclosure:
At The Faithful Christian Blog, I create authentic and inspiring content. Although I am the main author, I occasionally use AI for minor language enhancements. This minimal AI usage ensures high-quality, trustworthy articles without compromising originality or sincerity, ultimately supporting our shared faith journey.
Warmly,
Dr. Akatakpo Dunn
Was this article helpful?