We've all faced temptations.
And that's because sadness and pain are vital tools of the devil.
In a moment, you are happy, and later on, you are disappointed with what life brings.
In 2009, I faced the most daunting challenge of my life.
I lost my dear mum to a stroke.
My mum was the nicest person I knew on earth.
She was always there for me.
When I heard that she had passed away, My life paused for months.
I couldn't think, eat, or drink anything.
I was inconsolable.
But somehow, over the years, I have been able to find my strength in Christ.
So, if you are going through challenges and need encouragement, there are lots of encouraging bible verses to inspire your soul.
You may be so sick, or you cannot find a good-paying job, or you've been disappointed by those you trust.
Whatever the case, Through God's word, our weaknesses are transformed into strength.
"That is why, for Christ's sake, I delight in weaknesses, in insults, in hardships, in persecutions, in difficulties. For when I am weak, then I am strong" 2 Corinthians 12:10.
I have compiled bible verses for encouragement to inspire you in hard times.
---
Recommended for you
---
10 Encouraging Bible verses to inspire and strengthen you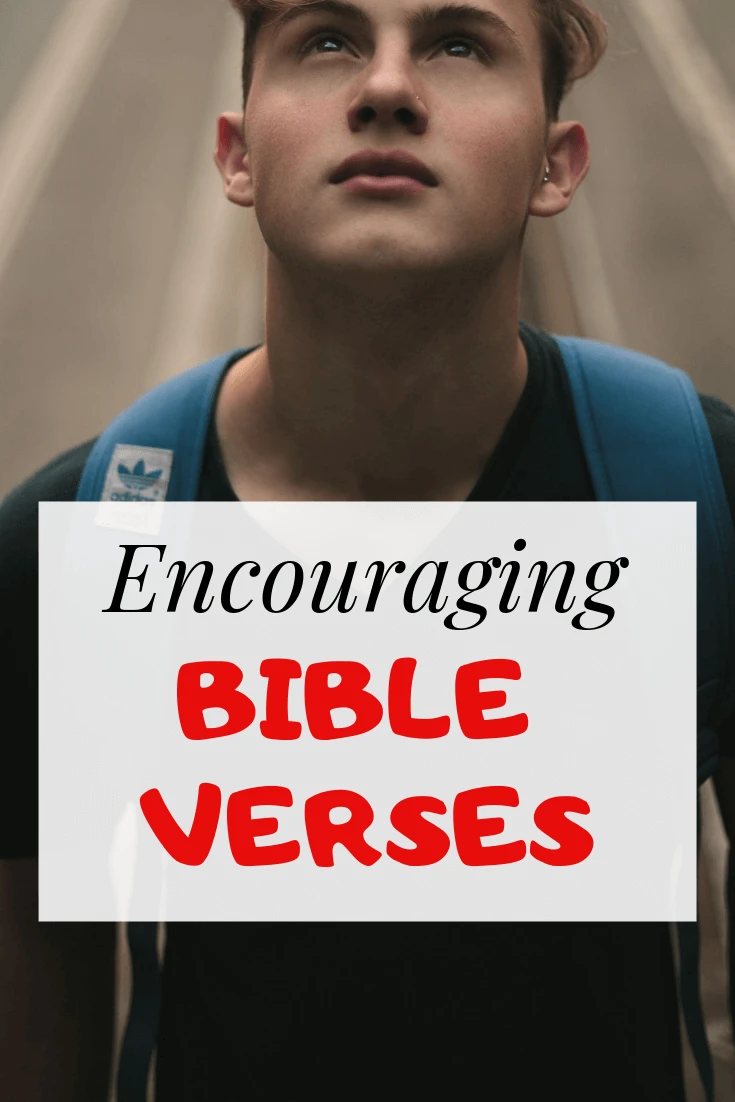 By the power and grace of God, I have compiled 20 Bible verses about encouragement for the soul.
1.  Genesis 28:15 on God's protection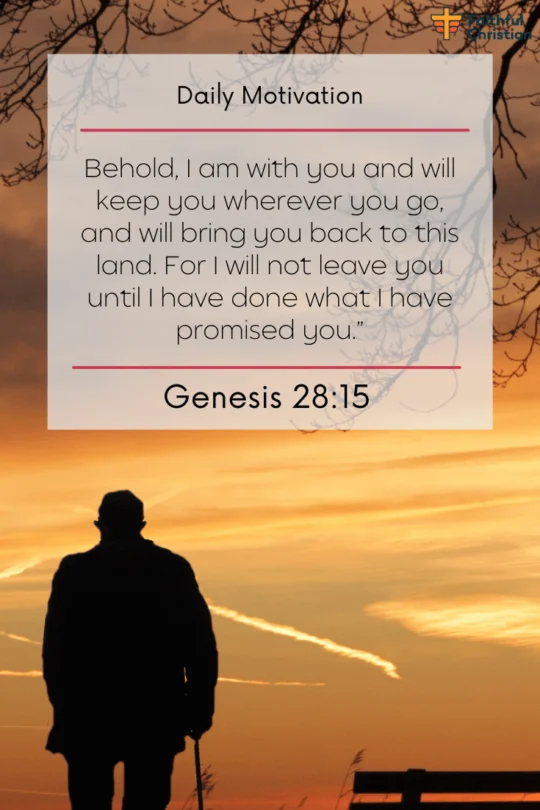 Behold, I am with you and will keep you wherever you go, and will bring you back to this land. For I will not leave you until I have done what I have promised you."
Are you feeling lost or unsure? You're not alone. Genesis 28:15 can be a guiding light in such moments. The verse reads: "I am with you and will watch over you wherever you go… I will not leave you until I have done what I have promised you."
These words carry a timeless promise. God is with us. He safeguards us. This comforting assurance was given to Jacob, but it's meant for all of us. We're under His watchful eye, always.
In Deuteronomy 31:6, God reiterates His commitment. His message? "Be strong and courageous… the LORD your God goes with you; he will never leave you nor forsake you." This verse tells us God is our source of courage, especially in trying times.
Further, Psalm 91:14 underscores His promise of protection. It reads, "Because he loves me," says the LORD, "I will rescue him; I will protect him, for he acknowledges my name." Our reciprocated love guarantees divine protection. Truly heartening.
These aren't empty promises. They've been fulfilled time and again. Consider Daniel's story. Thrown into a den of hungry lions, his prospects seemed grim. Yet, Daniel's faith never wavered. He trusted God's promise of protection. And God? He delivered. The lions did not harm Daniel.
In our day-to-day lives, these stories still resonate. Chesley "Sully" Sullenberger, a seasoned pilot, was faced with a horrifying challenge when both engines of his plane failed mid-flight.
Sully, like Daniel, found himself in a modern-day 'den of lions'. His swift and calm decision-making led to the miraculous landing on the Hudson River, saving all 155 passengers on board.
A remarkable story of courage and resilience, it parallels the divine protection Daniel experienced in the lion's den. Sully's faith and determination during that crisis is a testimony to all of us.
God's protective care isn't exclusive. Everyone who seeks Him can find solace under His shield. Regardless of what you face, His protection is only a prayer away.
In sum, let's take heart in God's protective promise. He is true to His word. As we navigate life's complexities, remember this: we're never alone. Our Protector is always with us. Trust in Him. He's committed to keeping you safe.
2.  Psalm 27:1-2 on believing God to fight for you
The Lord is my light and my salvation— whom shall I fear? The Lord is the stronghold of my life— of whom shall I be afraid? When the wicked advance against me to devour me, it is my enemies and my foes who will stumble and fall.
Life often feels like an enormous battlefield, teeming with trials and adversities. In these moments, Psalm 27:1-2 provides solace: "The LORD is my light and my salvation—whom shall I fear?" This divine assurance is a soothing balm to the soul.
Consider the narrative of David and Goliath. A young shepherd, David, is pitted against a fearsome giant. His weapon of choice? Unyielding faith in God. And his faith grants him victory.
Mirroring this tale, we have the story of Martin Luther King Jr. A steadfast figure of the Civil Rights Movement, King faced trials and tribulations with unwavering resolve. Guided by faith, he navigated challenges, embodying the strength of belief.
Digging deeper into scripture, Exodus 14:14 and Deuteronomy 20:4 affirm that God fights for us. The former became the Israelites' reality when cornered between Pharaoh's army and the Red Sea. Unable to fight or flee, they trusted in God, and He paved the way to freedom.
What happens when we truly understand this? An indescribable peace descends upon us. It is the tranquility that stems from the knowledge that the Creator is our personal champion.
Simultaneously, an internal transformation occurs. Fear gives way to faith. Anxiety turns into confidence. Each challenge becomes an opportunity for God to showcase His love and power.
In times of adversity, remember: God is with you, fighting for you. Take inspiration from David and Dr. King. Let God's promises anchor you in faith. I can testify to this truth. I have seen His victories in my life.
Despite the limits of human strength, there are no bounds to divine intervention. God fought for the Israelites and He fights for us. Believe in this, and let it illuminate your path.
3.  Psalm 118:6 on trusting in God because he is on your side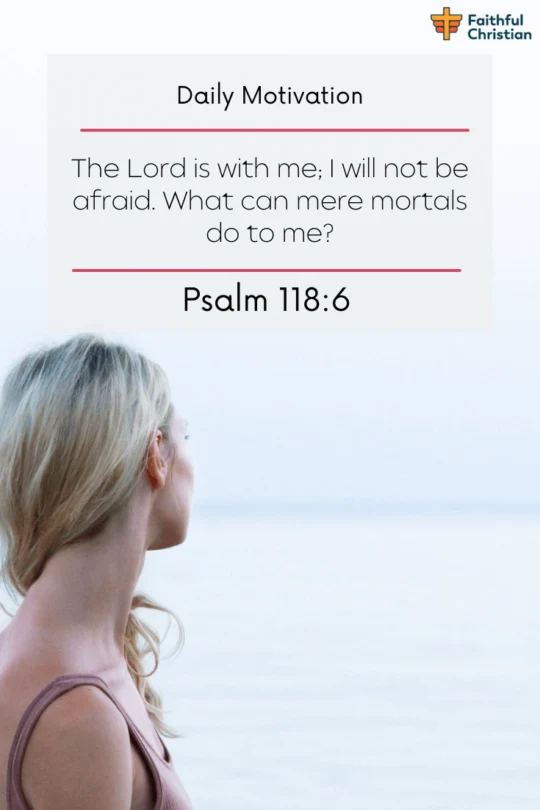 The Lord is with me; I will not be afraid. What can mere mortals do to me?
In the journey of spiritual growth, trust in God is the key. It forms the bedrock of our faith, as Psalm 118:6 emphasizes, "The LORD is on my side; I will not fear. What can man do to me?" This verse expresses a faith that is unyielding and courageous.
To understand this better, let's consider Abraham's faith. Faced with God's request to sacrifice Isaac, his trust didn't waver. It was his faith's steadfastness, even under severe trial, that propelled his spiritual growth.
Trust in God isn't merely a comforting thought. It's an anchor in life's tempests. A profound trust shapes our perception of life's hurdles. Mountains seem scalable; rivers appear fordable; battles feel winnable. This mindset shift is rooted in Romans 8:31, "If God is for us, who can be against us?"
Moreover, trust bestows courage and strength. Joshua 1:9 encapsulates this, stating, "Be strong and courageous… for the LORD your God will be with you wherever you go." This divine assurance dispels fear, encouraging boldness in adversity.
The impact of faith in conquering fear is significant. In times of uncertainty, faith serves as our beacon, reminding us of God's omnipotence. It's trust that lets us see past our fears to the God who holds all control.
We see this play out in the story of Corrie ten Boom. This remarkable woman was a living testament to the power of faith.
Despite being in the horrific circumstance of a Nazi concentration camp, she held onto her trust in God. And after her release, she even forgave her captors, a feat that would have been impossible without her unyielding faith.
When we consider personal experiences and testimonies, we can clearly see God's hand in our lives. Every answered prayer, every miracle, every moment of peace amid chaos – they are all testaments to God being on our side.
In conclusion, trust in God is our guide in the spiritual wilderness, our stronghold in storms, and our courage against fear. This trust, pivotal to our spiritual growth, equips us for life's battles.
Let's embrace faith over fear, remembering always, God is on our side.
4.  Lamentations 3:22-23 on God mercies will never fail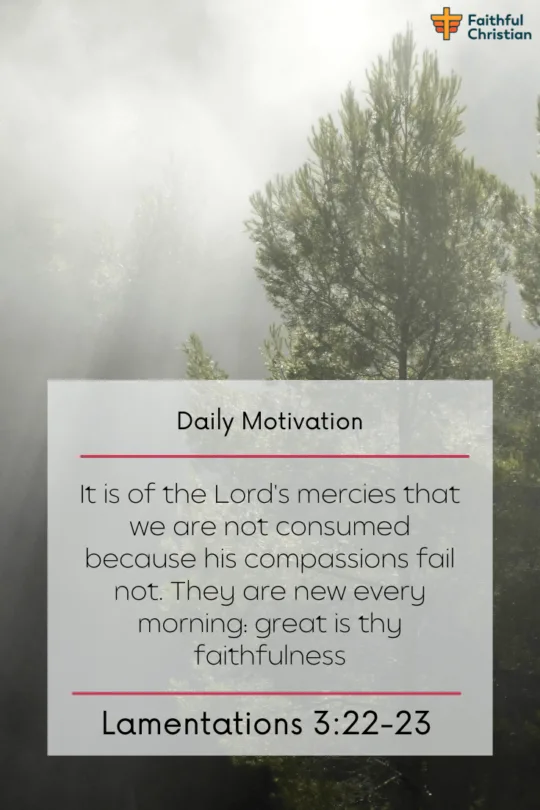 It is of the Lord's mercies that we are not consumed because his compassions fail not. They are new every morning: great is thy faithfulness
Delving into Lamentations 3:22-23, we uncover a comforting truth. God's mercies shield us from life's tempests. These blessings, infinite and boundless, manifest in our daily lives.
Consider Psalm 136:1. It links God's endless mercy to His enduring love. Love, like a ceaseless river, nurtures the spring of mercy that graces our lives. Daily, we encounter gifts of mercy from our Father. Moments of joy, resilience, peace, all these are daily affirmations of His love.
Drawing from the biblical narrative of the Prodigal Son (Luke 15:11-32), we see a vivid image of God's mercy. The son squanders his inheritance yet upon his return, he is embraced. Not for his merit, but by his father's abundant mercy. This tale mirrors our bond with God. No matter how deep we stumble, His mercy is ready to restore us.
Nick Vujicic, a motivational speaker born without limbs, is a living testament to this fact. Despite daunting challenges, Nick experiences God's mercy daily. His life journey embodies God's mercy, transforming trials into a beacon of hope for many.
God's love and mercy are intrinsically linked. Ephesians 2:4-5 elaborates this. God's mercy breathes life into us even when we stumble, a clear testament to His love. By understanding His mercy, we appreciate His love more deeply. God's mercy serves as a soothing balm, a protective shield, and a lifeline when hope seems elusive.
In conclusion, let's remember that His mercies renew every day. We are loved by an ever-merciful Father. His mercy, a reflection of His love, uplifts us.
Let's carry this inspiring truth in our hearts, drawing courage and hope from it. In God's mercy, we find our daily inspiration.
5.  Psalm 23:4 – God will protect us even in the darkest places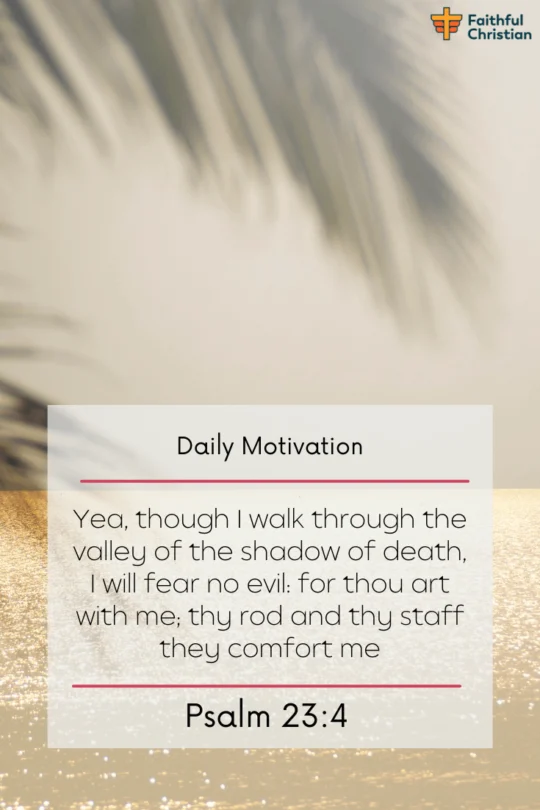 Yea, though I walk through the valley of the shadow of death, I will fear no evil: for thou art with me; thy rod and thy staff they comfort me
Psalm 23:4, a beacon of hope, illuminates even the darkest valleys of life. It assures us, "Even though I walk through the darkest valley, I will fear no evil, for you are with me; your rod and your staff, they comfort me."
Reflect on the Israelites' escape in Exodus 14. Trapped between a sea and an army, they witnessed God's power. He parted the sea, shielded them from danger, and affirmed His presence amidst the impossible. For us, it's a guide, reminding us that His protection exists, even when unseen.
This trust in God isn't a ticket to a problem-free life. Rather, it's the conviction that we're never alone in our struggles. I have found that this faith, though tested, endures, shaping our resilience just as it did for the Israelites.
Isaiah 41:10 amplifies this idea: "So do not fear, for I am with you; do not be dismayed, for I am your God. I will strengthen you and help you; I will uphold you with my righteous right hand."
This scripture further underscores that God's protective presence isn't passive. He actively strengthens us, even when fear lurks.
Now, consider Louis Zamperini's remarkable story. A former Olympian, Zamperini survived a WWII plane crash, 47 days adrift at sea, and over two years in Japanese prisoner camps.
Despite harrowing circumstances, he credited his survival to faith in God's protection. His experience exemplifies that God's protective hand reaches us, even in dire situations.
Psalm 46:1 encapsulates this sentiment: "God is our refuge and strength, an ever-present help in trouble." Believing in this truth transforms our outlook. It allows us to peer beyond immediate chaos, recognizing God as our protective refuge. Such understanding instills a profound peace, quelling troubled hearts.
In conclusion, as we navigate life's tumultuous waves, let's remember these words. God's protection is not a theory but a tangible reality. He walks with us, offering defense, comfort, and peace in every valley. In the face of such assurance, fear holds no power.
6.  Isaiah 43:2 – even amid impossibilities, God is with us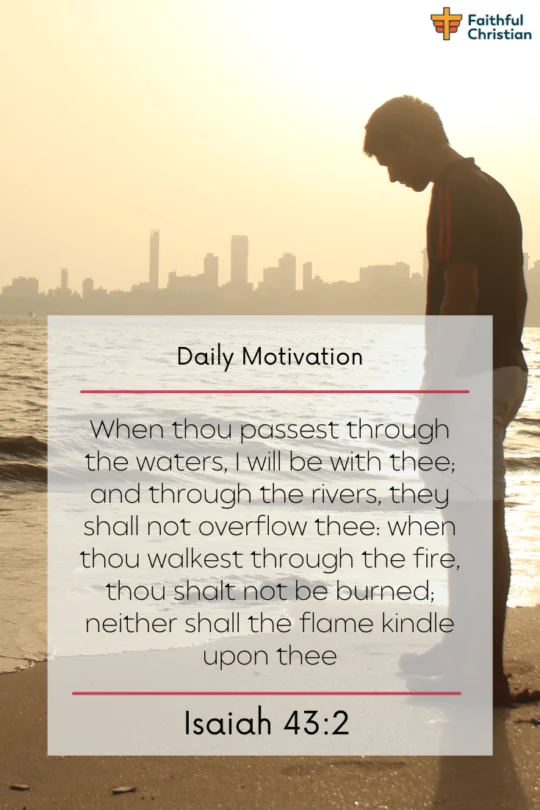 When thou passest through the waters, I will be with thee; and through the rivers, they shall not overflow thee: when thou walkest through the fire, thou shalt not be burned; neither shall the flame kindle upon thee
God's omnipresence, a profound notion reflected in Isaiah 43:2, underscores His constant, comforting presence during our trials. Here's how this truth impacts us.
Firstly, God's omnipresence implies His ever-presence. It's a comforting thought. He's not distant or aloof. On the contrary, He accompanies us in every hardship. This truth is echoed in Matthew 28:20. Jesus assures us of His presence, a reminder that we're never alone.
The comfort drawn from God's presence is immeasurable. This idea emerges in Psalm 139:7-8. There is no situation or place remote enough to escape His reach. He's always near, offering solace and guidance.
Delving into biblical narratives provides further evidence of God's abiding presence. The story of Shadrach, Meshach, and Abednego in Daniel 3 perfectly illustrates this.
They defied King Nebuchadnezzar, refusing to worship his image. Thrown into a fiery furnace as punishment, they weren't alone. A fourth figure, God Himself, was in the furnace with them, shielding them from the flames.
This omnipresence extends beyond biblical stories. It's evident in real-world incidents, like the miraculous rescue of the 33 trapped Chilean miners in 2010.
Despite being trapped 2,300 feet below the surface for 69 days, they reported feeling a "34th miner" amongst them. This, many believed, was God. Their improbable rescue reinforced the belief in His enduring presence.
Embracing God's omnipresence leads to a powerful transformation. Fear and uncertainty dissipate, replaced by courage and strength. In adversity, we perceive not defeat, but an opportunity for God's power to shine.
In conclusion, God is not just omnipresent in an abstract sense. He's right where you are, serving as a wellspring of courage and strength. Let this comforting truth inspire you, reminding you that you're never alone.
7.  Mark 10:27 – There are no impossibilities in his realm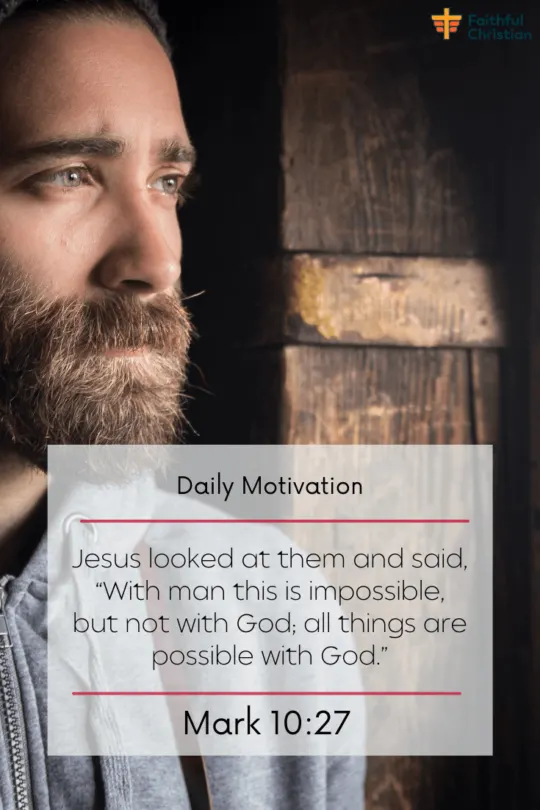 Jesus looked at them and said, "With man this is impossible, but not with God; all things are possible with God."
"Jesus looked at them and said, 'With man this is impossible, but not with God; all things are possible with God.'" – Mark 10:27. This verse radiates hope and spurs us towards an understanding of God's limitless might. It's an assertion of divine omnipotence that breaks down our mortal constraints.
Often, we face tasks that seem insurmountable. We think, "This is impossible." Yet, I urge you to shift your perspective, to view challenges through a lens of faith. Our human standards of possibility don't bind God. Recognizing His omnipotence reframes our view, inviting us into a world of endless potential.
Consider the biblical account of Jesus feeding 5000 people (Matthew 14:13-21). With just five loaves and two fish, a vast crowd was fed. God's power turned the impossible into reality, transforming scarcity into abundance. This story serves as a compelling reminder of divine capacity to multiply our resources.
Reflect on the real-life miracle of smallpox eradication. Once a global killer, concentrated global efforts and an effective vaccine eliminated it. An impossible achievement became a reality. This event prompts us to challenge our self-imposed limitations.
Trust in God's abilities changes our life trajectory. It's stepping into faith's realm, where our weakness is replaced with His strength. In the face of adversity, we find courage, knowing that the One who commands nature is with us.
Faith is not mere belief that God can act. It's the conviction that He will. Understanding this power alters our life outlook. We begin to see problems as opportunities for divine intervention.
Prayer is key to accessing God's power. It's surrendering our impossibilities to Him. It's a sincere appeal to the One for whom nothing is impossible, as echoed in Jeremiah 32:27 and Luke 1:37.
I invite you to remember this: all things are possible with God. In Him, impossibilities become miracles. Let these truths uplift you. God's omnipotence is your anchor. Embrace it through trust, faith, and prayer. A world of divine possibilities awaits.
8.  Psalm 55:22 – God will not watch you suffer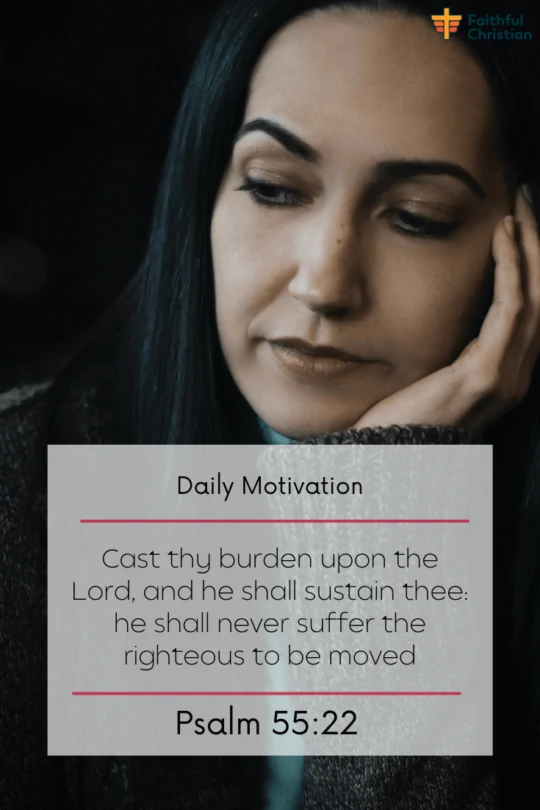 Cast thy burden upon the Lord, and he shall sustain thee: he shall never suffer the righteous to be moved
Feeling overburdened? Psalm 55:22 offers solace: "Cast your cares on the Lord…he will never let the righteous be shaken."
God understands our suffering. More than understanding, He invites us to release our burdens to Him, promising relief and sustenance.
This sentiment reverberates in 1 Peter 5:7: "Cast all your anxiety on him because he cares for you."
It's a divine invitation, hinting at God's deep empathy towards our suffering. His care is not distant; it's personal, close, and real.
Consider Job's biblical story. His losses were immense—wealth, family, health. Yet, Job's faith didn't falter. His reward? God restored his fortunes doubly. This story exemplifies God's compassionate action and reassures us of His relief in suffering.
Echoing this assurance, Matthew 11:28-30 presents Jesus' words: "Come to me, all you who are weary…and I will give you rest."
This divine rest is healing, renewing, and strengthening. God's promise isn't generic; it's an individual, personal invitation.
Real-life stories affirm this biblical truth. The story of Elizabeth Smart resonates deeply. Kidnapped young, she underwent unimaginable trials. Yet, her faith served as a beacon. She drew strength, believing in God's care.
Today, her journey inspires others, proving that courage can be born from the knowledge of divine care.
Psalm 55:22's message encourages resilience. Knowing God shoulders our burdens gives us courage to face another day. So, when the world's weight bears down, remember this verse. It testifies to a powerful truth – God stands ready to carry our burdens, offering rest.
Recognizing this, we find hope. Often, that's the spark needed to turn a challenging situation around.
9. 
Philippians 4:6
Do not be anxious about anything, but in every situation, by prayer and petition, with thanksgiving, present your requests to God.
In an unpredictable world, Paul's advice in Philippians 4:6 offers a lifeline: "Do not be anxious about anything…". These words are a roadmap to tranquility amid turmoil. They urge us to use prayer, supplication, and gratitude as tools against anxiety.
This principle is echoed in Jesus's Sermon on the Mount. He challenges us, "Which of you by being anxious can add one cubit to his span of life?" (Matthew 6:27). His point is clear: anxiety is futile. It doesn't contribute to our lives.
On the contrary, it drains us. He directs us to rely on God's provision instead (Matthew 6:25-26). Trusting in this divine provision helps us to reframe our worries.
We find the potency of prayer at this intersection. As we share our fears and aspirations with God, our perspective begins to shift. What once seemed overwhelming becomes more manageable when viewed in the context of divine might.
Consider the life of Ryan Holiday. A successful writer, Holiday embraces stoicism, a philosophy similar to Philippians 4:6. His resilience in the face of adversity embodies the power of a worry-free mindset. His story is a testament to how a change in perspective can fuel success.
Philippians 4:6 holds a unique promise. By swapping our anxieties with prayers, we unlock a divine peace. This peace, beyond human comprehension, provides strength and hope. This divine serenity is a potent antidote to fear and despair.
Prayer, as suggested in Philippians 4:6, is more than mere words. It's a surrender, a daily decision to trust God over our worries. As we adopt this prayerful attitude, we begin to see its transformative impact.
Our reliance on God deepens, and life's uncertainties seem less threatening. We find courage, knowing His unwavering support is with us.
In conclusion, remember this: when anxiety strikes, lean into these words, "Do not be anxious about anything…".
Transform your fears into prayers. You'll witness the power of divine peace. This invitation is open to all. I urge you to embrace it. Let it be your guiding principle in navigating life's storms.
10.  1 Corinthians 10:13
No temptation[a] has overtaken you except what is common to mankind. And God is faithful; he will not let you be tempted[b] beyond what you can bear. But when you are tempted,[c] he will also provide a way out so that you can endure it.
Temptations can feel overwhelming, but 1 Corinthians 10:13 offers comfort. It assures us of God's unwavering faithfulness. He never lets us face more than we can handle.
Consider Jesus in Matthew 4:1-11. Tempted in the desert, alone, He stood firm. His resistance, reliant on Scriptures and divine truth, showcases God's faithfulness. He ensures we have the strength to resist temptation's clutch.
Endurance and perseverance are keys to victory over temptation. James 1:12 supports this, highlighting the blessings of steadfastness. This journey, akin to a marathon, requires a determined spirit.
Reflect on Danny Trejo's life, a testament to resilience. From a life of addiction and crime to a celebrated actor, his transformation was profound. Behind bars, he found faith, his turning point. His story underscores the transformative power of faith and determination.
Through trials, we gain wisdom and strength. As 2 Peter 2:9 emphasizes, God rescues us from trials. We refine ourselves in the process, becoming more like Jesus.
God's promise to help us is our beacon of hope. His faithfulness is unwavering. His power to deliver us, unequivocal. When doubts creep in, this promise renews my hope. It strengthens my resolve, reminding me that no temptation is insurmountable with God.
Our human existence is marked by temptations. Yet, with God's assurance, we find courage to press on. His faithfulness guides us. Today, I invite you to embrace this truth.
In every struggle, God is there. He guides, strengthens, and readies us for victory. His faithfulness is our triumph's guarantee.
---
Recommended for you
---
Frequently Asked Questions
What is a good Bible verse for encouragement?
One Biblical verse that uplifts is Joshua 1:9. This verse commands bravery and resilience. It reassures believers of God's unending presence, an encouraging thought indeed.
What Scripture encourages in hard times?
When times are tough, Psalm 46:1-3 brings solace. It portrays God as a sanctuary, a strong defense even in the direst circumstances. Amidst chaos, this scripture reassures believers of God's ceaseless support.
What are the most powerful verses in the Bible?
The Bible contains many potent verses. One striking example is Romans 8:38-39. It stresses God's immutable love, a love that transcends mortality, supernatural beings, and all conceivable boundaries. It's a testament to God's unwavering commitment.
What is an inspirational Bible quote for a good day?
An inspiring biblical quote to start the day is Psalm 118:24. It encourages thankfulness and joy in every new day, a gift from the Lord. This verse is an invitation to appreciate life's blessings.
How do you encourage someone spiritually?
Encouraging someone spiritually entails sharing comforting Scriptures like Romans 15:13. It implies praying together, reminding them of God's promises. This verse instills hope, joy, and peace, fruits of trusting in divine power.
What Psalm is strength in difficult times?
Psalm 91 offers strength in challenging times. It's filled with profound assurances of God's protection and faithfulness. It's an anchor in the storm, providing spiritual strength and reassurance.
What is the most encouraging Psalm?
Many find Psalm 23 to be the most uplifting. Often quoted during trying times, it offers comfort and certainty. It paints the image of the Lord as a shepherd, guiding and providing for His flock.
Bible verses about encouraging others, name 5.
Here are five verses encouraging mutual support:
Author: Akatakpo Dunn
Dr. Akatakpo Dunn is a dedicated follower of Christ, an active member and speaker, and an ongoing learner of the Scriptures. Passionate about his faith and serving others, he is committed to sharing his spiritual journey and insights to inspire and uplift fellow believers. He has been active in the church for more than 23 years. Through The
Faithful Christian Blog
,
Dr. Dunn
combines his love for God, philanthropy, and Scripture, providing a valuable resource for those seeking to grow in their faith.
Follow me: on Youtube, Facebook, Twitter, Instagram, and Pinterest.
Content Disclosure:
At The Faithful Christian Blog, I create authentic and inspiring content. Although I am the main author, I occasionally use AI for minor language enhancements. This minimal AI usage ensures high-quality, trustworthy articles without compromising originality or sincerity, ultimately supporting our shared faith journey.
Warmly,
Dr. Akatakpo Dunn
Was this article helpful?