Are you struggling to find your path in life? You're not alone.
The secret to everlasting joy and fulfillment lies in Bible verses about believing in Jesus. Imagine embarking on a spiritual journey that illuminates your purpose, guided by the powerful teachings of Jesus Christ himself.
In this blog post, you can expect to discover the transformative impact of embracing Jesus as your Lord and Savior. Through these Bible verses, you'll not only strengthen your faith but also unlock the door to eternal life.
Why believe in Jesus? The benefits are profound: eternal life, divine guidance, and a deep connection with the Father. So, what's stopping you from taking that first step?
"Jesus said to him, 'I am the way, and the truth, and the life. No one comes to the Father except through me.'" (John 14:6)
When you immerse yourself in Bible verses about believing in Jesus, you become part of an inspiring adventure that will transform your life.
Are you ready to dive in and deepen your understanding of faith in Jesus? It all starts with a simple act of trust.
Bible verses about believing in Jesus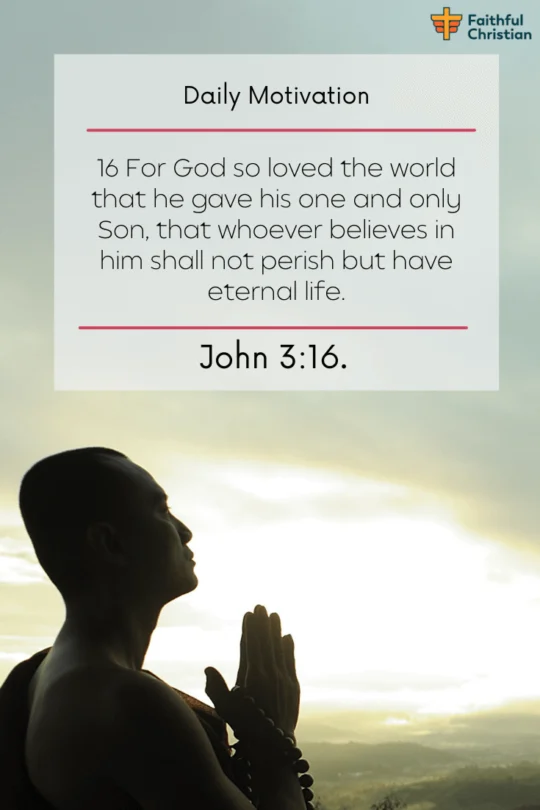 16 For God so loved the world that he gave his one and only Son, that whoever believes in him shall not perish but have eternal life.
The good news
John 3:16 vividly captures the essential nature of belief in Jesus, unveiling it as the singular path to salvation and eternal life.
This scripture highlights God's profound love for humanity.
Jesus Christ was selflessly sent to atone for humanity's sins, providing an avenue for reconciliation with our Creator. The ultimate gift of salvation can only be attained through faith in Jesus.
Consider Acts 4:12, which proclaims, "Salvation is found in no one else," underscoring the exclusivity of Jesus as the means to salvation.
Ultimately, to attain eternal life, embracing the truth that Jesus is the singular route to salvation becomes an indispensable step.
The truth is we are all sinners. Some have committed severe sins before God. But God is not human. He understands our weaknesses and will help us return to him.
No matter the level of your disobedience, you can repent immediately and be confident in Christ's promise of salvation.
The thief's story on the cross is a biblical example illustrating the importance of belief in Jesus (Luke 23:39-43).
While being crucified alongside Jesus, one of the criminals recognized Jesus as the Messiah and asked Him to remember him when He entered His kingdom. Jesus responded, "Truly I tell you, today you will be with me in paradise."
This account demonstrates that even in his final moments, the thief's belief in Jesus granted him salvation and eternal life.
In summary, John 3:16 stresses the essential nature of believing in Jesus for achieving salvation and eternal life.
Without faith in Jesus, there is no hope for eternal peace and happiness beyond the struggles and pain we experience in this world.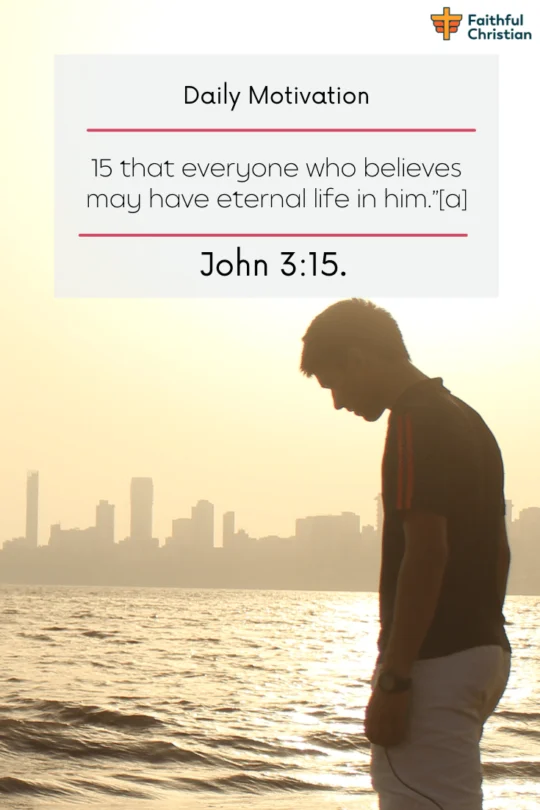 15 that everyone who believes may have eternal life in him."[a]
The good news
John 3:15 underscores the crucial nature of believing in Jesus to obtain the gift of eternal life.
This belief transcends mere recognition of His existence; it involves embracing Him as the divine provider of humanity's salvation.
The truth is there is no other way to everlasting life than having full acceptance of Christ.
In John 14:6 Jesus proclaims that he is the "way and the truth and the life." In other words, no one can see God except having accepted Jesus.
These verses collectively emphasize the significance of faith in Jesus for salvation and eternal life.
Skepticism about Jesus' existence and role is not uncommon among rational thinkers worldwide.
They question the existence of God, having never seen Him, and wonder why pain persists if Christ is truly vital.
In these moments of doubt, Christians should turn to John 14:2-3 for guidance.
Jesus consoles His disciples in John 14:2–3 by declaring, "I'm going there to prepare a home for you."
This verse exemplifies Jesus' dedication to welcoming believers into the eternal presence of God. It accentuates the eternal life rewards awaiting those who maintain unshakable faith in Him.
A biblical example showcasing the power of belief in Jesus is Peter walking on water (Matthew 14:22-33).
In an extraordinary display of faith, Peter, a disciple of Jesus, steps out of a boat and walks on water towards his Lord.
However, when Peter becomes afraid and starts to sink, he cries out to Jesus, who saves him. This story demonstrates the importance of faith in Jesus, as Peter's belief enables him to perform a miraculous feat while his doubt causes him to falter.
The underlying message is that, through a steadfast belief in Jesus, we can surmount life's obstacles and ultimately secure eternal life alongside Him.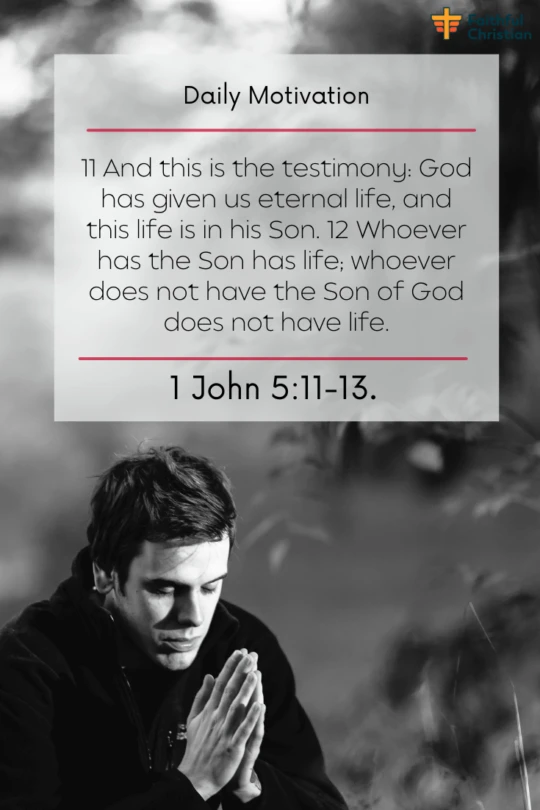 11 And this is the testimony: God has given us eternal life, and this life is in his Son. 12 Whoever has the Son has life; whoever does not have the Son of God does not have life.
The good news
1 John 5:11-13 powerfully underscores the vital role of faith in Jesus Christ in accessing the gift of eternal life.
In a world where the devil seeks to deceive and lead many astray, knowing and embracing the truth found in Jesus Christ becomes paramount.
The devil, cognizant of his dwindling time, is hell-bent on causing chaos and destruction at every turn.
However, as believers in Christ, we have access to the abundant life He offers.
We are reassured that Jesus has a divine plan for our lives, one that surpasses any temporary trials or tribulations we may face.
Anchoring our trust in Jesus and adhering to His teachings enables us to counteract the devil's deceptions.
Amidst turmoil and uncertainty, maintaining a firm grip on our faith in Jesus is crucial.
This unwavering faith unlocks the pathway to eternal life and the realization of God's promises.
Through our belief in Jesus, we find refuge from the devil's machinations and assurance of a magnificent future in God's company.
Let us persist in trusting Jesus and standing resolute in our faith, confident that He is our wellspring of hope, salvation, and everlasting life.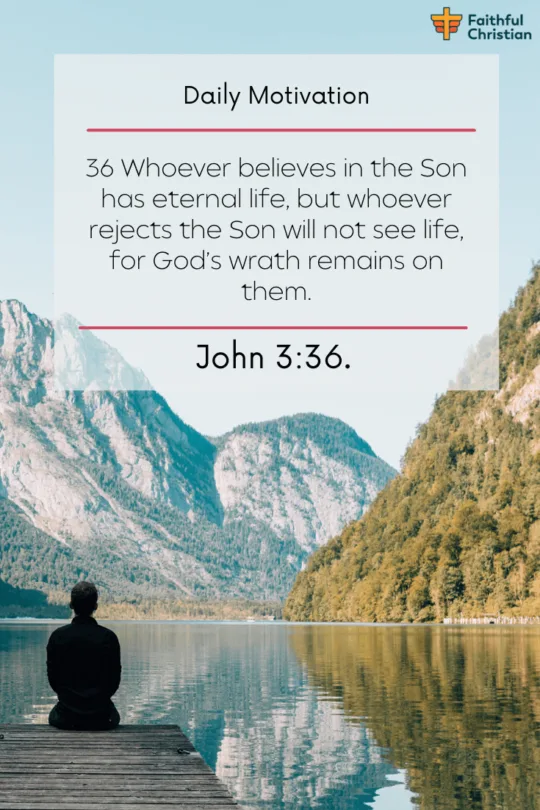 36 Whoever believes in the Son has eternal life, but whoever rejects the Son will not see life, for God's wrath remains on them.
The good news
John 3:36 highlights the crucial nature of believing in Jesus as the Son of God while also illustrating the repercussions of denying Him.
Despite this, skepticism about Jesus' divine identity persists among some individuals. They raise numerous questions and express doubts concerning Christ's existence and divinity.
However, it is crucial to understand that disbelief in Jesus holds significant ramifications.
In the face of unbelief, we must remember that those who reject Jesus' divine status forfeit the promise of salvation.
Conversely, those who wholeheartedly accept Jesus and place their faith in Him are granted the extraordinary gift of eternal life.
By emphasizing the transformative power of belief, this verse encourages us to embrace faith in Jesus and experience the life-changing rewards it brings.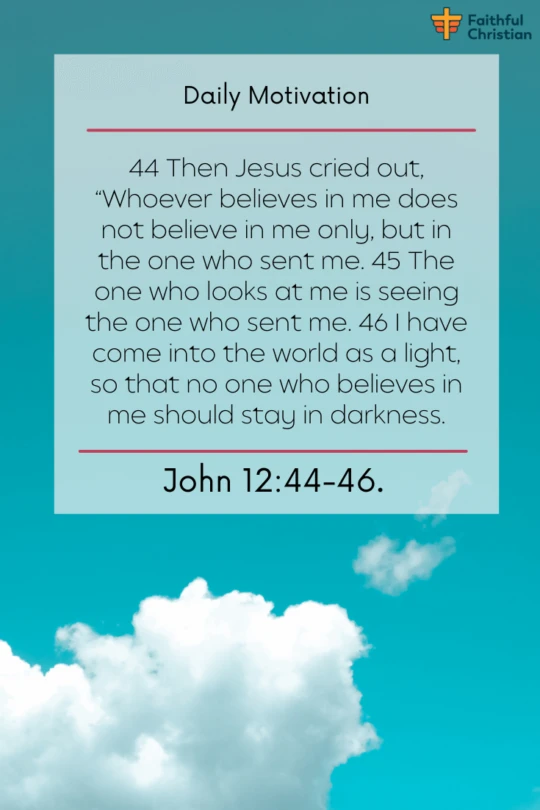 44 Then Jesus cried out, "Whoever believes in me does not believe in me only, but in the one who sent me. 45 The one who looks at me is seeing the one who sent me. 46 I have come into the world as a light, so that no one who believes in me should stay in darkness.
The good news
John 12:44-46 highlights the dual importance of believing in Jesus and accepting God.
Embracing Christ requires a leap of faith—believing in His divinity and teachings, even when He is not physically visible to us.
When we wholeheartedly accept Jesus, we also embrace His connection to God, the Father.
This profound faith allows us to experience divine intervention, as God opens the heavens to purify us from our transgressions.
Through faith in Jesus, our lives undergo a remarkable transformation.
As radiant beacons in a world clouded by darkness, we guide others on their spiritual paths.
Living according to Christ's teachings empowers us to positively impact those around us. Our actions inspire more individuals to embrace Jesus' message, focusing on love, redemption, and salvation.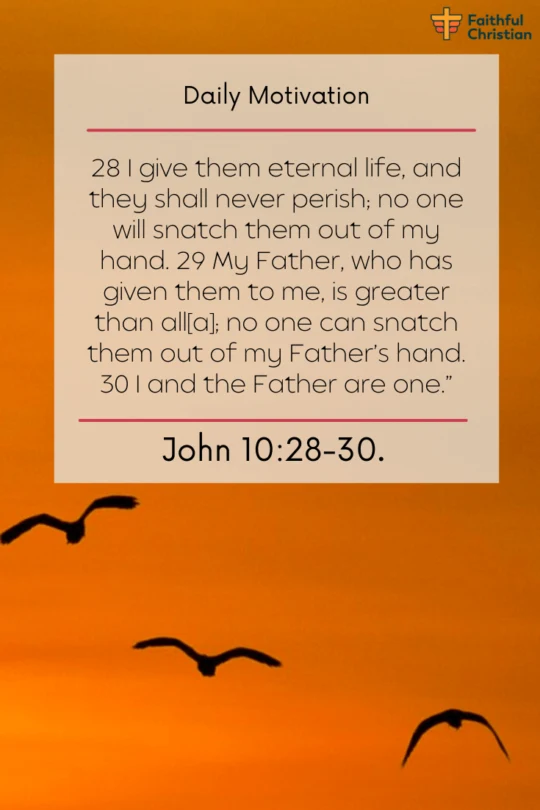 28 I give them eternal life, and they shall never perish; no one will snatch them out of my hand. 29 My Father, who has given them to me, is greater than all[a]; no one can snatch them out of my Father's hand. 30 I and the Father are one."
The good news
In John 10:28-30, the profound impact of acknowledging Jesus as our Savior is underscored. God promises eternal life to those who accept Jesus and undergo a spiritual rebirth.
Like a farmer who must sow seeds to reap a harvest, we too must embrace faith in Jesus to attain eternal life. This belief is vital for establishing a divine connection and securing everlasting life.
God's steadfast devotion to protecting believers is clear. He promises to stand by those who trust in Him, offering guidance and support amid life's many challenges.
Simply by believing in Jesus, we open the heavenly gates, inviting divine protection and blessings to surround us.
Ultimately, faith in Jesus acts as a catalyst for a transformative journey, guiding us toward eternal life, divine protection, and a profound bond with our Creator.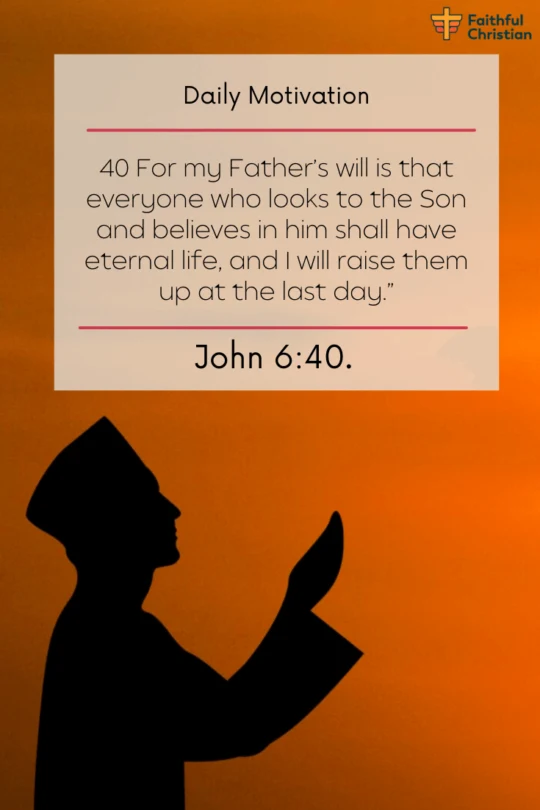 40 For my Father's will is that everyone who looks to the Son and believes in him shall have eternal life, and I will raise them up at the last day."
The good news
John 6:40 offers solace and hope amid the pain of losing a loved one.
The agony of loss affects us all, as each of us has grieved for someone close—whether a parent, sibling, or friend.
However, our Christian faith provides comfort, revealing a divine plan that surpasses our mortal existence.
For believers in Jesus, God promises the gift of eternal life.
This assurance of resurrection and everlasting life provides comfort and strength during our most trying times, reminding us that our journey does not end with our final breath.
As we navigate the complexities of life and face the inevitable losses that come our way, let us cling to the hope found in John 6:40.
By maintaining steadfast faith in Jesus, we find consolation in the understanding that God's grand design embraces an eternity filled with love, serenity, and togetherness.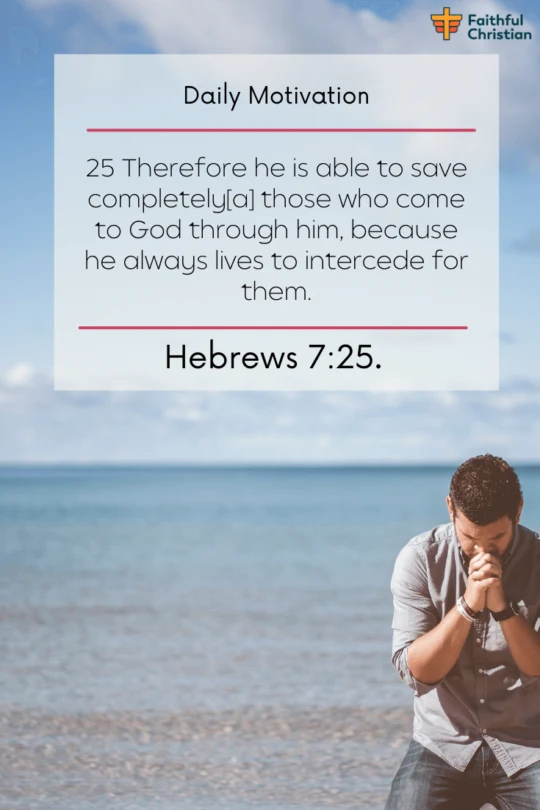 25 Therefore he is able to save completely[a] those who come to God through him, because he always lives to intercede for them.
The good news
At the heart of our faith lies the transformative power of salvation.
Salvation signifies deliverance from sin's grasp and the prospect of eternal life, a gift accessible to those who place their faith in Christ. In the face of death, hope remains, a testament to the profound impact of believing in Jesus on our spiritual journey.
Hebrews 7:25 highlights the pivotal role Jesus plays as our advocate and mediator. By continuously interceding on our behalf, He secures our salvation and strengthens our faith.
It is crucial and enriching to accept Jesus as the cornerstone of our faith.
Through Jesus' steadfast advocacy, we discover comfort in the assurance of our salvation and the guarantee of eternal life.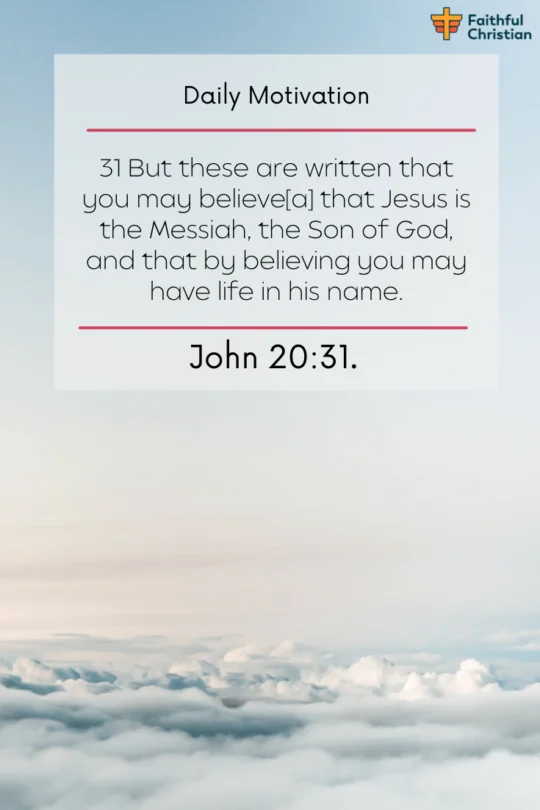 31 But these are written that you may believe[a] that Jesus is the Messiah, the Son of God, and that by believing you may have life in his name.
The good news
John 20:31 conveys that Jesus embodies life itself, serving as the singular path to hope and happiness amidst life's challenges.
As followers of Christ, the bedrock of our faith lies in recognizing Jesus as the savior for all humanity.
He sacrificed His life centuries ago to instill hope within us and offer the promise of salvation. His selfless act demonstrates the depth of His love for humanity.
In a world where we cannot see Jesus physically, our faith demands trust and unwavering devotion.
Accepting Jesus as our Messiah deepens our faith in Him. Recognizing Him as the gateway to eternal life further strengthens our devotion.
In doing so, we unleash the potential for spiritual growth, inner tranquility, and the priceless reward of salvation.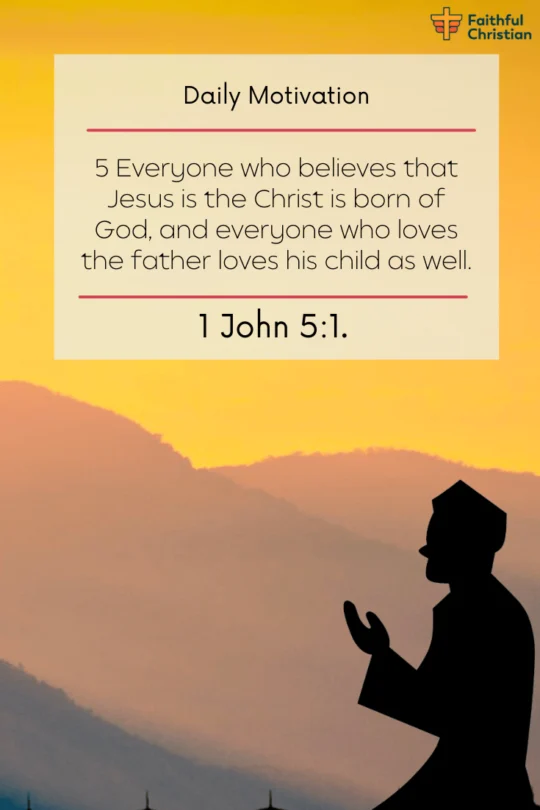 5 Everyone who believes that Jesus is the Christ is born of God, and everyone who loves the father loves his child as well.
The good news
The intricate relationship between God and Jesus Christ is eloquently captured in 1 John 5:1. Embracing both divine figures is crucial to our spiritual journey.
It's impossible to harbor love for Christ while resenting God.
Conversely, one cannot genuinely love God and simultaneously despise Jesus Christ. This is because the Father and the Son are united in purpose.
To achieve salvation, we must wholeheartedly believe in Jesus.
Our faith enables us to grasp and cherish the deep bond between God and His Son, illuminating the significance of their relationship in our spiritual journey.
As believers, it is our responsibility to embrace and cherish both divine entities.
Essentially, 1 John 5:1 acts as a potent reminder that the love for both God and Jesus Christ is not merely crucial; it forms an indivisible component of our steadfast belief.
This interconnected love paves the way for a deeper understanding and a more fulfilling spiritual journey.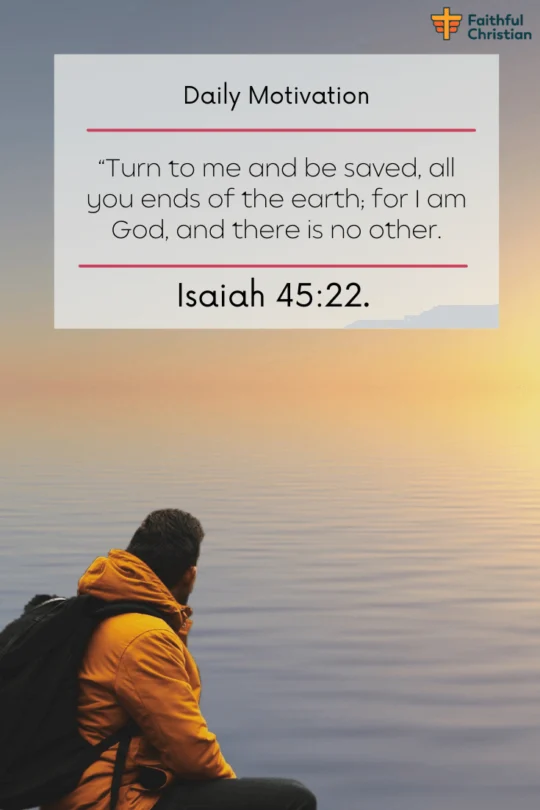 "Turn to me and be saved,all you ends of the earth;for I am God, and there is no other.
The good news
What does it entail to genuinely turn to God? How can one find inner peace and lasting happiness? The answer is beautifully simple: embracing faith in Jesus Christ.
By embracing the transformative power of Jesus, we embark on a journey of spiritual enlightenment.
With our readiness to repent, God eagerly awaits to welcome us, enveloping us in His divine embrace. He stands ready to purify us from our past, washing away our sins and presenting us with an opportunity to begin anew.
By placing our unwavering trust and belief in Jesus, we unlock the doorway to salvation.
Our faith's fortitude steers us down the road to redemption, ultimately guiding us to a life of profound joy and tranquility.
In the end, the secret to securing eternal salvation resides in our sincere belief in Jesus Christ.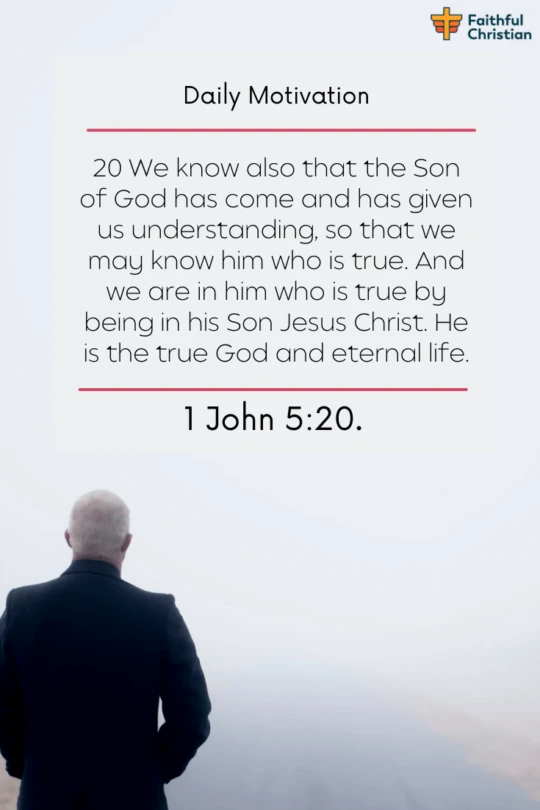 20 We know also that the Son of God has come and has given us understanding, so that we may know him who is true. And we are in him who is true by being in his Son Jesus Christ. He is the true God and eternal life.
The good news
With each passing day, The gospel is preached to many parts of the world.
People are getting to know Christ and are accepting him as their lord and savior.
Jesus is the only pathway to God.
Jesus is the only way to eternal life.
If we must serve God, we must believe in Jesus, who God sent to die for our sins.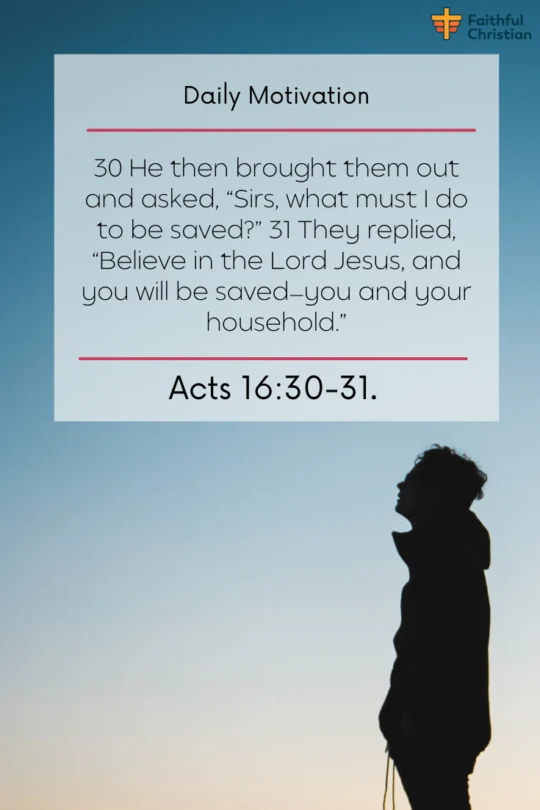 30 He then brought them out and asked, "Sirs, what must I do to be saved?" 31 They replied, "Believe in the Lord Jesus, and you will be saved—you and your household."
The good news
This is the most crucial bible verse about believing in Jesus you must memorize.
If not all, at least the sentence, " What must I do to be saved?."
We are often carried away by so many church laws that we forget the basics.
This question is so critical to our faith and salvation.
When Paul answered these questions, he didn't ask the Phillipian jailer to pay tithes or read the bible or whatever laws you may have heard.
He said, " believe in Jesus, and you will be saved."
The importance of believing in Jesus cannot be overemphasized.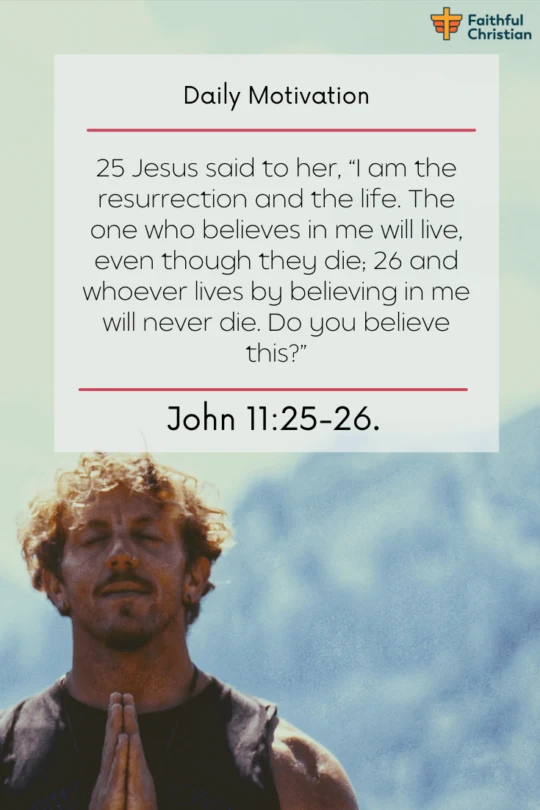 25 Jesus said to her, "I am the resurrection and the life. The one who believes in me will live, even though they die; 26 and whoever lives by believing in me will never die. Do you believe this?"
The good news
Think about a world where you have no hope.
Where all your good works and effort will be in vain.
And when all your sacrifices are never rewarded.
Eternal life is a gift, and despite all our good works, it starts with believing in Jesus.
Jesus is the resurrection and the life.
He has promised those that believe in him that they would be saved.
So, in other words, there is no death because we are transformed into a new glorious life.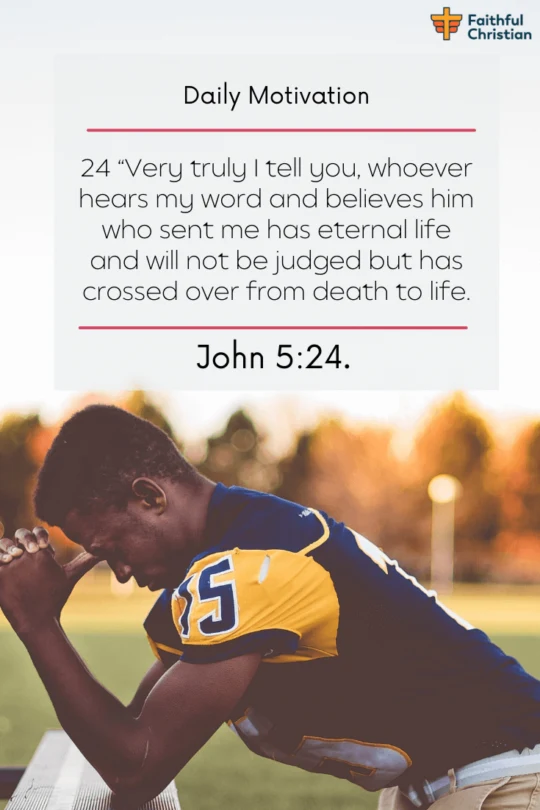 24 "Very truly I tell you, whoever hears my word and believes him who sent me has eternal life and will not be judged but has crossed over from death to life.
The good news
This scripture reiterates the importance of the word of God.
The word of God is Christ Himself.
He is the word; if we believe in the word, we will cross from death to life.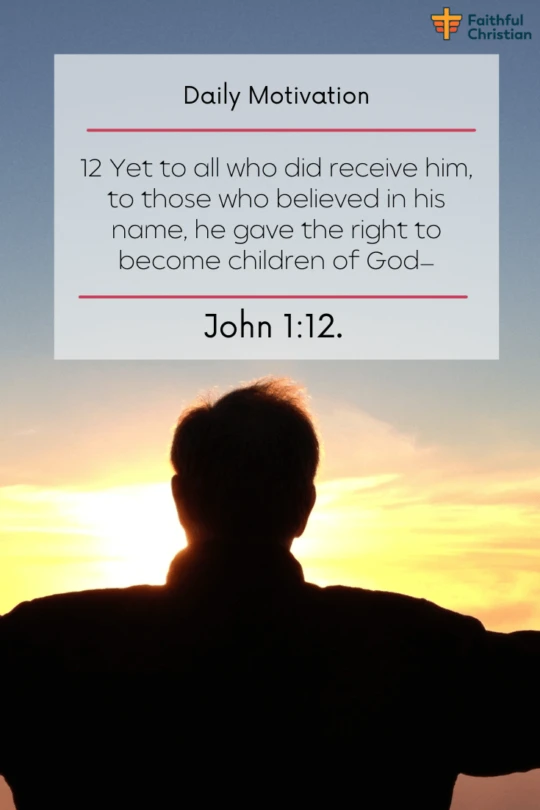 12 Yet to all who did receive him, to those who believed in his name, he gave the right to become children of God—
The good news
How do you become a Christian?
Is it by going to church or by paying tithes?
The simple answer is believing in Christ and living a righteous life.
Only those who receive Jesus have the right to be called sons of God.
9 If you declare with your mouth, "Jesus is Lord," and believe in your heart that God raised him from the dead, you will be saved.
The good news
So how do you believe in Jesus Christ?
How do you accept Jesus as your lord and repent from your former ways?
If we must repent and seek Christ, we must confess without mouths that Jesus is Lord.
We must accept that Jesus is the son of God who was sent to save the world from the bondage of sin.
We must also eternally believe in our hearts that Jesus is the son of the most high God.
When we confess and accept Jesus, we will be saved.
8 For it is by grace you have been saved, through faith—and this is not from yourselves, it is the gift of God—
The good news
This is one often neglected bible verse with significant importance.
Each day we strive to be good and to keep God's laws because we wish to be saved in the end.
The truth is, we aren't saved by our works or deeds.
We are saved because it is a Gift from God, who sent His only begotten son to die for our sins.
If we believe in Jesus, we will surely be saved.
16 Therefore, the promise comes by faith, so that it may be by grace and may be guaranteed to all Abraham's offspring—not only to those who are of the law but also to those who have the faith of Abraham. He is the father of us all.
The good news
This bible verse explains the change of the old to the new covenant of God.
The new covenant is Jesus Christ, who we only need to accept through faith.
By faith, we accept that Jesus is the son of God.
Only this can guarantee that we are saved in the end.
FAQs
What does it mean when we say God will wipe away all tears?
"God will wipe away all tears" is a promise from Revelation 21:4, describing a future where God creates a new heaven and earth.
This divine act signifies complete healing and restoration, as God's kingdom reaches its full realization.
Suffering, pain, and sorrow will cease, and God will personally comfort and console His people.
This image portrays a joyful, whole existence far beyond our earthly experiences.
What's the message behind "don't be afraid, just believe"?
This encouraging phrase is found in Mark 5:36 when Jesus comforts Jairus, a synagogue leader, after learning his daughter has died.
Jesus tells Jairus to trust Him, even in such a desperate situation.
This reminder applies to all believers: trust in Jesus' wisdom and power, even when life seems bleak.
By choosing faith over fear, we experience God's presence and His care for us.
How does God guard our hearts?
Philippians 4:6-7 teaches that God guards our hearts with His peace, which transcends understanding.
This passage encourages believers to pray and give thanks instead of worrying.
Trusting God and seeking His guidance shields our hearts and minds from anxiety and fear.
God's peace acts as a protective barrier, keeping us grounded in faith and focused on Him.
What does it mean to "proclaim his death until he comes"?
1 Corinthians 11:26 highlights the importance of Communion, where believers remember Jesus' sacrifice and promise to return, expressing their faith and reaffirming their commitment to the covenant.
By participating in Communion, Christians display their dedication to Christ and hope for His eventual return, when He will fully establish His kingdom.
Author: Akatakpo Dunn
Dr. Akatakpo Dunn is a dedicated follower of Christ, an active member and speaker, and an ongoing learner of the Scriptures. Passionate about his faith and serving others, he is committed to sharing his spiritual journey and insights to inspire and uplift fellow believers. He has been active in the church for more than 23 years. Through The
Faithful Christian Blog
,
Dr. Dunn
combines his love for God, philanthropy, and Scripture, providing a valuable resource for those seeking to grow in their faith.
Follow me: on Youtube, Facebook, Twitter, Instagram, and Pinterest.
Content Disclosure:
At The Faithful Christian Blog, I create authentic and inspiring content. Although I am the main author, I occasionally use AI for minor language enhancements. This minimal AI usage ensures high-quality, trustworthy articles without compromising originality or sincerity, ultimately supporting our shared faith journey.
Warmly,
Dr. Akatakpo Dunn
Was this article helpful?