To reap eternal life, we must first fight the good fight of faith.
And honestly, it is not an easy task to fulfill.
Over the years, I have met numerous Christians who have lost track of what is expected.
They now fornicate, cheat on their wives or husband, and engage in so many sinful activities.
Most times, they are carried away by the things of the world.
They feel so comfortable living in sin.
In other words, they are less concerned about fighting for the faith.
Luckily, God has been so faithful in my life.
And that's because I know, over the last few years, I have betrayed God's trust.
Not once or twice, but on multiple occasions.
For years, I have struggled with fornication.
And even in marriage, I still get those thoughts once in a while.
But that's where my fight for Christ comes in.
I have told myself multiple times, "I cannot get involved in fornication again."
My struggle against sin and temptation is a huge daily fight.
But it is a good thing because, in the end, God will reward my efforts to live righteously.
---
Recommended for you
---
Fighting the Good fight of faith: What Did Paul mean?
Fighting the good fight of faith is an exhortation of Paul to Timothy in 1 Timothy 6:12
Fight the good fight of the faith. Take hold of the eternal life to which you were called when you made your good confession in the presence of many witnesses
So, how do you fight the good fight of faith? What makes this fight a good battle to be won? Are there tools you need on the battlefield?
The first step to this fight for salvation is accepting Jesus as the savior of the world.
In other words, you confess and acknowledge Christ as your maker and God.
However, believing Christ died for your sins is not enough.
It would be best if you lived the way he lived on earth. You must suffer for the sake of Christ.
Your life must display righteousness at all times.
and if children, heirs also, heirs of God and fellow heirs with Christ, if indeed we suffer with Him so that we may also be glorified with Him Romans 8:17
Recognizing and believing in Christ is one thing, but living a Christ-like life is more important for our salvation as true Christians.
Fighting for Christ means accepting he died for our sins and enduring the suffering from believing in Him. This involves running away from sin and living a righteous life.
To get started, I have compiled inspiring bible verses about faith. Click here to enlighten yourself.
Fight the Good fight of Faith: 3 tools you need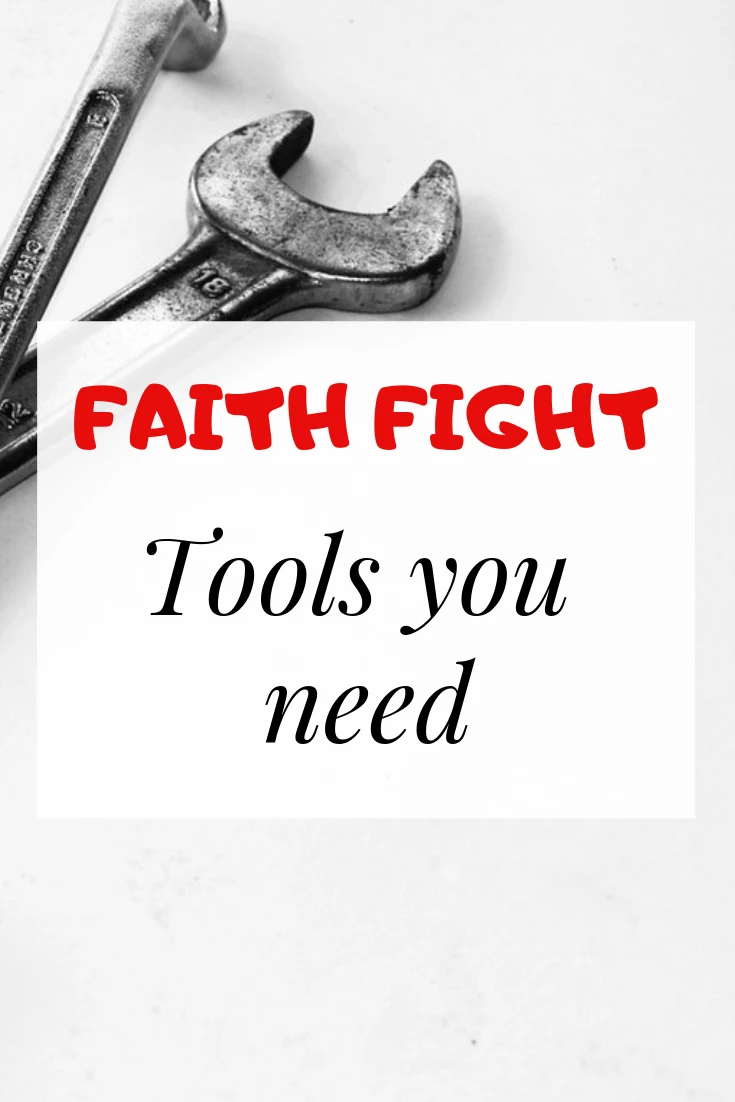 To fight the good fight of faith, there are tools you need to persevere. Fighting with Christ comes with lots of suffering. Therefore, you must be battle-ready to always be on his side of the battle. Here are three tools you need.
1.  Love
Before the coming and death of Jesus Christ, The Jews lived under the laws of Moses. These laws were made to make men fear the power of God.
After Christ died, we've been set into Liberty and redeemed to the ways of the almighty God.
Therefore, all commandments have been fulfilled in love. That by loving the ways of Christ and your neighbor, you can be sure you are battle-ready.
For all the law is fulfilled in one word, even in this; Thou shalt love thy neighbor as thyself Galatians 5:14 (KJV)
Love is by far the primary tool you need in this battle. Simply put, if you love Christ, then you will live like him and keep his commandments.
He that hath my commandments, and keepeth them, he it is that loveth me: and he that loveth me shall be loved of my Father, and I will love him, and will manifest myself to him John 14:21
2. Absolute Faith
Faith is another weapon you need when "fighting for the faith." You cannot fight for what you do not believe in. Faith anchors your trust in Christ. It is your only chance to make the impossible possible.
Love is by far more important than faith. If you love the ways of Christ, it means you believe in him (faith), and you are keeping his commandments.
And now these three remain: faith, hope and love. But the greatest of these is love 1 Corinthians 13:13
Through faith and the love of Christ, we can come closer to Christ and walk in the spirit.
But the fruit of the Spirit is love, joy, peace, patience, kindness, goodness, faithfulness, gentleness, self-control; against such things there is no law. Galatians 5:22-23
3. Hope
Everyone that fights and struggles does it for a reward. If you work, your reward is money. If you are an athlete, your reward is a prize.
So, therefore, if you are fighting the good fight of faith, It has its benefits. This reward is eternal glory with Christ.
Hope in Christ is the tool that straightens your soul when the battles Get tough. When your temptation rises, hope keeps you in faith and love of Jesus Christ.
Through him we have also obtained access by faith into this grace in which we stand, and we rejoice in hope of the glory of God. More than that, we rejoice in our sufferings, knowing that suffering produces endurance, and endurance produces character, and character produces hope, and hope does not put us to shame, because God's love has been poured into our hearts through the Holy Spirit who has been given to us. Romans 5:2-5
---
Recommended for you
---
Fight the good fight of faith bible verses.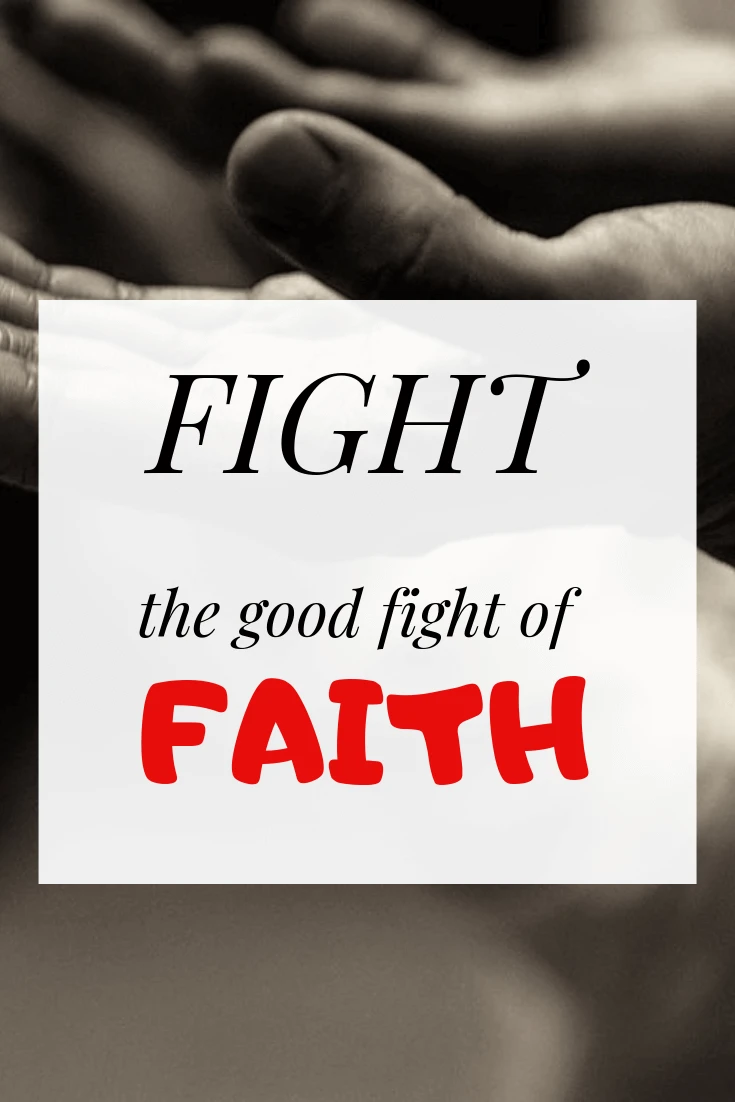 I have compiled a list of bible verses that encourage us to keep fighting for our salvation.
1.  2 Timothy 4:7 on fighting until the end
I have fought the good fight, I have finished the race, I have kept the faith.
A vital tool you need as a Christian is steadfastness in Christ. This is because we are human, and though we always strive for perfection, we can sin.
If we say we have no sin, we deceive ourselves, and the truth is not in us. 1 John 1:8
Retracing our sinful steps and asking for forgiveness is critical when fighting for the faith.
This is because if you fall by the wayside and continue to live in sin, you will not inherit what God has promised.
Paul is advising us to stand by the faith and run until the end. This is critical to be assured of the promise. The benefit of fighting for the faith is eternal life.
Henceforth there is laid up for me the crown of righteousness, which the Lord, the righteous judge, will award to me on that Day, and not only to me but also to all who have loved his appearing. 2 Timothy 4:8
2.  1 Corinthians 16:13 standing firm in the faith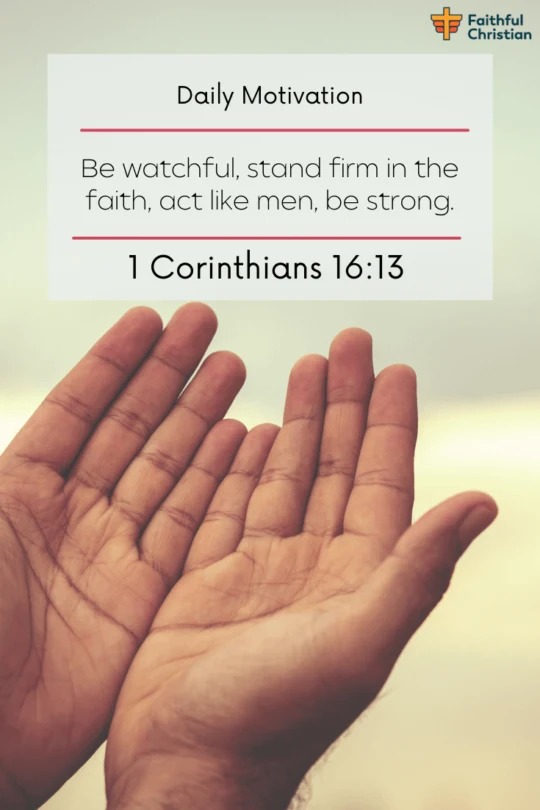 Be watchful, stand firm in the faith, act like men, be strong.
Paul fought the good fight of faith and knew there was a reward for those who serve God. He, therefore, advised us to stay firm in the faith to which we were called.
As Faithful Christians, we should be firm when tribulations come our way. We should be conscious of the methods of the devil and act like Christ. We should be vigilant because the devil only seeks to destroy us.
 The thief comes only to steal and kill and destroy; I have come that they may have life, and have it to the full John 10:10
Therefore, if we run the race of faith until the end, then we are assured of God's promise.
Do you not know that in a race all the runners run, but only one receives the prize? So run that you may obtain it. Every athlete exercises self-control in all things. They do it to receive a perishable wreath, but we an imperishable 1 Corinthians 9:24-27
3.  2 Timothy 2:3 on partaking in Christ suffering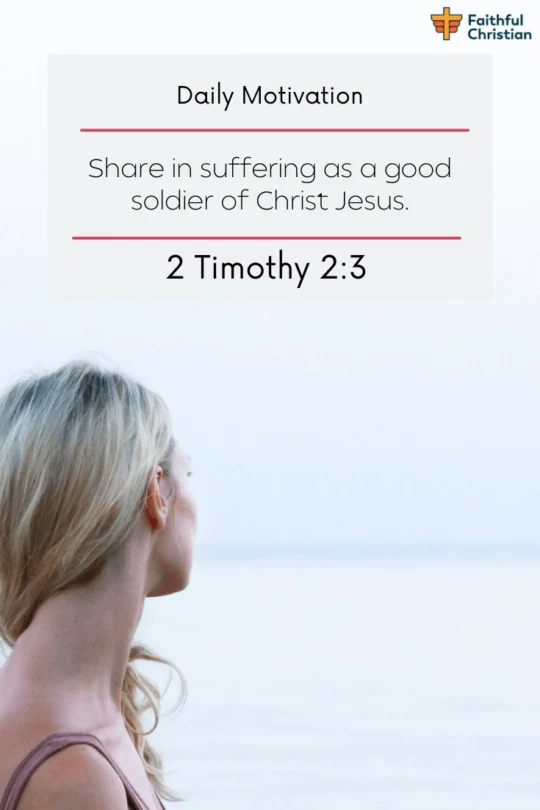 Share in suffering as a good soldier of Christ Jesus.
Suffering for Christ is running away from the sins of this world. Avoiding anything that dampens your faith and standing as a true soldier of Jesus Christ.
Living in sin means accepting the ways of the flesh. If you do, you will miss God's promise of salvation.
The ways of the flesh bring immediate relief to our lusts, but the ways of the spirit lead to eternal salvation.
The acts of the flesh are obvious: sexual immorality, impurity and debauchery;  idolatry and witchcraft; hatred, discord, jealousy, fits of rage, selfish ambition, dissensions, factions, and envy; drunkenness, orgies, and the like. I warn you, as I did before, that those who live like this will not inherit the kingdom of God. Galatians 5:19-21
Therefore, if we've decided to fight the good fight of faith, we must walk in the spirit.
If we live in the Spirit, let us also walk in the Spirit. Galatians 5:25
Here are scriptural examples of faith
By faith Abel brought God a better offering than Cain did. By faith he was commended as righteous, when God spoke well of his offerings. And by faith Abel still speaks, even though he is dead. Hebrew 11:4
Abel is well known for his sacrifice to God. Through faith, he knew it was important to please God.
By faith Noah, when warned about things not yet seen, in holy fear built an ark to save his family. By his faith he condemned the world and became heir of the righteousness that is in keeping with faith Hebrews 11:7
Noah was a just man in the sight of God. In his generation, the Bible described him as perfect. (Genesis 6:9)
Through faith, he obeyed God and built an ark. He never doubted God's power to destroy the world.
By faith Abraham, when called to go to a place he would later receive as his inheritance, obeyed and went, even though he did not know where he was going Hebrews 11:8
Through faith, Abraham obeyed God's instructions to move to a new place without questioning God.
And by faith even Sarah, who was past childbearing age, was enabled to bear children because she considered him faithful who had made the promise
Sarah also displayed tremendous faith in God for believing that she would conceive even at her old age.  She trusted in the power of the Almighty God.
Therefore, with these examples, you can see faith is the total belief in the power of God and trusting him to do whatever he has promised.
If God says he will take away all illness from you, then believe in his power to do it. If God says he will never forsake his people, he will surely be there to protect you.
Author: Akatakpo Dunn
Dr. Akatakpo Dunn is a dedicated follower of Christ, an active member and speaker, and an ongoing learner of the Scriptures. Passionate about his faith and serving others, he is committed to sharing his spiritual journey and insights to inspire and uplift fellow believers. He has been active in the church for more than 23 years. Through The
Faithful Christian Blog
,
Dr. Dunn
combines his love for God, philanthropy, and Scripture, providing a valuable resource for those seeking to grow in their faith.
Follow me: on Youtube, Facebook, Twitter, Instagram, and Pinterest.
Content Disclosure:
At The Faithful Christian Blog, I create authentic and inspiring content. Although I am the main author, I occasionally use AI for minor language enhancements. This minimal AI usage ensures high-quality, trustworthy articles without compromising originality or sincerity, ultimately supporting our shared faith journey.
Warmly,
Dr. Akatakpo Dunn
Was this article helpful?