Tuesdays are one of my favorites.
And as expected, it is another opportunity to pray.
So, we can ask God for favor and supernatural blessings.
We can ask the Almighty to take away sadness, anger, unhappiness, and pain from our lives.
And most importantly, to protect us and bless all that we will do today.
You can pray for a friend or loved ones too.
Or, send them a Tuesday prayer message as they wake up.
In all, God is willing to answer all our prayers.
I have put together this short Tuesday morning prayer to guide you.
Amen.
---
Recommended for you
---
Prayer Bible verses for Tuesday's prayers
Psalm 55:22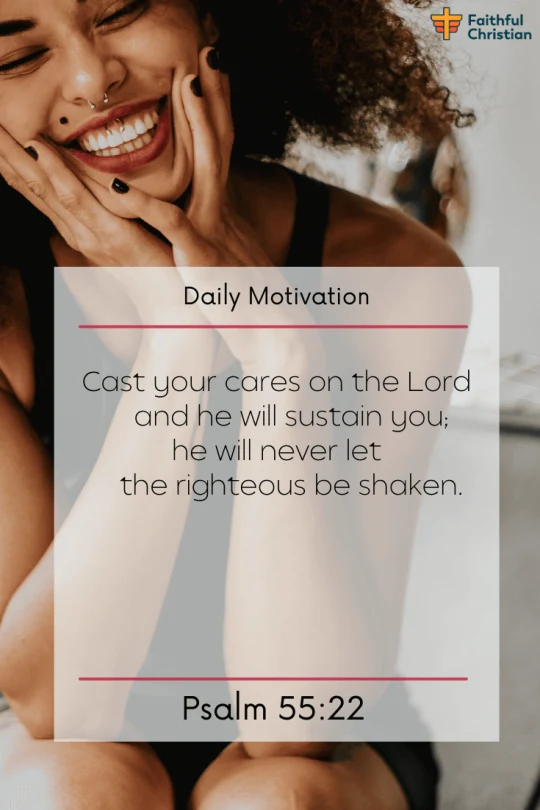 Cast your cares on the Lord
and he will sustain you;
he will never let
the righteous be shaken.
Say a Tuesday morning prayer with Psalm 55:22
As we welcome Tuesday's break of day, we stand before you, God. Our hearts are open. Our spirits are humble.
Your promise in Psalm 55:22 is our anchor. "Cast your cares on the LORD…He will sustain you…" A beautiful promise. A promise we hold close.
Today, we place our worries at your feet. Fears and anxieties. Hopes and dreams. All laid bare before you. Our burdens become lighter in your hands. We are free.
With sunrise, comes a plea. Guide us, Lord. Our actions should mirror your teachings. Our words, a testament to your love. In silence, let our thoughts dwell on your blessings.
On this Tuesday, bless us, Father. Bless our work, our families, our friends. May we face challenges with grace. Let faith fill our hearts. Unwavering. Unshaken.
Direct our steps, Lord. Lead us on your path of righteousness. May our actions today honor you. May our decisions reflect your wisdom.
Let your peace surround us. The peace that confounds human understanding. Let it guard our hearts, our minds. Your love, your mercy, let them be our companions today.
In you, we trust. Our Sustainer. Our Rock. Our Redeemer. We cast our cares upon you. Confident in your promise. Uplifted by your love.
In Jesus' name, we pray. Amen.
Philippians 4:6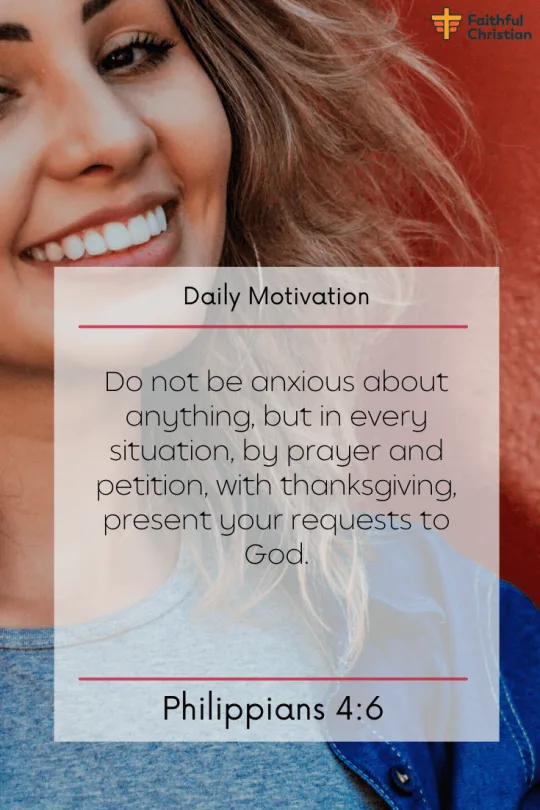 Do not be anxious about anything, but in every situation, by prayer and petition, with thanksgiving, present your requests to God.
Say a Tuesday morning prayer with Philippians 4:6
Dear Lord,
As Tuesday dawns, I come to you. My heart open, my spirit willing. I am reminded of Philippians 4:6. "Don't be anxious, but in prayer and thanksgiving, present your requests to God."
Father, I let go of my fears. Faith is my choice today. I know you're in control. Worry doesn't add value. Trust does. And I choose to trust in you.
Life can present challenges. But I'm not overwhelmed. I lay these at your feet, trusting in your power. Big or small, I know you're bigger.
Today, I lay my hopes before you. I seek your wisdom. Guide my steps, align my will with yours. Help me walk your path.
My heart overflows with gratitude. Life, love, family, friends – each a blessing. Each proof of your unfailing love. I am truly thankful.
As I step into today, I seek your guidance. Your protection is my shield. Your peace, my comfort. Your grace, my strength. Your love, my guide.
Thank you, Father, for listening. For answering. I am confident in your presence. Today and always.
In Jesus' name, I pray. Amen.
Psalm 37:5 – For Tuesday morning blessings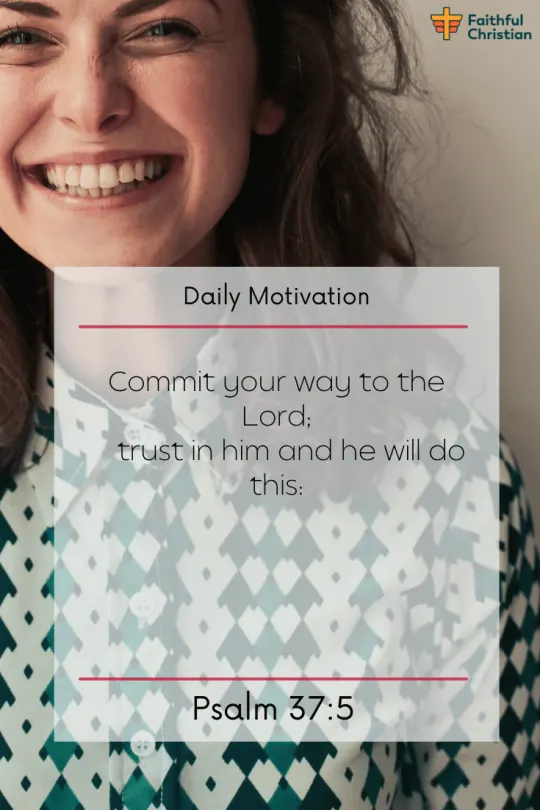 Commit your way to the Lord;
trust in him and he will do this:
Say a Tuesday morning Blessing with Psalm 37:5
Consider this Tuesday a fresh start. Lay all your plans and dreams before the Lord. When you trust Him with your life, amazing things happen. He guides your steps, takes away your worries.
So today, embrace courage. Put your trust in Him in all you do. Let Him be your guide, your confidant. His wisdom lights up your path. When you give Him the reins, He acts in your favor.
Today, I wish for you abundant blessings. I wish for you divine guidance. May your day be filled with fruitful work. May every step you take align with God's perfect plan.
Remember the words of Psalm 37:5. Let them guide your actions. When you trust in His plan, He shines a light on your path. He brings forth your righteousness as clear as daylight.
This Tuesday, let God's grace surround you. Revel in the peace of His presence. Enjoy the joy of His blessings. In Jesus' name, I wish you a fantastic Tuesday. Amen.
Matthew 6:25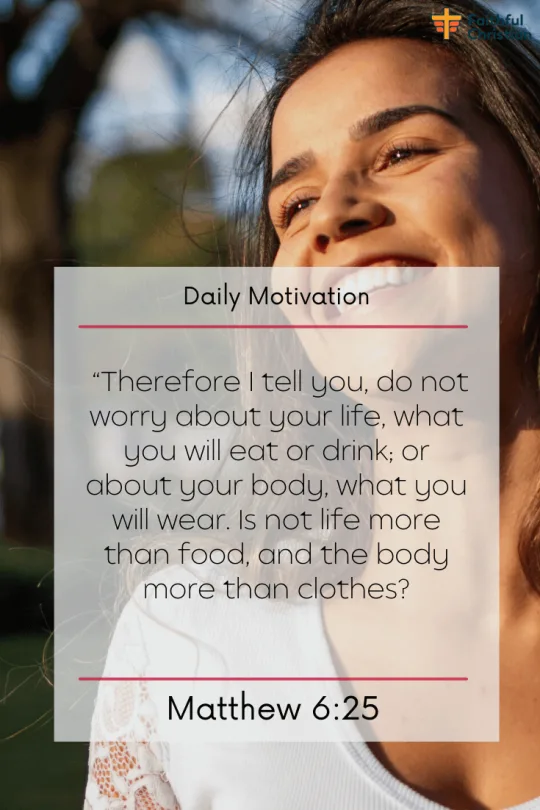 "Therefore I tell you, do not worry about your life, what you will eat or drink; or about your body, what you will wear. Is not life more than food, and the body more than clothes?
Say a Tuesday morning Blessing with Matthew 6:25
A radiant Tuesday morning to you! We've been gifted another day. Matthew 6:25 is our compass today. It says, "Don't worry about your life, your food or drink, or your body or clothes. Life is more than food, the body more than clothes."
Let's embrace this day, free of worry. Always remember, you're worth more than many sparrows. Life is more than just surviving. Your body is more than its appearance.
As you start this day, feel God's love in each breath. His guidance is there in every choice you make. May his guidance bring you peace and prosperity. Let his love ease your worries and fulfill your needs.
This Tuesday, inhale faith, exhale worry. You are cherished. You are looked after. Believe in his divine care. May his grace fill your day with abundance and love.
In Jesus' name, let's welcome this blessed Tuesday. Amen.
---
Recommended for you
---
Tuesday Morning Prayer For the Day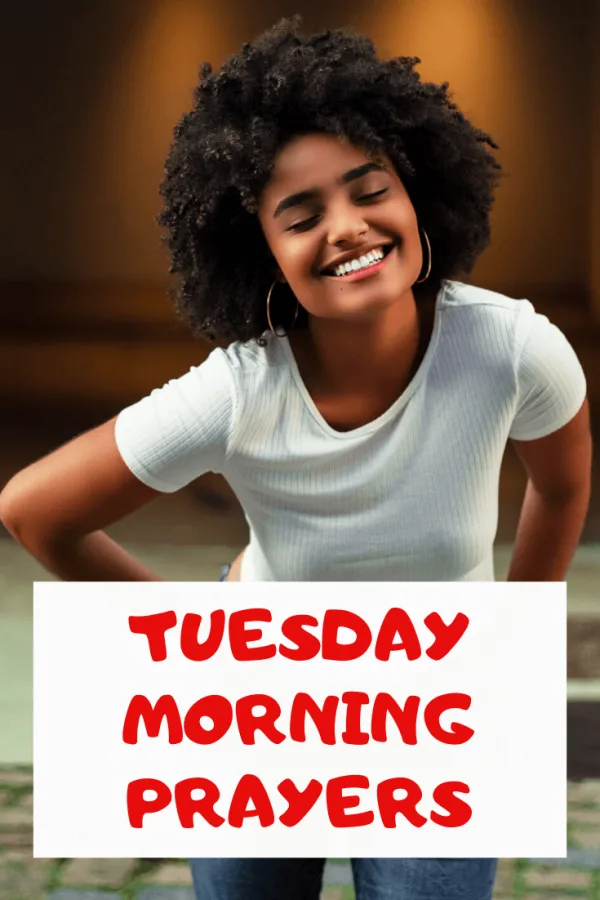 Commit your ways to God (let us pray)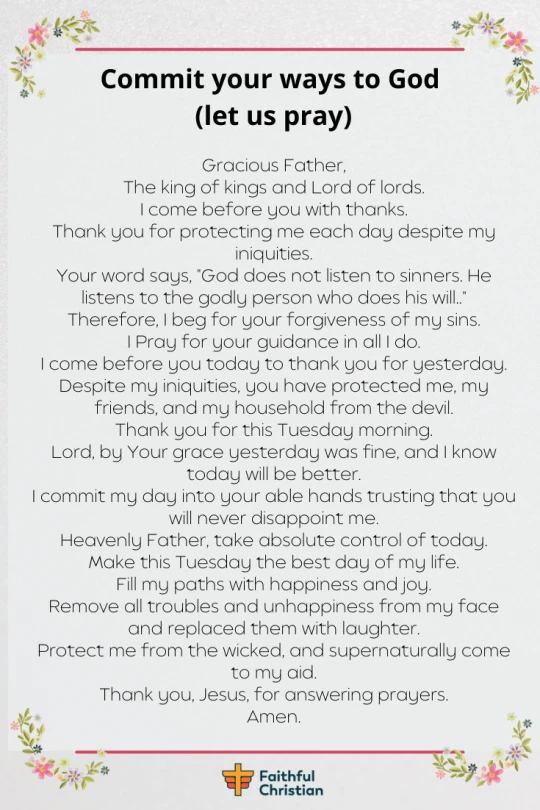 My dear Heavenly Father, you are the Champion of champions, the ultimate Ruler. Your power spans the cosmos, leaving me in awe. You're mighty and majestic, the epitome of all things divine.
Here I am, standing in your presence, heart pulsating with gratitude. Despite my human flaws, you wrap me in your protective embrace daily. You guide, forgive, and drench me in boundless grace. Just as it's written in Revelation 19:16, your supremacy is unmatched. You truly are the "King of kings and Lord of lords."
Your words in John 9:31 echo within me. They highlight our human weakness, our straying steps. They remind us that you heed the cries of the godly, those who follow your will. As I ponder this, I humbly ask for your mercy. I beg for forgiveness. Cleanse me, guide me, show me your path.
Today, I come before you, filled with gratitude. I remember the blessings of yesterday. I recall the shield you provided for me, my loved ones, and my home, despite my transgressions. You continue to be our fortress, our safe haven, our refuge.
On this bright Tuesday morning, I feel a renewed sense of hope. Yesterday, your grace guided us. Today, I'm confident you'll do the same, but even better. As stated in Psalm 118:24, "This is the day the Lord has made." I'm ready to celebrate it, to welcome the joy it brings.
I surrender today into your capable hands. I trust in your divine plan, secure in the knowledge that you never fail. As mentioned in Proverbs 3:5-6, we are to trust you, to lean not on our own understanding. You are our guide, our beacon of hope.
I pray for this Tuesday to be exceptional. May it overflow with happiness and joy. May it be lit with your divine love. May my heart feel the peace that only you can give. Just as it is written in Psalm 16:11, you show us the path of life. In your presence, joy is complete.
I pray for you to drive away any gloom, any despair that lurks. Replace it with the warmth of your divine smile. In Psalm 30:5, you promise us that joy comes in the morning. I'm ready for that joy. I'm ready to swap my worries for your divine peace.
Shield me from those who wish harm. Protect me from their deceit. Be my divine defender when I need it most. As stated in 2 Thessalonians 3:3, you promise to strengthen and protect us. I lean on that promise, secure in your protective embrace.
Finally, thank you, Jesus. Thank you for listening, for being faithful. You've shown us in 1 John 5:14 that you hear us, that you're always ready to listen. Knowing this, I'm confident that my prayers reach your loving heart.
In Jesus' name, I pray. Amen.
---
Recommended for you
---
[irp posts="3604″]
The just shall live by faith (let us pray)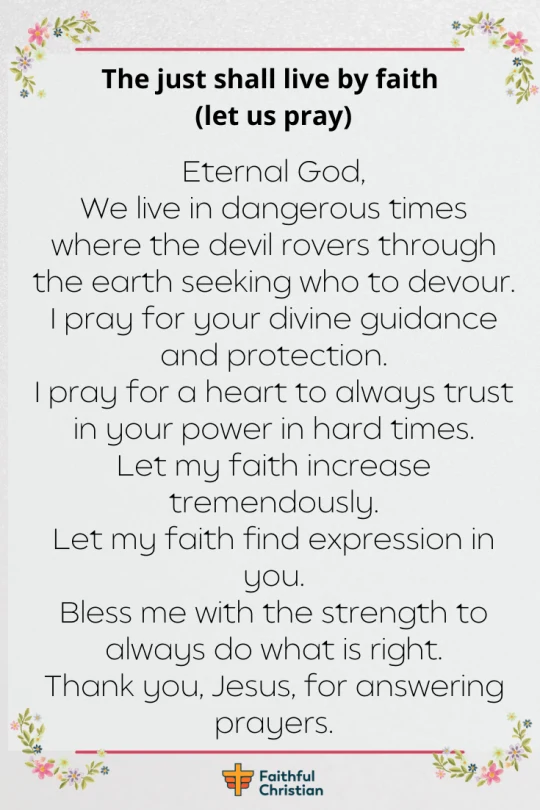 Almighty God, You're our light in the dark, our shield in battle. Peter warns us about a prowling enemy, a lion in the shadows (1 Peter 5:8). Right now, that shadow feels close, stretching across our world. But we stand firm, our spirits unbroken.
Ephesians reminds us (Ephesians 6:12) – we're not fighting flesh and blood. We're battling unseen forces. We find strength knowing that you, God, are mightier.
Lord, we seek your protection. We look to Psalm 23 for comfort. Through dark valleys and looming shadows, we won't fear. Your rod and staff reassure us. Like a shepherd, lead us along safe paths. Keep us from the snares of evil.
Proverbs sings of a strong tower (Proverbs 18:10) – your name, our refuge. We run to you for shelter, and we find safety.
In the whirlwind of life, we ask for a firm heart. You're our refuge and strength, as Psalm 46 declares. Amid crashing waves and shaking mountains, let us trust in your power. You're always present, our ever-ready help.
As the disciples asked Jesus in Luke 17:5, we too cry: "Increase our faith!". Let it grow like the mustard seed, described in Matthew 13. From humble beginnings, it becomes a sturdy tree. So, let our faith weather the winds of doubt and fear.
We hope our faith shines brightly, visible in our actions. We remember the woman who touched Jesus' cloak in Matthew 9. She took action. Her faith brought healing. May our faith be just as vibrant. In our words, deeds, love, and service, let your grace shine through us.
This Tuesday, we beg for courage to always choose what's right. We echo Joshua's words (Joshua 24:15): "As for me and my house, we will serve the Lord." Strengthen our resolve. Let our actions reflect your divine laws. Keep us on the path of truth and justice.
Finally, we say 'Thank you'. You're our lifeline, Jesus. You connect us to the divine. John 14 assures us: ask in your name, and you will do. We're grateful that you hear our whispers and cries. You answer when we call. Our prayers don't go unheard. They reach your throne of grace.
In your precious name, we pray. Amen.
Think beyond where you are (let us pray)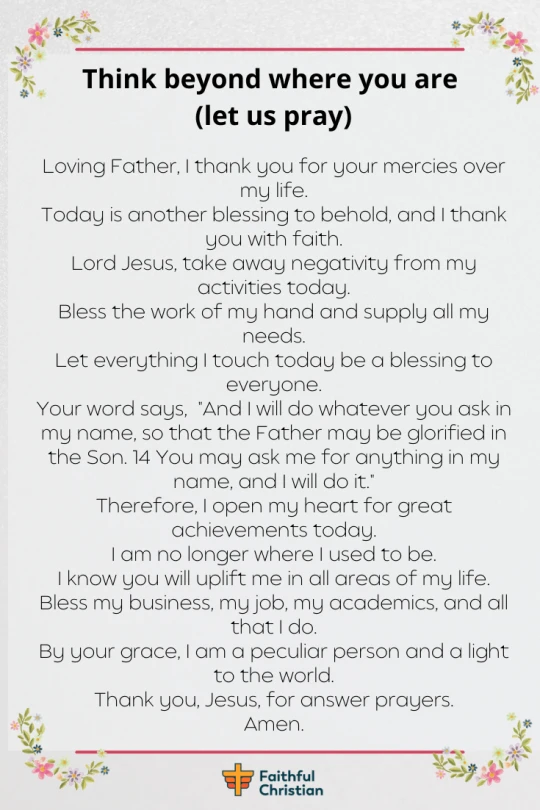 Dear Father, my heart is filled with deep gratitude. Your love has been my lifeline, each new dawn a blessing. As Psalm 136:1 reminds us, your love endures forever. For this, my spirit sings praises.
Lord Jesus, you are my beacon of hope. Today, I ask for your guiding light to scatter any shadows of negativity. My plea is rooted in Psalm 119:105, a promise of your divine guidance. In your radiant light, I stand resolute and determined.
I pray for your blessings, Father. I trust in your providence to fulfill my needs. I echo the sentiments of Philippians 4:19, trusting your rich bounty. I dream not just of my needs being met, but of abundance spilling over, touching all around me.
Every effort I put forth, let it be touched by your divine hand. Like ripples in a pond, let my interactions spread joy and love. John 14:13-14, your promise, fuels my ambitions. I stride forth today, empowered by prayers in your name.
I've moved forward, Lord, from where I used to be. As Proverbs 3:5-6 states, I lean not on my own understanding but on you. Your guidance is my compass, leading me to higher grounds.
This Tuesday, bless my endeavors, Father. Be it business, academics, or my job, may they all thrive under your divine favor. Proverbs 16:3 reassures me, your child, that plans submitted to you find success. I hold this truth close to my heart.
I am more than an ordinary being. Your grace marks me as unique, a light-bearer to the world. Inspired by 1 Peter 2:9, I understand my divine role. I strive to be a reflection of your love and goodness, a beacon of hope in the world.
Jesus, thank you for listening to my prayers. I find comfort in 1 John 5:14, knowing you hear my pleas. You answer prayers according to your divine will. I bask in this wonderful reassurance.
With these words from my heart, I say, Amen.
Believe your Tuesday is blessed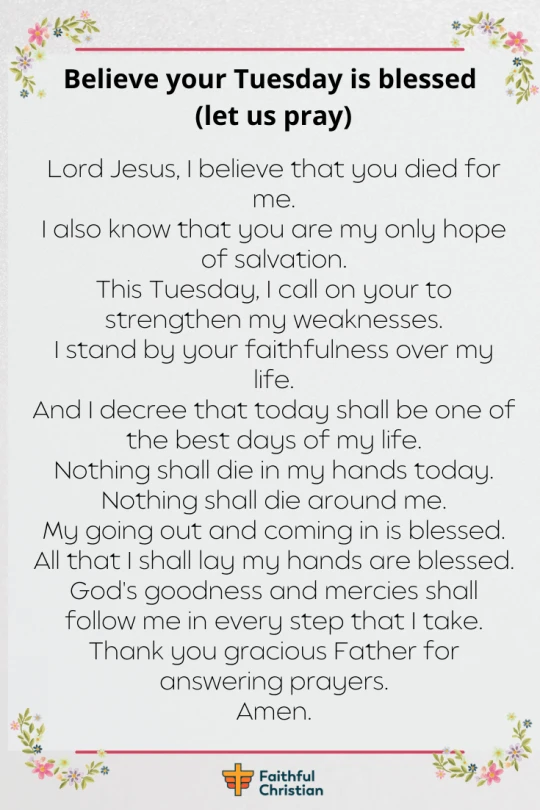 Jesus, my Lord, I acknowledge your sacrifice for me. This act of love is my core belief. Just like John 3:16 says. It inspires me daily. It shapes my journey in faith.
You are my lifeline, Jesus. My only hope for salvation. You reflect Acts 4:12 perfectly. You are the light guiding me through life's uncertainties. In you, I trust. In you, I find courage.
A new week is here. Tuesday calls for strength. I turn to you to embolden me in my weakness. As 2 Corinthians 12:9-10 advises, your grace is sufficient. In my weakness, your power shines.
Your faithfulness is my anchor, Lord. Lamentations 3:22-23 reminds me of this. Each new day is a testament to your love. Your compassion never fails. And this fills me with hope.
Today, I see a day of joy. A day of rewards. Guided by Jeremiah 29:11, I am optimistic. I reject negativity. I embrace growth and prosperity.
No initiative of mine will fail today. Deuteronomy 28:8 is clear about this. Your blessing is upon everything I touch. Everything around me will flourish. Because of you.
Stepping out today, I feel your favor. The promise in Deuteronomy 28:6 gives me comfort. My path, wherever it leads, is blessed. Your grace is my guide.
Every endeavor, every task, I declare, is under your divine favor. As Psalm 1:3 suggests, I shall prosper. Your blessings will touch every area of my life.
The abundance of your goodness is my constant companion. Your mercy follows me, just like Psalm 23:6 assures. You bless me in unimaginable ways. And I am thankful.
To you, gracious Father, I express gratitude. You answer my prayers. I am reminded of 1 John 5:14. My requests don't go unheard. I feel your comforting presence every day.
In Jesus' name, I pray. Amen.
Frequently Asked Questions
What is a Tuesday prayer for myself?
Here's a simple Tuesday prayer, one that's just for you. "Dear God, as I take on the challenges of this Tuesday, I'm asking for a little help. Be my guiding light, my compass, and my source of peace in a bustling world. 'Trust in the Lord with all your heart.' (Proverbs 3:5) That's the mantra I keep in my heart, knowing You'll lead me on the right path. Amen."
What are Tuesday prayers for family and friends?
This Tuesday, let's extend our prayers to those we cherish most. "Lord, as we step forward into this day, I hold my loved ones in my thoughts. Shower them with blessings that glisten like morning dew. Keep them safe, shield them from harm, let love bloom in their hearts. 'May the Lord bless you and protect you.' (Numbers 6:24) With this prayer, I'm wrapping them in a blanket of divine peace. Amen."
What is a Tuesday prayer for boyfriend and girlfriend?
Today's Tuesday, and I've got a special prayer for lovers. "God, the heart knows You as the essence of Love itself. As my partner and I dance to the rhythm of life, may our steps align with Your tune. May honesty and understanding be our melody, and love, our chorus. 'Love each other deeply.' (1 Peter 4:8) With Your guidance, may our hearts sing a love song that echoes through eternity. Amen."
What is a Tuesday prayer for husband and wife?
Tuesday is here, and it's time to pray for marital bliss. "Dear God, on this day, I ask for unity in our marital life. Grant us the wisdom to listen, the patience to understand, and the love to embrace each other's imperfections. 'What God has joined together, let no one separate.' (Mark 10:9) With this prayer, I wish to fortify our marital bond, today and always. Amen."
What is a Tuesday prayer that includes blessings?
On this Tuesday, let's not forget to seek our share of divine blessings. "Almighty, as I navigate this Tuesday, I reach out for your blessings. I seek blessings in health, blessings in work, blessings in the maze of relationships. 'The Lord bless you and keep you.' (Numbers 6:24) With this prayer, I open my heart to receive Your divine grace, asking You to fill every nook and cranny of my life with Your blessings. Amen."
Can you share a powerful and short Tuesday prayer?
A Tuesday morning demands a powerful, yet succinct prayer. "God, it's Tuesday. I seek Your wisdom and strength. I yearn for Your peace. 'I can do all this through Him who gives me strength.' (Philippians 4:13) With these words, I arm myself with faith to conquer the day ahead. Amen."
What are some Tuesday prayer messages and quotes?
As for Tuesday prayer messages and quotes, how about these: "May God's love guide your path this Tuesday," "Blessed are you who put their trust in the Lord this Tuesday," or "May the peace of God rule in your hearts, as you thank God on this Tuesday." Each message, a spark of divine light, can be personalized to brighten someone's day or lift their spirit. After all, every Tuesday is a gift, a new chance to share a prayer, spread some love, and make the world a better place. Amen.
---
Recommended for you
---
Author: Akatakpo Dunn
Dr. Akatakpo Dunn is a dedicated follower of Christ, an active member and speaker, and an ongoing learner of the Scriptures. Passionate about his faith and serving others, he is committed to sharing his spiritual journey and insights to inspire and uplift fellow believers. He has been active in the church for more than 23 years. Through The
Faithful Christian Blog
,
Dr. Dunn
combines his love for God, philanthropy, and Scripture, providing a valuable resource for those seeking to grow in their faith.
Follow me: on Youtube, Facebook, Twitter, Instagram, and Pinterest.
Content Disclosure:
At The Faithful Christian Blog, I create authentic and inspiring content. Although I am the main author, I occasionally use AI for minor language enhancements. This minimal AI usage ensures high-quality, trustworthy articles without compromising originality or sincerity, ultimately supporting our shared faith journey.
Warmly,
Dr. Akatakpo Dunn
Was this article helpful?