Most of us don't like Mondays.
And that because it's another working day.
After the beautiful time with our families at the weekends, the stress begins.
For students, it means going to classes or writing exams.
For workers, it means going back to work.
Either way, we can trust God to keep us safe from harm's way and bless all we do.
And that's through the power of prayers.
My wife and I pray every morning and it is an incredible feeling.
And we do that to seek God's guidance.
He knows all our plans for today, so, he must get involved.
Don't be scared to pray for the one you love.
You can pray for a friend, family member, or loved one.
I have put together this simple Monday morning prayer to kick start your week.
I pray this week will bring you blessings in all you do.
Amen.
---
Recommended for you
---
Prayer Bible verses for Monday prayers
1 Corinthians 15:58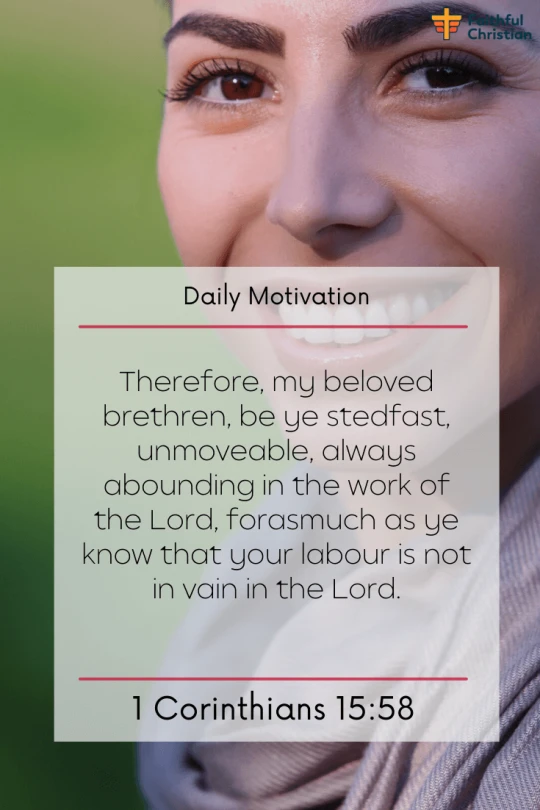 Therefore, my beloved brethren, be ye stedfast, unmoveable, always abounding in the work of the Lord, forasmuch as ye know that your labour is not in vain in the Lord.
Say Monday morning prayer with 1 Corinthians 15:58
Dear Heavenly Father, on this fresh Monday morning, we stand ready. We remember Your words from 1 Corinthians 15:58. "Stand firm. Let nothing move you. Give yourselves fully to the Lord's work." A simple message, yet so powerful.
Today, and all week, we ask for Your strength to stand firm. Life can toss surprises and challenges our way. Help us remain steadfast, unmoved by these hurdles. Guide us to fully commit to Your work. You've assured us our efforts are never in vain when done for You.
As we begin our week, we seek Your blessing on our tasks. At work, school, or home, let us honor You in all we do. Let our actions reflect Your grace. Inspire us to work with diligence and integrity. Through our actions, let Your excellence shine.
Bless our interactions this week, dear Lord. Guide us to show kindness and patience. Let our words be filled with understanding. Enable us to be Your ambassadors, spreading Your love and truth.
We ask for Your protection and guidance. Lead us down the right path. Protect us from harm. Gift us the wisdom to make good choices. And the strength to conquer any roadblocks.
Above all, we seek a heart that yearns for You. Amidst the bustle of the week, help us prioritize You. Let our thoughts, words, and actions delight You.
Father, we thank You for Your unending love and faithfulness. We entrust this week to You, knowing You walk with us every step. We pray this in Jesus' name,
Amen.
2 Chronicles 15:7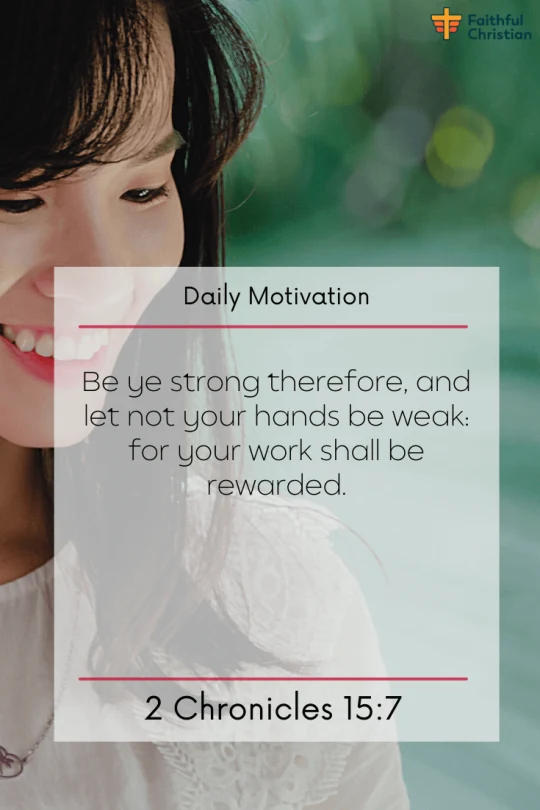 Be ye strong therefore, and let not your hands be weak: for your work shall be rewarded.
Say Monday prayer with 2 Chronicles 15:7
Beloved Heavenly Father, here we are, at the start of another week. This Monday, I'm knocking on Your heavenly door. I'm bringing with me heartfelt thanks for Your enduring love. Your mercy that stretches far and wide. Your guidance that lights up my path.
Every day is a chance to serve You. To seek Your face. To live out Your divine will. I'm so thankful for these opportunities that You grace us with.
You've given us a mighty promise in 2 Chronicles 15:7. Be strong and do not give up, for your work will be rewarded." What a powerful pledge, Lord. It's a beacon, reminding us that You see our hard work, our perseverance, our faithfulness.
With this promise in mind, I stand ready. Ready to face this day, this week, with all its challenges. I lay my tasks, my dreams, my ambitions at Your feet. I trust in Your reward, and I pray for the strength to keep going, even when the road seems rough.
Grant me Your divine wisdom, Lord. Help me to see with Your eyes, to discern Your will in all things. Guide my decisions so they may honor You, reflecting Your love and justice in all I do.
Fill my heart with love for others. Inspire me to share Your kindness, Your compassion, with everyone I meet. May I be a light in this world, bringing a glimmer of hope and positivity wherever I go.
I pray for protection as we start this new week. Keep my loved ones and myself safe from harm. Guide us away from distractions and toward Your divine purpose.
As I end this prayer, I give this week to You. I'm standing on the promise of 2 Chronicles 15:7. I'm filled with confidence, ready to face this week with energy and courage. I know You're with me, every step of the way.
In the name of Jesus, I pray. Amen.
Hebrews 6:10
For God is not unrighteous to forget your work and labour of love, which ye have shewed toward his name, in that ye have ministered to the saints, and do minister.
Say Monday blessings with Hebrews 6:10
Good morning! Here's to a Monday brimming with blessings and a week teeming with promise. As we step into a brand new day, let's lean on the assurance given in Hebrews 6:10. This verse offers a profound promise: "God is not unjust; He will not forget your work and the love you have shown Him as you have helped His people and continue to help them."
Your acts of kindness haven't been overlooked. Your overflowing love hasn't been dismissed. Your diligent work hasn't been ignored. Our Heavenly Father sees it all. His justice is unfailing. He cherishes every service you've rendered in His name.
As the new week unfolds, find comfort in His promise. Know that your deeds for the Lord carry eternal worth. With each day of this week, may you experience the faithfulness of God. May you find strength to persist. Courage to tackle every obstacle. Peace to trust in His perfect plan.
May blessings be your portion this week. May His love be your fortress. His favor your shield. As you navigate through the challenges, remember this: Your love for Him, demonstrated in your service to His people, is seen. As you extend help to others, may you find a joy that's deep, joy that's lasting. This joy comes from a life aligned to the Kingdom of Heaven.
So, rise and shine! Welcome this blessed Monday with open arms. And, may every day of your week be filled with divine encounters and heavenly favor. Amen.
---
Recommended for you
---
Monday morning prayers to Motivate you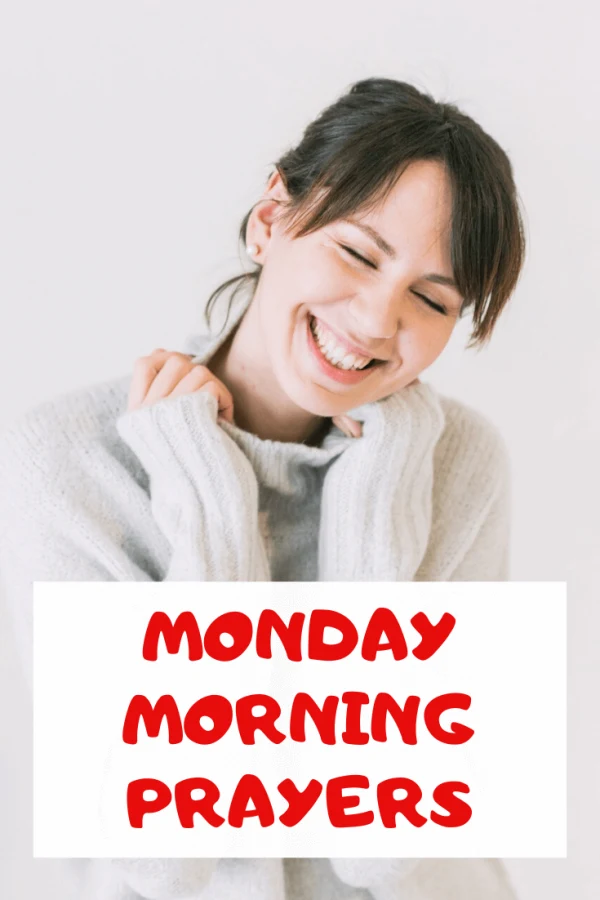 God will direct our every step (let us pray)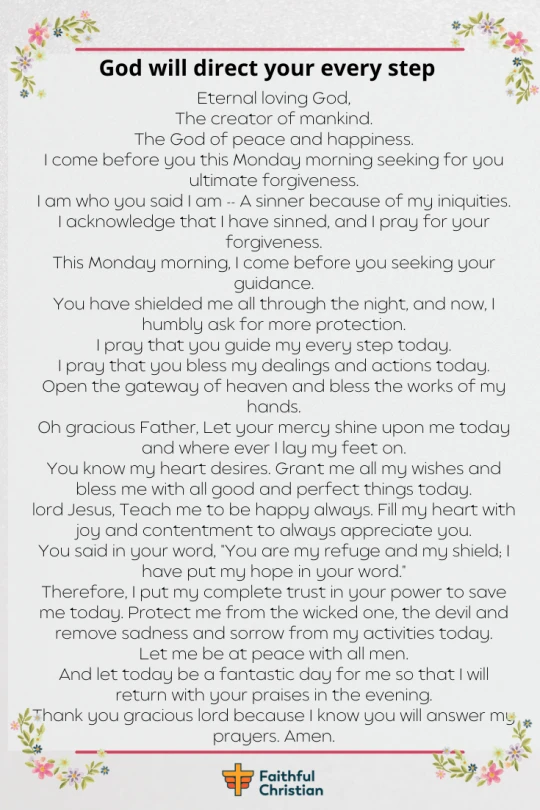 Everlasting God, You are a masterful artist. You crafted us, each one unique, like a potter molds clay. Your fingerprints are on each of us. Your love, it's boundless. It overflows, filling us with peace and joy. Just as a river finds its way to the sea, we find solace in Your love.
A new day begins. Monday greets us with a promise of fresh starts. I'm standing here, humbly, seeking Your mercy. I've missed the mark. We all have. That's part of being human. Your forgiveness, though, outshines our mistakes. It's the beacon guiding us back to You.
With this new day, I need Your guidance. You're my shield, my protector. Through the darkest nights, You've been there. Now, as the sun peeks over the horizon, I ask for Your continued protection. Guide my steps. Lead me on the path that aligns with Your will.
Today is a day for action. I'm ready to step out, to engage with the world. I need Your blessings. Unlock the heavenly gates. Shower blessings on my work, my efforts. Let Your mercy shine on me. Brighten every place I tread. Your love is a light that dispels all darkness.
You know my heart, my dreams, my deepest desires. Breathe life into them. Bless me with goodness, with joy, with all things that are right and true. You are the giver of every perfect gift. You are my source of fulfillment.
Jesus, teach me to cultivate joy. To carry happiness within me, always. Imbue my heart with contentment. Help me appreciate every single moment. You are my refuge, my safe haven. I put my trust in You, in Your power to save.
Keep me safe from harm, from the enemy. Lift me above sadness and sorrow. Inspire harmony in my relationships. I want to be at peace with everyone. Help me make this day incredible. So, when evening comes, my heart will sing Your praises.
I thank You, God. I trust in Your promise. You hear my prayers. You answer them according to Your divine plan. Amen.
Grant me divine direction through the holy spirit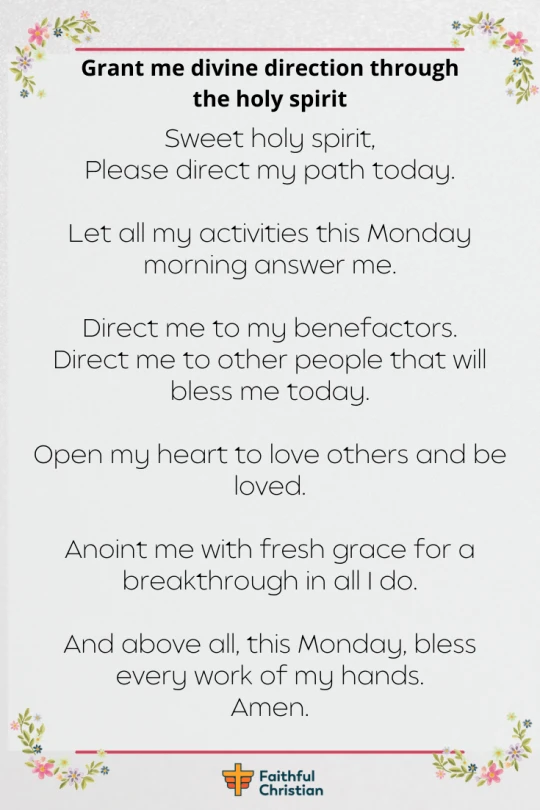 Divine Spirit, as the sun rises, I call out for your guiding light. Like a trusted compass, you are my North Star in the vast universe.
The Bible paints a vivid picture in Psalm 119:105 – "Your word is a lamp for my feet, a light on my path." I need this guiding light today. It will help me steer my life's journey. It will help me make the right choices. You are my roadmap to righteousness.
It's a new dawn, a new day, a new Monday. I want my actions to be meaningful. I want my efforts to bear fruit. I resonate with Jesus' vine and branches analogy in John 15:5. If we stay connected to Him, we can't help but thrive.
As I roll up my sleeves to work today, I pray for this divine connection. I want my work to be fruitful. I want my endeavors to be a testament to this divine connection.
Today, I am on a mission to find my benefactors. I seek those assigned by you to support my journey. The Bible, in Ecclesiastes 4:9-10, talks about the power of two. Two people can support each other. They can lift each other up. Guided by this wisdom, I pray for these supportive connections today.
I also want to be a blessing to others today. I want to bring comfort. I want to bring support. Matthew 5:16 invites us to let our light shine. Our good deeds should reflect God's glory. Today, I pray to be this reflection. I want to radiate God's love through my actions.
I pray for an open heart today. I want to radiate love and receive it. Paul, in 1 Corinthians 13:2, emphasizes love's importance. Without love, we are nothing. Today, I choose love. I want it to guide my decisions and my interactions.
Today, I am asking for a fresh anointing of grace. I think about Lamentations 3:22-23. It promises new mercies every morning. It is this promise that powers my prayer. I am asking for renewed strength. I am asking for breakthroughs. I am asking for the grace to overcome any obstacle.
Today, more than anything else, I ask for your blessings. Blessings on every work of my hands. Deuteronomy 28:12 promises such blessings. It assures us of God opening the heavens and blessing our work.
Inspired by this promise, I pray for a productive day. I pray for the success of all my endeavors. I pray for my labor to be a reflection of God's glory.
My prayer is a blend of hope and faith. Hebrews 11:1 describes faith as the evidence of things not seen. I lean on this faith today. I am certain that you will guide my steps. I am certain that you will bless my work. I am certain that I will radiate your love in all I do, today and always.
Amen.
---
Recommended for you
---
He daily loads you with benefits (let us pray)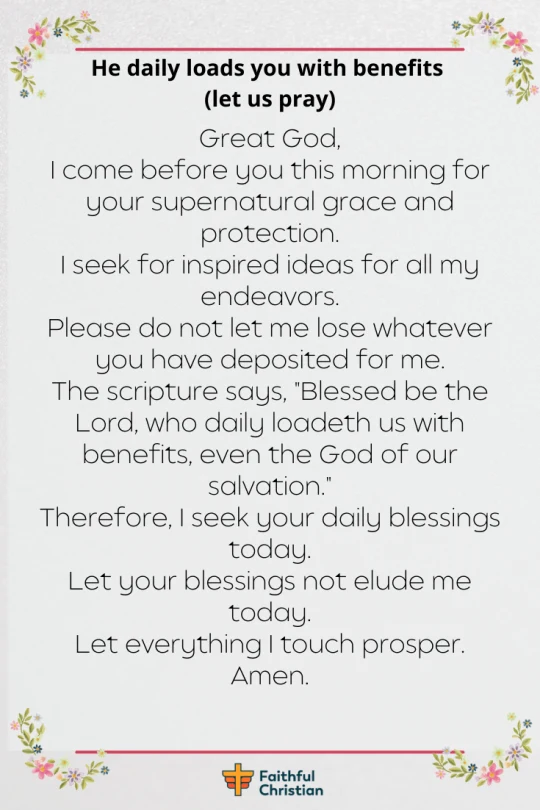 Dear Almighty,
Just like the psalmist in the morning, I'm here, talking to you with an expectant heart. It's a fresh new dawn, full of hope. I stand at your throne, seeking your grace and your protection. You're my guardian, my guide, just as you were for the Israelites during Exodus. Today, I ask for the same divine protection. Shield me from life's adversities.
I'm setting sail on today's journey, needing your wisdom. It's like a light, guiding my way, sparking great ideas. Remember Solomon? You granted him wisdom. That's what I'm asking for. Guidance for my thoughts, my decisions. Make them fruitful. Make them meaningful.
You're generous, Lord, gifting us with blessings. Today, I ask: let me not miss what's for me. You know the story of Joshua? You strengthened him. Do the same for me. Let me seize every opportunity, every blessing. And use them, just as Moses did with his staff.
Remember the promise in Psalms? The one about daily benefits? That's the kind of blessing I'm excited about today. I imagine your grace like a river, flowing over me. It's a peaceful river, filled with prosperity. Let it transform my life. Let it empower me to achieve greatness in your name.
Your word tells us that if we listen and obey, blessings will come. They will overtake us. That's my prayer today. As I go about my day, I want your grace with me. I want your blessings to find me. To guide my steps. To inspire my decisions. Make my ordinary days extraordinary.
You know what Proverbs says? If we commit our work to you, you will establish our plans. That's my hope for today. Extend your favor to my work. Make it fruitful. Make it prosperous. Just like Joseph's endeavors prospered under your divine favor. Let my efforts bear fruit. Let them testify to your grace.
I'm closing my prayer now. I've expressed my faith and my trust in your holy and powerful name. Remember Proverbs 3:5-6? That's my spirit. I'm trusting in you, Lord, to make my paths straight.
Amen.
Surely there is an expectation (let us pray)
Dear Heavenly Father, I stand before You today, my heart filled to the brim with hope. This hope rests on Your promises. You've told us that You hear our prayers. You promise to grant our petitions when they align with Your will. With this in mind, I'm here, humbly asking. Please fulfill my expectations today, each and every one.
Each dawn is a miracle, a testament to Your grace. I rise with a hopeful heart, eager to witness Your wonders. I long for these wonders to grace my life today. This isn't about the grandiose or dramatic, but the seemingly small miracles. I trust You with them all.
As the day unfolds, I ask for Your divine intervention. There are burdens that weigh heavily on my heart. Stress, anxiety, doubt – I hand them over to You. You've told us not to worry, to bring our troubles to You.
With that promise, I surrender these troubles, yearning for Your peace. A peace that comforts and strengthens, even when the world swirls in chaos.
I ask for an infilling of love, a love that radiates from me to others. Deepen my faith, making it as unwavering as Abraham's was. He trusted in You, against all odds. Like him, I draw strength from Your promises. You are my rock, my endless source of power.
Your words are a beacon, guiding me through life's ebb and flow. "There is a future hope for you, and your expectations will not be cut off" (Proverbs 23:18). These words echo in my mind, pushing me to aspire for more, to reach higher.
You are the beginning and end, Lord Jesus. You know the desires hidden deep within my heart. The dreams I've worked tirelessly to achieve, You've seen it all. I trust that You'll bless me, not because I deserve it, but because of Your endless love and mercy.
In Your grand plan for my life, I place my trust. It's a plan for good, not disaster. It's a plan that holds a bright future, filled with hope. With confidence, I ask that You meet my needs. Do it in a way that mirrors Your endless riches and glory. May Your blessings pour out on me, in ways that I could never imagine.
With gratitude, I praise Your name. I acknowledge Your supremacy over all. I am thankful, ever-faithful to You. I end this prayer with a heart brimming with thankfulness. I look forward to Your miracles unfolding in my life.
Amen.
Frequently Asked Questions
What is a Monday prayer for myself?
Picture this as your personal prayer for a fresh Monday morning: "Thank you, Lord, for this gift of life. As I tread into this week, I beseech you to guide my path. May every action of mine mirror your infinite love. Provide me the courage to face life's trials and the wisdom to conquer them. Let your grace make me a beacon of your love. Guided by the profound words from Proverbs 3:5-6, 'Trust in the LORD with all your heart…', I journey through this week with faith. Amen."
What are some Monday prayers for family and friends?
Here's a beautifully crafted Monday prayer for your family and friends: "Oh Lord, I bring my loved ones to you as we step into this week. Shower them with your strength, to surmount the week's challenges. Bless them with serenity, vitality, and joy. Gift them wisdom for right decisions and valor for an unshakeable faith. May your divine peace, as mentioned in Philippians 4:6-7, envelop them in all pursuits. Amen."
How can I say a Monday prayer for my boyfriend or girlfriend?
Praying for your significant other? Here's a tender Monday prayer: "Dear Heavenly Father, I am deeply thankful for the love and companionship I share with my partner. I pray for your divine guidance and blessings for them this Monday. Bestow upon them strength, wisdom, joy, peace, and love. Guided by 1 Corinthians 16:14, 'Let all that you do be done in love,' I hope our bond deepens under your watchful eyes. Amen."
How can I pray on Monday for my husband and wife?
Here's a profound Monday prayer for your spouse: "Dear God, I am immensely grateful for my spouse and the sacred bond we share. As we start this week, I pray for your guidance, protection, and blessings for them. May we navigate through life's intricacies with unity and love. May our love mirror your infinite love for us. Drawing strength from Ephesians 4:2-3, may our relationship illuminate with humility, patience, and peace. Amen."
What is a Monday prayer that includes blessings?
A Monday prayer that weaves in blessings could sound like this: "Benevolent God, I am deeply thankful for this new week. I humbly seek your blessings this Monday and for the days that follow. May your divine favor, protection, and guidance light up our days. Let us bask in the blessings of health, happiness, and prosperity. May the blessings in Numbers 6:24-26, 'The Lord bless you and keep you…' be upon us this week. Amen."
Can you suggest a powerful and short Monday prayer?
A succinct yet potent Monday prayer could look like this: "Dear Lord, I step into this week with hope and openness. I seek your guidance, protection, and blessings. As Psalm 28:7 echoes, 'The LORD is my strength and my shield…', I place my trust in you to navigate the week's challenges and opportunities. I believe, through Christ, all is achievable. Amen."
Do you have any Monday prayer messages and quotes?
A motivating Monday prayer message and quote could be: Message: "Embrace God's favor this Monday and for the entire week. May His strength guide you, His grace envelop you, and His love fill your heart. Have a blessed Monday!" Quote: "This is the day the LORD has made; let us rejoice and be glad in it." – Psalm 118:24. These words echo the profound realization that each day, including Mondays, is a divine gift to cherish.
Author: Akatakpo Dunn
Dr. Akatakpo Dunn is a dedicated follower of Christ, an active member and speaker, and an ongoing learner of the Scriptures. Passionate about his faith and serving others, he is committed to sharing his spiritual journey and insights to inspire and uplift fellow believers. He has been active in the church for more than 23 years. Through The
Faithful Christian Blog
,
Dr. Dunn
combines his love for God, philanthropy, and Scripture, providing a valuable resource for those seeking to grow in their faith.
Follow me: on Youtube, Facebook, Twitter, Instagram, and Pinterest.
Content Disclosure:
At The Faithful Christian Blog, I create authentic and inspiring content. Although I am the main author, I occasionally use AI for minor language enhancements. This minimal AI usage ensures high-quality, trustworthy articles without compromising originality or sincerity, ultimately supporting our shared faith journey.
Warmly,
Dr. Akatakpo Dunn
Was this article helpful?