Most of us don't like Mondays.
And that because it's another working day.
After the beautiful time with our families at the weekends, the stress begins.
For students, it means going to classes or writing exams.
For workers, it means going back to work.
Either way, we can trust God to keep us safe from harm's way and bless all we do.
And that's through the power of prayers.
My wife and I pray every morning and it is an incredible feeling.
And we do that to seek God's guidance.
He knows all our plans for today, so, he must get involved.
Don't be scared to pray for the one you love.
You can pray for a friend, family member, or loved one.
I have put together this simple Monday morning prayer to kick start your week.
I pray this week will bring you blessings in all you do.
Amen.
---
Recommended for you
---
Prayer Bible verses for Monday prayers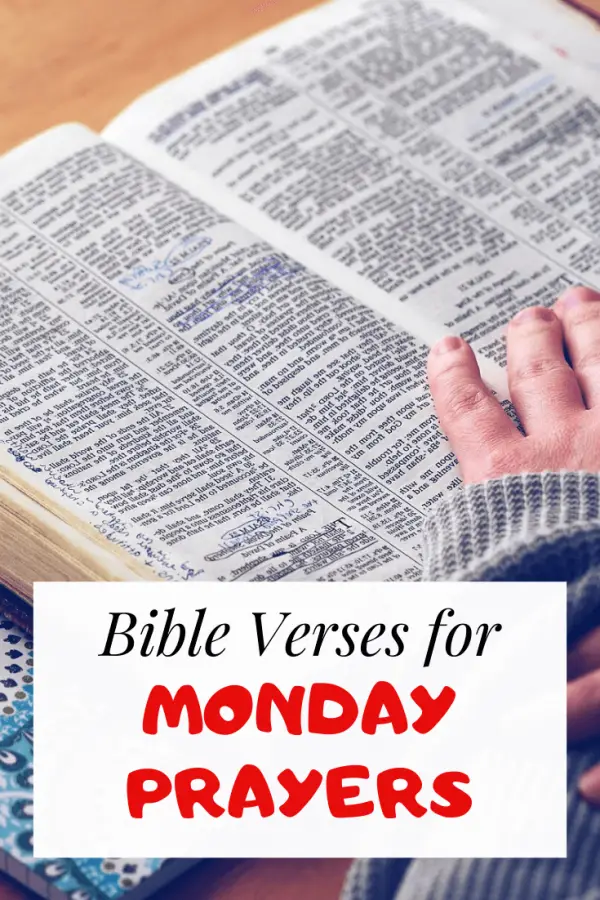 1 Corinthians 15:58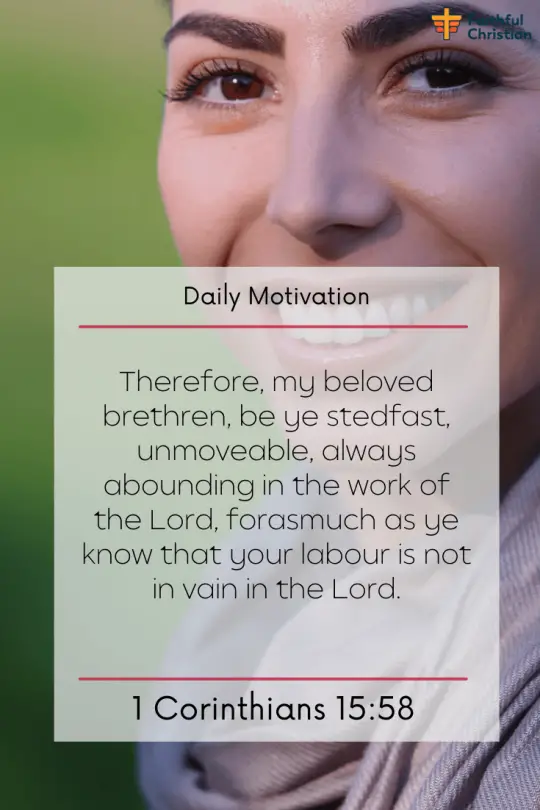 Therefore, my beloved brethren, be ye stedfast, unmoveable, always abounding in the work of the Lord, forasmuch as ye know that your labour is not in vain in the Lord.
2 Chronicles 15:7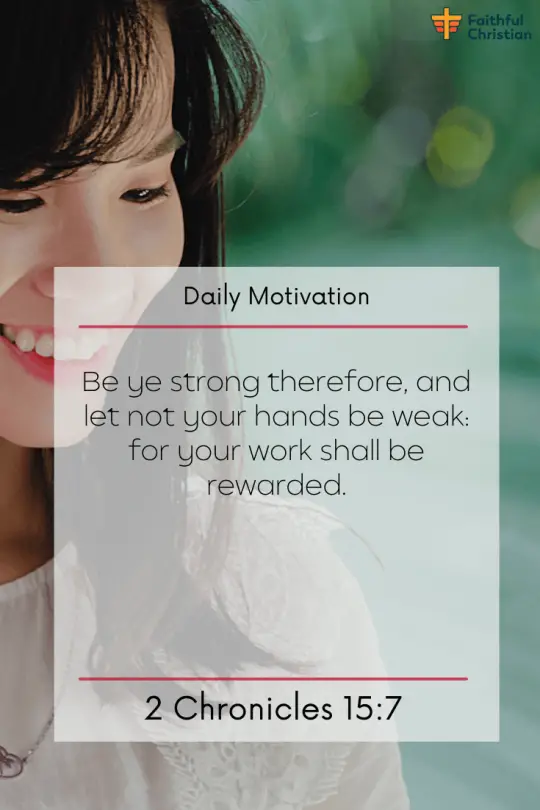 Be ye strong therefore, and let not your hands be weak: for your work shall be rewarded.
Hebrews 6:10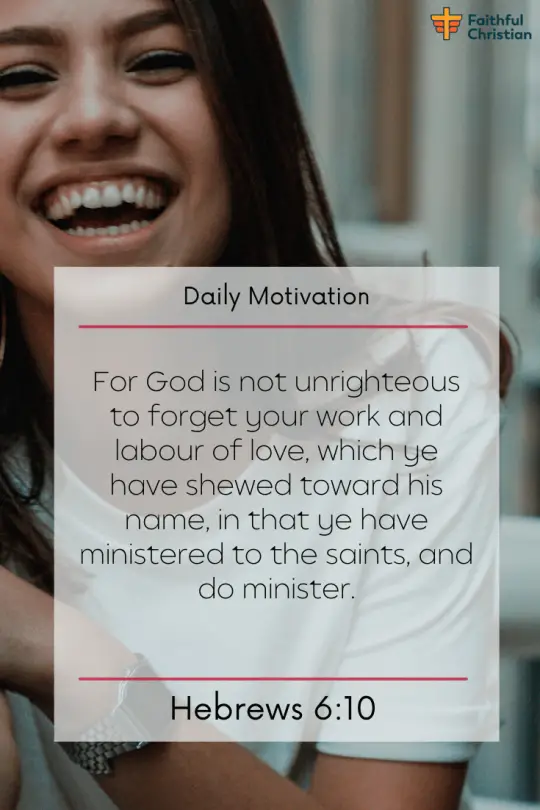 For God is not unrighteous to forget your work and labour of love, which ye have shewed toward his name, in that ye have ministered to the saints, and do minister.
3 John 1:2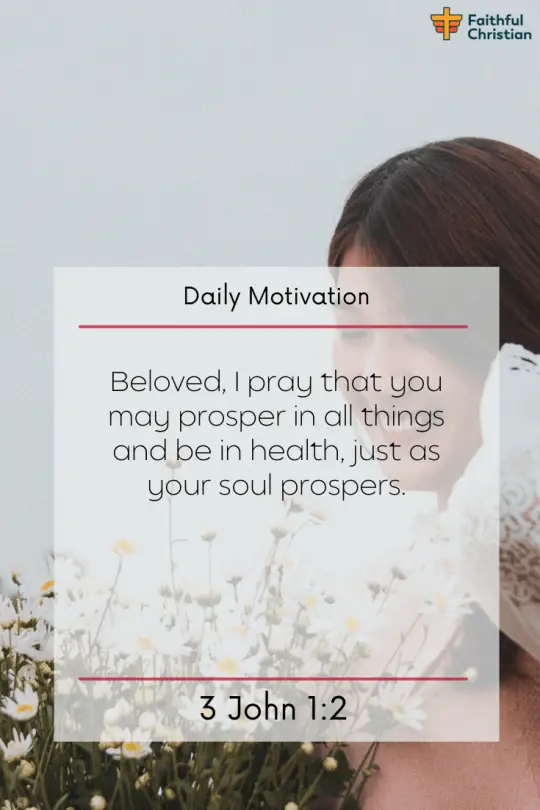 Beloved, I pray that you may prosper in all things and be in health, just as your soul prospers.
Psalm 121:8
the Lord will watch over your coming and going
    both now and forevermore.
---
Recommended for you
---
Monday morning prayers to Motivate you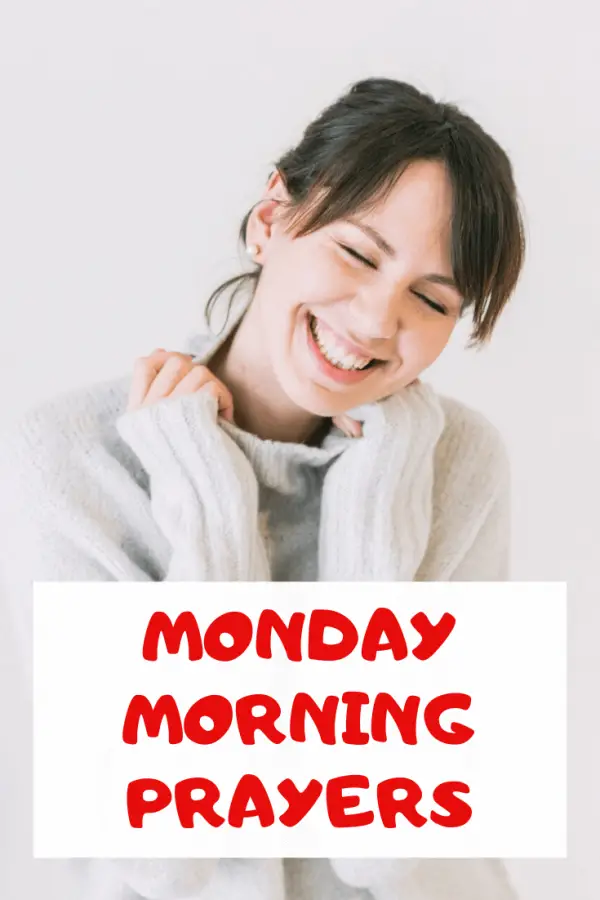 God will direct our every step (let us pray)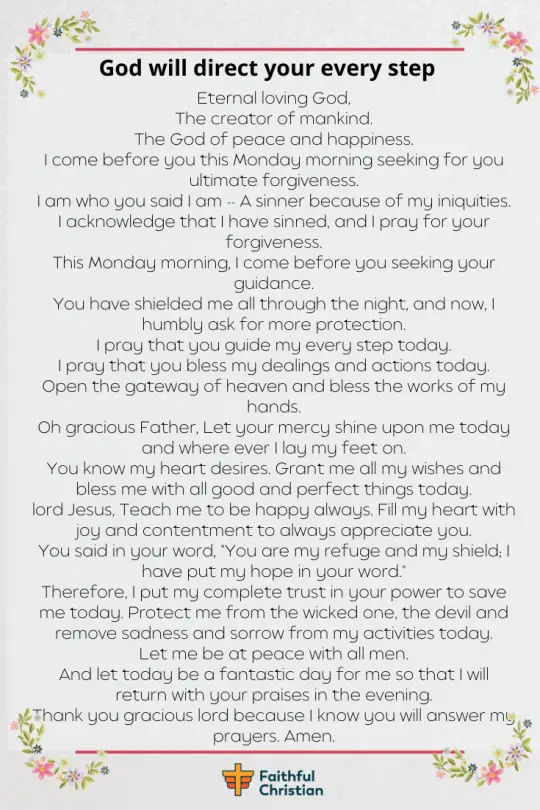 Eternal loving God,
The creator of mankind.
The God of peace and happiness.
I come before you this Monday morning seeking your ultimate forgiveness.
I am who you said I am — A sinner because of my iniquities.
I acknowledge that I have sinned, and I pray for your forgiveness.
This Monday morning, I come before you seeking your guidance.
You have shielded me all through the night, and now, I humbly ask for more protection.
I pray that you guide my every step today.
I pray that you bless my dealings and actions today.
Open the gateway of heaven and bless the works of my hands.
Oh gracious Father, Let your mercy shine upon me today and where ever I lay my feet on.
You know my heart desires.
Grant me all my wishes and bless me with all good and perfect things today.
lord Jesus, Teach me to be happy always.
Fill my heart with joy and contentment to always appreciate you.
You said in your word, "You are my refuge and my shield; I have put my hope in your word."
Therefore, I put my complete trust in your power to save me today.
Protect me from the wicked one, the devil, and remove sadness and sorrow from my activities today.
Let me be at peace with all men.
And let today be a fantastic day for me so that I will return with your praises in the evening.
Thank you gracious lord because I know you will answer my prayers.
Amen.
Grant me divine direction through the holy spirit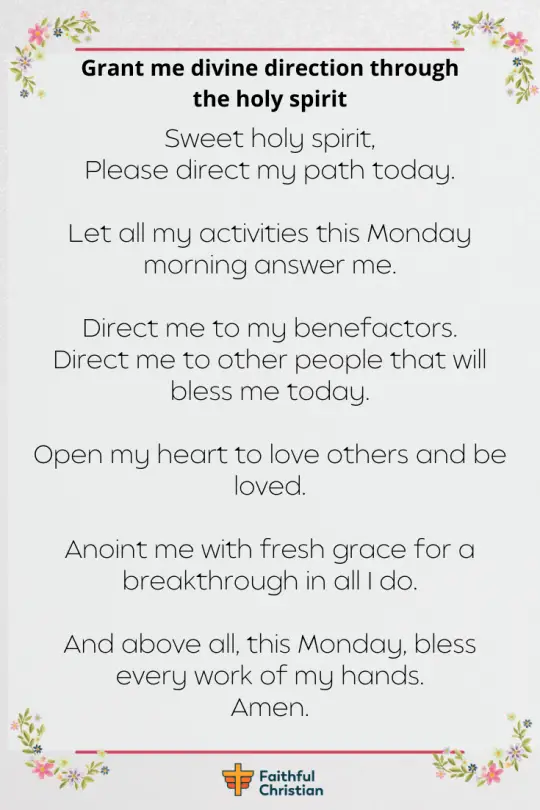 Sweet holy spirit,
Please direct my path today.
Let all my activities this Monday morning answer me.
Direct me to my benefactors.
Direct me to other people that will bless me today.
Open my heart to love others and be loved.
Anoint me with fresh grace for a breakthrough in all I do.
And above all, this Monday, bless every work of my hands.
Amen.
---
Recommended for you
---
He daily loads you with benefits (let us pray)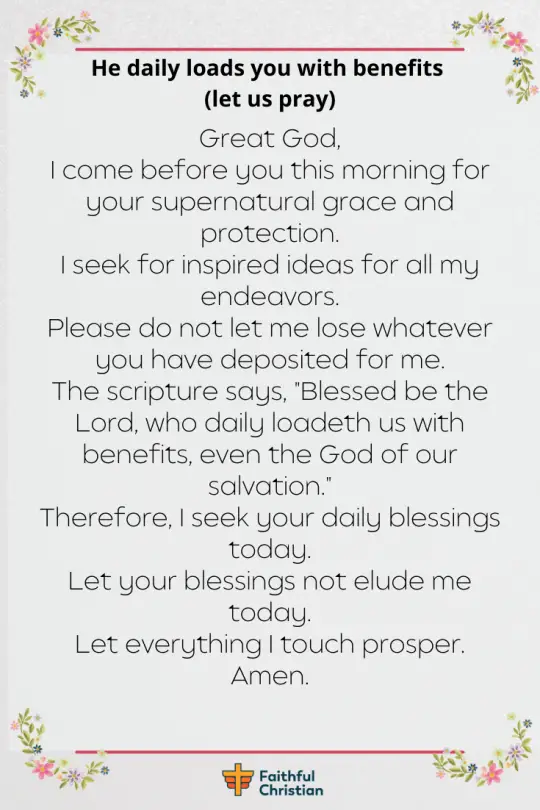 Great God,
I come before you this morning for your supernatural grace and protection.
I seek inspired ideas for all my endeavors.
Please do not let me lose whatever you have deposited for me.
The scripture says, "Blessed be the Lord, who daily loadeth us with benefits, even the God of our salvation."
Therefore, I seek your daily blessings today.
Let your blessings not elude me today.
Let everything I touch prosper.
Amen.
Surely there is an expectation (let us pray)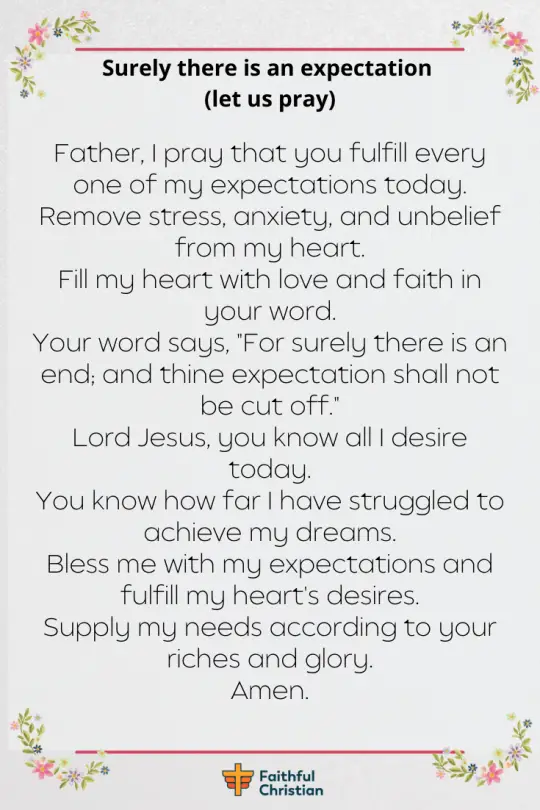 Father, I pray that you fulfill every one of my expectations today.
Remove stress, anxiety, and unbelief from my heart.
Fill my heart with love and faith in your word.
Your word says, "For surely there is an end; and thine expectation shall not be cut off."
Lord Jesus, you know all I desire today.
You know how far I have struggled to achieve my dreams.
Bless me with my expectations and fulfill my heart's desires.
Supply my needs according to your riches and glory.
Amen.
Author: Akatakpo Dunn
Dunn is a firm believer and a teacher of God's word. Suffering for Jesus is an attribute of a faithful Christian, and I hope to win new souls to Christ with every chance that I get. Articles are well-researched and backed by the scriptures.
Follow me: on Youtube, Facebook, Twitter, Instagram, and Pinterest.