Isn't our God a good God?
He is always watching over us all through the night.
Whether we ask or not, he is always guarding every one of our family.
And that's why we must thank God for protecting every member of our family, especially our children.
A few days back, my son was playing on a chair, and suddenly he fell and hit his head on the concrete floor.
He was crying uncontrollably for hours, and I could easily feel his pain.
But I'm thankful that it didn't get worse than that, rather than a few bruises and swelling.
There are many ways God protects our children even when we are helpless.
If your baby has woken up this morning in good health, it is crucial we give thanks to God.
And more importantly, a morning prayer to start the day for your child protection is a wise decision.
So, this morning, we will pray for our children.
We will ask God to protect them from evil.
I have put together this morning's prayer for your children to guide you.
---
Recommended for you
---
Morning prayer for your children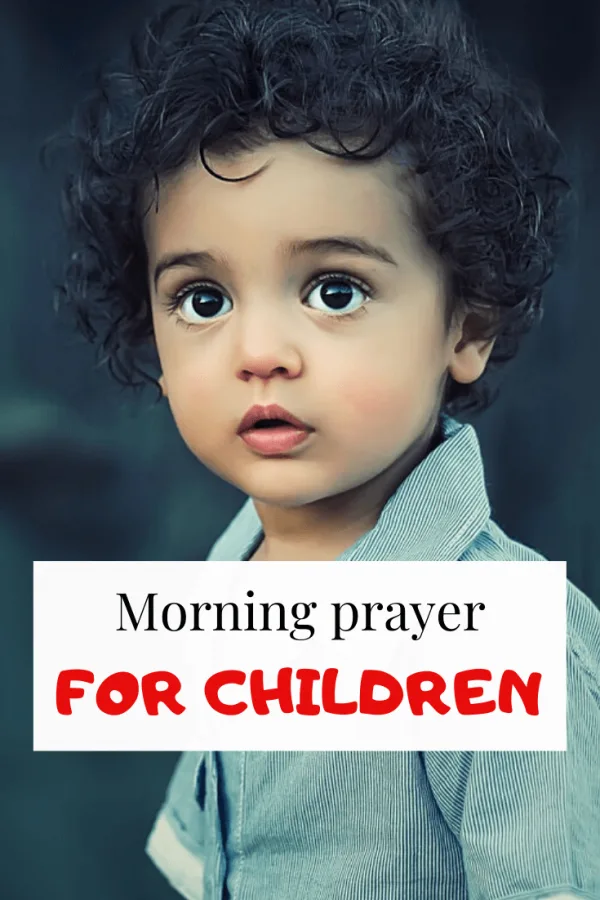 Let's begin with giving thanks.
This morning, before we go out to work, we must pray for ourselves, our family, and our kids.
God has been faithful in protecting our children from harm's way.
Yesterday, at work, I saw a woman who struggled with infertility for many years.
I could remember about three years ago; her husband collapsed on hearing that she had a miscarriage.
But in the end, God protected her pregnancy and fulfilled their dreams.
She was joyously playing with her child forgetting all the troubles she went through.
When God comes in, sadness and unhappiness go out.
Likewise, God has done many great things for our household and children.
If you are happy with your kids, don't take God's love for your children for granted.
He watches everything and has preserved your kids all through the night.
Therefore, for all he has done, we must give thanks.
The scripture says,
give thanks in all circumstances; for this is God's will for you in Christ Jesus.

1 Thessalonians 5:18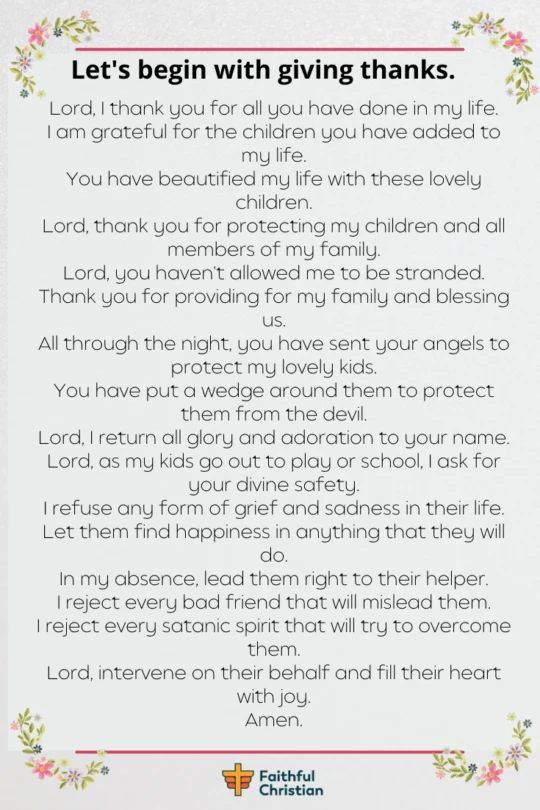 Let us pray
Lord, I thank you for all you have done in my life.
I am grateful for the children you have added to my life.
You have beautified my life with these lovely children.
Lord, thank you for protecting my children and all members of my family.
Lord, you haven't allowed me to be stranded.
Thank you for providing for my family and blessing us.
All through the night, you have sent your angels to protect my lovely kids.
You have put a wedge around them to protect them from the devil.
Lord, I return all glory and adoration to your name.
Lord, as my kids go out to play or school, I ask for your divine safety.
I refuse any form of grief and sadness in their life.
Let them find happiness in anything that they will do.
In my absence, lead them right to their helper.
I reject every bad friend that will mislead them.
I reject every satanic spirit that will try to overcome them.
Lord, intervene on their behalf and fill their heart with joy.
Amen.
The children God has given you are for signs and wonders.
Your sons and daughters are for signs and wonders.
As they go about their activities, God will open their heart to see the secrets of the world.
They will be blessed among their contemporaries.
Their friend will envy their brilliance and prowess.
God has not given us children to trouble us. He has not given us kids to remove peace from our minds.
So, this morning, we will reject all forms of deviant behavior we have noticed in our kids.
We want our children to be prosperous and obedient.
The scripture says,
Behold, I and the children whom the LORD hath given me are for signs and for wonders in Israel from the LORD of hosts, which dwelleth in mount Zion

Isaiah 8:18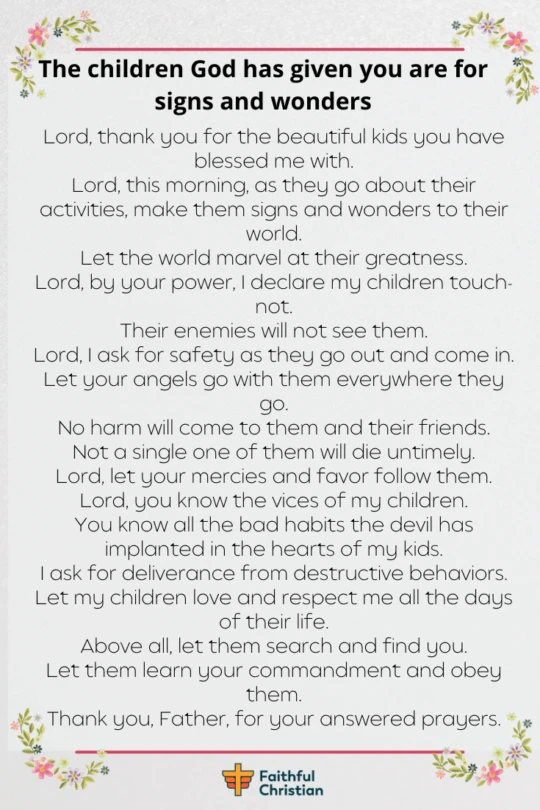 Let us pray
Lord, thank you for the beautiful kids you have blessed me with.
Lord, this morning, as they go about their activities, make them signs and wonders to their world.
Let the world marvel at their greatness.
Lord, by your power, I declare my children touch-not.
Their enemies will not see them.
Lord, I ask for safety as they go out and come in.
Let your angels go with them everywhere they go.
No harm will come to them and their friends.
Not a single one of them will die untimely.
Lord, let your mercies and favor follow them.
Lord, you know the vices of my children.
You know all the bad habits the devil has implanted in the hearts of my kids.
I ask for deliverance from destructive behaviors.
Let my children love and respect me all the days of their life.
Above all, let them search and find you.
Let them learn your commandment and obey them.
Thank you, Father, for your answered prayers.
The Lord will watch over them and protect them.
This morning's prayer for children's protection is vital.
And that's because we cannot, on our own, protect our kids.
About a month ago, as I was driving out of the health center, a young boy was being rushed into the hospital.
He was just knocked down by a speeding motorcycle as he was playing.
Despite all our efforts, we could not bring the baby back to life.
The truth is, we must pray for the protection of our children.
As they go to school, we must ask for safety.
As they play in the neighborhood or at home, we will ask God for safety.
We are helpless without God's intervention.
The scripture says,
Psalm 121:7
The Lord will keep you from all harm—he will watch over your life;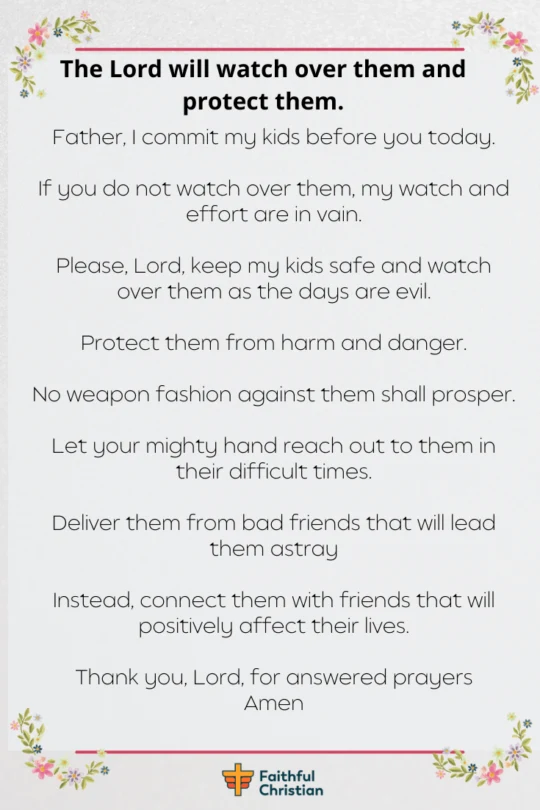 Let us pray
Father, I commit my kids before you today.
If you do not watch over them, my watch and effort are in vain.
Please, Lord, keep my kids safe and watch over them as the days are evil.
Protect them from harm and danger.
No weapon fashion against them shall prosper.
Let your mighty hand reach out to them in their difficult times.
Deliver them from bad friends that will lead them astray
Instead, connect them with friends that will positively affect their lives.
Thank you, Lord, for answered prayers
Amen
---
Recommended for you
---
Author: Akatakpo Dunn
Dr. Akatakpo Dunn is a dedicated follower of Christ, an active member and speaker, and an ongoing learner of the Scriptures. Passionate about his faith and serving others, he is committed to sharing his spiritual journey and insights to inspire and uplift fellow believers. He has been active in the church for more than 23 years. Through The
Faithful Christian Blog
,
Dr. Dunn
combines his love for God, philanthropy, and Scripture, providing a valuable resource for those seeking to grow in their faith.
Follow me: on Youtube, Facebook, Twitter, Instagram, and Pinterest.
Content Disclosure:
At The Faithful Christian Blog, I create authentic and inspiring content. Although I am the main author, I occasionally use AI for minor language enhancements. This minimal AI usage ensures high-quality, trustworthy articles without compromising originality or sincerity, ultimately supporting our shared faith journey.
Warmly,
Dr. Akatakpo Dunn
Was this article helpful?