This morning, we will give thanks to God.
He has saved us from all the wicked plans of the devil.
He has protected us and guarded us through the night.
So, it is expected that we return thanks to his glorious name.
With millions of people dying now and then, God has preserved us.
He has spared our lives.
We are not the most perfect; neither are we the most intelligent of all men.
By we are alive this morning by his grace and nothing else.
Therefore, we will pray to give thanks to the Lord and put all our activities into his hands.
We will pray for our loved ones and families.
We will also pray for our friends (boyfriends and girlfriends) and ask that God direct their actions this morning.
I have put together this powerful morning prayer to guide you.
---
Recommended for you
---
Short morning prayer points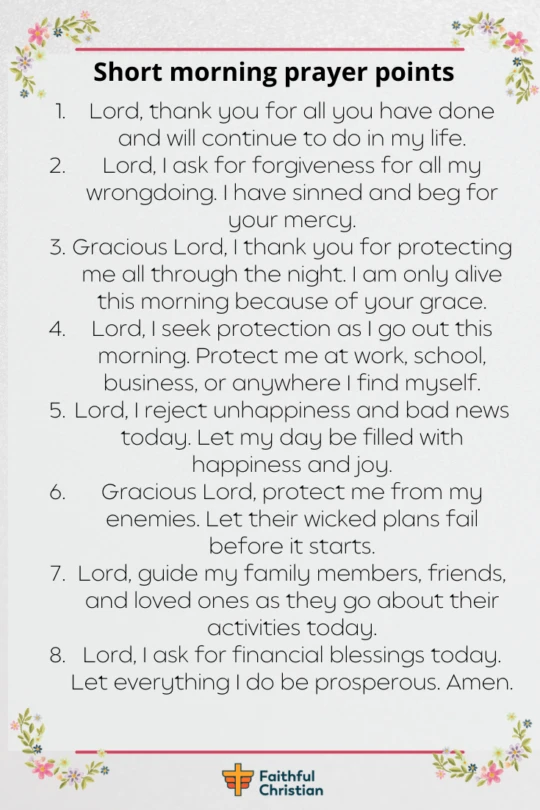 Heavenly Father, I stand in awe of your endless kindness. I'm over the moon, remembering the countless times you've picked me up. Each sunrise is a testament to your unwavering love. It's you, always you, guiding my path and lighting my way. And for that, I'm deeply thankful.
Lord, my mistakes have been many. Like David in the Psalms, I come clean with you. I've missed the mark, and I know it. I'm not perfect, and you know it, too. But there's hope. You're a God of second chances. So here I am, seeking your mercy and forgiveness.
Dear Father, you've been my midnight friend. The safety net that catches me in the darkest hours. This morning, I woke up, not by luck or chance, but by your grace alone. That breath in my lungs? It's a gift from you. A testament to your life-giving power. And it fills me with gratitude.
Stepping into the world, I seek your protection. Be it at work, school, or out there chasing dreams, I know you've got my back. Just like you had Daniel's in the lion's den. Be my fortress, my safe haven. Be the shield that guards me from harm.
Today, I'm choosing joy. I'm choosing to believe that good news is on its way. I'm trusting you to paint my day with happiness. After all, the joy of the Lord is my strength. And it's your joy that turns my ordinary days into extraordinary ones.
You, O God, are my defender. You're the hero who turns villains' plans upside down. Today, let every plot against me fall flat. Let the boomerang effect kick in. And let your justice rain down.
My loved ones? They're not an exception. Be their guide today. Their compass in the wild. Let them find your strength in their struggles. And let them feel your love in every moment.
Finally, bless my hustle, Lord. As I step into this day, open doors of financial breakthroughs. In everything I do, let your favor be evident. Let my efforts find success and my ventures bear fruit. And let all this point back to you, the source of all blessings. In your name, I pray. Amen.
Morning bible verses to pray with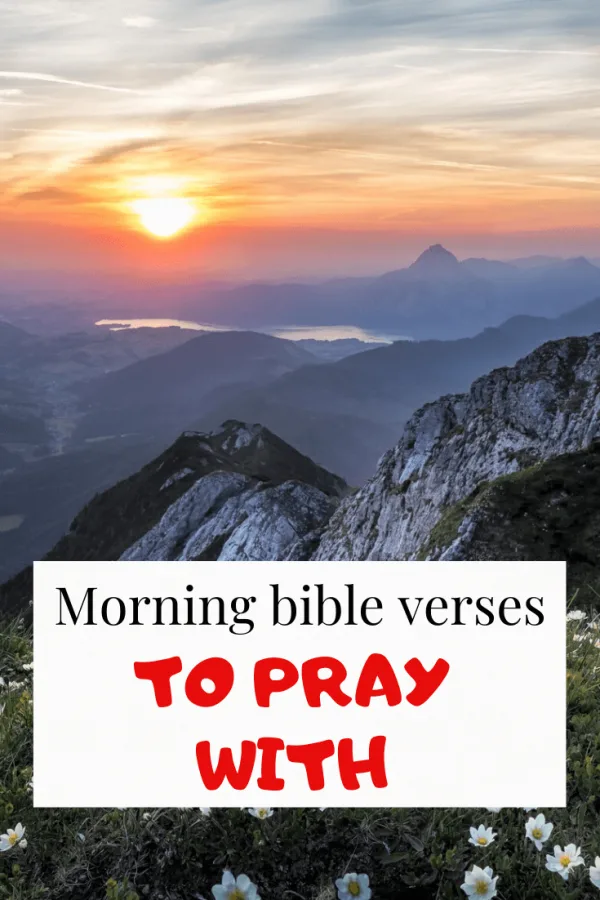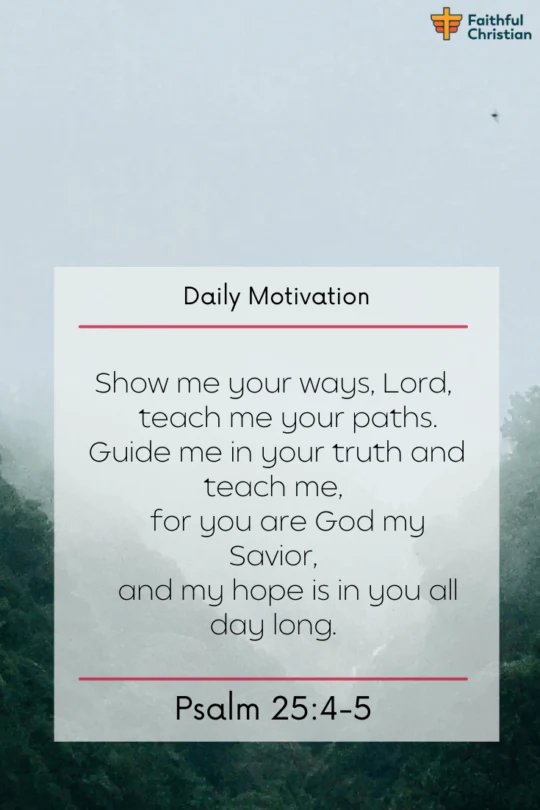 Show me your ways, Lord,
    teach me your paths.
5 Guide me in your truth and teach me,
    for you are God my Savior,
    and my hope is in you all day long.
Psalm 143:8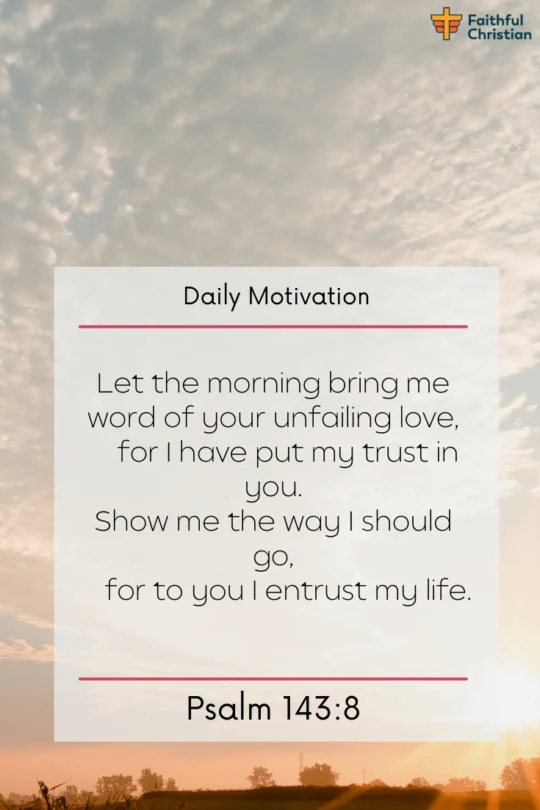 Let the morning bring me word of your unfailing love,
    for I have put my trust in you.
Show me the way I should go,
    for to you I entrust my life.
Psalm 46:5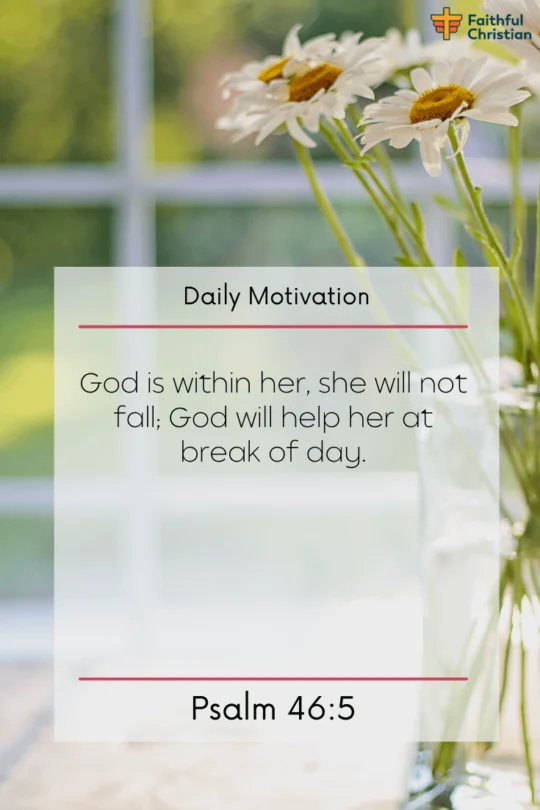 God is within her, she will not fall;
    God will help her at break of day.
Morning prayers to Start the day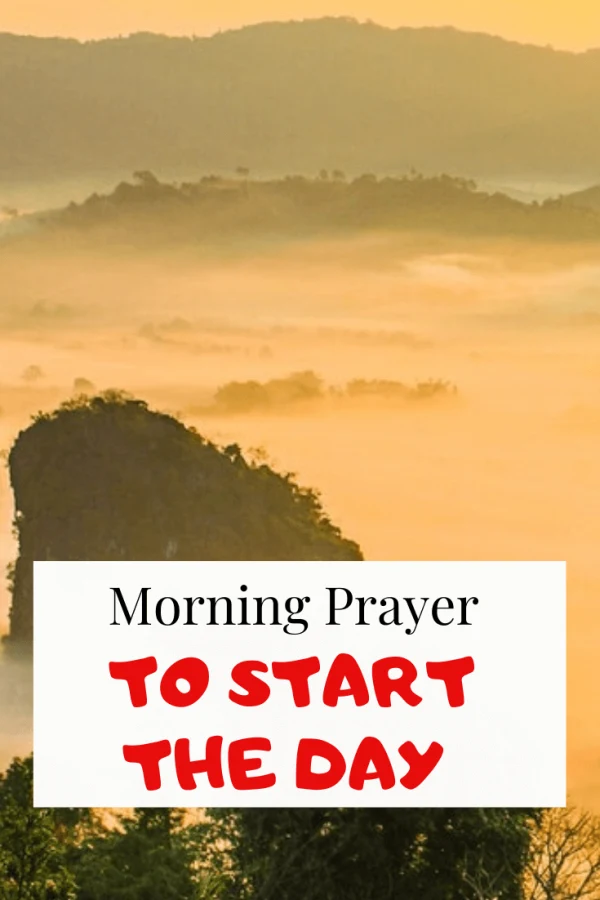 Thank you, Lord (let us pray)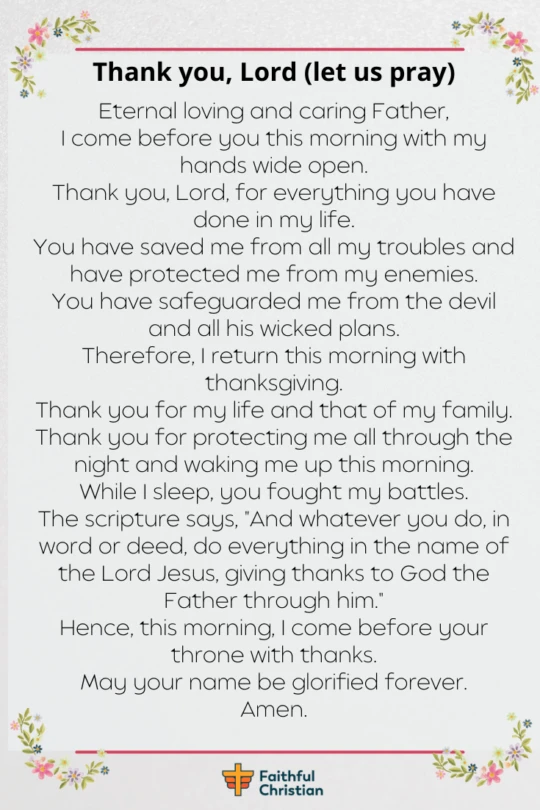 Dearest Father, a beacon of never-ending love and care,
As dawn breaks, I step into your radiant presence. Arms open, heart receptive, echoing King David's reverence from Psalm 63:4. I'm reaching out, yearning to immerse myself in your divine love, just as David did.
In my heart, a wellspring of gratitude erupts. I think back on the remarkable acts of grace you've woven into my life. Your mercy refreshes me each day, a tangible manifestation of Lamentations 3:22-23. Trials come and go, but you, my Lord, are constant, reflecting the soothing comfort of 2 Corinthians 1:3-4.
You've shielded me with your protective armor, guarding me against all harm. Your watchful eyes, promised in Psalm 121, have been my constant companions. Even when the devil plots, your protection prevails. It's as James 4:7 promises – resist the devil under your guidance, and he will flee.
Today, my heart beats a rhythm of thanks. In sync with the ancient words of Psalm 107:1, I celebrate your love, your goodness. The songs of gratitude from the Psalms guide my own, shaping a symphony of praise.
Life is a gift, a divine masterpiece given to me and my loved ones. You've guarded our dreams, woken us gently to the promise of a new day. In these quiet moments, I feel the reality of Psalm 4:8, living in the safety of your divine embrace. Asleep or awake, you are my sentinel.
The spirit of Colossians 3:17 lives in my daily deeds. All I do, I do in Jesus' name, each action a whispered 'thank you' to you, Father. This verse guides me, leads me down a path to deeper communion with you.
Now, as morning unfurls, I approach your throne with a heart full of gratitude. Inspired by Psalm 95:2-3, my thanksgiving is my song, a melody of reverence for you, the King above all gods.
Your sacred name echoes across the heavens, a testament to your limitless love. Love that knows no bounds, mercy that is a comforting balm, blessings that shower upon us. Just like Ephesians 3:17-19 describes – your love is vast, your mercy, a sweet mystery, filling me with the fullness of God.
Reverent and thankful, I say, Amen.
Start early (let us pray)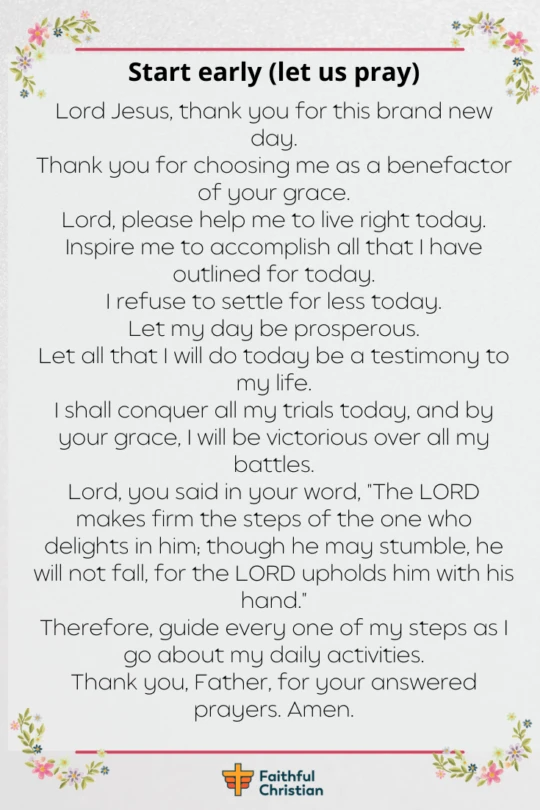 Gracious Lord Jesus, the new day greets us. It's a fresh canvas. A testament to your faithfulness. Your mercy brings this every morning. An invaluable gift. Pure. A reminder of your love, constant and unending.
You've selected me for a special purpose. A beneficiary of your divine grace. I'm humbled. Overwhelmed. Grateful. It's like Ephesians 2:8-9 says, our salvation isn't self-made. It's gifted. You saved us by your grace. Our faith played a role. Our works didn't. It's your love that takes the center stage.
Guide me today, Lord. I crave your holy counsel. Show me the righteous path. Like Proverbs 3:5-6 urges, I trust you completely. My understanding may falter. But your guidance won't. My aim is simple. To glorify your name in all I do.
You're my inspiration, Father. A new day brings new plans. New responsibilities. New challenges. I seek your wisdom. Like Solomon did in 1 Kings 3:9. Guide my decisions. Strengthen me. Let your spirit fuel my resolve. Let me serve your people with diligence.
Today, I refuse mediocrity. I won't settle for less. Philippians 4:13 powers my resolve. I draw strength from Christ. My aspirations are lofty. My spirit, undeterred. Excellence isn't just a desire. It's my pursuit.
May prosperity embrace me today. Like a bountiful harvest following a good sowing season. Like Matthew 13's parable of the sower. My deeds are my seeds. Let them find fertile ground. Let them multiply. Let them testify your grace.
Every task today adds a chapter to my life's story. And it won't just be any chapter. I aspire for a chapter that glorifies you. Reflects your love. Echoes Matthew 5:16. My deeds are my light. Let them shine bright. Let them lead others to you.
Trials may loom large today. Challenges may multiply. But I'm ready. Armed with your grace. I will not just endure. I will conquer. Inspired by James 1:12. Trials are temporary. Victory is eternal. I will emerge stronger. Resilient. Victorious.
Your promise in Psalm 37:23-24 strengthens me. My steps are firm because you make them so. I might stumble, but I won't fall. Because you, Lord, uphold me. As I navigate my day, I rely on you. I trust you. Guide me. Make my journey meaningful.
As I conclude this prayer, my heart swells with gratitude. 1 John 5:14-15 reassures me. You hear us. You answer us. And so, I thank you. Not just for hearing my prayer. But for answering it too. Today. Tomorrow. Always.
In Jesus' name, I pray. Amen.
Seek God's help (let us pray)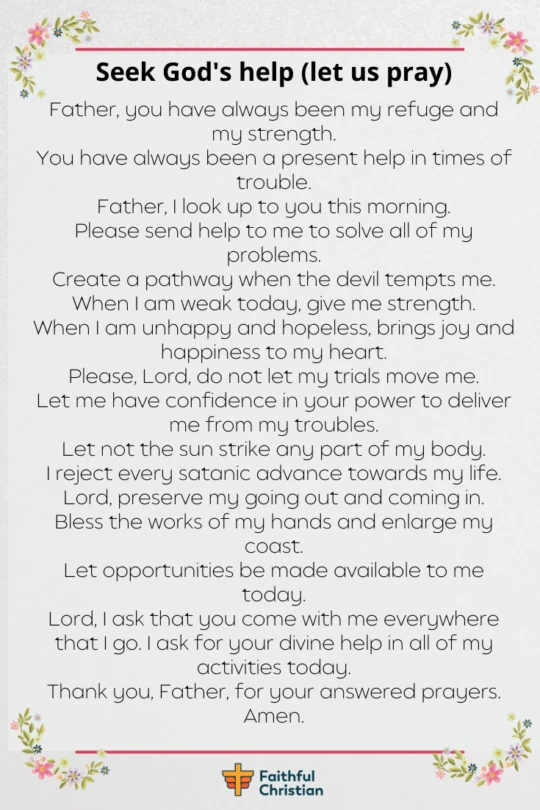 My dear, Heavenly Father, you are my safe harbor. Like a fortress, you've sheltered me, giving me strength. You are the embodiment of the promise in Psalm 46:1. Always there, never wavering, you guide me through life's turbulence. Your promise in Deuteronomy 31:8 always rings true. I am never alone, for you are always with me.
A new day is here. My eyes lift to you. Like the mountains reaching for the heavens in Psalm 121:1-2, I seek your divine wisdom. I need your celestial touch to untangle my complex problems.
Temptation lurks around every corner. In these moments, Father, I need you. I ask you to forge a path of righteousness, just as 1 Corinthians 10:13 encourages. With your guidance, I can withstand any test.
Some days, my strength wanes. I turn to you, seeking divine courage. Shadows of melancholy and despair may try to engulf me. Yet, in your presence, I find joy and hope. Your words in Nehemiah 8:10 inspire me – your joy is my strength.
My adversities cannot shake me. You, my Father, are all-powerful. Your promise in James 1:12 gives me the courage to face any trial. Your crown of life is my reward.
The sun journeys across the sky, its rays touching the earth. I pray for it to bless me, not harm. Your protection promised in Psalm 121:6 gives me peace.
Father, I stand firm in your holy name. I resist any dark forces that try to derail me, reflecting James 4:7.
Guard my every step, Lord. Keep me safe as I come and go. Your promise in Deuteronomy 28:6 assures me that I'm blessed in all my journeys.
Bless the work of my hands. Enlarge my territory as you did for Jabez in 1 Chronicles 4:10.
Unfold opportunities before me today. Open new doors, reveal pathways to success. Your words in Jeremiah 29:11 fill me with hope for a prosperous future.
I remember your reminder to be brave, to be strong. The powerful promise from Deuteronomy 31:6 fuels my courage. I am never alone; you are always with me.
Guide my endeavors today. Align my actions with your divine plan. Proverbs 3:5-6 echoes in my mind, guiding my steps straight.
I am filled with gratitude. I thank you, Father, for your boundless love and support. Your words in 1 John 5:14 reassure me. My prayers are heard. Thank you, Father, for everything. Amen.
---
Recommended for you
---
Let God take the lead (let us pray)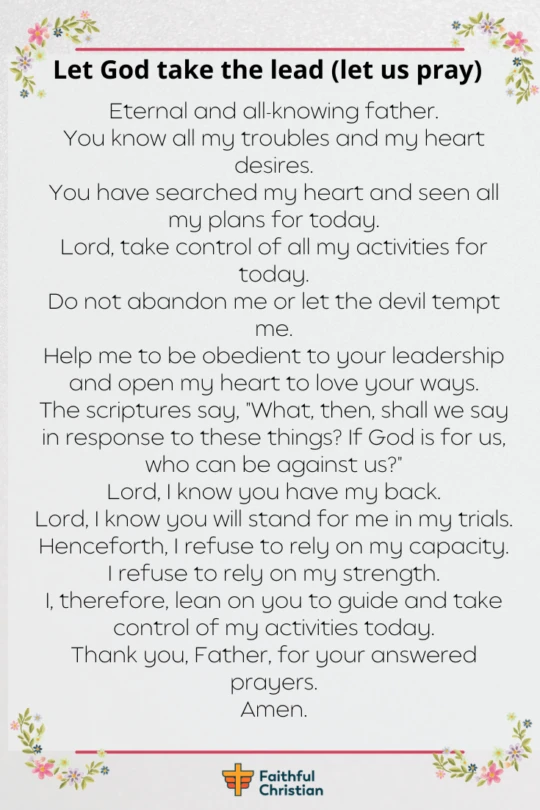 Eternal Father, the one who holds all wisdom and knowledge,
You've got a limitless grasp on the universe's vast mysteries. You even know my private struggles and the secret wishes of my heart.
Your deep understanding doesn't stop at the surface. You dive into my heart, knowing all my plans for this day.
You're like an open book reader, aware of my every intention, each desire. You're there in every step of my day.
Lord, I ask for your guiding hand today.
Lead my actions, decisions, and pursuits. Let your wisdom be the compass, guiding me through each choice and endeavor.
Never leave my side, I pray.
Like a shield, protect me from evil's subtle and not-so-subtle temptations. I rely on your promise, a promise of eternal protection and care.
Help me cultivate a heart that's obedient to your leadership.
Guide me to love your teachings. Just like a lamp illuminates a path, may your Word light up my life's direction.
I find comfort in your unwavering support, Lord.
Like a steady rock amidst turbulent waves, I know you're there. Your love and support, a constant, even when the world around me shifts.
In trials and hardships, I know you're there.
Your grace, like a comforting blanket, wraps around me. Your power stands firm when my strength wanes. I am not alone.
Starting now, I let go of my self-reliance.
My own strength and abilities fall short. Instead, I choose to trust your boundless wisdom and might.
Dear Lord, I lean on you.
I hand over my daily tasks and plans into your able hands. I choose your wisdom over my understanding.
Father, my heart overflows with gratitude.
You've heard my prayers, time and again. Each whispered plea, each heartfelt cry, you've heard and answered.
In gratitude, I say, Amen.
Lay your plans before God (let us pray)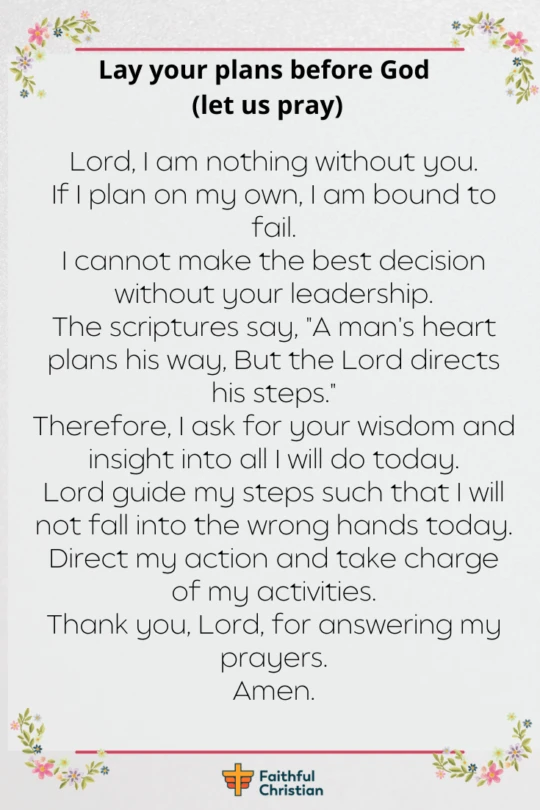 My Lord, I want to talk from the heart. I'll start by saying this – I'm lost without You. You know what it's like when we try to do things on our own. The road is bumpy. Mistakes pile up. You can feel it, can't you? That's just like what Acts 17:28 says. We are all linked to You. We're empty boats without You at the helm.
Going solo often ends in defeat. I've experienced it. It's like Proverbs 14:12. We think we're on the right path. But it often leads nowhere. It's like grasping at thin air. It's hard to admit. But it's the truth. We need You to guide us.
And so, I ask for Your leadership. Your wisdom beats ours. The Bible, in 1 Corinthians 3:19, says it. Worldly wisdom is foolish to You. So, we need Your wisdom. The world's a maze. But with You, we find clarity.
Remember Proverbs 16:9? "A man's heart plans his way, But the Lord directs his steps." We can make our plans. But it's You who shapes our path. That verse says it all. Our plans need Your guiding hand.
Knowing this, I turn to You. Grant me Your divine wisdom. Like the plea in Psalm 119:105, I need Your guidance. Show me the way. Illuminate my path. Help me align with Your intent.
I beg for Your guidance, Lord. Keep me on the straight path. Psalm 23:3 is my prayer. "He refreshes my soul. He guides me along the right paths." Keep me safe from pitfalls. And from those who mean harm.
I'm placing my actions in Your hands. Proverbs 3:5-6 tells us why. We can't rely on our understanding. We need Your help. Guide my thoughts. Shape my actions. In everything, let Your glory shine.
Lastly, I say thanks. Thanks for hearing me. For answering my prayers. 1 John 5:14-15 gives me comfort. If we ask according to Your will, You'll hear us. We'll have what we ask for. That's a promise.
In the spirit of thanksgiving and faith, I end this prayer. To You, Lord, I say, Amen.
Frequently Asked Questions
1. How can you bless your day with a powerful morning prayer?
Blessing your day starts with a potent morning prayer. Engage with God in the early hours, expressing gratitude and seeking divine direction. Acknowledge His sovereignty, and commit the day's tasks to Him. Pray for thankfulness, wisdom, strength, protection, and guidance.
2. What are some powerful morning prayer scriptures?
Scriptures abound with invocations for morning prayers. Psalm 118:24, a celebration of each God-given day, implores us to rejoice. Psalm 143:8, another powerful morning scripture, seeks divine guidance and expresses trust in God.
3. Can you provide a short and powerful morning prayer?
A brief yet forceful morning prayer could be: "Lord, I'm grateful for today. May Your Spirit guide my actions, thoughts, and words. Grant me wisdom, strength, and a heart full of grace. In Jesus' name, Amen."
4. Which morning verses can help you start the day?
Scriptures such as Lamentations 3:22-23 and Psalm 59:16 can start your day powerfully. They remind us of God's enduring love, mercies, and His unwavering faithfulness.
5. Do you have a powerful morning prayer for your family?
For your family, a potent morning prayer may be: "Lord, bless my family today. Guide their steps, shield them, and bestow peace. May they show love to all, and handle challenges wisely. In Jesus' name, Amen."
6. What is a powerful morning prayer for protection?
A strong morning prayer for protection is: "Father, protect me today. Guard me from harm, guide my path, and keep me under Your watchful care. In Jesus' name, Amen."
7. Can you suggest a short morning prayer?
A succinct morning prayer: "God, thanks for today. Guide me, protect me, and use me for Your glory. Amen."
8. What is the Bible verse for early morning prayer?
Mark 1:35 depicts early morning prayer, recounting Jesus' solitude and prayers during the dawn's quietude.
9. What is a powerful Bible verse for morning prayer?
Psalm 5:3, ideal for morning prayer, proclaims our hope and expectation in God as we lay our requests before Him at dawn.
10. What is a good Bible verse to start the day?
Psalm 118:24, an excellent verse to commence the day, calls for rejoicing and gladness for each God-gifted day.
11. What is a good morning prayer to start my day?
To begin your day, a heartfelt prayer could be: "Lord, thanks for today. I surrender all to You. Lead me and guide my steps today. In Jesus' name, Amen."
12. Which Psalm is for morning prayer?
Psalm 63, perfect for morning prayer, shows a soul thirsting and yearning for God, akin to a parched land longing for water.
13. Which Psalm is good for morning prayer?
Psalm 5, another suitable Psalm for morning prayer, seeks God's attention and consideration for our cries and meditations.
14. What is the best Bible verse to read in the morning?
Philippians 4:6-7, a comforting morning read, urges us to present our worries to God through prayer and thanksgiving, assuring us of His guarding peace.
15. What Bible verse is "morning by morning"?
Isaiah 50:4, featuring the phrase "morning by morning," suggests a divine awakening, opening our ears to divine instruction every dawn.
16. What verses in the Bible talk about early morning?
Scriptures such as Psalm 130:6 and Psalm 90:14 underline the anticipation of early morning for God's presence, equating it to watchmen waiting for morning light.
Author: Akatakpo Dunn
Dr. Akatakpo Dunn is a dedicated follower of Christ, an active member and speaker, and an ongoing learner of the Scriptures. Passionate about his faith and serving others, he is committed to sharing his spiritual journey and insights to inspire and uplift fellow believers. He has been active in the church for more than 23 years. Through The
Faithful Christian Blog
,
Dr. Dunn
combines his love for God, philanthropy, and Scripture, providing a valuable resource for those seeking to grow in their faith.
Follow me: on Youtube, Facebook, Twitter, Instagram, and Pinterest.
Content Disclosure:
At The Faithful Christian Blog, I create authentic and inspiring content. Although I am the main author, I occasionally use AI for minor language enhancements. This minimal AI usage ensures high-quality, trustworthy articles without compromising originality or sincerity, ultimately supporting our shared faith journey.
Warmly,
Dr. Akatakpo Dunn
Was this article helpful?