This morning, we will give thanks to God.
He has saved us from all the wicked plans of the devil.
He has protected us and guarded us through the night.
So, it is expected that we return thanks to his glorious name.
With millions of people dying now and then, God has preserved us.
He has spared our lives.
We are not the most perfect; neither are we the most intelligent of all men.
By we are alive this morning by his grace and nothing else.
Therefore, we will pray to give thanks to the Lord and put all our activities into his hands.
We will pray for our loved ones and families.
We will also pray for our friends (boyfriends and girlfriends) and ask that God direct their actions this morning.
I have put together this powerful morning prayer to guide you.
---
Recommended for you
---
Short morning prayer points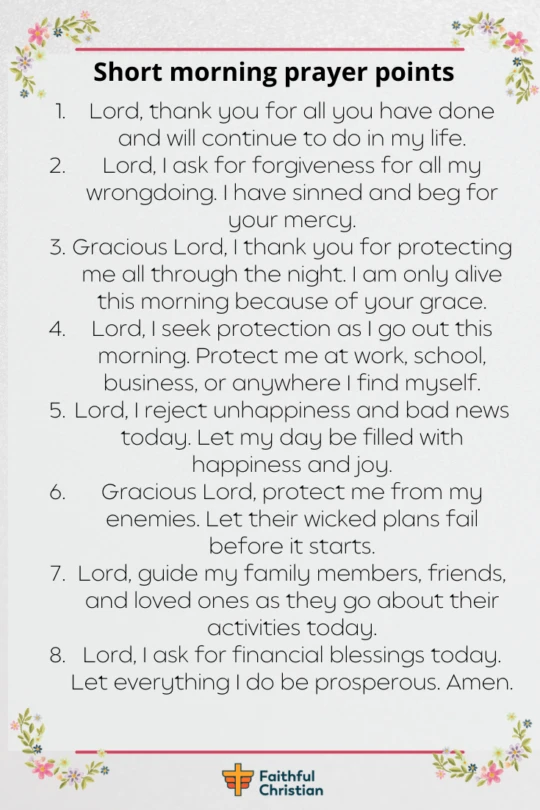 Lord, thank you for all you have done and will continue to do in my life.
Lord, I ask for forgiveness for all my wrongdoing. I have sinned and beg for your mercy.
Gracious Lord, I thank you for protecting me all through the night. I am only alive this morning because of your grace.
Lord, I seek protection as I go out this morning. Protect me at work, school, business, or anywhere I find myself.
Lord, I reject unhappiness and bad news today. Let my day be filled with happiness and joy.
Gracious Lord, protect me from my enemies. Let their wicked plans fail before it starts.
Lord, guide my family members, friends, and loved ones as they go about their activities today.
Lord, I ask for financial blessings today. Let everything I do be prosperous. Amen.
Morning bible verses to pray with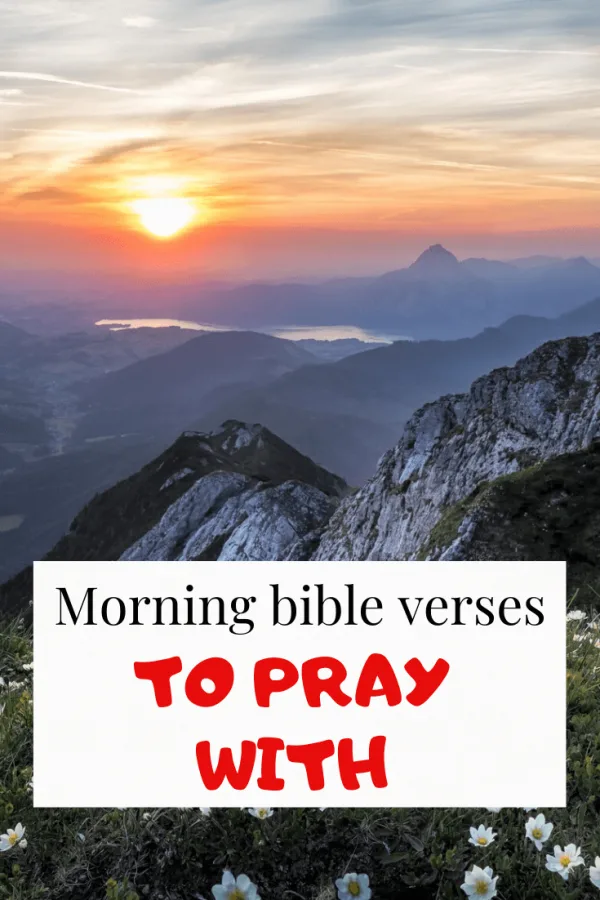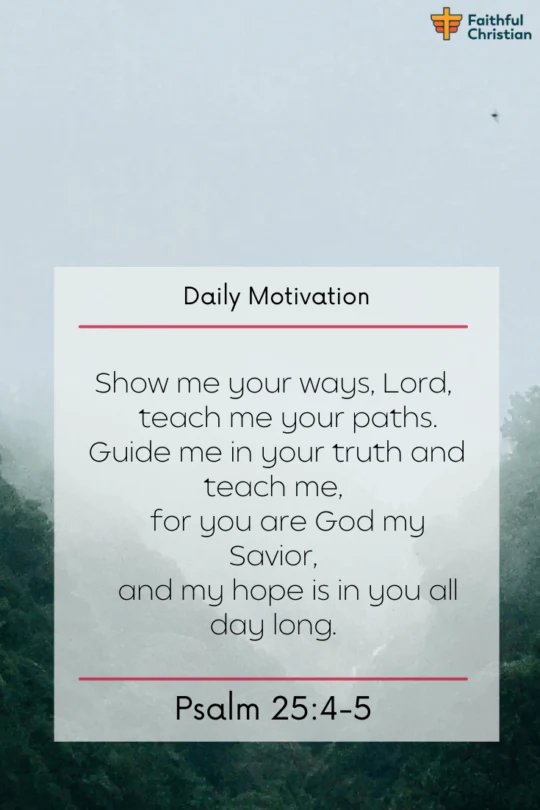 Show me your ways, Lord,
    teach me your paths.
5 Guide me in your truth and teach me,
    for you are God my Savior,
    and my hope is in you all day long.
Psalm 143:8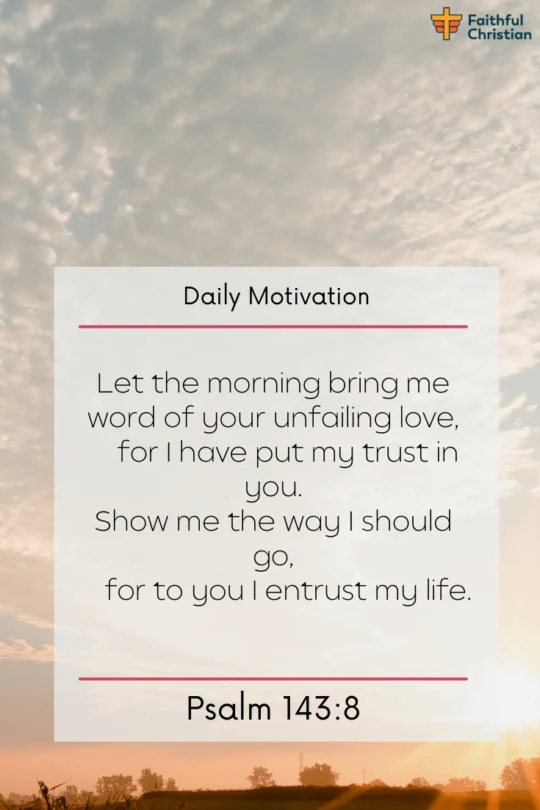 Let the morning bring me word of your unfailing love,
    for I have put my trust in you.
Show me the way I should go,
    for to you I entrust my life.
Psalm 46:5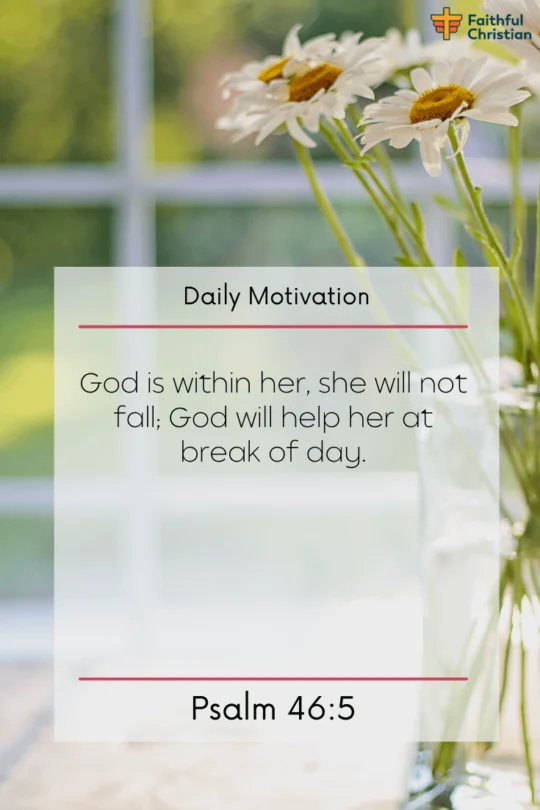 God is within her, she will not fall;
    God will help her at break of day.
Morning prayers to Start the day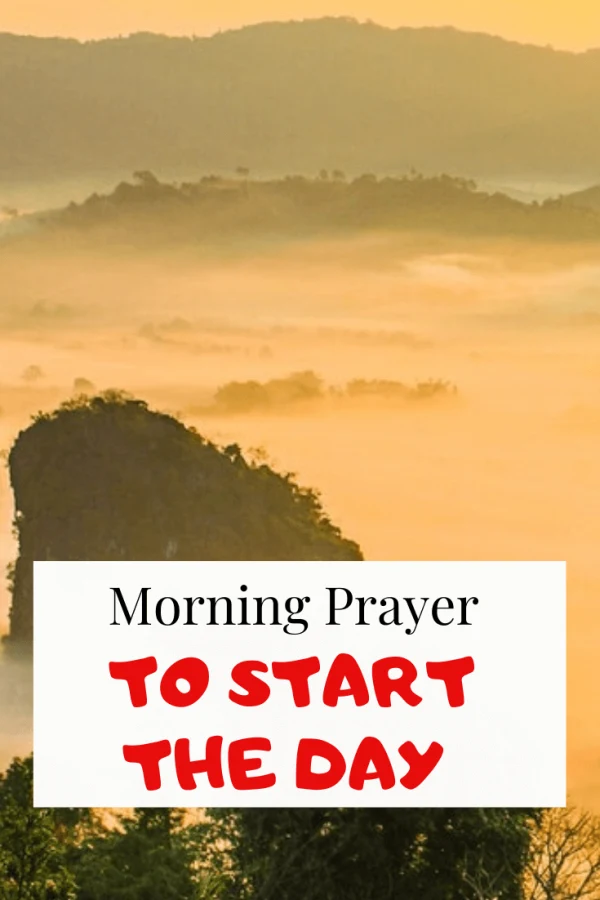 Thank you, Lord (let us pray)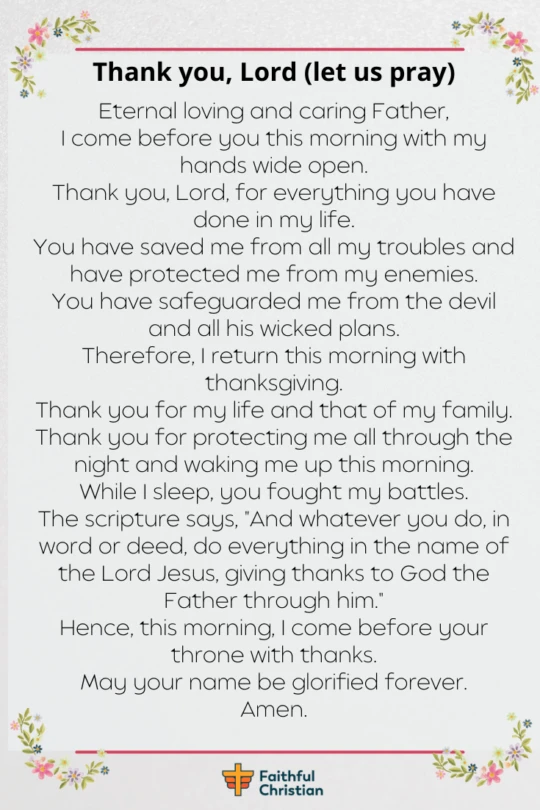 Eternal loving and caring Father,
I come before you this morning with my hands wide open.
Thank you, Lord, for everything you have done in my life.
You have saved me from all my troubles and have protected me from my enemies.
You have safeguarded me from the devil and all his wicked plans.
Therefore, I return this morning with thanksgiving.
Thank you for my life and that of my family.
Thank you for protecting me all through the night and waking me up this morning.
While I sleep, you fought my battles.
The scripture says, "And whatever you do, in word or deed, do everything in the name of the Lord Jesus, giving thanks to God the Father through him."
Hence, this morning, I come before your throne with thanks.
May your name be glorified forever.
Amen.
Start early (let us pray)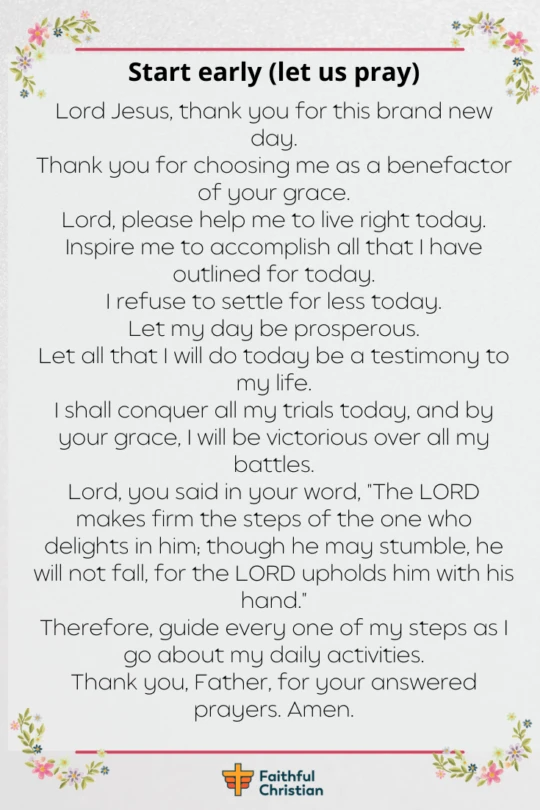 Lord Jesus, thank you for this brand new day.
Thank you for choosing me as a benefactor of your grace.
Lord, please help me to live right today.
Inspire me to accomplish all that I have outlined for today.
I refuse to settle for less today.
Let my day be prosperous.
Let all that I will do today be a testimony to my life.
I shall conquer all my trials today, and by your grace, I will be victorious over all my battles.
Lord, you said in your word, "The LORD makes firm the steps of the one who delights in him; though he may stumble, he will not fall, for the LORD upholds him with his hand."
Therefore, guide every one of my steps as I go about my daily activities.
Thank you, Father, for your answered prayers.
Amen.
Seek God's help (let us pray)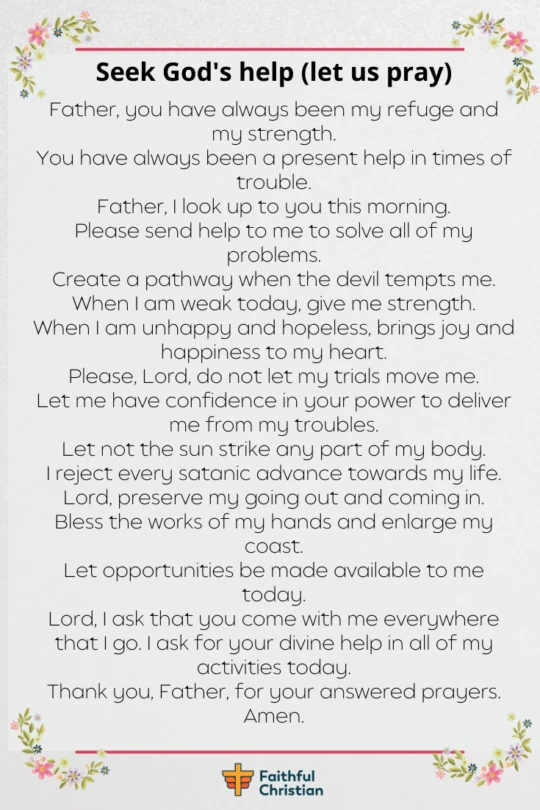 Father, you have always been my refuge and my strength.
You have always been a present help in times of trouble.
Father, I look up to you this morning.
Please send help to me to solve all of my problems.
Create a pathway when the devil tempts me.
When I am weak today, give me strength.
When I am unhappy and hopeless, brings joy and happiness to my heart.
Please, Lord, do not let my trials move me.
Let me have confidence in your power to deliver me from my troubles.
Let not the sun strike any part of my body.
I reject every satanic advance towards my life.
Lord, preserve my going out and coming in.
Bless the works of my hands and enlarge my coast.
Let opportunities be made available to me today.
Lord, you said your word, "Be strong and courageous. Do not be afraid or terrified because of them, for the LORD your God goes with you; he will never leave you nor forsake you."
Lord, I ask that you come with me everywhere that I go.
I ask for your divine help in all of my activities today.
Thank you, Father, for your answered prayers. Amen.
---
Recommended for you
---
Let God take the lead (let us pray)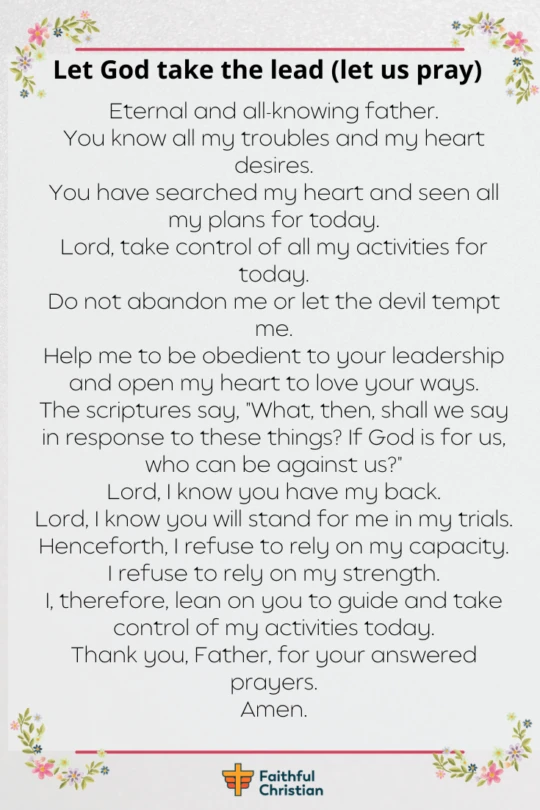 Eternal and all-knowing father.
You know all my troubles and my heart's desires.
You have searched my heart and seen all my plans for today.
Lord, take control of all my activities for today.
Do not abandon me or let the devil tempt me.
Help me to be obedient to your leadership and open my heart to love your ways.
The scriptures say, "What, then, shall we say in response to these things? If God is for us, who can be against us?"
Lord, I know you have my back.
Lord, I know you will stand for me in my trials.
Henceforth, I refuse to rely on my capacity.
I refuse to rely on my strength.
I, therefore, lean on you to guide and take control of my activities today.
Thank you, Father, for your answered prayers.
Amen.
Lay your plans before God (let us pray)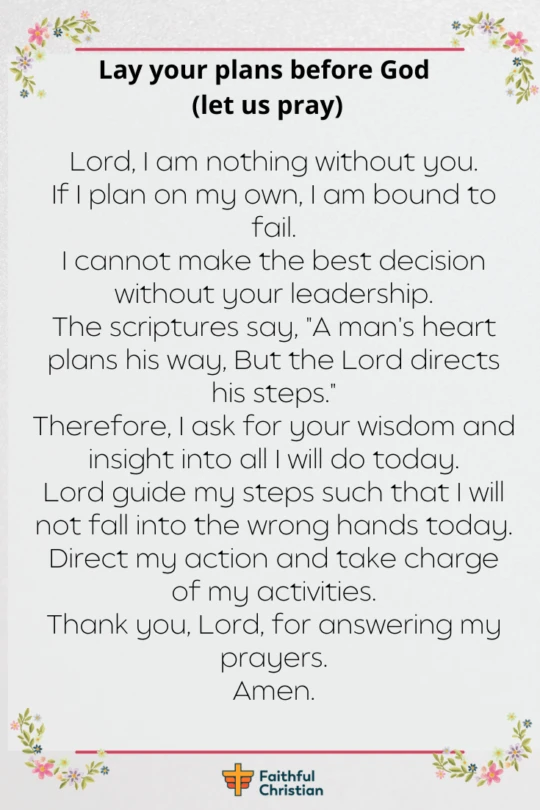 Lord, I am nothing without you.
If I plan on my own, I am bound to fail.
I cannot make the best decision without your leadership.
The scriptures say, "A man's heart plans his way, But the Lord directs his steps."
Therefore, I ask for your wisdom and insight into all I will do today.
Lord guide my steps such that I will not fall into the wrong hands today.
Direct my action and take charge of my activities.
Thank you, Lord, for answering my prayers.
Amen.
Author: Akatakpo Dunn
Dr. Akatakpo Dunn is a dedicated follower of Christ, an active member and speaker, and an ongoing learner of the Scriptures. Passionate about his faith and serving others, he is committed to sharing his spiritual journey and insights to inspire and uplift fellow believers. He has been active in the church for more than 23 years. Through The
Faithful Christian Blog
,
Dr. Dunn
combines his love for God, philanthropy, and Scripture, providing a valuable resource for those seeking to grow in their faith.
Follow me: on Youtube, Facebook, Twitter, Instagram, and Pinterest.
Content Disclosure:
At The Faithful Christian Blog, I create authentic and inspiring content. Although I am the main author, I occasionally use AI for minor language enhancements. This minimal AI usage ensures high-quality, trustworthy articles without compromising originality or sincerity, ultimately supporting our shared faith journey.
Warmly,
Dr. Akatakpo Dunn
Was this article helpful?