Prosperity is a state of the mind.
That is, it is backed up with faith.
As Christians, we want to be prosperous in all we do.
And fortunately, God is the owner of all riches and wealth.
He is the provider of affluence and prosperity.
If you want riches from God, you must draw nearer to him.
If you are struggling with your finances, there are bible verses about financial prosperity that can inspire you today.
God blesses us when we serve him.
He said in his word,
And ye shall serve the Lord your God, and he shall bless thy bread, and thy water
In other words, if you decided to serve him with all your heart, then be expectant.
He owns the world and all that is in it.
All money and riches are God's own and he blesses those who fervently serve him.
Christ said,
But seek first the kingdom of God and his righteousness, and all these things will be added to you.
So, it's not rocket science, and God keeps his promise.
You need to serve him and keep all his commands.
If you do, he will bless everything you do.
He said in the book of Deuteronomy,
if you diligently obey the voice of the Lord your God, to observe carefully all His commandments which I command you today, that the Lord your God will set you high above all nations of the earth. 2 And all these blessings shall come upon you and overtake you, because you obey the voice of the Lord your God
But you may be wondering, Why are things not working out despite my service to God?
The ways of God are entirely different from ours.
His thoughts are not like ours, and he sees the future from the beginning.
That's why we need to be patient with unwavering faith in him.
Faith is trusting God to help your financial needs.
You just believe in his power to bless the works of your hands.
I have compiled bible verses about prosperity and success to inspire you to believe in God's ability to make anyone rich.
---
Recommended for you
---
Bible verses about prosperity and success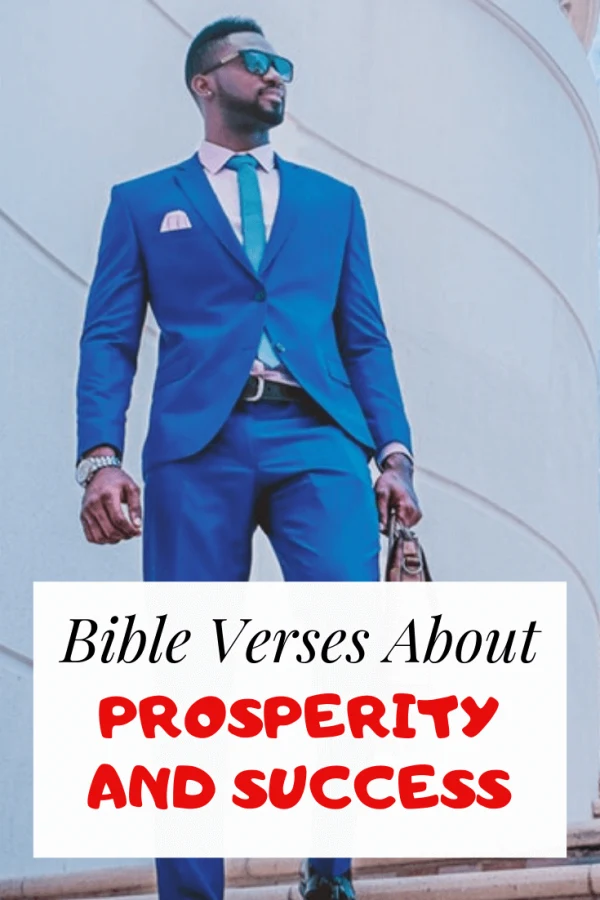 1.  Psalm 112:3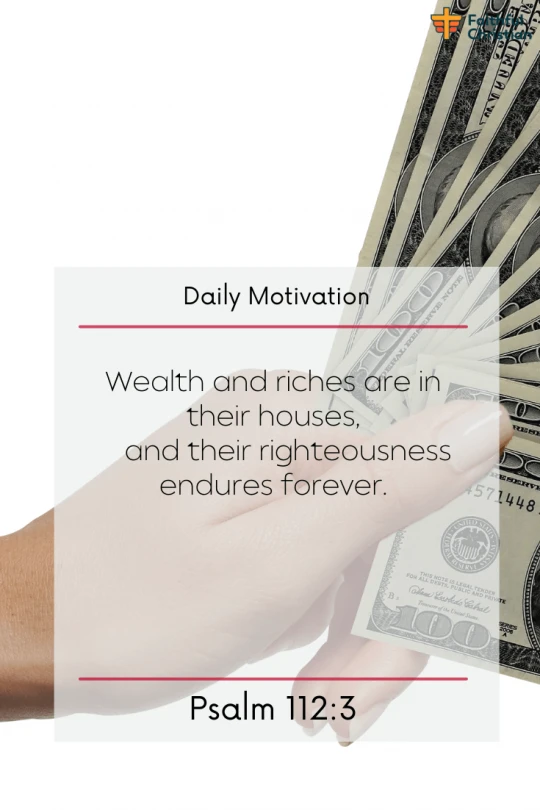 Wealth and riches are in their houses,
    and their righteousness endures forever.
2.  Proverbs 3:16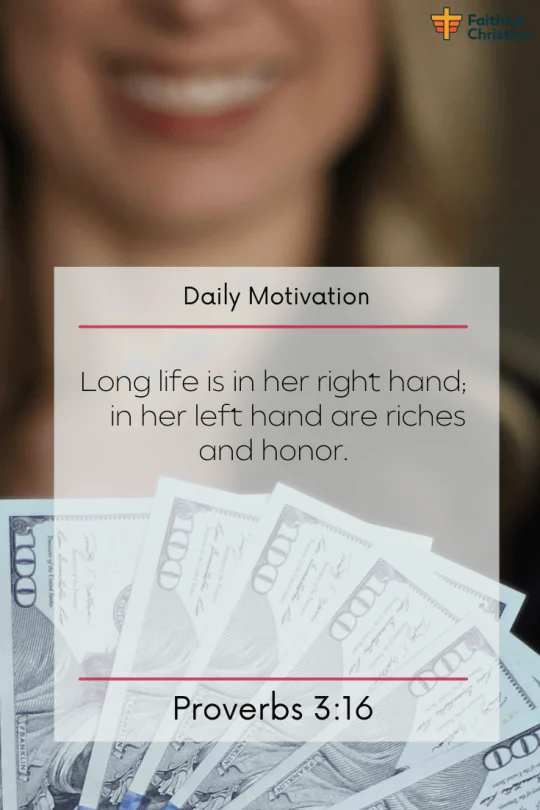 Long life is in her right hand;
    in her left hand are riches and honor.
3.  Matthew 6:33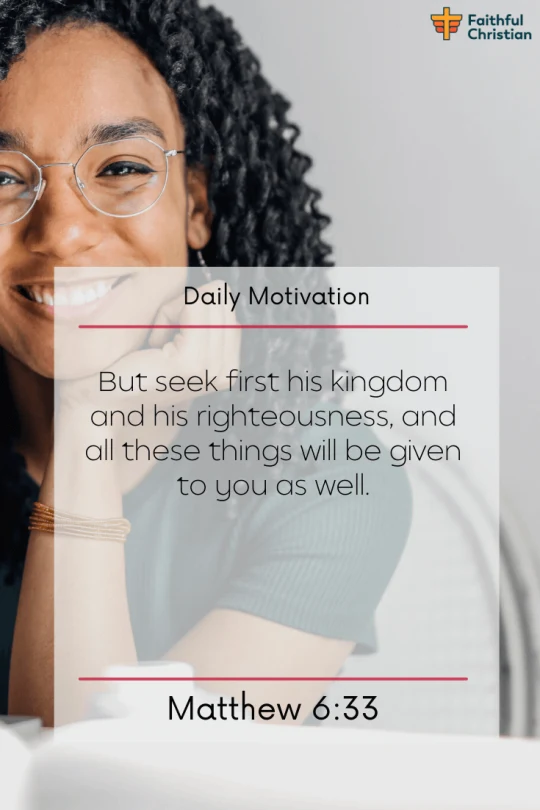 But seek first his kingdom and his righteousness, and all these things will be given to you as well.
4.  Proverbs 15:6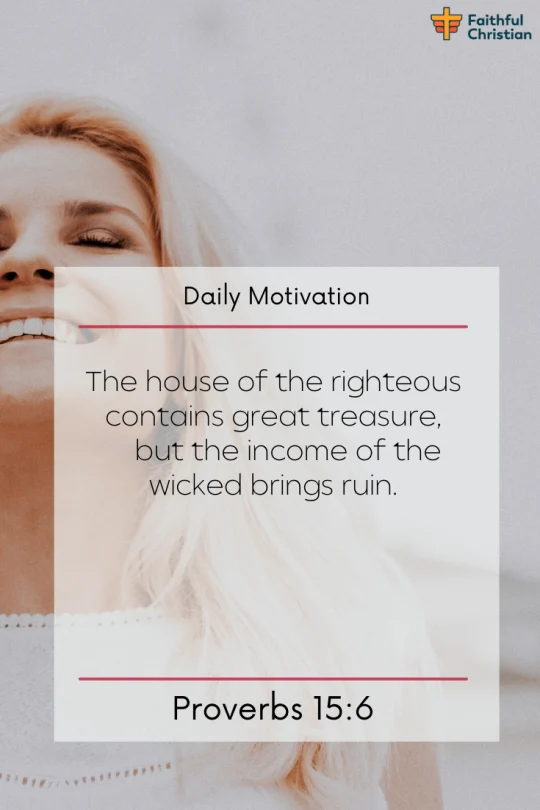 The house of the righteous contains great treasure,
    but the income of the wicked brings ruin.
5.  Psalm 112:9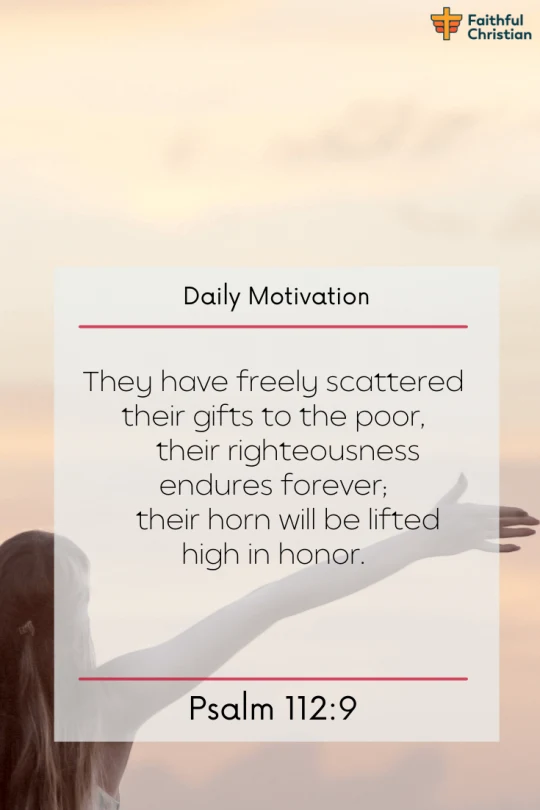 They have freely scattered their gifts to the poor,
    their righteousness endures forever;
    their horn will be lifted high in honor.
6.  2 Corinthians 6:10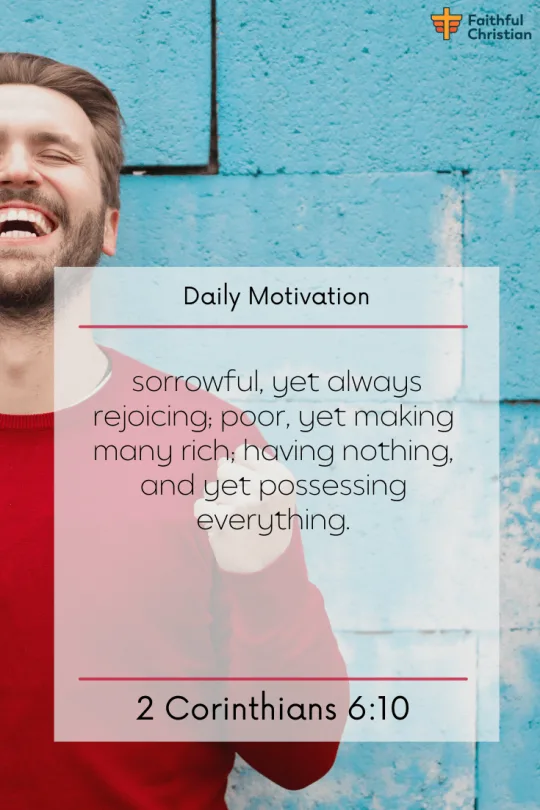 sorrowful, yet always rejoicing; poor, yet making many rich; having nothing, and yet possessing everything.
7.  Isaiah 33:6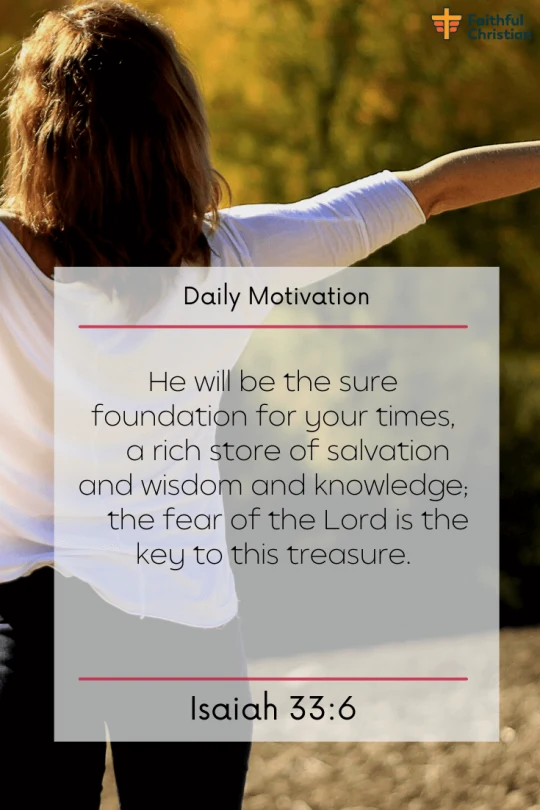 He will be the sure foundation for your times,
    a rich store of salvation and wisdom and knowledge;
    the fear of the Lord is the key to this treasure.[a]
8.  1 Timothy 6:6-8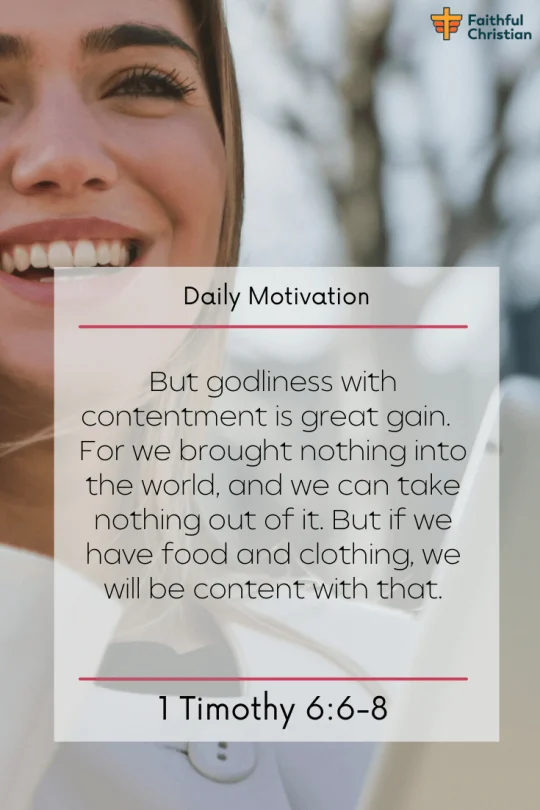 But godliness with contentment is great gain. 7 For we brought nothing into the world, and we can take nothing out of it. 8 But if we have food and clothing, we will be content with that.
9.  Genesis 24:35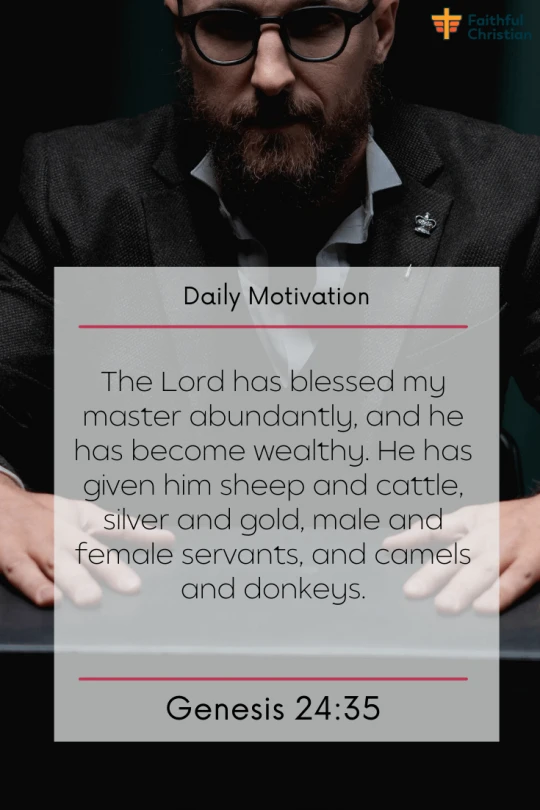 The Lord has blessed my master abundantly, and he has become wealthy. He has given him sheep and cattle, silver and gold, male and female servants, and camels and donkeys.
10.  Proverbs 10:22
The blessing of the Lord brings wealth,
    without painful toil for it.
11.  Genesis 13:2
Abram had become very wealthy in livestock and in silver and gold.
12.  Psalm 112:1-3
Praise the Lord.Blessed are those who fear the Lord, who find great delight in his commands.2 Their children will be mighty in the land; the generation of the upright will be blessed.3 Wealth and riches are in their houses, and their righteousness endures forever.
13.  Genesis 26:12-13
 Isaac planted crops in that land and the same year reaped a hundredfold, because the Lord blessed him. 13 The man became rich, and his wealth continued to grow until he became very wealthy.
14.  Job 1:10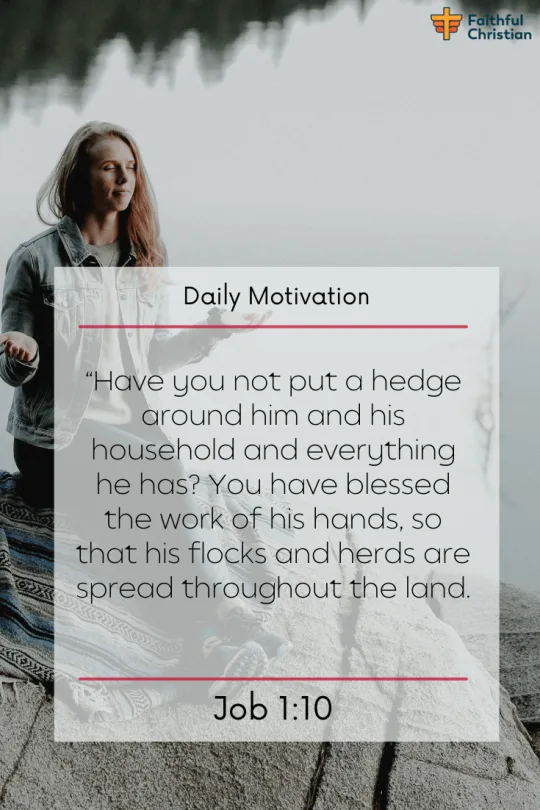 "Have you not put a hedge around him and his household and everything he has? You have blessed the work of his hands, so that his flocks and herds are spread throughout the land.
15.  Leviticus 26:3-5
'If you follow my decrees and are careful to obey my commands, 4 I will send you rain in its season, and the ground will yield its crops and the trees their fruit. 5 Your threshing will continue until grape harvest and the grape harvest will continue until planting, and you will eat all the food you want and live in safety in your land.
16.  Deuteronomy 2:7
The Lord your God has blessed you in all the work of your hands. He has watched over your journey through this vast wilderness. These forty years the Lord your God has been with you, and you have not lacked anything.
17.  Deuteronomy 30:15-16
See, I set before you today life and prosperity, death and destruction.
16 For I command you today to love the Lord your God, to walk in obedience to him, and to keep his commands, decrees and laws; then you will live and increase, and the Lord your God will bless you in the land you are entering to possess.
More bible verses about Financial breakthrough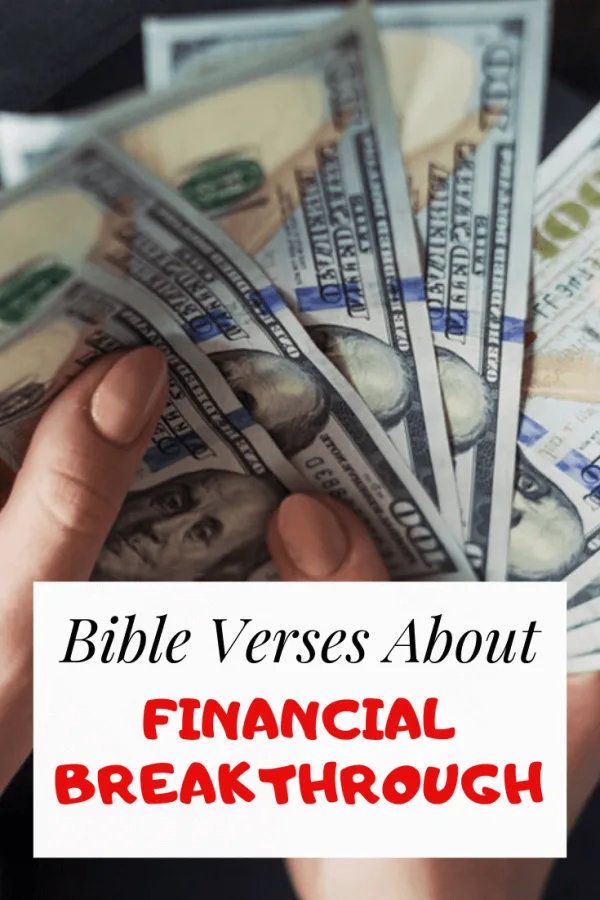 18.  Isaiah 1:19
If you are willing and obedient,
    you will eat the good things of the land;
19.  Job 36:11
If they obey and serve him,
    they will spend the rest of their days in prosperity
    and their years in contentment.
20.  Philippians 4:19
And my God will meet all your needs according to the riches of his glory in Christ Jesus.
21.  2 Corinthians 9:8-11
And God is able to bless you abundantly, so that in all things at all times, having all that you need, you will abound in every good work. 9 As it is written:

"They have freely scattered their gifts to the poor;
    their righteousness endures forever."[a]

10 Now he who supplies seed to the sower and bread for food will also supply and increase your store of seed and will enlarge the harvest of your righteousness. 11 You will be enriched in every way so that you can be generous on every occasion, and through us your generosity will result in thanksgiving to God.
22.  Psalm 84:11
For the Lord God is a sun and shield;
    the Lord bestows favor and honor;
no good thing does he withhold
    from those whose walk is blameless.
23.  1 Timothy 6:17
Command those who are rich in this present world not to be arrogant nor to put their hope in wealth, which is so uncertain, but to put their hope in God, who richly provides us with everything for our enjoyment.
24.  1 Peter 5:10
And the God of all grace, who called you to his eternal glory in Christ, after you have suffered a little while, will himself restore you and make you strong, firm and steadfast.
25.  James 1:17
Every good and perfect gift is from above, coming down from the Father of the heavenly lights, who does not change like shifting shadows.
26.  John 3:27
To this John replied, "A person can receive only what is given them from heaven.
27.  Matthew 7:11
If you, then, though you are evil, know how to give good gifts to your children, how much more will your Father in heaven give good gifts to those who ask him!
28.  3 John 1:2
Dear friend, I pray that you may enjoy good health and that all may go well with you, even as your soul is getting along well.
29.  2 Corinthians 9:6
Remember this: Whoever sows sparingly will also reap sparingly, and whoever sows generously will also reap generously.
30.  Luke 6:38
Give, and it will be given to you. A good measure, pressed down, shaken together and running over, will be poured into your lap. For with the measure you use, it will be measured to you."
31.  2 Corinthians 9:10
Now he who supplies seed to the sower and bread for food will also supply and increase your store of seed and will enlarge the harvest of your righteousness.
---
Recommended for you
---
More inspiring words for financial prosperity
1. Wealth belongs to God
There are no two ways about it.
Wealth and riches are God's own.
He created the earth and all that is in it
So, if you need God's blessing, you must ask through prayers.
Surprisingly, we don't get to see the big picture.
God always blesses us with every good thing.
Prosperity in health and riches are his divine daily blessing.
If you are in good health today, God has prospered your health.
If you not begged for your meal, then God has prospered you.
But we need more than that (yes, more financial blessings).
It is not greed but acknowledging that God can do more for us through faith.
We want the best cars and want to live in good houses.
We also want to give the best to our families and children.
Not just that, we also want to help the poor with our riches.
And more importantly, we want to support God's church with the little he has blessed us with.
So, it is not a sin to ask for wealth and riches.
In all, God chooses who he will bless.
2.  Riches may lead you to hell
If you get rich, you are more likely to be led astray.
That's because you can easily get tempted
I have experienced it myself immediately after graduation from medical school.
I had a lot of cash with me and lost control of my sanity.
I was always clubbing and drinking.
Most times, I sleep around with different kinds of girls.
But, thank God, I was redeemed back to Christ through his grace.
Not being rich is not a curse. It's a blessing in disguise.
God's word says,
9 Those who want to get rich fall into temptation and a trap and into many foolish and harmful desires that plunge people into ruin and destruction. 10 For the love of money is a root of all kinds of evil. Some people, eager for money, have wandered from the faith and pierced themselves with many griefs.

1 Timothy 6: 9-10
So, if you are struggling and yet to find wealth, don't be discouraged.
God has not taken away the necessary things you need in life – such as clothing and food.
He will never let you beg for these things because he will mysteriously provide them.
The psalmist David said,
I was young and now I am old,
yet I have never seen the righteous forsaken
or their children begging bread.

Psalm 37:25
Author: Akatakpo Dunn
Dr. Akatakpo Dunn is a dedicated follower of Christ, an active member and speaker, and an ongoing learner of the Scriptures. Passionate about his faith and serving others, he is committed to sharing his spiritual journey and insights to inspire and uplift fellow believers. He has been active in the church for more than 23 years. Through The
Faithful Christian Blog
,
Dr. Dunn
combines his love for God, philanthropy, and Scripture, providing a valuable resource for those seeking to grow in their faith.
Follow me: on Youtube, Facebook, Twitter, Instagram, and Pinterest.
Content Disclosure:
At The Faithful Christian Blog, I create authentic and inspiring content. Although I am the main author, I occasionally use AI for minor language enhancements. This minimal AI usage ensures high-quality, trustworthy articles without compromising originality or sincerity, ultimately supporting our shared faith journey.
Warmly,
Dr. Akatakpo Dunn
Was this article helpful?