We've all faced disappointment in the past.
And most times, depending on how we handle it, we may still feel the pain for months or even years.
As Christians, we must learn to move forward from our pain.
And that's because, if we do not let go, we may never find happiness.
Thankfully, there are bible verses about moving on from the past.
These scriptures, together with self-belief and the grace of God, will inspire you to let go.
I understand how you feel about your pains and hurt.
I have experienced disappointment in the past that I felt like taking my own life.
At that point, it was difficult to let go.
I had a girlfriend in medical school that nastily terminated our relationship.
I loved her so much, and it was really painful to watch her leave.
But she didn't care; she wanted to move on from the relationship (Despite my pleas).
I felt depressed for months, and it really was a painful experience.
But, over the years, I have completely forgotten my experience with her.
I have let go of all my pain, and we still talk from time to time.
That's the power of forgiveness and moving on from your hurt.
It could be the death of a loved one, a failed business, a failed marriage, or a broken relationship.
I have put together bible verses about moving forward to the next level and not remembering the past.
---
Recommended for you
---
Bible verses about moving on from your past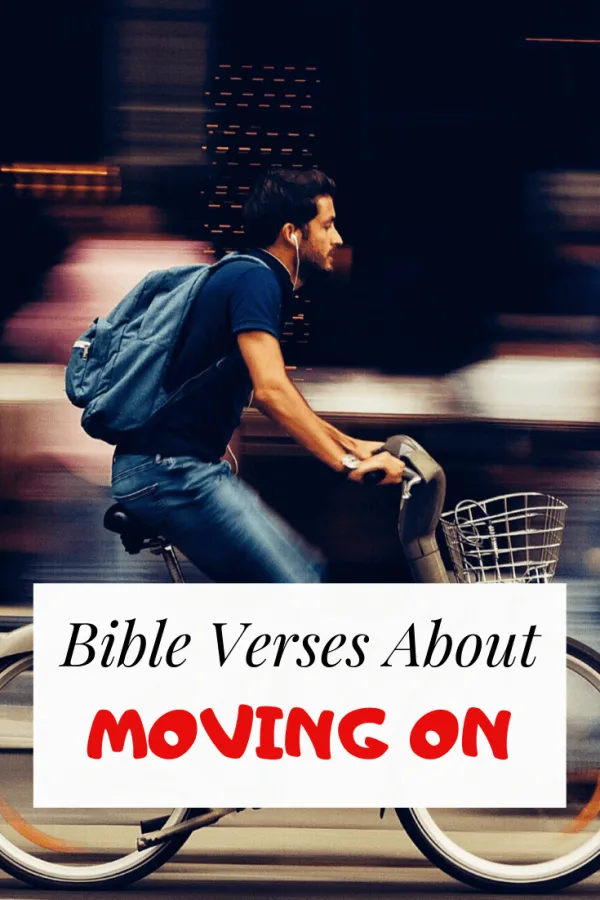 1.  Romans 8:18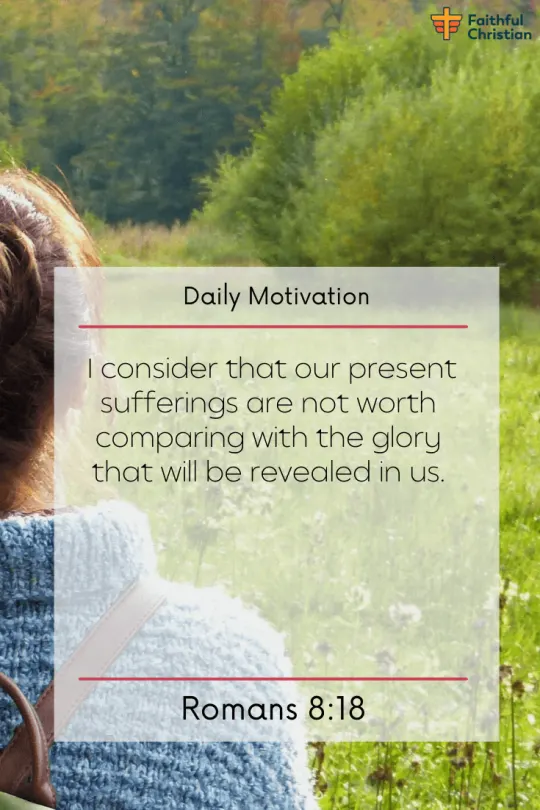 I consider that our present sufferings are not worth comparing with the glory that will be revealed in us.
2.  2 Corinthians 4:17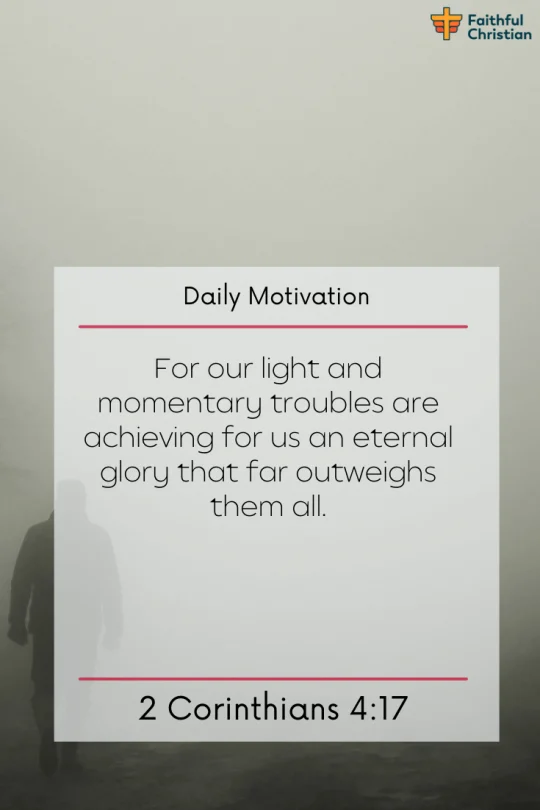 For our light and momentary troubles are achieving for us an eternal glory that far outweighs them all.
3.  2 Corinthians 4:18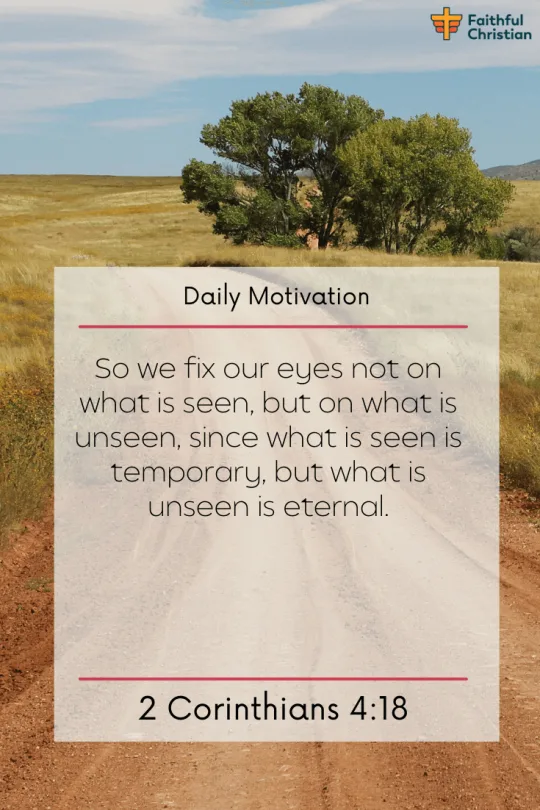 18 So we fix our eyes not on what is seen, but on what is unseen, since what is seen is temporary, but what is unseen is eternal.
4.  1 Peter 4:13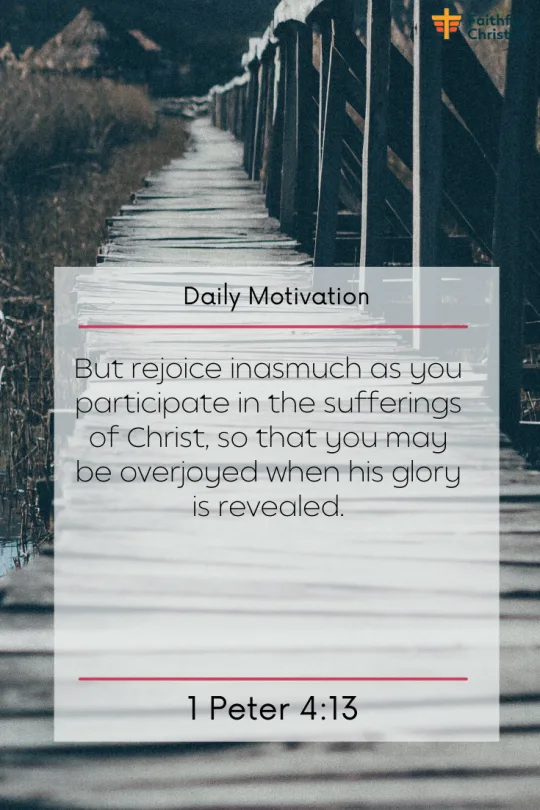 But rejoice inasmuch as you participate in the sufferings of Christ, so that you may be overjoyed when his glory is revealed.
5.  1 Peter 1:5-6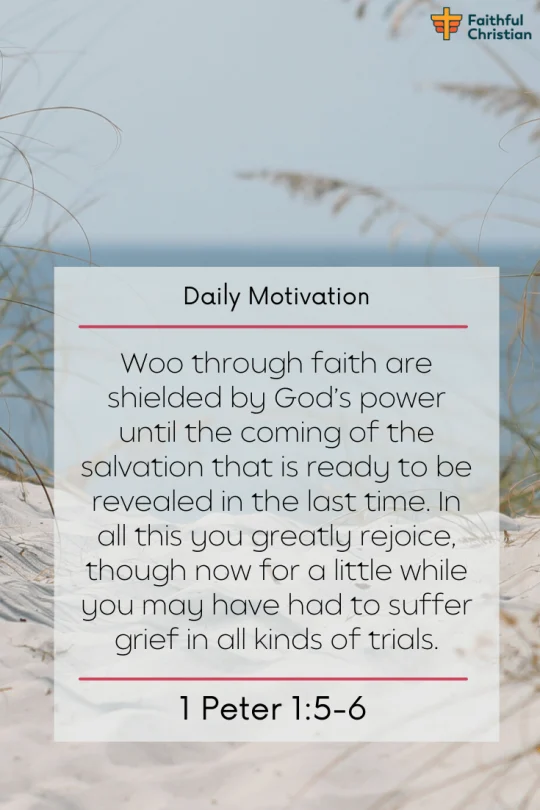 Woo through faith are shielded by God's power until the coming of the salvation that is ready to be revealed in the last time. 6 In all this you greatly rejoice, though now for a little while you may have had to suffer grief in all kinds of trials.
6.  1 Peter 1:13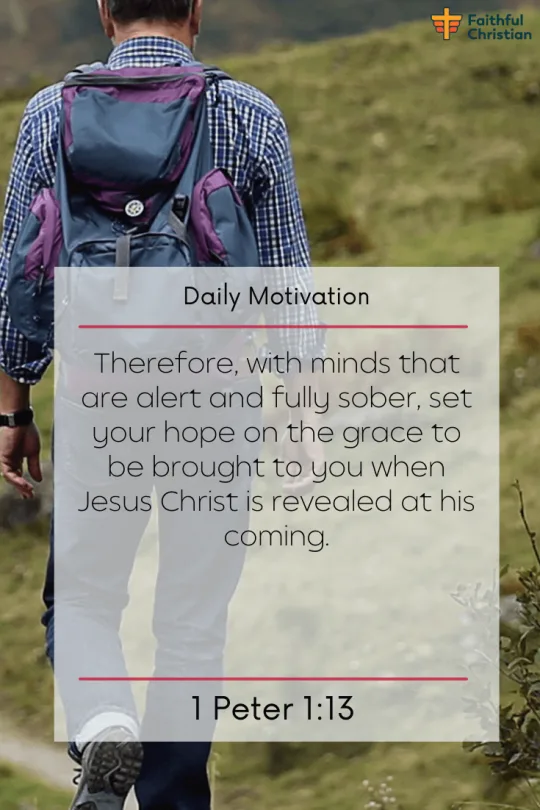 Therefore, with minds that are alert and fully sober, set your hope on the grace to be brought to you when Jesus Christ is revealed at his coming.
7.  Matthew 5:11-12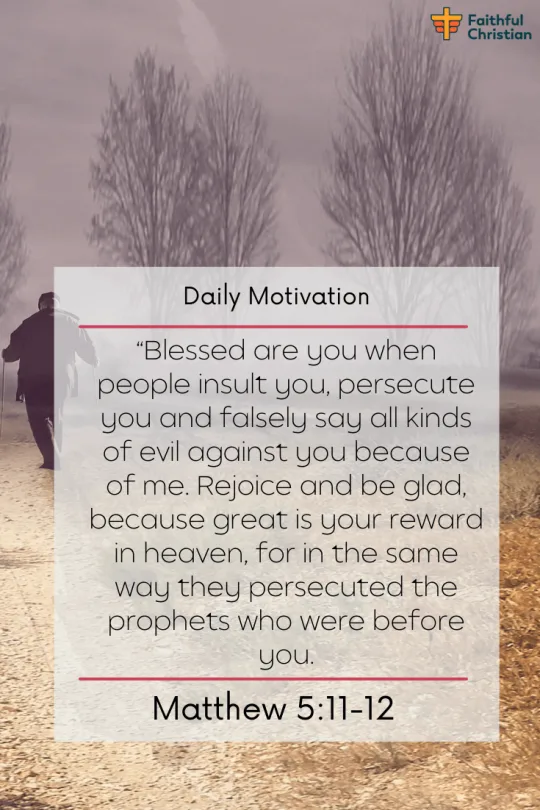 "Blessed are you when people insult you, persecute you and falsely say all kinds of evil against you because of me. 12 Rejoice and be glad, because great is your reward in heaven, for in the same way they persecuted the prophets who were before you.
8.  Jeremiah 29:11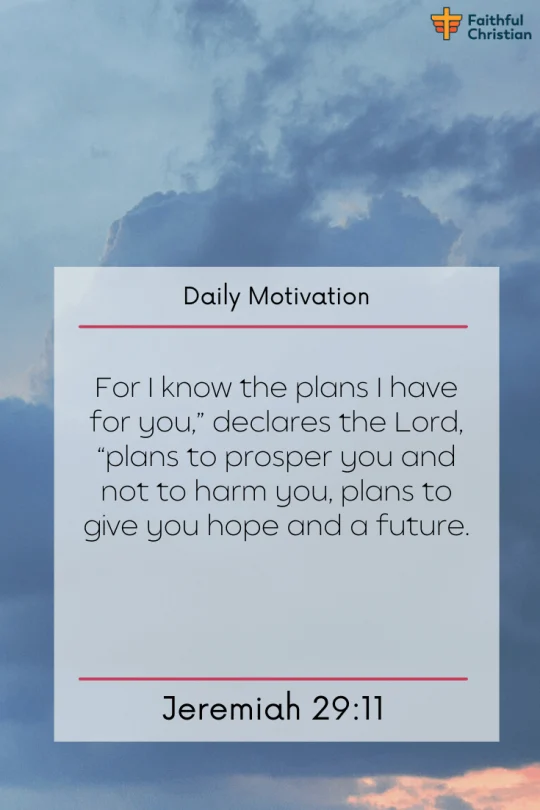 For I know the plans I have for you," declares the Lord, "plans to prosper you and not to harm you, plans to give you hope and a future.
9.  Isaiah 55:8-12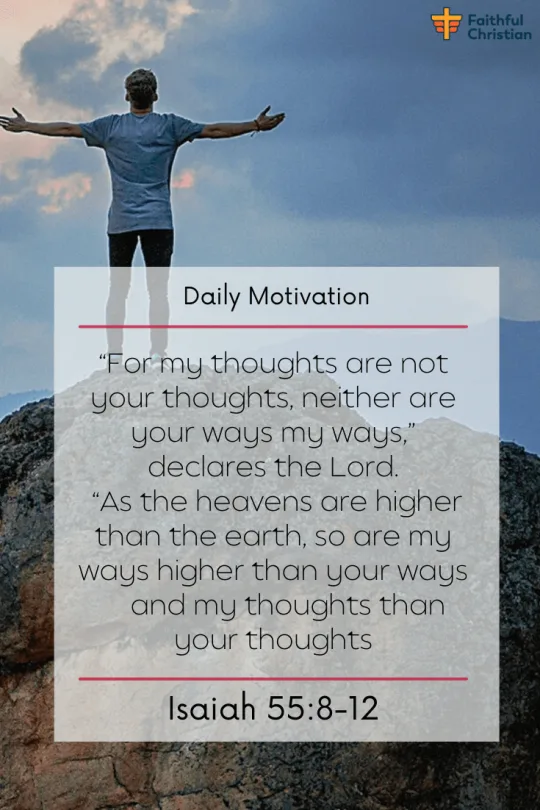 "For my thoughts are not your thoughts,
    neither are your ways my ways,"
declares the Lord.
9 "As the heavens are higher than the earth,
    so are my ways higher than your ways
    and my thoughts than your thoughts
10.  Psalm 40:5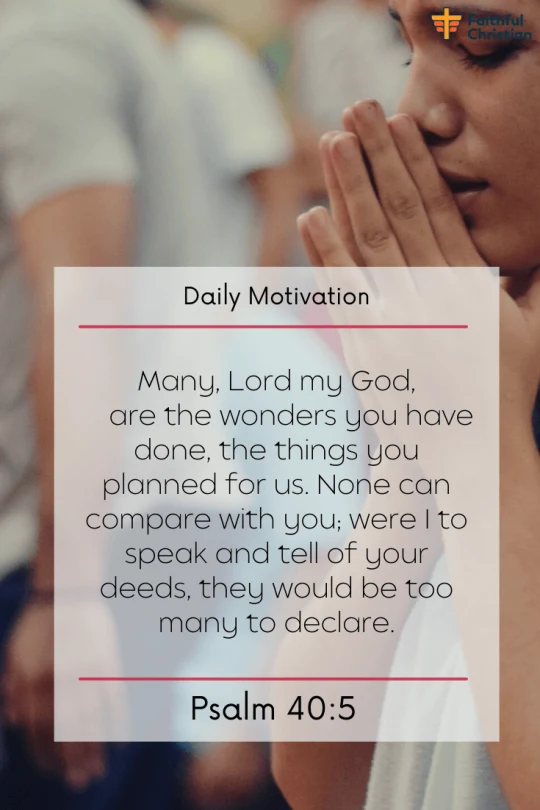 Many, Lord my God,
    are the wonders you have done,
    the things you planned for us.
None can compare with you;
    were I to speak and tell of your deeds,
    they would be too many to declare.
11.  Philippians 3:12
 Not that I have already obtained all this, or have already arrived at my goal, but I press on to take hold of that for which Christ Jesus took hold of me.
12.  Philippians 3:13
13 Brothers and sisters, I do not consider myself yet to have taken hold of it. But one thing I do: Forgetting what is behind and straining toward what is ahead,
13.  Philippians 3:14
14 I press on toward the goal to win the prize for which God has called me heavenward in Christ Jesus.
14.  Luke 9:62
Jesus replied, "No one who puts a hand to the plow and looks back is fit for service in the kingdom of God."
15.  Hebrews 12:1
Therefore, since we are surrounded by such a great cloud of witnesses, let us throw off everything that hinders and the sin that so easily entangles. And let us run with perseverance the race marked out for us,
---
Recommended for you
---
More Bible verses about moving forward and forgetting the past
16.  Hebrews 12:2
2 fixing our eyes on Jesus, the pioneer and perfecter of faith. For the joy set before him he endured the cross, scorning its shame, and sat down at the right hand of the throne of God.
17.  Isaiah 43:18
"Forget the former things;
    do not dwell on the past.
18.  Isaiah 65:17
"See, I will create
    new heavens and a new earth.
The former things will not be remembered,
    nor will they come to mind.
19.  2 Corinthians 3:10
For what was glorious has no glory now in comparison with the surpassing glory.
20.  2 Corinthians 5:17
Therefore, if anyone is in Christ, the new creation has come:[a] The old has gone, the new is here!
21.  Ezekiel 36:26
 I will give you a new heart and put a new spirit in you; I will remove from you your heart of stone and give you a heart of flesh.
22.  Ephesians 4:22-24
You were taught, with regard to your former way of life, to put off your old self, which is being corrupted by its deceitful desires; 23 to be made new in the attitude of your minds; 24 and to put on the new self, created to be like God in true righteousness and holiness
23.  Psalm 51:10
Create in me a pure heart, O God,
    and renew a steadfast spirit within me.
24.  Ezekiel 18:31
Rid yourselves of all the offenses you have committed, and get a new heart and a new spirit. Why will you die, people of Israel?
25.  Job 17:9
Nevertheless, the righteous will hold to their ways,
    and those with clean hands will grow stronger.
26.  Proverbs 4:18
The path of the righteous is like the morning sun,
    shining ever brighter till the full light of day.
27.  Isaiah 40:29-31
He gives strength to the weary and increases the power of the weak. Even youths grow tired and weary, and young men stumble and fall; but those who hope in the Lord will renew their strength. They will soar on wings like eagles; they will run and not grow weary, they will walk and not be faint.
28.  Romans 8:28
 And we know that in all things God works for the good of those who love him, who[a] have been called according to his purpose.
Tips about moving on from your hurt
1. Trust in God's plan
You will agree that there are many times in the past that we've been disappointed.
Only to find out later in the future that it was a blessing in disguise.
I have had my experiences too, and I know every disappointment is a blessing.
That's just the truth because we serve a living God.
He knows what we want, and he would provide.
If you've been hurt by someone, it's best to let go and believe in God's plan.
There is a reason he allowed you to face this current pain, suffering, and hurt.
Think about the future and never lean on your understanding.
The scripture says,
Trust in the Lord with all your heart
and lean not on your own understanding;
6 in all your ways submit to him,
and he will make your paths straight

Proverbs 3:5-6
2.  Moving on after death is difficult, but it is possible
If you lost a loved one, it is truly difficult to move on from the death of a close friend or family member.
But you can.
When I lost my mum, it seemed like the world was going to collapse.
That was about 11 years ago.
But today, I have moved on from the pains of never seeing her anymore.
Here are Bible verses about moving on after death.
John 11:25-26
Jesus said to her, "I am the resurrection and the life. The one who believes in me will live, even though they die; 26 and whoever lives by believing in me will never die. Do you believe this?"
Romans 14:8
If we live, we live for the Lord; and if we die, we die for the Lord. So, whether we live or die, we belong to the Lord.
3.  You can move on from a toxic relationship
Don't get stuck with your life.
Life is beautiful even in pain.
If your relationship has come to ruins, in your interest, you should move on and stay strong.
Don't feel like the world will end —it will not.
It will even get better if you trust in God's next plan.
I had a past relationship where I was repeatedly cheated on.
But today I am married to the best woman you could think of.
She is God-fearing and beautiful in every aspect.
Therefore believe in yourself and move on from your relationship issues.
Here are Bible verses about moving on from a relationship.
James 1:12
Blessed is the one who perseveres under trial because, having stood the test, that person will receive the crown of life that the Lord has promised to those who love him.
Deuteronomy 31:6
Be strong and courageous. Do not be afraid or terrified because of them, for the Lord your God goes with you; he will never leave you nor forsake you."
Author: Akatakpo Dunn
Dr. Akatakpo Dunn is a dedicated follower of Christ, an active member and speaker, and an ongoing learner of the Scriptures. Passionate about his faith and serving others, he is committed to sharing his spiritual journey and insights to inspire and uplift fellow believers. He has been active in the church for more than 23 years. Through The
Faithful Christian Blog
,
Dr. Dunn
combines his love for God, philanthropy, and Scripture, providing a valuable resource for those seeking to grow in their faith.
Follow me: on Youtube, Facebook, Twitter, Instagram, and Pinterest.
Content Disclosure:
At The Faithful Christian Blog, I create authentic and inspiring content. Although I am the main author, I occasionally use AI for minor language enhancements. This minimal AI usage ensures high-quality, trustworthy articles without compromising originality or sincerity, ultimately supporting our shared faith journey.
Warmly,
Dr. Akatakpo Dunn
Was this article helpful?