In a world full of challenges, our hearts may be burdened with sadness.
Yet, we must remember that God's faithfulness endures. He promises happiness for us and our friends, family, and loved ones.
When unhappiness lingers, remember that prayer can lift us all up. Depression and hopelessness are the devil's tools, but God stands with the righteous.
Facing difficulties in your relationships? Prayer can bring hope and joy to friends, family, and loved ones.
Know someone who's struggling? Lift them up in prayer too.
With faith, prayer changes things.
Recall the uplifting words of Psalm 16:11: "You make known to me the path of life; in your presence, there is fullness of joy; at your right hand are pleasures forevermore."
Today, let's pray for happiness, not just for ourselves, but for those dear to us.
Seeking God's guidance, we'll withstand trials and unlock true joy.
To inspire your soul, we've crafted a powerful, uplifting prayer for happiness, specifically for our friends, family, and loved ones.
---
Recommended for you
---
Short prayer for happiness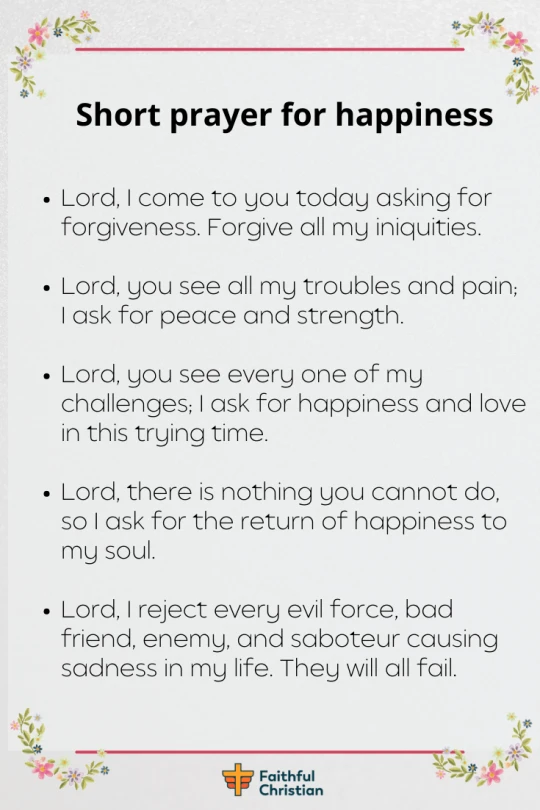 Heavenly Father, I come before You today, seeking mercy and forgiveness. I admit I've sinned and need Your grace (Heb. 4:16). Cleanse my heart, Lord, and wash away my wrongs through Jesus' redeeming blood (1 John 1:9).
Lord, You know my struggles and pain (Psalm 56:8). I ask for Your comforting presence. Be near to my broken heart and save my crushed spirit (Psalm 34:18). Grant me strength and peace only You can provide (Phil. 4:13; Isa. 9:6).
Amid challenges, I turn to You, Almighty God (Psalm 32:8). Fill my heart with love and happiness. Remind me You're always with me (Matt. 28:20). Your love and faithfulness endure, offering hope and reassurance (Psalm 36:5).
Omnipotent Lord, nothing is too hard for You (Jer. 32:27). I trust You to restore joy and lift my burdens (Matt. 11:28-30). Your presence brings fullness of joy and everlasting pleasure (Psalm 16:11).
I renounce negativity, harmful relationships, and forces causing sorrow (Eph. 6:12). I trust in Your protection and guidance (Psalm 91:1-2). You are my refuge, sheltering me under Your wings (Psalm 91:4). In Your name, I pray. Amen.
Prayer for happiness for yourself, friends, and loved ones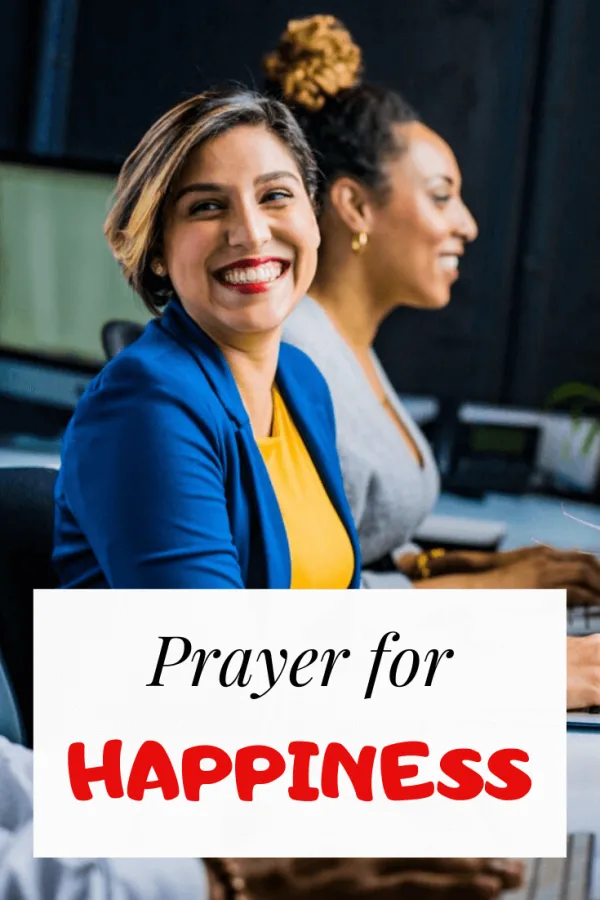 Meditate on God's Word (let us pray)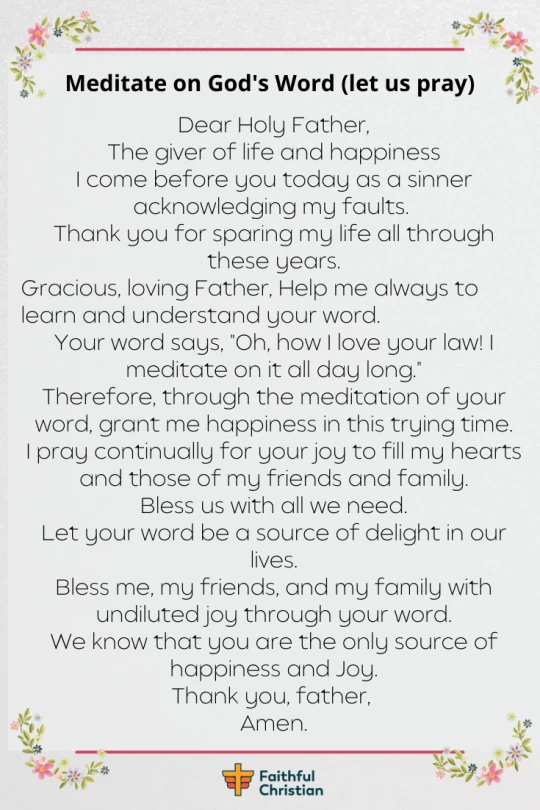 Dearest Heavenly Father,
You, the infinite source of life and happiness, crafted us in Your image, inviting us to live with purpose and fulfillment. Humbly, I come before You, acknowledging my imperfections and past mistakes. Your grace, shown through Jesus' sacrifice, moves me deeply.
I am eternally grateful for the gift of life You've blessed me with over the years. Through life's peaks and valleys, Your love remains unwavering. May Your glorious name be exalted and praised forever.
Compassionate Father, I yearn for growth in wisdom through Your Holy Word. Your teachings illuminate my path. Like the psalmist, I, too, find joy in meditating on Your Word all day.
In difficult times, I seek solace through Your Word's contemplation. Grant me, my friends, and my family Your divine peace. Fill our hearts with Your boundless joy, lifting our spirits.
Generously bless us with everything we need, both spiritually and physically. Your Word is our wellspring of delight, guiding and inspiring us daily. With You as our foundation, we find stability and strength.
By the power of Your Word, bestow upon us a never-ending fountain of joy and happiness. We recognize You as the ultimate source of lasting happiness in our lives. We come to You, trusting that You will answer our prayers.
In Your loving name, we pray.
Amen.
---
Recommended for you
---
All things work together for Good (let us pray)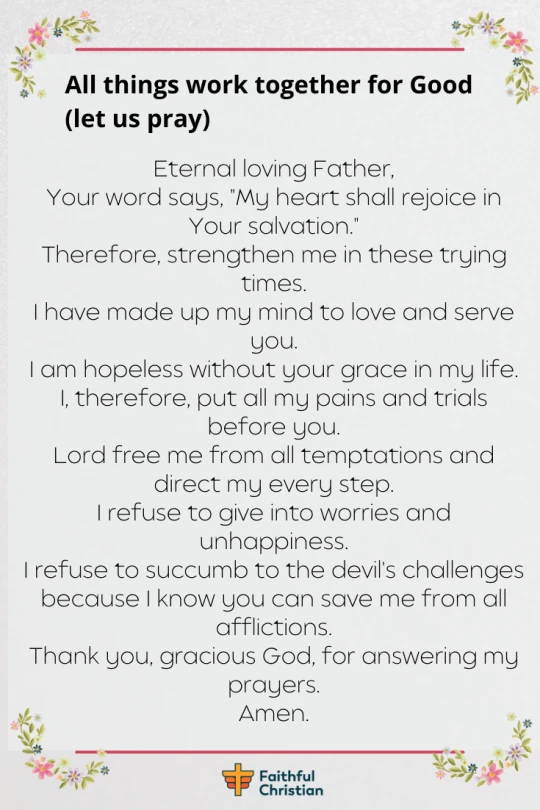 Everlasting, loving Father,
Your Word speaks life, saying, "My heart rejoices in Your salvation." It's a reminder that true joy and peace are found in the gift of redemption, which comes through Jesus Christ. With hope and determination, we can face life's challenges, knowing You are with us.
Challenging times call for divine strength and guidance (Isaiah 40:31). Paul's wisdom in Philippians 4:13 gives us courage: we can do all things through Christ who strengthens us. By leaning on You, we face adversity with confidence, knowing You guide and protect us.
I commit to loving and serving You wholeheartedly (Joshua 24:15). Jesus taught us in Mark 12:30 to love God with every part of our being. Dedicating ourselves to Your service is a beautiful way to express our gratitude for Your love and salvation.
Your boundless grace is my lifeline (Ephesians 2:8-9). We are saved by grace through faith, not by our own efforts. Your grace is a priceless gift, one we should cherish and rely on in every aspect of our lives.
I lay my struggles and trials before You, humbly seeking solace (1 Peter 5:7). Jesus' invitation in Matthew 11:28 calls us to find rest in Him. Casting our cares on You allows Your comforting presence to strengthen us during life's darkest hours.
Deliver me from temptation, and guide my every step (1 Corinthians 10:13). The Bible assures us You'll provide a way to endure and overcome. Trusting Your divine guidance, we can walk the right path with confidence.
I stand firm against worry and despair (Philippians 4:6-7). We're encouraged to cast our anxieties on You, presenting our needs with a grateful heart. Doing so, we receive Your peace, guarding our hearts and minds from life's storms.
By Your grace, I won't succumb to the enemy's tests (James 4:7). Resisting the devil and drawing near to You, we're assured of his retreat. We rely on Your protection and deliverance, holding onto our faith.
Thank You, merciful God, for hearing and answering my prayers (1 John 5:14-15). We trust that when we ask according to Your will, You hear us and grant our requests. I am grateful for Your love and faithfulness, sustaining me each day.
Amen.
Rejoice in the Lord always (lets us pray)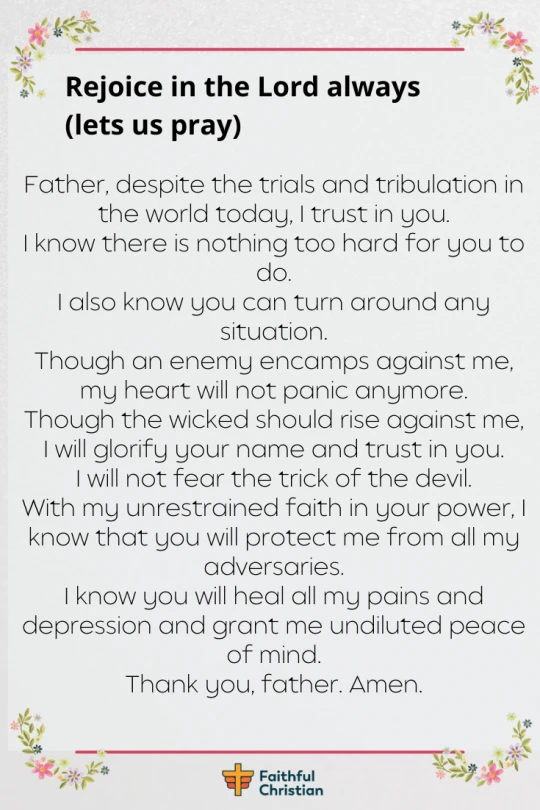 Oh Father, I place my unwavering faith in You. Amid life's challenges, I trust Your guidance and protection. Proverbs 3:5-6 reminds me to rely on You and not my understanding. In all my ways, I seek Your presence, knowing You'll lead me through life's storms.
Your infinite power and wisdom give me confidence. As Philippians 4:13 states, I can do all things through Christ. I stand firm, believing nothing is impossible for You (Luke 1:37) and Your divine help is always available.
I trust You can turn any difficult situation into a testimony of grace and mercy. Romans 8:28 assures me that all things work together for good when I love You. Amid trials, I hold onto this promise, believing You'll transform my challenges into opportunities for growth and praise.
Even when adversaries surround me, my heart stays steadfast and calm, for You are with me. Psalm 23:4 comforts me during dark times, and Psalm 91:2 declares You as my refuge and fortress.
I will keep praising Your name, even when enemies rise against me. Matthew 5:44 instructs me to love my enemies and pray for my persecutors. With Your enduring love and strength, I stand firm on Isaiah 54:17's promise that no weapon against me shall prosper.
I refuse to fear evil schemes, knowing I am protected by Your divine power. Ephesians 6:11 encourages me to wear Your armor against the devil's tricks. With faith, I can extinguish evil's flaming arrows (1 John 4:4).
With unwavering faith, I know You'll shield me from harm. Psalm 34:7 says Your angels encamp around those who fear You, delivering them. I rest, assured of Your protection and that You'll never leave me (Deuteronomy 31:6).
You will heal my wounds and lift my sadness, granting lasting peace. In distress, I remember Matthew 11:28, where Jesus invites the weary to find rest in Him. By His wounds, I am healed (Isaiah 53:5).
I am deeply grateful for Your grace, mercy, and countless blessings. I rejoice in Your Word, knowing You are my strength and shield (Psalm 28:7). Lord, I will sing Your praises and give thanks for Your unfailing love.
I am inspired by 1 Thessalonians 5:16-18 to rejoice, pray, and give thanks always. I choose gratitude, even in adversity, knowing You work in my life for good.
In uncertain times, I recall Jesus' words in John 14:27. With His peace, I cast my anxieties on You, knowing You care for me (1 Peter 5:7).
Lord, I dedicate my life to serving You and sharing Your love with others. As Matthew 5:16 says, I will let my light shine, so others see my good deeds and glorify You.
I will seek Your face, follow Your guidance, and trust in Your love and mercy. Amen.
Christ lives in you (let us pray)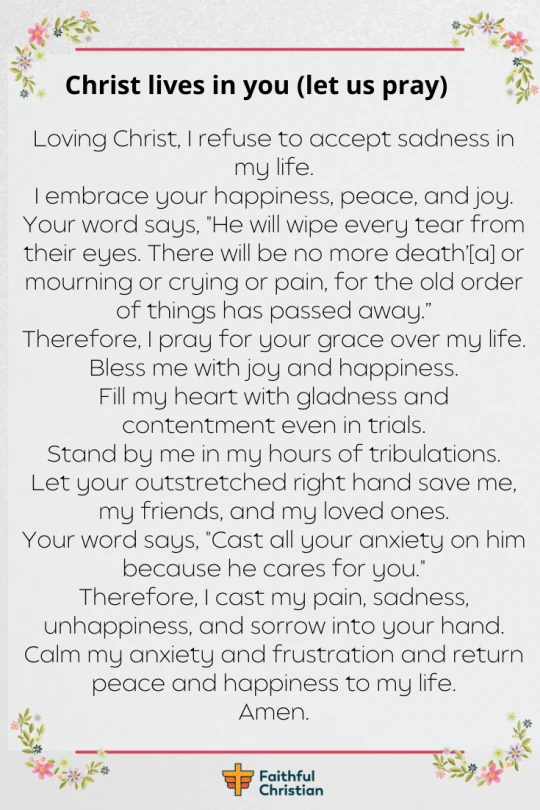 As a devoted follower of Christ, I make the conscious choice to let go of sadness and despair. I welcome the divine gifts of love, joy, peace, and all the other fruits of the Spirit described in Galatians 5:22-23.
My heart is open, eager to be filled with the happiness and peace that only You can provide.
In Your Holy Scripture, Revelation 21:4 offers hope and comfort, promising that You will wipe away every tear.
In this beautiful eternity, there is no more death, mourning, crying, or pain. The old order is gone, and we are embraced by Your eternal love.
Inspired by this promise, I ask for a generous outpouring of Your grace, as mentioned in 2 Corinthians 12:9. Let Your grace sustain me, even in my weakest moments.
Bless me with abundant joy and happiness, enabling me to find contentment during life's trials. I am reminded of James 1:2-4, where trials are said to bring spiritual growth and maturity.
In difficult times, I trust You to be my rock and my fortress, just as Deuteronomy 31:6 encourages us to be strong and courageous.
I believe that Your powerful right hand will protect and save me, my friends, and my loved ones. Your reassuring presence is a beacon of light, guiding me through the darkest of storms.
Your word in 1 Peter 5:7 comforts me, as I know that I can cast all my anxiety on You, for You care deeply about me.
With this in mind, I place my pain, sadness, and sorrow into Your loving hands. I am confident that You will carry my burdens, as stated in Psalm 55:22.
I pray for Your soothing touch to ease my anxiety and frustration. Fill my life with peace and happiness, as suggested in Philippians 4:6-7.
By doing so, I can become a better servant of Your love and share Your light with those around me. I am inspired by Matthew 5:16, which urges us to let our light shine before others, so they may see our good deeds and glorify You.
Amen.
---
Recommended for you
---
Morning Prayer for happiness – My prayer for you
Beloved Jesus, our compassionate Savior,
In these tough times, I turn to You, recalling Your call in Matthew 11:28 for the weary to find rest in You. As I start my day, I seek Your presence to help me navigate life's challenges. In 1 Corinthians 10:13, You promise to never let us face more than we can handle.
Lord, I ask for joy, happiness, and peace in my life. In John 14:27, You offer Your unique peace. Let me feel Your love, as Romans 8:38-39 shows that nothing can separate us from it.
Jesus, hear my prayers and grant my heart's desires according to Your will. As in Matthew 7:7-8, You encourage us to ask and receive. May Your wisdom guide me, and Your kindness support me, as Philippians 4:19 promises You'll provide.
I pray for healing and comfort, as Psalm 34:18 says You're close to the brokenhearted. May I find solace in Your love and be renewed in my mind, as Ephesians 4:23 instructs.
Bless me with deeper knowledge of Your Word. 2 Timothy 3:16-17 tells us Scripture is inspired by You for our growth. Help me reflect Your love to those around me.
Thank you for Your guidance, protection, and provision. Deuteronomy 31:6 reassures us that You'll never leave us. In Your mighty name, I pray.
Amen.
Frequently Asked Questions
What is a powerful prayer for friends and family?
A powerful prayer for friends and family involves seeking God's protection, guidance, and blessings. Pray for their spiritual growth, health, and resilience.
Consider Philippians 4:6-7 and Proverbs 3:5-6 for scriptural inspiration. Sincere prayers strengthen relationships and bring loved ones closer to God.
How do you pray for happiness in someone?
To pray for someone's happiness, ask the Lord for joy, peace, and contentment in their life. Pray for them to feel God's love and presence daily.
Use scriptures like Psalm 16:11 and Romans 15:13 to guide your prayer. Pray with faith and love, trusting in God's care for their well-being.
What is a prayer of gratitude for friends and family?
Express gratitude for friends and family by thanking God for the love, support, and joy they bring. Thank Him for shared memories and the ways He blesses you through them.
Use 1 Thessalonians 5:16-18 and Colossians 3:15 to inspire your grateful prayers. A thankful heart strengthens bonds and fosters a spirit of gratitude.
What is a strong prayer for happiness?
A strong prayer for happiness starts by seeking God's presence. Ask Him to fill your life with love, joy, and peace. Request strength and wisdom to find happiness in every situation.
Use Matthew 5:3-12 and Psalm 37:4 to guide your prayer. Sincere and trusting prayers deepen your connection with God and help you experience His joy.
Author: Akatakpo Dunn
Dr. Akatakpo Dunn is a dedicated follower of Christ, an active member and speaker, and an ongoing learner of the Scriptures. Passionate about his faith and serving others, he is committed to sharing his spiritual journey and insights to inspire and uplift fellow believers. He has been active in the church for more than 23 years. Through The
Faithful Christian Blog
,
Dr. Dunn
combines his love for God, philanthropy, and Scripture, providing a valuable resource for those seeking to grow in their faith.
Follow me: on Youtube, Facebook, Twitter, Instagram, and Pinterest.
Content Disclosure:
At The Faithful Christian Blog, I create authentic and inspiring content. Although I am the main author, I occasionally use AI for minor language enhancements. This minimal AI usage ensures high-quality, trustworthy articles without compromising originality or sincerity, ultimately supporting our shared faith journey.
Warmly,
Dr. Akatakpo Dunn
Was this article helpful?