In trying times, I've always trusted in God's word for encouragement.
And that's because I know He is a reliable God.
Whether you are sick, homeless, bedridden, unhappy, disappointed, do not give up.
Instead, put your trust in God.
Never cease to be thankful and prayerful.
Never stop saying in your heart, "Lord, I thank you for all you've done in my life."
Appreciating where you are will spur God to do more.
Today, I have compiled inspirational good bible verses that will uplift your soul.
These verses will remind you that God needs your praise, no matter the condition.
---
Recommended for you
---
15 Good bible verses for Inspiration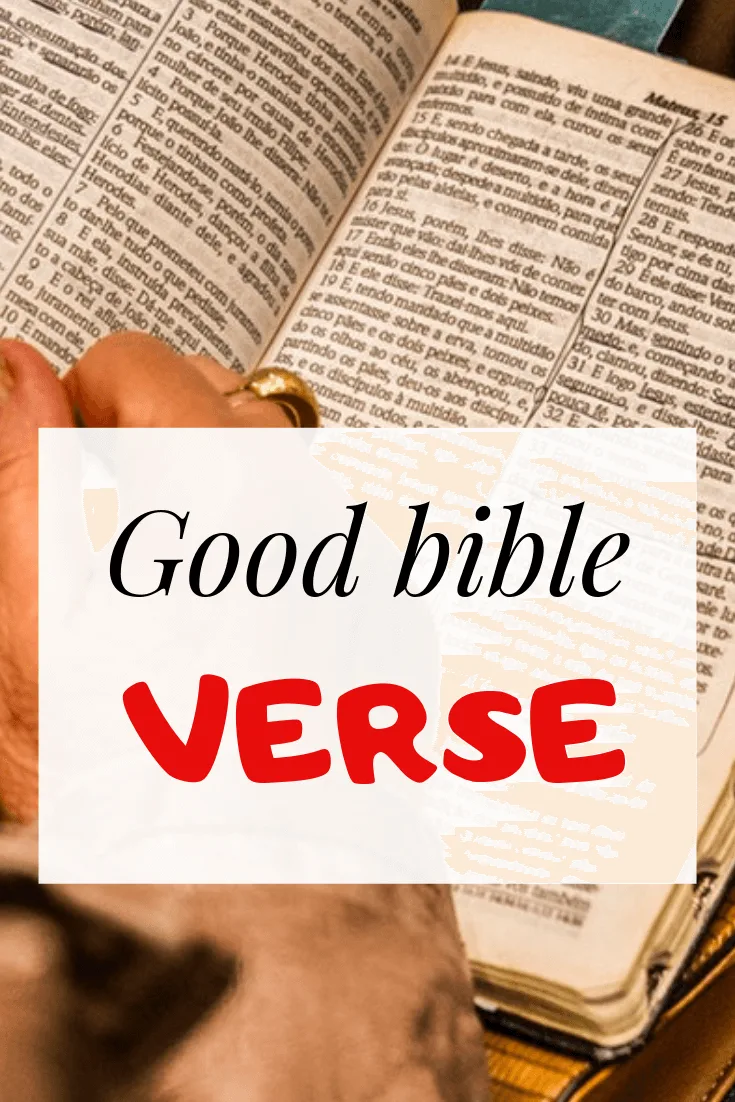 These encouraging good bible verses will inspire you and remind you that nothing is impossible with God. So in all conditions, be thankful.
1.  Psalm 88:13 on being thankful in the morning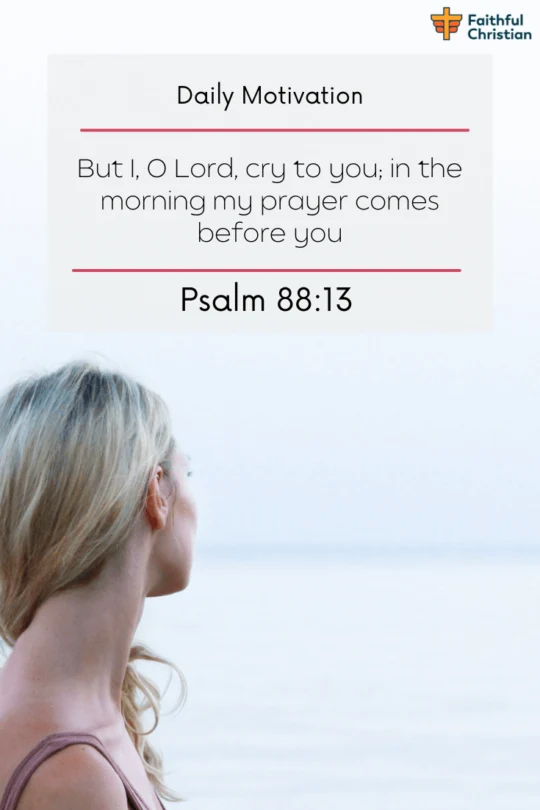 But I, O Lord, cry to you; in the morning my prayer comes before you
In Psalm 88:13, the Psalmist's morning plea to God offers us a precious nugget of wisdom. A heartfelt prayer at dawn can set a hopeful tone for the day.
Scripture emphasizes the significance of morning prayer. This serene period invites divine direction, prepping us for the day's hurdles. Here, we gain spiritual nourishment, reinforcing our faith to face whatever comes our way.
God's unshakeable love is beautifully portrayed in Lamentations 3:22-23. These verses assure us of His persistent presence, illustrating that His mercies are renewed with every sunrise. It is indeed a divine assurance that reminds us: His love never fails, His mercies are always fresh.
The Gospel of Mark 1:35 provides a remarkable example. Jesus, rising early to pray, sets a precedent for us. The Son of God prioritized connection with the Father. So, isn't it worth emulating such a rich and meaningful ritual?
Morning prayers can truly be transformative. They aren't merely words spoken but a pathway to a deeper spiritual bond. I hold the belief that it is through this sacred practice, we position ourselves to absorb divine wisdom and cultivate inner tranquility.
Billy Graham's story serves as a testament to the transformative power of morning prayer. The evangelist's daily routine was a devotion to scripture and prayer, inspiring countless believers. His faith steered him towards his divine purpose, underscoring the profound impact of consistent morning prayer.
Finally, let's not forget the element of gratitude in our morning prayers. Such moments shouldn't only be about requesting but also thanking. Recognizing our blessings and expressing gratitude helps foster positivity, reminding us of God's unwavering presence.
In essence, the potent words of the Psalmist, God's faithfulness, Jesus' example, and the legacy of believers like Graham all emphasize the power of morning prayer. With every sunrise, remember the promise of fresh mercies and the opportunity to start afresh.
Thus, morning prayer becomes more than a ritual – it is an inspirational tool and a gateway to spiritual growth.
2. Psalm 56:3-4 on trusting God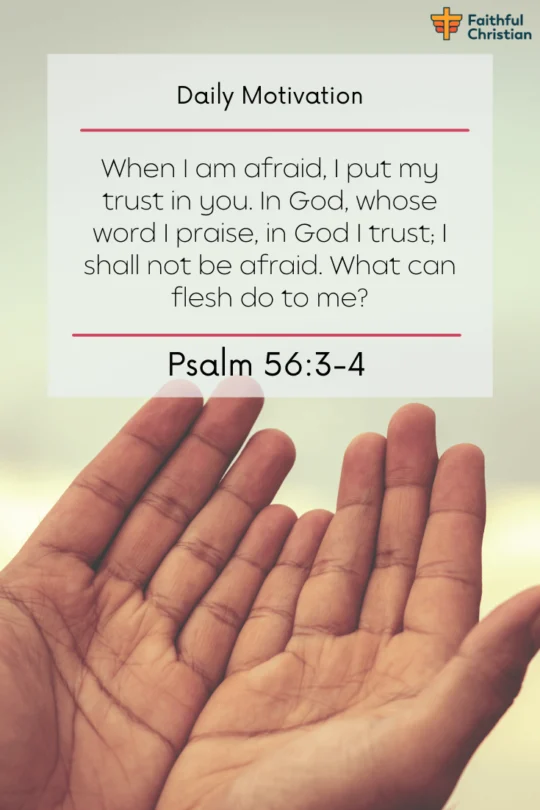 When I am afraid, I put my trust in you. In God, whose word I praise, in God I trust; I shall not be afraid. What can flesh do to me?
Navigating life's treacherous waters often stirs up fear. Still, Psalm 56:3-4 offers a beacon of hope. "When I am afraid, I put my trust in you…What can mere mortals do to me?" Let's unpack this.
This call to trust God in moments of fear and uncertainty resonates deeply with each of us. Picture Daniel, a man of unwavering faith, standing at the mouth of a lion's den. A decree had been passed. Pray to anyone but the king, and be thrown into the den.
Did Daniel recoil in fear? No. He opened his windows and prayed to God, just as he always did. Here was a man staring death in the face, yet he held an unshaken trust in God. That's the power of faith.
But what's the secret to such faith? The Psalmist offers a clue in praising God's word. Proverbs 29:25 amplifies this: "Fear of man will prove to be a snare, but whoever trusts in the Lord is kept safe." Trusting God shields us from the fear snare. By embracing God's promises, we trade human uncertainty for divine assurance.
Isaiah 41:10 illustrates this divine assurance: "So do not fear, for I am with you…I will uphold you with my righteous right hand." Such a promise should embolden us, reminding us that God's fortifying strength is ever-present. This assurance breeds resilience and counters fear.
Modern times offer analogous stories of trust. Holocaust survivor Corrie ten Boom's life story echoes Daniel's trust in God. Despite facing the Holocaust's horrors, she clung to God, finding comfort and strength in His word.
Her trust did not waver, even in dire situations. Her life testifies to trusting God's power and has inspired millions worldwide.
Whether you face challenges akin to Daniel's lion's den or trials like Corrie, remember Psalm 56:3-4. In the heart fortified by trust in God, fear finds no foothold.
When fear threatens, let this echo: "In God I trust…What can mere mortals do to me?" These verses and stories offer a roadmap. Trust in God, they tell us, is our unshakeable pillar.
In all circumstances, let that truth be your guide.
3.  Proverbs 3:5 on the mysteries of God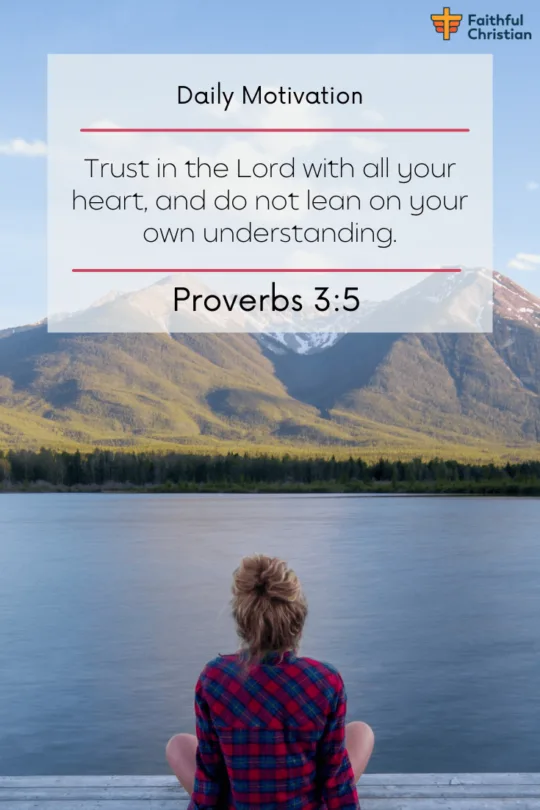 Trust in the Lord with all your heart, and do not lean on your own understanding.
In life, we often yearn for control. We crave predictability, placing faith in what's known and familiar. Yet, Proverbs 3:5 invites us to trust God beyond our understanding.
The verse advises, "Trust in the Lord with all your heart and lean not on your own understanding." This powerful command inspires us to surrender our perceptions and yield control to God.
This verse doesn't urge us to shun knowledge or cease learning. Rather, it asks us to recognize that God's wisdom surpasses our own.
Isaiah 55:8-9 reinforces this truth: "For my thoughts are not your thoughts, neither are your ways my ways…As the heavens are higher than the earth, so are my ways higher than your ways and my thoughts than your thoughts." These verses underscore the vast expanse of God's wisdom.
God's wisdom may seem counterintuitive to our limited human understanding. In 1 Corinthians 1:25, we learn, "For the foolishness of God is wiser than human wisdom, and the weakness of God is stronger than human strength." This verse eloquently communicates the paradoxical nature of divine wisdom.
Our journey of faith involves embracing this total trust in God, a trust that transcends our comprehension. We see a remarkable illustration in the life of Abraham. When God asked Abraham to sacrifice his beloved son Isaac, it seemed counterintuitive, even horrendous by human standards.
But Abraham, leaning not on his understanding, trusted God. He moved forward with the task until God intervened, and this act of trust was credited to him as righteousness (Genesis 22).
Abraham's story teaches us that trusting God often involves a willingness to move forward even when the path ahead appears confusing or challenging.
In modern times, Dr. Martin Luther King Jr. exemplifies this kind of faith. In the face of the civil rights era's hostility and confusion, Dr. King held steadfast to his trust in God, inspiring countless others with his resolute faith.
As we traverse life's peaks and valleys, let's remember to trust in God's wisdom more than our own. By doing so, we exchange our limited view for God's boundless wisdom, and our fear for His peace.
Trusting the author of our story, the One who knows the end from the beginning, is surely an inspiring way to navigate life.
4. Ephesians 4:1 behaving like Jesus Christ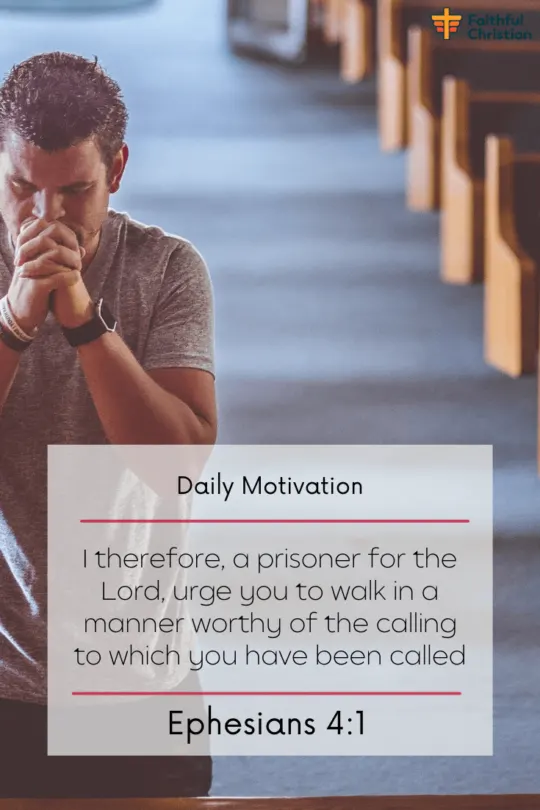 I therefore, a prisoner for the Lord, urge you to walk in a manner worthy of the calling to which you have been called
The concept of a 'calling' forms the foundation of Christian faith, beautifully encapsulated in Ephesians 4:1. What does it mean, though, to live a life worthy of this divine invitation?
Consider a royal banquet. You'd want to dress fittingly, wouldn't you? Similarly, our lives should reflect our divine calling. That is, they should honor God through our actions, words, and thoughts.
For a perfect example of a worthy life, look no further than Jesus. His life, defined by selfless love and service, sets the ultimate standard. Following in His footsteps, we unearth a purpose beyond earthly ambition.
But how do we navigate this path? Colossians 1:10 provides guidance, urging us to please God in all ways. This involves seeking God's will and wisdom, cultivating kindness, patience, and love.
Paul's life offers a powerful illustration. Once a persecutor of Christians, a divine encounter transformed him. Paul embraced his calling, weathering hardships to spread the Gospel, demonstrating the worthiness of his divine calling.
Mother Teresa's life paints a similar picture. Responding to her calling to serve the destitute, she mirrored Christ's love in her actions, demonstrating unwavering devotion.
Indeed, living a worthy life isn't always easy. It demands sacrifice and resilience. But the rewards are profound – deeper connection with God, fulfilling purpose, and the joy of being God's vessel.
As we embark on each day, let's reflect: Are our lives worthy of our calling? If unsure, remember, every day presents a fresh opportunity for alignment with this divine purpose. Such pursuit, I assure you, is absolutely worthwhile.
5. Psalm 37:25 Trusting God to provide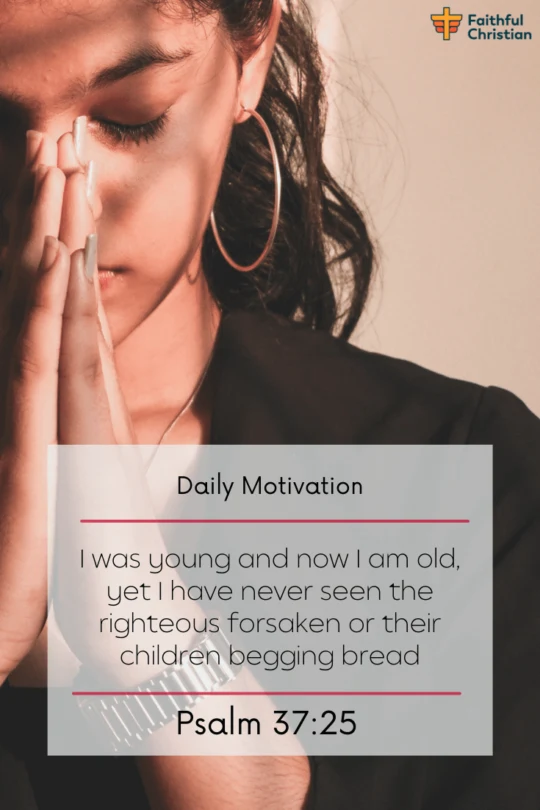 I was young and now I am old, yet I have never seen the righteous forsaken or their children begging bread
As we journey through life, it's easy to find ourselves gripped by worry—especially about provision. However, a nugget of wisdom from Psalm 37:25 offers an antidote: "I was young and now I am old, yet I have never seen the righteous forsaken or their children begging bread."
Reflect on this verse. The psalmist recounts a lifetime of God's faithfulness. Even through life's storms, God's provision is a constant. It assures us that those walking in righteousness, in alignment with God's will, will not be abandoned. They may face trials, but God's provision will prevail.
The hustle of modern life often breeds anxiety about financial stability and future prospects. The psalmist's words present a bold contrast. They point us towards Godly trust, encouraging reliance not on our means but on God's promise of provision.
This promise reverberates in the New Testament as well. Philippians 4:19 affirms, "And my God will meet all your needs according to the riches of his glory in Christ Jesus." It's a resounding confirmation of provision sourced from His boundless riches.
The idea of righteousness is key to understanding this divine provision. Biblical righteousness implies a harmonious relationship with God, striving to live as He desires.
This promise of provision is for the righteous—those in tune with God. It's not a guarantee of wealth, but an assurance that God sees, cares, and provides.
Our understanding deepens with real-life examples. Consider the Israelites in the wilderness. They faced hunger, but God provided—manna from heaven and water from a rock (Exodus 16-17). A remarkable testament to God's provision in desperate times.
The story of George Müller, a 19th-century believer, further illustrates this. Despite running orphanages with significant needs, Müller never sought financial aid. His trust in God's provision was unwavering—and it wasn't in vain. God provided, and his ministries flourished.
As we grapple with our own challenges, these examples offer inspiration. They're a vivid reminder of God's provision and faithfulness. Trust in His promise, knowing He provides—yesterday, today, and forever.
More Great Bible verses
6. Hebrews 12:1-2 on focusing on the future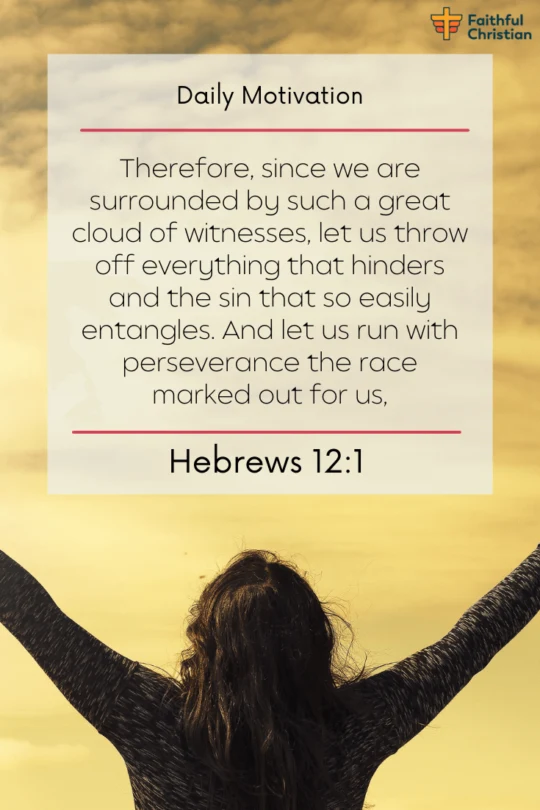 Therefore, since we are surrounded by such a great cloud of witnesses, let us throw off everything that hinders and the sin that so easily entangles. And let us run with perseverance the race marked out for us,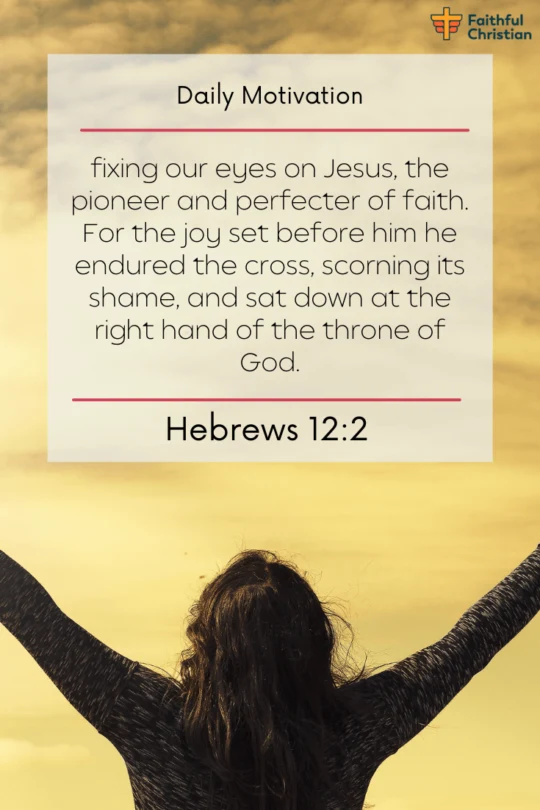 2 fixing our eyes on Jesus, the pioneer and perfecter of faith. For the joy set before him he endured the cross, scorning its shame, and sat down at the right hand of the throne of God.
Life is a race – not of speed, but of faith. This captivating metaphor lies at the heart of Hebrews 12:1-2. Perseverance, not speed, is our crucial attribute.
The Apostle Paul understood this concept intimately. He endured hardships while tirelessly advancing the Gospel (2 Timothy 4:7). His life became a race marked by determination.
In 1 Corinthians 9:24-27, Paul delves deeper into the athletic metaphor. Athletes discipline themselves to win the prize. Our prize, however, isn't a tarnishing medal, but eternal life.
To succeed in this race, we must adopt the mindset that Paul shares in Philippians 3:13-14. We must release the past, not dwelling on failures or successes. Our goal: to press on towards the finish line in Christ Jesus.
But, how do we navigate this race? The author of Hebrews provides guidance. We must fix our eyes on Jesus, our forerunner who emerged victorious. He's our beacon, providing strength and grace.
Consider Nick Vujicic's inspirational journey. Despite being born without limbs, he continues to run this race. He's a motivational speaker today, inspiring millions globally. His secret: maintaining focus on Jesus.
During this race, we are not alone. A 'cloud of witnesses' surrounds us, their life stories cheering us on, assuring us that victory is achievable.
However, to run effectively, we must shed the weights of sin and distraction. Just as a runner wouldn't wear heavy boots, we must remove impediments that slow us down.
So, I challenge you. Reflect on your life. Are there things slowing you down? Remember, we aren't running aimlessly. We're in a race of perseverance and focus. By removing our obstacles, we allow God's grace to work within us.
In conclusion, let Hebrews 12:1-2 inspire you to partake in this faith race with renewed vigor. We're participants, not spectators. Brace yourself. The race awaits.
7. Ephesians 6:10-18 on putting on the Armour of God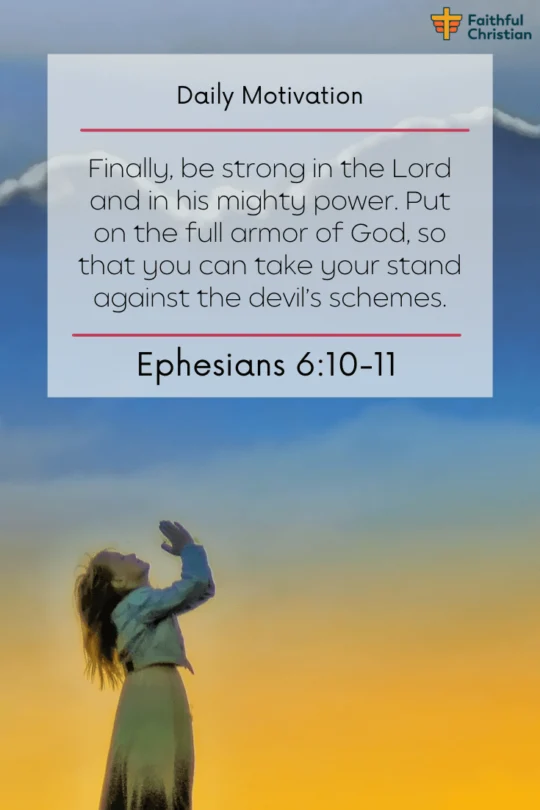 Finally, be strong in the Lord and in his mighty power. 11 Put on the full armor of God, so that you can take your stand against the devil's schemes.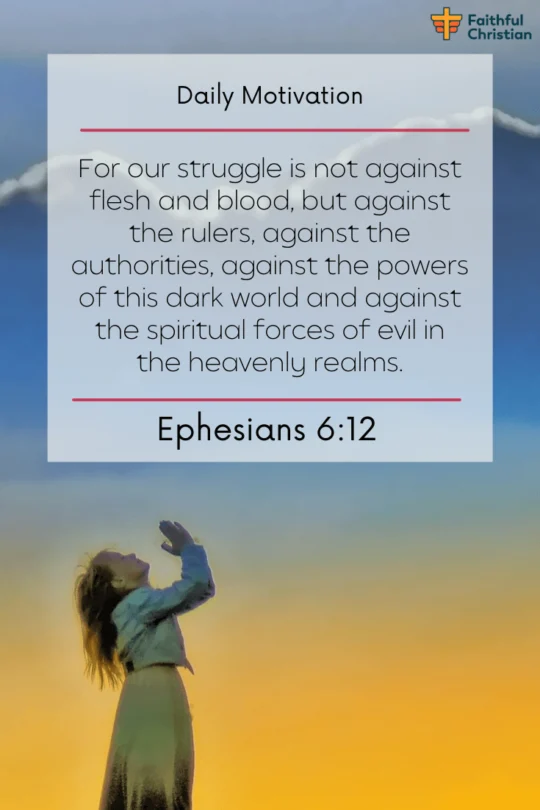 12 For our struggle is not against flesh and blood, but against the rulers, against the authorities, against the powers of this dark world and against the spiritual forces of evil in the heavenly realms.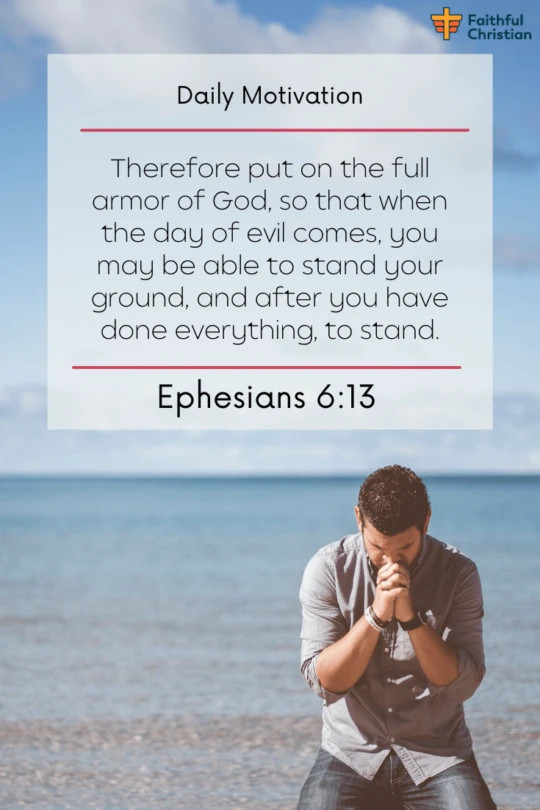 13 Therefore put on the full armor of God, so that when the day of evil comes, you may be able to stand your ground, and after you have done everything, to stand.
14 Stand firm then, with the belt of truth buckled around your waist, with the breastplate of righteousness in place,
Imagine this: a battlefield where the enemy is unseen, and the armor is spiritual, not physical. Here lies the essence of Ephesians 6:10-18. It's a divine call to "be strong in the Lord and in his mighty power." It's a call to spiritual warfare.
Our strength isn't muscle or might, but God Himself. It's in Him that we find our power. We're not talking about lifting weights here, but lifting hearts and souls toward God.
Now, let's delve into this armor. It's comprised of truth, righteousness, peace, faith, salvation, and the Spirit. These aren't just symbolic pieces; they're divine defenses against spiritual adversaries. Each piece of this armor serves as a buffer, providing us with an unmatched defense.
But how do we wear this armor? We do so by living out God's truths, striving for righteousness, advocating for peace, nurturing faith, cherishing salvation, and wielding the Spirit's sword—God's Word.
Take a moment to consider David, the shepherd-turned-king. When facing Goliath, he didn't don physical armor. His trust was in God alone. His victory was won not by human strength, but by divine intervention.
Fast forward to modern times. We see Dietrich Bonhoeffer, a theologian who stood against Hitler. His faith served as his shield, God's truth was his weapon, and his righteous life was his protective gear. Despite immense danger, Bonhoeffer stood firm.
This victorious living is within our grasp too. We can thrive amidst spiritual battles when we don the full armor of God. It's not about surviving but thriving, not in fear, but in faith.
I urge you, as you face life's battles, remember this divine armor. Equip it, stand firm in it, and claim your victory in Christ. Your strength stems from Him. With this armor, you're not just prepared—you're invincible. You're not just strong—you're God-strong.
8.  2 Corinthians 4:17-18 on trusting God with your future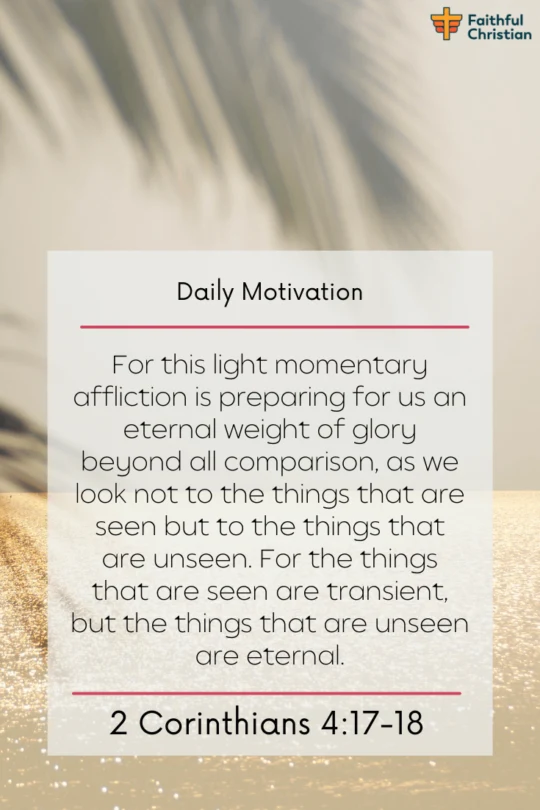 For this light momentary affliction is preparing for us an eternal weight of glory beyond all comparison, as we look not to the things that are seen but to the things that are unseen. For the things that are seen are transient, but the things that are unseen are eternal.
Navigating life's tribulations often compels us to seek comfort and guidance. A prime source is found in 2 Corinthians 4:17-18. These verses impart a profound message. Our earthly troubles, however deep, are ephemeral in the context of eternity.
The imagery of troubles as 'light and momentary' is a soothing balm. It offers a perspective where our struggles, when contrasted with eternity, seem fleeting. But amid life's tumult, we often lose this vision. Our sight becomes marred by what's immediate, visible. That's when we need an 'eternal perspective.'
An eternal perspective isn't about ignoring pain. It's about adding context. It involves shifting focus from the temporal to the eternal, unseen truths. This shift doesn't belittle our trials but imbues them with meaning. It assures peace amidst turmoil, reminding us of a grander, eternal reality.
Yet, focusing on the unseen might seem unfeasible. Here, faith comes into play. Hebrews 11:1 describes faith as "the assurance of things hoped for, the conviction of things not seen." Faith enables trust in unseen, eternal promises. It allows us to dwell in certainty, beyond the tangible world.
Job, a biblical figure, embodies this perspective. Despite his immense loss, he praises God (Job 1:21). His sight was set on God's unchanging character, not his pain. His story is an inspiration.
A parallel can be drawn with Elisabeth Elliot. Following her husband's murder by the tribe they served, she chose to stay. Her faith in God's love transcended her grief. She looked past her pain, focusing on the eternal consequences of her actions.
Our ephemeral troubles, the eternal perspective, the role of faith – they converge to inspire believers. Like Job and Elisabeth, we can meet challenges courageously, holding onto an eternal view.
While this perspective doesn't erase our problems, it provides endurance. It assures us that our "momentary troubles" are refining us for eternal glory.
2 Corinthians 4:17-18 is more than a comforting promise; it's an enduring source of inspiration.
9.  Psalm 40:5 on acknowledging God's blessings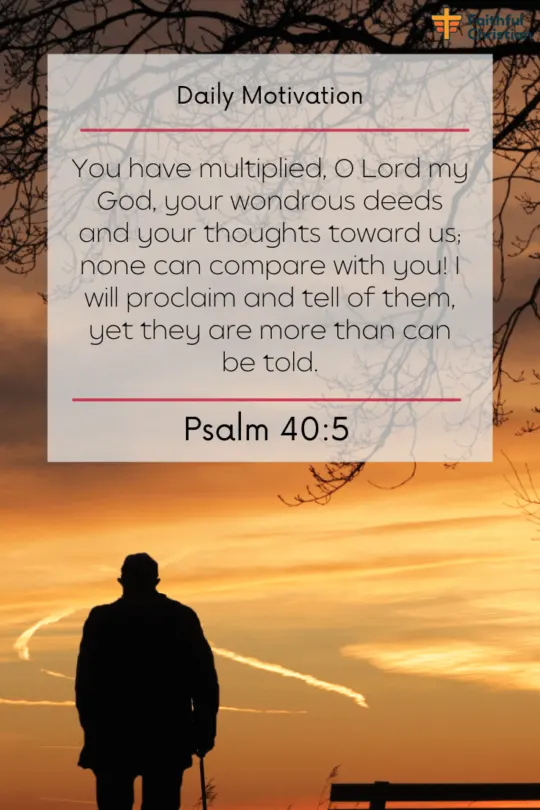 You have multiplied, O Lord my God, your wondrous deeds and your thoughts toward us; none can compare with you! I will proclaim and tell of them, yet they are more than can be told.
Psalm 40:5 paints a vivid picture of God's grandeur and His plans for us. His works are countless and His deeds incomparable. Every element of our existence, each moment of life, echoes His divine craftsmanship.
Psalm 139:14 highlights this beautifully: "I praise you because I am fearfully and wonderfully made."
The blessings we receive are diverse and innumerable, spanning from everyday comforts to life-changing moments. Recognizing these blessings is the first step towards a thankful heart. However, this realization often eludes us.
As we acknowledge His generosity, we also learn to appreciate His plans, beautifully illustrated in Romans 8:28: "And we know that in all things God works for the good of those who love him."
Joseph's story in the Bible underscores this fact. Sold into slavery, wrongfully accused, and imprisoned, his life took unexpected turns. Yet, he held firm to his faith and recognized God's plans in his circumstances, which ultimately led to his elevation as a ruler in Egypt.
In more recent times, we see the story of Louis Zamperini. Once an Olympic athlete, he later became a prisoner of war during World War II. Enduring unspeakable horrors, his faith became his beacon of hope.
His life is a powerful testimony of how someone can experience countless blessings and wonders, even in the direst of situations.
Despite the trials, he found faith, and in faith, he discovered a life more abundant and fulfilling than he could ever have imagined.
In conclusion, the stories of Joseph and Zamperini teach us to see God's blessings and plans amidst life's trials. They invite us to marvel at His wonders, value His uniqueness, and trust in His good intentions for us. Their lives serve as reminders that with God, our stories are part of a greater narrative.
In this narrative, despite trials and tribulations, hope and faith remain constant, guiding us towards a life filled with God's blessings and fulfillment.
10.  Psalm 119:133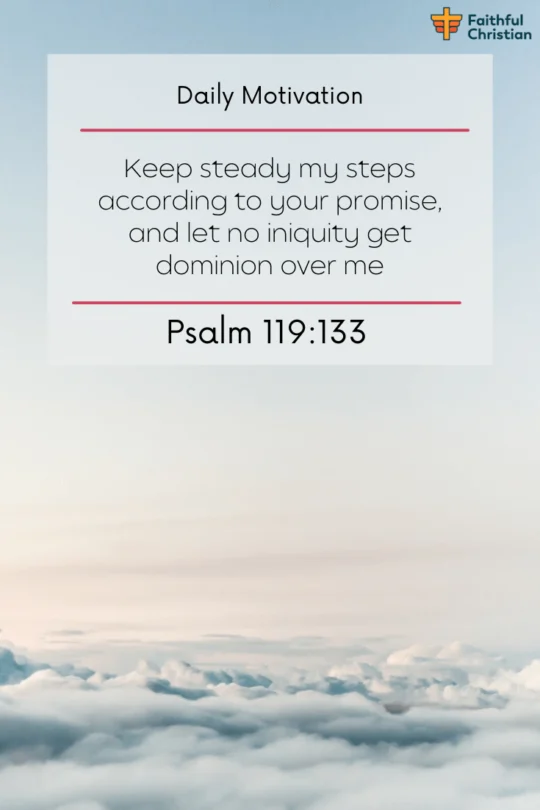 Keep steady my steps according to your promise, and let no iniquity get dominion over me
Psalm 119:133 is a cry for divine direction. "Direct my footsteps according to your word; let no sin rule over me." From this verse, we see a deep longing for guidance and victory over sin, two sentiments often echoed in our lives.
God's Word, the Psalmist assures us, is an infallible compass. Proverbs 3:6 mirrors this, encouraging submission to God for clear paths. Amid life's tumult, God's Word provides unequivocal guidance, a concept inspiring for believers.
The verse doesn't stop at seeking direction. The Psalmist also requests freedom from sin's rule. This aligns with Romans 6:14, a promise of sin's defeat. Celebrating this victory, we find empowerment to follow God unhindered.
How can we emulate the Psalmist? By daily immersing ourselves in God's Word, allowing it to illuminate our path (Psalm 119:105). Paired with prayer, scripture becomes our tool for discernment, a roadmap to navigate life's choices.
The story of Joshua exemplifies this. Leading the Israelites to the Promised Land, he leaned on God, not his own abilities (Joshua 1:9). His trust in God led to victory, a vivid demonstration of divine guidance in action.
William Wilberforce is another example. His faith guided his fight against British slave trade, despite the resistance he faced. He emerged victorious, illustrating the transformative power of faith-driven decisions.
In conclusion, Psalm 119:133 is a beacon of inspiration. It points us towards God's word for guidance and celebrates our victory over sin.
As it guided Joshua and Wilberforce, it beckons us to follow suit. When confusion clouds your path, remember this verse. Let God's word be your compass. Trust in His guidance to illuminate your way.
---
Recommended for you
---
Frequently Asked Questions
What Scripture encourages in hard times?
Romans 8:28 provides solace during challenging times. This scripture asserts, "In all things, God works for the good of those who love Him."
It implies God's meticulous involvement in our lives. Even during adversity, His overarching plan promotes our wellbeing and His glory. Regardless of the hardship magnitude, this verse reassures us of His benevolent intent.
What is the most encouraging Psalm?
The book of Psalms presents several uplifting passages. Psalm 23, however, stands out for its comforting narrative. It personifies God as a shepherd, ensuring our guidance, protection, and care.
In verse 4, it declares, "I will fear no evil, for you are with me." These words convey courage in adversity, affirming God's constant presence in our lives.
What is the most heartwarming Bible verse?
Romans 8:38-39 is exceptionally heartwarming. It states, "Nothing in all creation can separate us from God's love in Christ Jesus our Lord."
This verse guarantees God's unfaltering love, unaffected by any force in existence. It emphasizes the intensity and eternal nature of divine affection towards us.
What is the most inspirational Bible verse?
Philippians 4:13 serves as an empowering mantra. The verse proclaims, "I can do all things through Christ who strengthens me."
It denotes our capacity to overcome hurdles with Christ's strength. This scripture promotes resilience, asserting that challenges are surmountable with divine aid.
Which Bible verse talks about inspiration?
The inspiration behind scripture is explicitly expressed in 2 Timothy 3:16-17. It pronounces, "All Scripture is God-breathed and is useful for teaching."
This declaration acknowledges the divine origins of the Bible. It asserts the utility of scriptures in teaching, rebuking, correcting, and training, asserting the Bible's comprehensive applicability.
What is the best short motivational Bible quote?
The succinct motivational instruction in Joshua 1:9 goes, "Be strong and courageous." This commandment encourages bravery, admonishing against fear and discouragement.
It guarantees God's continual presence, inspiring boldness in our endeavors. This short yet potent verse provides a powerful affirmation of courage and divine companionship.
---
Recommended for you
---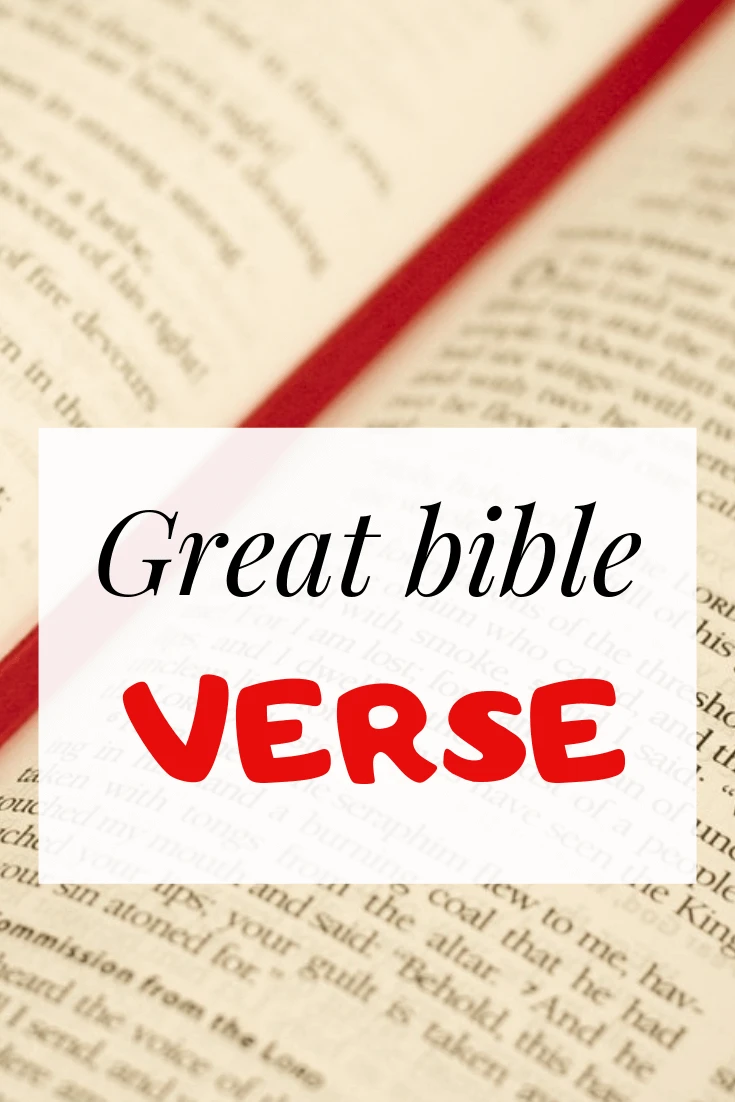 Author: Akatakpo Dunn
Dr. Akatakpo Dunn is a dedicated follower of Christ, an active member and speaker, and an ongoing learner of the Scriptures. Passionate about his faith and serving others, he is committed to sharing his spiritual journey and insights to inspire and uplift fellow believers. He has been active in the church for more than 23 years. Through The
Faithful Christian Blog
,
Dr. Dunn
combines his love for God, philanthropy, and Scripture, providing a valuable resource for those seeking to grow in their faith.
Follow me: on Youtube, Facebook, Twitter, Instagram, and Pinterest.
Content Disclosure:
At The Faithful Christian Blog, I create authentic and inspiring content. Although I am the main author, I occasionally use AI for minor language enhancements. This minimal AI usage ensures high-quality, trustworthy articles without compromising originality or sincerity, ultimately supporting our shared faith journey.
Warmly,
Dr. Akatakpo Dunn
Was this article helpful?