Wondering which bible verses about humility will inspire you?
Here's my take on a perfect scriptural example you can easily relate to.
A few days back, as I read through the scripture, I was astonished.
The scripture says,
For in him all things were created: things in heaven and on earth, visible and invisible, whether thrones or powers or rulers or authorities; all things have been created through him and for him.

Colossians 1: 16
Let this sink in for a second to understand what humility means.
Christ created everything and everyone on earth, including you and me.
Despite his powers, he came into this world with such a lack of pride.
He was modest, loving, and caring to everyone around him.
Christ ate with the righteous and dinned with sinners.
He was self-accommodating and, at some point, washed the feet of his disciples.
And even more surprising was that he was killed by those he had created.
How else could you describe humility and meekness?
The good news is that there are multiple bible verses about being humble that can guide us.
If Christ, the only begotten son of God, could be humble to his subjects, you and I have no reason to be proud.
God despises pride and uplifts those that are meek and humble.
But what does the bible say about humility?
Is there any immediate reward for being humble?
The bible teaches that the meek and humble will be blessed and exalted.
On the flip side, The Proud will be destroyed or humiliated.
I have put together bible verses about humility to encourage you.
---
Recommended for you
---
Bible verses about humility
Philippians 2:3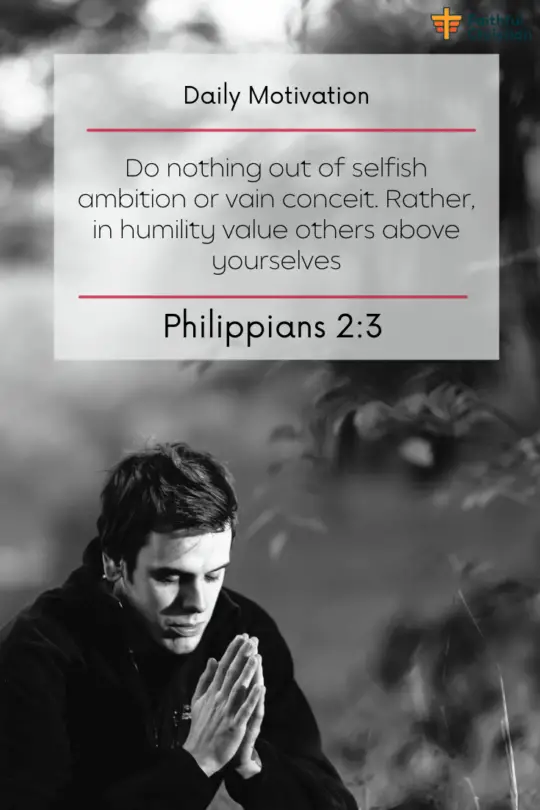 Do nothing out of selfish ambition or vain conceit. Rather, in humility value others above yourselves
The bottom Line
The devil will definitely tempt us to do the wrong things.
When pride is trying to take control in those trying moments, we must seek God's face.
He understands our challenges and is willing to help if you seek him.
God detests selfishness or pride. Therefore, at all times, we must be seen loving others with humility and the fear of God.
James 4:10 – Humble yourselves bible verse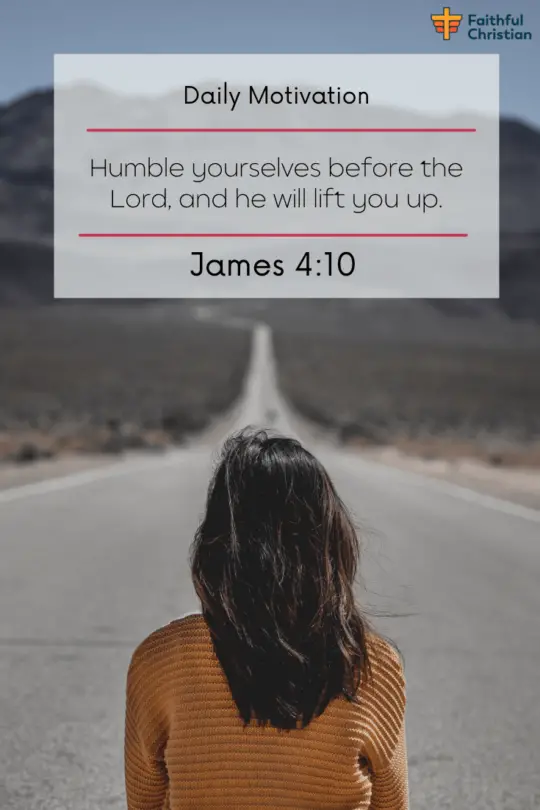 Humble yourselves before the Lord, and he will lift you up.
The bottom Line
There are no two ways about it. God has promised to bless those who keep his commandments.
Likewise, he says, if you let go of your ego and pride, he is willing to exalt you among your contemporaries.
Pride comes before a fall, and there are numerous examples in the scriptures.
A typical example is Lucifer that was banned from heaven because of his pride.
If you must get to the next level, you must humble yourself in all things.
Colossians 3:12
Therefore, as God's chosen people, holy and dearly loved, clothe yourselves with compassion, kindness, humility, gentleness and patience.
The bottom Line
There are numerous benefits of the Holy Spirit.
When we repent and give our lives to Christ, he sends the holy spirit to take control of our affairs.
When the Holy Spirit comes upon you, you readily accept humility as a way of life.
If you are proud in spirit, then you are far from God.
2 Chronicles 7:14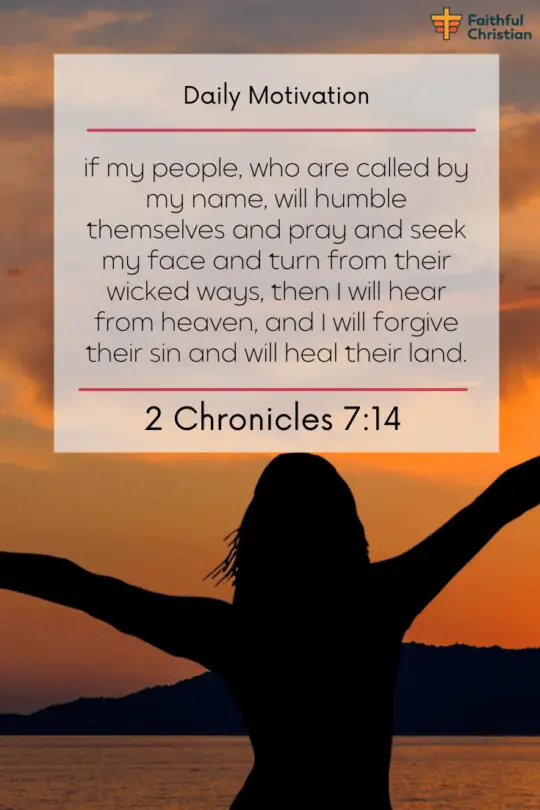 if my people, who are called by my name, will humble themselves and pray and seek my face and turn from their wicked ways, then I will hear from heaven, and I will forgive their sin and will heal their land.
The bottom Line
We all have individual challenges that we need God's intervention.
And the good news is, he is willing to hear our prayers and answer them.
But he will not answer your prayers if you are proud and arrogant.
God loves modesty and humility.
He requires that if we are humble and repentant, he will forgive all our transgressions.
Proverbs 3:5-6
Trust in the Lord with all your heart
and lean not on your own understanding;
6 in all your ways submit to him,
and he will make your paths straight
The bottom Line
Though the word "humility" isn't mentioned in the passage, this is one of the important scriptures about humility.
Besides being humble, humility entails our desire to let God take control.
That is, we open our hearts and put all our trust in God.
When you submit to God, you inadvertently humble yourself before him.
It's more like, "God, I can do nothing without you. Help me."
When you are proud and depend on your abilities, you have unknowingly pushed God away.
More bible verses about being humble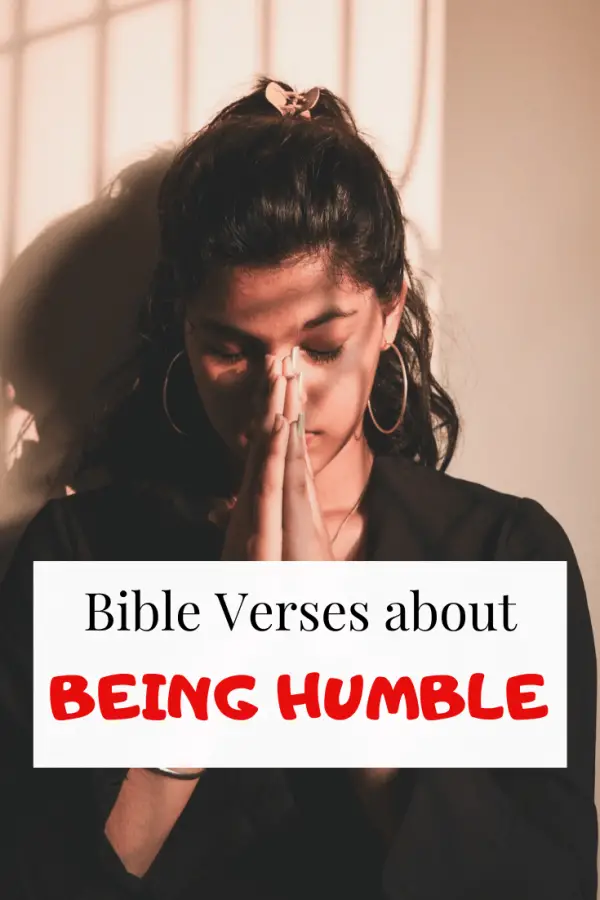 Ephesians 4:2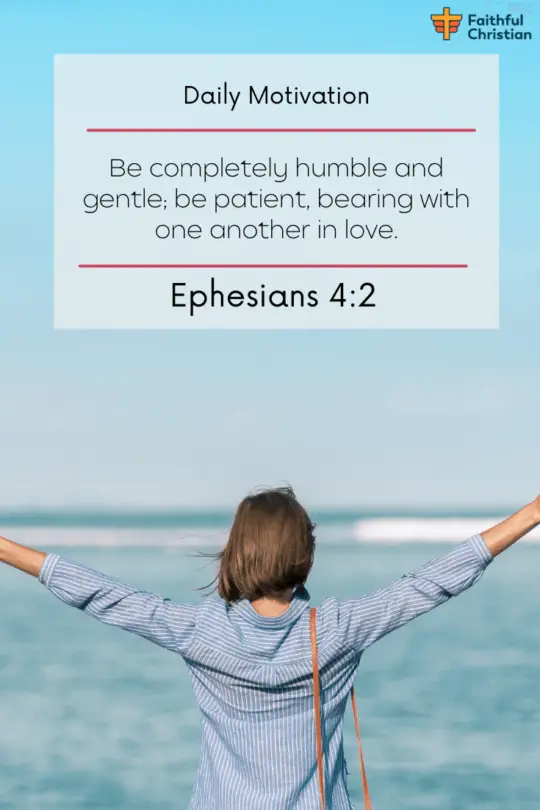 Be completely humble and gentle; be patient, bearing with one another in love.
1 Corinthians 13:4-5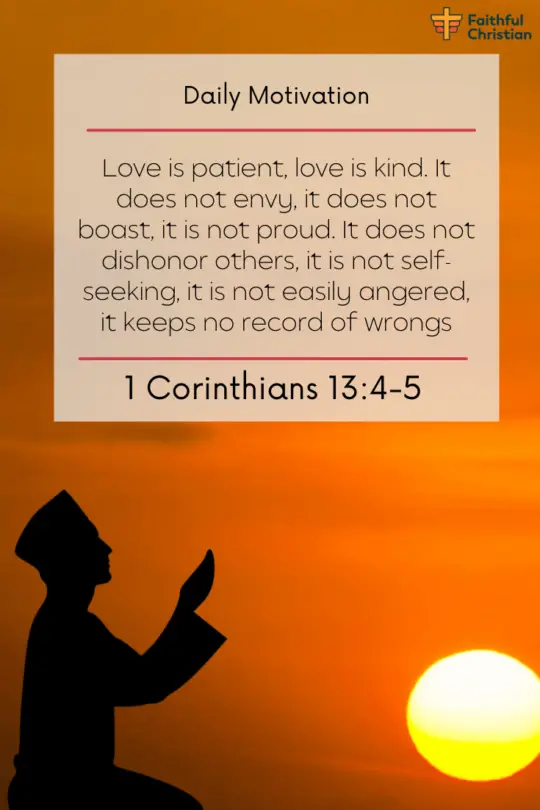 Love is patient, love is kind. It does not envy, it does not boast, it is not proud. 5 It does not dishonor others, it is not self-seeking, it is not easily angered, it keeps no record of wrongs
Matthew 11:29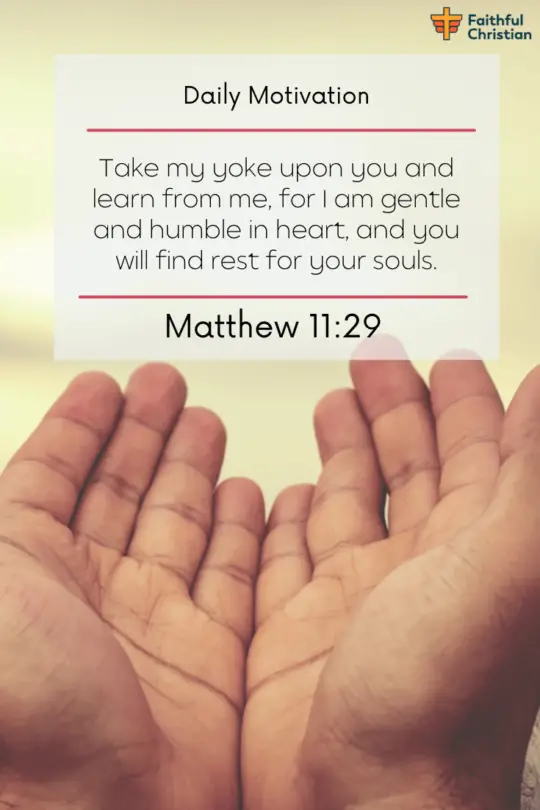 Take my yoke upon you and learn from me, for I am gentle and humble in heart, and you will find rest for your souls.
Galatians 5:22-23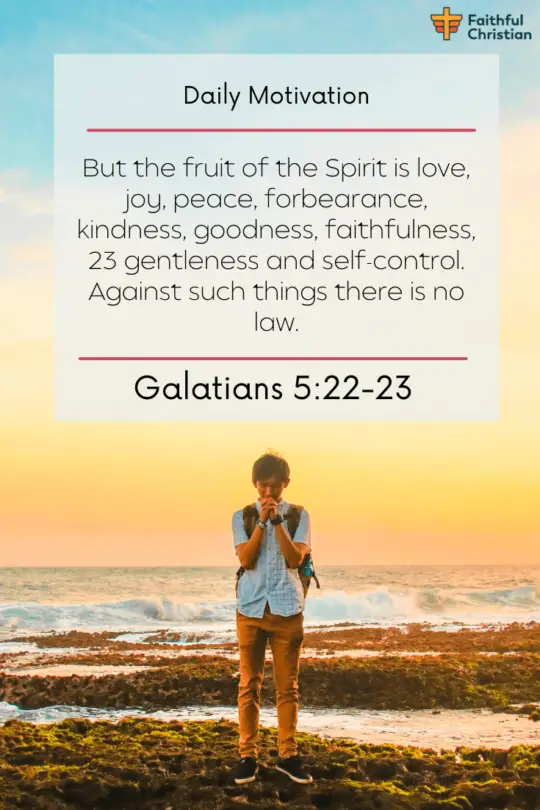 But the fruit of the Spirit is love, joy, peace, forbearance, kindness, goodness, faithfulness, 23 gentleness and self-control. Against such things there is no law.
Matthew 5:3-5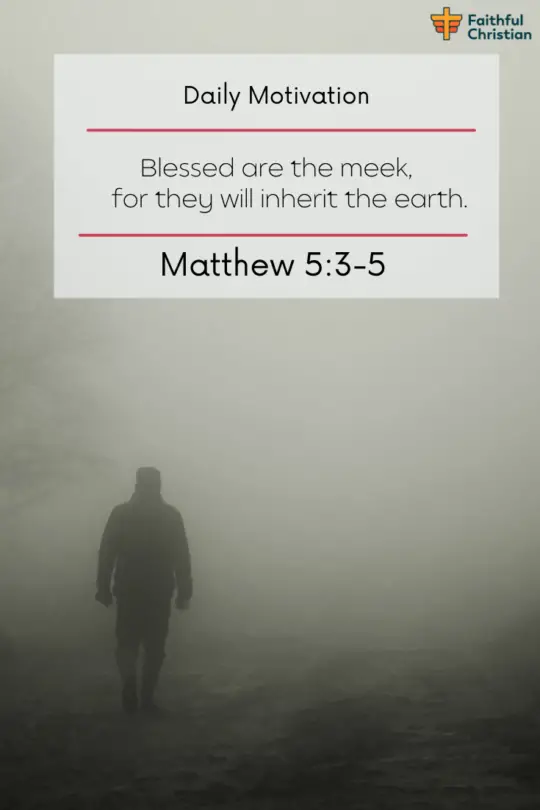 Blessed are the meek,
    for they will inherit the earth.
Proverbs 3:34
He mocks proud mockers
    but shows favor to the humble and oppressed.
1 Timothy 6:11
But you, man of God, flee from all this, and pursue righteousness, godliness, faith, love, endurance and gentleness.
Psalm 138:6
Though the Lord is exalted, he looks kindly on the lowly;
    though lofty, he sees them from afar.
Numbers 12:3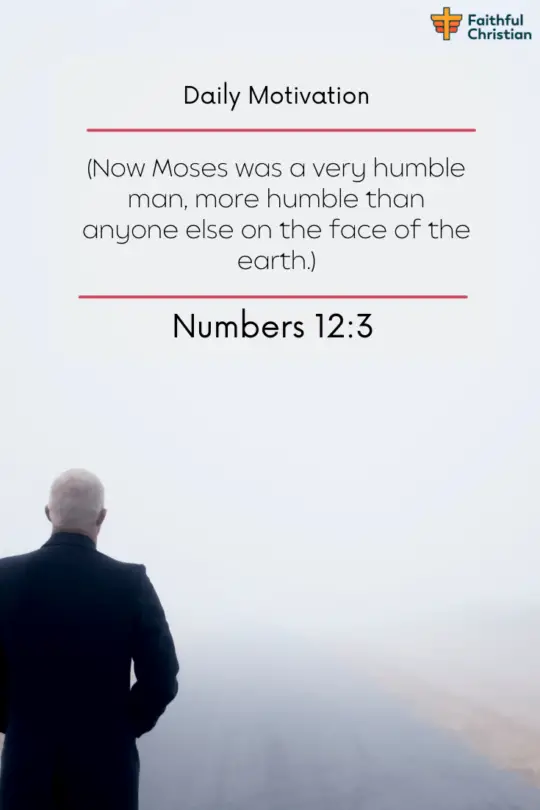 (Now Moses was a very humble man, more humble than anyone else on the face of the earth.)
James 3:15-18
But the wisdom that comes from heaven is first of all pure; then peace-loving, considerate, submissive, full of mercy and good fruit, impartial and sincere.
---
Recommended for you
---
Acts 20:19
I served the Lord with great humility and with tears and in the midst of severe testing by the plots of my Jewish opponents.
Proverbs 16:19
Better to be lowly in spirit along with the oppressed
    than to share plunder with the proud.
Zephaniah 2:3
Seek the Lord, all you humble of the land,
    you who do what he commands.
Seek righteousness, seek humility;
    perhaps you will be sheltered
    on the day of the Lord's anger.
Proverbs 11:2
When pride comes, then comes disgrace,
but with humility comes wisdom.
More Humble yourself scriptures
Proverbs 15:33
Wisdom's instruction is to fear the Lord,
    and humility comes before honor.
Luke 18:14
"I tell you that this man, rather than the other, went home justified before God. For all those who exalt themselves will be humbled, and those who humble themselves will be exalted."
Proverbs 29:23
Pride brings a person low,
    but the lowly in spirit gain honor.
Proverbs 18:12
Before a downfall the heart is haughty,
    but humility comes before honor.
Proverbs 3:34-35
He mocks proud mockers
    but shows favor to the humble and oppressed.
35 The wise inherit honor,
    but fools get only shame.
Galatians 5:13
 You, my brothers and sisters, were called to be free. But do not use your freedom to indulge the flesh[a]; rather, serve one another humbly in love.
Psalm 25:8-9 (New International Version)
Good and upright is the Lord;
    therefore he instructs sinners in his ways.
9 He guides the humble in what is right
    and teaches them his way.(NIV)
1 Corinthians 1:28-29 (King James Version)
And base things of the world, and things which are despised, hath God chosen, yea, and things which are not, to bring to nought things that are:29 That no flesh should glory in his presence.(KJV)
Author: Akatakpo Dunn
Dunn is a firm believer and a teacher of God's word. Suffering for Jesus is an attribute of a faithful Christian, and I hope to win new souls to Christ with every chance that I get. Articles are well-researched and backed by the scriptures.
Follow me: on Youtube, Facebook, Twitter, Instagram, and Pinterest.