About three months ago, I got the shock of my life.
I needed a quick loan to start a significant project.
I had just finished discussing with my project manager, and he explained that I had only two weeks left.
That, once the time elapses, the opportunity would probably be off the table.
It was an important project that would catapult my business and my finances.
But, as I wondered, I said to myself, How and where can I raise such considerable capital in a short time?
As always, I informed my wife of my difficulties, and we prayed together.
Quickly, I went to the bank and applied for a loan.
In a few days, I was called personally by the bank manager that the loan had been approved.
In fact, that evening, he said, "in a few hours, your account will be credited."
While I continued to wait, I promptly informed my project manager that I had secured some funds for the project.
He was happy and set the project in motion.
But just when I believed everything was done and dusted, the bank manager called back to notify me that the loan was canceled.
At this point, I lost control of myself and became anxious and worried.
I became tensed up and noticed my blood pressure was spiking up.
For about a week, I was stressed up and confused, not knowing what to do.
If you are struggling with stress and anxiety, There are multiple scriptures to encourage you in such terrible times.
God can comfort and ease your soul and give you the strength you need.
I have put together bible verses about stress and anxiety to encourage you.
---
Recommended for you
---
Bible verses for stress and anxiety
Psalm 121:5
The Lord watches over you—
    the Lord is your shade at your right hand;
Psalm 16:8
I keep my eyes always on the Lord.
    With him at my right hand, I will not be shaken.
Psalm 91:1
Whoever dwells in the shelter of the Most High
    will rest in the shadow of the Almighty.
Psalm 118:6
The Lord is with me; I will not be afraid.
    What can mere mortals do to me?
Hebrews 13:6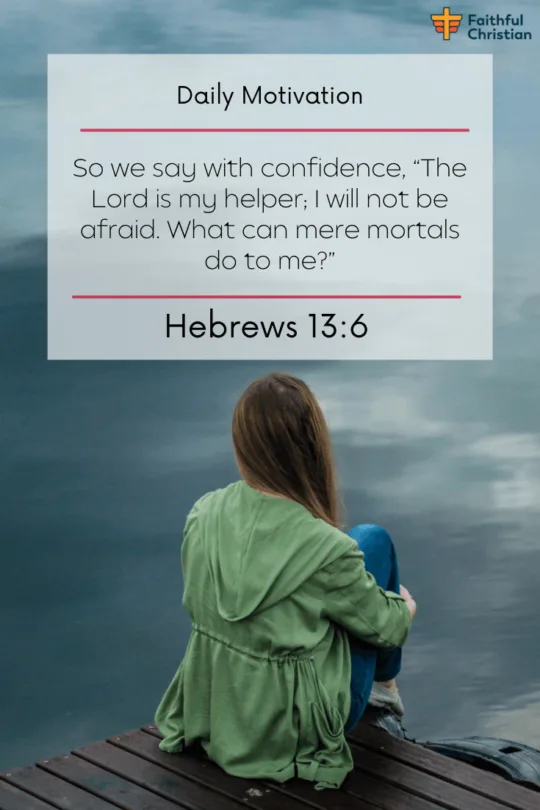 So we say with confidence, "The Lord is my helper; I will not be afraid. What can mere mortals do to me?"
Romans 8:31
What, then, shall we say in response to these things? If God is for us, who can be against us?
Psalm 56:9
Then my enemies will turn back
    when I call for help.
    By this I will know that God is for me.
Jeremiah 20:11
But the Lord is with me like a mighty warrior;
    so my persecutors will stumble and not prevail.
They will fail and be thoroughly disgraced;
    their dishonor will never be forgotten.
Psalm 23:4
Even though I walk
    through the darkest valley,[a]
I will fear no evil,
    for you are with me;
your rod and your staff,
    they comfort me.
Isaiah 41:10
So do not fear, for I am with you;
    do not be dismayed, for I am your God.
I will strengthen you and help you;
    I will uphold you with my righteous right hand.
Psalm 138:7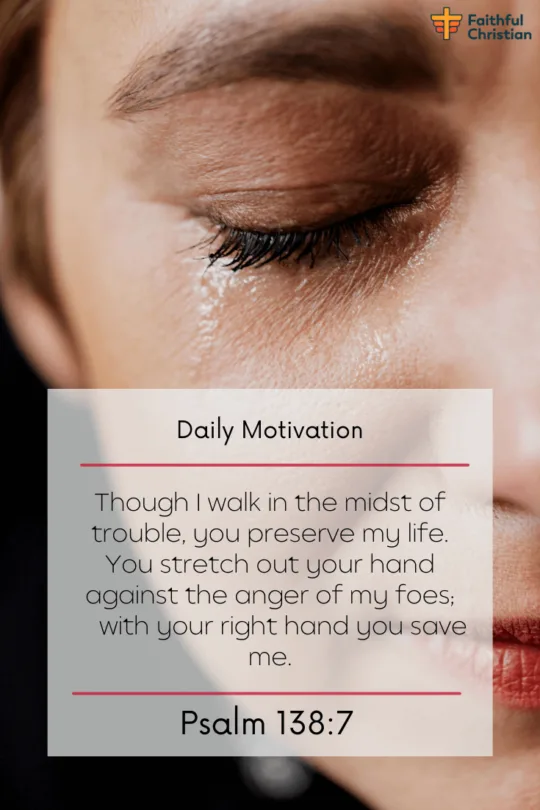 Though I walk in the midst of trouble,
    you preserve my life.
You stretch out your hand against the anger of my foes;
    with your right hand you save me.
Psalm 3:6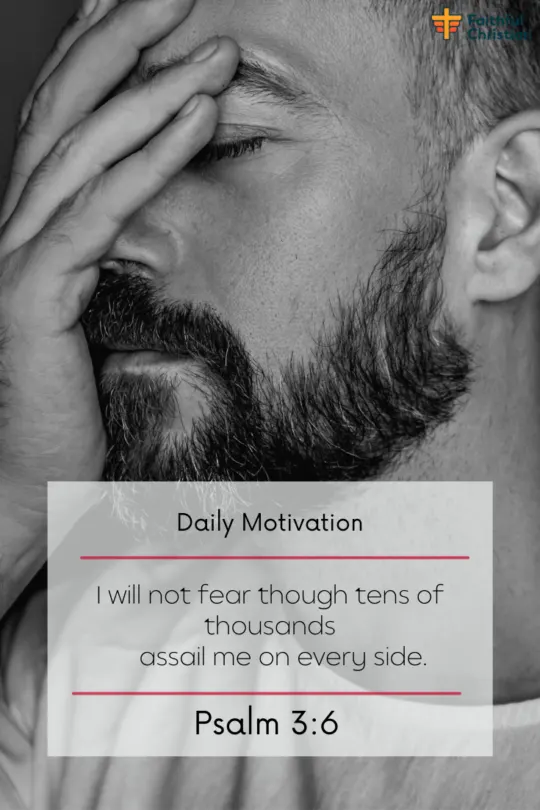 I will not fear though tens of thousands
    assail me on every side.
Joshua 1:9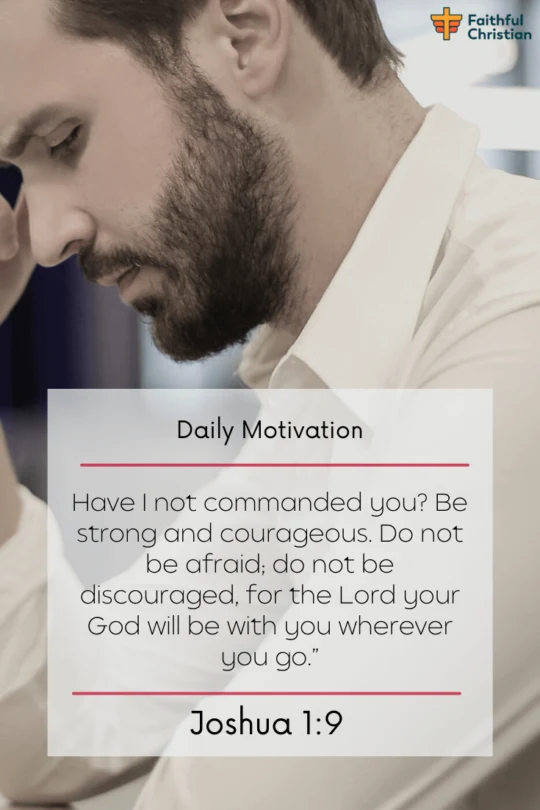 Have I not commanded you? Be strong and courageous. Do not be afraid; do not be discouraged, for the Lord your God will be with you wherever you go."
Genesis 28:15
I am with you and will watch over you wherever you go, and I will bring you back to this land. I will not leave you until I have done what I have promised you."
Matthew 6:27
Can any one of you by worrying add a single hour to your life[a]?
Luke 12:25-26
Who of you by worrying can add a single hour to your life[a]? 26 Since you cannot do this very little thing, why do you worry about the rest?
Psalm 56:4
In God, whose word I praise—
in God I trust and am not afraid.
    What can mere mortals do to me?
1 Corinthians 10:13
No temptation[a] has overtaken you except what is common to mankind. And God is faithful; he will not let you be tempted[b] beyond what you can bear. But when you are tempted,[c] he will also provide a way out so that you can endure it.
2 Peter 2:9
 if this is so, then the Lord knows how to rescue the godly from trials and to hold the unrighteous for punishment on the day of judgment.
2 Timothy 4:18
The Lord will rescue me from every evil attack and will bring me safely to his heavenly kingdom. To him be glory for ever and ever. Amen.
2 Thessalonians 3:3
But the Lord is faithful, and he will strengthen you and protect you from the evil one.
Romans 8:28
And we know that in all things God works for the good of those who love him, who[a] have been called according to his purpose.
Proverbs 3:5
Trust in the Lord with all your heart
    and lean not on your own understanding;
Psalm 37:5
Commit your way to the Lord;
    trust in him and he will do this:
Psalm 62:8
Trust in him at all times, you people;
    pour out your hearts to him,
    for God is our refuge.
Isaiah 12:2
Surely God is my salvation;
    I will trust and not be afraid.
The Lord, the Lord himself, is my strength and my defense[a];
    he has become my salvation."
Psalm 146:3-4
Do not put your trust in princes, in human beings, who cannot save.4 When their spirit departs, they return to the ground; on that very day their plans come to nothing.
Psalm 146:5
Blessed are those whose help is the God of Jacob, whose hope is in the Lord their God.
Matthew 6:25
"Therefore I tell you, do not worry about your life, what you will eat or drink; or about your body, what you will wear. Is not life more than food, and the body more than clothes?
Matthew 6:26
26 Look at the birds of the air; they do not sow or reap or store away in barns, and yet your heavenly Father feeds them. Are you not much more valuable than they?
Matthew 6:28-29
28 "And why do you worry about clothes? See how the flowers of the field grow. They do not labor or spin. 29 Yet I tell you that not even Solomon in all his splendor was dressed like one of these.
Matthew 6:30
30 If that is how God clothes the grass of the field, which is here today and tomorrow is thrown into the fire, will he not much more clothe you—you of little faith?
Matthew 6:31-32
31 So do not worry, saying, 'What shall we eat?' or 'What shall we drink?' or 'What shall we wear?' 32 For the pagans run after all these things, and your heavenly Father knows that you need them.
Matthew 6:33
33 But seek first his kingdom and his righteousness, and all these things will be given to you as well.
Philippians 4:6-7
Do not be anxious about anything, but in every situation, by prayer and petition, with thanksgiving, present your requests to God. 7 And the peace of God, which transcends all understanding, will guard your hearts and your minds in Christ Jesus.
Matthew 7:7-8
"Ask and it will be given to you; seek and you will find; knock and the door will be opened to you. 8 For everyone who asks receives; the one who seeks finds; and to the one who knocks, the door will be opened.
1 Peter 5:7
 Cast all your anxiety on him because he cares for you.
Psalm 55:22
Cast your cares on the Lord
    and he will sustain you;
he will never let
    the righteous be shaken.
---
Recommended for you
---
Stress and Anxiety: More words for encouragement
1. Persecutions are not new
Of course, you are reading this post because you have something disturbing your mind.
You are stressed and anxious about something dear to you.
It could be anything. It could be trouble at your workplace, or in school, or even in the family.
Whatever is troubling your soul is not new to man.
Each time I face challenges, I try to understand the spiritual undertone to them.
We fight against principalities and powers.
Nothing is new, and nothing is physical.
So, when I get worked up and anxious, I always try to comfort myself with the scriptures.
I know for sure that God has a plan for me.
He understands my pain and challenges.
God will never let us suffer unjustly, and if he allows it, it is undoubtedly for a reason.
The scripture says,
And we know that all things work together for good to them that love God, to them who are the called according to his purpose

Romans 8:28
2.  Trust in God to act
We have all experienced stress in hard times.
In such circumstances, we get overwhelmed with the stress of this world.
We become anxious and panic over what to do.
In such situations, you must trust God.
God has the power to redeem you from all your problems.
He sees them, and he knows everything.
If you are sick, God sees your challenges from heaven.
Likewise, if you are grappling with financial difficulties, God knows.
The best we can do is to have faith in him.
We cannot do anything on our own.
Trust in the Lord with all your heart
and lean not on your own understanding;
6 in all your ways submit to him,
and he will make your paths straight

Proverbs 3:5-6
3.  God answers prayers
I told you about my trials three months ago.
At that point, I had completely lost hope.
Yet, despite my challenges, I trusted in God to act.
In my disappointment, I prayed to God for a solution.
I have been in a similarly hopeless situation in the past.
And I have seen firsthand the power of faith and prayers.
So, I knew, if I prayed and believed, God would make a way.
Just a few days after my frustration at the bank, I got an interest-free loan.
God works in mysterious ways.
In hard times, cast your cares on him, and he will definitely deliver you.
The scripture says,
casting all your anxieties on him, because he cares for you

1 Peter 5:7
Author: Akatakpo Dunn
Dr. Akatakpo Dunn is a dedicated follower of Christ, an active member and speaker, and an ongoing learner of the Scriptures. Passionate about his faith and serving others, he is committed to sharing his spiritual journey and insights to inspire and uplift fellow believers. He has been active in the church for more than 23 years. Through The
Faithful Christian Blog
,
Dr. Dunn
combines his love for God, philanthropy, and Scripture, providing a valuable resource for those seeking to grow in their faith.
Follow me: on Youtube, Facebook, Twitter, Instagram, and Pinterest.
Content Disclosure:
At The Faithful Christian Blog, I create authentic and inspiring content. Although I am the main author, I occasionally use AI for minor language enhancements. This minimal AI usage ensures high-quality, trustworthy articles without compromising originality or sincerity, ultimately supporting our shared faith journey.
Warmly,
Dr. Akatakpo Dunn
Was this article helpful?