It is another Thursday morning, and we must pray and give thanks.
God has been faithful throughout the week.
We cannot deny that he has blessed us in so many ways.
He has taken death away from us.
He has also protected us from sicknesses and diseases.
Not just that, the weekend starts tomorrow evening.
And we must thank God for protection throughout the week.
Some of us have received material blessings from God.
Some are still waiting on the Lord to perfect his promise.
Therefore, this Thursday morning is another important prayer moment.
We will also not be selfish in our prayers.
We will pray for our friends, loved ones, and family.
You can also send a Thursday morning prayer message or quotes to the one you love (husband or wife).
God is able to supply all your needs.
Amen.
---
Recommended for you
---
Prayer Bible verses for Thursday morning prayers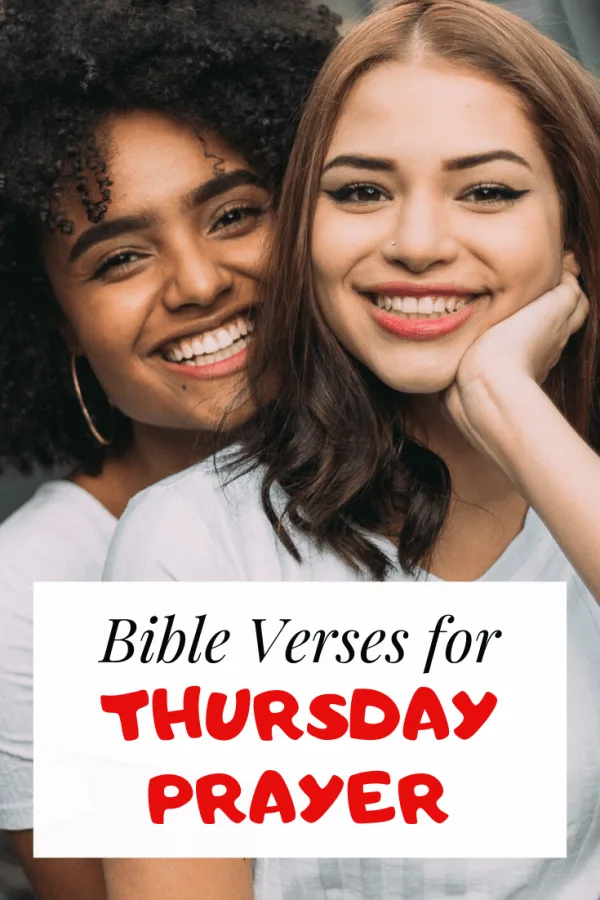 Genesis 28:15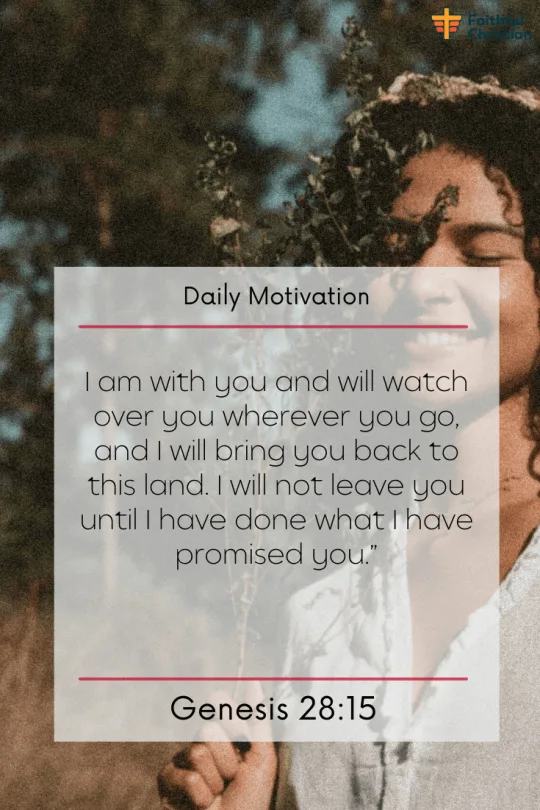 I am with you and will watch over you wherever you go, and I will bring you back to this land. I will not leave you until I have done what I have promised you."
Say Thursday morning prayer with Genesis 28:15
Let's take a moment, and together, let's pray.
Good morning, Father. How wonderful it is to greet another Thursday under Your watchful care. Today, we're drawing strength from Your powerful promise in Genesis 28:15. You said, "I am with you." Those four words are our lifeline, our comfort.
"And will watch over you wherever you go." In these words, we find courage. Today, we have errands to run, tasks to complete, and roles to fill. But we're not alone. You're there in every step, every action.
"And I will bring you back to this land." How reassuring, Lord! Even when we veer off track, Your hands guide us back. We can wander, but we're never lost. You're our beacon, our homing signal.
"I will not leave you." What a declaration, Father! It's a pledge sealed in eternity. It's You saying we're never forgotten. It's You assuring us we're always in Your heart.
"Until I have done what I have promised you." You're a promise-keeper, Lord. Your words are unchanging, Your intentions unswerving. You see us through, no matter what. Today, we rest in that assurance.
So, here we are, Father, about to start our day. We have goals to meet and dreams to chase. We ask for Your guidance. We pray that each task is touched by Your wisdom, each interaction laced with Your love.
Help us to be mirrors today, Lord. May we reflect Your kindness in our words and actions. May those who encounter us today, see a glimpse of You.
Thank You for today, Father. It's a new canvas of opportunities. A fresh start under Your watchful eyes. We commit this day and our loved ones to You, trusting in Your care.
In the matchless name of Jesus, we pray. Amen.
Psalm 27:1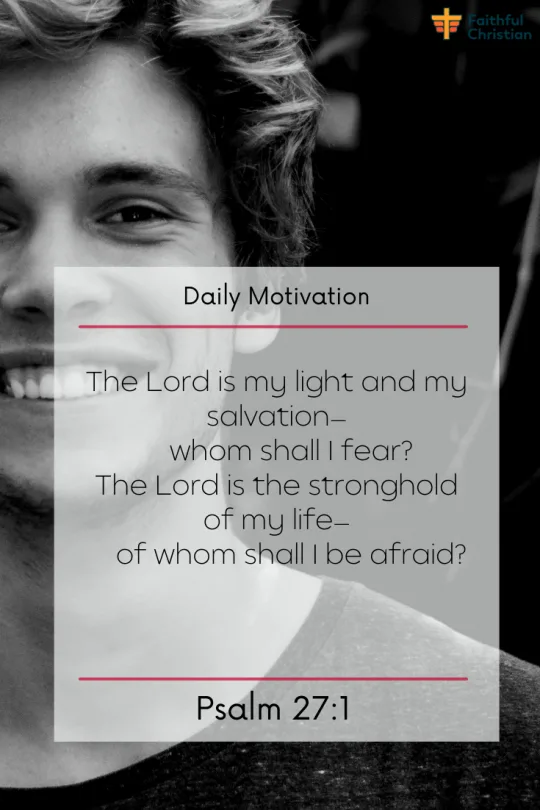 The Lord is my light and my salvation—
whom shall I fear?
The Lord is the stronghold of my life—
of whom shall I be afraid?
Say Thursday prayer with Psalm 27:1
Dear Divine Friend,
Today is Thursday, a day just as special as any. We've gathered in your name, hearts filled with humble gratitude. Why? It's for the countless blessings you've showered upon us.
We remember Psalm 27:1. It's a Psalm close to our hearts. "The Lord is my light and my salvation; whom shall I fear? The Lord is the stronghold of my life; of whom shall I be afraid?"
This verse, Lord, it's a lighthouse to our souls. You are the beacon that pierces through our darkest nights. You guide us when we're lost. You shine hope when despair tries to shadow us.
You are the safe haven, Lord. Amidst the storms of uncertainty, we find peace in knowing this. You're our protector. You're our shield. Fear? It has no place here.
So, Lord, we ask this. May we tread lightly today, guided by your luminary love. May your salvation arm us with fearless courage. May your fortress of love fortify us with enduring strength.
May we feel your presence, every single day. May we surrender to your divine plan, trusting it wholly. May Psalm 27:1 ring loud in our ears and our hearts, bolstering our bravery.
As we step into the day, let's carry these words. Let's wear them like armor, let's write them in our souls. With you by our side, Lord, fear loses its power.
We wrap our prayer in your Holy name, and whisper it into the ether, "Amen."
Psalm 27:2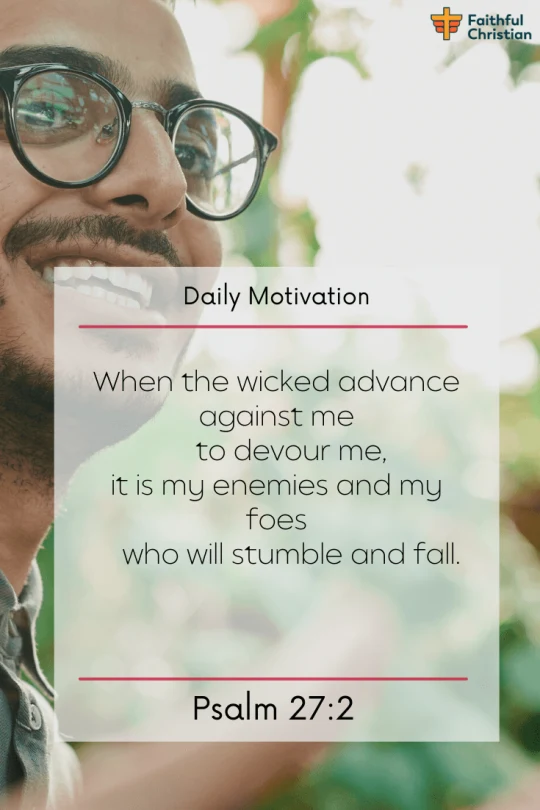 2 When the wicked advance against me
to devour[a] me,
it is my enemies and my foes
who will stumble and fall.
Say Thursday blessings with Psalm 27:2
Good Morning and Blessed Thursday to you. Today, let's draw inspiration from Psalm 27:2.
May you find strength in these words, remembering that when adversities come your way, they will stumble and fall. No obstacle is too large for you to overcome with faith and courage. The Lord is your light and salvation. May He guide your path, protect you, and bless your endeavors on this beautiful Thursday. Amen.
Thursday Morning Prayers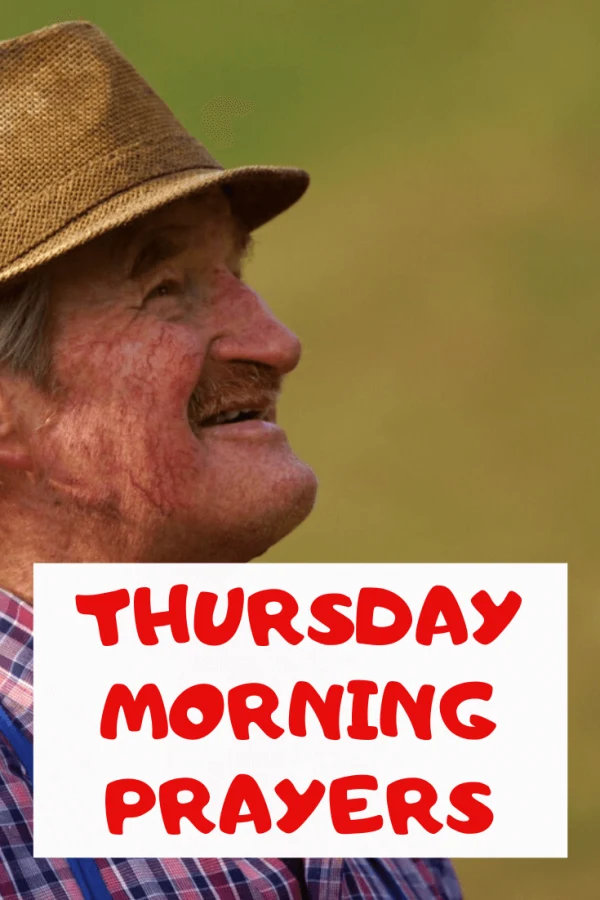 Let's seek God's mercies (let us pray)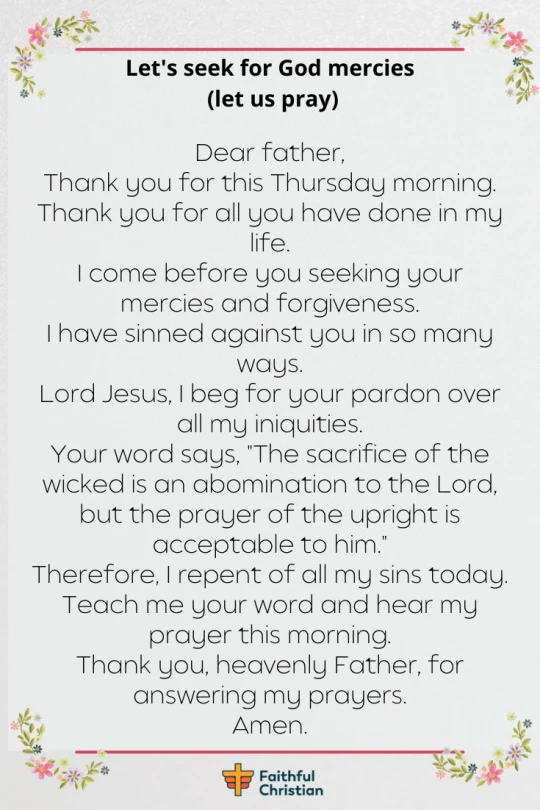 My Dearest Father,
A new day is here. It's Thursday morning. The dawn is stunning. It's a fresh start, reminding me of your eternal love. Each sunrise is your gift. Each day is your miracle. Your promise from Lamentations 3:22-23 rings true. Your mercies are new every morning.
Your work in my life has been amazing. You've carried me through trials. You've brought me joy. I see your divine touch everywhere. This mirrors Jeremiah 29:11. It's your promise of a future filled with hope. I'm grateful for your guiding hand.
I'm here before you, Father. I admit my faults. I seek your mercy. You've promised in 1 John 1:9 to forgive our sins. You cleanse us when we confess. Your promise is my strength. It urges me to admit my wrongdoings. I trust in your pardon.
Lord Jesus, I am remorseful. I seek your forgiveness. The parable of the prodigal son in Luke 15:11-32 comforts me. It tells of a loving father, welcoming a wayward son. This is you. You welcome us with open arms. Even when we stumble, you forgive.
Your word stands out, Father. The sacrifice of the wicked is abhorred. But, the prayer of the upright is loved. This is from Proverbs 15:8. It urges me towards righteousness. I repent my sins today. I aim to follow your teachings.
Father, guide me. I need your wisdom. Your word is a lamp. It lights my path as Psalm 119:105 states. Help me understand your scriptures. Enlighten me to align my actions with your word. Hear my morning prayer. Guide me, Father.
Thank you for listening. Thank you for your boundless love. You accept my repentance. You answer my prayers. I remember 1 John 5:14. It assures me that you hear us. You listen when we pray according to your will.
In Jesus' name, I pray. Amen.
The Lord shall perfect that which concerns you (let us pray)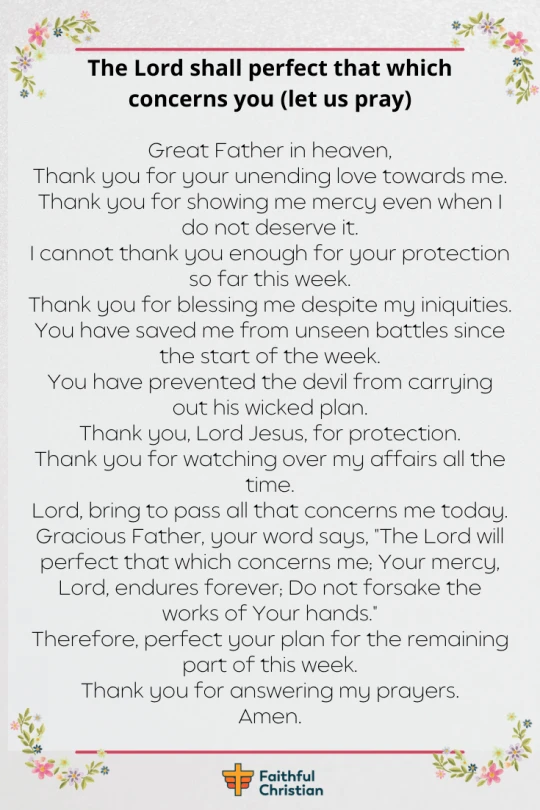 Majestic Father, up there in the eternal heavens, you're love itself. Unending. Unfading. You've shown us just how deep that love runs. You gifted us your only Son – the biggest sacrifice (John 3:16). That love is always there for me. Always.
Your mercy is as broad as the horizon. It never hesitates to wrap around me when I stumble. It's as if I can hear Psalm 103:8 echoing in the air. You're merciful, slow to anger, and abundant in love. You're always ready to show kindness, no matter how I falter.
This week, you've been my shield. My fortress. Your protection is the solid ground under my feet. It's the promise of Psalm 121 coming to life. The promise that you're the Keeper, the Watcher of my soul. Your protection – it's everywhere and everything to me.
My missteps are many, but your blessings? Countless. Like an endless shower of love, your blessings rain down on me. It's the truth of Ephesians 1:3 – every spiritual blessing is ours, all thanks to you. Your blessings don't measure my worthiness, they just reflect your infinite grace.
This week was a battlefield. But you were there. You fought those unseen battles for me. Just as Exodus 14:14 promised. The Lord will fight for us. And you did. Every struggle was faced, every adversity was conquered. All by you.
You stood up to the devil's schemes. His wicked designs were foiled. Your power was my safety, my straight path. James 4:7 couldn't have been more right. Resist the devil, and he'll flee. Your power sent him running. And I was safe.
Lord Jesus, you've been my refuge, my guardian. You were the promise of Psalm 91 personified. My affairs were under your watchful eyes. Every moment, every second. You were there, ensuring my safety, my well-being.
This Thursday, I need you. I need your divine plan to take shape in all that concerns me. Proverbs 19:21 rings true – your purpose will always prevail. So, I trust you. I trust your will, your divine wisdom. You will guide me on the path of righteousness.
Gracious Father, your promise in Psalm 138:8 fills my heart with hope. You will perfect what concerns me. And I believe in that promise. So, for the rest of this week, I ask for your divine plan. Let it unfold. Let your intent be manifested. Turn my fears into faith.
You listen to my prayers. It's the assurance given in 1 John 5:14-15. If we ask, you will hear. So, I stand here, grateful. My prayers have been heard. They will be answered in your time, in your way. Your perfect way.
In the end, it's about your grace. Your love. Your faithfulness. And so, I thank you. Just as 1 Thessalonians 5:18 asks us to – give thanks in every situation. And that's what I do. I give thanks to you, the God of all grace. Today and forever. Amen.
If the Lord does not watch over a city, they that watch, watch in vain (lets pray)
Divine Creator,
In the realm of your boundless wisdom and enduring love, I stand before you. Your child, humbly seeking your divine shield. A shield that covers my life, my family's lives, and those of my cherished friends. I echo the sentiments of Psalm 91:2. I trust in your refuge, your fortress. I am safe in you.
There's a profound verse, Psalms 127:1. It talks about a house and a city. The message? It's about your guidance. Builders may build, guards may guard, but without you, Lord, it's in vain. So, I invite you. Watch over me, my household. Shield us from the ill-intentioned. We seek your fortress of comfort.
This Thursday brings fresh tasks. Some daunting, others exciting. Today, I implore you. Keep misfortune at bay. As Proverbs 16:3 advises, I'm committing my plans to you. I ask for a clear path. For prosperous outcomes. I entrust my day to you.
Bless me with a day radiating positivity. That's my humble plea. Philippians 4:8 sets the tone. It's about the noble, the pure, the lovely. Let these be my guiding thoughts. Let them inspire my words and deeds. May this positivity seep into those I meet.
Every step I take today, guide me. Proverbs 3:5-6 offers reassurance. Trust in you, lean not on my understanding. I hold onto that wisdom. I'm trusting you for a secure journey. For steadfast steps.
There will be moments of stumbling, of despair. When they come, make me strong. I look to 1 Corinthians 10:13. I know you won't let me face more than I can bear. Empower me, Lord. Let me rise after each fall.
Above all, grant me victory. I face negative influences. I face works of the devil. Arm me with spiritual strength. Let me echo James 4:7. I submit to you, Lord. I resist the devil. He will flee.
Finally, I pray for your guidance. For your protection. My life should reflect faith, hope, love. The virtues you've gifted us. As 1 Corinthians 13:13 says, these three remain. But the greatest? Love.
In your majestic name, I offer this prayer. Amen.
---
Recommended for you
---
Be diligent (let us pray)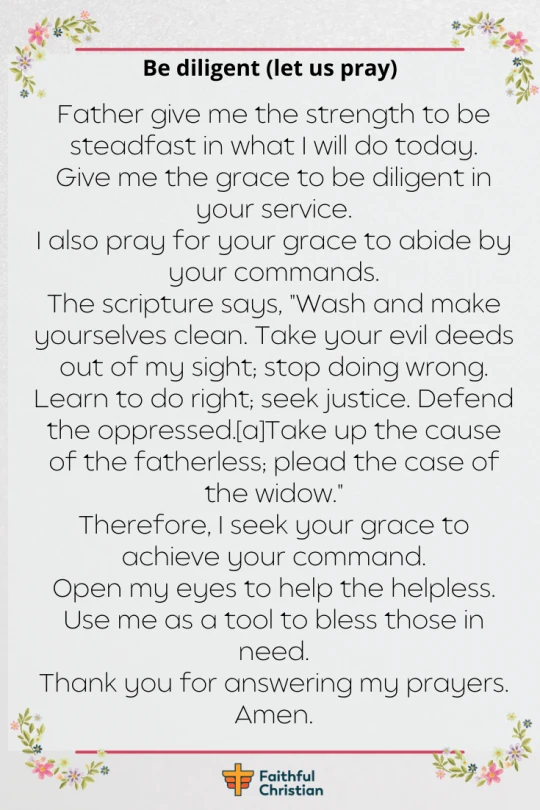 Dear Father above, today, I seek your strength. Strength to hold fast, to be unwavering in my actions. Like James 1:12 advises, let me endure. Amid trials, may I stand firm, remembering the promised crown of life.
Next, I ask for your grace this Thursday morning. Grace that aids me to keep your divine commands close to heart. As Proverbs 3:5-6 teaches, I must trust. Trust not in my own understanding but in yours. Guide me, Father. Let my path be straight and righteous.
I ask for the wisdom to live out your teachings. Micah 6:8, you showed me what you desire. Justice, mercy, humility – let me embody these. Let these virtues inform my deeds.
Help me, Father, to aid those less fortunate. Matthew 25:40 is my guide. In helping the least among us, I serve you. Use me as a tool of your love. Let me be your light in their darkness.
Finally, I thank you. For everything. For your guidance, for your wisdom. Like 1 Thessalonians 5:18 says, let's give thanks always. I trust you, Father. I believe you're working on my prayers.
With faith, I say, Amen.
Your help comes from the Lord (let us pray)
Dear Heavenly Father, I am here before You. You're my rock. My fortress. You've seen me through battles. Day in, day out. In times of trial, you've been there. An eternal symbol of love. Of faithfulness. That's what You've been for me. It's not just a saying. It's my lived experience. And a promise from Psalms. You'll never leave me in times of trouble.
I need You, Lord. More than ever. I can't do this alone. I am a ship lost at sea without You. But with You, I can do everything. That's what John 15:5 tells me. And I believe it. You are my breath. My steps. My strength. Your presence? Unending. Your love? Unfailing.
This Thursday morning, Lord, I seek You. I lay before You my plans. My hopes. My dreams. I am asking for Your divine touch. Your protection. You've promised in Jeremiah 29:11 – thoughts of peace, not evil. A bright future. A reason to hope. I want to feel that today. I seek a day that reflects Your grace. Your peace.
My dreams and ambitions are in my heart. But I need Your direction. Proverbs 16:9 is clear. I might plan, but You direct. Align my dreams with Your perfect will, Lord. Guide me towards their realization. I trust in You. Your plans are greater than mine.
Lord Jesus, I seek Your mercy this Thursday. To face life's hurdles. Challenges big and small. Lamentations 3:22-23 comforts me. Your love never ceases. Your mercies are new every morning. I lean on this promise. I pray for wisdom. For courage. I am ready to face adversity.
I am not alone. I feel Your presence. You promised in Deuteronomy 31:6 – never to leave or forsake me. Your love is enduring. It is my fortress. Your mercy is unfailing. It is my comfort. I am filled with hope. With resilience.
Gratitude fills my heart. For all answered prayers. Divine interventions. Moments of peace amidst storms. I am grateful for Your steadfast love. Your faithfulness, even when I falter. Psalms 136:1 rings true: "His love endures forever." You are my comfort. My joy. My gratitude overflows.
In Your holy name I pray, Amen.
Frequently Asked Questions
1. What is a good Thursday prayer for myself?
Gracious Heavenly Father, I stand before You as this Thursday unfolds. I seek Your guidance and wisdom today. Strengthen me to tackle any challenges and grant me peace amidst the turbulence. May I mirror Your love, extending kindness in my interactions. Let me serve as an agent of Your grace, a lighthouse radiating Your light. Isaiah 40:29 reassures me, "He gives strength to the weary and increases the power of the weak."
2. What prayers can I offer for my family and friends this Thursday?
Lord, I place my loved ones in Your caring hands this Thursday. Safeguard them throughout the day. Bless them with good health, tranquility, and boundless joy. Provide comfort when they feel low and wisdom during difficult choices. May they experience Your unfailing love and comfort. Numbers 6:24 encourages me, "May the Lord bless you and protect you."
3. What is a fitting Thursday prayer for my boyfriend/girlfriend?
Oh Heavenly Father, this Thursday, I bring forth prayers for every loving couple, particularly for my partner and me. Shower our relationship with understanding, patience, and mutual respect. Nurture our love, reflecting Your own unconditional love. Guide us to forgive and fortify each other amidst life's tribulations. 1 Peter 4:8 teaches us, "Above all, love each other deeply, because love covers over a multitude of sins."
4. How can I pray for my husband/wife this Thursday?
Almighty God, I lift my spouse and our marriage to You this Thursday. Infuse our bond with love, respect, and understanding. Guide us to extend kindness, communicate patiently, and act lovingly. Enable us to shoulder each other's burdens and forgive as we have been forgiven. Mark 10:9 serves as a reminder, "Therefore what God has joined together, let no one separate."
5. What are some Thursday prayers and blessings I can offer?
On this Thursday, I invoke divine blessings upon all. May God's peace be our armor, His love our shelter, His presence our constant companion. May He navigate our thoughts, words, and actions, filling our hearts with joy and gratitude. Let us entrust our paths to His will and follow His directions. Numbers 6:24-26 reinforces my prayer, "The Lord bless you and keep you; the Lord make his face shine on you and be gracious to you; the Lord turn his face toward you and give you peace."
6. What is a powerful short Thursday prayer?
God of endless grace, be my guide this Thursday. Endow me with strength, wisdom, and patience. Teach me to love as You do, serve as You would, and believe in Your perfect blueprint. Proverbs 3:5 is my anchor, "Trust in the Lord with all your heart and lean not on your own understanding."
7. Can you share a Thursday prayer message and quotes?
May this Thursday brim with God's mercy and grace. "Cast all your anxiety on him because he cares for you" – 1 Peter 5:7. Lean on His wisdom and power, for He is our stronghold in times of need. "God is our refuge and strength, an ever-present help in trouble" – Psalm 46:1. Trust in Him, for He is the source of all blessings.
Author: Akatakpo Dunn
Dr. Akatakpo Dunn is a dedicated follower of Christ, an active member and speaker, and an ongoing learner of the Scriptures. Passionate about his faith and serving others, he is committed to sharing his spiritual journey and insights to inspire and uplift fellow believers. He has been active in the church for more than 23 years. Through The
Faithful Christian Blog
,
Dr. Dunn
combines his love for God, philanthropy, and Scripture, providing a valuable resource for those seeking to grow in their faith.
Follow me: on Youtube, Facebook, Twitter, Instagram, and Pinterest.
Content Disclosure:
At The Faithful Christian Blog, I create authentic and inspiring content. Although I am the main author, I occasionally use AI for minor language enhancements. This minimal AI usage ensures high-quality, trustworthy articles without compromising originality or sincerity, ultimately supporting our shared faith journey.
Warmly,
Dr. Akatakpo Dunn
Was this article helpful?