We all want to be happy.
To live a life where we will experience no pain, disappointment, or sadness.
But that's not possible – At least, for now.
Jesus said, "You will be hated by everyone because of me."
If you are downhearted, there are numerous pleasing and meaningful bible verses to inspire you.
God's word speaks to the mind and gives strength to the weak.
I am currently dealing with a lot of challenges right now.
I see all my troubles and don't know where to begin.
But I am not losing hope in God's plan for me because I know he would make a way when there seem to be none.
In your happy or trying moment, I have put these meaningful bible verses to encourage you.
---
Recommended for you
---
Meaningful Bible Verses to Encourage your soul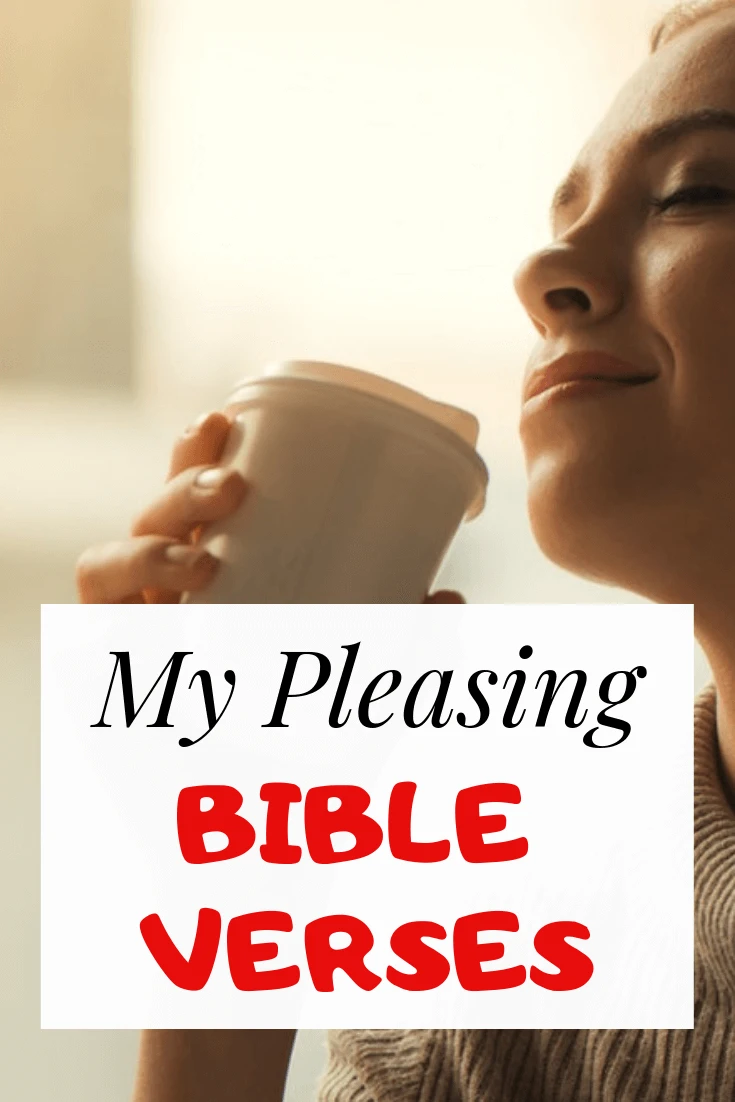 Let me share the cool bible verses that stir my soul and inspire me in times of distress.
These pleasing bible verses will encourage you too. Read and be blessed.
1.  Matthew 6:31-34 – My pleasing bible verse for financial encouragement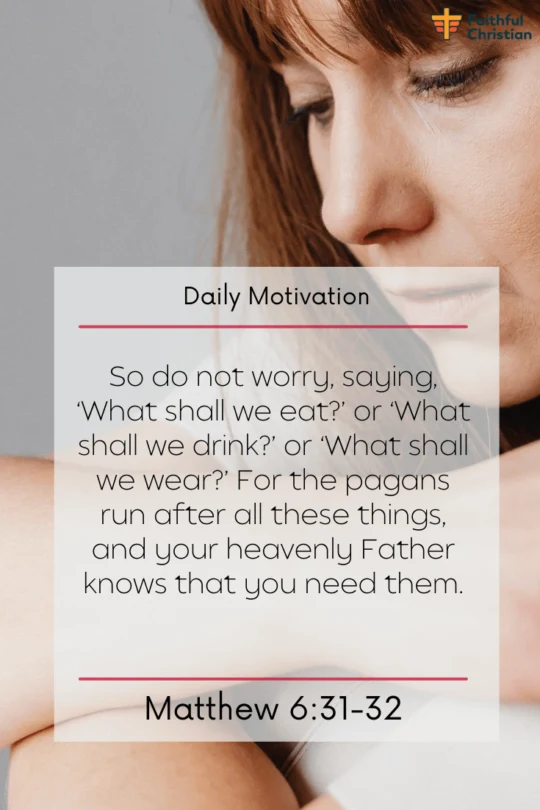 So do not worry, saying, 'What shall we eat?' or 'What shall we drink?' or 'What shall we wear?' For the pagans run after all these things, and your heavenly Father knows that you need them.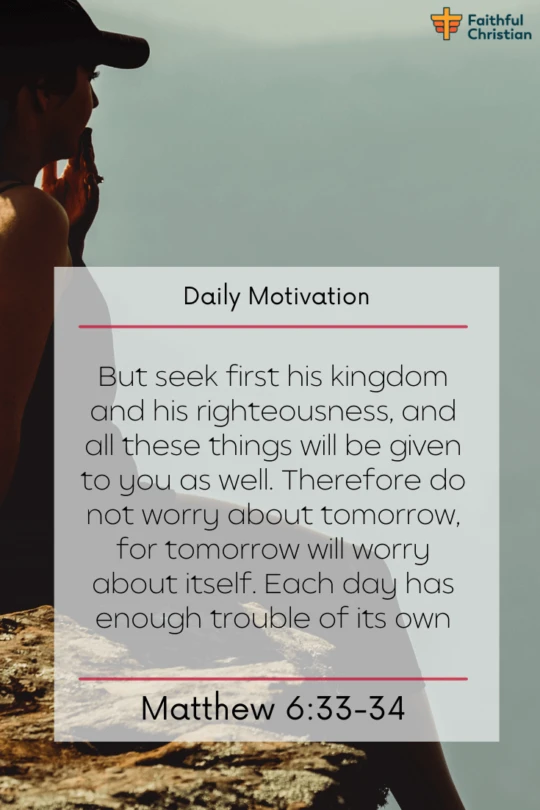 But seek first his kingdom and his righteousness, and all these things will be given to you as well. Therefore do not worry about tomorrow, for tomorrow will worry about itself. Each day has enough trouble of its own
Do worries plague you? Are you wrestling with anxieties about the future? Matthew 6:31-34, a passage in the Bible, offers a profound solution.
In this passage, Jesus challenges His listeners. "Don't worry," He says, "about what you'll eat, drink, or wear. Instead, seek God's kingdom. All your needs will then be met." Here, Jesus presents faith as our compass, guiding us through the storms of fear and doubt.
First, we must prioritize God. Our relationship with Him should come first. All our decisions, actions, and values should align with His will. In essence, we are to trust Him as our provider who knows and meets our needs.
This concept resonates with Luke 12:22-26 and Philippians 4:19. Both passages emphasize God's knowledge of our needs and His commitment to provide. The Bible's teachings intertwine, forming a robust faith-based structure to lean on.
Imagine the faith it required for the individual who, discontent with their stressful, high-paying job, decided to pursue a more fulfilling, albeit lower-paying one.
In this real-life example, the individual didn't focus on the possible shortages. Instead, they trusted that their needs would be met—a beautiful reflection of what seeking God's kingdom first might look like in our modern world.
Let's consider another engaging story from the Bible—the miraculous feeding of the five thousand. With only five loaves and two fish, Jesus feeds a massive crowd. Isn't it astounding? This miraculous multiplication illustrates God's provision, His willingness and ability to meet our needs abundantly.
Jesus concludes the passage by advising against worrying about the future. "Each day has enough trouble of its own," He says. This wisdom highlights God's grace, available to us one day at a time.
In summary, the Bible offers peace through its profound teachings. Its verses urge us to seek God first, trust His provision, and rely on His daily grace. When anxiety strikes, remember Jesus' words. Trusting God and seeking His kingdom first will guide you toward a peaceful, fulfilled life.
As Christians, we can turn these teachings into practical steps for a God-focused, worry-free life. I assure you, faith is our compass, leading us to a life full of peace and contentment.
2.  Philippians 4:6-7 My cool bible verse for stress and anxiety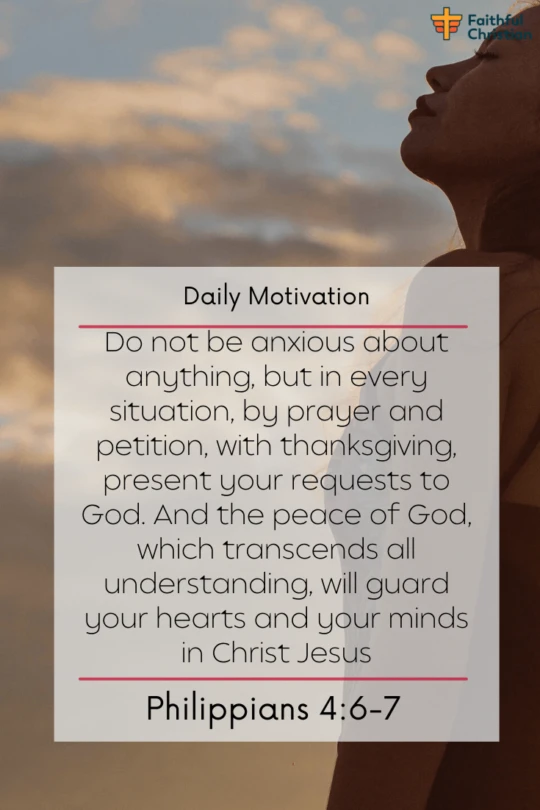 Do not be anxious about anything, but in every situation, by prayer and petition, with thanksgiving, present your requests to God. And the peace of God, which transcends all understanding, will guard your hearts and your minds in Christ Jesus
Have you ever felt trapped in worry's tight grip? It's a common experience. A remedy, however, is nestled within the scripture of Philippians 4:6-7. It states, "Do not be anxious about anything… present your requests to God."
This scripture emphasizes the power of prayer. By praying, we're inviting God into our worries. It's our first line of defense, not the last resort. This mirrors 1 Peter 5:7: "Cast all your anxiety on him."
Take Daniel's example. Faced with a lion's den, his circumstances were bleak. Yet, he experienced tranquility. His secret? Prayer. In his dire situation, Daniel found a serenity that transcended understanding.
This transcendent peace is not the absence of problems. Rather, it's the presence of calm amidst chaos. It safeguards our hearts and minds. This peace, accessible to us today, is profoundly reassuring.
Let's look at a real-life example: a patient diagnosed with cancer. Cancer – the very word stirs up dread, casting long, ominous shadows of worry. Yet, amid the turmoil, this patient found a reservoir of peace in prayer and meditation.
Much like Daniel, they found tranquility in the heart of turbulence. Every prayer, every moment of meditation, replaced fear with faith, worry with peace.
So, how do we apply this? We must be proactive. Engage in a continuous dialogue with God. Share your fears and hopes. As Matthew 7:7-8 urges us, "Ask, and it will be given to you."
Prayer becomes our steadfast ally, leading us towards transcendent peace. This peace doesn't crumble amidst life's storms. It remains steadfast, offering an unshakeable calm. It's achievable.
Yes, it's challenging, but the rewards are immeasurable. Experience an unwavering peace that guards your heart and mind. Isn't it an inviting prospect?
3.  Matthew 11:28-29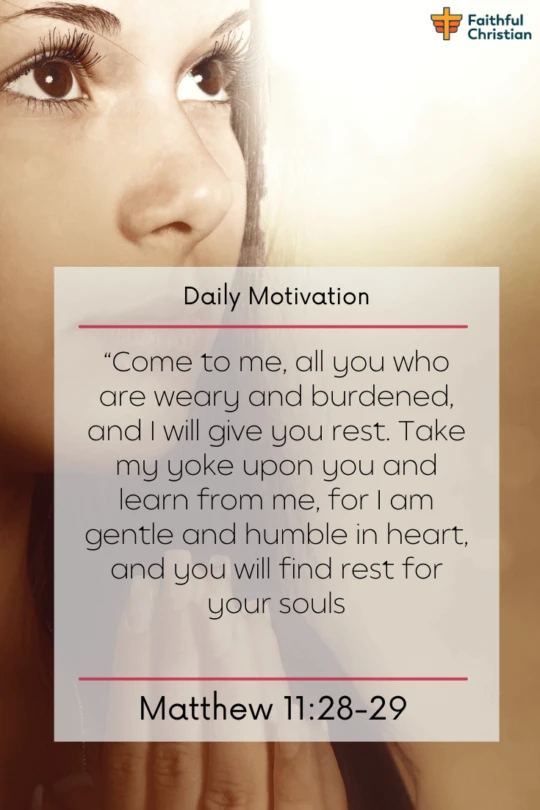 "Come to me, all you who are weary and burdened, and I will give you rest. Take my yoke upon you and learn from me, for I am gentle and humble in heart, and you will find rest for your souls
A beckoning echo from Matthew 11:28-29 offers solace to the weary. It paints Jesus as a refuge, a sanctuary in our demanding world. When life becomes a scorching desert, He is our oasis.
Consider the Samaritan woman's tale (John 4:1-26). She was outcast, burdened by societal judgment. Yet, her encounter with Jesus offered acceptance and spiritual relief. Jesus, the 'living water', provided rest beyond the physical.
Jesus portrays His yoke as 'easy', His burden 'light'. This isn't a promise of a problem-free life. Rather, it suggests a shared struggle. In choosing Him, we gain His strength, wisdom, and peace. The worldly burdens – stress, anxiety, disappointment – differ from Christ's.
His burden is lighter, not because it's insignificant, but due to His assistance in bearing it. Psalm 55:22 encapsulates this: God sustains those who cast their cares upon Him.
John 14:27 introduces a peace unfamiliar to this world – a gift from Jesus. Accepting this gift necessitates humility. It is through admitting our need for help and taking Jesus' outstretched hand that we receive His peace.
We experience this when we consent to be helped. When swamped with work, accepting a friend's assistance lightens the load. The same principle applies to our spiritual lives. Accepting Jesus' invitation opens the door to spiritual rest and renewal.
A real-life example might be someone burdened by life's challenges who seeks solace in a religious retreat. Despite initial skepticism, they find a renewed faith, a sense of peace. This peace doesn't eradicate problems but offers a fresh perspective to face them – God's perspective.
Matthew 11:28-29 is an enduring invitation from Jesus to find rest in Him. More than just pleasing or cool, these verses are profound and transformative. He extends His invitation to us all. It is up to us to accept it.
4.  Psalm 142:4-5 – My pleasing bible verse for loneliness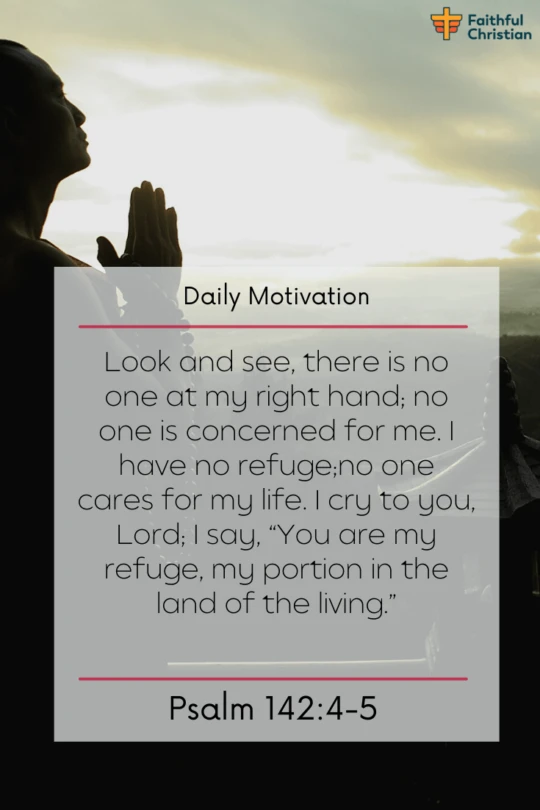 Look and see, there is no one at my right hand; no one is concerned for me. I have no refuge;no one cares for my life. I cry to you, Lord; I say, "You are my refuge, my portion in the land of the living."
David, the author of Psalm 142, faced immense loneliness and despair. "No man cared for my soul," he laments. This sense of isolation reverberates within the hearts of many today. I, too, have experienced such depths of solitude.
David found solace in the dark confines of a cave, hiding from Saul. From his despair, a deep, divine relationship emerged. He cried out to God, and in response, he discovered a listening ear. For David, prayer became a pathway out of his internal abyss.
In times of isolation, prayer can be our lifeline. It's a heartfelt dialogue with the divine, a surrendering of our sorrows, an expression of our innermost fears. It's an affirmation of faith that we're never truly alone, even in our darkest hour.
David proclaims, "Thou art my refuge and my portion in the land of the living" (Psalm 142:5). Amid desolation, he perceived God as a refuge. In his turmoil, David learned a profound truth. Despite life's tribulations, God remains our constant sanctuary. He shields us, protects us, and anchors us amidst life's storms.
David found reassurance in knowing that God was aware of his path. It symbolized divine guidance during trying times. This knowledge infuses us with comfort and strength. It is the realization that God accompanies us on our journey, aware of every twist and turn.
Applying this understanding to our lives is vital. Whether we face depression, anxiety, or loneliness, David's words guide us. We can lean on God for solace, seeking Him as our refuge. Prayer becomes our release, our conversation with the divine.
Consider the story of a friend who battled depression. In her struggle, she turned to the Psalms and found comfort in David's words. Prayer became her pathway to peace. She discovered a refuge within the verses, a sanctuary from her despair.
In conclusion, even in isolation, we are never alone. Psalm 142 is a reminder that God is our refuge, our guide, and our companion. When faced with despair, lean on God, seek solace in prayer, and embrace the promise of His guidance.
5.  Jeremiah 29:11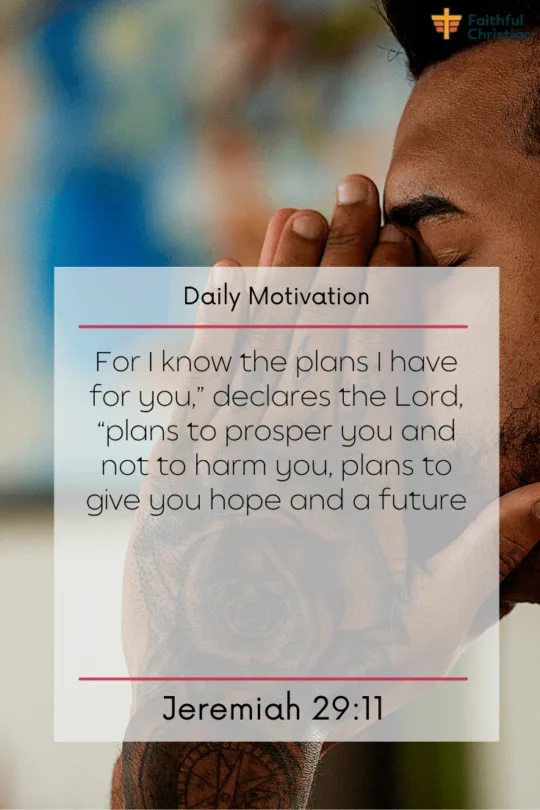 For I know the plans I have for you," declares the Lord, "plans to prosper you and not to harm you, plans to give you hope and a future
Life, in essence, is God's grand canvas. The heart of this masterpiece is encapsulated in the cool yet profound verse of Jeremiah 29:11. This verse delivers God's promise of prosperity and safety. It's akin to standing by a tranquil river, absorbing its serene melody.
The verse instills hope, especially when life's trials appear relentless. It serves as a beacon, guiding us back to the safety of God's assurance. Originally, this promise was for the Israelites during their Babylonian exile. Today, it remains applicable to us, resonating in our modern 'exile' situations.
God's sovereignty is the guiding force shaping our future. His plan, like an architect's blueprint, outlines every detail of our existence. The biblical story of Joseph illustrates this perfectly. Despite hardships, Joseph's journey led to a crucial role in Egypt, revealing God's ultimate good plan.
Reflect on this real-life scenario: an employee laid off unexpectedly, thrust into a wave of uncertainty. They journey through the job market, finally securing a fulfilling role that aligns better with their skills. The initial adversity of the layoff morphs into a blessing, highlighting God's larger scheme.
This experience mirrors our own understanding of God's plans. His ways, often puzzling initially, unfold beautifully in hindsight. Isaiah 55:9 underscores the superiority of His ways over ours. Proverbs 19:21 further emphasizes that God's purpose is always the final determinant, irrespective of our plans.
The application of Jeremiah 29:11 is to trust God's plans. At every crossroad, recall this verse and its promise. Trusting His divine artistry, you'll uncover an unfolding masterpiece in your life.
His words are not just cool Bible verses but also the guiding hand in our life's story. Believe in His design, and you will witness a magnificent masterpiece.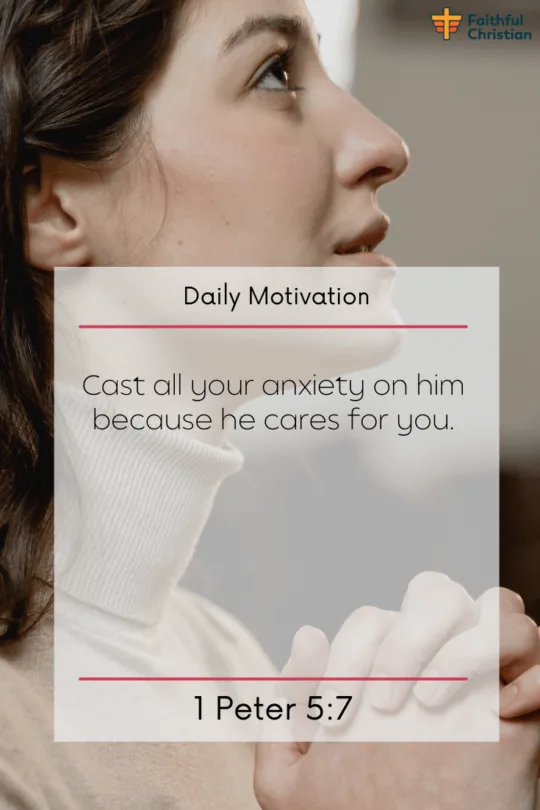 Cast all your anxiety on him because he cares for you.
Life can be a stormy sea, making us feel adrift. In these moments, I turn to 1 Peter 5:7: "Cast all your anxiety on Him because He cares for you." This meaningful verse serves as a lifebuoy, a beacon in the storm.
What does it mean to cast all anxieties onto God? It's about trust, a deep surrender. It's about handing over our backpack of worries to a friend, God, lightening our journey, not ending it.
The verse assures us: "He cares for you." It's a comforting thought. God, the divine architect of the cosmos, pays heed to our worries. His care is an eternal promise, not a passing emotion. We matter to Him. Our anxieties matter too.
Peter didn't pen this verse in a void. His letter speaks to both young and old. The message? Regardless of age or status, God is ready to shoulder your worries. This underpins the verse's broader significance.
This scripture invites a shift in our perception. Anxiety is no longer our solitary responsibility. It's something we can share with God. Fear fades. Faith blossoms.
In the Bible, we encounter Hannah, a woman known for her sorrow. Unable to bear children, her anxiety was profound. Yet, she chose to cast her anxieties on God, pouring out her heart in prayer. The result? God heard, and Hannah, once childless, became the mother of Samuel, one of Israel's greatest prophets.
How can we apply this verse practically? Make room for daily prayer. Acknowledge your anxieties. Verbally and mentally, entrust them to God. The practice might not alter the circumstances, but it changes our perspective.
To wrap up, 1 Peter 5:7, with its rich promise and profound challenge, is a soothing balm. It's an invitation to a worry-free life, underpinned by divine peace. This is the essence of a cool and pleasing scripture quote. Like a lighthouse in a storm, it guides, calms, and uplifts.
7.  Psalm 55:22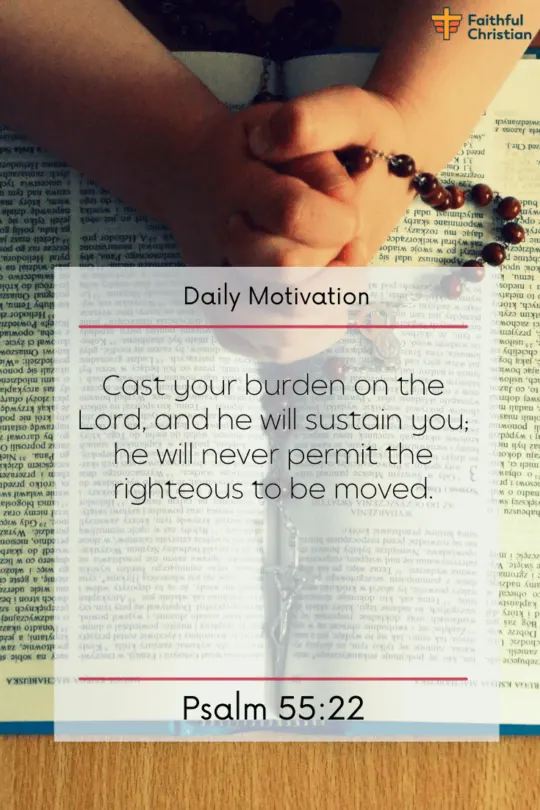 Cast your burden on the Lord, and he will sustain you; he will never permit the righteous to be moved.
With captivating depth, Psalm 55:22 captivates us: "Cast your cares on the LORD…He will sustain you." An explicit command, paired with a divine promise. But, what does it truly mean?
The verse instructs us to cast our burdens on the Lord. It's a divine beckoning, an open invitation. If you're overwhelmed, God offers to carry your load. It's an act of shared faith, one that eliminates our solitary struggles.
The sustenance promised by God is a unique selling point. We're not tossing our cares into oblivion. No, we're entrusting them to a sustainer. God's promise echoes in Matthew 11:28 – "I will give you rest." It is a promise of inner peace amidst turmoil.
David's frame of mind during Psalm 55 offers contextual clarity. Amidst personal betrayal and emotional turmoil, David found refuge in God. This serves as a beacon, guiding us toward divine solace in our most challenging moments.
"The righteous will not be shaken." This phrase holds the divine assurance of stability. A soothing promise, assuring God's unwavering support to the righteous. It's an echoing sentiment of 1 Peter 5:7, illustrating God's committed care.
Paul and Silas offer a practical application. Imprisoned, yet full of faith, they cast their burdens onto God. Their subsequent miraculous release mirrors the promise of Psalm 55:22 – God upholds us when we lean on Him.
Now, the question is – how can we apply this? Trust is the first step. We need to trust God with our fears. This trust translates into prayer, where we openly communicate our worries.
Importantly, post-prayer, we should consciously avoid reclaiming the worry we've given up. Lastly, we need patience and faith, key ingredients for trusting God's timing.
Psalm 55:22, in harmony with Matthew 11:28 and 1 Peter 5:7, form an orchestration of divine comfort. More than pleasing Scripture quotes, they're reliable anchors amidst life's tumultuous seas.
The next time life's waves threaten to overwhelm, remember Psalm 55:22. Heed its command, find rest in its promise, and relish the divine sustenance it offers.
---
Recommended for you
---
Other Cool and Pleasing Bible Verses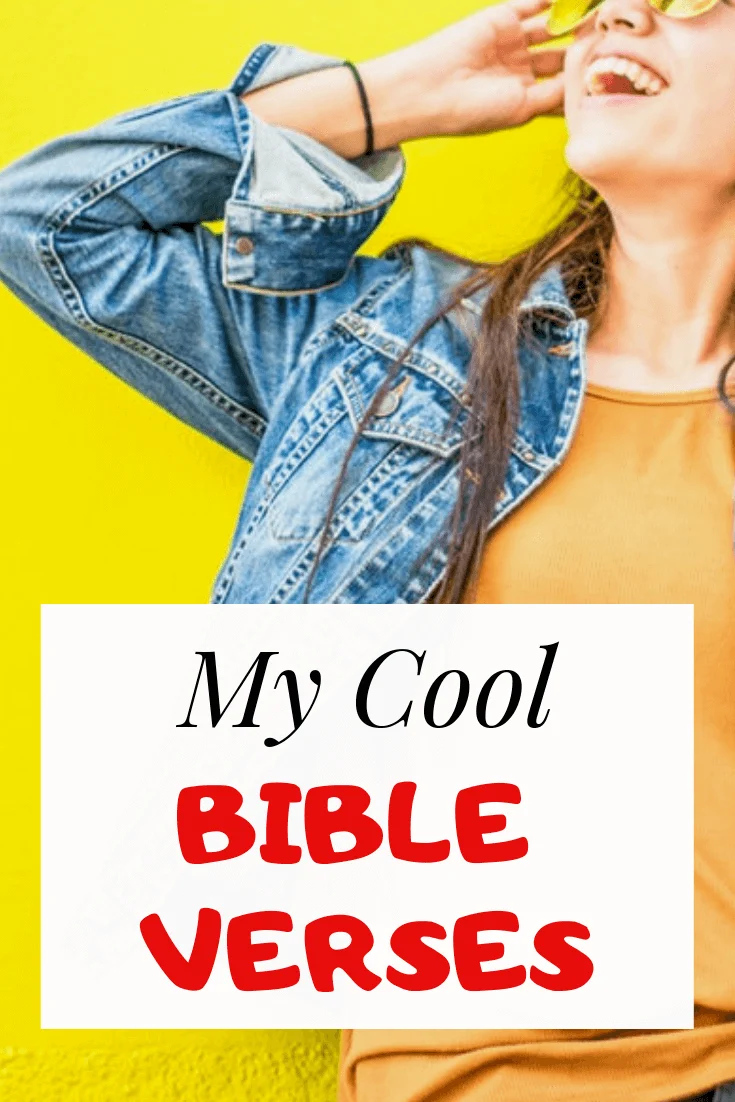 8.  Proverbs 3:5-8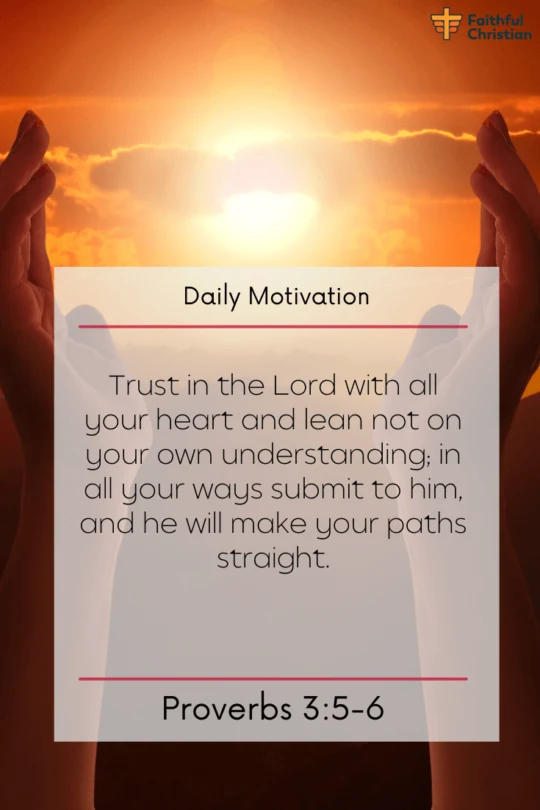 Trust in the Lord with all your heart and lean not on your own understanding; in all your ways submit to him, and he will make your paths straight.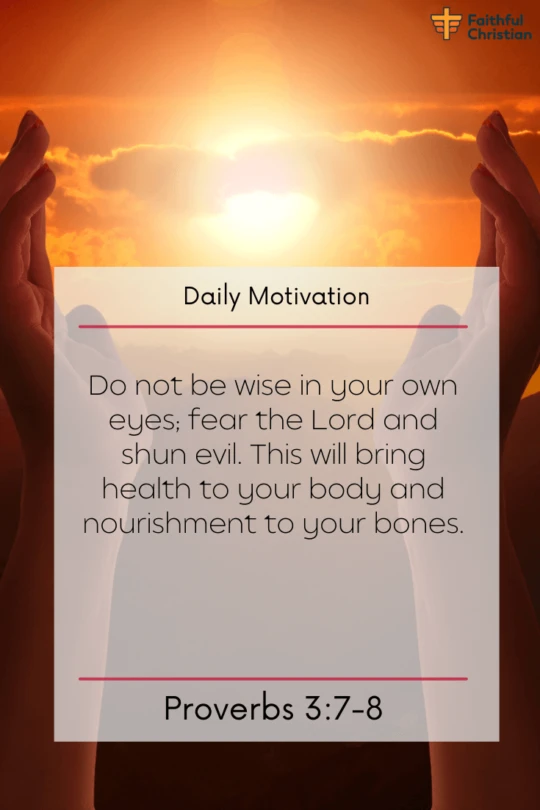 Do not be wise in your own eyes; fear the Lord and shun evil. This will bring health to your body and nourishment to your bones.
Doubt and uncertainty can make life feel like a stormy voyage. In those times, Proverbs 3:5-8 offers a life raft of wisdom. It urges us to trust God fully and lean not on our own understanding. Such a message offers calming tranquility to our souls.
Proverbs 3:5-8 says: "Trust in the Lord with all your heart." Isn't that comforting?
This wisdom is echoed in Jeremiah 17:7-8, where trust in God is likened to a tree planted by the water. Despite heat or drought, the tree remains fruitful. In James 1:5, we're told to ask God for wisdom if we lack it. Here, God is shown as a generous giver, helping us to understand what we can't comprehend on our own.
Looking at these scriptures, an inspiring figure comes to mind – Abraham, a model of complete trust in God. When called upon, Abraham left his homeland, his comfort zone, without knowing where he was going. He trusted God's promise of making him a great nation (Genesis 12:1-3).
This wasn't easy, and yet, he chose to lean not on his understanding, but on God's. His faith was immensely rewarded, with his descendants as numerous as the stars in the sky.
In our own lives, trust can be as challenging as forgiving someone who deeply hurt us. Though it may not seem logical, we must follow God's commands and trust in His wisdom over our own. Such trust promises straight paths and spiritual nourishment.
So how do we apply this wisdom? First, acknowledge the limits of our understanding. Then, seek God's wisdom through prayer, scripture, and introspection. We should strive for humility and remember Abraham's example. As I learned, consciously choosing to surrender our will and understanding to God in confusing situations is vital.
Proverbs 3:5-8 and related scriptures provide a roadmap to a life of trust in God. They ask us to let go of our limited understanding and embrace His guidance. Living this out is fulfilling and rewarding.
This scripture isn't just a quote—it's a lifestyle that offers spiritual health and vitality. It provides peace, ensuring we're in safe hands. This is truly meaningful and soothing to the soul.
9.  Colossians 3:12-13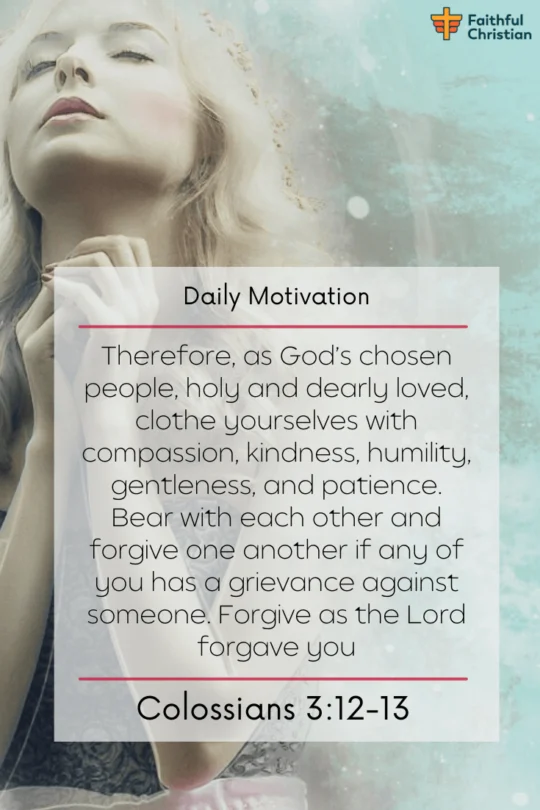 Therefore, as God's chosen people, holy and dearly loved, clothe yourselves with compassion, kindness, humility, gentleness, and patience. Bear with each other and forgive one another if any of you has a grievance against someone. Forgive as the Lord forgave you
Diving into Scripture, one finds Colossians 3:12-13 uniquely compelling. This passage offers profound meaning and a soothing message. It urges us to put on virtues like clothes, adorning ourselves with compassion, kindness, humility, gentleness, and patience.
This appeal isn't superficial. It's a call to be God's mirror, reflecting His grace to the world. Here's an illustration: the early Christian community (Acts 2:44-45). They shared everything. But this was more than resource allocation. It was the materialization of these virtues. In essence, it was love, put into action.
Today, the call remains. Colossians 3:12-13 doesn't merely suggest, it implores us to bear and forgive each other. Ephesians 4:32 underscores this call to forgiveness, urging kindness and compassion too.
Yet, amidst these virtues, love stands supreme. As 1 Peter 4:8 emphasizes, love is paramount because it covers a multitude of sins. Love is more than an emotion here; it's a conscious choice that elevates and empowers all other virtues.
But, how do we apply these virtues today? Start small. Show patience in a traffic jam. Share a warm smile with a stranger. Forgive someone who's wronged you. These are practical ways to infuse these virtues into everyday life.
I have noticed a transformation in my own life as I consciously apply these virtues. The shift is visible and it's incredible. You can experience this too.
In conclusion, Colossians 3:12-13 goes beyond being just a cool, pleasing Scripture. It's a guide to a life of love and unity, shaping us into God's chosen ones. As we embody these virtues, we become living testaments of these truths. It's time to step into our calling.
10.  1 Corinthians 13:4-7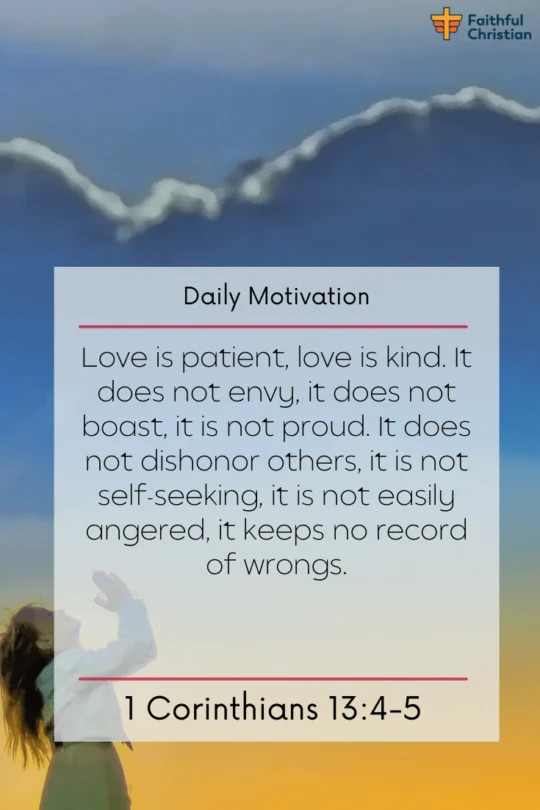 Love is patient, love is kind. It does not envy, it does not boast, it is not proud. It does not dishonor others, it is not self-seeking, it is not easily angered, it keeps no record of wrongs.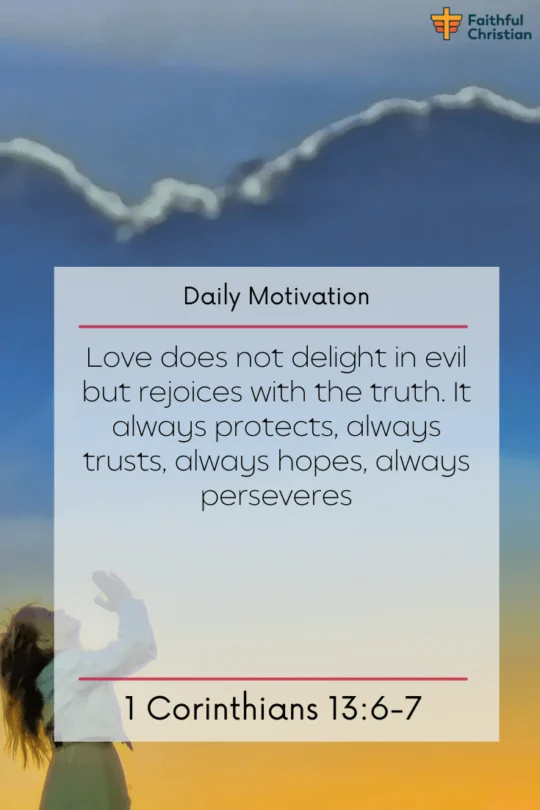 Love does not delight in evil but rejoices with the truth. It always protects, always trusts, always hopes, always perseveres
Imagine a couple, their age showing in their grey hair and weathered hands. Yet, their love remains resilient, reflecting the enduring love described in 1 Corinthians 13:4-7. This verse represents an epitome of love—patient, kind, and persevering. It's a meaningful verse, soothing and enlightening.
First, we explore love's definition and traits. "Love is patient, love is kind. It does not envy, it does not boast, it is not proud," the scripture states. This portrays love as gentle, selfless, and humble. Galatians 5:22-23 reinforces this, linking love with patience, kindness, and gentleness.
As believers, love is paramount. It forms our faith's bedrock, shaping our relations with others. "Be completely humble and gentle; be patient, bearing with one another in love," Ephesians 4:2 advises. This verse calls us to embody love through humility, patience, and gentleness.
Contrasting biblical love with worldly interpretations highlights its purity. In a world where love often merges with infatuation or obsession, biblical love shines with its simplicity and steadfastness. It's unaffected by external circumstances, remaining resilient always.
Ruth and Boaz's story embodies this enduring love. Despite adversity, Ruth's love for her mother-in-law, Naomi, persisted. Boaz, in turn, reciprocated this love, offering patience and respect. Their love, filled with hope and endurance, offers a beacon for believers.
Think of the long-married couple I mentioned earlier. Each day, they choose patience over irritation, kindness over anger, forgiveness over resentment. They have weathered storms together, faced challenges, but their love has never faltered. This is the essence of 1 Corinthians 13: love that never fails.
To embody this love, we must practice patience, kindness, truthfulness, protection, trust, hope, and perseverance. Though challenging, faith and prayer make it possible. The aim is to emulate Christ-like love.
Love is not fleeting. It's a choice, a commitment. It mirrors God's love for us—patient, kind, enduring, hopeful. May these pleasing verses inspire you to emulate the love of 1 Corinthians 13, through all life's seasons.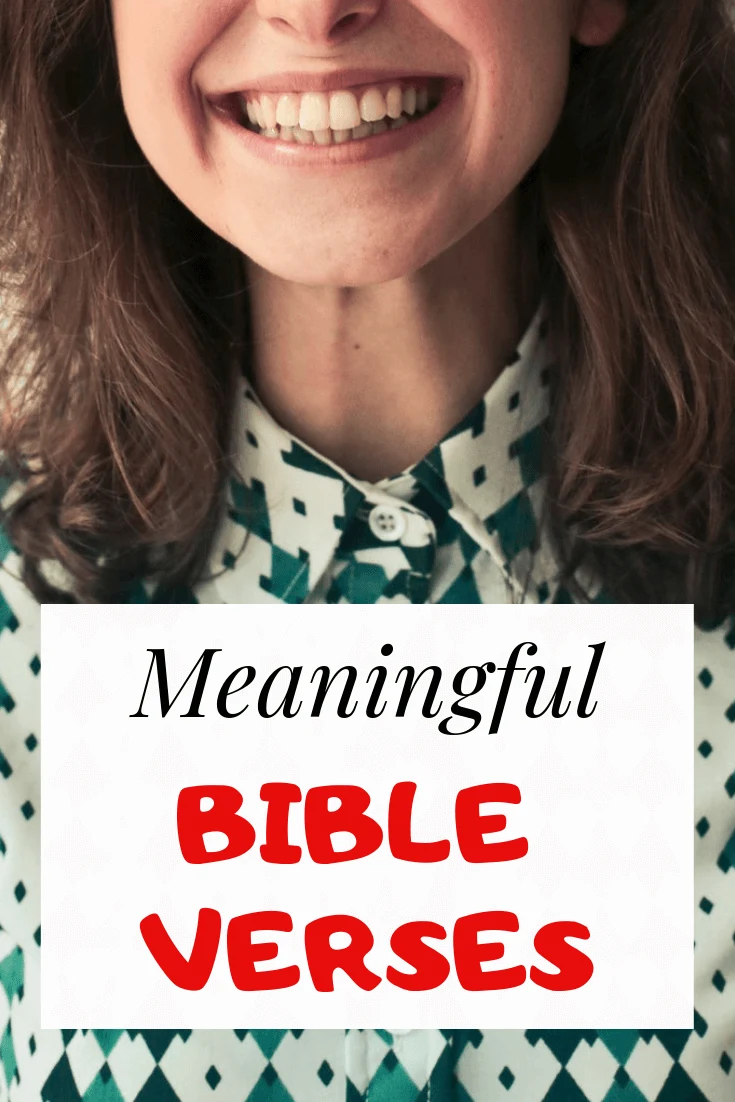 Frequently Asked Questions
What is the good and pleasing verse?
"Good and pleasing" varies based on individual interpretation. A verse that often resonates with me is Romans 12:2. The verse advises against conforming to worldly patterns. It encourages transformation through mind renewal. Understanding God's will becomes possible through this transformation.
What verse in the Bible talks about pleasing people?
The verse addressing the act of pleasing people is Galatians 1:10. The verse interrogates the pursuit of human approval versus divine approval. It underscores that people-pleasing contradicts being a true servant of Christ.
What is the most meaningful Bible verse?
A verse often seen as the most meaningful is John 3:16. It encapsulates the core of Christian doctrine. It communicates God's love and the promise of eternal life via faith in Christ.
What Psalm is pleasing God?
Psalm 19:14 is a biblical text focusing on pleasing God. It is a personal petition for one's words and meditations to find favor in God's sight. It presents God as a Rock and Redeemer.
What are some Bible verses with meaningful messages?
For meaningful messages, consider Matthew 22:37-39 and Micah 6:8. The former records Jesus' two greatest commandments: love God wholly and love one's neighbor as oneself. Micah 6:8 conveys God's requirements: justice, mercy, and humility in walking with Him.
Can you provide inspirational Bible verses about strength?
For inspiration on strength, refer to Philippians 4:13 and Isaiah 40:31. The former conveys strength through Christ's enablement. The latter offers a beautiful metaphor for those who hope in God, comparing them to soaring eagles, tireless runners, and unwavering walkers.
Are there any Bible verses that have a deeper meaning?
Deeper meanings are prevalent in the Bible, often reliant on personal interpretation. Matthew 7:7-8 is a good example. It encourages prayer, truth-seeking, persistence, and faith, symbolized through the acts of asking, seeking, and knocking.
Author: Akatakpo Dunn
Dr. Akatakpo Dunn is a dedicated follower of Christ, an active member and speaker, and an ongoing learner of the Scriptures. Passionate about his faith and serving others, he is committed to sharing his spiritual journey and insights to inspire and uplift fellow believers. He has been active in the church for more than 23 years. Through The
Faithful Christian Blog
,
Dr. Dunn
combines his love for God, philanthropy, and Scripture, providing a valuable resource for those seeking to grow in their faith.
Follow me: on Youtube, Facebook, Twitter, Instagram, and Pinterest.
Content Disclosure:
At The Faithful Christian Blog, I create authentic and inspiring content. Although I am the main author, I occasionally use AI for minor language enhancements. This minimal AI usage ensures high-quality, trustworthy articles without compromising originality or sincerity, ultimately supporting our shared faith journey.
Warmly,
Dr. Akatakpo Dunn
Was this article helpful?