Don't lose your faith in God.
He is able to do anything we ask.
He is also able to motivate your soul at your workplace.
Are you struggling at work? Are you facing problems in the workplace? Are you seeking God's protection at work?.
You can trust in God to deliver you from the devil's wicked plan.
And what about your enemies at work? Or those that are jealous of your progress?
Though your enemies gather to bring you down, they will fail because you are untouchable.
We will also pray for your colleagues at work and ask God for success and favor at your workplace.
I have put together this prayer for encouragement at your workplace.
May God, strengthen and keep you through his grace. Amen.
---
Recommended for you
---
Short prayer for encouragement at the workplace (Prayer points)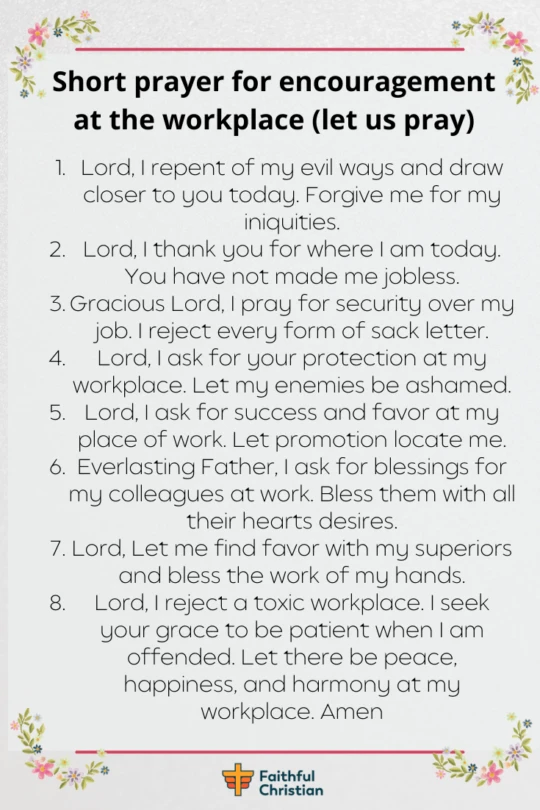 Dear Heavenly Father, I come before You humbly. I admit my missteps. I renounce my errors, just as David said in Psalm 32:5, "I acknowledged my sin to You…and You forgave the guilt of my sin." I seek Your forgiveness, Father.
I am grateful, too. I look around, aware of Your blessings. I am not without work, and for that, I am thankful. Your gifts, as in James 1:17, are "every good and perfect gift."
I seek protection in my work, Father. I pray against every notion of job loss. You're my shield, my fortress, as in Psalm 18:2. Keep me safe from harm.
You are my refuge, Lord. Extend Your divine protection over my workspace. Dismay my foes, make them ashamed. Your justice, like in Psalm 37:28, is everlasting.
Bestow favor upon me, Father. Guide me to success in my profession. As in Proverbs 16:3, "Commit to the Lord…and your plans will succeed." Let promotion be my portion, O Lord.
I pray for my colleagues, too, Father. May they find fulfillment in their hearts' desires. Your Word in Matthew 7:7 promises, "Ask, and it will be given to you."
I ask for favor, Lord, with those who lead me. Bless the work of my hands. May they see Your grace upon me, like Joseph found favor in Potiphar's sight in Genesis 39:4.
Toxicity has no place here, Father. I pray for patience in times of offense. May our workspaces radiate peace, joy, unity. Your peace surpasses understanding, as in Philippians 4:7.
Almighty Father, I conclude my prayer to You. In your mighty name, I pray. Amen.
Prayer Bible verses for encouragement at work
Matthew 6:34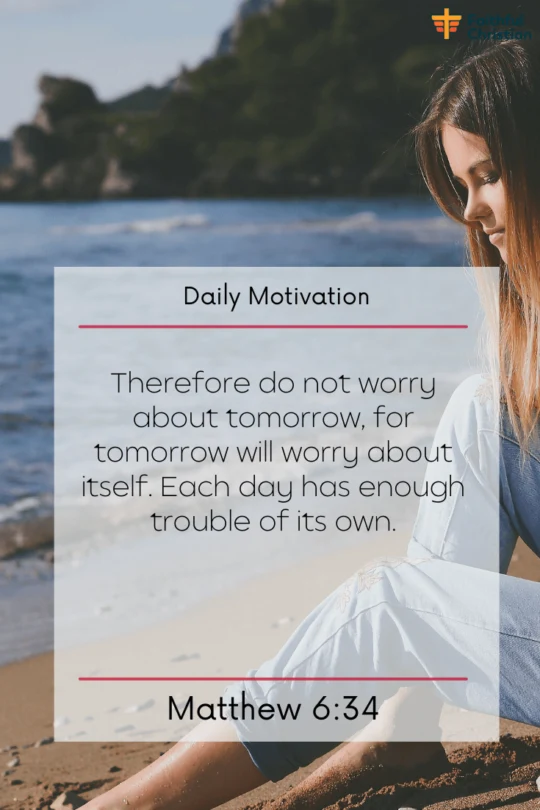 Therefore do not worry about tomorrow, for tomorrow will worry about itself. Each day has enough trouble of its own.
John 14:27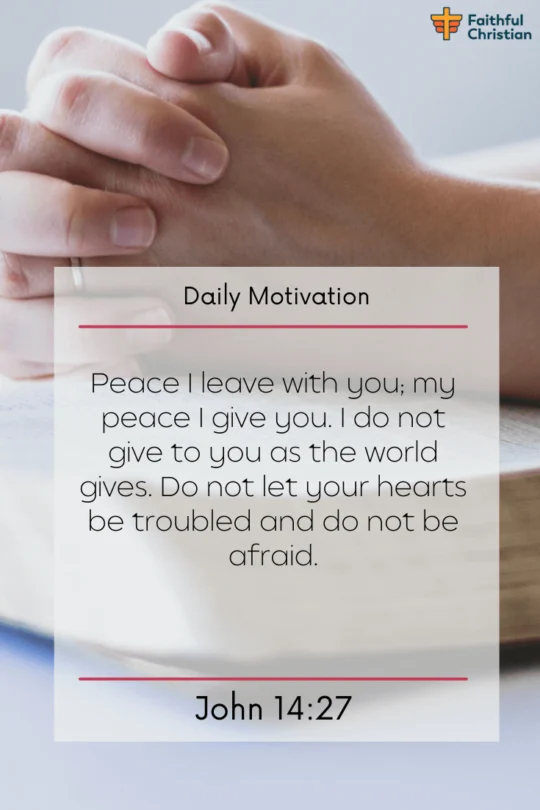 Peace I leave with you; my peace I give you. I do not give to you as the world gives. Do not let your hearts be troubled and do not be afraid.
Philippians 4:6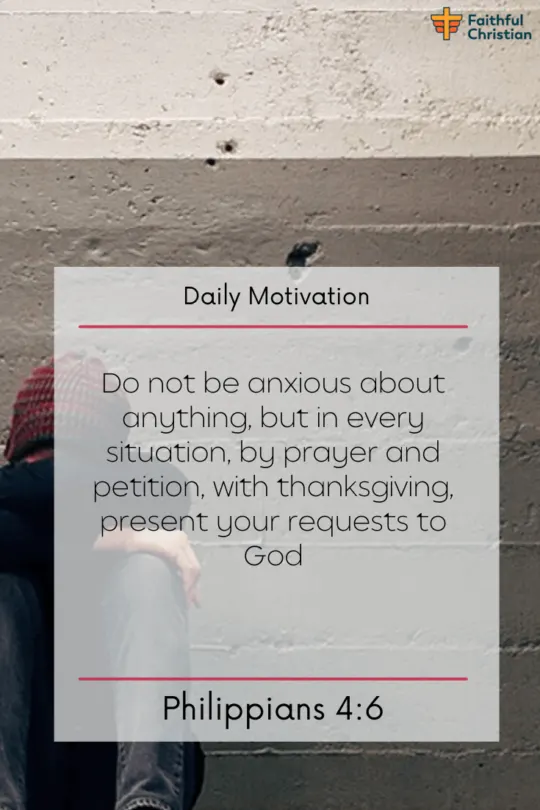 Do not be anxious about anything, but in every situation, by prayer and petition, with thanksgiving, present your requests to God
Prayer for Encouragement at work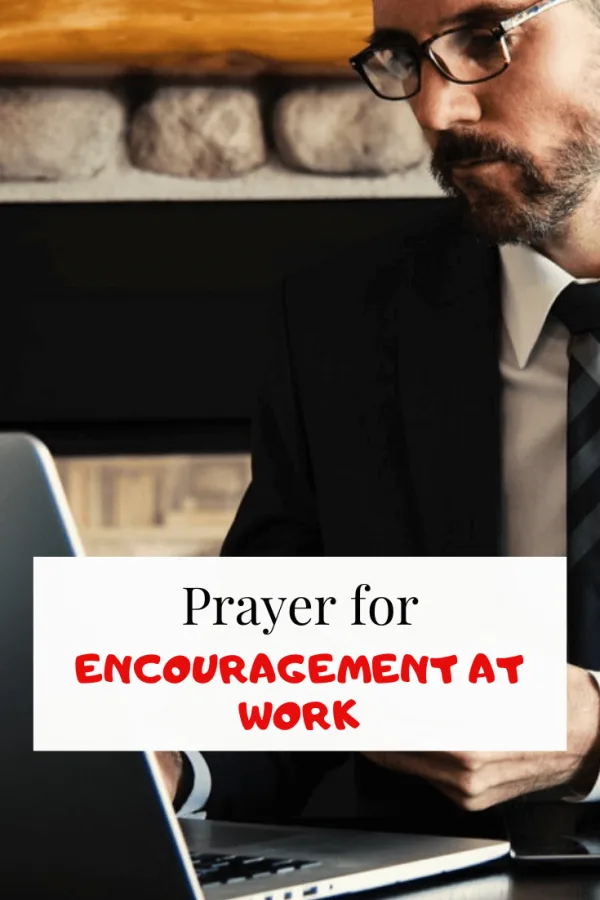 Lets us give thanks to our Lord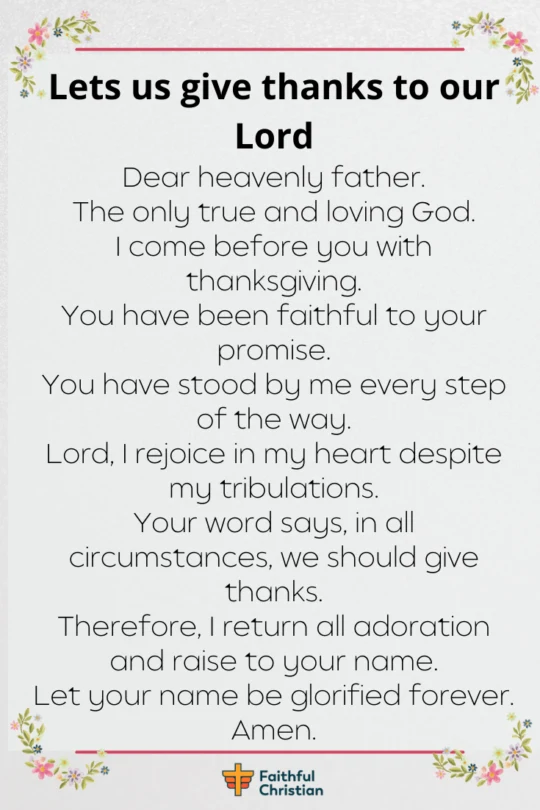 My Dearest Father,
You're the only true God, whose love is as vast as the ocean. Your radiant light shines in the darkest corners of our lives. I bow before You, the canvas of my heart filled with colors of gratitude.
Remembering Your faithfulness, I stand amazed. Like an unwavering beacon, You've navigated me through the stormiest seas of life. You're my compass, the North Star guiding my every step. Your promise, Lord, is a steadfast anchor for my soul (Hebrews 6:19).
In this moment, I find joy bubbling within me. Like a river, it flows, a divine testament of Your comfort, even amidst life's turbulent rapids. Your Word reminds us to find thankfulness in every circumstance (1 Thessalonians 5:18).
And so, with a heart singing praises, I honor You, The Almighty. My voice joins the universal choir, singing Your name, echoed in the winds, whispered in the rustling leaves, and reflected in the shimmering stars.
May Your name, oh Lord, be a sacred melody. Let it ring out from the mountaintops, resound through the valleys, and fill the silent nights with its divine harmony.
I hold fast to Your promise, Father, that You are with us always, to the very end of the age (Matthew 28:20). With that reassurance, I lay down my fears, my worries, and my uncertainties at Your feet.
May Your glory, as vast as the cosmos, reverberate throughout eternity. Let every breath we take and every beat of our heart be a testament to Your everlasting love.
And so, in the name of our Lord and Savior, I offer this prayer. Humbly, lovingly, and in awe of Your divine majesty.
Amen.
Let us repent and seek forgiveness (let's pray)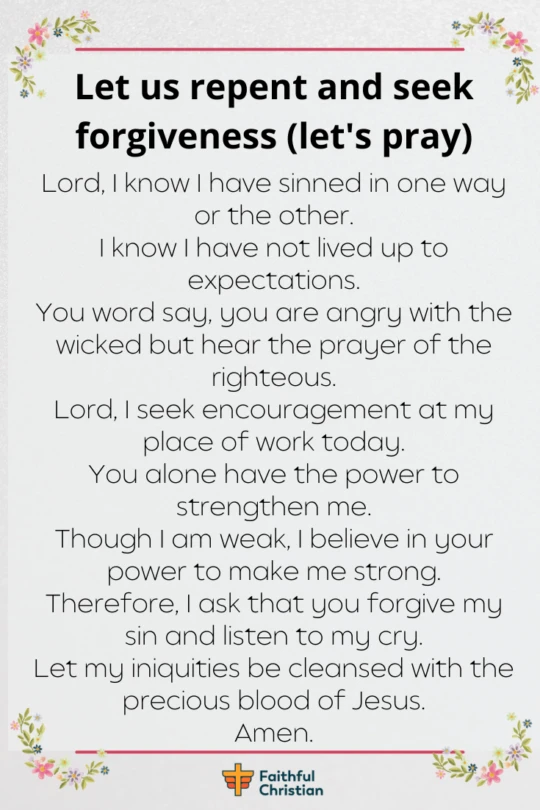 Dear Lord, I stand before You today, full of humble confession. Mistakes? I've made plenty. Psalms 51:4 says, "Against you, you only, have I sinned." Father, I have indeed fallen short.
You're disappointed with wrongdoers, Proverbs 15:29 reminds us. Yet, the righteous? You listen to them. Today, as I journey into my workspace, I need that attentive ear, Father.
Your strength, Almighty, is like no other. I'm weak, oh so weak, yet, 2 Corinthians 12:10 says, "For when I am weak, then I am strong." Through You, I find my strength.
So here I am, Lord, praying for Your forgiveness. I've erred, I admit it. Psalms 51:2 implores You to "Wash away all my iniquity and cleanse me from my sin." I hold onto that promise.
Cleanse me, Father, with the blood of Jesus. His sacrifice, as described in Ephesians 1:7, has "redemption through His blood, the forgiveness of sins." What an invaluable gift, Lord!
Workplace challenges are real, Father. I need Your armor. Ephesians 6:11 instructs us to "Put on the full armor of God." I'm doing that right now, seeking Your divine protection.
Today, as I meet my duties head-on, Your guidance is crucial. In Psalms 32:8, You say, "I will instruct you and teach you in the way you should go." Father, guide my steps, always.
In the name of Jesus, I submit this prayer. Amen.
It is well (let us pray)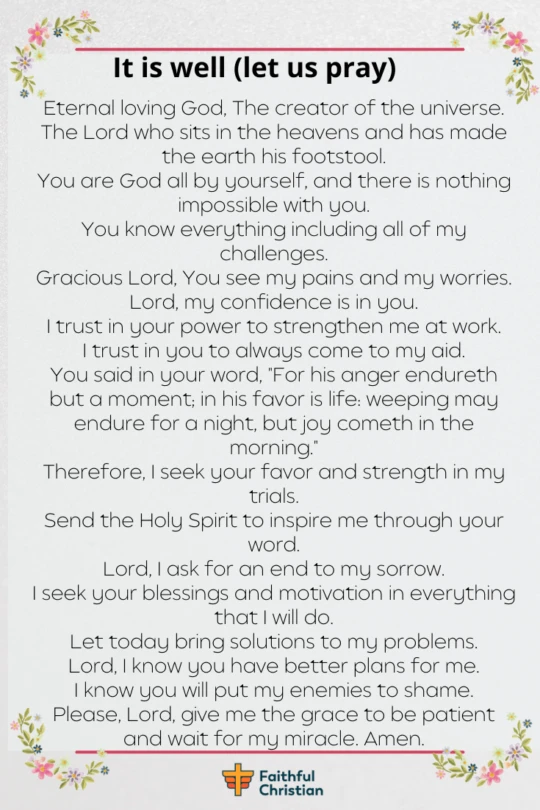 Oh, Radiant Creator, Architect of the Cosmos,
You reign supreme above the heavens, the earth humbly serving as Your footstool. Your divine power stands alone. For You, the impossible doesn't exist. Your gaze penetrates the veil of all things, including my personal struggles.
You, our Gracious Father, see every pain etched on my heart. It's You I turn to when I'm weary, my rock of strength. In You, my faith lies. I believe in Your power, knowing it bolsters me at work.
Just as the sun rises each morning, Your support is a constant. Your Word tells us of Your anger's fleeting nature, and Your favor's eternal promise. It is this divine favor I seek, Lord, to help me weather my trials.
In the book of Psalms, we find solace: "His favor lasts a lifetime; weeping may stay for the night, but rejoicing comes in the morning." This verse, like a beacon, guides me through my darkest hours.
Lord, I ask for Your Holy Spirit. May it infuse me with inspiration from Your sacred Word. I seek the end of my sorrow, the dawn after my long night.
I yearn for Your blessings, Lord. I need Your divine motivation in all I undertake. I pray that today, solutions to my problems will unfold, just like how the beautiful lily in the field blooms under Your care.
In Jeremiah, You said: "For I know the plans I have for you, plans to prosper you and not to harm you." This promise, I hold close. I know You have greater plans for me, plans that will bear fruit in due time.
Almighty Father, in Your divine time, I am confident that those who oppose me will be put to shame. And so, I ask for Your grace. The grace to be patient, to wait for my miracle, like a farmer waiting for his crop.
In the hollow of Your hand, I submit myself, knowing You shape the course of my life.
In Your sacred name, I offer this prayer. Amen.
---
Recommended for you
---
For your shame, you shall have double (let us pray)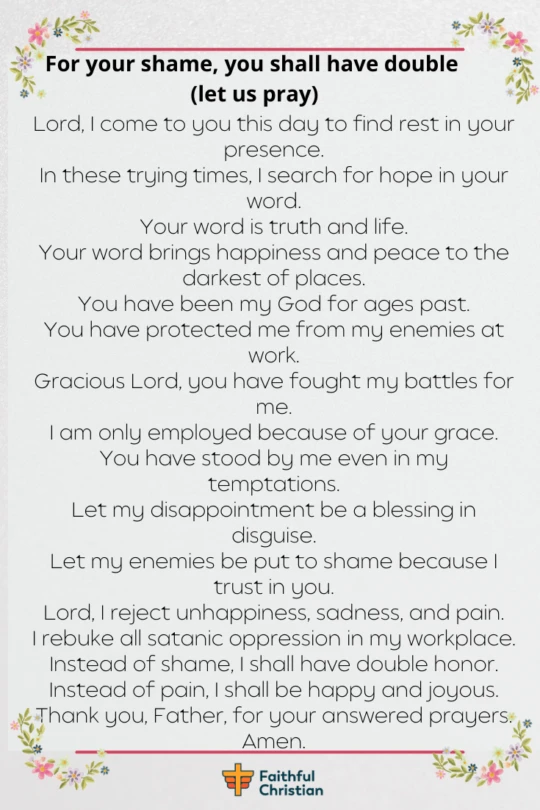 Dear Lord, in Your majestic presence, I seek solace. Times are tough, yet, in Your word, I find hope. As it's written in Hebrews 6:19, Your promise gives us hope.
Your divine word, Father, is a ray of light. It breathes life into us. It's as Psalm 119:105 says, Your word is a lamp to our feet. It dispels darkness, replacing it with joy and peace.
From the dawn of time, Almighty, You've been my refuge. You've defended me from workplace foes. As Deuteronomy 20:4 assures us, You fight for us against our enemies.
Master of the Universe, You've turned my struggles into victories. It's Your grace that sustains my career. During temptation, You've been my anchor. As 1 Corinthians 10:13 promises, You provide a way out when temptation strikes.
The scripture in Isaiah 61:7 is a beacon. It assures double honor for shame. So, Father, I request this promise fulfillment at work.
May every setback pave the way to unexpected blessings. As Romans 8:28 declares, all things work together for our good. Let my trust in You confuse my enemies.
Lord, I reject gloom, sorrow, and anguish. I stand firm against workplace negativity. Instead, I invite joy and peace into my space. As 2 Thessalonians 3:3 reassures, You protect us from the evil one.
In the face of shame, I expect double honor. Where there's pain, joy will bloom. As Psalm 30:5 promises, weeping may last for a night, but joy comes with the morning.
Father, I am grateful. I acknowledge Your loving response to my prayers. As Psalm 118:21 reminds, I give thanks because You have answered me.
Almighty God, I say thank You. In Your Holy name, I pray. Amen.
Hold on to God (let us pray)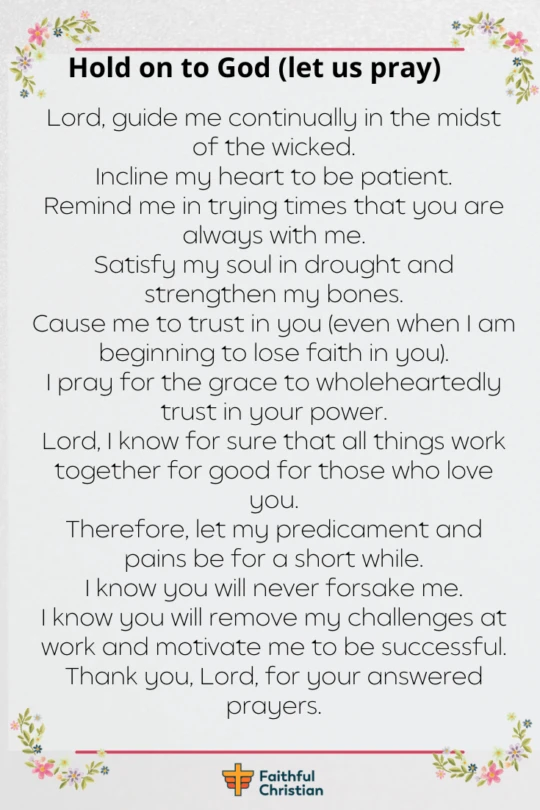 Dear Father, the beacon in my storm, guide me through every moment. Your wisdom lights my path when malevolent shadows dance at work. Like your servant David prayed, "Show me your ways, Lord, teach me your paths." (Psalm 25:4), I echo his plea.
Help my heart adopt the virtue of patience. Amid rapid deadlines and hurried expectations, remind me of the beauty of a steady pace. As in the parable of the farmer who patiently awaits his crops (James 5:7), grant me such endurance.
When trials surface, whisper that you're by my side, Father. Like a lighthouse amid a stormy sea, your presence is my haven. Remembering that "the Lord is near to the brokenhearted" (Psalm 34:18), I know I'm not alone.
Satisfy my parched soul, Lord, and fortify my spirit. Just as a tree drinks from hidden streams in the desert (Jeremiah 17:8), your love hydrates my hope. You are the rain to my roots, the strength to my bones.
When doubts arise, draw my heart back to you, Almighty. Your love transcends all understanding. Remind me of Proverbs 3:5, "Trust in the Lord with all your heart." (Proverbs 3:5) Grant me that unwavering faith.
Father, I lean on your promise that all things turn out for our good (Romans 8:28). I know your divine blueprint uses even trials for growth. Let my workplace struggles be fleeting, molding me for brighter days.
You'll never leave me, Lord, I trust in this promise. "The Lord himself goes before you and will be with you." (Deuteronomy 31:8). I believe, in the face of challenges, you're paving the way for my success.
I express my gratitude, Lord, for your answered prayers. Like manna from heaven, your guidance feeds my spirit. You're my courage, my peace, my everything. With your love, each day is a testament to your greatness. In the mighty name of Jesus, Amen.
God is with you at work (let us pray)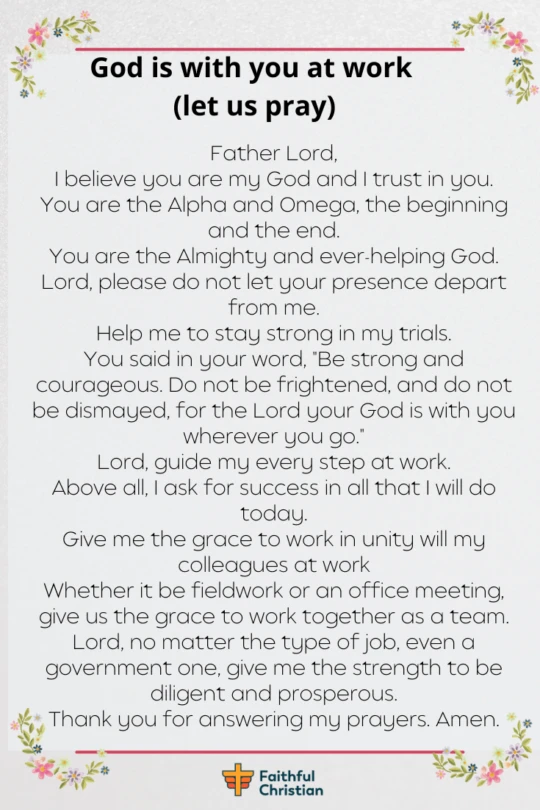 Dear Heavenly Father,
In Your majesty, You are the Alpha and the Omega. You're the Author of all beginnings and the Perfecter of every ending. Your reign transcends time, spanning from dawn's first light to the deep mystery of the night.
You are the Almighty, our omnipresent Helper. You extend Your hand, offering refuge even in the darkest of storms. Never leaving our side, You remain our guiding star. In Psalm 46:1, we're reminded, "God is our refuge and strength, an ever-present help in trouble."
Please, Father, keep Your radiant presence with me always. Like a beacon guiding a ship in the foggy night, You anchor my life amidst life's turbulent seas.
Challenges will come, but Your Word stands firm. You remind us to be "strong and courageous." You assure us that we are never alone. In Deuteronomy 31:6, the promise is clear: You will never leave nor forsake us.
My daily workplace stands as a field of potential. Father, let your guiding hand direct every decision I make, every action I take.
Your blessings, I seek, on all I set out to accomplish today. May the labor of my hands echo Proverbs 16:3, "Commit to the Lord whatever you do, and He will establish your plans."
Help me find unity in diversity among my colleagues. Let us come together, fostering respect, empathy, and a positive working environment.
Whether in fieldwork or office brainstorming, we can draw from Ecclesiastes 4:9, "Two are better than one… for if they fall, one will lift up his fellow." By Your grace, we rise and fall as a team.
Even in the austere halls of government, Your wisdom gives me strength. For as You've said in Proverbs 10:4, "A slack hand causes poverty, but the hand of the diligent makes rich."
Lastly, Father, I gratefully recognize Your answered prayers and boundless blessings. My heart is a brimming cup, overflowing with thanksgiving for Your enduring love and mercy.
In humility, and with a resounding Amen, I submit this prayer in Your Holy Name, Lord.
Frequently Asked Questions
What is a short prayer before you start work?
As you embark on your workday, you might consider this brief invocation: "Divine guide, as I commence my daily tasks, lend me your guidance. May my actions uphold integrity, my service reflect humility, and my endeavors aim for excellence. I offer this prayer in Your honor. Amen."
This prayer draws inspiration from Colossians 3:23-24, encouraging us to invest our heart into our work, for we serve the Lord.
What is a powerful prayer before going to work?
As you step into a new workday, you can seek divine guidance with the following powerful prayer: "Sovereign God, may your tranquility accompany me today. Bestow upon me wisdom and resilience to confront forthcoming challenges and enable me to serve as a beacon for others. I put my trust in You for sustenance and direction. I pray this in Jesus' name. Amen."
This prayer mirrors the wisdom-seeking ethos found in James 1:5.
What is the best prayer for work?
A simple yet potent appeal for work may be: "Eternal Lord, bless my endeavors, gift me wisdom in my choices, and patience in my communications. Enable me to propagate Your peace at my workplace. In Jesus' name, I pray. Amen."
This prayer reverberates with the sentiment of Psalm 90:17, pleading God to bless our endeavors.
What is a good prayer for encouragement?
In times of need for encouragement, consider this prayer: "Father above, you are my refuge in weakness and my upliftment in discouragement. Help me recall the limitless possibilities with You. Bolster my heart and reinforce my determination to trust Your promises. In Jesus' name, I pray. Amen."
This prayer echoes Joshua 1:9's message of divine courage and accompaniment.
How do you pray for success at work?
For praying for workplace success, consider this: "Lord above, I surrender my work to You. I pray for success in my assignments and ventures, for Your glory. Grant me diligence and infuse me with creativity and novelty. In Jesus' name, I pray. Amen."
This prayer draws upon Proverbs 16:3, entrusting our work to the Lord to ensure our plans come to fruition.
What Psalm is for success at work?
For work success, Psalm 1 may guide you. It doesn't explicitly mention work, but its principles apply broadly. It eulogizes the blessed life of the righteous and the joy found in God's laws. It suggests that aligning with God's principles ensures prosperity, much like a tree planted near water streams.
How do you lead prayer before work?
To lead a pre-work prayer, gather your peers in a tranquil place. Start with: "Kind God, we assemble here prior to our work. We seek Your guidance in all our tasks and interactions. May our work satisfy You. Help us uphold justice, love mercy, and walk humbly. In Jesus' name, we pray. Amen."
This prayer integrates Micah 6:8's themes, which highlight the need for justice, mercy, and humility.
What is a short prayer for work success?
A concise prayer for work success might be: "Gracious Lord, sanctify my work today. Empower me to be diligent, inventive, and effective. May my efforts yield fruitful results and glorify You. In Jesus' name, I pray. Amen."
This is an echo of 1 Corinthians 15:58, emphasizing steadfastness and assuring that our efforts aren't in vain.
What is a prayer for workplace protection?
Seeking protection at work? Consider: "Heavenly Father, I seek Your shelter over my workplace. Protect us from harm and conflict. Help us foster unity and respect. Surround us with Your defensive grace as we execute our duties. In Jesus' name, I pray. Amen."
This aligns with Psalm 91:1-2, taking refuge in the Lord for safety.
Can you suggest a short prayer for work colleagues?
A prayer for your colleagues might be: "Heavenly Lord, endow my colleagues with wisdom, comprehension, and tranquility. Guide their actions, inspire their work, and instill harmony in our interactions. In Jesus' name, I pray. Amen."
This prayer embodies Philippians 2:4, advocating for consideration of others' interests alongside our own.
How can I pray for work guidance?
For work guidance, try: "God, I implore Your counsel as I undertake my work. Guide me in wisdom and help me make decisions that honor You. Illuminate my path and guide my strides. In Jesus' name, I pray. Amen."
Psalm 32:8 resonates here, with God promising to instruct and counsel us.
What is a prayer for a work meeting?
Before a work meeting, you may consider: "God, we seek Your presence and guidance in our meeting today. Bestow upon us wisdom, patience, and clarity. May our dialogues be productive, and decisions align with Your will. In Jesus' name, we pray. Amen."
This reflects James 1:5, urging us to seek wisdom from God.
How can I pray for the resolution of work problems?
When facing workplace challenges, you could pray: "Lord, I present to You the challenges at my workplace. Grant me wisdom to navigate these issues and resilience to endure. May there be resolution and harmony. In Jesus' name, I pray. Amen."
This prayer draws upon James 1:5 and 1 Corinthians 14:33, with God being our source of peace and wisdom.
Is there a prayer I can say before starting work in the office?
Before starting work in the office, consider: "Heavenly God, as I commence my work today, may I serve with joy and dedication. Guide my actions, inspire my thoughts, and bless my efforts. May my work be a testament of Your love. In Jesus' name, I pray. Amen."
This aligns with Colossians 3:23, urging us to work heartily as if for the Lord.
Author: Akatakpo Dunn
Dr. Akatakpo Dunn is a dedicated follower of Christ, an active member and speaker, and an ongoing learner of the Scriptures. Passionate about his faith and serving others, he is committed to sharing his spiritual journey and insights to inspire and uplift fellow believers. He has been active in the church for more than 23 years. Through The
Faithful Christian Blog
,
Dr. Dunn
combines his love for God, philanthropy, and Scripture, providing a valuable resource for those seeking to grow in their faith.
Follow me: on Youtube, Facebook, Twitter, Instagram, and Pinterest.
Content Disclosure:
At The Faithful Christian Blog, I create authentic and inspiring content. Although I am the main author, I occasionally use AI for minor language enhancements. This minimal AI usage ensures high-quality, trustworthy articles without compromising originality or sincerity, ultimately supporting our shared faith journey.
Warmly,
Dr. Akatakpo Dunn
Was this article helpful?