Today, we will encourage your friends and loved ones through prayers.
We will ask God to help them in all their troubles.
Whatever challenges they are facing, We will ask God to strengthen them.
God does not abandon those that truly serve him.
Likewise, he will not abandon you, your loved ones, and your best friends.
You can pray for anything.
You can ask God to strengthen them in their weaknesses.
Also, you can ask God to return happiness to their heart.
And what about friends that have left you? We will pray for the return of your lost friendship.
What about your family? (your mum, dad, brothers, and sisters). You can pray for them too.
I have put together this powerful prayer for encouragement for your friends and loved ones.
---
Recommended for you
---
Short prayer for encouragement for a friend (prayer points)
Dear Father in Heaven, I pour out my gratitude. You've gifted me the miracle of life. Your steadfast love, as in Psalm 136:26, has been my pillar. Lord, your support never wavers. You're always by my side.
Oh, Father, I feel thankful for my friends. Their paths are tough. Yet, You, in your mercy, have safeguarded their lives. As Psalm 28:7 describes, You've been their strength. They've triumphed, thanks to Your guiding light.
The Almighty, I owe you my deepest thanks for my family. They've had needs, and You've never abandoned them. Like Matthew 6:26 assures, You've provided. You're their rock, their provider. My heart sings praises of Your care.
Lord, I implore you. Brush away my loved ones' sorrows. Let happiness bloom in their hearts. Just as Philippians 4:7 promises peace, grant them joy. Let them find bliss in each endeavor.
Master of the Universe, I pray for protection. My friends face struggles. You, Lord, lend them patience, reminding them of Your power. Your divine intervention, as in Isaiah 41:10, is their hope. Let them trust in You.
Oh Mighty One, I reject evil. Against my dear ones, may it fail. Every plot, every destructive force, let it crumble. Psalm 91:7 reassures us, evil won't prevail. I believe, Lord, in Your justice.
All-Knowing Father, I stand firm. Against my loved ones' adversaries, I pray. Their ill plans won't come to pass. Like in Psalm 118:6, You're with us. Their intent will fall flat.
Almighty God, I seek strength. My friends, my loved ones need Your blessings. As Psalm 29:11 assures, You provide strength. So, guide my male and female friends. Fulfill their dreams, Lord. Lead them towards joy.
Dear Lord, heal emotional wounds. As in Psalm 147:3, You heal the brokenhearted. Let tranquility flood my friend's heart. May Your peace replace their pain. You're the greatest comforter, Lord. Set them free from sorrow.
Ever-Present Father, comfort my struggling friend. Shower him with blessings. Turn trials into triumphs, worries into wonders. Your blessings, as in Numbers 6:24-26, are their shield. Wrap them in Your love.
Father, I pray with hope, gratitude. Each plea is a testament of faith. You, Lord, are our refuge. Each sentence here reflects submission to Your will. You are wonderful, Almighty God. Amen.
Prayer Bible verses for encouragement
Isaiah 41:10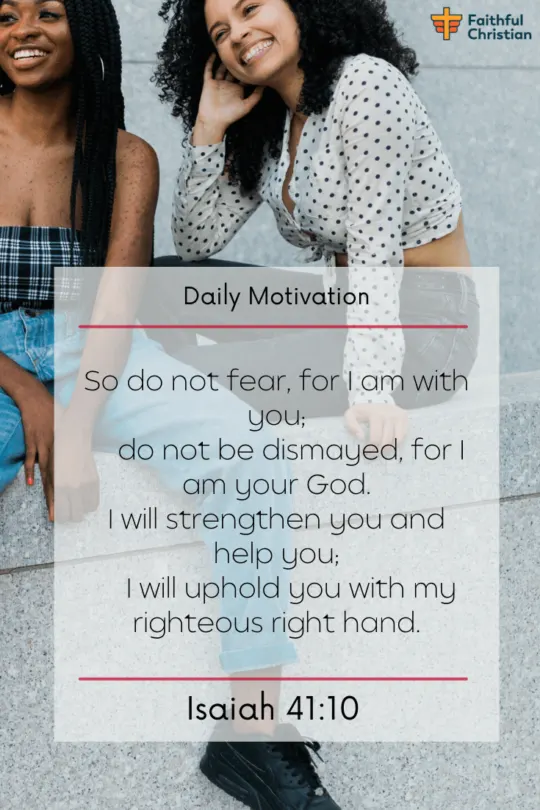 So do not fear, for I am with you;
    do not be dismayed, for I am your God.
I will strengthen you and help you;
    I will uphold you with my righteous right hand.
Psalm 23:4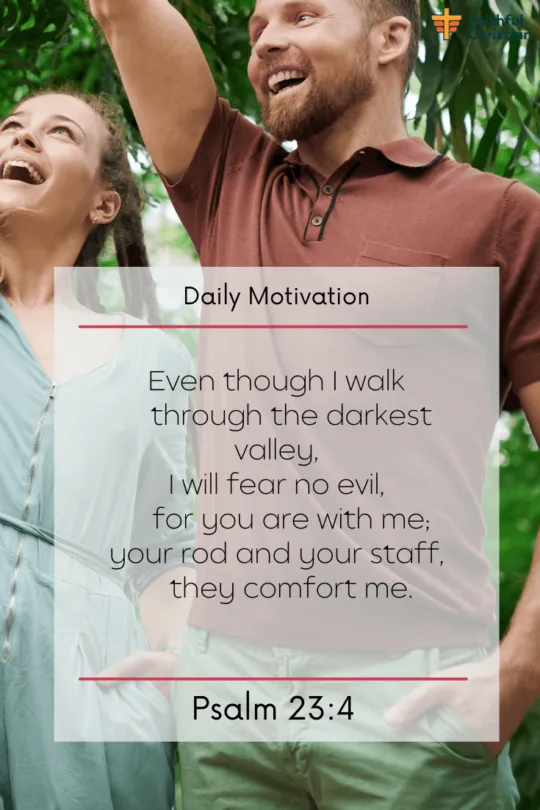 Even though I walk
    through the darkest valley,[a]
I will fear no evil,
    for you are with me;
your rod and your staff,
    they comfort me.
Psalm 118:6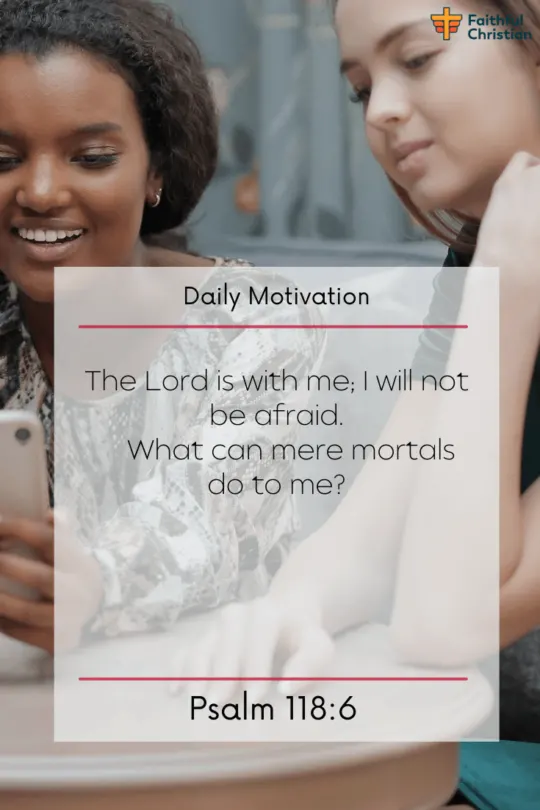 The Lord is with me; I will not be afraid.
    What can mere mortals do to me?
---
Recommended for you
---
Special Prayer for encouragement for friends and loved ones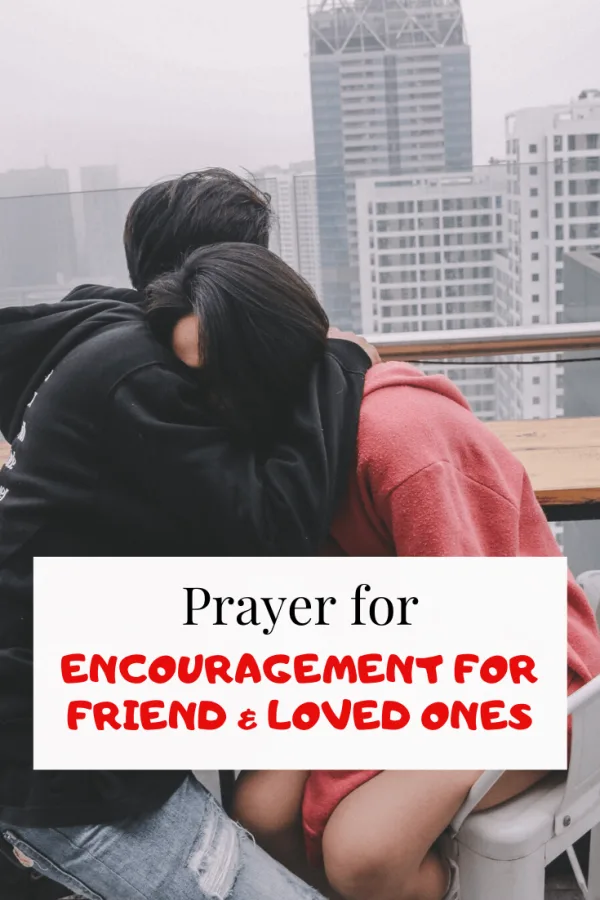 Thank you, Lord, for my friends and loved ones (let us pray)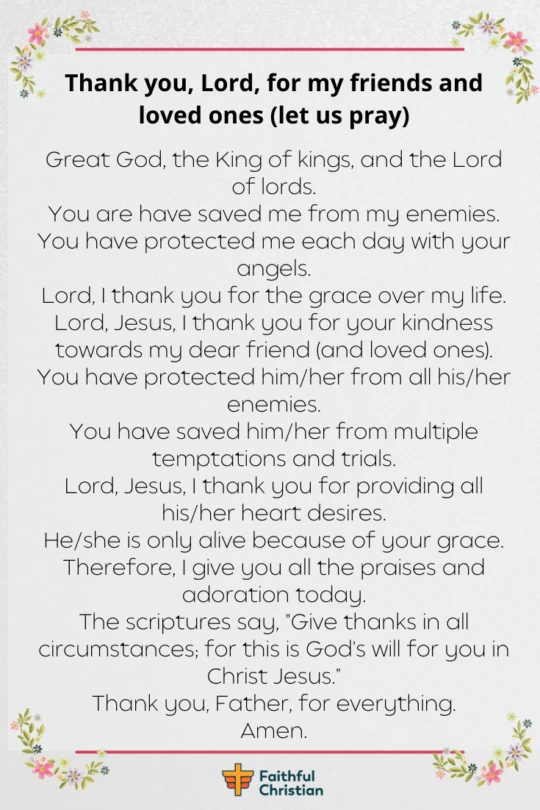 Dear Father, the Almighty King of Kings, unmatched in glory, I come before You.
You've been my shelter. My guardian against those who wish me harm. Your strength, a constant pillar in my life. Psalm 46:1 tells us, "God is our refuge and strength." Your protective love is my reality, Lord.
Each day is a gift from You. Under Your watchful eyes, I'm safeguarded. Your angels stand guard, a testament to Psalm 91:11, "He will command His angels concerning you."
I bow to You, Sovereign Lord. Your grace – a precious, life-altering gift. Every moment, a testament to Your boundless love.
Jesus, my heart's filled with gratitude. Your kindness towards my friend is astounding. You, their shield in a world full of trials. Just as You promise in 2 Thessalonians 3:3, "The Lord is faithful, and He will strengthen and protect you from the evil one."
My dear ones bask in Your protection, Lord. Temptations and trials, You've seen them through. Just as You promise in 1 Corinthians 10:13, "God is faithful; He will not let you be tempted beyond what you can bear."
Lord, You are their provider. Their heart's desires, known and catered to by You. Their life, a melody of grace. You, their breath and life. Your promise in Psalm 37:4, "Delight yourself in the Lord, and He will give you the desires of your heart," holds true for them.
To You, I raise my praise. I stand in awe of Your work in our lives. 1 Thessalonians 5:18 instructs us to "Give thanks in all circumstances." Every moment, a cause for gratitude.
Father, I cherish Your blessings. Tangible and unseen, all trace back to You. You, our source of strength. Our wellspring of joy. We stand today because of You.
In submission to Your will, I offer this prayer. You, the Almighty, are worthy of our endless praise.
Amen.
The hands of the Lord are powerful (let us pray)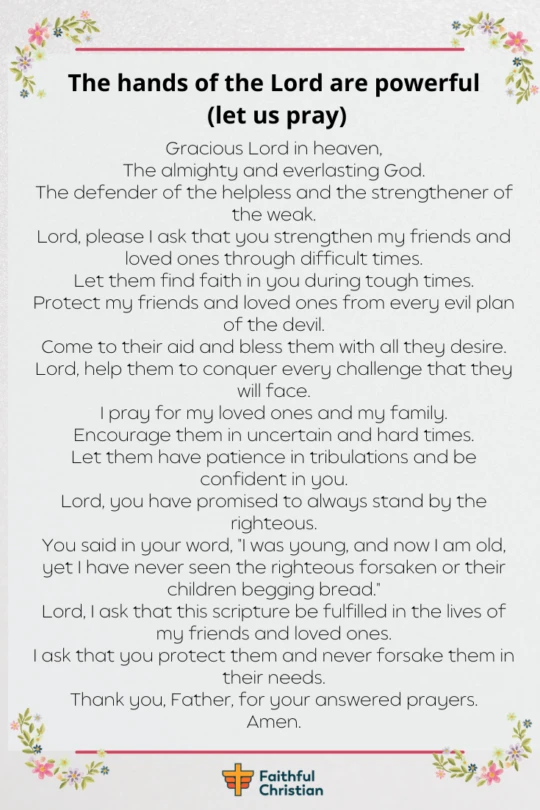 Oh, Most High, our Mighty Fortress,
You cradle the vulnerable and fuel the weary with your unending power. In moments of trials, may my dear ones discover faith, anchored firmly in you.
You, the Everlasting God, have promised to hear our pleas. Lord, we remember your words, your assurance that your hand is never too short to save, nor your ear too dull to hear.
Shield my loved ones from the devil's cunning plans, Father. As their Guardian, rush to their aid.
Life brings challenges. Yet, with you, victory is sure, oh Conqueror. Gift my friends the strength to overcome these battles.
Now, I pray for my family, my dear ones. In uncertain times, let them find solace in you, Lord. Give them patience to endure and unshakeable confidence in your promises.
Oh, Almighty, you promised to be with the righteous. The Psalmist echoes your words: the righteous will never be abandoned. Lord, let this promise spring to life in my dear ones' lives.
Protect them, oh Father. Meet their needs. Never forsake them.
My heart overflows with gratitude, knowing you've heard my prayer. You, our Wonderful Counselor, listen when we call.
In humble submission to your will, we give thanks. Every prayer, you answer, and every need, you meet.
In your magnificent name, we pray, Amen.
The Lord sees and hears (let us pray)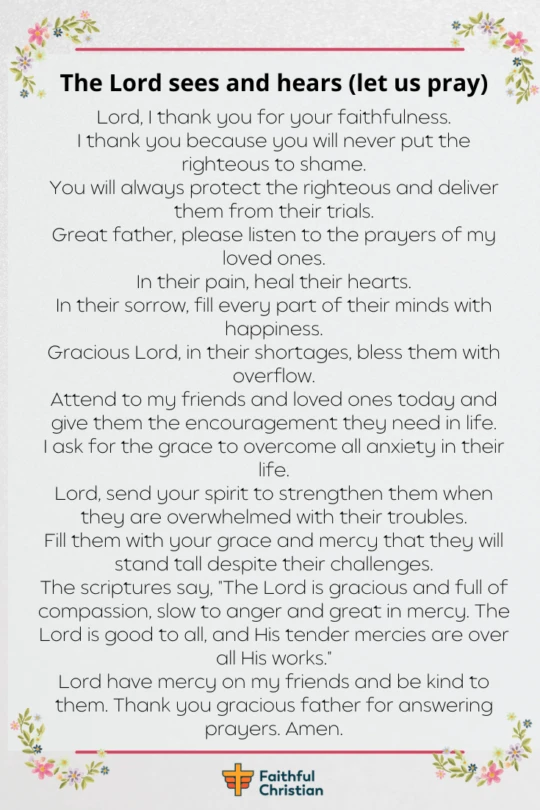 Dear Father, in humble awe, I offer this prayer.
Your love? It's steady. It's strong. Like a lighthouse in a storm. Reminds me of Lamentations 3:22, where Your love is declared as never-ending.
Your promise? It's rock solid. The righteous will never be shamed. Psalms 37:28 confirms it.
You're our eternal shield. Like a mother hen guards her chicks, you protect us. Matthew 23:37 paints this picture so vividly.
Lord, you're the best listener. Your ears are always open. The cries of my loved ones? You hear them.
Their pain? You've got a solution. A heart mender. Psalm 147:3 tells us so.
Grief? You turn it around. Flip the switch. Fill minds with pure happiness. It's a divine promise in Psalm 30:11.
In times of lack, who do we look to? You, Jehovah Jireh, our provider. Genesis 22:14 proclaims this truth.
Today, Father, my loved ones need a boost. That special kind of encouragement only you can give.
Anxiety? It's no match for Your grace. Philippians 4:6-7 promises peace that surpasses understanding.
Overwhelmed by troubles? You're there. The Great Comforter. Psalm 23:4 reassures us of this.
Their challenges are tough, sure. But with Your grace and mercy? They'll stand tall.
Your word in Psalm 145:8-9 says it all. Full of compassion, slow to anger, always good. That's you, Lord.
So, to my dear friends, show them this mercy. Shower them with kindness.
Lord Almighty, thank you. Our prayers aren't mere whispers in the wind. You hear us. You answer.
In reverence, I say, Amen.
God will be their guide (let us pray)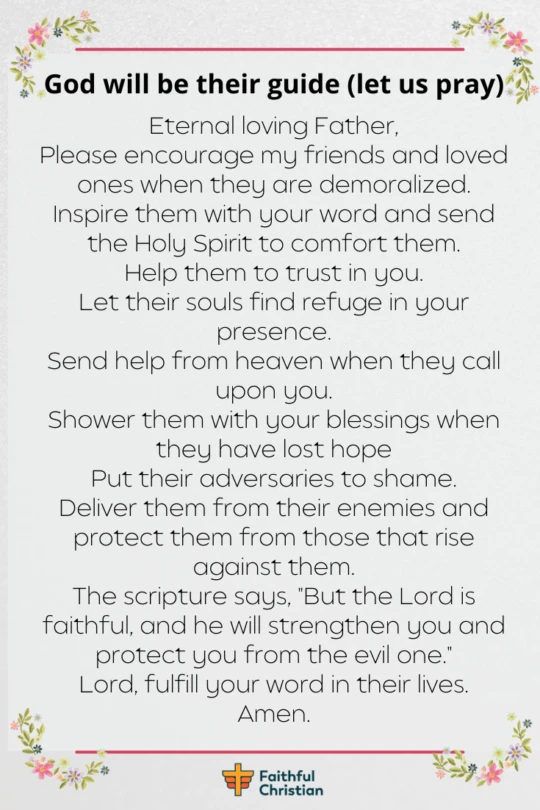 Loving Father, the Almighty and Everlasting,
With hearts wide open, we invite Your divine touch. Our friends and loved ones need You. They feel defeated. But we know Your love is stronger.
Let Your word, pure and enlightening, become their guiding star. It's like a lamp to their feet, a light to their path (Psalm 119:105). A guiding star, a beacon of hope in the pitch-black night.
The Holy Spirit, Your precious gift, is like a warm comfort blanket. Wrap them in it, Lord. Soothe their aching hearts. Offer solace that transcends life's storms.
Your unwavering faithfulness is our rock. Teach them, Father, to trust this rock. It's a safe harbor in the storm. A refuge when the waves crash down.
Their cries are like calls into the night. They yearn for Your help. And You, Lord, You're the lifeline. From Your throne in heaven, send rescue. Be the divine 911 when they dial in despair.
At times, hope seems like a fading star. But Your blessings, Father, they're like a refreshing rain. So, let them pour. Let them renew lost hope. Breathe life back into wilted spirits.
Enemies lurk, adversaries taunt. But Your promise in Isaiah 54:17 stands firm. No weapon formed against them shall prosper. Fill their foes with shame, protect them from harm.
Our faith is in Your word, Lord. "The Lord is faithful…" You said in 2 Thessalonians 3:3. Yes, faithful to strengthen, to protect. May this word become flesh in their lives.
In humbleness, we approach Your throne, Almighty. May this prayer ascend like sweet incense. In Jesus' mighty name,
Amen.
They will overcome their trials (let us pray)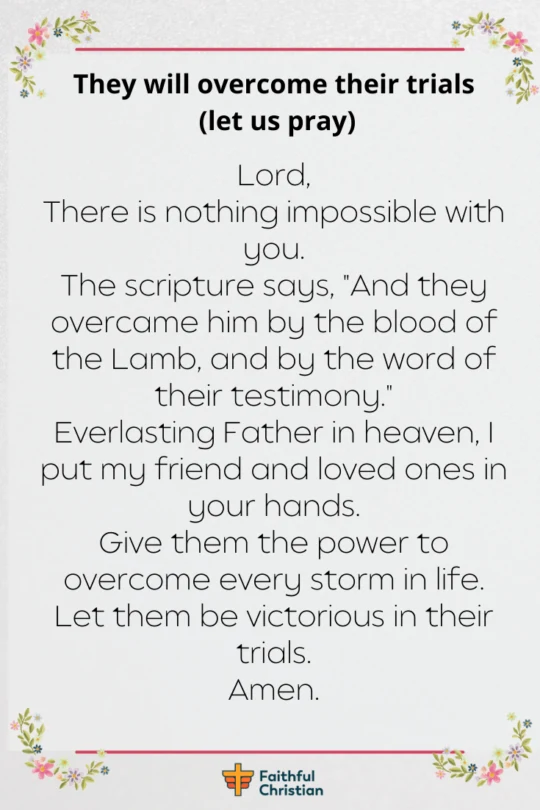 Dear Father, our Almighty,
Your power is limitless. Just as Matthew 19:26 teaches us, with You, all things are possible. You, who fashioned the cosmos, grasp every heart's beat and every spirit's whisper.
Now, we lift up our friends, our loved ones, to You. Like treasured vessels, we place them in Your caring, omnipotent hands. You, the Great Shepherd, truly understand their needs, their hopes, and even their quiet struggles.
Bless them, Lord, with strength that's born from You. Make them sturdy as a lighthouse against the crashing waves of life. Let them find peace in the eye of the storm, knowing these trials are simply steps towards greater spiritual heights.
Father, dress them in the armor of patience. Protect them from life's harsh winds. Stand by them as a towering fortress, providing refuge and restoration. May they see not just the dark clouds but also the silver lining promised in Romans 8:28, affirming that all things work together for good.
Plant in them, Lord, the seeds of victory. Remind them that they are more than conquerors, as declared in Romans 8:37. Guide them through every battle, physical or emotional, whispering courage into their spirits. With every test, let them witness not the mountain before them but the victory that awaits beyond.
Lord, fill their hearts with the warmth of Your presence. Remind them they're never alone. In every challenge, let them discover a reason to give thanks, for 1 Thessalonians 5:18 urges us to give thanks in all circumstances. Let them rejoice, Lord, knowing that You are their ever-present help in times of need.
In Your mighty name, we pray,
Amen.
Frequently Asked Questions
What is the best prayer for encouragement?
"Father, I need You. Today, my spirit feels heavy and my heart is burdened. The tasks ahead seem mountainous and the challenges, too steep. In these moments, please remind me of Your eternal love and mighty power. Infuse me with courage to confront these hurdles and may Your grace be my guiding light. As said in Psalm 31:24, 'Be strong, and let your heart take courage, all you who wait for the LORD.' Lord, grant me patience to wait for Your guidance. Give me the courage to stand strong. In Jesus' name, Amen.
What is a prayer for comfort and strength for a friend?
"Merciful Lord, I bring my friend before You. They are wrestling with trials and I ask for Your comforting hand over them. Drench them in Your peace, love, and strength during this tough period. Remind us of Your words in Psalm 46:1, 'God is our refuge and strength, an ever-present help in trouble.' Stand by my friend, be their refuge, their strength. Boost their spirit and empower them to face their challenges. In Your name, I pray, Amen."
How do I pray for a friend going through a hard time?
"God, I bring my friend to You. Their path is strewn with struggles and their heart is heavy with pain. Lord, step into their situation. Grant them wisdom to traverse this hard time and comfort to soothe their aching heart. As stated in Matthew 11:28, 'Come to me, all you who are weary and burdened, and I will give you rest.' Lord, grant them respite, lighten their burden. In Jesus' name, I pray, Amen."
What is a prayer of gratitude for friends and family?
God, how thankful I am for the gift of friends and family! You have filled my life with their support, joy, and companionship. 1 Thessalonians 5:16-18 says, 'Rejoice always, pray continually, give thanks in all circumstances; for this is God's will for you in Christ Jesus.' Today, I rejoice and give thanks for their love and kindness. Please, Lord, continue to protect and guide them. In Jesus' name, Amen."
What is an inspiring prayer for a friend in difficult situations?
"Lord, my friend is amid trying times, facing challenges that seem unbearable. Bestow upon them the strength they need to weather this storm. Let them recall Your promise in Jeremiah 29:11, 'For I know the plans I have for you,' declares the Lord, 'plans to prosper you and not to harm you, plans to give you hope and a future.' May this promise inspire them, renew their hope, and provide strength. In Jesus' name, I pray, Amen."
What are some special prayers for friends?
"Dear Father, thank You for the priceless gift of friendship. For the shared laughter, memories, and the comforting presence, I am forever grateful. Ecclesiastes 4:9-10 says, 'Two are better than one, because they have a good reward for their toil. For if they fall, one will lift up his fellow.' Lord, bless our friendships and guide us in love, understanding, and mutual support. In Jesus' name, I pray, Amen."
What is a prayer for someone going through a hard time?
"Lord, I bring my suffering friend before You. Amidst their struggle, remind them of Your presence. You assure us in Deuteronomy 31:8, 'It is the Lord who goes before you. He will be with you; he will not leave you or forsake you. Do not fear or be dismayed.' Let Your comforting presence envelop them, instill courage in their heart, and grant them peace. In Jesus' name, Amen."
Can you provide a short prayer message for a friend?
"Dear God, look upon my friend. Guide their path and keep them safe. Let them experience Your love and find peace in You. May they sense Your presence in every moment. As stated in Numbers 6:24-26, 'The LORD bless you and keep you; the LORD make his face shine on you and be gracious to you; the LORD turn his face toward you and give you peace.' In Jesus' name, Amen."
How can I offer a prayer of encouragement and strength for my best friend?
"Gracious God, I bring my dear friend before You. In their challenging times, let them sense Your comforting touch. Fortify their heart, buoy their spirit, and assure them they are never alone. Isaiah 41:10 says, 'So do not fear, for I am with you; do not be dismayed, for I am your God. I will strengthen you and help you; I will uphold you with my righteous right hand.' May these words encourage and fortify them. In Jesus' name, Amen."
Is there a short prayer I can say for someone special to me?
"Dear Lord, bless this special person in my life. Protect them, lead them, and drench them in Your endless love. May they discover joy and tranquility in You. Psalm 29:11 assures us, 'The LORD gives strength to his people; the LORD blesses his people with peace.' Shower this special person with strength and peace. In Jesus' name, Amen."
Do you have a miracle prayer that I can use for a friend?
"Father, I stand before You on behalf of my friend. I ask for Your divine intervention in their life. Let Your miraculous power transform their situation, bring healing where required, fulfill their needs, and open the doors of opportunities. Mark 11:24 says, 'Therefore I tell you, whatever you ask for in prayer, believe that you have received it, and it will be yours.' I believe in Your might, Lord. I ask for a miracle for my friend. In Jesus' name, I pray, Amen."
Author: Akatakpo Dunn
Dr. Akatakpo Dunn is a dedicated follower of Christ, an active member and speaker, and an ongoing learner of the Scriptures. Passionate about his faith and serving others, he is committed to sharing his spiritual journey and insights to inspire and uplift fellow believers. He has been active in the church for more than 23 years. Through The
Faithful Christian Blog
,
Dr. Dunn
combines his love for God, philanthropy, and Scripture, providing a valuable resource for those seeking to grow in their faith.
Follow me: on Youtube, Facebook, Twitter, Instagram, and Pinterest.
Content Disclosure:
At The Faithful Christian Blog, I create authentic and inspiring content. Although I am the main author, I occasionally use AI for minor language enhancements. This minimal AI usage ensures high-quality, trustworthy articles without compromising originality or sincerity, ultimately supporting our shared faith journey.
Warmly,
Dr. Akatakpo Dunn
Was this article helpful?