I read through some bible verses about caring for others that I must share with you.
This passage teaches us to love and care for everyone around us.
By everyone, I mean those you are familiar with and strangers.
This bible story is found in the book of 1 Kings 17:7-16.
It is an exciting story that teaches us to care for others while displaying faith.
Once upon a time, famine in the land had affected a young woman and her son.
She had already lost her husband, meaning that she was singlehandedly taking care of her child.
But, it seems she had lost hope because she hadn't any more food to sustain her family.
Elijah showed up just as she was fetching firewood to prepare her last meal and die (together with her child).
The widow has never met Elijah in the past.
But surprisingly, despite her poverty-stricken status, Elijah requested water and bread.
How on earth was she supposed to feed a stranger when she only had a handful of flour and a little olive oil in a jug?
Isn't it an aberration for anyone to request help from such a poor woman?
Yet, despite her impoverished and hopeless state, she agreed to prepare some meals for Elijah, herself, and her child.
In the end, God had mercy on her and blessed her.
The scripture says, "The jar of flour will not be used up, and the jug of oil will not run dry until the day the Lord sends rain on the land."(1 Kings 17:14)
What can we learn?
As Christians, there are many scriptures about caring for others that we must meditate on.
We must love everyone around us and treat them equally.
There isn't room for racism and discrimination in God's Kingdom.
We must accept everyone with an open mind and care for them.
I have put together Bible verses about caring for others to inspire you.
---
Recommended for you
---
Bible verses about caring for others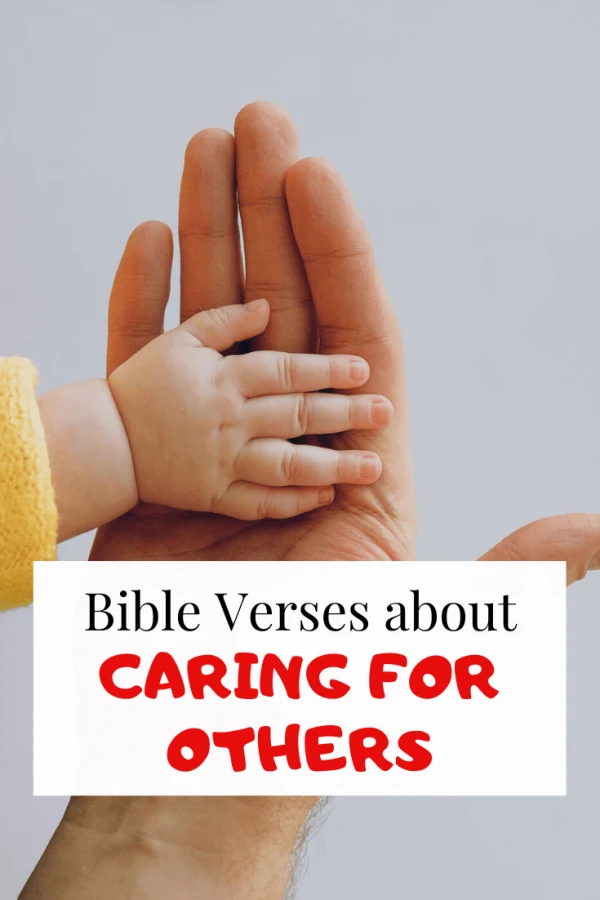 Philippians 2:3-4
Do nothing out of selfish ambition or vain conceit. Rather, in humility value others above yourselves, 4 not looking to your own interests but each of you to the interests of the others.
The Bottom line
This may come as a surprise to us. How can we outdo others in love?
The scripture is clear about God's perfect love for us.
He has given us life.
He has provided food for us and shelter over our heads.
Of course, we cannot count his blessings.
So, If we say we love God, shouldn't it be easy to care for others?
Caring for others is one of the simplest things we can do to fulfill God's law.
When you take care of the poor and others in need, you inadvertently display your love for God.
As Christians, we must love everyone and even our enemies.
1 Corinthians 10:24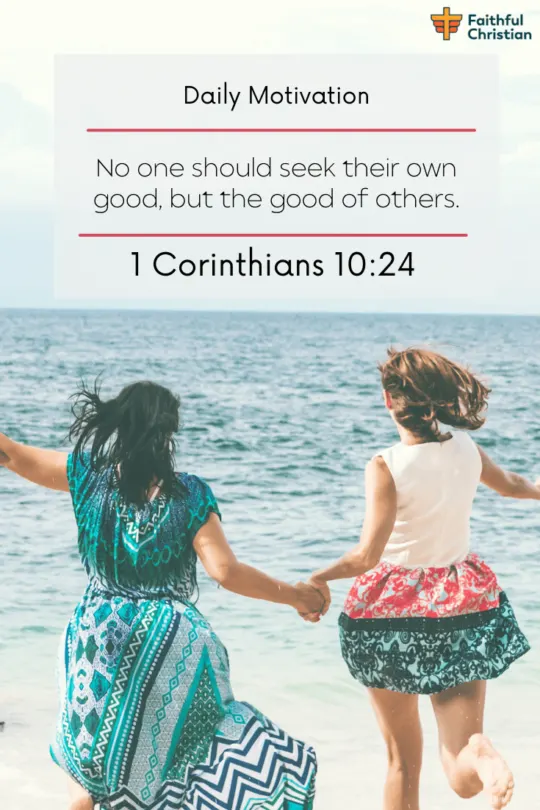 No one should seek their own good, but the good of others.
The Bottom line
For those who care only about getting rich, this may seem uninteresting.
The scripture is clear about caring for the needs of others.
We must, first of all, take care of the needs of others before catering to our needs.
This may not seem easy when you have minimal resources.
But, just like the widow and Elijah, God may have something installed for you.
Give and care for others the best way you can.
Romans 15:1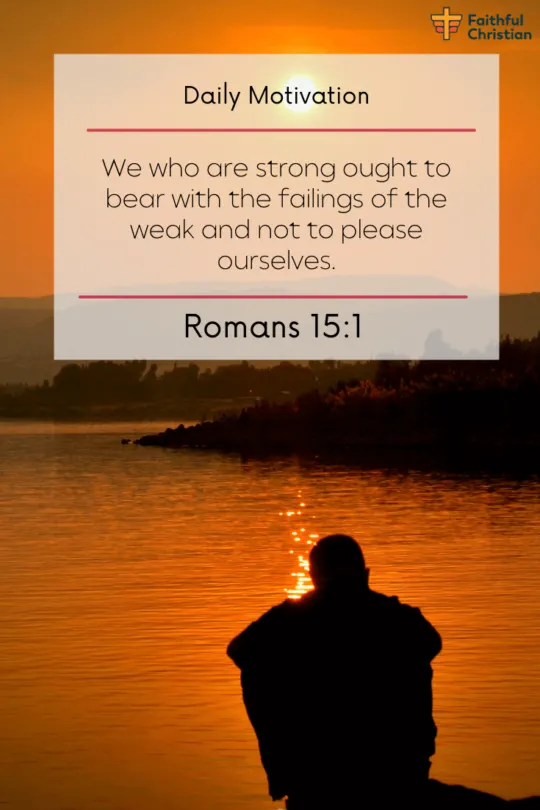 We who are strong ought to bear with the failings of the weak and not to please ourselves.
The Bottom line
Caring for others isn't necessarily giving financial assistance.
Help can be in any form, especially with a gift God has blessed you with.
I am currently working on a project in the church to assist the sick.
I am a medical doctor and wish to use my profession to care for others.
So, what has God blessed you with?
Is it with a skill or with wealth?
Either way, we must look to strengthen the weak amongst us.
James 2:8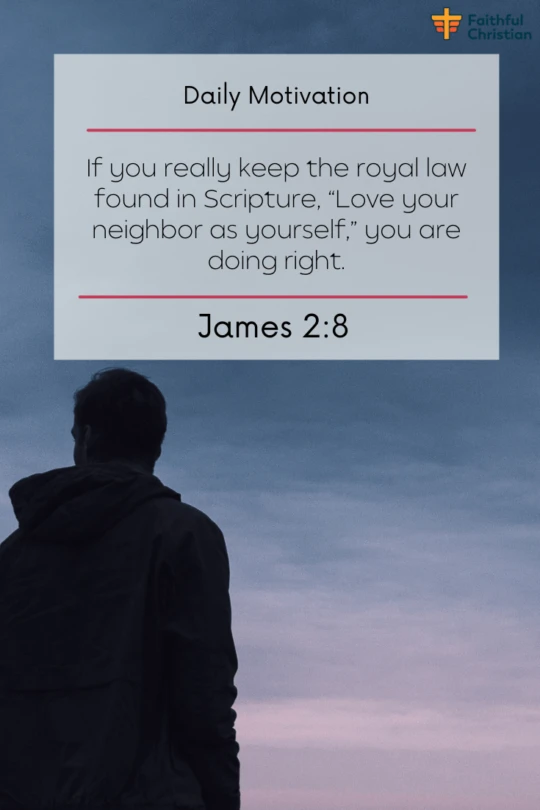 If you really keep the royal law found in Scripture, "Love your neighbor as yourself,"[a] you are doing right.
The Bottom line
The phrase "love your neighbor as yourself" is found eight times in the scripture.
God has intentionally repeated this phrase to remind us to love and care for others.
Whatever you desire as a human being, do the same to your neighbor.
By your neighbor, it means everyone, including your family, friends, and strangers.
And what about the sick? It would help if you cared for them likewise.
Be kind to all men without bragging, and God will bless you.
More Bible verses about caring for others
Romans 12:15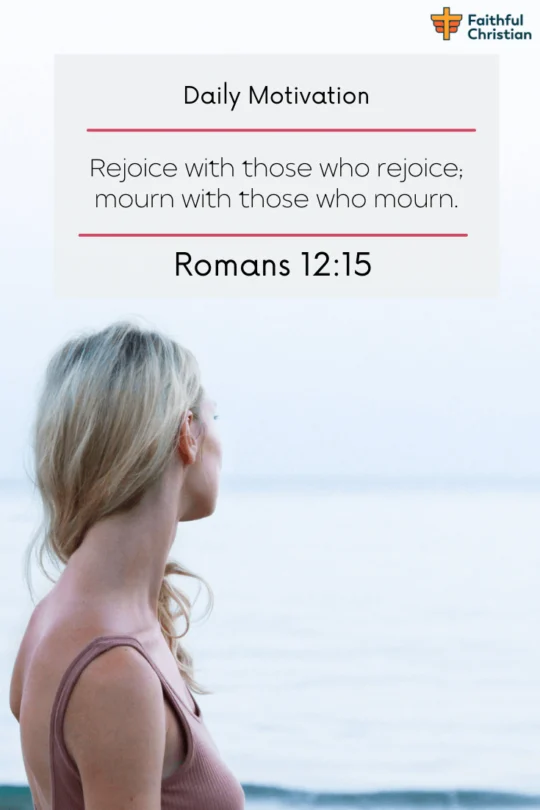 Rejoice with those who rejoice; mourn with those who mourn.
1 Corinthians 10:32-33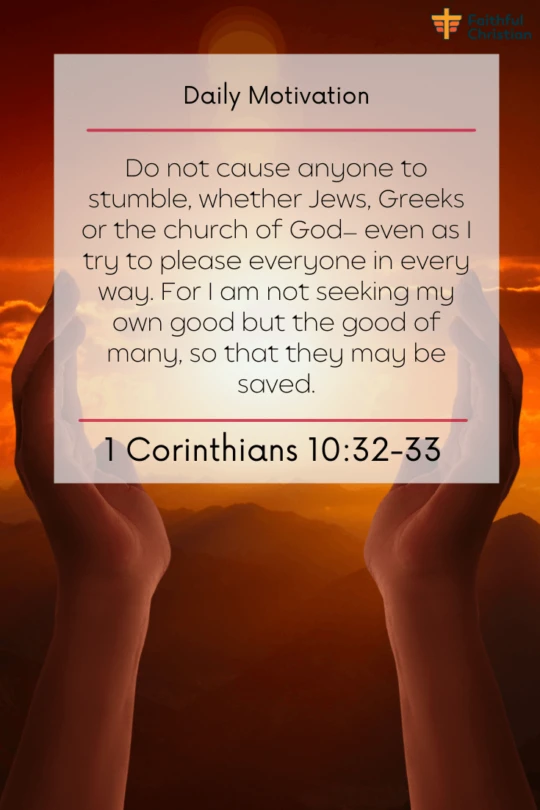 Do not cause anyone to stumble, whether Jews, Greeks or the church of God— 33 even as I try to please everyone in every way. For I am not seeking my own good but the good of many, so that they may be saved.
1 Corinthians 13:4-5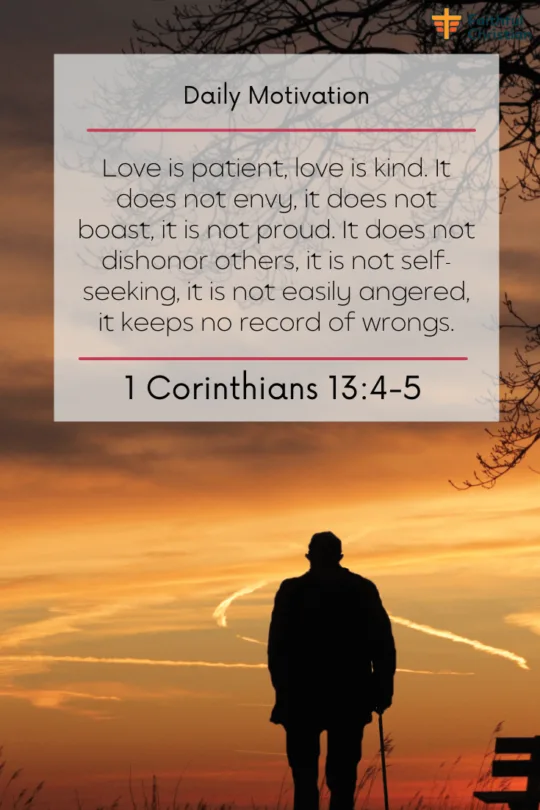 Love is patient, love is kind. It does not envy, it does not boast, it is not proud. 5 It does not dishonor others, it is not self-seeking, it is not easily angered, it keeps no record of wrongs.
1 Corinthians 12:25-26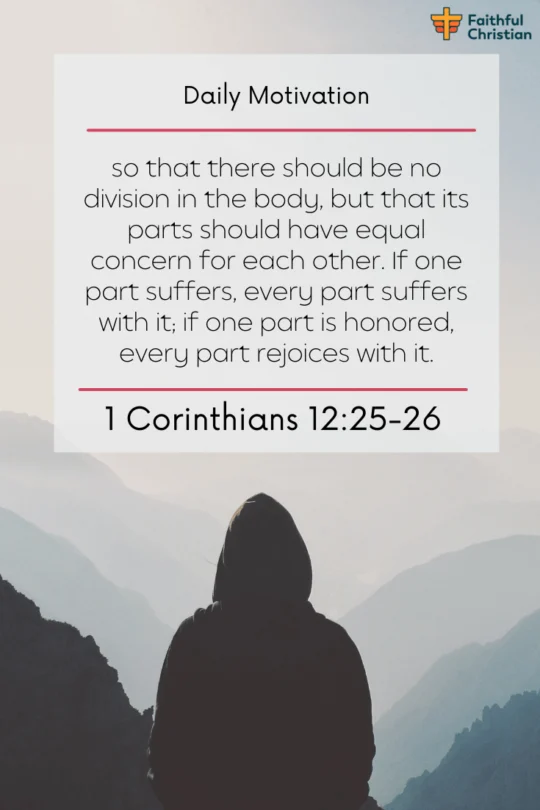 so that there should be no division in the body, but that its parts should have equal concern for each other. 26 If one part suffers, every part suffers with it; if one part is honored, every part rejoices with it.
Galatians 6:2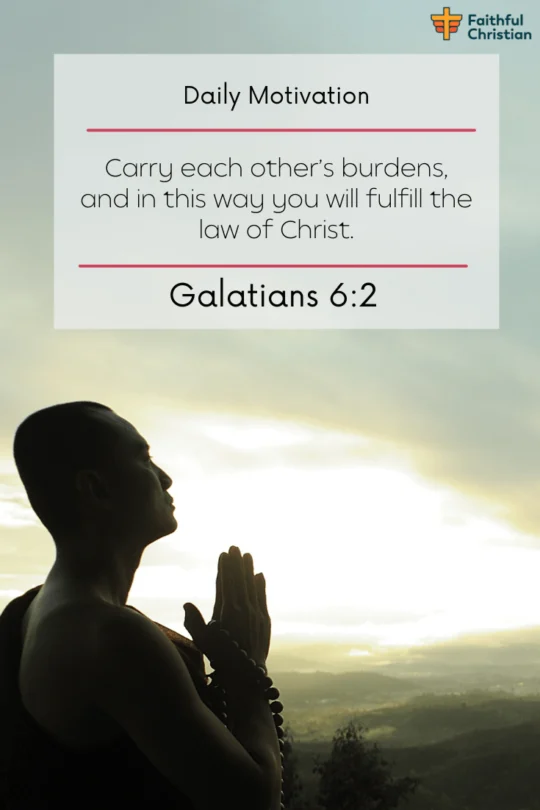 Carry each other's burdens, and in this way you will fulfill the law of Christ.
1 Thessalonians 5:14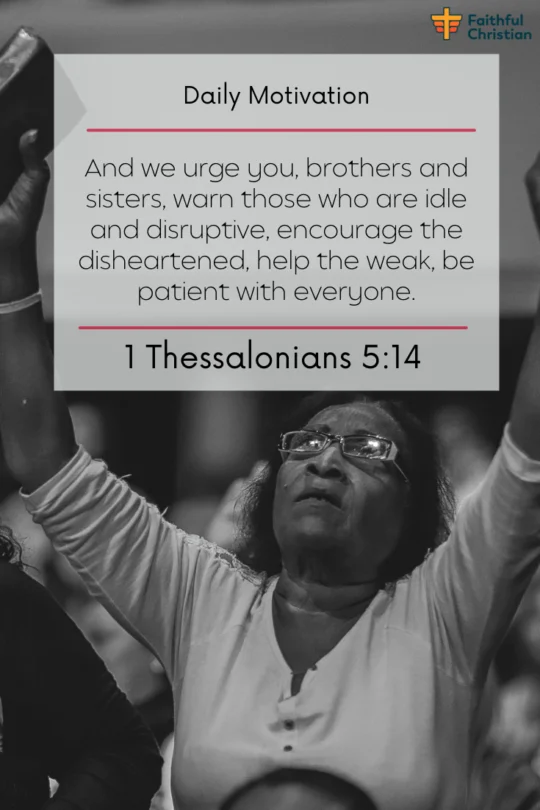 And we urge you, brothers and sisters, warn those who are idle and disruptive, encourage the disheartened, help the weak, be patient with everyone.
John 13:34
"A new command I give you: Love one another. As I have loved you, so you must love one another.
1 John 4:21
And he has given us this command: Anyone who loves God must also love their brother and sister.
Galatians 5:13-14
You, my brothers and sisters, were called to be free. But do not use your freedom to indulge the flesh[a]; rather, serve one another humbly in love. 14 For the entire law is fulfilled in keeping this one command: "Love your neighbor as yourself."
John 13:14-15
Now that I, your Lord and Teacher, have washed your feet, you also should wash one another's feet. 15 I have set you an example that you should do as I have done for you.
Hebrews 13:1
Keep on loving one another as brothers and sisters.
---
Recommended for you
---
1 John 4:11
Dear friends, since God so loved us, we also ought to love one another.
1 Peter 3:8-9
Finally, all of you, be like-minded, be sympathetic, love one another, be compassionate and humble. 9 Do not repay evil with evil or insult with insult. On the contrary, repay evil with blessing, because to this you were called so that you may inherit a blessing.
1 Peter 1:22
Now that you have purified yourselves by obeying the truth so that you have sincere love for each other, love one another deeply, from the heart
Galatians 6:10
Therefore, as we have opportunity, let us do good to all people, especially to those who belong to the family of believers.
Hebrews 13:16
And do not forget to do good and to share with others, for with such sacrifices God is pleased.
Proverbs 3:27
Do not withhold good from those to whom it is due,
    when it is in your power to act.
Matthew 25:40
"The King will reply, 'Truly I tell you, whatever you did for one of the least of these brothers and sisters of mine, you did for me.'
1 John 3:17 (New International Version)
If anyone has material possessions and sees a brother or sister in need but has no pity on them, how can the love of God be in that person?(NIV)
Galatians 2:10 (New International Version)
All they asked was that we should continue to remember the poor, the very thing I had been eager to do all along. (NIV)
Galatians 6:9-10 (King James Version)
And let us not be weary in well doing: for in due season we shall reap, if we faint not.As we have therefore opportunity, let us do good unto all men, especially unto them who are of the household of faith. (KJV)
Author: Akatakpo Dunn
Dr. Akatakpo Dunn is a dedicated follower of Christ, an active member and speaker, and an ongoing learner of the Scriptures. Passionate about his faith and serving others, he is committed to sharing his spiritual journey and insights to inspire and uplift fellow believers. He has been active in the church for more than 23 years. Through The
Faithful Christian Blog
,
Dr. Dunn
combines his love for God, philanthropy, and Scripture, providing a valuable resource for those seeking to grow in their faith.
Follow me: on Youtube, Facebook, Twitter, Instagram, and Pinterest.
Content Disclosure:
At The Faithful Christian Blog, I create authentic and inspiring content. Although I am the main author, I occasionally use AI for minor language enhancements. This minimal AI usage ensures high-quality, trustworthy articles without compromising originality or sincerity, ultimately supporting our shared faith journey.
Warmly,
Dr. Akatakpo Dunn
Was this article helpful?