Love is the primary binding force in life.
It holds our hearts together with those we care about.
We all love our brothers, sisters, close friends, and parents.
But, how do we treat new friends or strangers?
Do we love them equally the same way we care for our loved ones?
The bible teaches that we should love one another as we love ourselves and go the extra mile to take care of everyone close to us.
And that includes new friends, strangers, college mates, and colleagues at work.
There is no discrimination in God's eyes. Therefore, each and everyone should be our neighbor's keeper.
There are no blacks or whites, beautiful or ugly, in God's eyes.
Thankfully, there are numerous bible verses about loving others equally.
These verses teach us to, without bias, love everyone around us.
So how do you love others equally?
The scriptures teach us that we should consider ourselves in their shoes.
Will I feel happy if I am treated the same way? 
I have put together bible verses about loving others unconditionally. Read and be blessed.
---
Recommended for you
---
Bible verses about loving others equally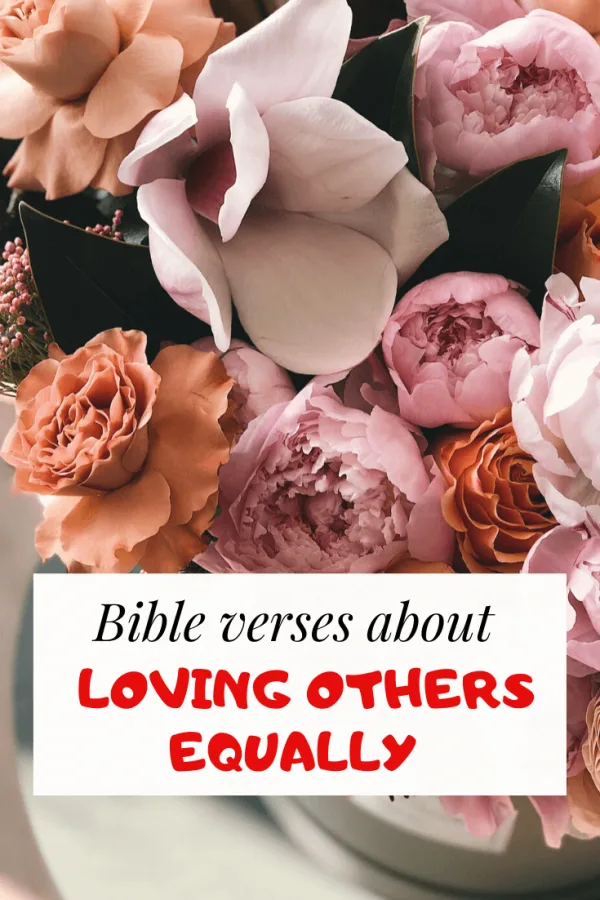 1 John 4:7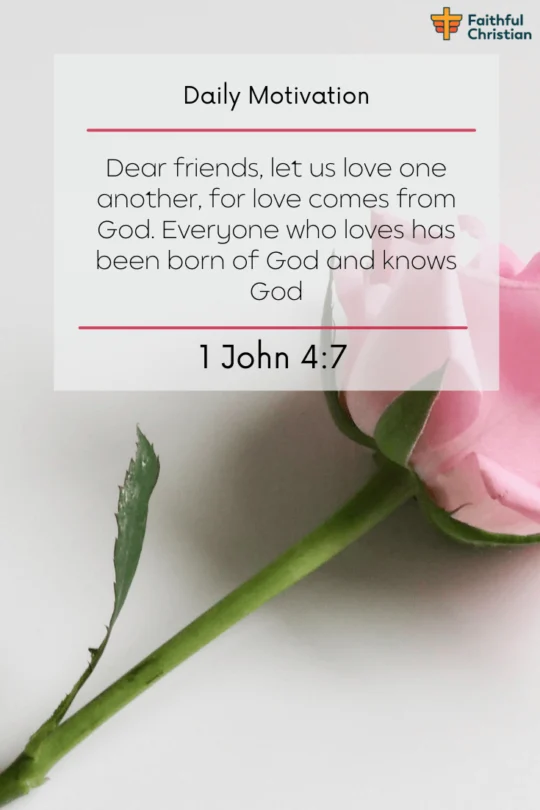 Dear friends, let us love one another, for love comes from God. Everyone who loves has been born of God and knows God
1 John 4:8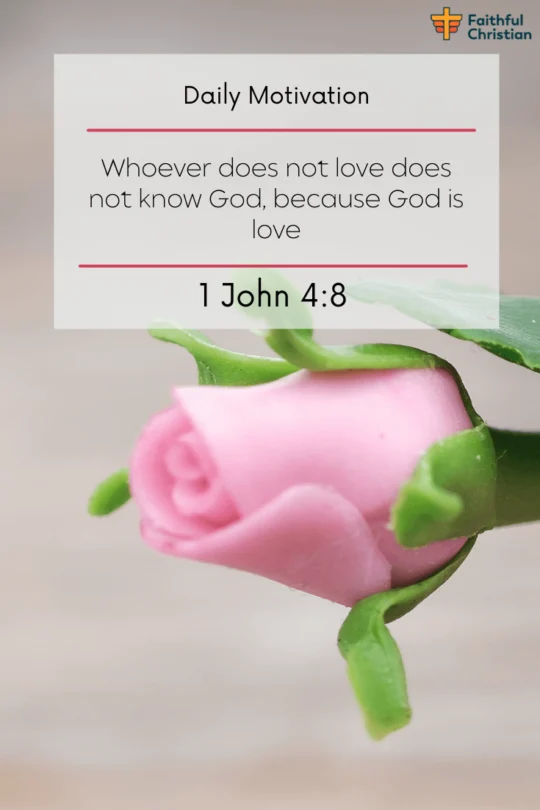 Whoever does not love does not know God, because God is love
1 John 4:20-21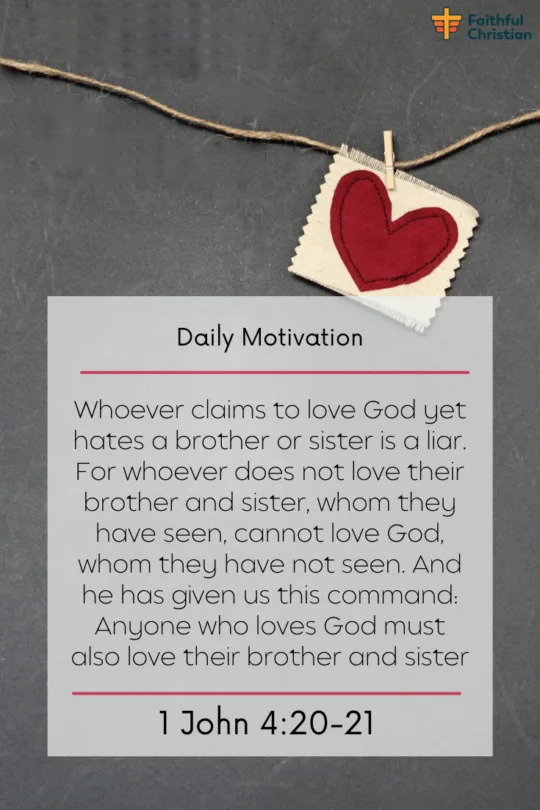 Whoever claims to love God yet hates a brother or sister is a liar. For whoever does not love their brother and sister, whom they have seen, cannot love God, whom they have not seen. 21 And he has given us this command: Anyone who loves God must also love their brother and sister
1 John 5:1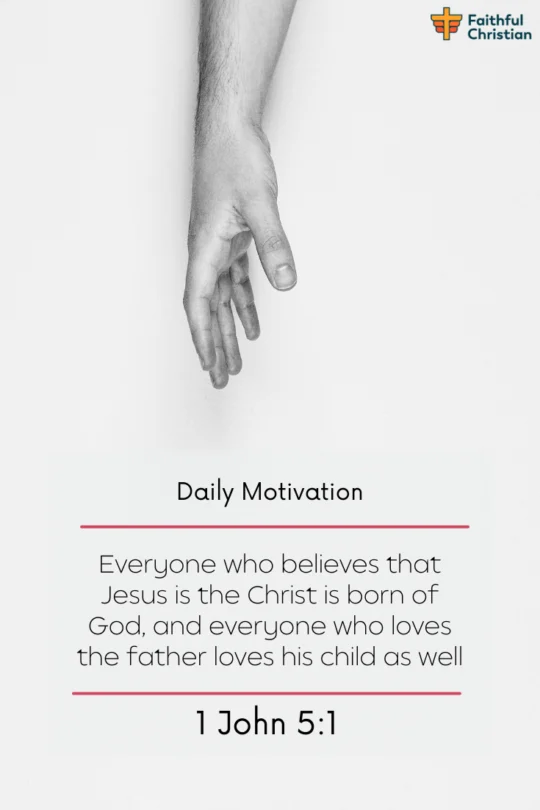 Everyone who believes that Jesus is the Christ is born of God, and everyone who loves the father loves his child as well
1 Peter 1:22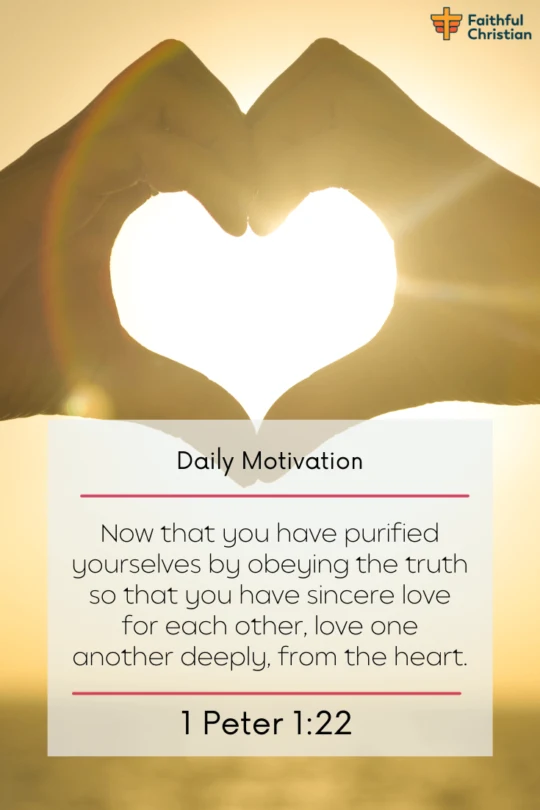 Now that you have purified yourselves by obeying the truth so that you have sincere love for each other, love one another deeply, from the heart.
1 John 2:29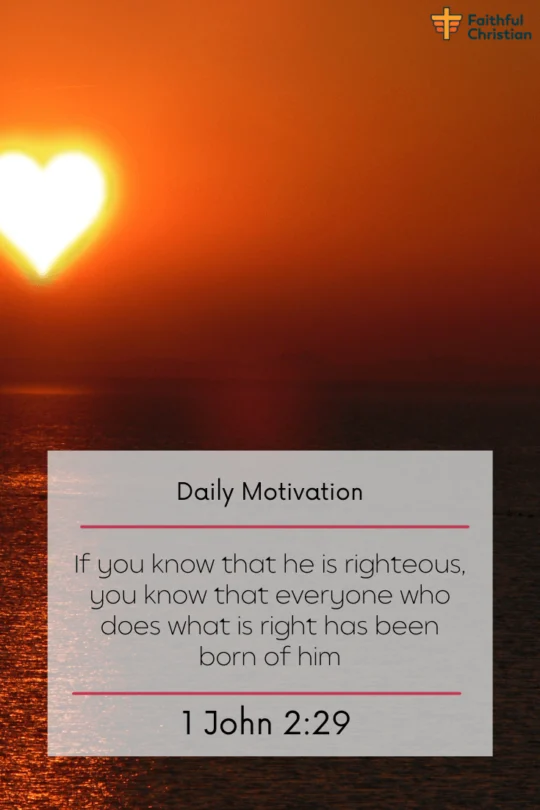 If you know that he is righteous, you know that everyone who does what is right has been born of him
1 John 2:10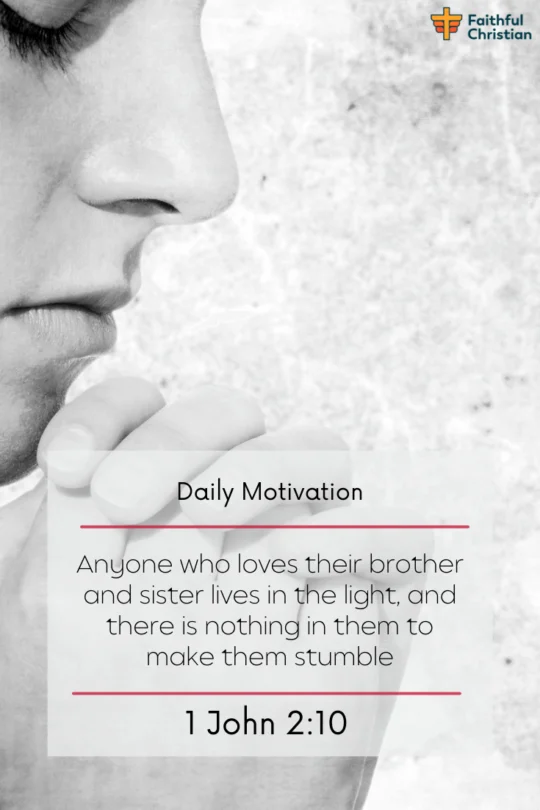 Anyone who loves their brother and sister[a] lives in the light, and there is nothing in them to make them stumble
1 John 3:15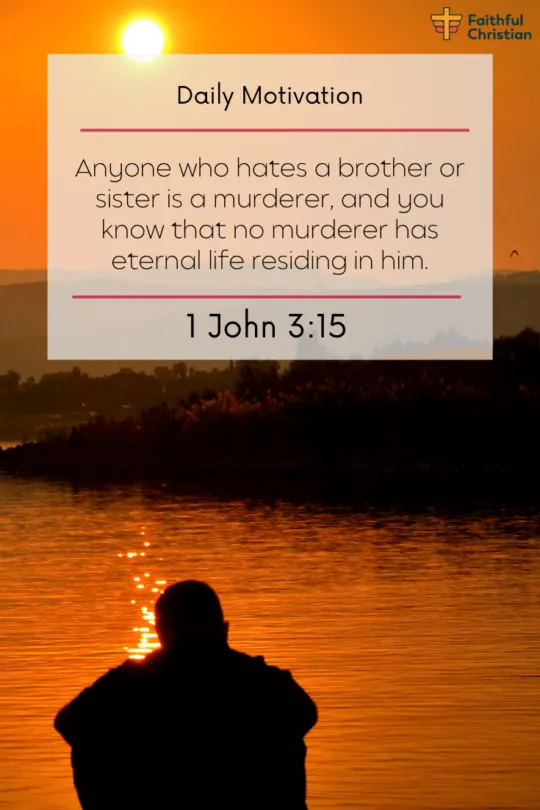 Anyone who hates a brother or sister is a murderer, and you know that no murderer has eternal life residing in him.
1 John 3:16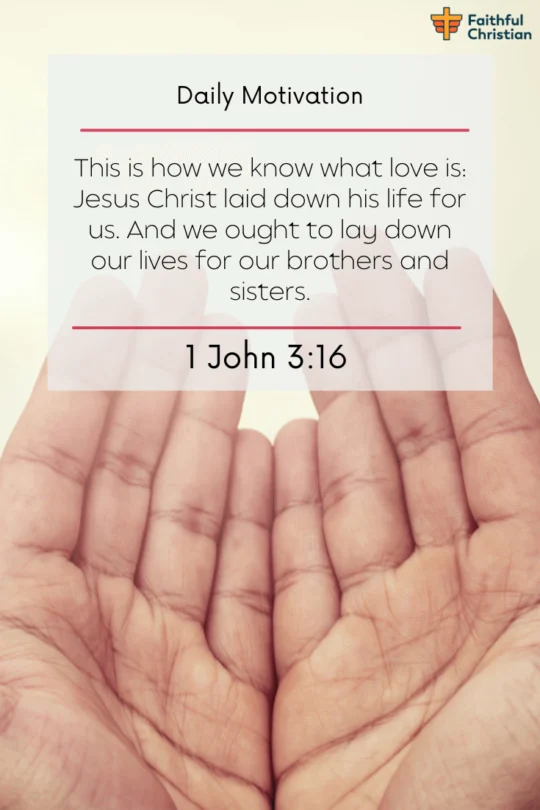 This is how we know what love is: Jesus Christ laid down his life for us. And we ought to lay down our lives for our brothers and sisters.
1 John 3:17-18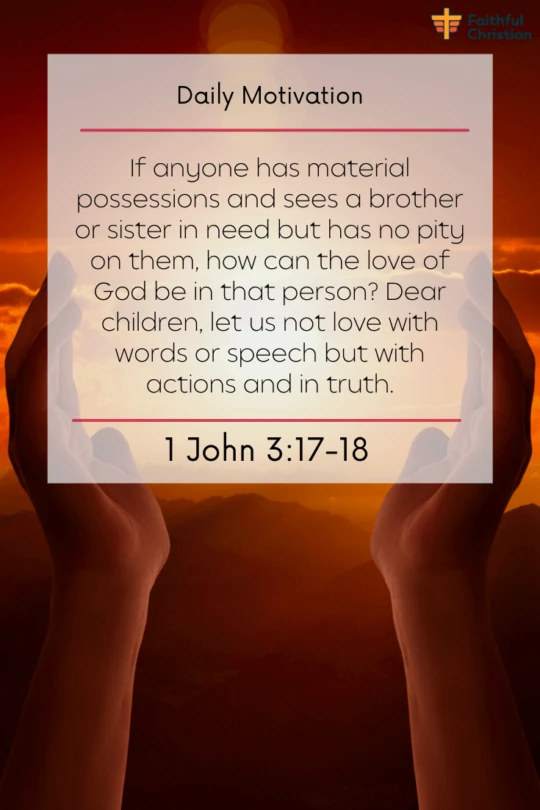 17 If anyone has material possessions and sees a brother or sister in need but has no pity on them, how can the love of God be in that person? 18 Dear children, let us not love with words or speech but with actions and in truth.
1 Thessalonians 4:9-10
 Now about your love for one another we do not need to write to you, for you yourselves have been taught by God to love each other. 10 And in fact, you do love all of God's family throughout Macedonia. Yet we urge you, brothers and sisters, to do so more and more
Galatians 5:22
But the fruit of the Spirit is love, joy, peace, forbearance, kindness, goodness, faithfulness,
1 John 4:12
No one has ever seen God; but if we love one another, God lives in us and his love is made complete in us.
2 Timothy 1:7
For the Spirit God gave us does not make us timid, but gives us power, love and self-discipline.
1 John 4:16
And so we know and rely on the love God has for us. God is love. Whoever lives in love lives in God, and God in them
---
Recommended for you
---
More Bible verses about loving others unconditionally
1 John 3:24
The one who keeps God's commands lives in him, and he in them. And this is how we know that he lives in us: We know it by the Spirit he gave us.
John 15:12
My command is this: Love each other as I have loved you
John 13:34
"A new command I give you: Love one another. As I have loved you, so you must love one another.
1 John 3:23
And this is his command: to believe in the name of his Son, Jesus Christ, and to love one another as he commanded us
Romans 12:10
Be devoted to one another in love. Honor one another above yourselves.
1 Peter 4:8
Above all, love each other deeply, because love covers over a multitude of sins.
Ephesians 5:2
and walk in the way of love, just as Christ loved us and gave himself up for us as a fragrant offering and sacrifice to God.
1 Peter 3:8
Finally, all of you, be like-minded, be sympathetic, love one another, be compassionate and humble.
1 Thessalonians 3:12
May the Lord make your love increase and overflow for each other and for everyone else, just as ours does for you.
2 Thessalonians 1:3
We ought always to thank God for you, brothers and sisters,[a] and rightly so, because your faith is growing more and more, and the love all of you have for one another is increasing.
John 13:35
By this everyone will know that you are my disciples, if you love one another."
Galatians 6:10
Therefore, as we have opportunity, let us do good to all people, especially to those who belong to the family of believers.
Proverbs 3:27
Do not withhold good from those to whom it is due,
    when it is in your power to act.
---
Recommended for you
---
The story of the good Samaritan
There are many biblical examples to inspire us to love everyone equally. That is, we approach everyone we meet with love and kindness.
A perfect story in the scriptures is the parable of the good Samaritan
In those days, Jesus was tempted by a lawyer. He asked, who is my neighbor?
Then Jesus told a parable of a man traveling from Jerusalem to Jericho that was robbed and injured on his way.
A priest and Levite saw him helpless and half dead but quickly walked past him without any assistance
But a Samaritan, as he traveled, came where the man was; and when he saw him, he took pity on him. 34 He went to him and bandaged his wounds, pouring on oil and wine. Then he put the man on his own donkey, brought him to an inn and took care of him. 35 The next day he took out two denarii[c] and gave them to the innkeeper. 'Look after him,' he said, 'and when I return, I will reimburse you for any extra expense you may have.'
What we should learn from this story
1. Be kind to everyone (even foreigners)
It is vital that, as Christians, we treat everyone as ourselves.
Don't be discriminatory or racist in anything you do.
We should be open-minded and show love to people that need it.
The case of the good Samaritan teaches us to love even strangers that we have not seen.
We must show them love and help them in times of need.
2. There is no extent to love others
One common question is, how much love should you show to others? Should you care for them more than yourself?
There is no need for this debate. We all have a conscience and know when we have adequately helped someone in need.
The good Samaritan was so kind that despite performing first aid treatment at the robbery scene, he took him to an inn and paid extra cash for his care and recovery.
There is no limit to helping or loving others.
The good news is that the good Samaritan was trustworthy and had the resources to help. If he hadn't, he would have just applied first aid and helped in other ways he can
We don't necessarily need to be rich to love others equally.
We can show our support and love in any way we can
May God open your eyes to love everyone equally and show love to those that are in need. Amen.
Author: Akatakpo Dunn
Dr. Akatakpo Dunn is a dedicated follower of Christ, an active member and speaker, and an ongoing learner of the Scriptures. Passionate about his faith and serving others, he is committed to sharing his spiritual journey and insights to inspire and uplift fellow believers. He has been active in the church for more than 23 years. Through The
Faithful Christian Blog
,
Dr. Dunn
combines his love for God, philanthropy, and Scripture, providing a valuable resource for those seeking to grow in their faith.
Follow me: on Youtube, Facebook, Twitter, Instagram, and Pinterest.
Content Disclosure:
At The Faithful Christian Blog, I create authentic and inspiring content. Although I am the main author, I occasionally use AI for minor language enhancements. This minimal AI usage ensures high-quality, trustworthy articles without compromising originality or sincerity, ultimately supporting our shared faith journey.
Warmly,
Dr. Akatakpo Dunn
Was this article helpful?