On May 25, 2020, the world witnessed the extremes of racism.
A racist policeman killed a black man for nothing worth it.
The truth is, nothing except the courts should take a man's life.
But unfortunately, this young man was killed recklessly despite repeatedly saying he couldn't breathe.
This man was George Floyd.
He was 46 years old and was allegedly accused of a $20 scam bill.
Quickly, he was arrested by white police officers who handcuffed him.
Despite being already handcuffed, he was pulled to the ground on insinuations that he was resisting arrest.
Multiple videos released so far didn't reveal a dangerous resistance by George Floyd.
Notwithstanding, he was forcefully pulled to the ground and held in position by three officers while the last officers prevented bystanders from helping out.
One of the police officers restricted his legs and the other his back.
Even worse was a now ex-police officer, Chauvin, who intentionally placed his knee on the neck of George Floyd for nearly 9 minutes.
During those periods, in the video, George Floyd could be heard saying multiple times that "he couldn't breathe."
Yet, The police officer wasn't even moved to show sympathy or pity.
George Floyd was later confirmed dead by medics who arrived at the scene.
While all officers have been charged to court, it doesn't bring back the life of George Floyd.
So, what does the bible say then about racism?
Does God accept people to be unfairly treated because of the color of their skin?
I have put together bible verses against racism to inspire Christians to always love one another.
Bible verses against Racism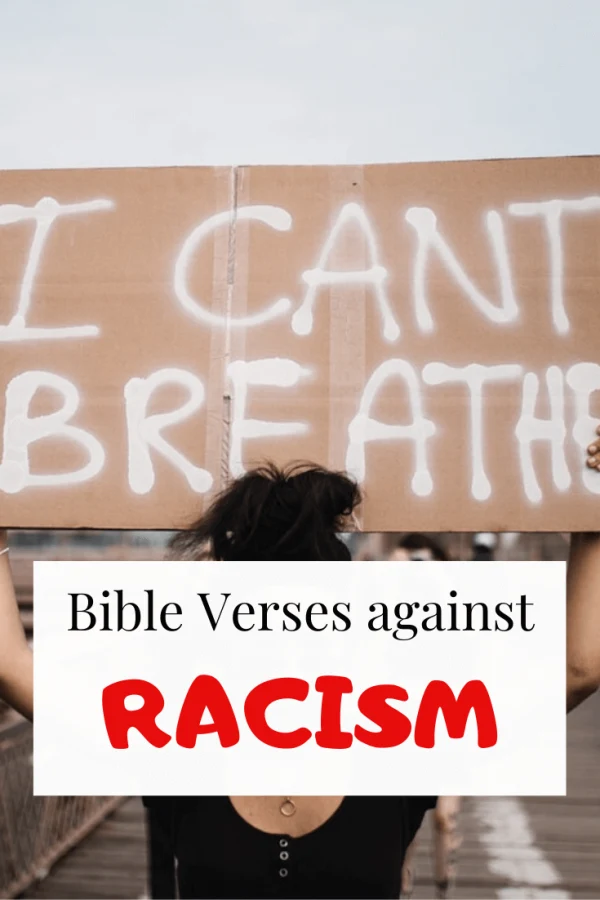 1. Genesis 1:26 NIV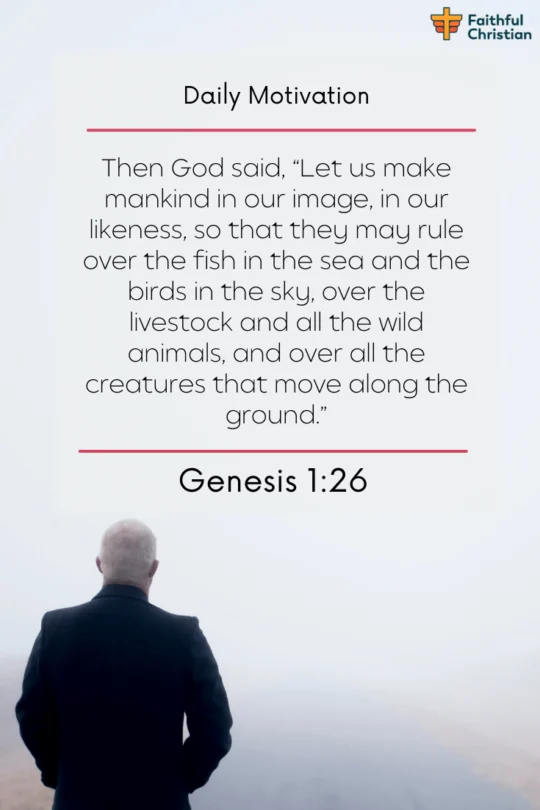 Then God said, "Let us make mankind in our image, in our likeness, so that they may rule over the fish in the sea and the birds in the sky, over the livestock and all the wild animals,[a] and over all the creatures that move along the ground."
The bottom Line
Each time we are tempted to believe that a particular race is superior to others, we must remind ourselves how we all got here.
We are all the product of the discussion between God, the Father, and his only begotten son, Jesus Christ.
We were all created equally from the beginning, with no plan of God to make anyone superior to others.
God has created us in his image and demands that we love one another.
This passage of the scripture also reminds us that we are superior to every other thing God has created.
That is, man is superior to the air birds and every other being created by God.
But nowhere did God permit man to rule over his kind as depicted by racism.
God is love and would never be a party to cruel humiliation and killing people because of race or skin color.
2. Genesis 3:20 NIV
Adam named his wife Eve, because she would become the mother of all the living.
The bottom Line
Now, this is a crucial passage of the scripture to remind us of how we all got there.
We are the descendants of single parents.
God had created Adam and Eve from the dust of the earth.
He had breathed life into both of them to be the Father and mother of all living.
If we all have a single parent, why do we hate each other?
Shouldn't we embrace one another with love?
The truth is we are all brothers and sisters from the same parents.
3. Galatians 3:28 NIV
There is neither Jew nor Gentile, neither slave nor free, nor is there male and female, for you are all one in Christ Jesus.
The bottom Line
One would think racists are not Christians, but some are.
Some have declared themselves born again and yet, are still racist.
According to ChristianityToday, Churchgoers are lukewarm about diversity.
More than half (53 percent) disagree with the statement, "My church needs to become more ethnically diverse." Four in 10 agree.
This explains in simple terms why some Christians are still supporting racism.
In Germany, for example, a parish priest received death threats for being black.
Could this be happening in a church?
Why, then should we worship God when we have not accepted his commandments?
God is saying; he doesn't look at your skin color or how intelligent you are. He simply searches our hearts and rewards us.
There are no inferior humans in God's eyes. So, likewise, there are no slaves.
God sees us all as his subjects and wishes that we love one another unconditionally.
There is no way you will be saved in the end by hating on others.
4. Colossians 3:25 NIV
Anyone who does wrong will be repaid for their wrongs, and there is no favoritism.
The bottom Line
This is as simple as it is. God will judge those that sponsor and support the ill-treatment of other human beings because of their race, color of their skin, or where they came from.
God is patient and will always give ample time for sinners to repent.
When racist doesn't repent of their ways, God has promised no favoritism.
He will punish those that have sinned against him despite the race or color of their skin.
There are lots of favoritism for Whites against Blacks in the United States.
Research shows that people with "black-sounding names" had to send out 50 percent more job applications than people with "white-sounding names" to get a callback.
With God, He respects no man or race.
He will justly judge those that have committed egregious crimes against their kind.
More bible verses about racism
Acts 10:34 NIV
Then Peter began to speak: "I now realize how true it is that God does not show favoritism
Romans 2:11  NIV
For God does not show favoritism.
1 Thessalonians 4:6 NIV
and that in this matter no one should wrong or take advantage of a brother or sister.[a] The Lord will punish all those who commit such sins, as we told you and warned you before.
Deuteronomy 10:17  NIV
For the Lord your God is God of gods and Lord of lords, the great God, mighty and awesome, who shows no partiality and accepts no bribes.
1 Samuel 16:7 NIV
But the Lord said to Samuel, "Do not consider his appearance or his height, for I have rejected him. The Lord does not look at the things people look at. People look at the outward appearance, but the Lord looks at the heart."
John 7:24 NIV
Stop judging by mere appearances, but instead judge correctly."
Jeremiah 17:10 NIV
"I the Lord search the heart
    and examine the mind,
to reward each person according to their conduct,
    according to what their deeds deserve."
Luke 16:15 NIV
He said to them, "You are the ones who justify yourselves in the eyes of others, but God knows your hearts. What people value highly is detestable in God's sight.
Exodus 22:21 NIV
"Do not mistreat or oppress a foreigner, for you were foreigners in Egypt.
Deuteronomy 10:19 (New International Version)
And you are to love those who are foreigners, for you yourselves were foreigners in Egypt. (NIV)
Leviticus 19:33 (King James Version)
'And if a stranger sojourn with thee in your land, ye shall not vex him (KJV)
Author: Akatakpo Dunn
Dr. Akatakpo Dunn is a dedicated follower of Christ, an active member and speaker, and an ongoing learner of the Scriptures. Passionate about his faith and serving others, he is committed to sharing his spiritual journey and insights to inspire and uplift fellow believers. He has been active in the church for more than 23 years. Through The
Faithful Christian Blog
,
Dr. Dunn
combines his love for God, philanthropy, and Scripture, providing a valuable resource for those seeking to grow in their faith.
Follow me: on Youtube, Facebook, Twitter, Instagram, and Pinterest.
Content Disclosure:
At The Faithful Christian Blog, I create authentic and inspiring content. Although I am the main author, I occasionally use AI for minor language enhancements. This minimal AI usage ensures high-quality, trustworthy articles without compromising originality or sincerity, ultimately supporting our shared faith journey.
Warmly,
Dr. Akatakpo Dunn
Was this article helpful?